I have a thing for crossing bridges on foot.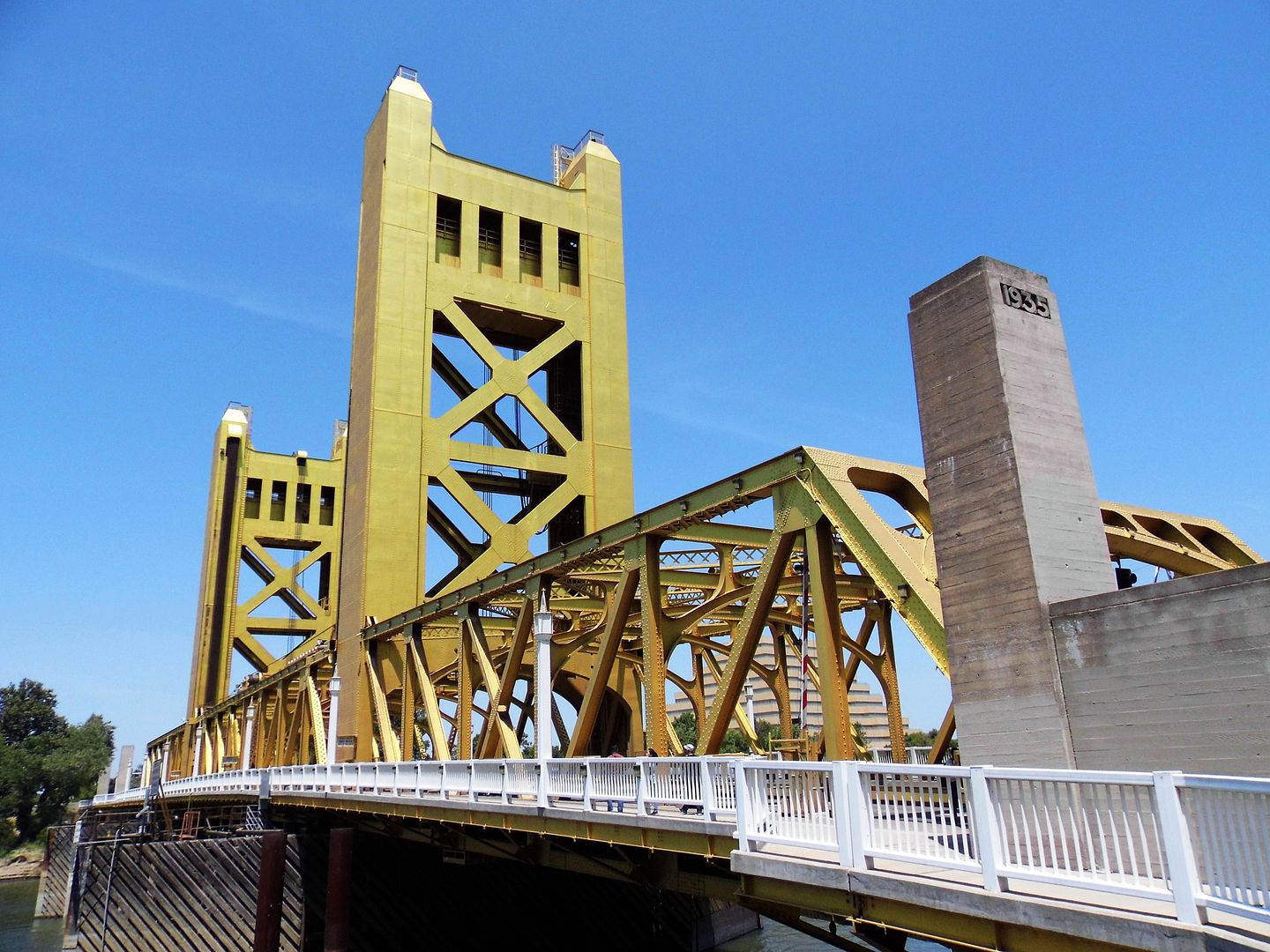 Maybe it's in defiance of my mother, whose phobias include heights and water.
While living in New York City, I walked across the Brooklyn and Williamsburg Bridges many times—and even the Manhattan and Queensborough Bridges once each.
And since I had some free time on my own while in Sacramento, it was my chance to amble across the River City's Tower Bridge, built in 1935.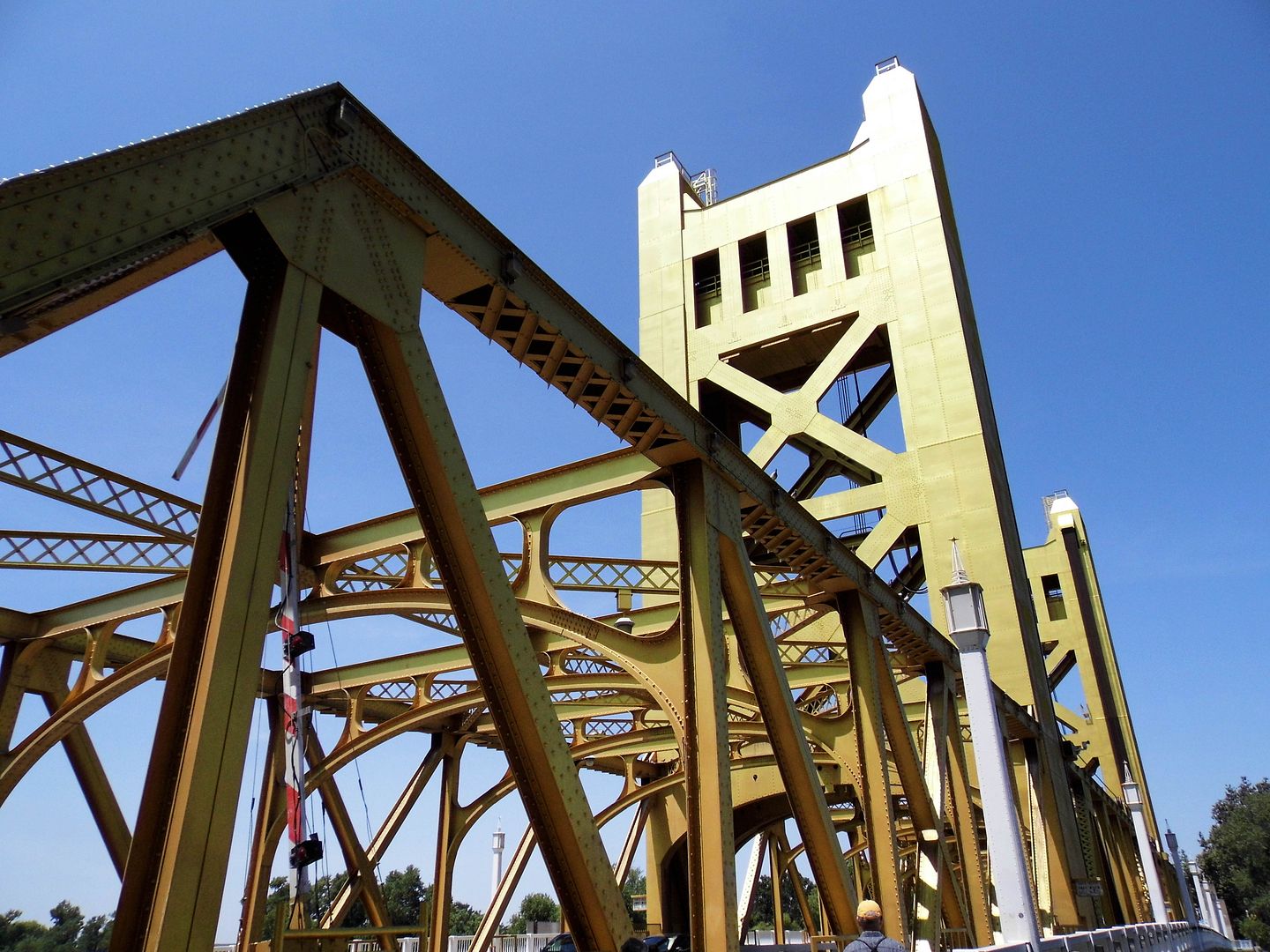 Aligning directly with the Capitol Mall and Capitol Building, it's a "vertical lift bridge"—the first of its kind in the California Highway System.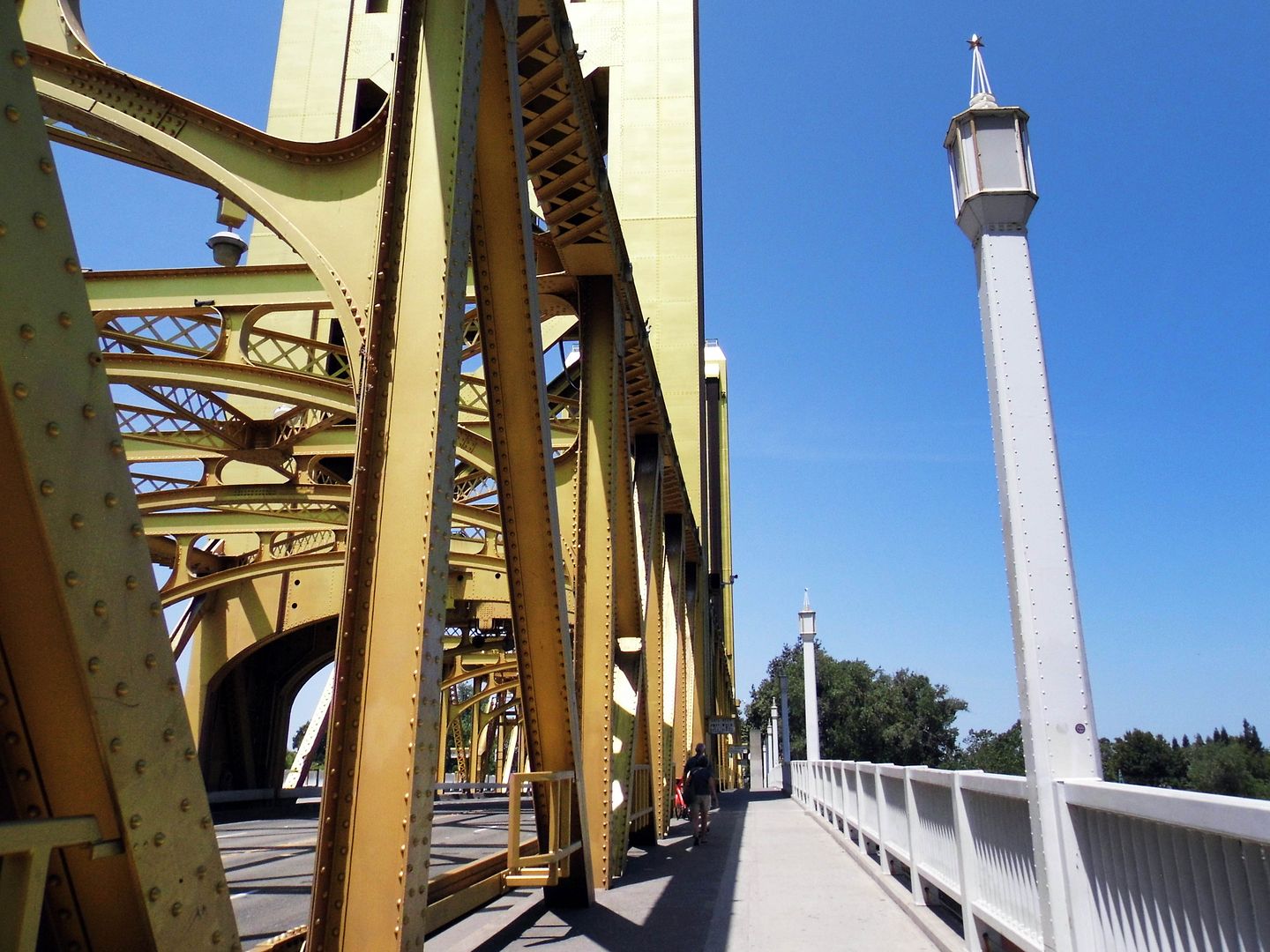 It allows pedestrians, bicyclists, and motorists—and, until 1960, rail traffic down the center lane—to cross the Sacramento River, while also letting ships pass through on the water underneath.
Unfortunately, I didn't get to see how its counterweights (which are hidden behind the towers' metal sheaths) elevate its flat, central platform, creating 100 feet of vertical clearance for river traffic below.
The four lanes of vehicular traffic—and my walk—remained uninterrupted.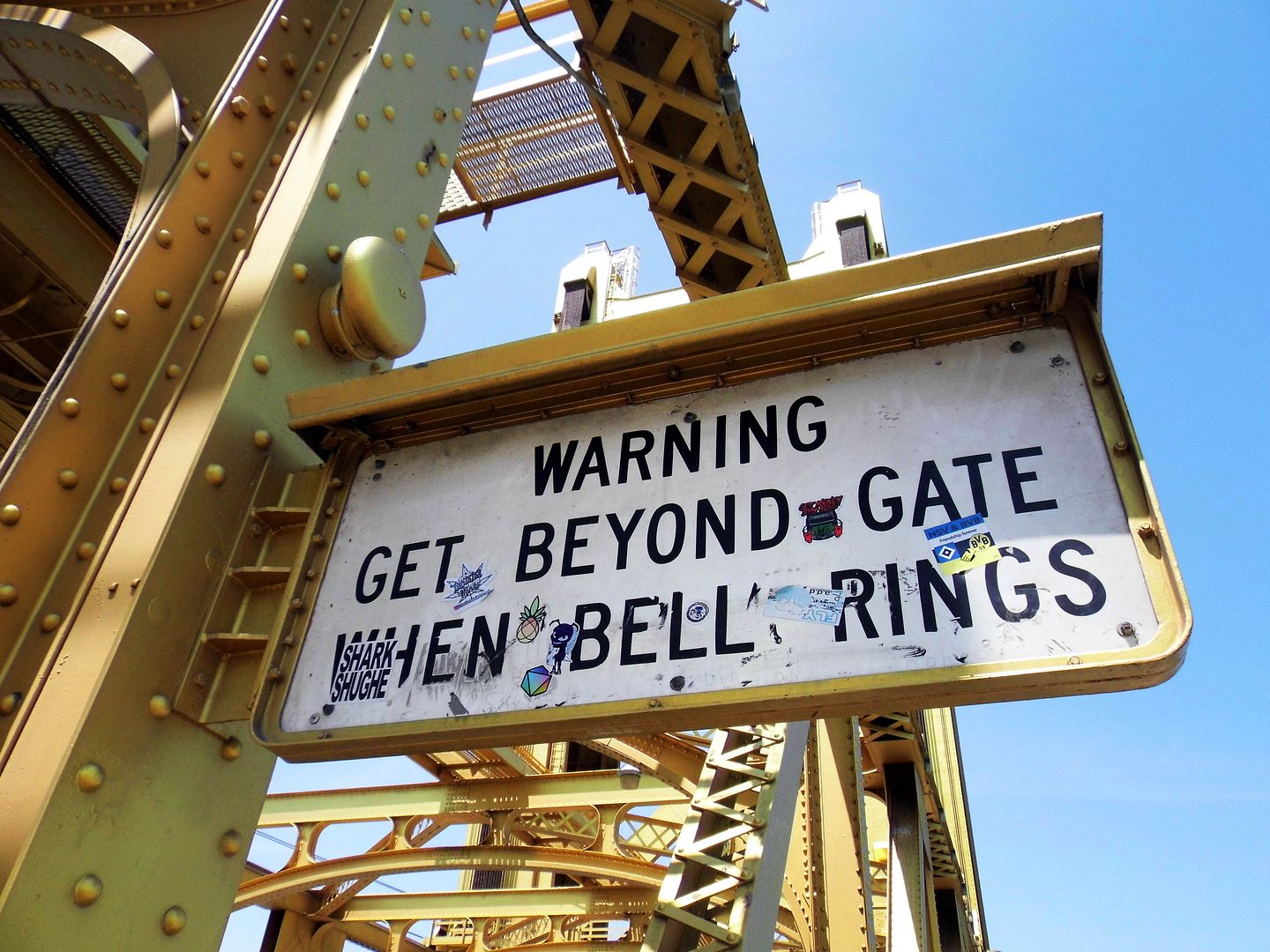 But had the bell rung while I was there, I would've needed to stay on one side or the other of the draw (or, "span," as it's called), while it was lifted between the bridge's two towers at the speed of a foot per second.
My choices would have been West Sacramento, in Yolo County, or Sacramento, in Sacramento County. Instead, I walked freely from east to west and then back again.
Operating the lifting mechanism are two 100 HP electric motors—relatively small for such a big job.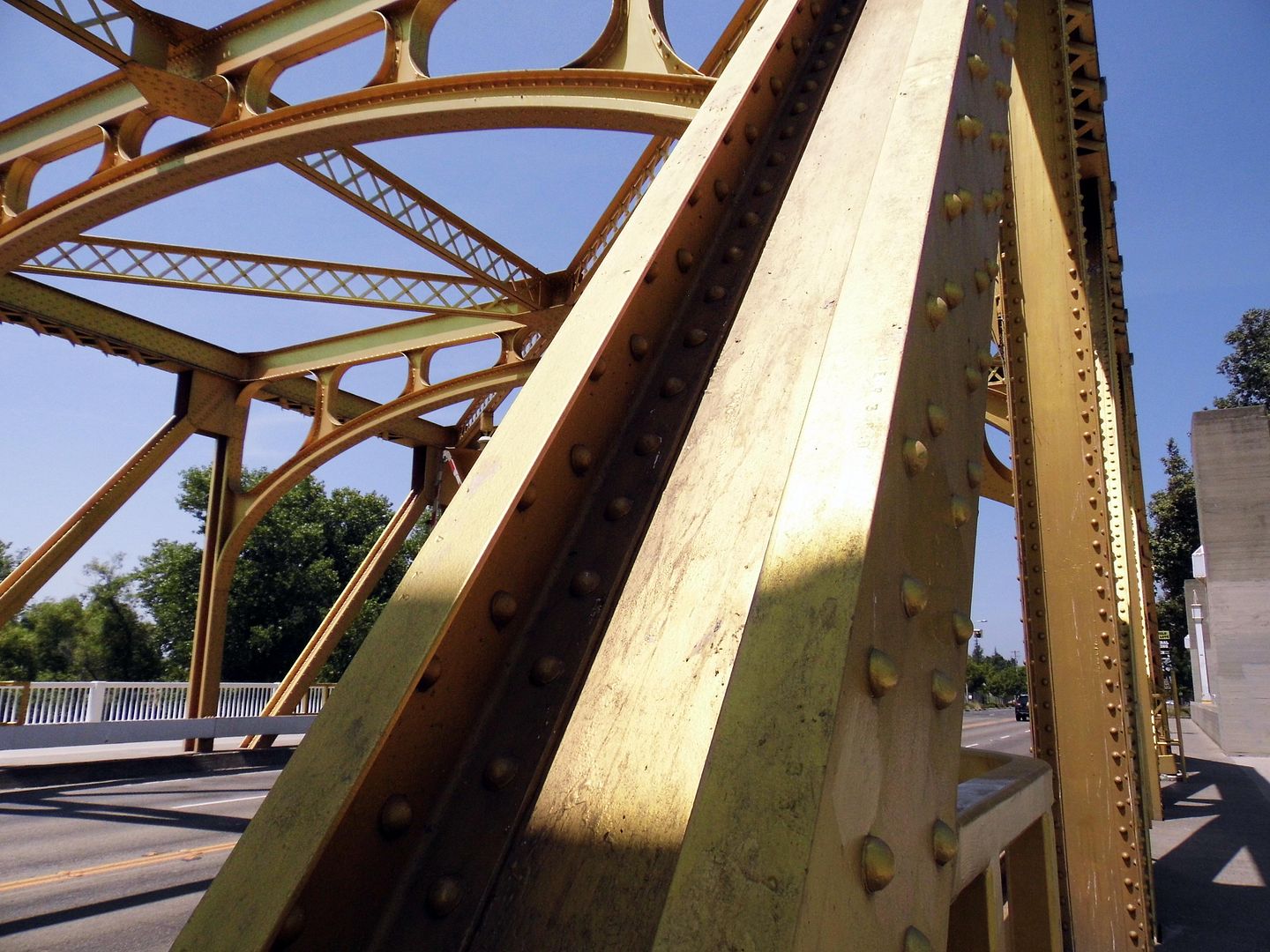 Most people don't pay much attention to how Tower Bridge
works
—only how it
looks
.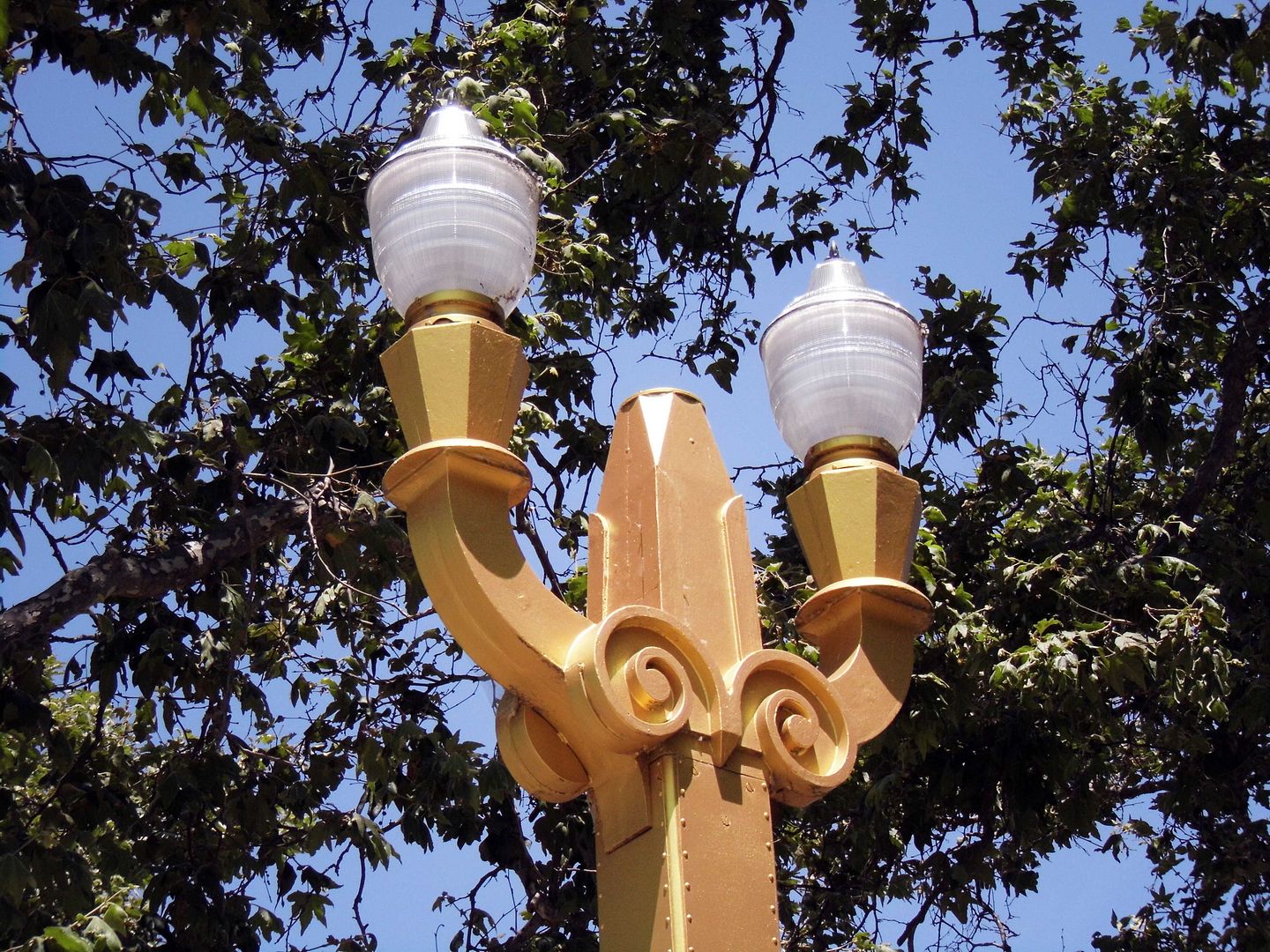 It was painted its current metallic gold color scheme in 2002, replacing the yellowish ochre paint job from 1976. Residents have complained about both—as well as its original glaring silver paint, an outlier at a time when most other bridges were painted black.
Much of the structural beauty of the bridge comes from the fact that it was designed by famed architect of the California State Department of Public Works, Alfred Eichler (not to be confused with Mid-Century Modernist architect Joseph Eichler).
Though Eichler is historically known better for his architectural contributions to San Quentin State Prison and Folsom State Prison, it was his design that made the bridge's160-foot towers appear Streamline Moderne in style.
It's important to note that over the course of the 16 months it took for Tower Bridge to be completed, the Great Depression was still in full swing. And building the bridge wasn't cheap—but thanks to some funding from FDR's New Deal, it did create 1500 jobs, right when they were needed most.
Those jobs included those with the contractor awarded the project, George Pollock & Company, and the Consolidated Steel Company of Los Angeles—and materials and labor primarily came from California.
At the time of its completion, the twin-towered monument symbolized both the Machine Age and a better future.
And in a way, it still does.
Related Posts:
Conquering LA's 'Golden Gate' Bridge
Photo Essay: Walkway Over the Hudson
Rocking the Boat Without Getting Seasick