It all started when I stayed at Rodeway Inn's Royal Sun motel in Palm Springs, California back in November 2020.
I'd gotten in the habit of staying in cheap motels within walking distance of the Ace Hotel Swim Club and
Caliente Tropics
so I could save some money but still have access to the fun of my more expensive neighbors.
Built in 1965, it was the first of the Royal Inn motel chain that operated more than 50 locations before filing for bankruptcy in 1975.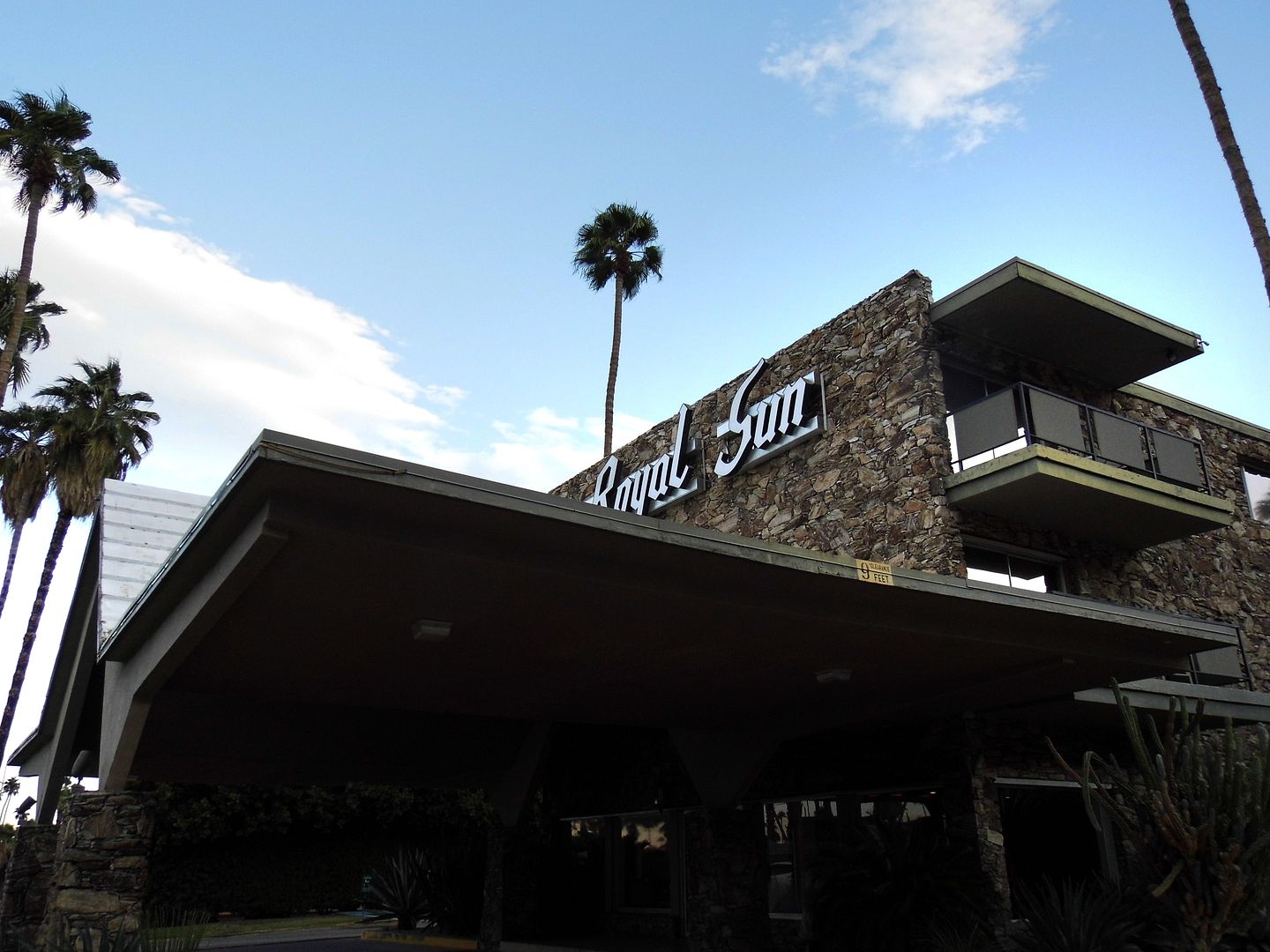 Its tagline was "Always Treated Like a King." Compare that to Rodeway Inn's motto, which is "Good Night. Great Savings."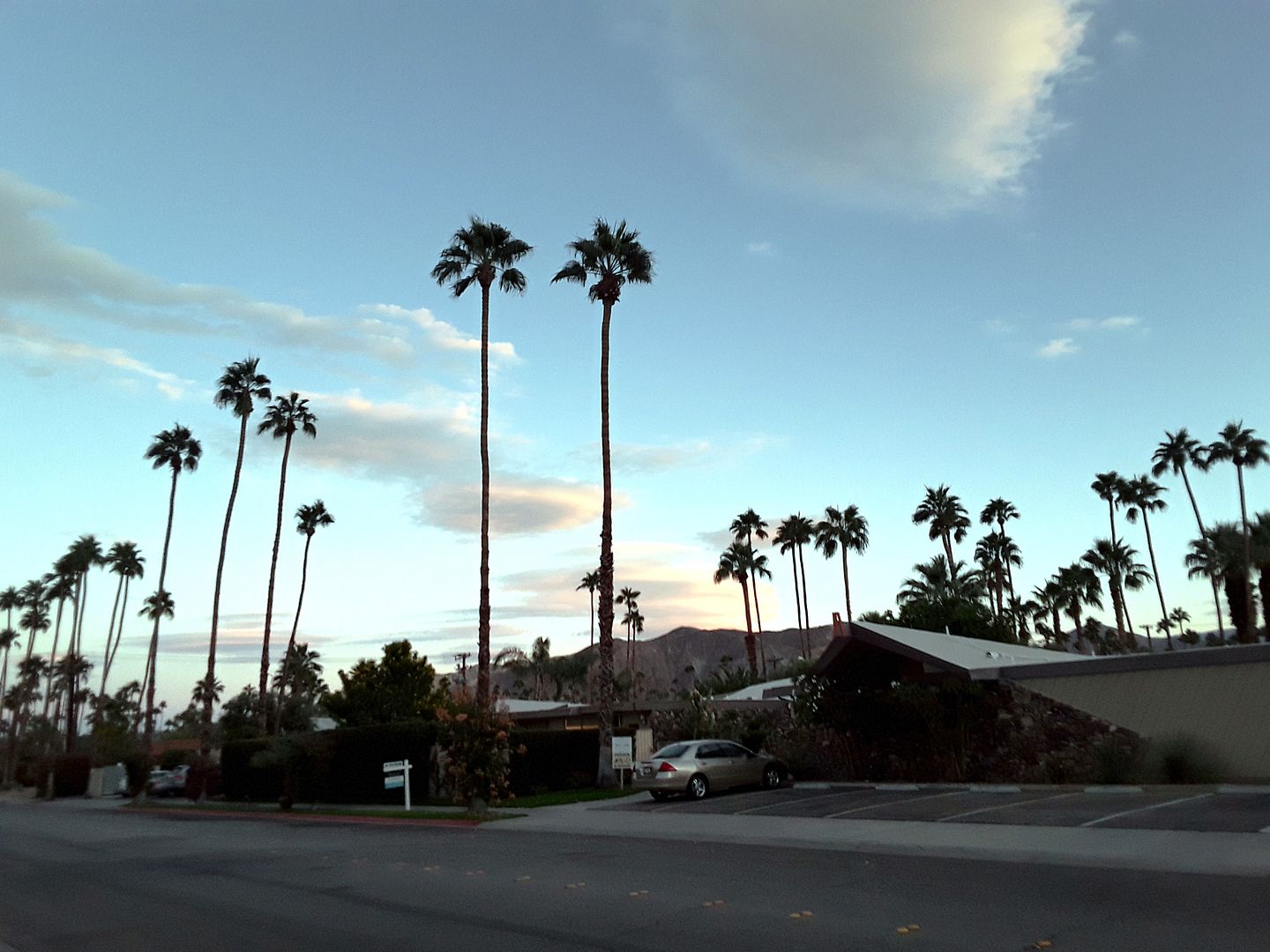 I had a
decent
night at the Royal Sun Inn. I'd gotten in late from hanging at the tiki bar and had to leave early to go on an adventure—but I had enough time to notice something intriguing
behind
the motel.
In between my motel room and my mountain view was what appeared to be a community of low-slung, tropical-themed homes.
I found out later they were the Royal Hawaiian Estates—built in 1960-2 and designated a Palm Springs
landmark
in 2010 (the city's first Historic Residential District).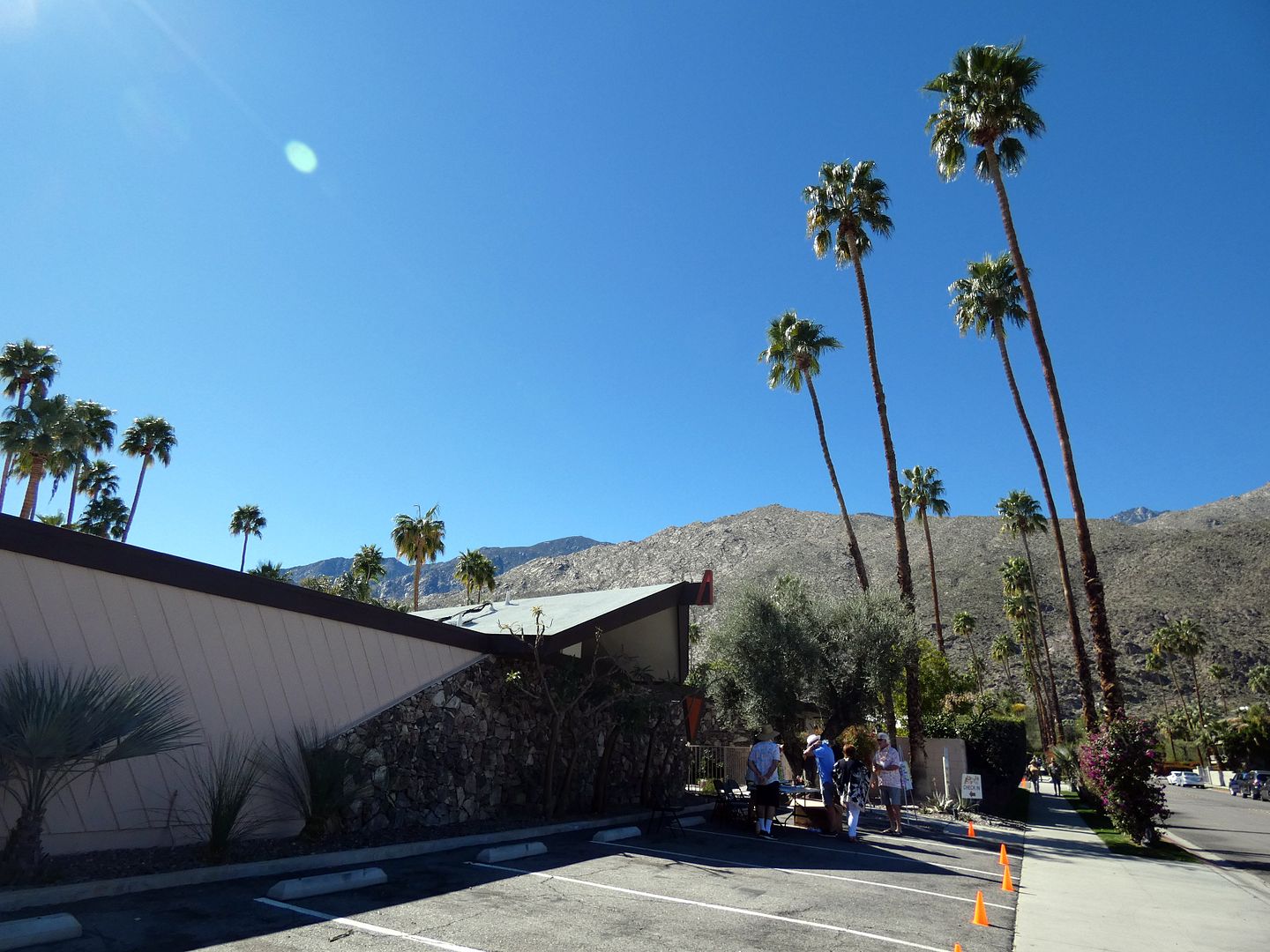 And this February, I got to take a tour of them as part of
Modernism Week
.
The enclave was the creation of Philip Short, a developer who wanted to capitalize on the heightened interest in Hawaii upon entering statehood in 1959. He created the estates as a Jewish-only community (in a time when Jews weren't allowed to buy into other developments)—and, as he targeted the over 55 set, he even advertised to cruise ship passengers.
Original landscaping had been designed by Chester "Cactus Slim" Moorten (founder of the
Moorten Botanical Garden
) and his wife, Patricia.
Dozens of attached, single-family condo units in 12 separate buildings are arranged surrounding two sunken pool courtyards...
...which originally had no railings between sets of orange concrete blocks.
There are a couple of different floor plans offered, including a choice of either two or three bedrooms and a rectangular or L shape.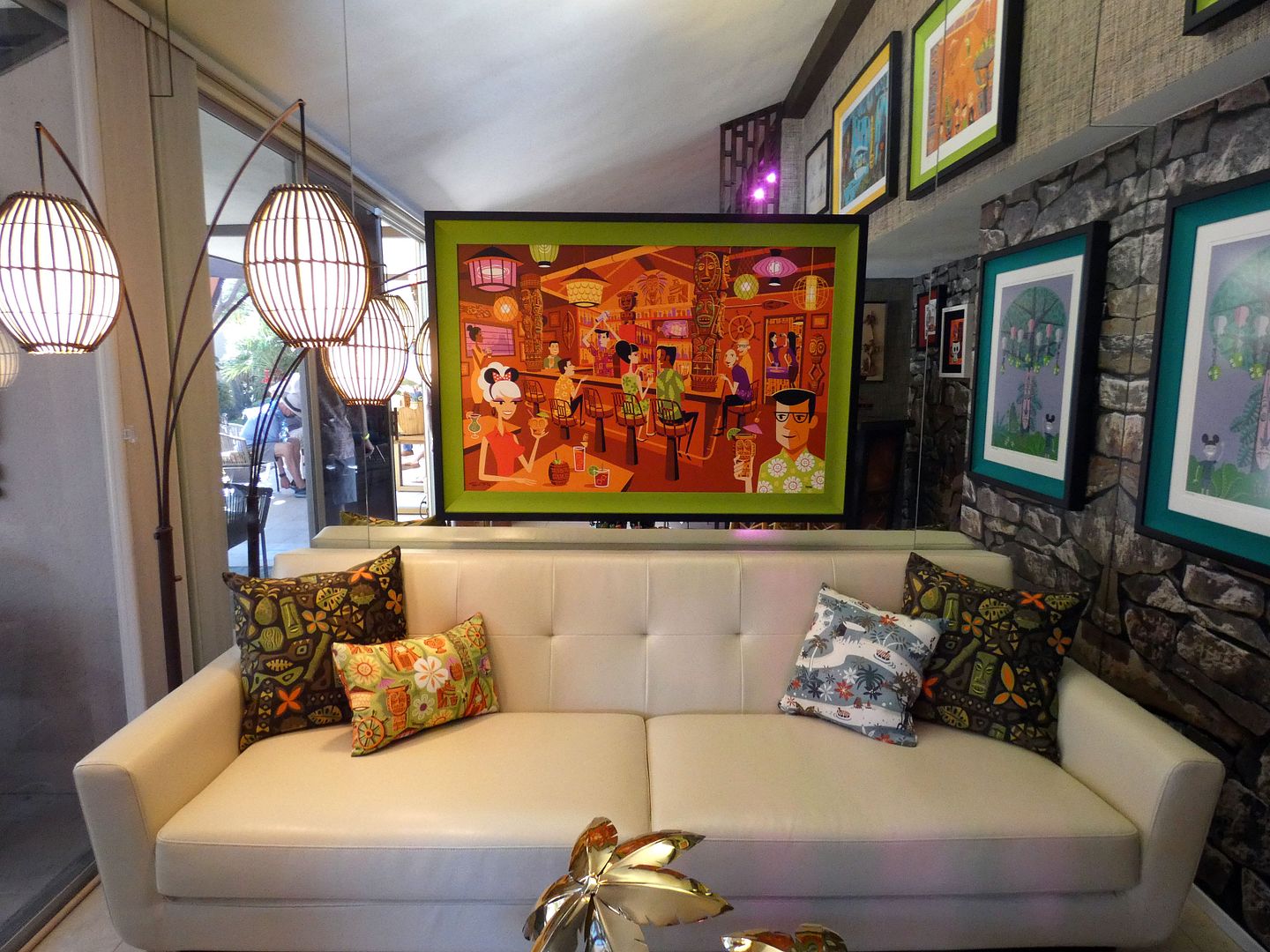 As part of the tour, we got to enter some of the condos and meet the residents...
...including one superfan of Shag, the artist who combines a Mid-Century Modern aesthetic with occasional tiki imagery.
Literally 90% of the decor in her home was by Shag.
It's like a Shag museum.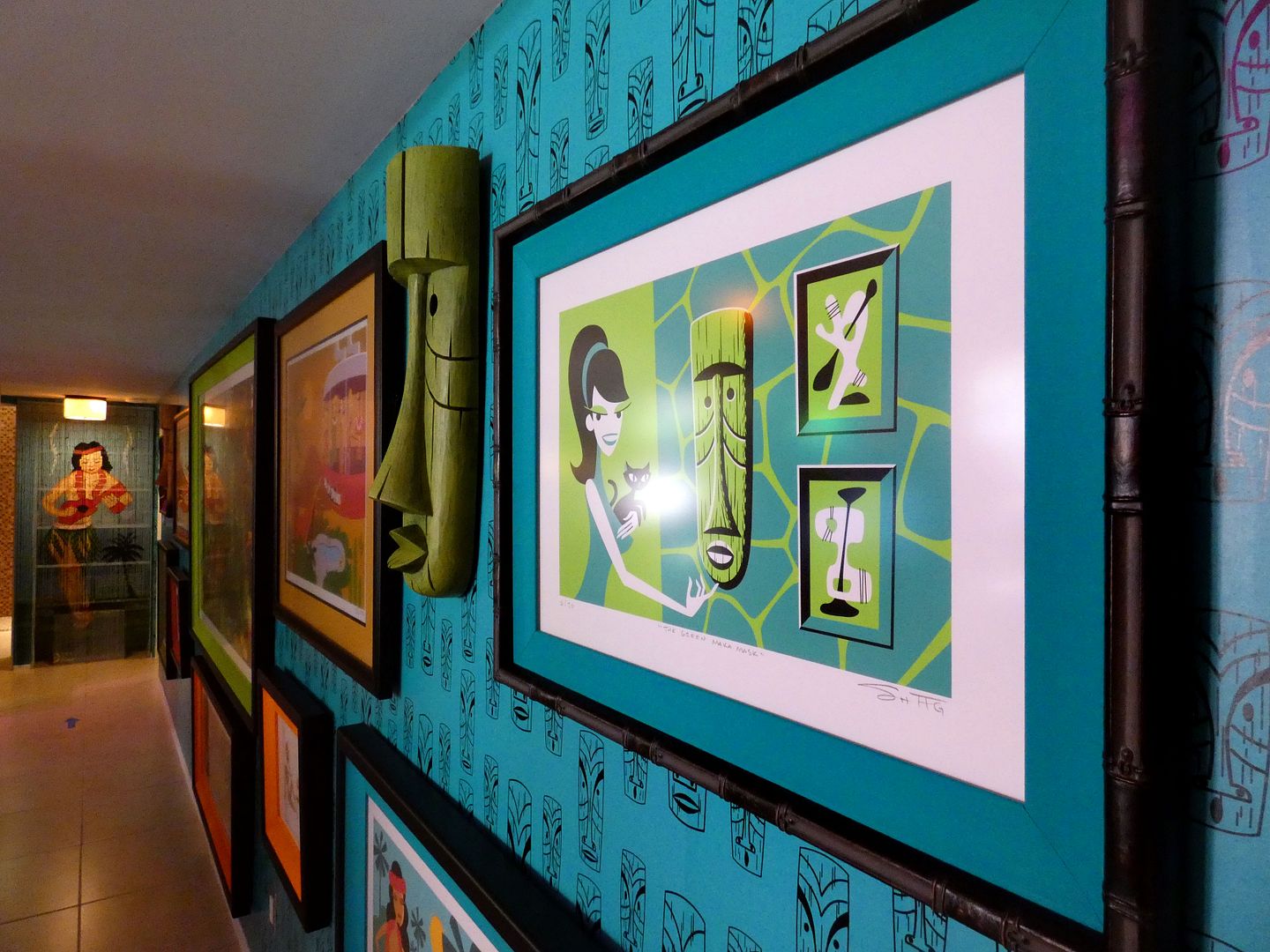 And she insists that she still has room for more—without resorting to decorating the ceiling.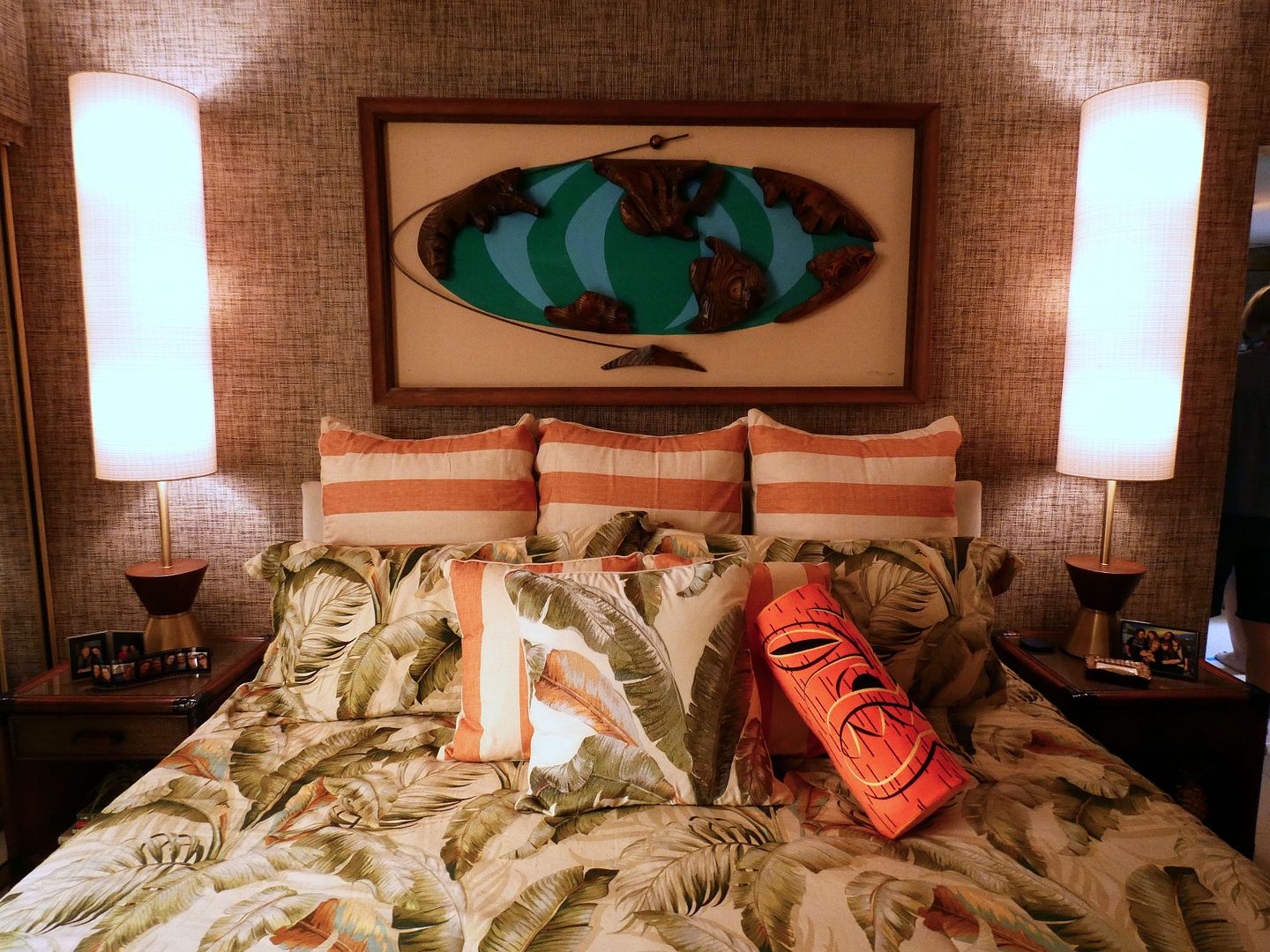 Based on her home decor, it seems that she eats, sleeps, and breathes Shag (with a little Witco style thrown in).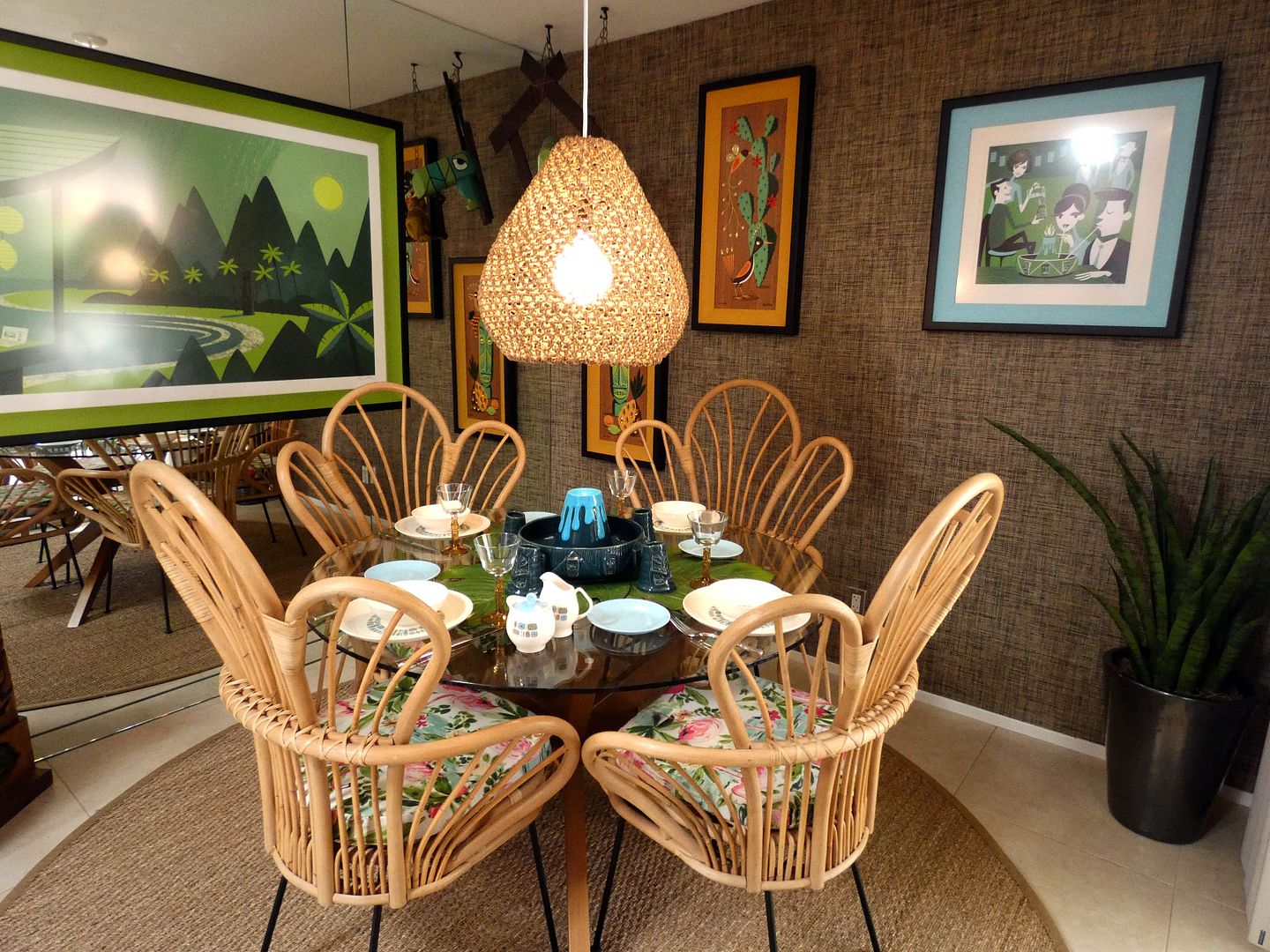 In her case, the decor kind of takes over the architecture—so it was hard to get a sense of the architectural elements of the actual unit itself.
So, ready to move on, I exited onto her patio and went next door, when who did I come upon—but the artist Shag himself!
Turns out, Josh Agle stays at Royal Hawaiian Estates when he's in Palm Springs (which seems pretty often, given how many print release parties occur at The Shag Store).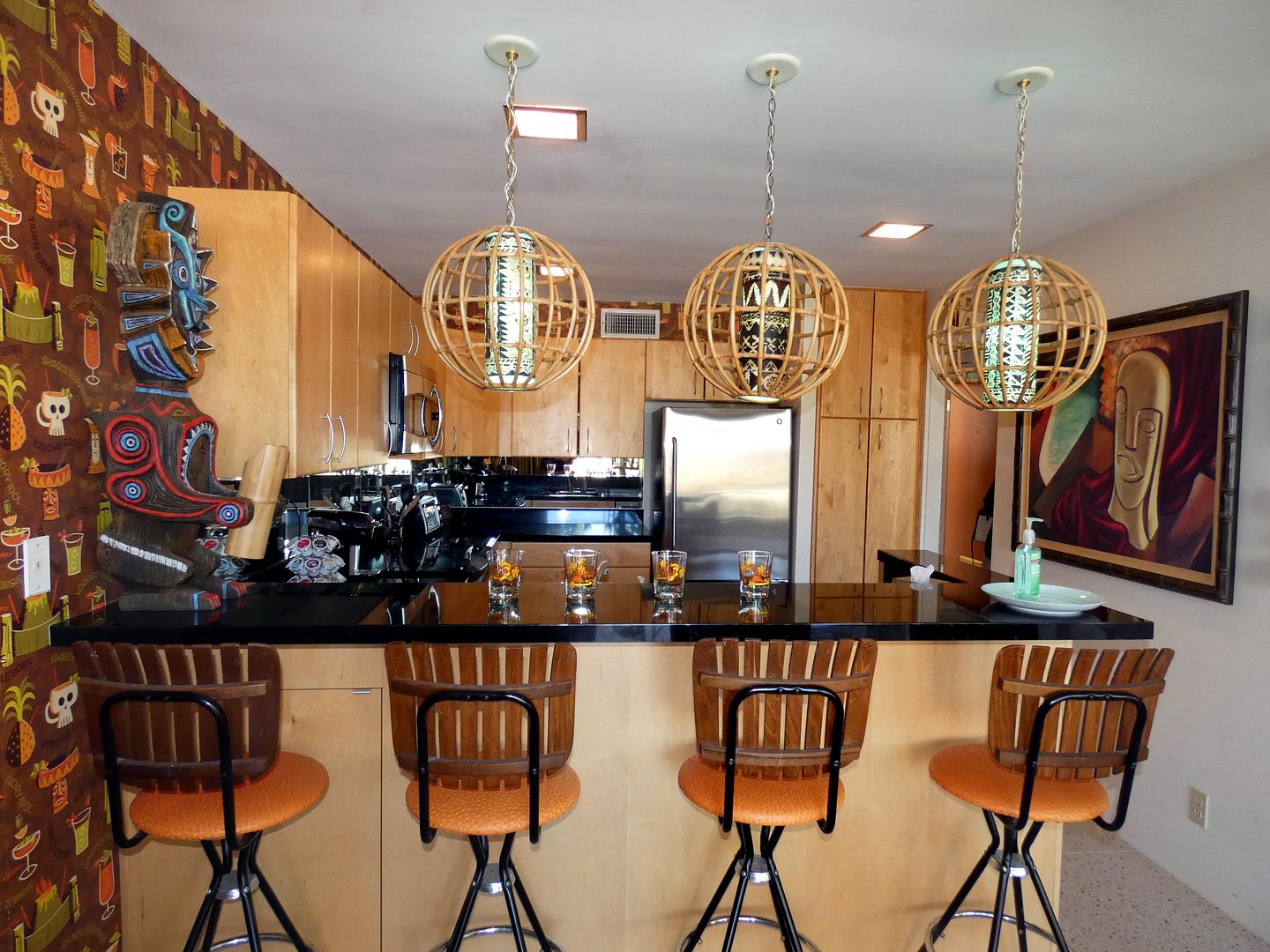 His unit is a bit more understated than his neighbor's—though it does include the addition of wallpaper he designed.
And his design approach really allows the rock walls and other features to breathe...
...and be simply enhanced by wooden carvings and other decorative embellishments, rather than overwhelmed.
With more Shag-designed wallpaper in the exotica-themed bedroom...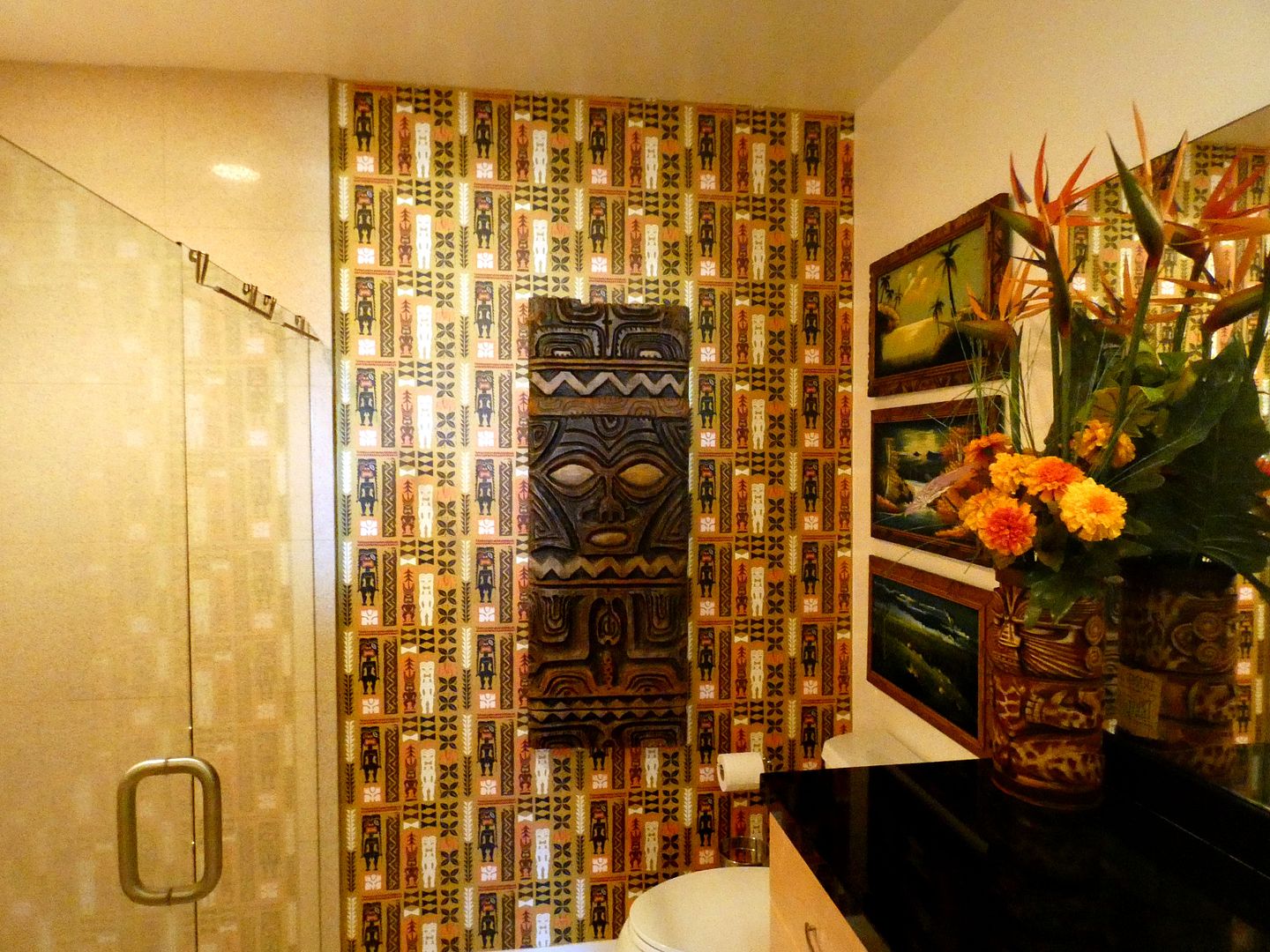 ...and bath...
...it's an incredibly livable space.
Despite its initial popularity in the 1960s, by the 1990s Royal Hawaiian Estates had become victim of deferred maintenance and had
fallen into disrepair
—with many of its tropical details remodeled or even removed (including some of the "tiki apexes," or mini A frames).
Fortunately, most of it has been completely restored, thanks to Mills Act tax incentives.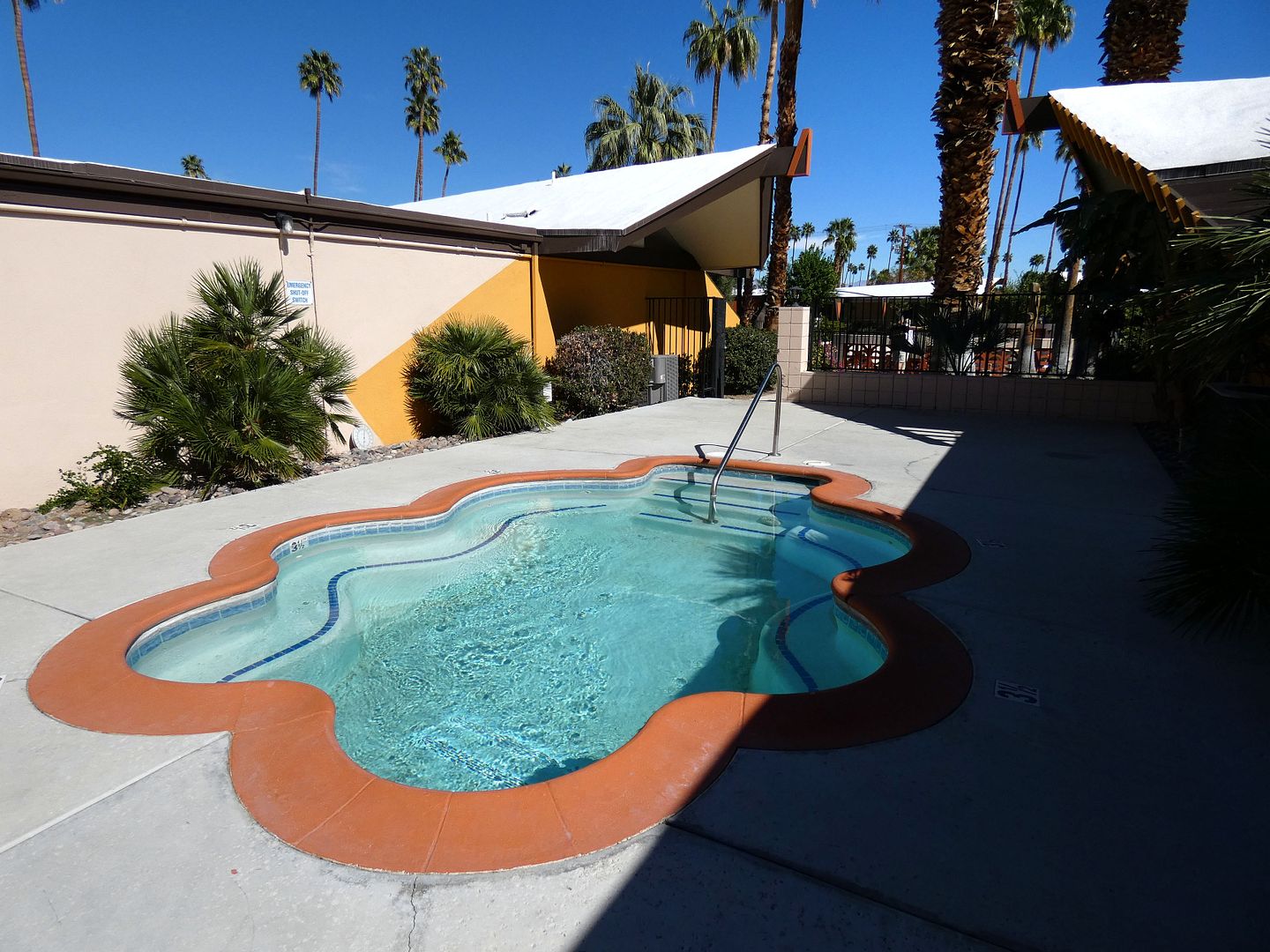 For most residents, it's a vacation home (read: second home). Folks escape here during winters from the Midwest, Pacific Northwest, and more.
One unit on the east side of the estates (the first portion to be completed, which opened on New Year's Day 1961) features architectural elements salvaged from various tiki bars.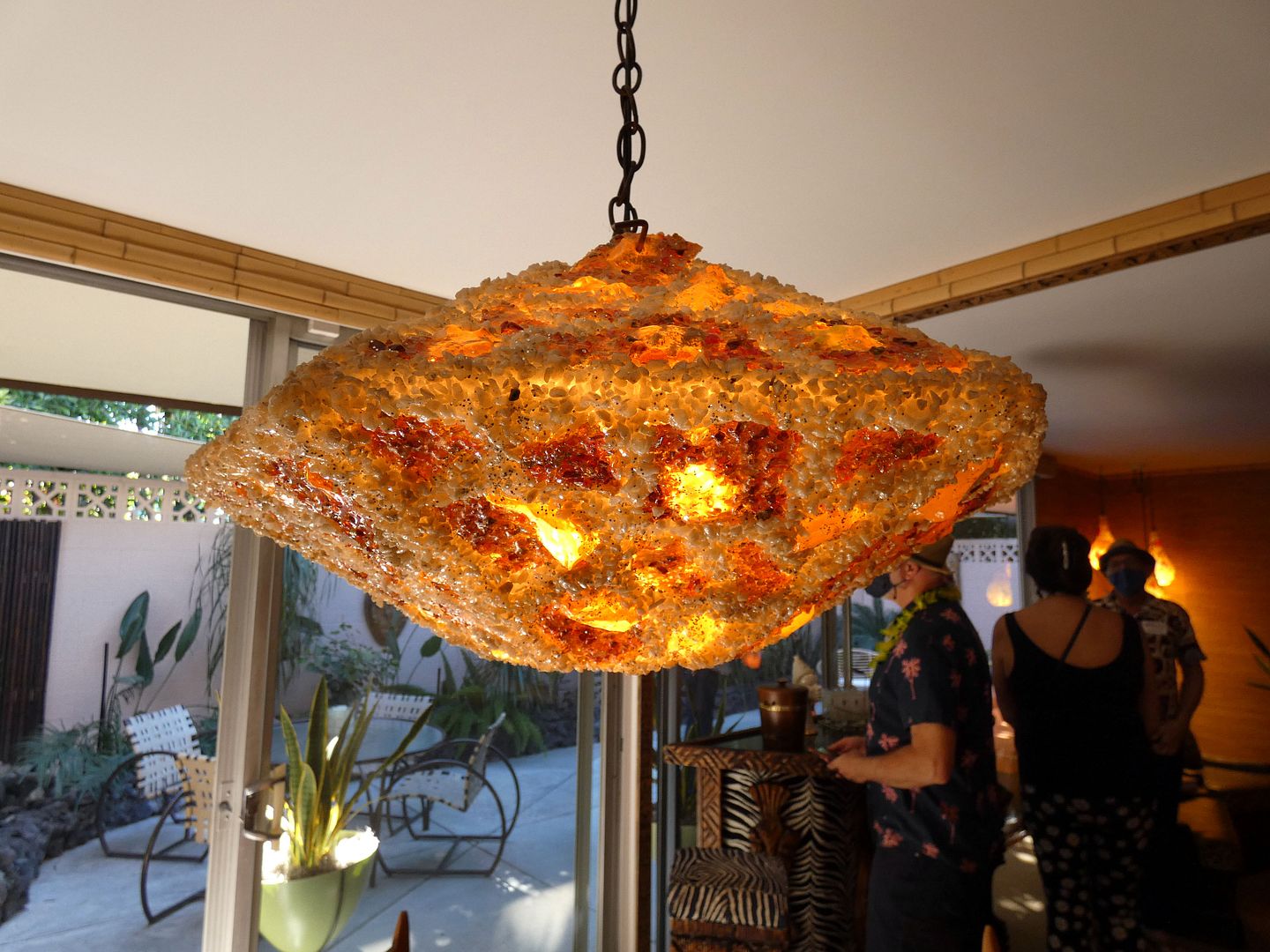 There's a pendant light that's suitable for any legit tiki bar...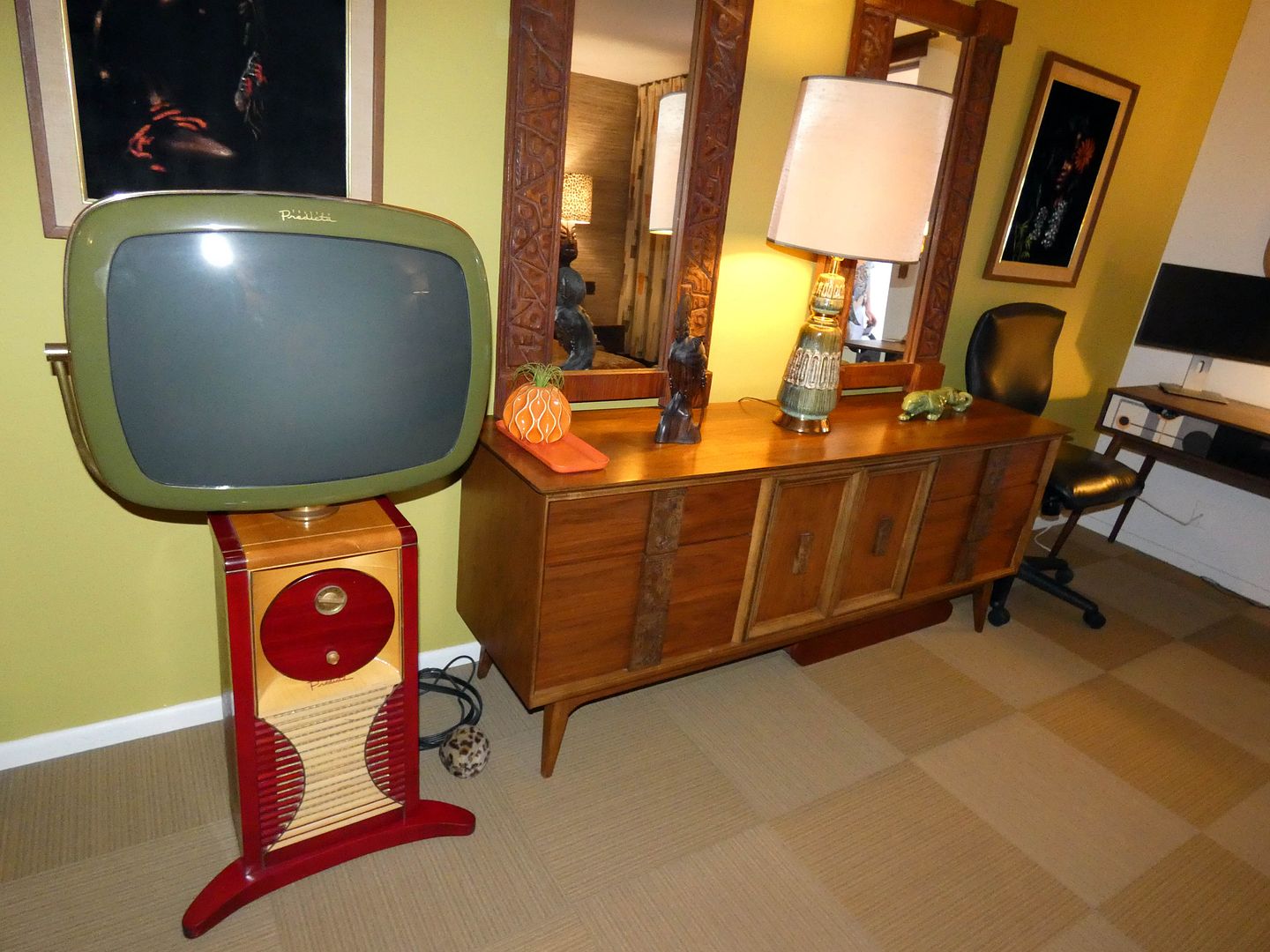 ...a replica TV console in the bedroom...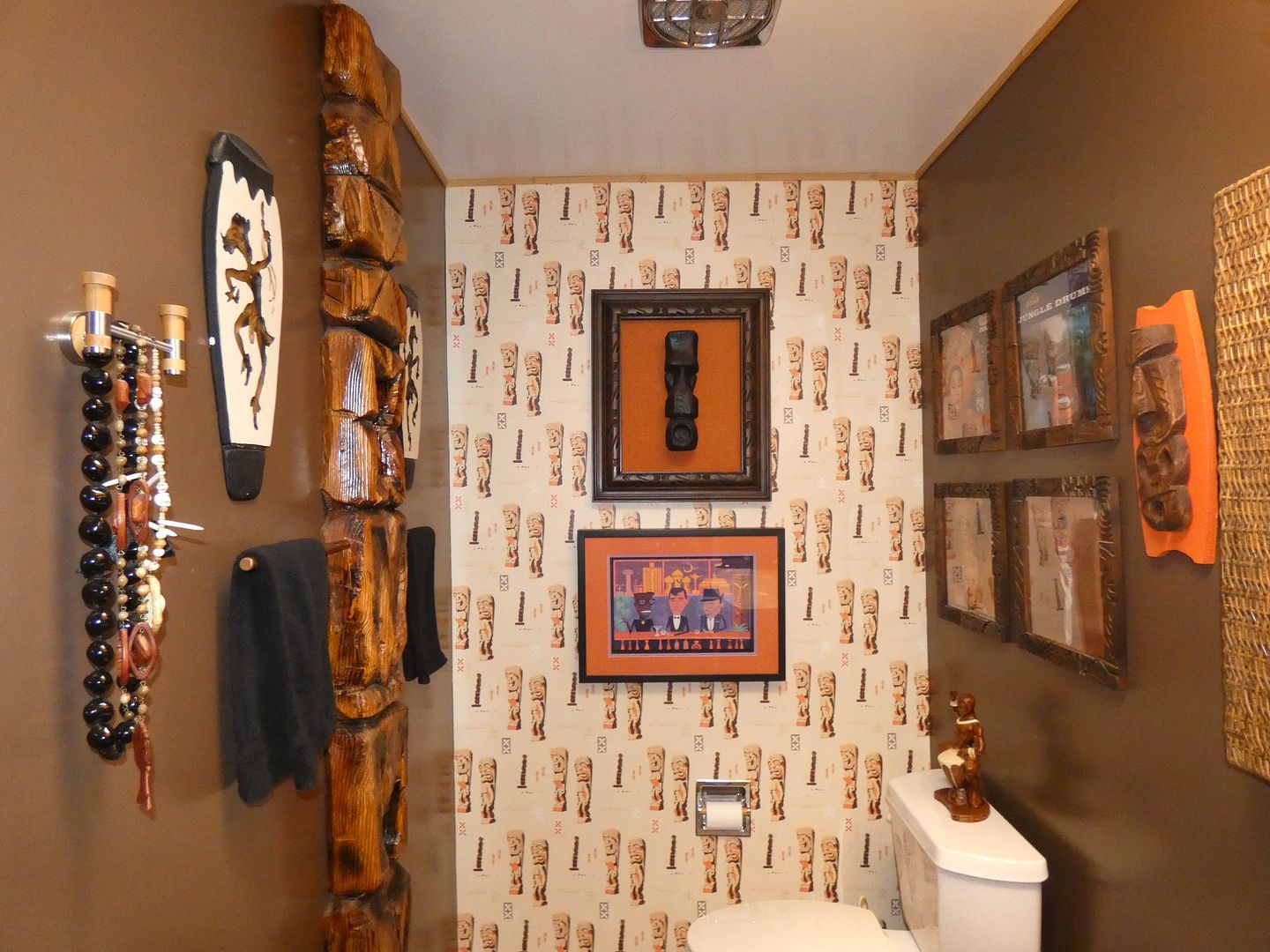 ...and a tiki-tastic en suite bathroom.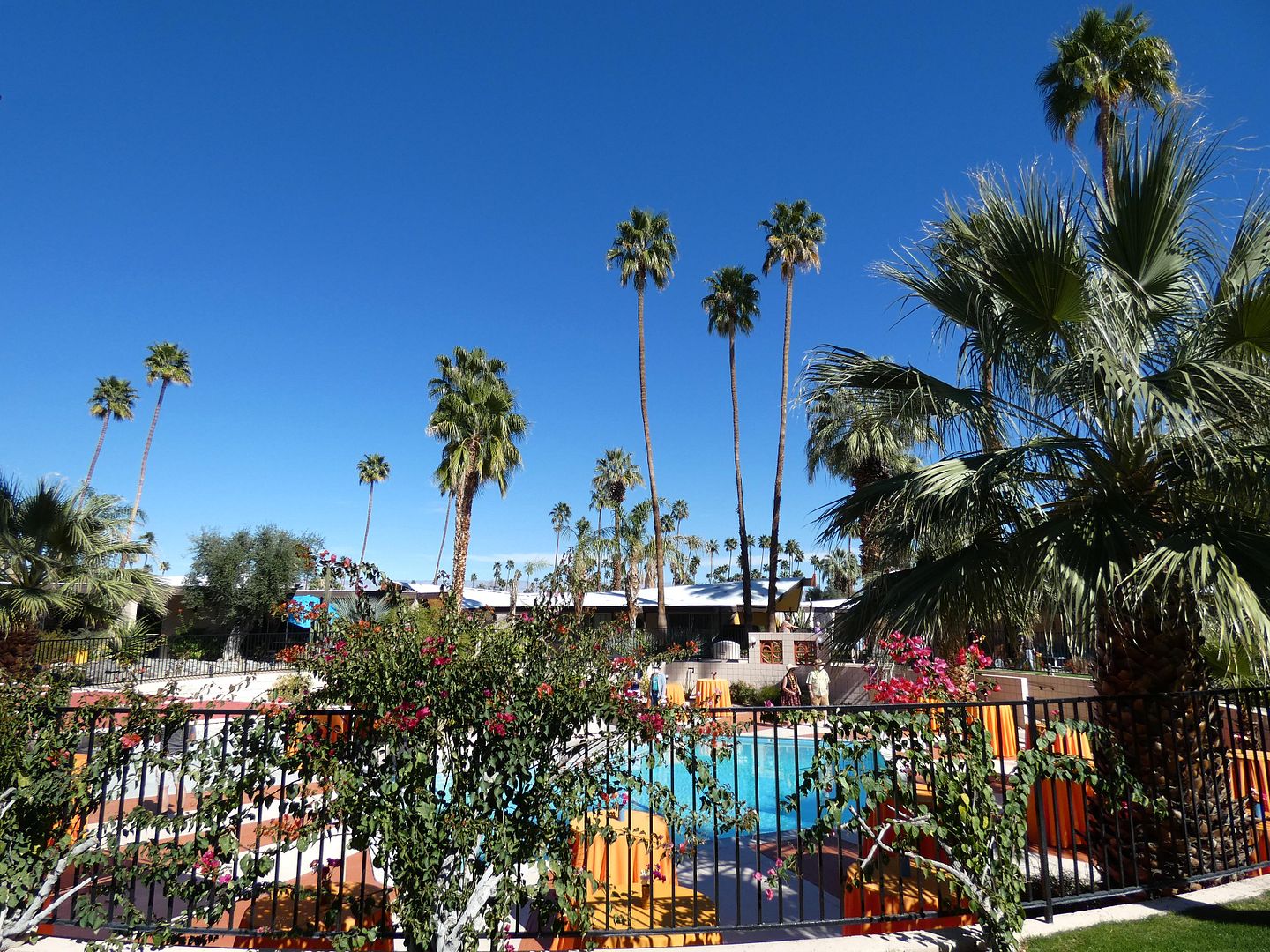 Across the east pool, there's what could've been the original model unit, given its elevated siting...
...and extra room (which might've just been a rogue addition by one of the past residents).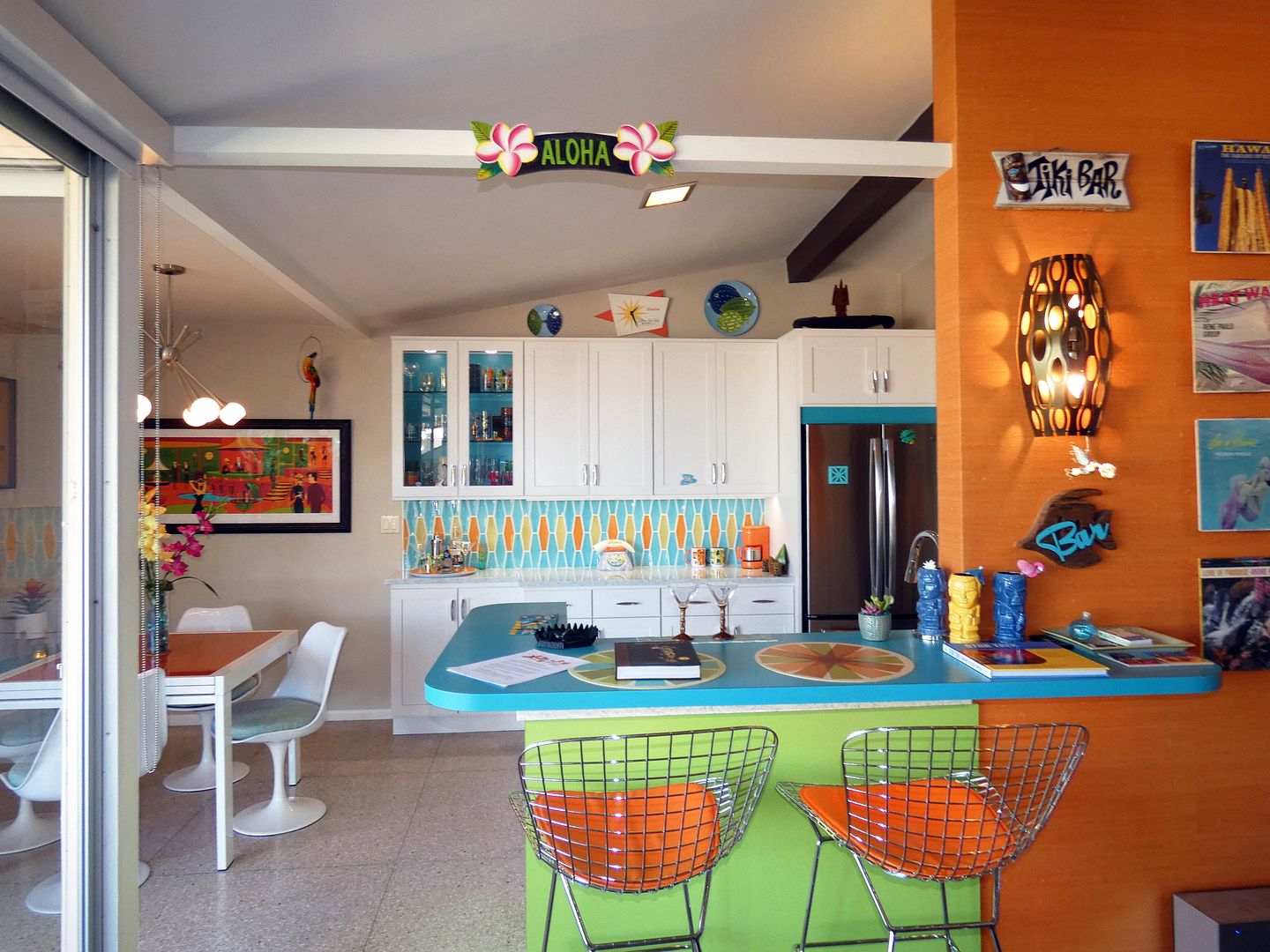 Interestingly, when each owner buys into the cooperative, they own both the structure
and
the land.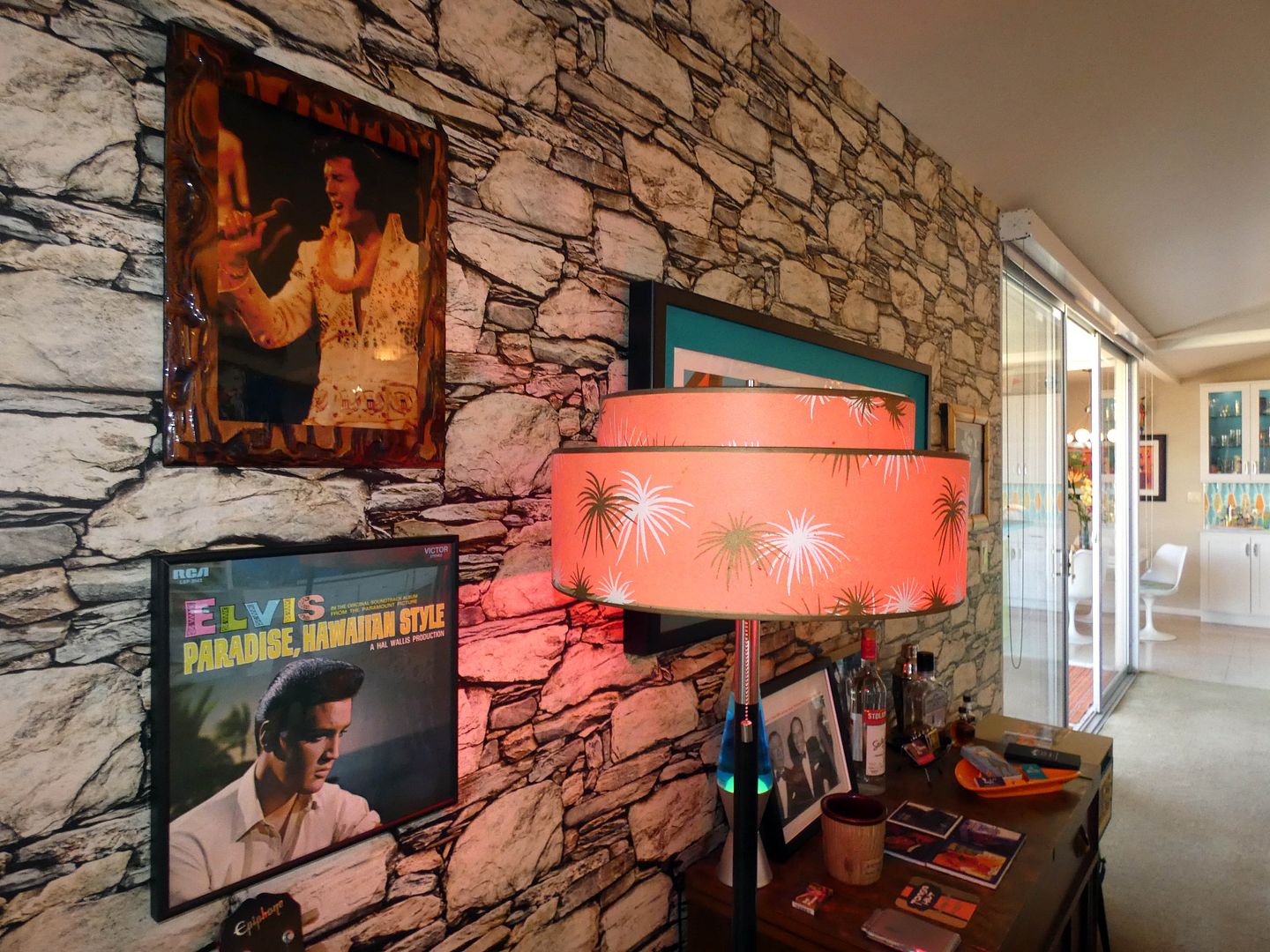 But they also get the benefits of a resident manager, common spaces, and shared maintenance as part of the Homeowners Association.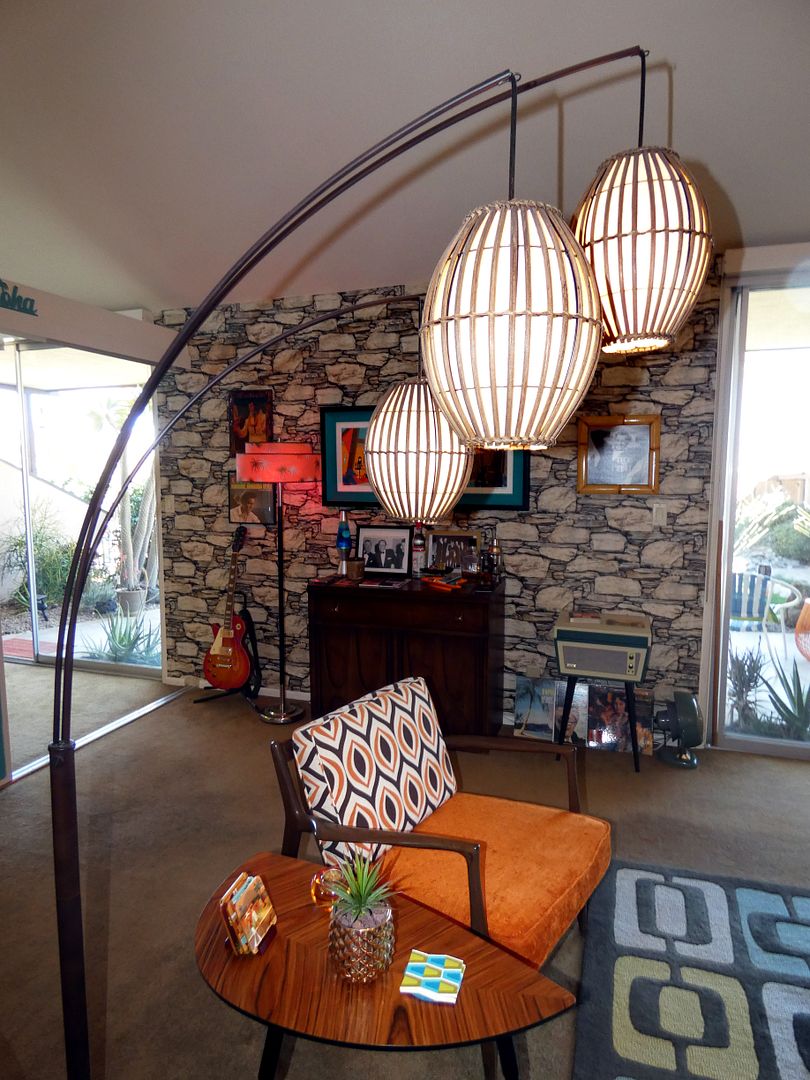 Most of the condos nowadays are going for $400-500K. Sometimes that includes furnishings.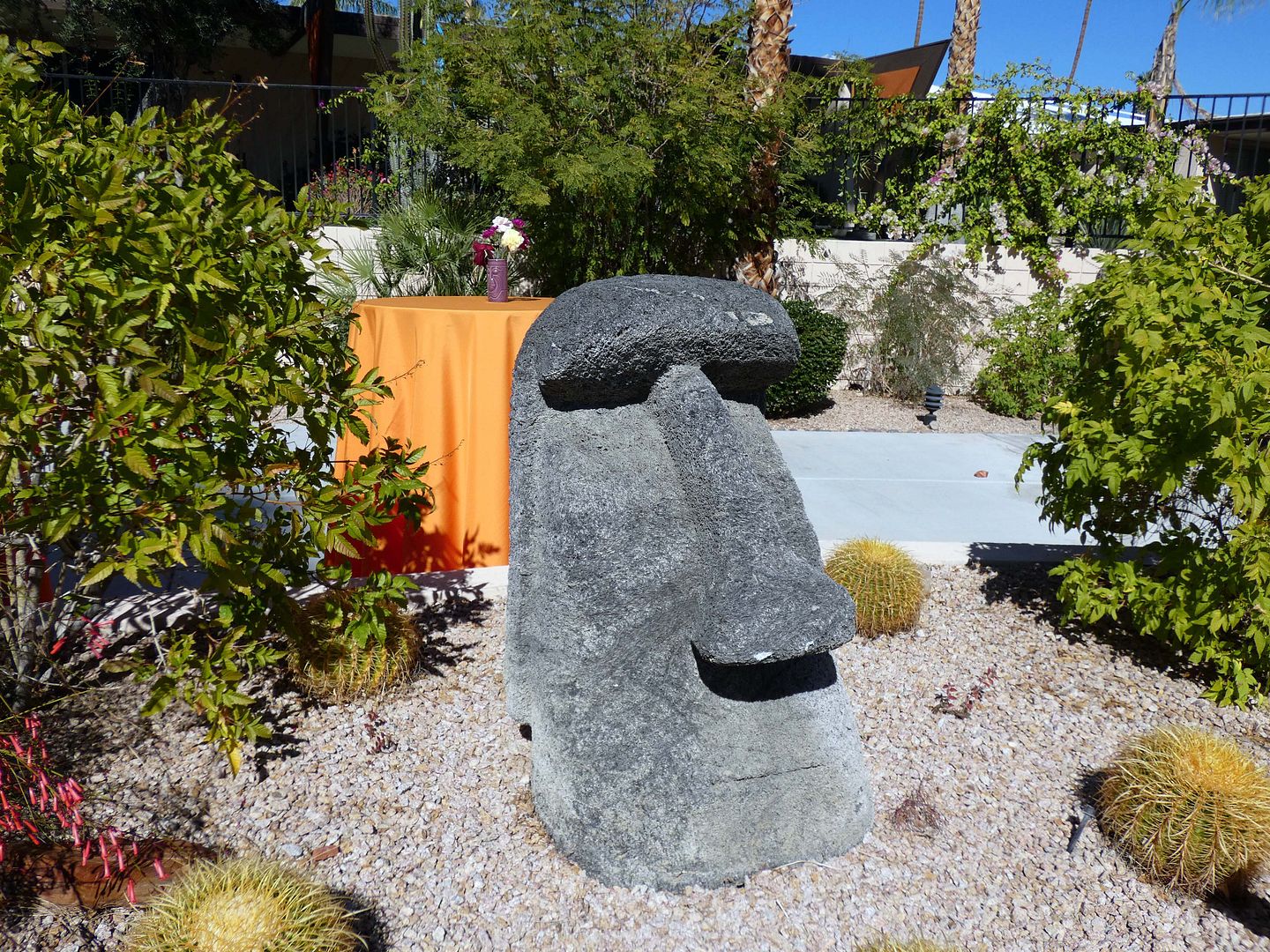 And it always includes the tikis and Easter Island Moai heads scattered around the grounds.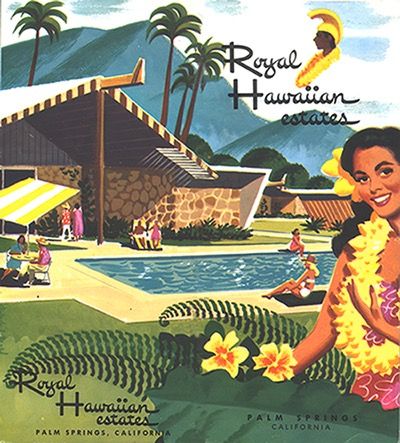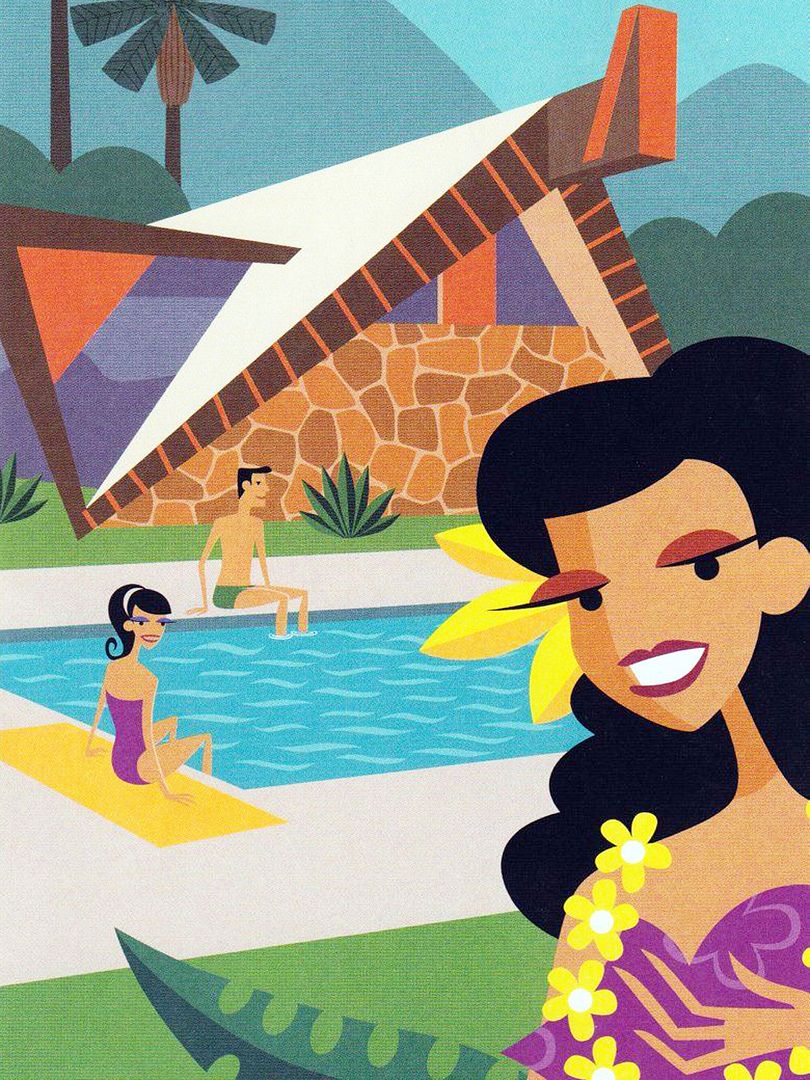 Left: vintage advertisement, Right: Royal Hawaiian Estates brochure artwork by SHAG
This is Desert Modernism meets Desert Polynesian fantasy—almost entirely intact, with each building contributing to the historic district.
It's so incredibly charming, it's hard to imagine not living there.