I'd taken a couple of trips to Ojai, California—and even wrote
an entire article
about what to do there—but I hadn't heard of Taft Gardens and Nature Preserve in the Santa Ana Canyon foothills above Ojai until just last year.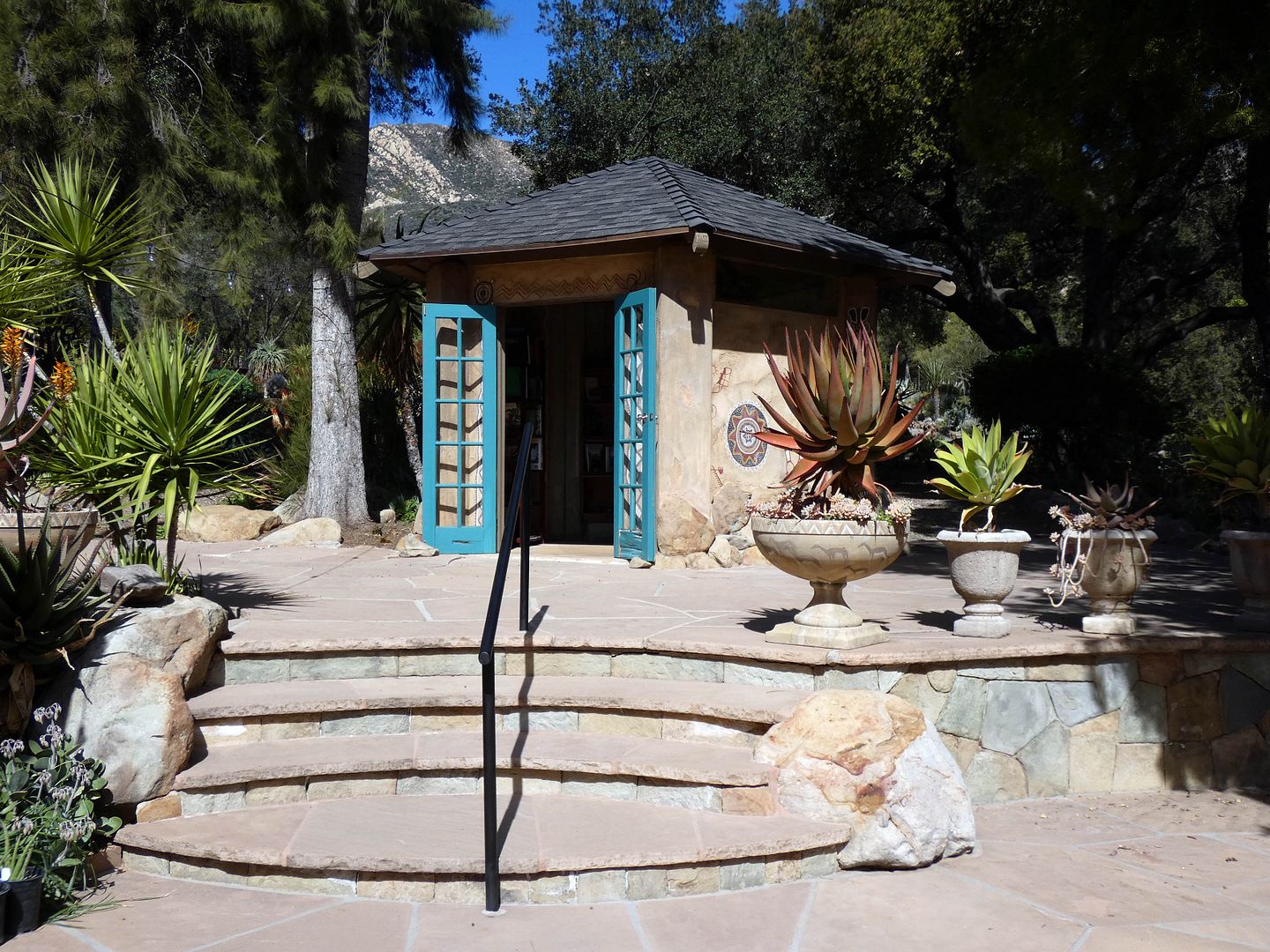 It's considered "secret" because it's not listed on Google Maps and its address isn't published. If you want to go, you've got to make a reservation—which I was fortunately able to do so I could visit its 15-acre sprawl last month.
It was opened to the public in 1994 by local developer John Taft, who donated the land in 1980 and founded the agency that currently operates the garden, Conservation Endowment Fund. But in 2001, CEF had to throttle visitation after county closure because of complaints from the neighbors.
Today, the areas open to the public are are just a fraction of the total 265 acres, the rest of which is open space.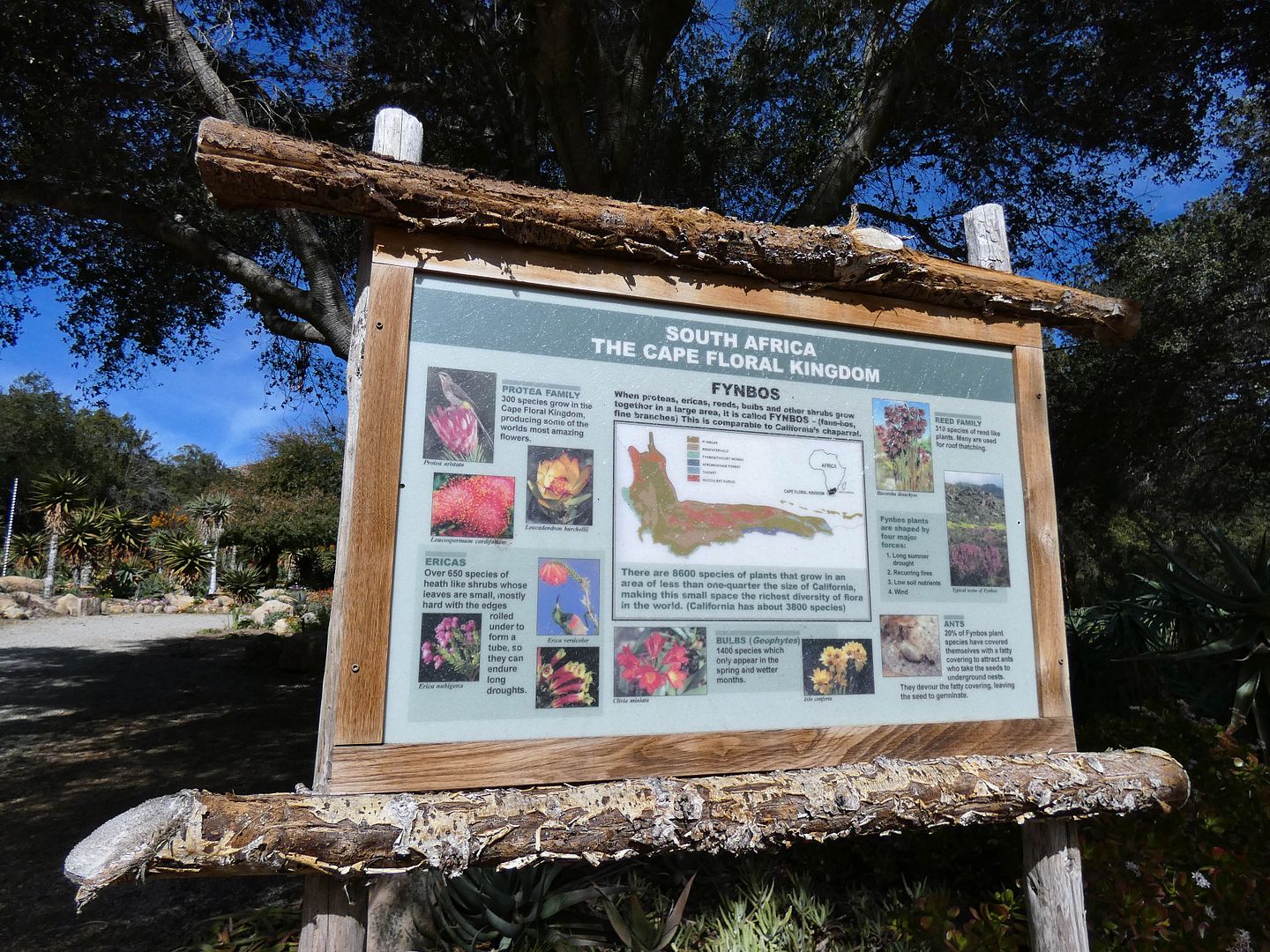 The garden is divided into geographic regions. I started with the South African Garden behind the entrance kiosk.
The South African habitat—known as fynbos in the Afrikaans language—is similar to the Southern California chaparral.
The plants can withstand long summer drought seasons, multiple wildfires, low soil nutrients, and wind.
Some of the South African plants at Taft include the yellow-colored conebush (Leucadendron burchellii)...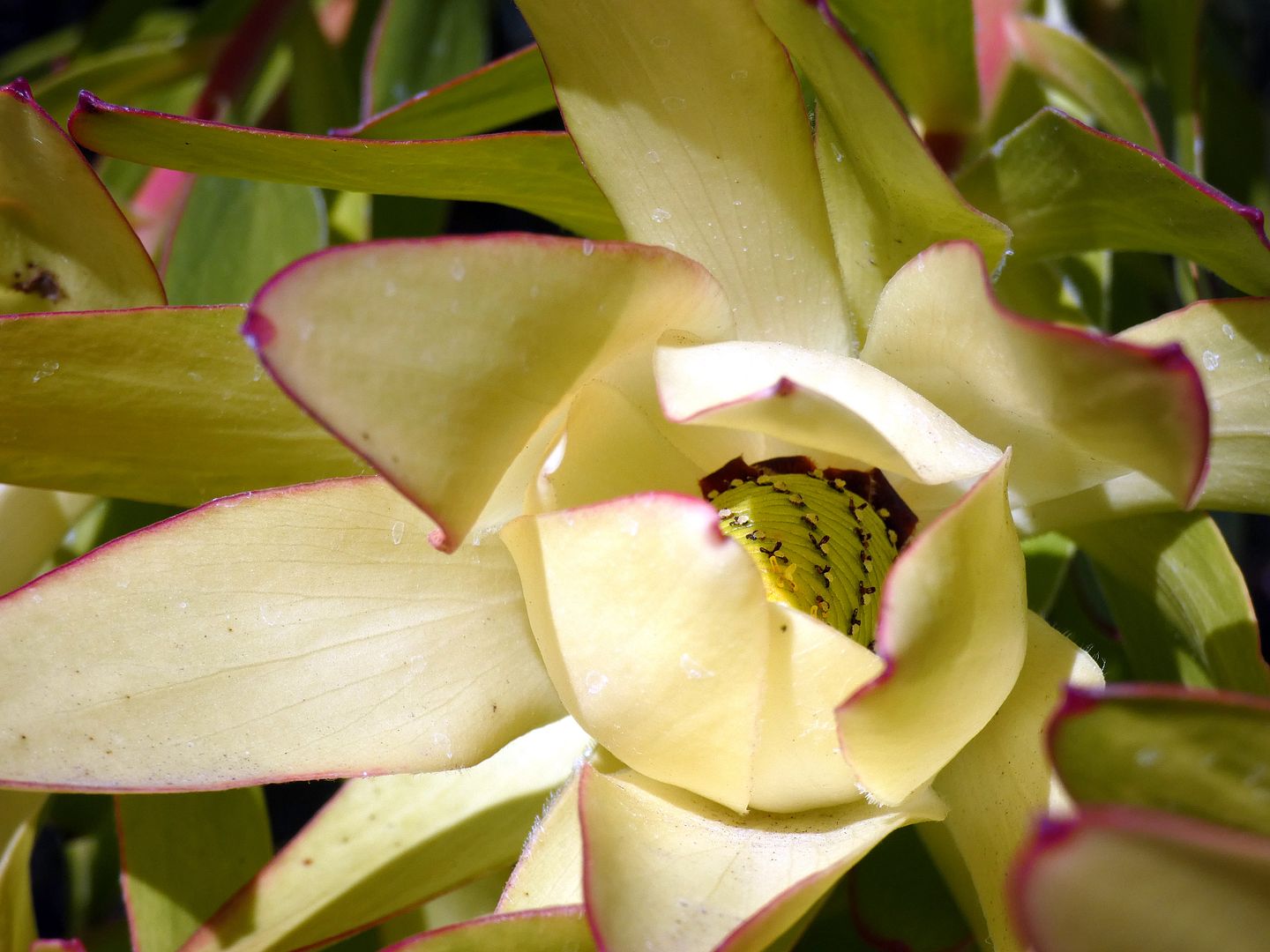 ...whose common name origin becomes obvious with a closer look...
...and its relative in the protea family, the sunshine conebush (Leucadendron) "Safari Sunset."
There's also the pincushions (Leucospermum)...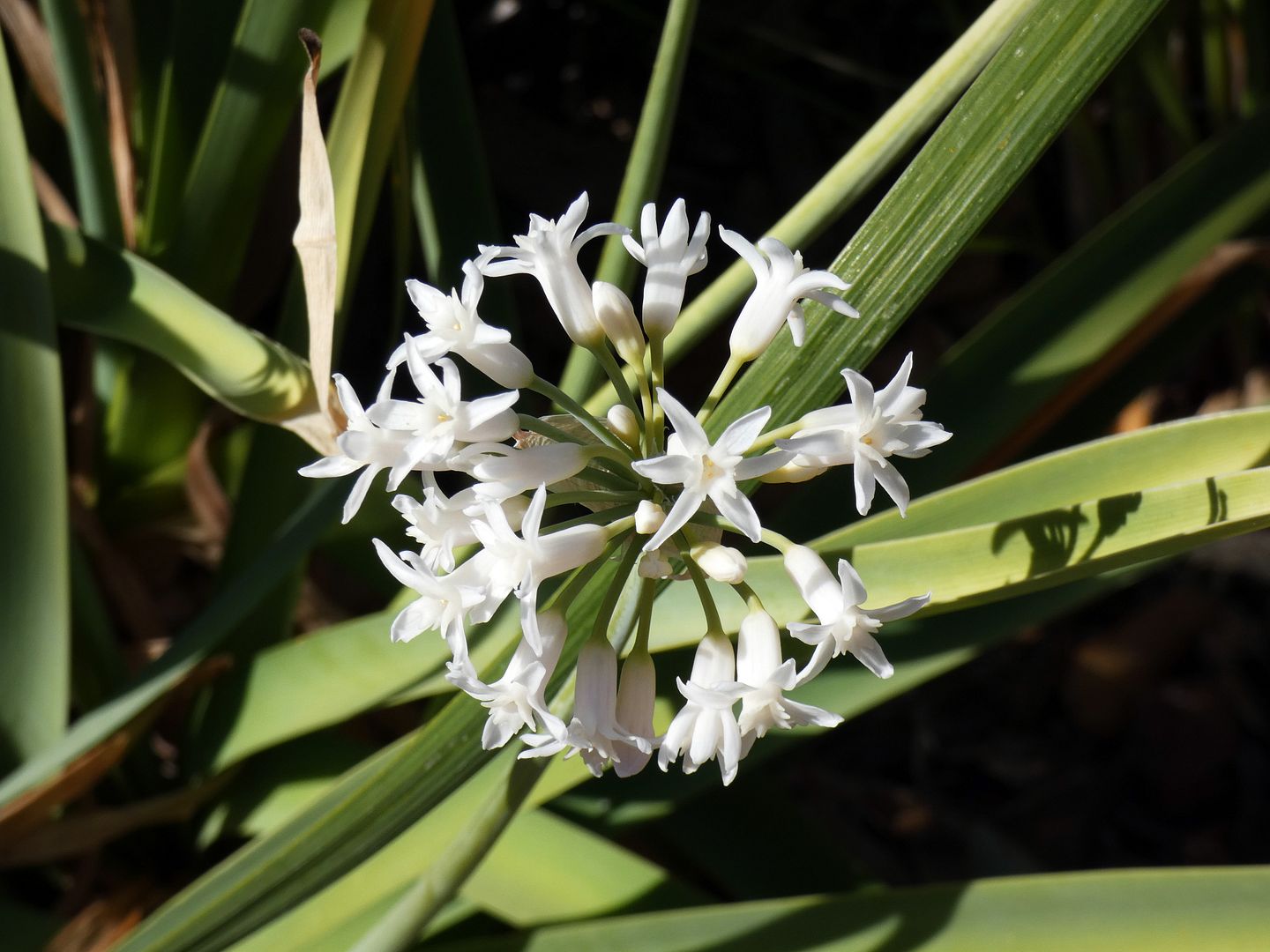 ...and other plants meticulously curated by Laurence Nicklin of Capetown (who became Taft's son-in-law when he married his daughter Jenny)...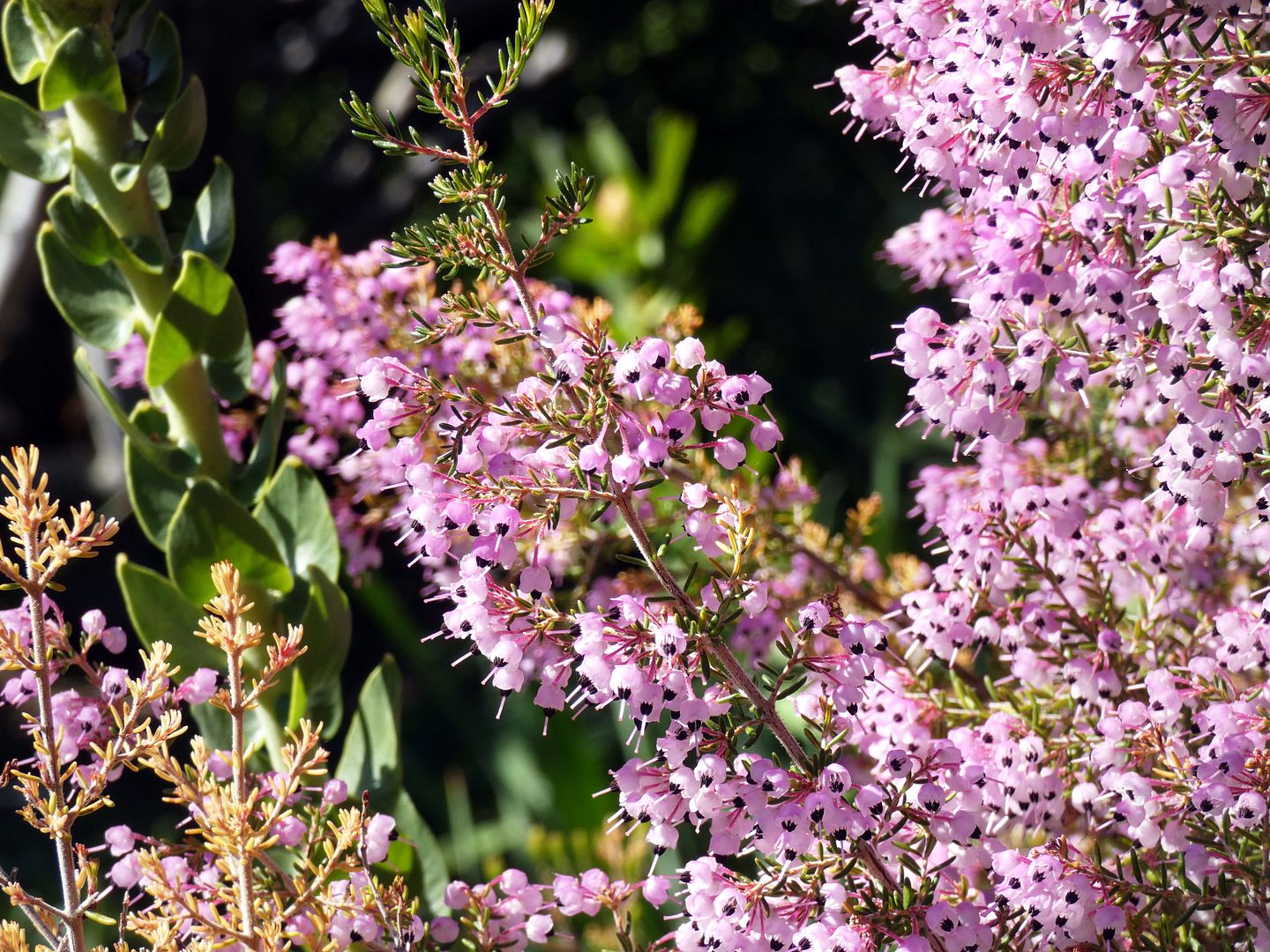 ...like the heath (or heather) known by the scientific name Erica...
...and the shrubby daisybush (
Osteospermum fruticosum
), a member of the sunflower family.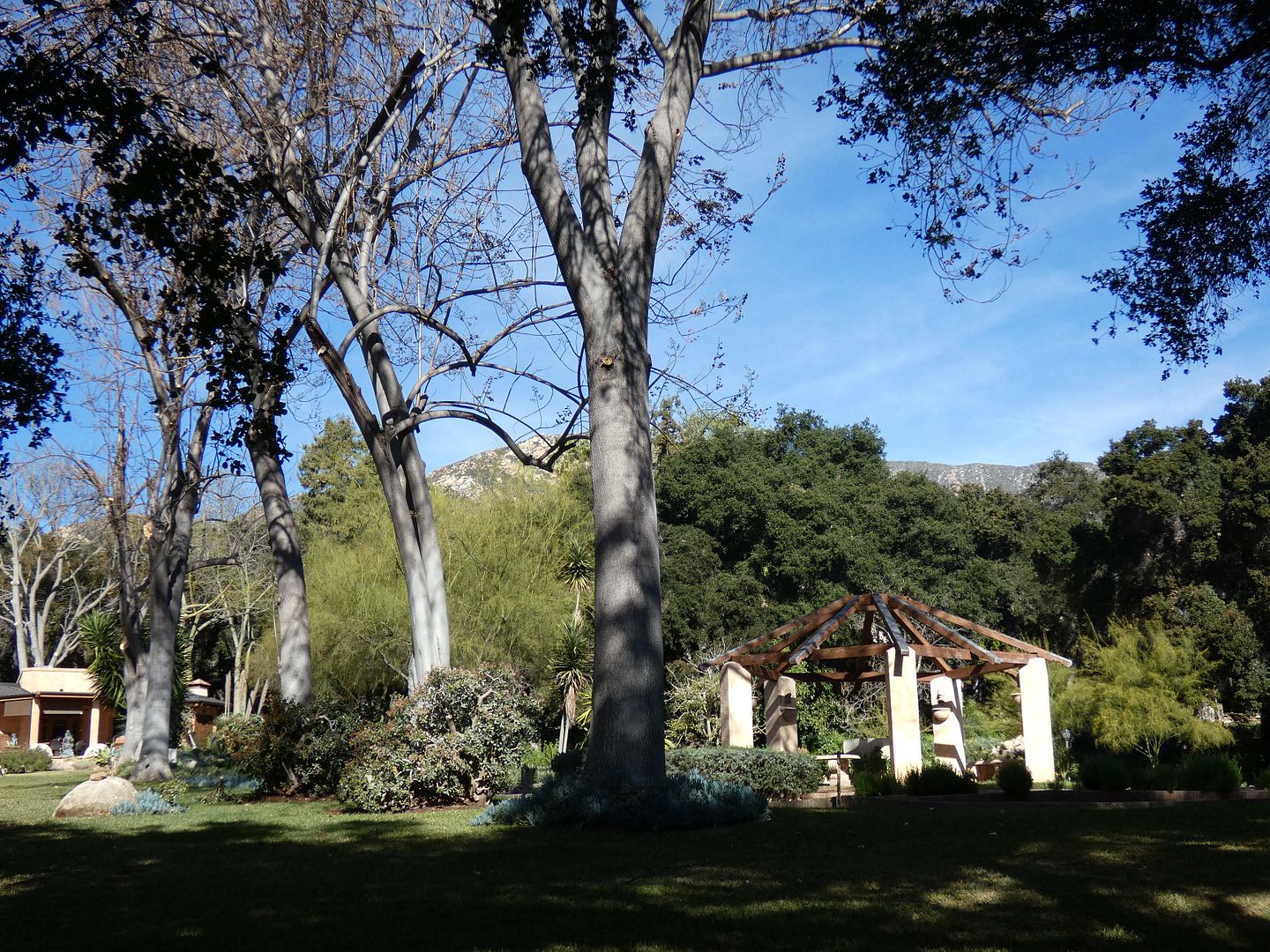 I emerged from the South African garden and onto the Lily Grove Lawn, which led me to the Eco Garden Pavilion...
...past some bush lilies (Clivia miniata)...
...and old-growth trees...
...to the private residence designed by Ojai's own architect Marc Whitman—who just happens to be Taft's son-in-law, married to his daughter Julia.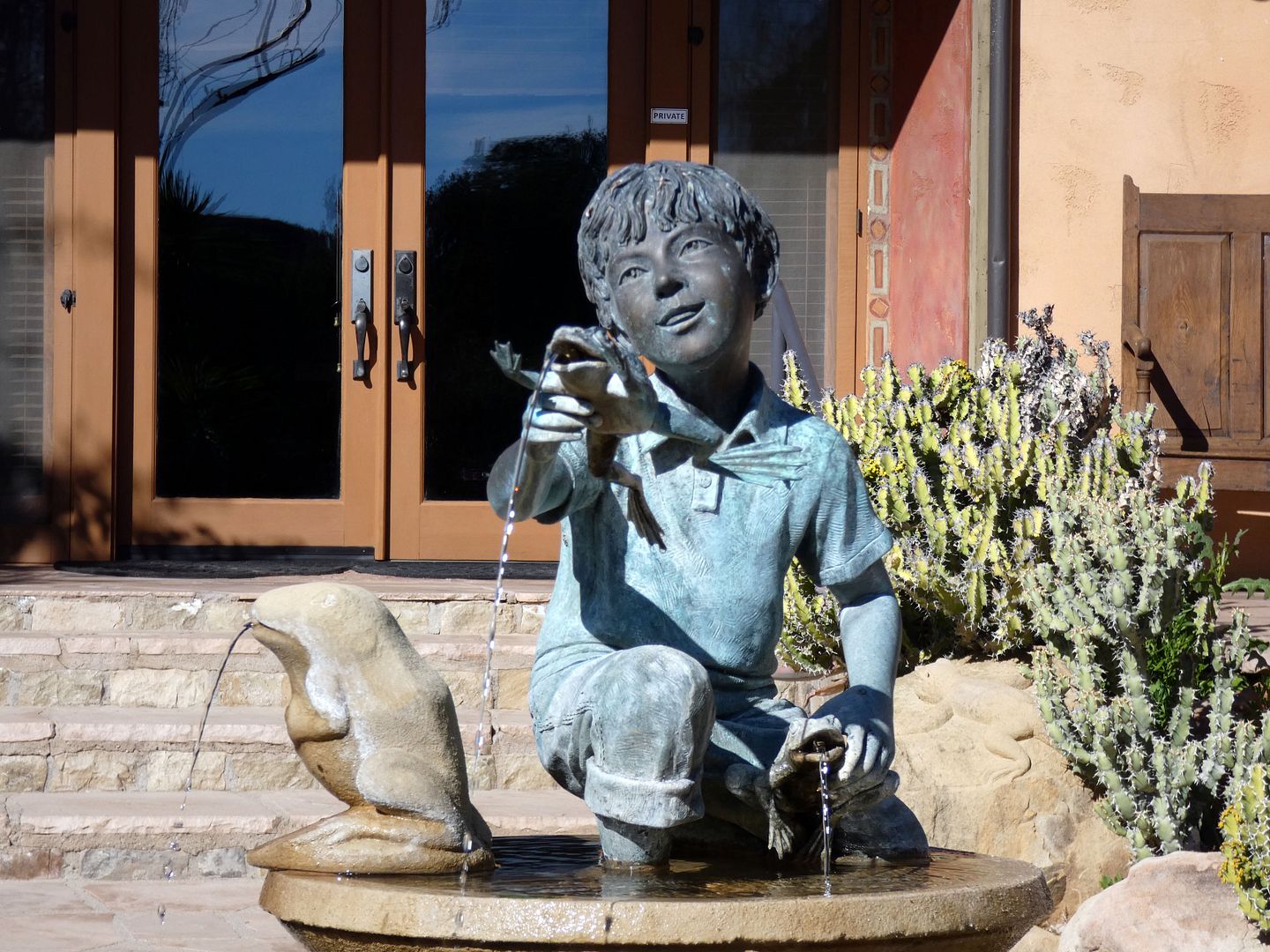 Although it's not accessible to the public, it is surrounded by some points of interest, like statuary...
...and nubby, pointy silk floss trees (Ceiba speciosa).
Beyond it is the Studio Garden...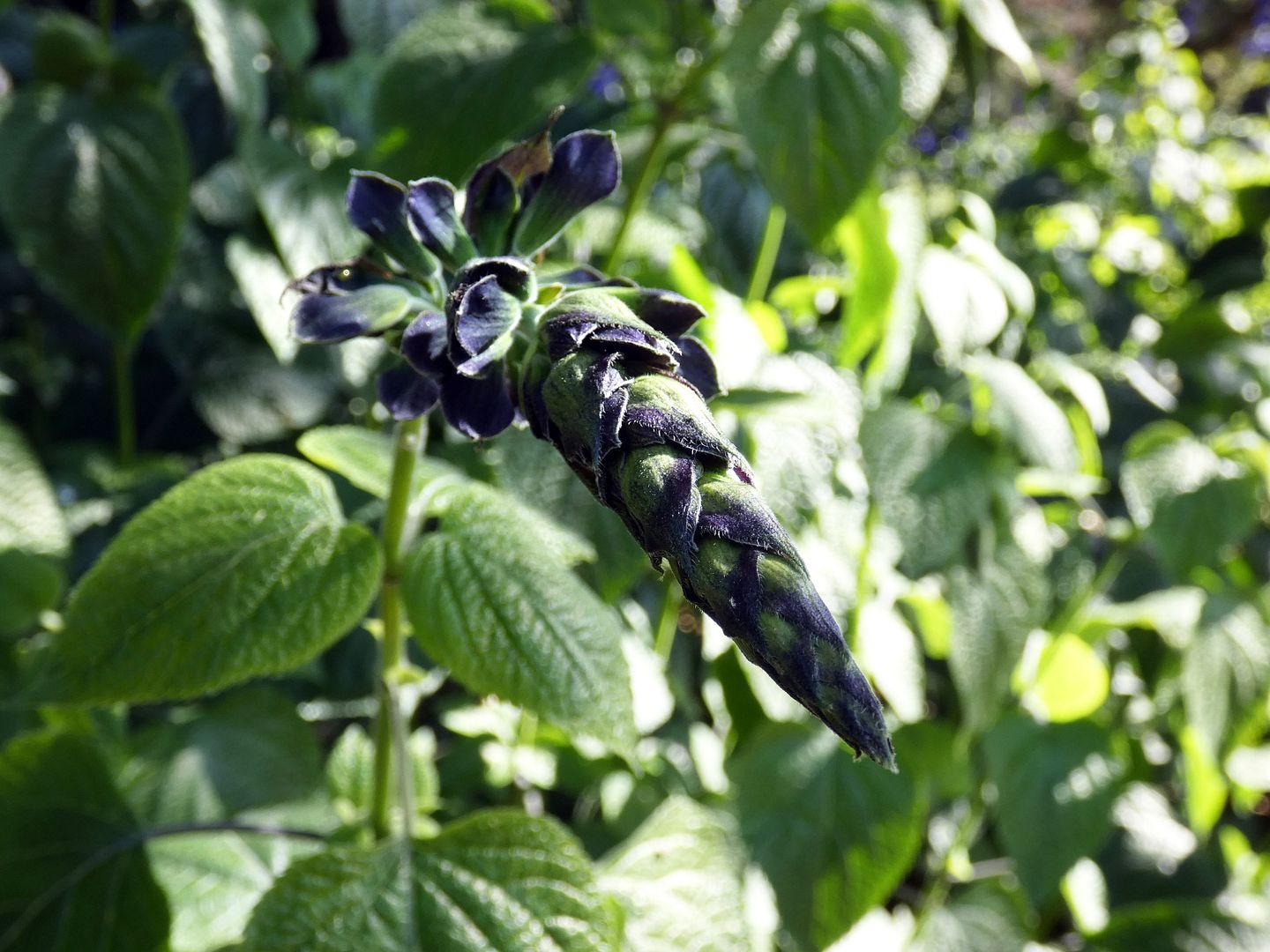 ...at this time of year, bursting in colors of hot pink and dark blue...
...where a studio houses two artists in residence, one of whom was working and open to visitors while we were there.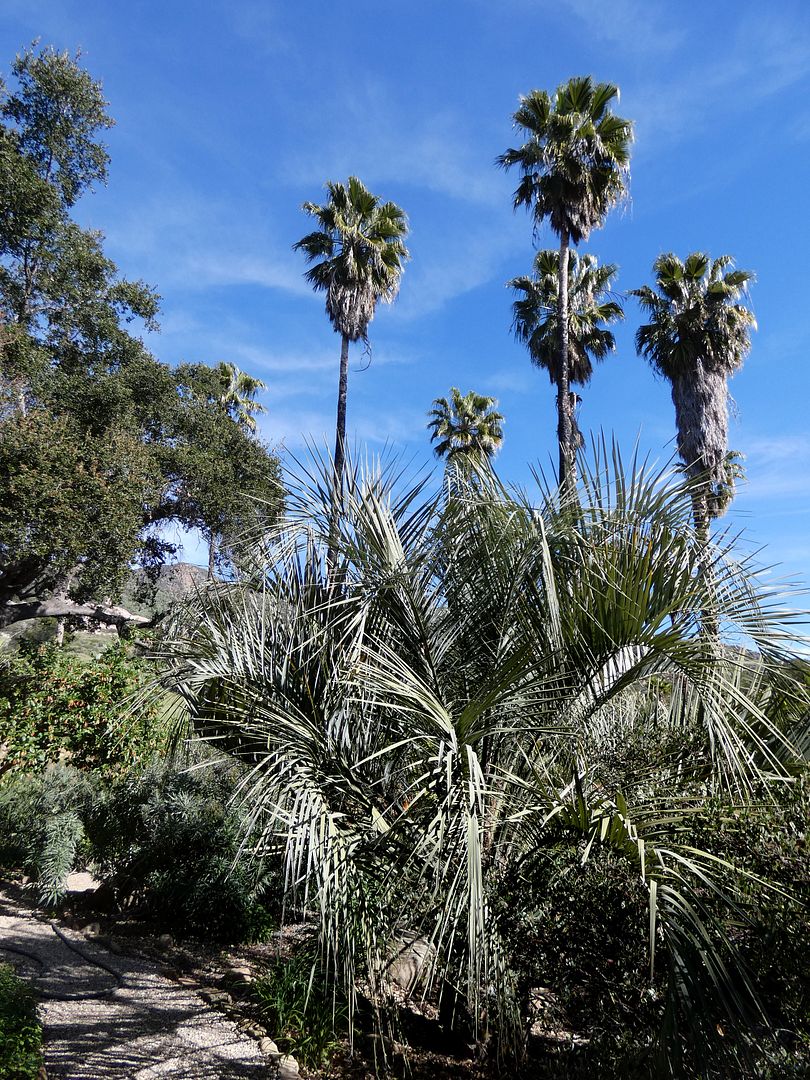 But instead of staying to chat too long, I wanted to keep walking and exploring.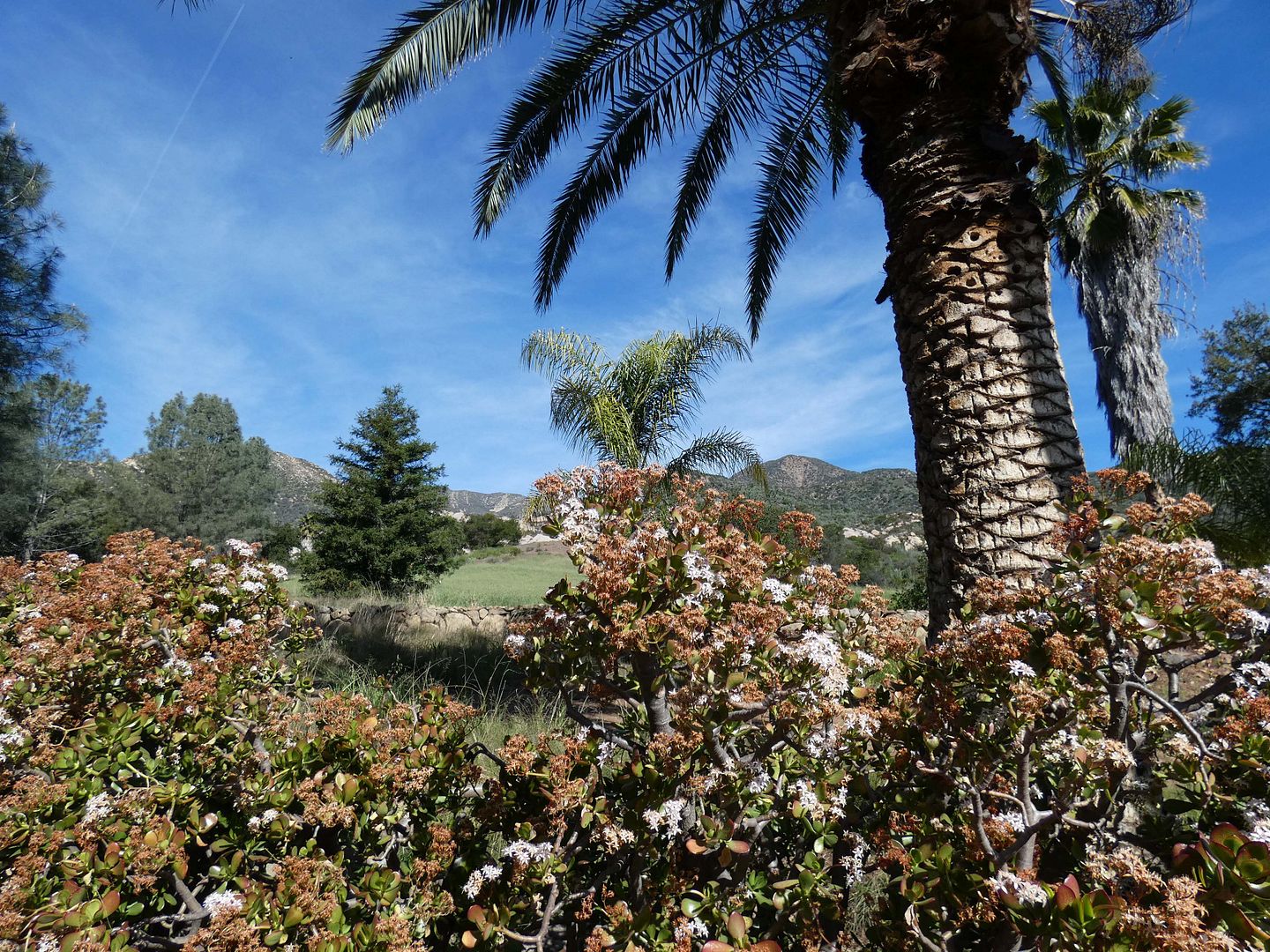 I treasured the silence—and the views of the Topa Topa Mountains in the distance.
Birds of paradise stood unflapped by a small amphitheater.
And beyond it, the Australian garden held similar but, in some cases, different delights brought in by Australian horticulturist Jo O'Connell (of Australian Native Plants Nursery in Ojai), hired by John Taft in 1992.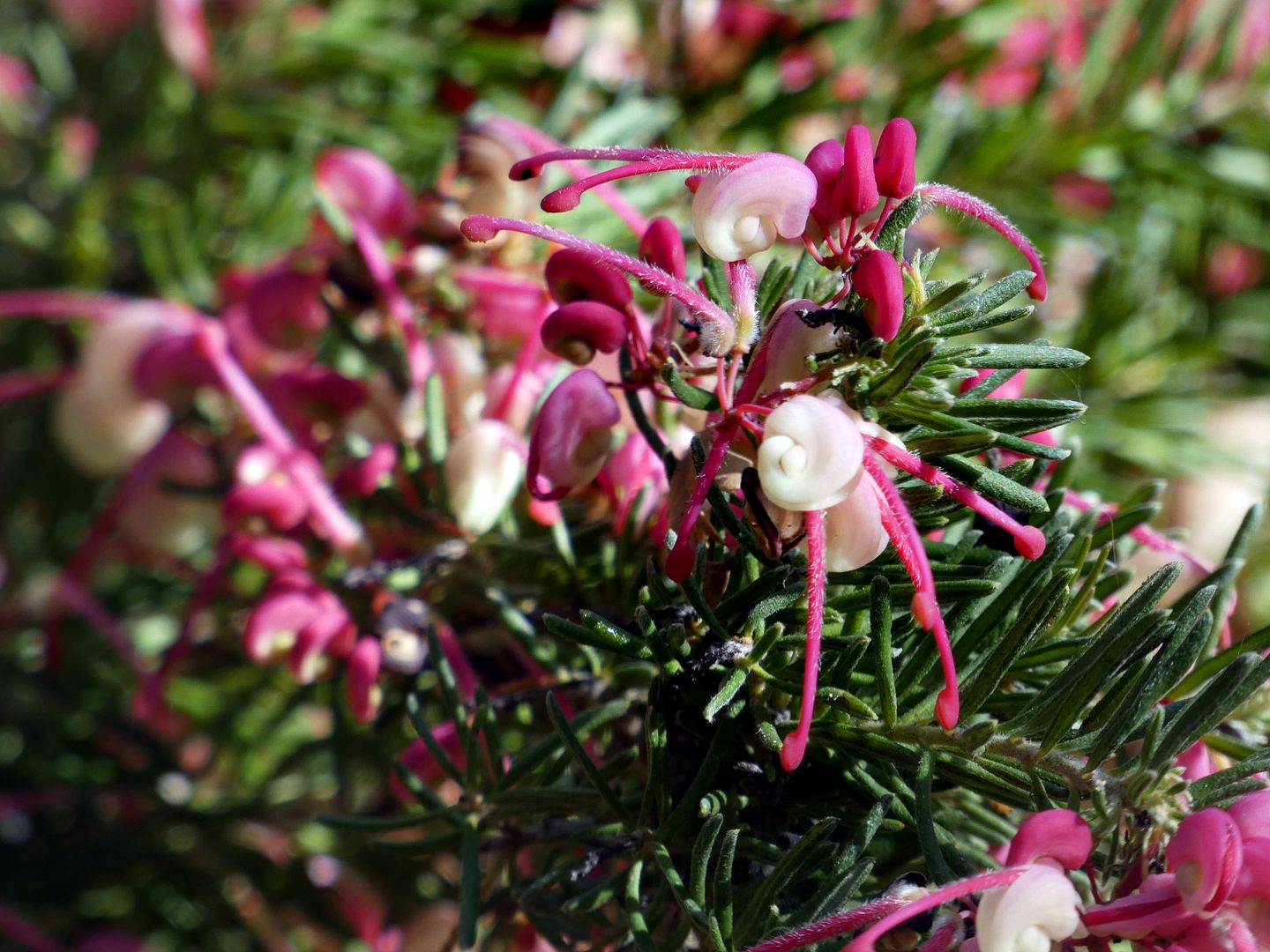 For example, there's the grevillea (perhaps Grevillea johnsonii or Grevillea rosmarinifolia?), with its hot pink spider flowers...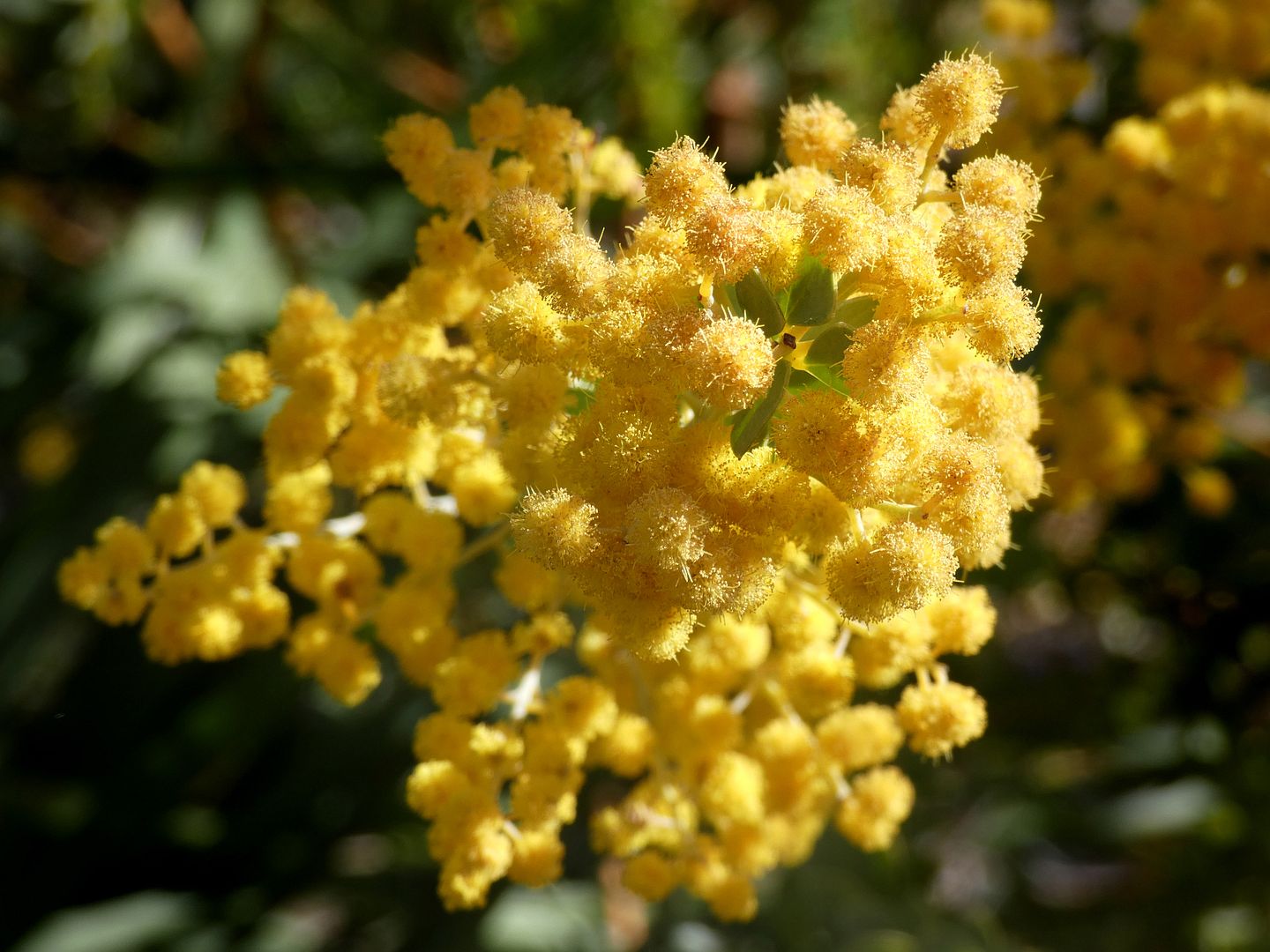 ...and clusters of golden wattle (Acacia, perhaps cultriformis).
Heading down the path, back towards the entrance, the aloe was blooming in the Aloe Garden...
...surrounded by a few friendly faces.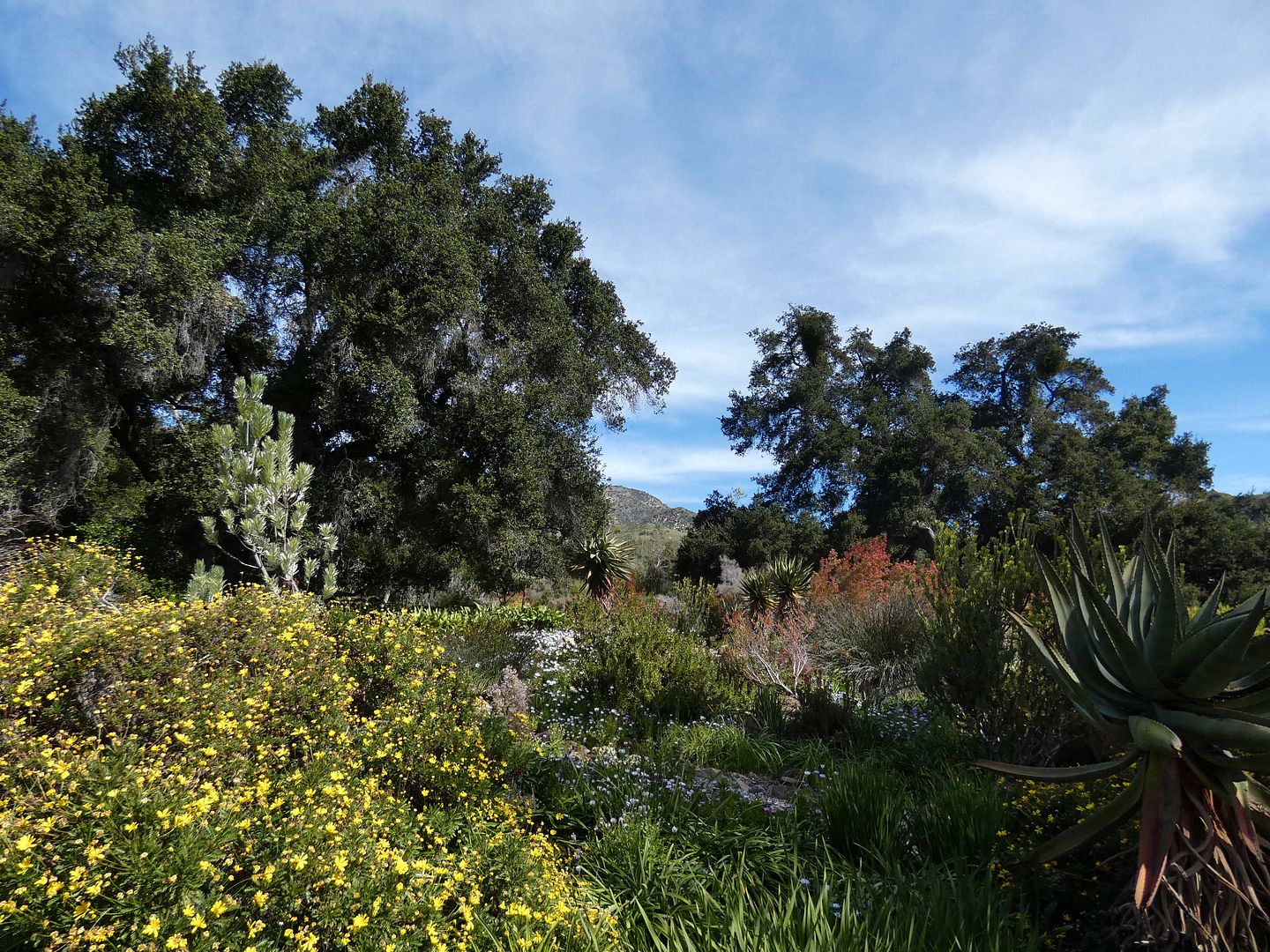 The landscaping throughout the 15 acres is incredibly lush...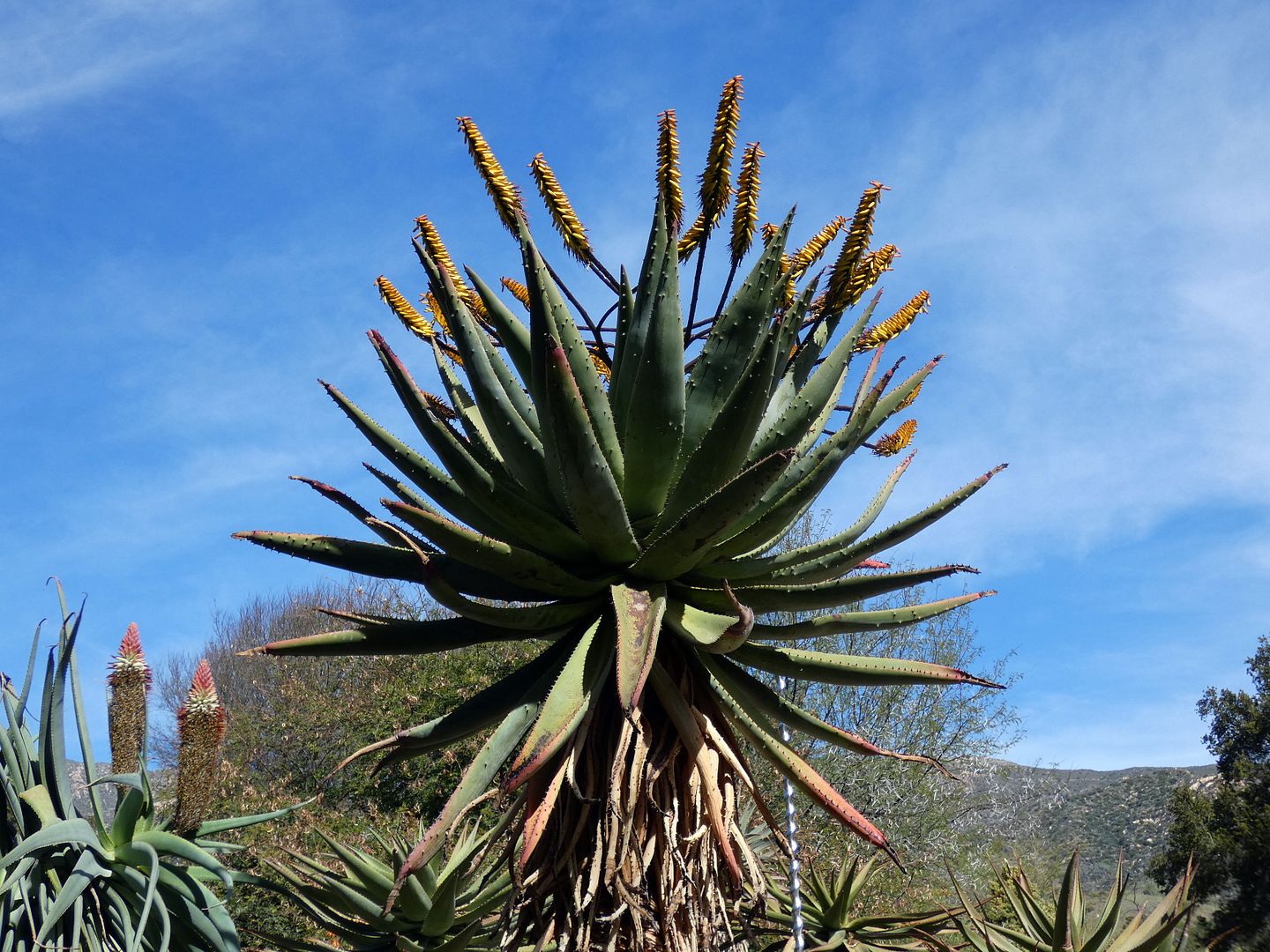 ...mixing succulents (like agave and multiple types of aloe) in with flowering shrubs, grasses, trees, and even ancient plants (like cycads).
The mid-morning winter sun cast just the right rays—creating drama with just the right shadows.
Wandering through the "tree aloes" known as candelabra aloe (Aloe arborescens) felt especially fitting...
...as their orange inflorescences inspired the design of the garden's own logo.
It's not a native plant garden, but many of these Mediterranean- and desert-friendly plants feel just as at home in Southern California as in South Africa (where they are indigenous) or Australia (where they've become naturalized, as in SoCal).
And this is by design. Taft
says
that when he was strategizing his approach to the garden, he was inspired by "sister climates" that produce bright colors and eye-popping structural forms.
Today, his garden is a dazzling sight to behold—and because only a few reservations are available on just a few days, and only for a couple of hours, it's not hard to find a little spot all of your own, where you can sit and look for hummingbirds, listen to the bees, and watch ants crawling across delicate yellow petals.
Some people even spot a deer or two there. (I saw plenty off the side of the road on the drive up.)
Maybe it could help someone find some peace, even for just an hour or two.