Temple Isaiah in Palm Springs, California isn't just one temple—but two.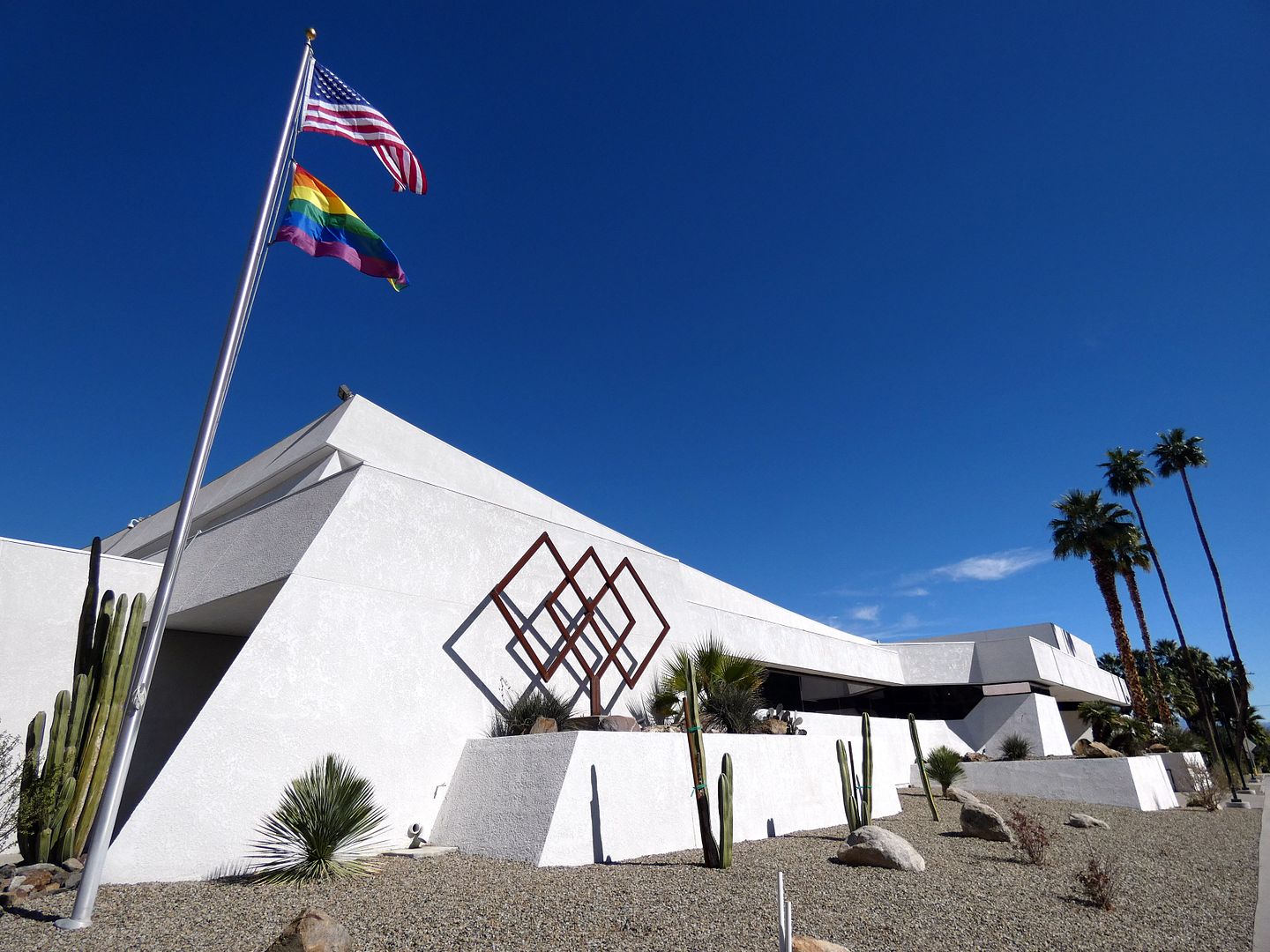 And it's not just a synagogue—but also a Jewish Community Center, performing arts center, concert hall, and screening room for the Palm Springs Jewish Film Festival.
What you see on the outside is actually a circa 1982 addition by architect David Christian, who'd worked for Modernist architect
Donald Wexler
.
It was Wexler who'd first conceived of the expansion of the temple in 1971...
...and Christian who saw it through...
...creating an almost Brutalist-style façade that evokes the massive scale of Noah's Ark.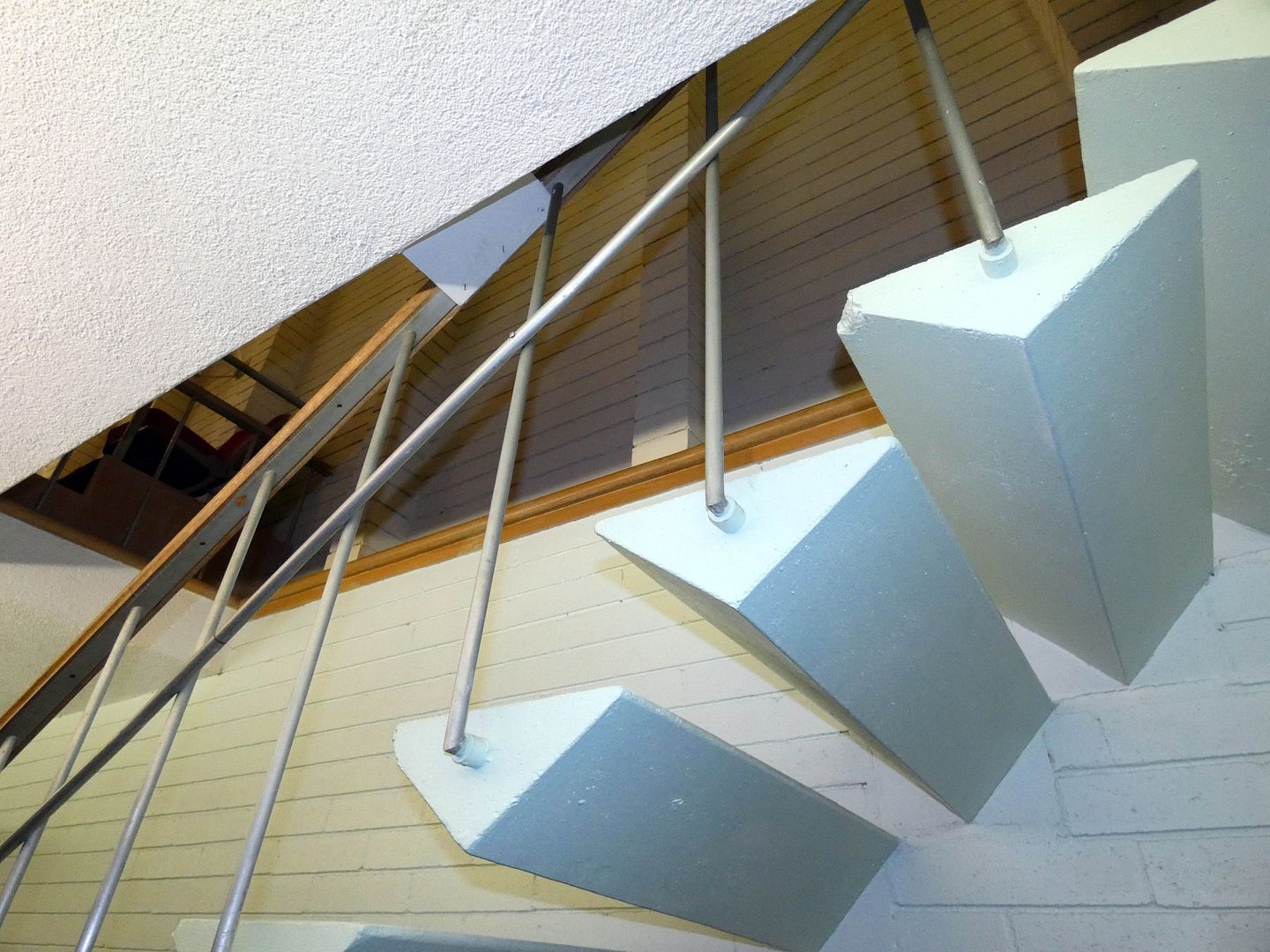 But buried inside that huge structure is the original temple, which dates back to 1952.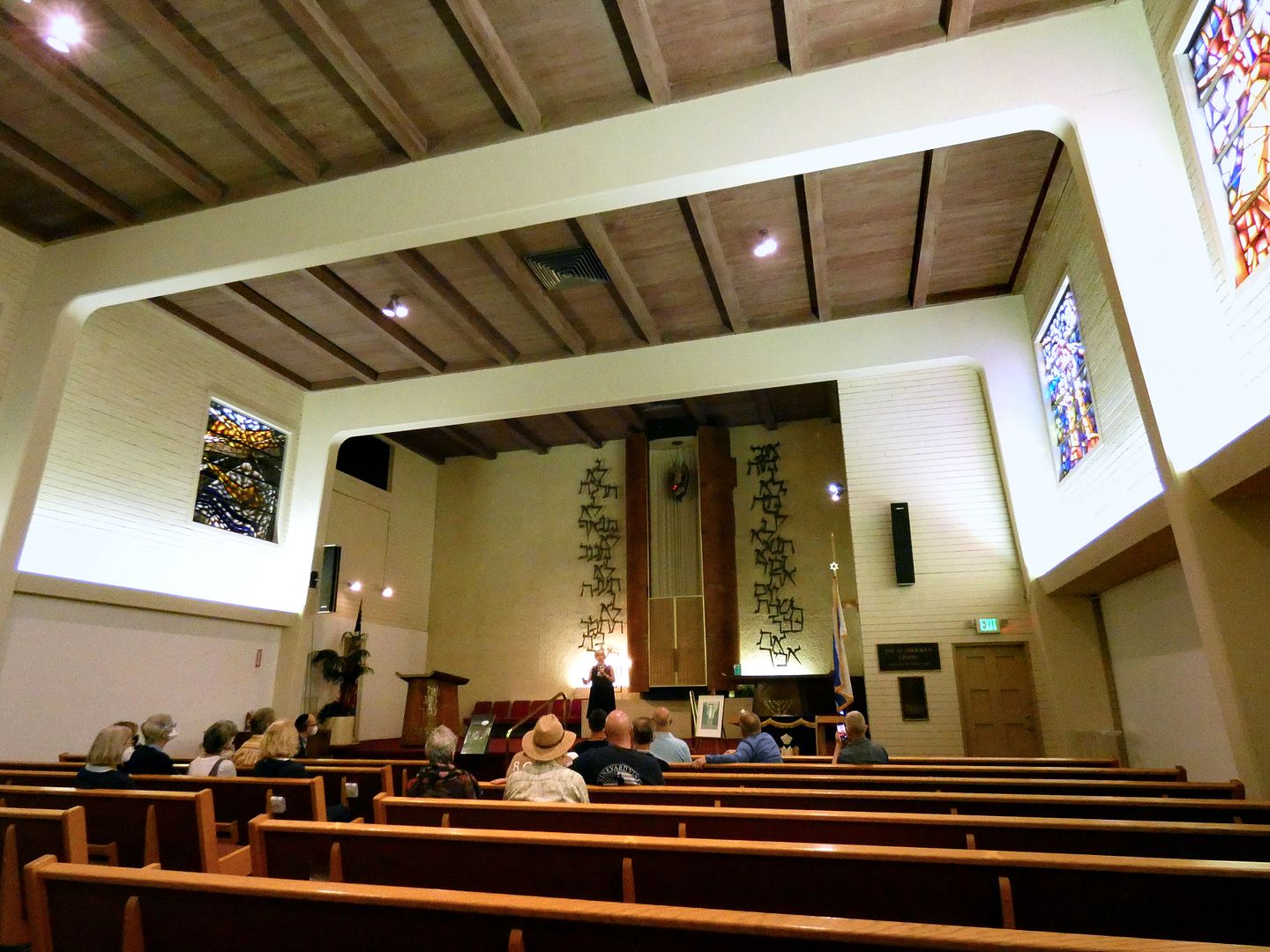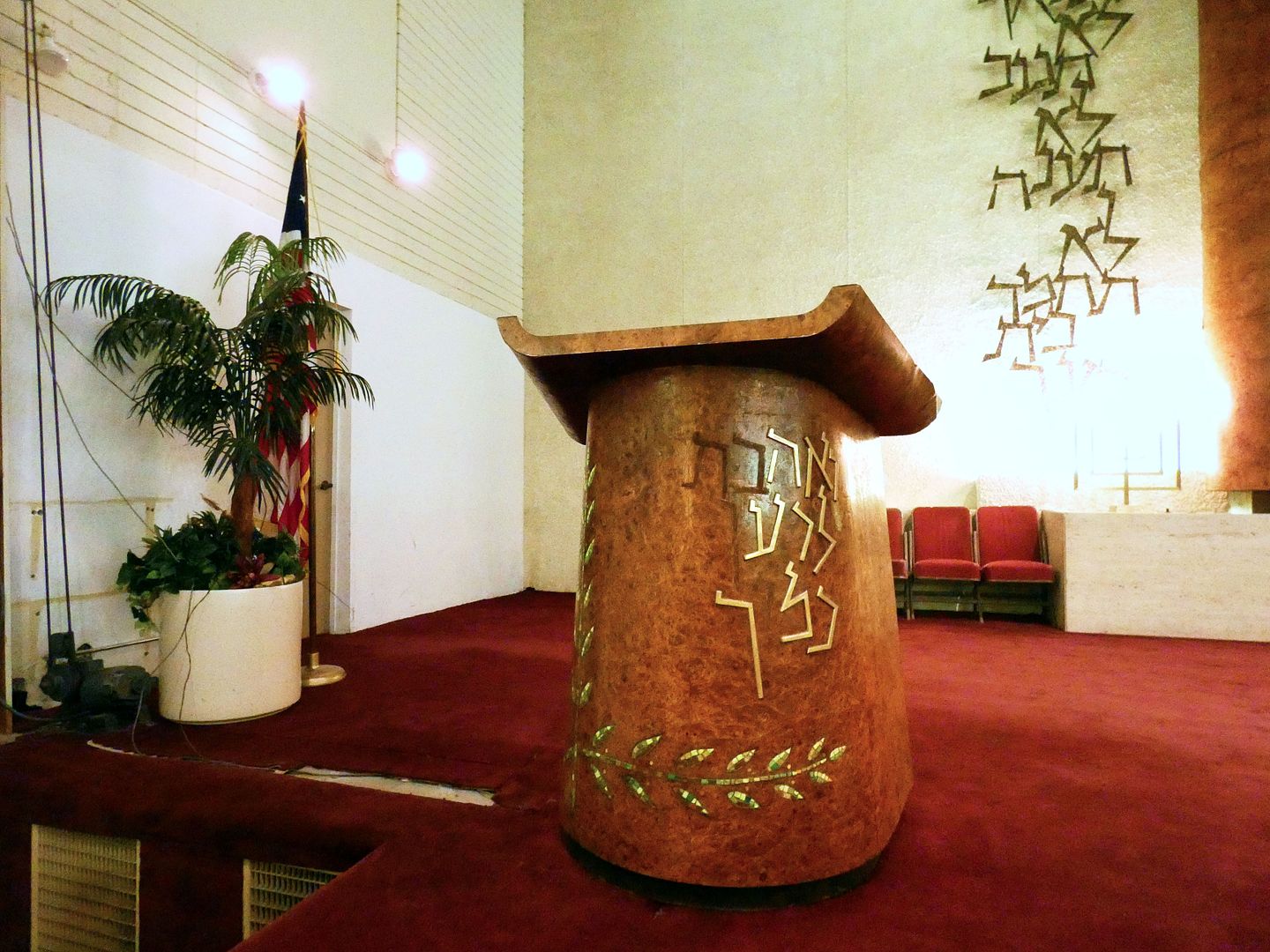 It's renowned for its art and symbolism as much as for its architecture, including the Hebrew letters styled like calligraphy by metal artist Victor Ries (spelling out the Ten Commandments, and arranged to appear as though they're soaring up to heaven).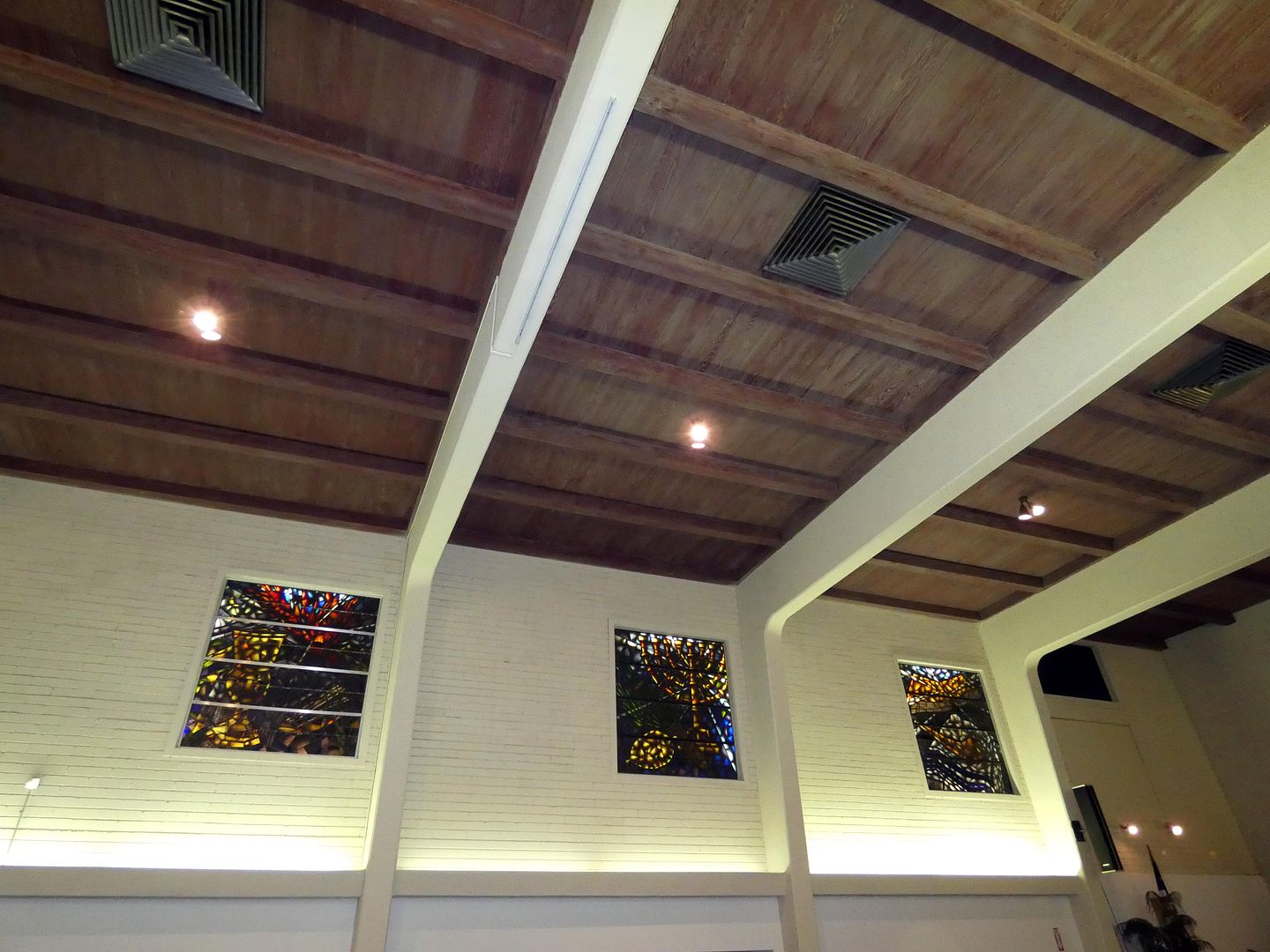 Stained glass windows by artist Eric Ray were added in 1969 and feature relatively abstract designs that relate to Judaism...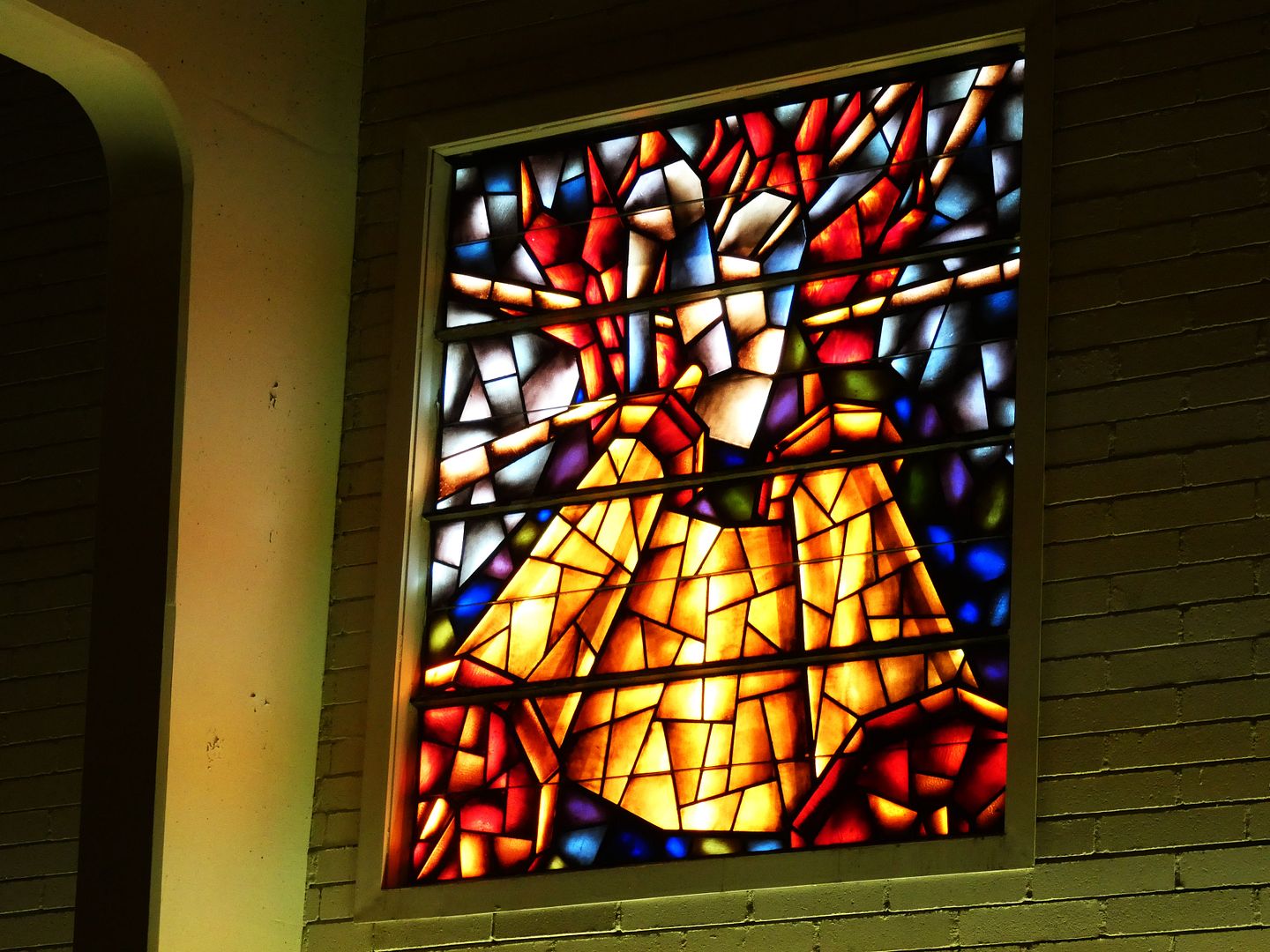 ...like depictions of the fire of Torah and the two tablets of stone...
...a Star of David, the Tower of David, and lots of beams of light.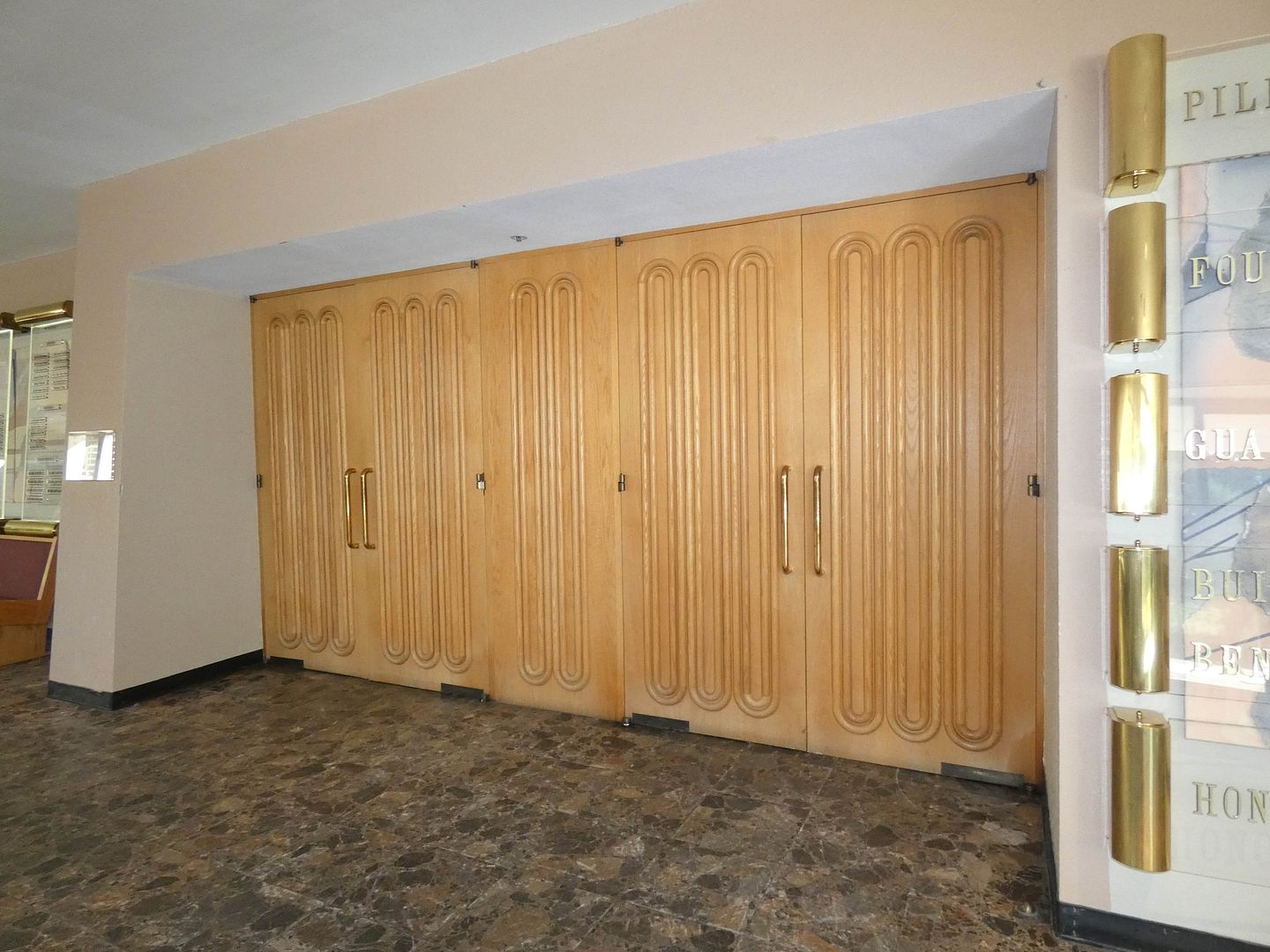 The "old" temple is now essentially in the basement of the "new" temple...
...and upstairs, there's the Bochner Sanctuary (named after Dr. Kurt Bochner, the building chairman at the time of its expansion).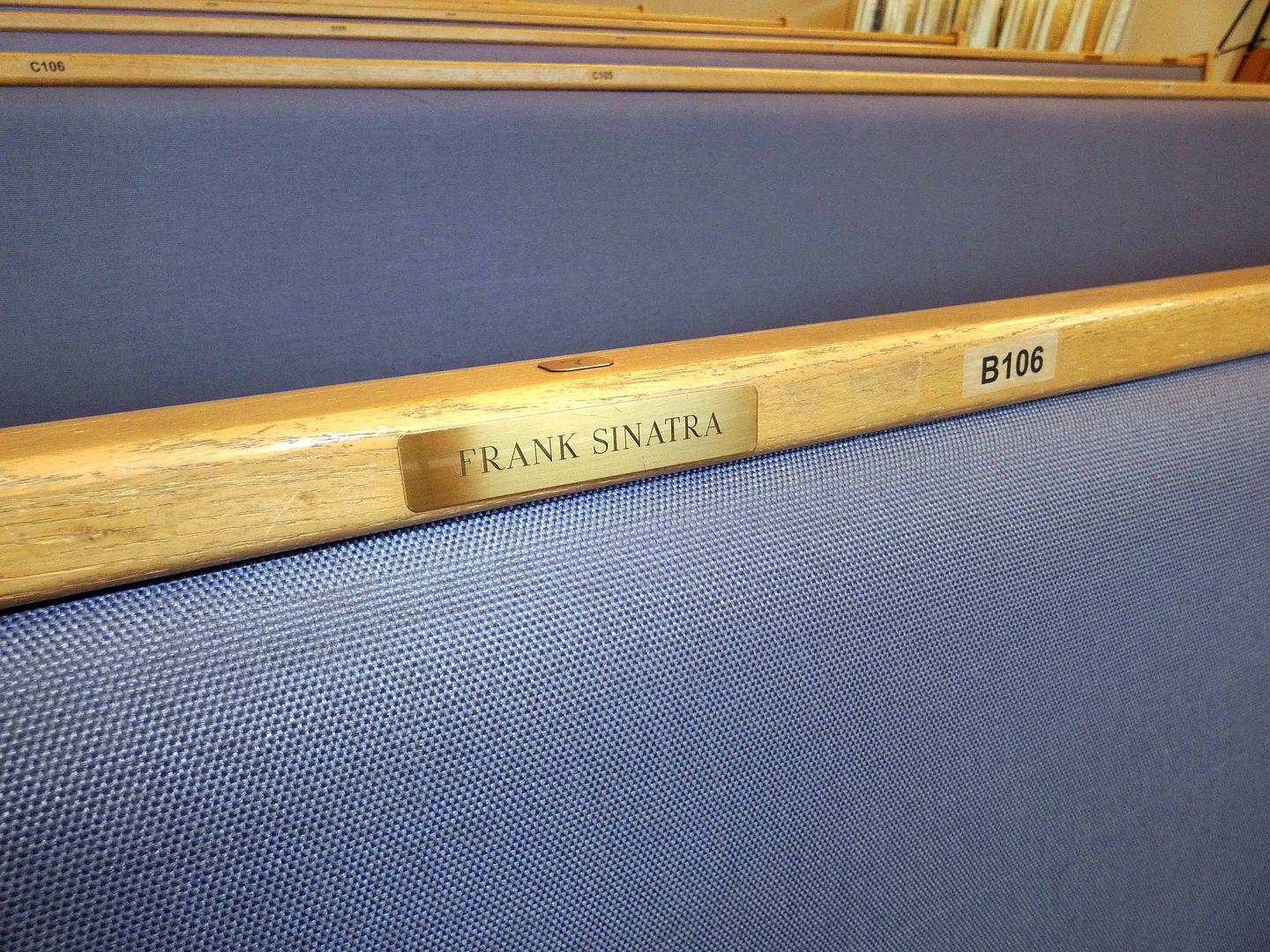 Frank Sinatra was largely instrumental in helping raise the funds for it—and he's got two reserved seats in honor of that.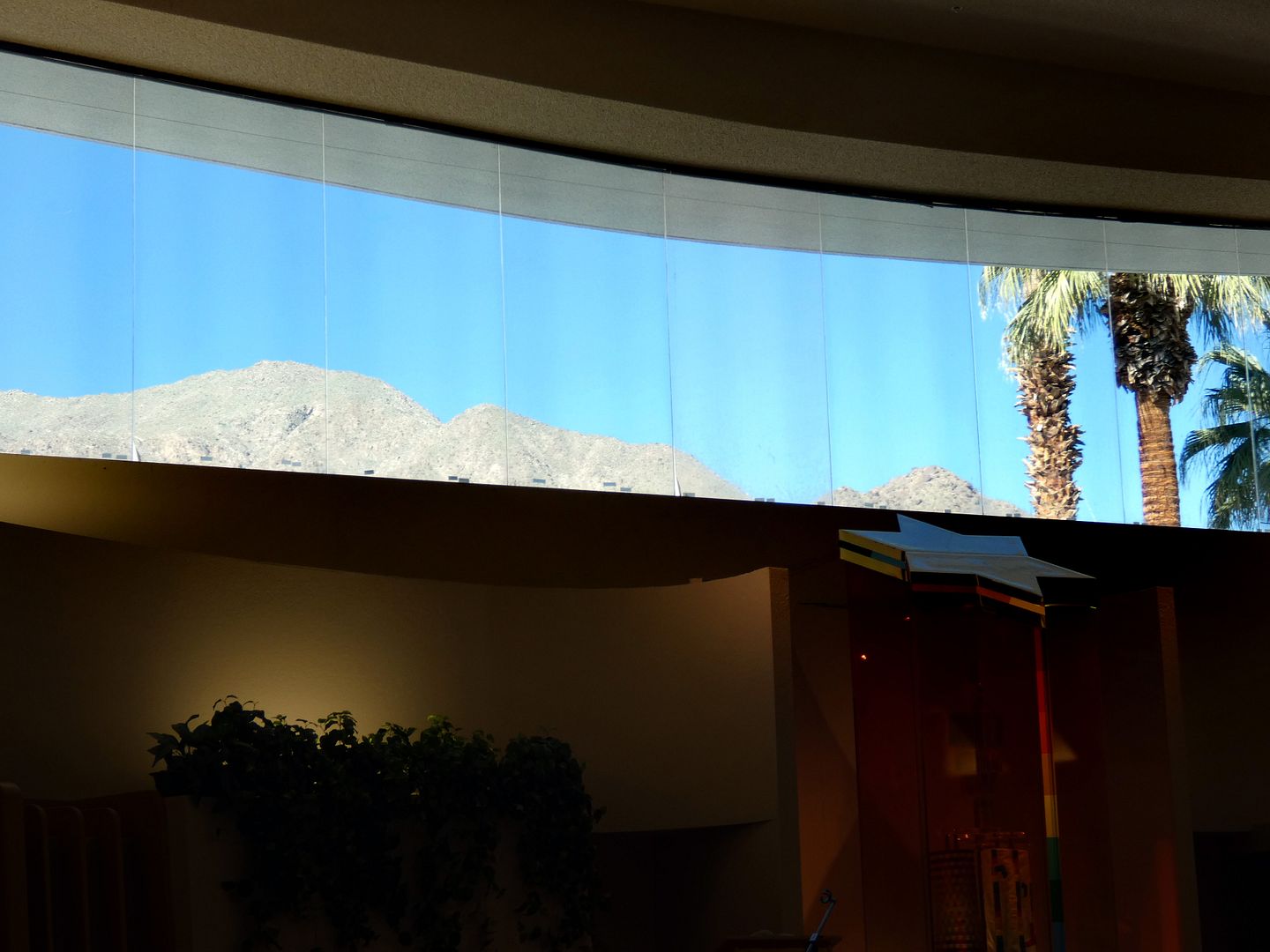 The sanctuary faces west, towards the mountains—which is unusual, as most synagogues are oriented towards the east (in the direction of Jerusalem, which is the direction towards which prayer is focused).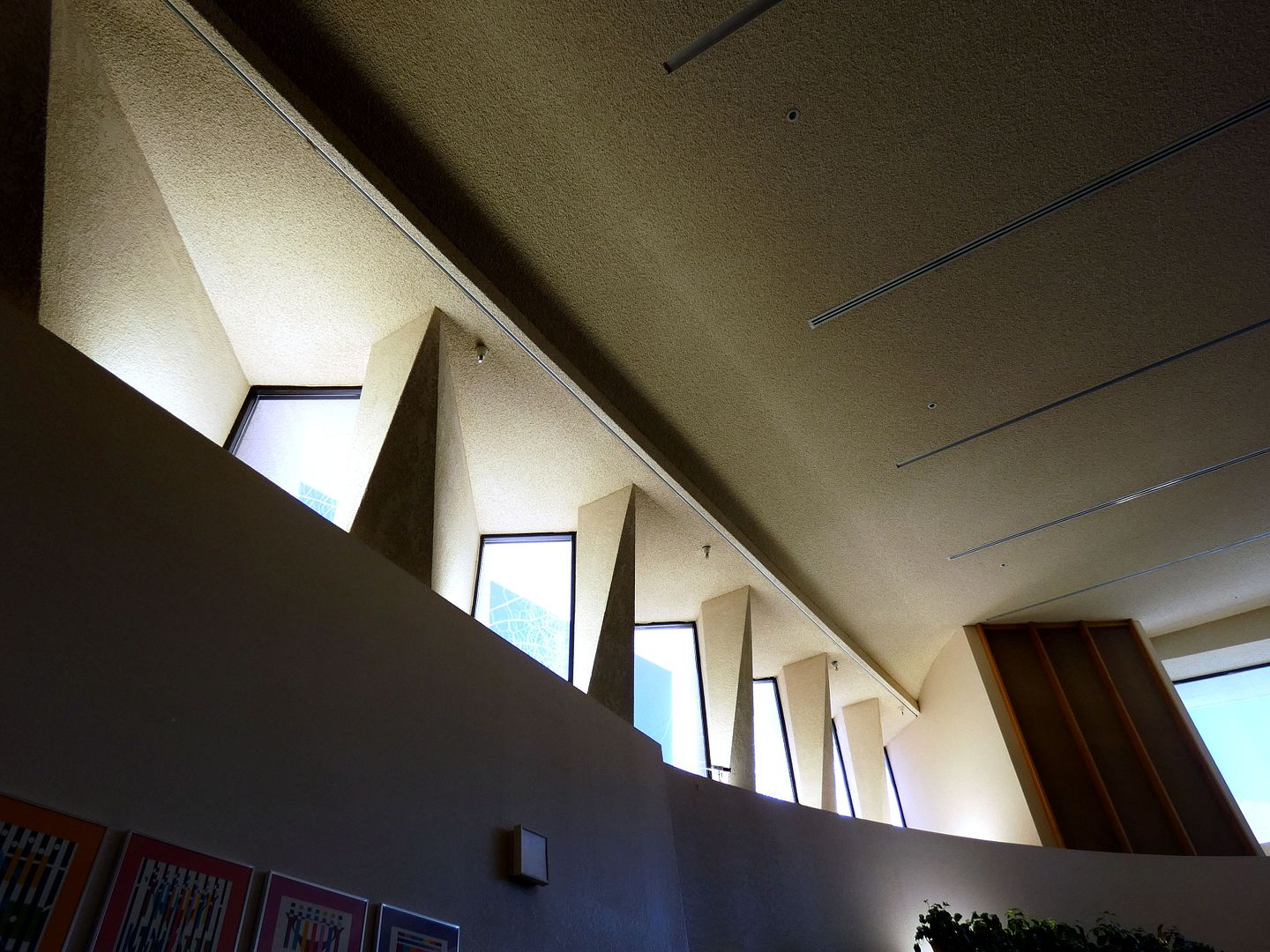 Side panel windows let in plenty of light...
...which helps cast even more rainbows throughout the sanctuary...
... included as a symbol of God's covenant with Noah that there'd be no more flooding.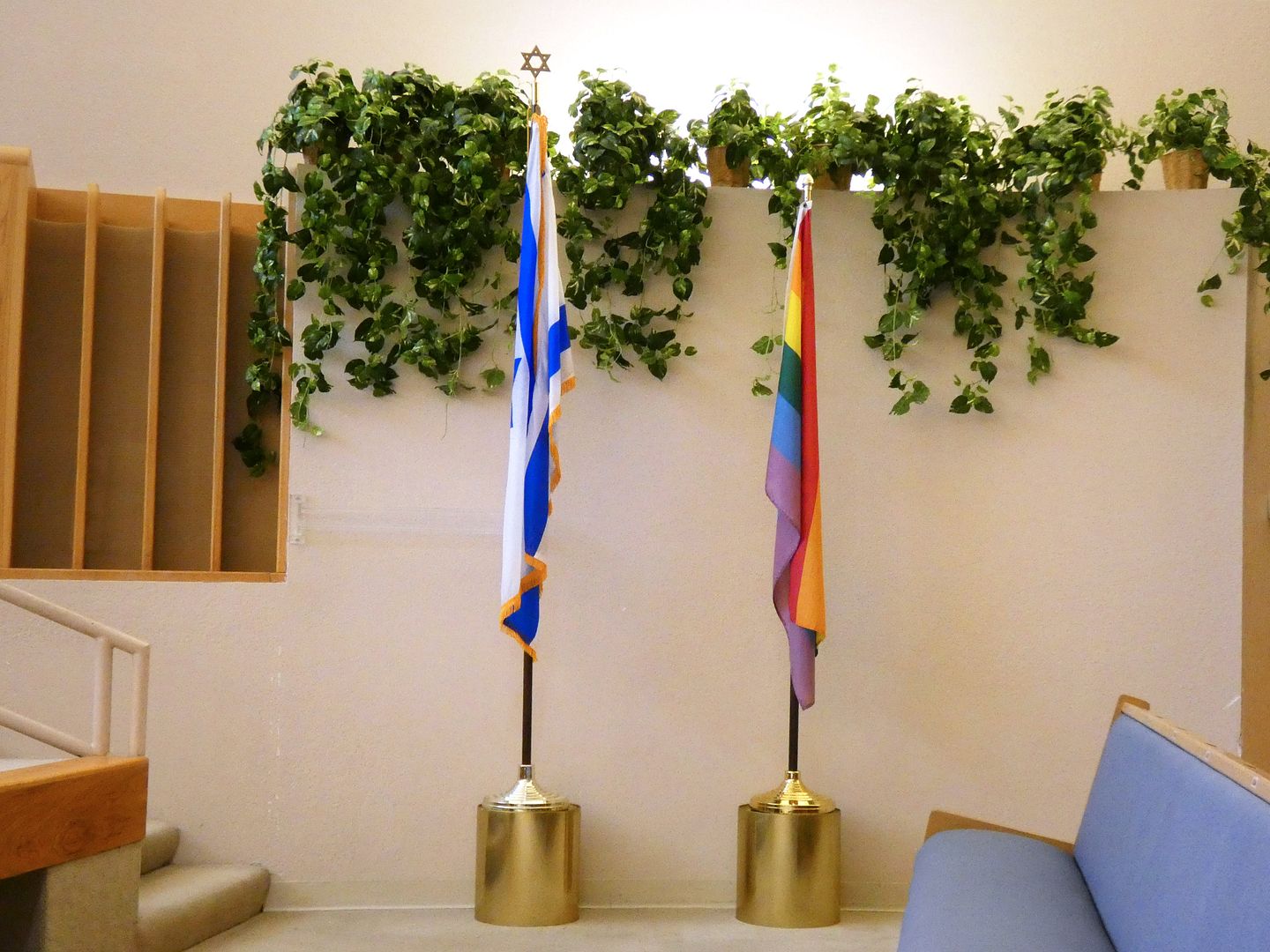 The rabbi and congregation welcome the double meaning of the rainbow—especially in Palm Springs—and welcome LGBTQ members as part of its policy of inclusivity.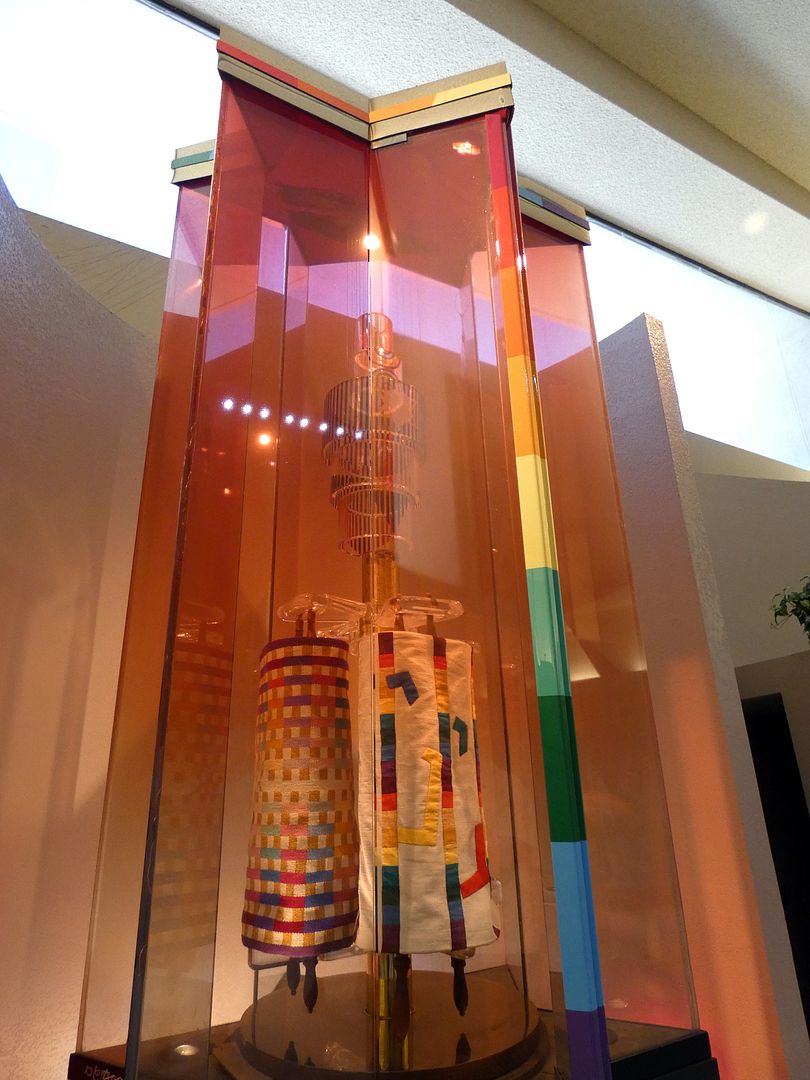 The rainbow is central to artist
Yaacov Agam
's design for the glass and acrylic holy ark, which holds the Torah, and the Eternal Light.
It's also reflected in the color scheme of the pews, which start as a muted blue at the front (closest to the bimah) and transitions to a pinkish hue and then red in the back.
I'm grateful to Modernism Week for the opportunity to see Temple Isaiah in person and learn its story!