I've been long fascinated with the old TWA terminal at JFK Airport, out of commission since 2001 after decades of being too small to serve incoming or outgoing flights on jumbo jets.
Designed by architect and industrial Eero Saarinen—as well-known for the "tulip chair" as for the St. Louis Gateway Arch—the 1962 Trans World Flight Center had fallen into disrepair by the time I got to visit it up close (and inside) in 2011, although it had been partially restored.
Over the last decade or so, I've watched how the defunct terminal of the defunct airline has been restored and even reincarnated as the TWA Hotel, connected to JetBlue Airways' Terminal 5.
It's the only JFK hotel at the actual airport, with the nearest other hotel being 4 miles away. It's also the only hotel accessible by the Airtrain (JFK's version of a "people mover"). And it's been on my bucket list to visit ever since they broke ground in 2016 and the hotel opened to the public in 2019.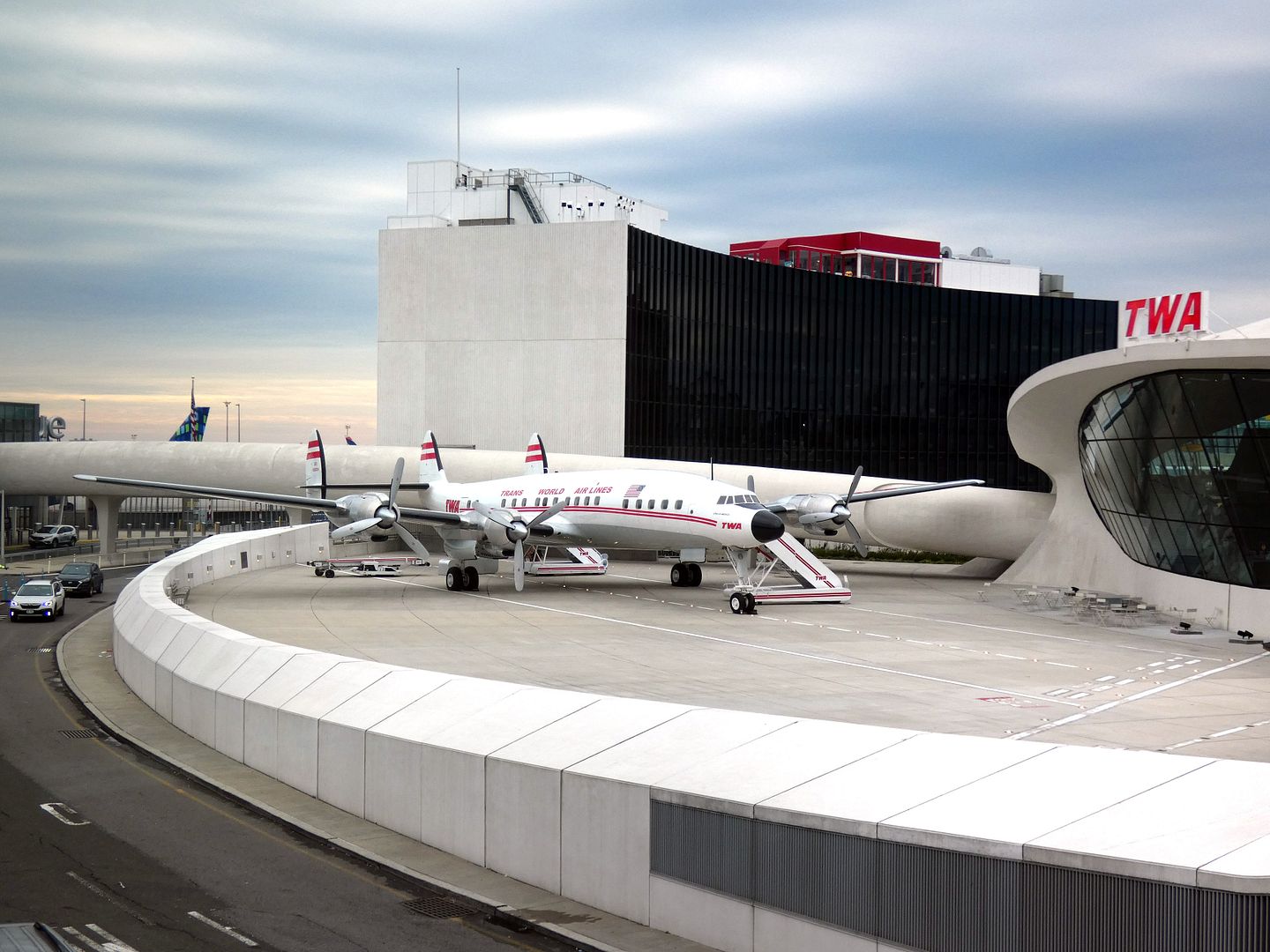 Two hotel towers were built on either side of
Saarinen's original gull-winged structure
(known as the "head house"), and a restored Lockheed Constellation L-1649A from 1958 was brought onto the site and transformed into a cocktail lounge (the "Connie").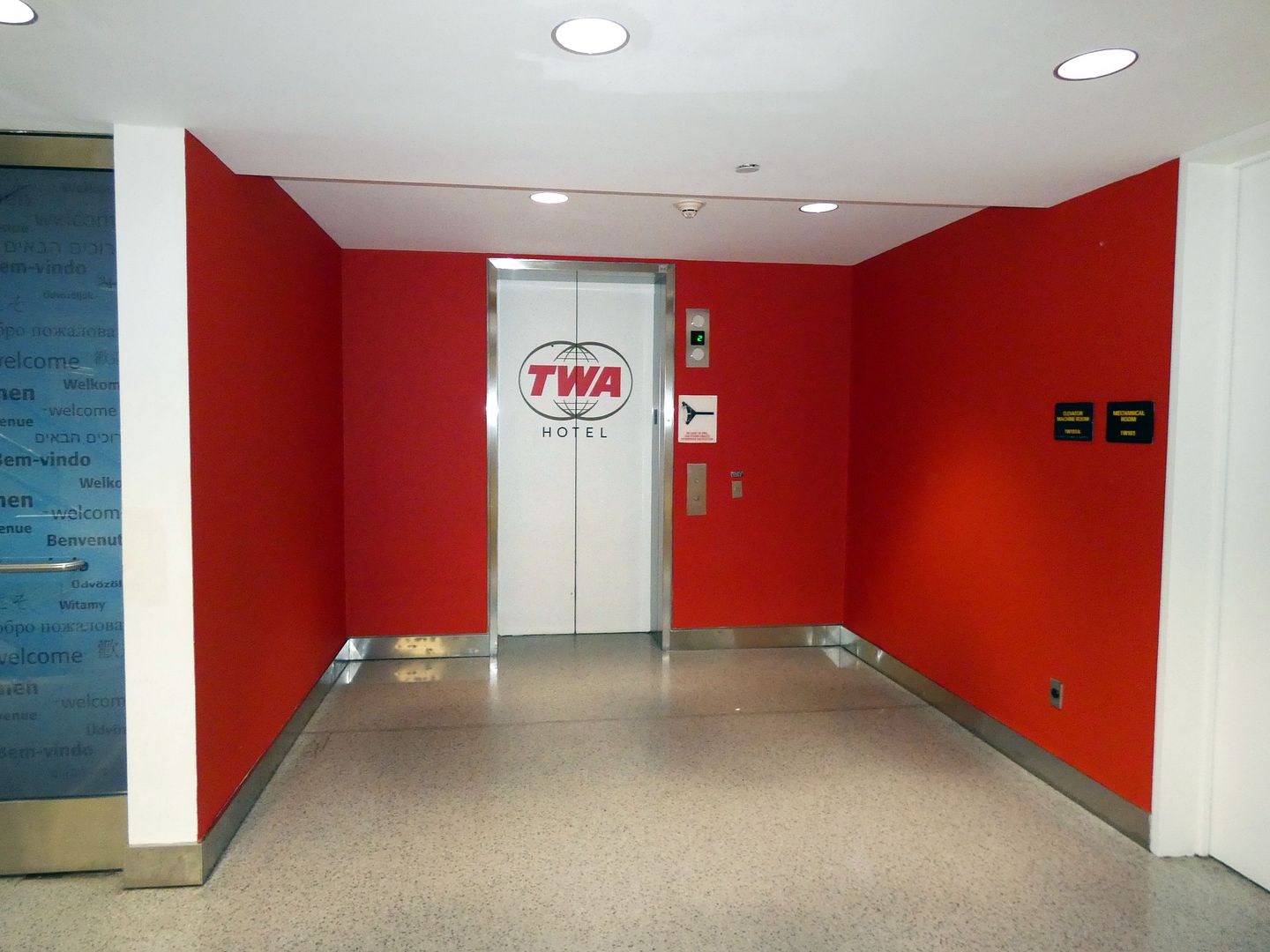 I wanted to experience it all—but I managed to just spend part of my three-hour layover there while flying back to LA after spending Christmas back East, landing at JFK after a flight from Syracuse and waiting for my next leg to take me all the way home via Burbank.
As I made my way through T5's baggage claim area, trolley bag in tow, I thought to myself, "I'll take whatever I can get right now, while I can."
The dedicated elevator from JetBlue's T5 terminal takes you to one of many museum exhibits curated by the New York Historical Society—a reproduction of Howard Hughes's office while he was at the helm (1939 to 1960).
To get to the hotel, you walk through one of two "flight tubes" that were part of Saarinen's original design (and that I had the pleasure of
walking through in 2011
during the Open House New York tour).
As part of the hotel construction, new hallways were tacked onto the tubes to take you to each of the two towers—where guest rooms, conference rooms, and even a pool are now housed.
The inside of the TWA terminal is essentially now one giant hotel lobby—one that preserves the integrity of the original design. There's lots of room for it to breathe—with very few doors or barriers of any kind, meant for a more efficient travel experience.
It's a glorious celebration of the 1960s aesthetic, with little visible modernization.
Much of the building materials were just as I'd remembered them...
...right down to the
white "penny tile."
Near the front door (where I suppose you'd arrive by taxi), the old flipboard (technically called a "split-flap display," colloquially known as a "Solari board") has been restored to announce departures and arrivals to and from domestic and international destinations with a clap-clap-clap.
There are plenty of spaces to congregate, including multiple bars...
...and the Sunken Lounge, with its classic carpet and upholstery all redone in its original "Chili Red" color.
Unfortunately, I passed through on a day the Connie isn't open. It's only one of four of its kind left in the world—which means I absolutely must go back (even if I never get to actually stay overnight there). Besides, its history is so rich (and scandalous!), it deserves its own photo essay.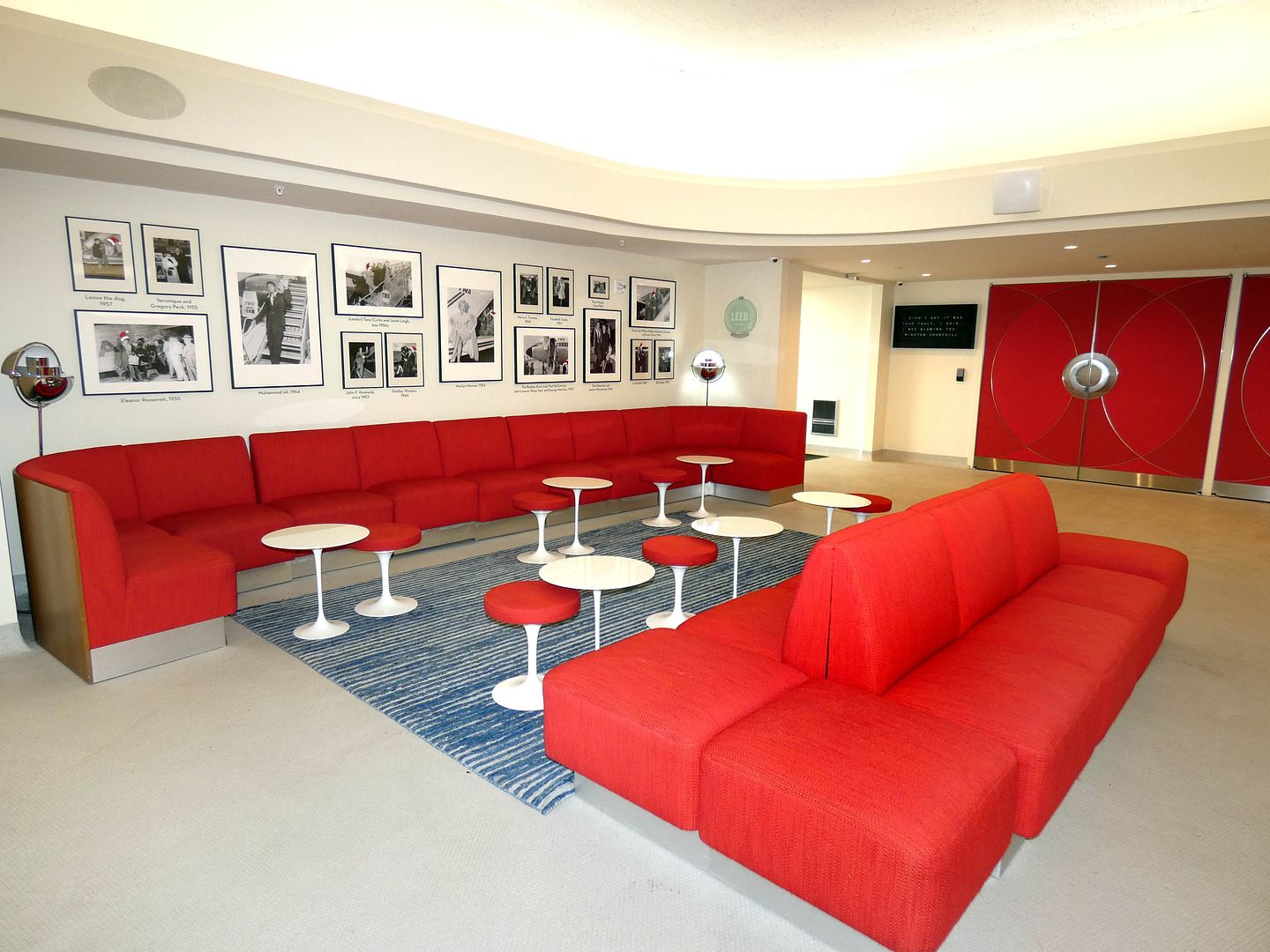 There's an impressive amount of history on display at the TWA Hotel—through black and white historical photos, classic travel posters, and more.
Past the hotel check-in, there's another one of those flight tubes—one that doesn't lead back to T5, but to the other tower and more historical displays.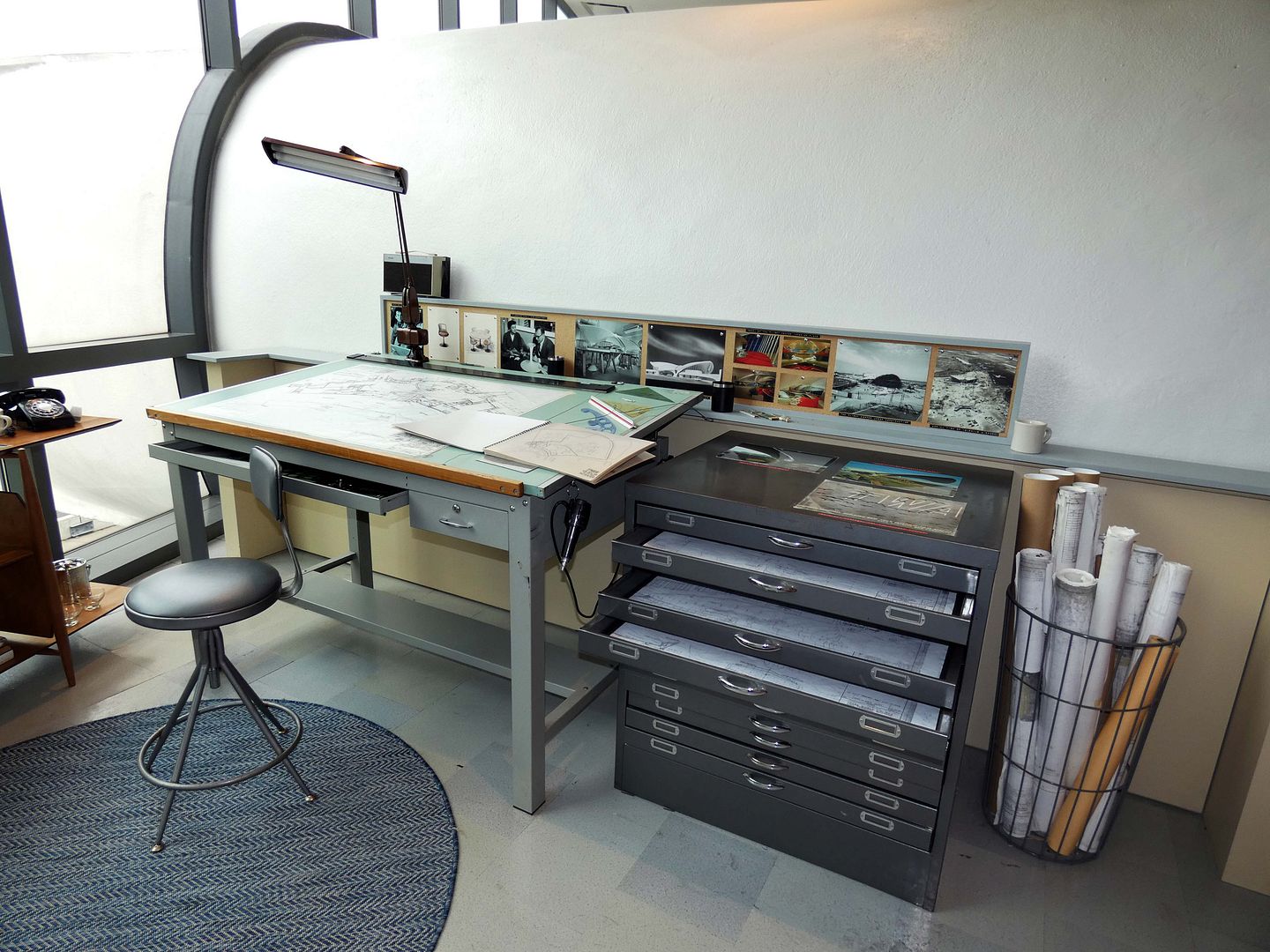 At this end is a reproduction of Saarinen's office and drafting table...
...with blueprints of the terminal donated by the Port Authority of New York and New Jersey.
Back in 1962, JFK Airport was still known as Idlewild Airport. It was renamed just one month after John F. Kennedy's assassination in 1963.
Looking at the two-dimensional design of the former terminal is kind of like taking a Rorschach test. What do you see?
But walking through the three-dimensional version of it, with its walkways and multiple levels, is still simply mind-blowing.
Now a monument to Jet Age design, it still looks as futuristic to me as it must've back in 1962—the same year that astronaut John Glenn became the first American to orbit Earth and that The Jetsons debuted on national television.
And in many ways, it's also a monument to pop culture. The Sunken Lounge is where fans waited to watch the Beatles arrive to the U.S. in 1965 (a year after their fateful first-ever stateside landing via
Pan Am
).
Among the other historical displays throughout TWA Hotel's public spaces is a collection of
flight crew fashion
.
It features dozens of full TWA uniforms for in-flight crew members—many by top name designers like Oleg Cassini (1955-1960), Don Loper (1960-1965), and Ralph Lauren (1978-2001).
The earliest outfit designs are from Howard Greer (1944-1955), whose "cutout" suit was inspired by WWII military uniforms—but featured a triangular flap that could be unbuttoned to cover the TWA logo while the air hostess was engaged in illicit activities (like drinking or smoking).
Then there's the groovy "un-uniform" designs of Dalton of America in "jungle green," "poppy orange," and gold, circa 1968-1971...
...lots of delightful headwear...
...and Valentino wash-and-wear fashion (machine-washable and drip-dryable!) in bright colors like plum...
...and neutral tones like bone and brown, both of which were popular during his tenure designing for stewardesses (as they were called starting in 1970) from 1971 to 1975.
Even after exploring all of that, I still had time to take a lunch break at The Paris Café by Jean-Georges.
It occupies the entire space of the flight center's original Paris Café and Lisbon Lounge...
...although most of the original designs from
Raymond Loewy
appear to have not survived, save for his "twin globes" logo that now adorns the beautiful carpeting.
I'm sure I didn't get to see everything there is to see, even for those not staying at the hotel.
But after a certain amount of photographing, documenting, and shopping in the gift store, I just wanted to sit and absorb the atmosphere.
Of course, too soon the time came for me to settle up my bill and roll back through the flight tube to return to Terminal 5 for the remainder of my journey. But my visit was a good shot in the arm of Modernism to tide me over until the next time I can return to One Idlewild Drive.