Six Flags Magic Mountain in the Santa Clarita Valley community of Valencia turned 50 years old in May 2021.
It opened as just "Magic Mountain" on Memorial Day weekend 1971 as a joint project of Sea World, Inc. and The Newhall Land and Farming Company
Building the $20 million amusement park on the 44,000-acre Rancho San Francisco—renamed Newhall Ranch after its purchase by Henry Mayo Newhall in 1875—was a feat that the original director of engineering likened to "building an entire city" in just 70 acres.
Newhall Land and Farming company sold the park in 1979 to a company that actually knew how to operate amusement parks—Six Flags, then a Pennsylvania Railroad subsidiary. And in the decades that followed, Six Flags changed hands multiple times and even declared bankruptcy.
But through it all, Magic Mountain has survived—and grown to 260 acres.
So, I signed up for a season pass in April 2021—as soon as the park reopened to the public after its COVID-19 closure—and began a nine-month quest to find the oldest and most original aspects of the park.
Walking past security, through the entrance, and into what's now known as Six Flags Plaza, I noticed the fountain and (as I'd find out later) what used to be called Valencia Falls, in an area once known as Valencia Falls Pavilion.
The Plaza Cafe is original, too—though for a time, it used to be known as the Cyber Cafe.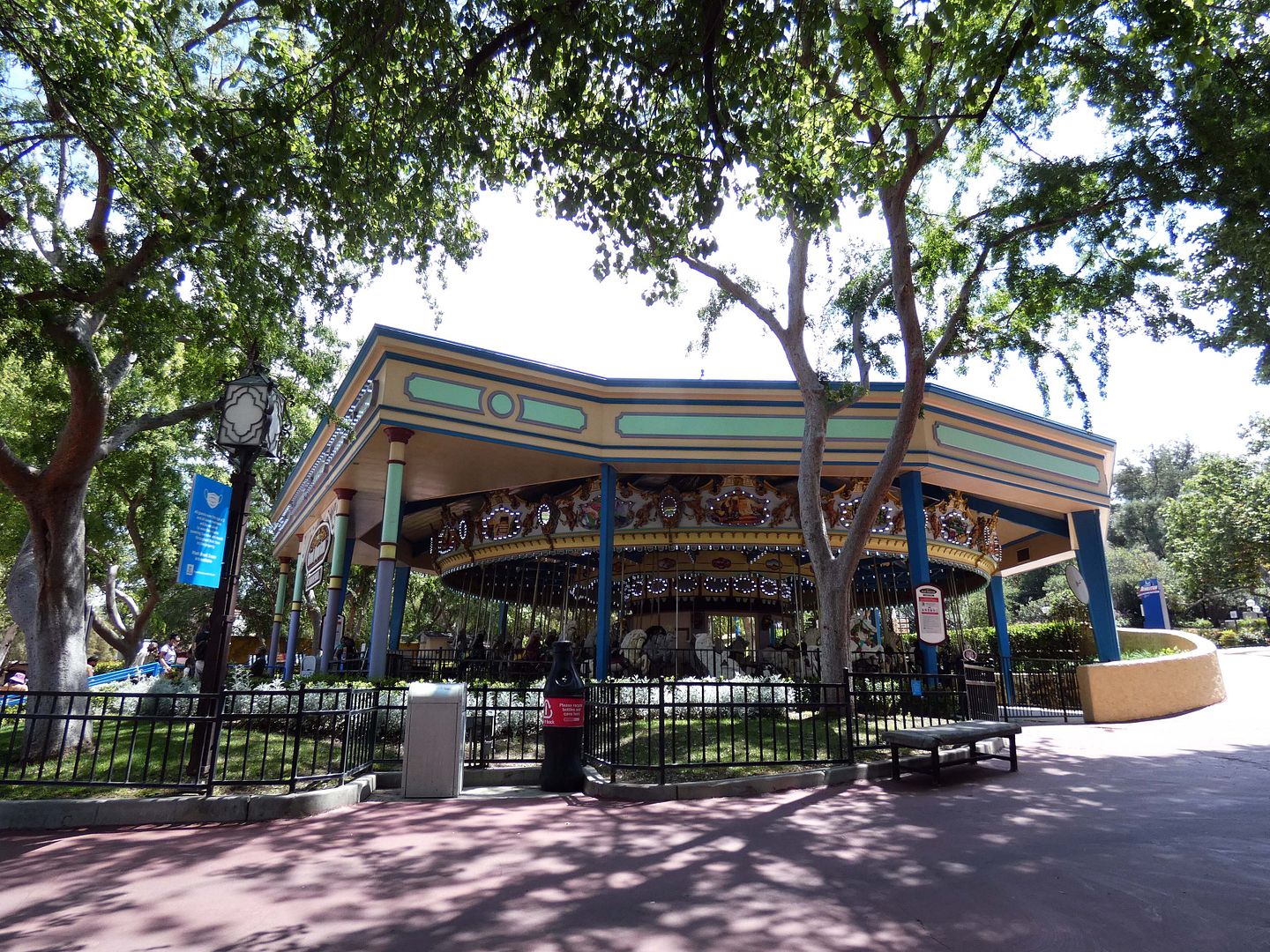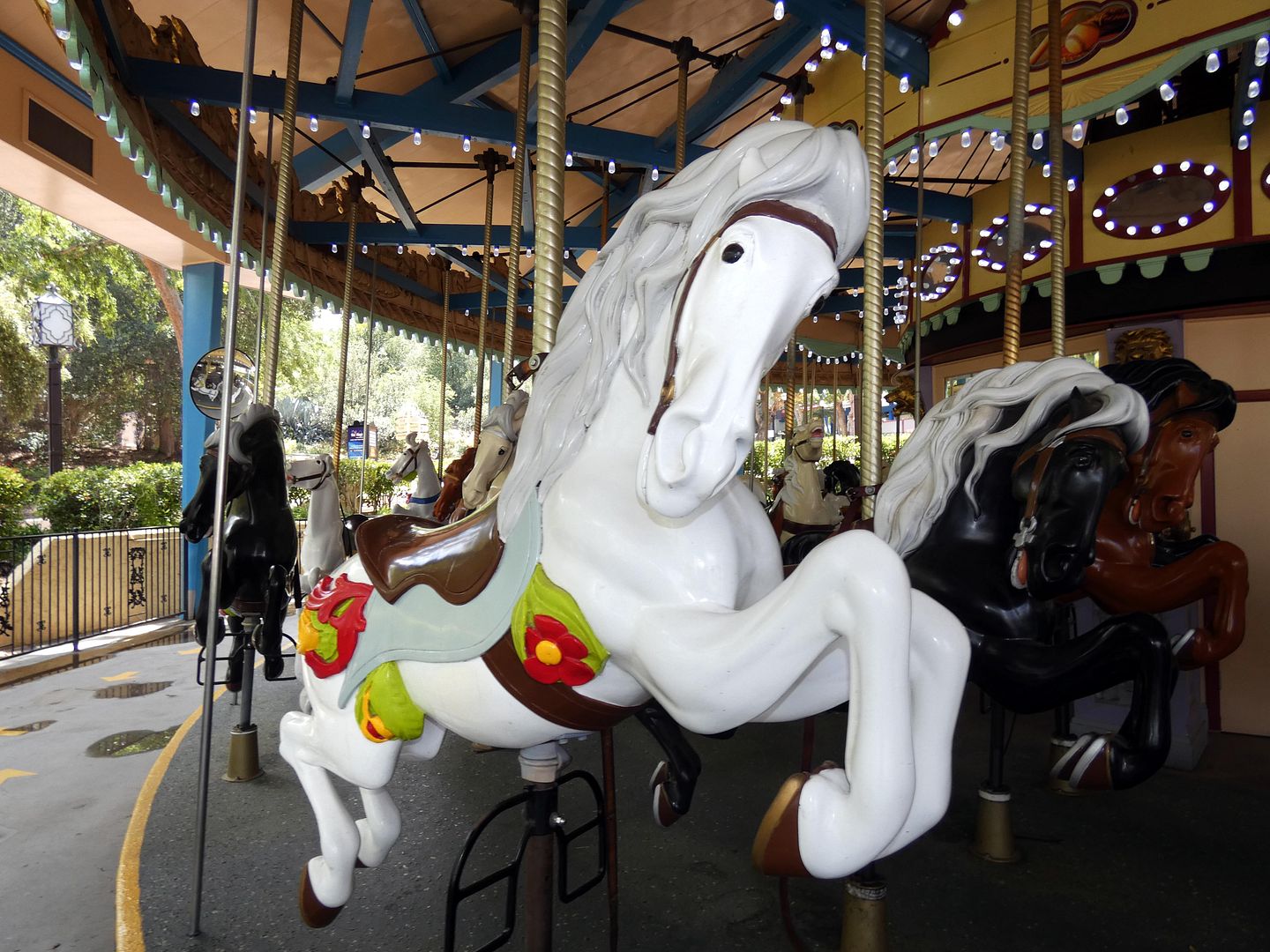 It was built by Philadelphia Toboggan Company in 1912 and previously housed at Savin Rock Amusement Park in West Haven, CT before its $300,000 restoration and relocation to Valencia.
Not all 64 horses (48 of which are "jumpers") are original, as some have been replaced with fiberglass replicas.
The carousel's medallions have been repainted and modernized.
Yet it still offers gentler fun for the whole family.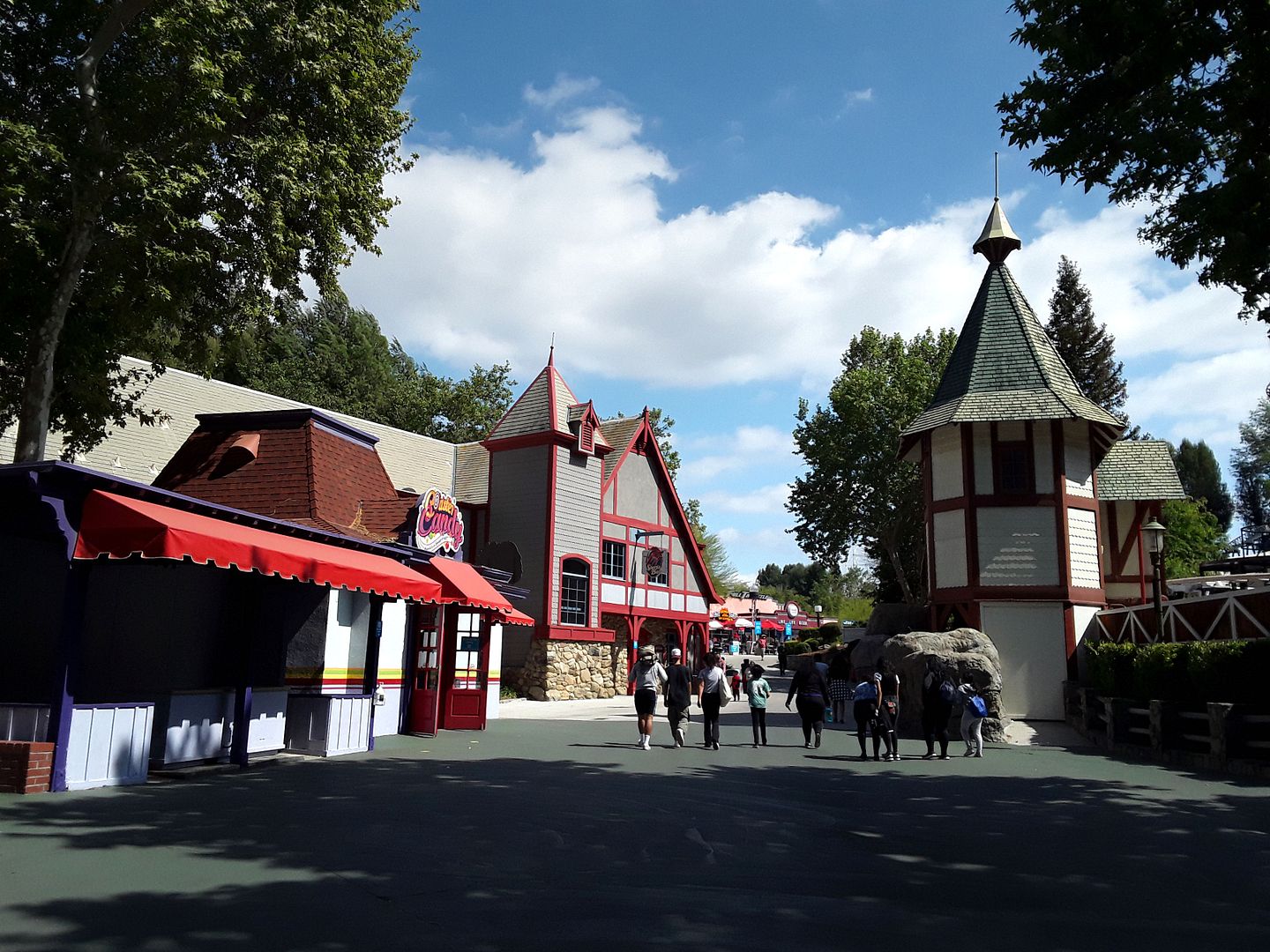 The High Sierra Territory "land" was first introduced more than 20 years after the park's grand opening, in 1993, under the direction of the then-Time Warner-owned Six Flags. As it was meant to resemble Yosemite National Park (home of Yosemite Sam, of course), changes included converting the former German biergarten Das Alpenhaus (built 1974, the Timbermill since 1980) into the Moose Burger Lodge in 1994.
Today, it's the Full Throttle Bar—a full-service, sit-down restaurant that serves alcohol, named after the Full Throttle ride across the way (which debuted in 2013).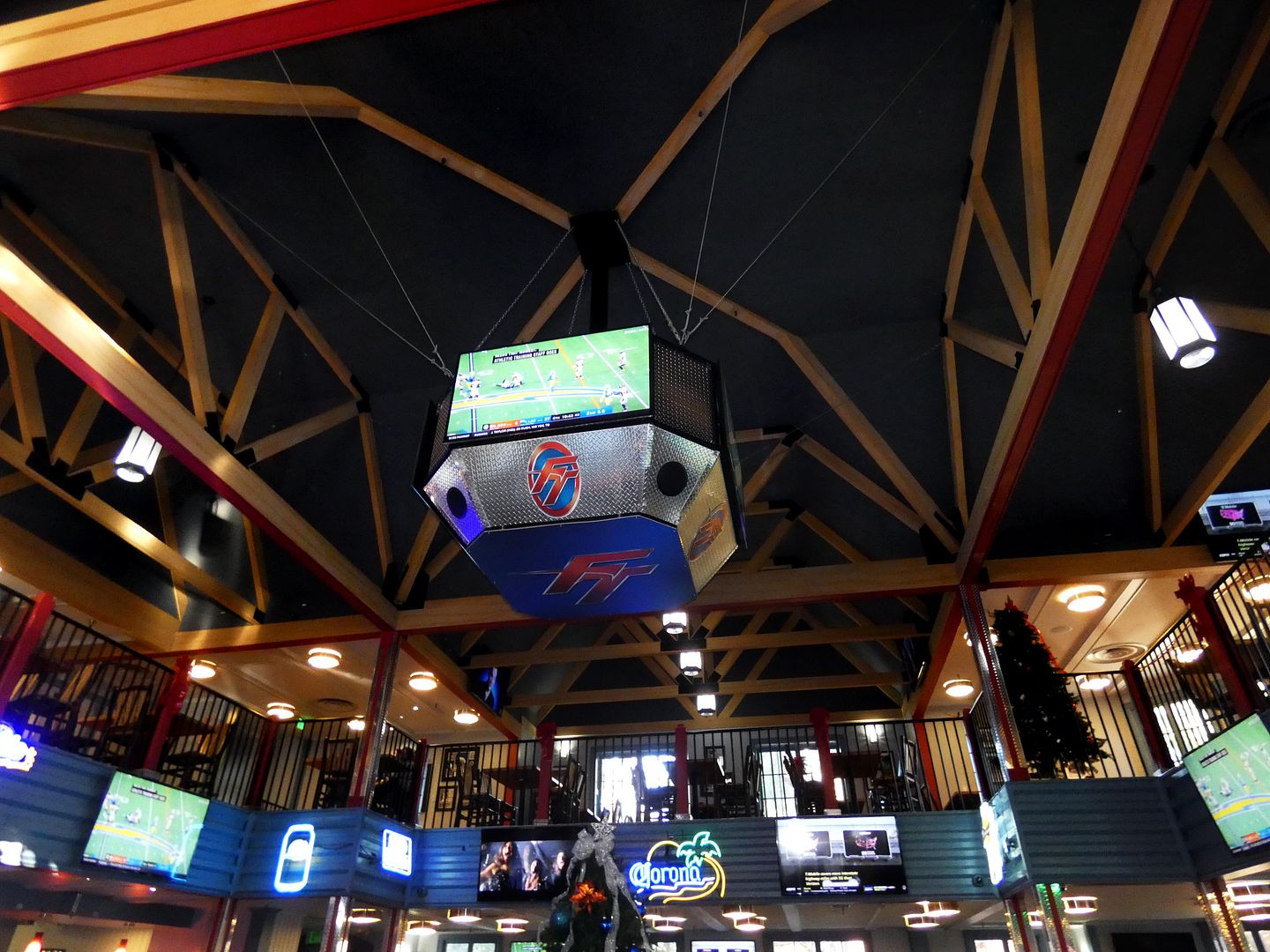 It's unrecognizable to me now, even though I ate there—when it was the Moose Burger Lodge—back in 2011.
During my first visit to Six Flags Magic Mountain over 10 years ago, I'd been right by one of the original rides, the Log Jammer, whose queue station is still across from the former Moose Burger Lodge (although the ride itself is gone).
My friend and I didn't ride it while we had the chance. I didn't want to go on any water rides during that visit. I didn't want to mess up my hair. Then again, I had no idea that the Log Jammer was so historic—or that it would be closing later that year.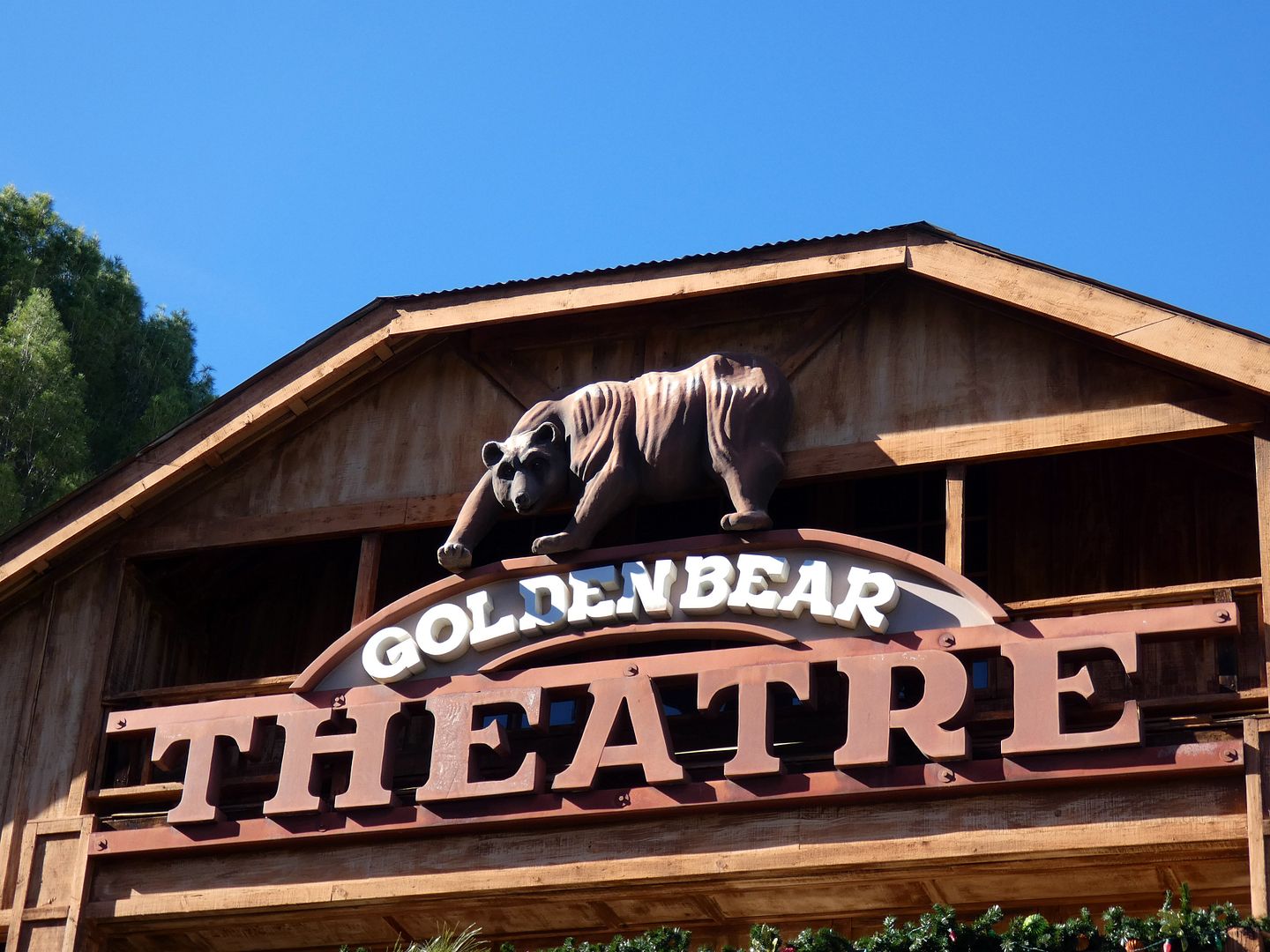 Built into the hillside of the High Sierra Territory is the former 3,400-seat 7-Up/Dixi Cola Showcase Theater, which was rebranded Golden Bear Theatre along with the debut of the newly-themed land in 1993.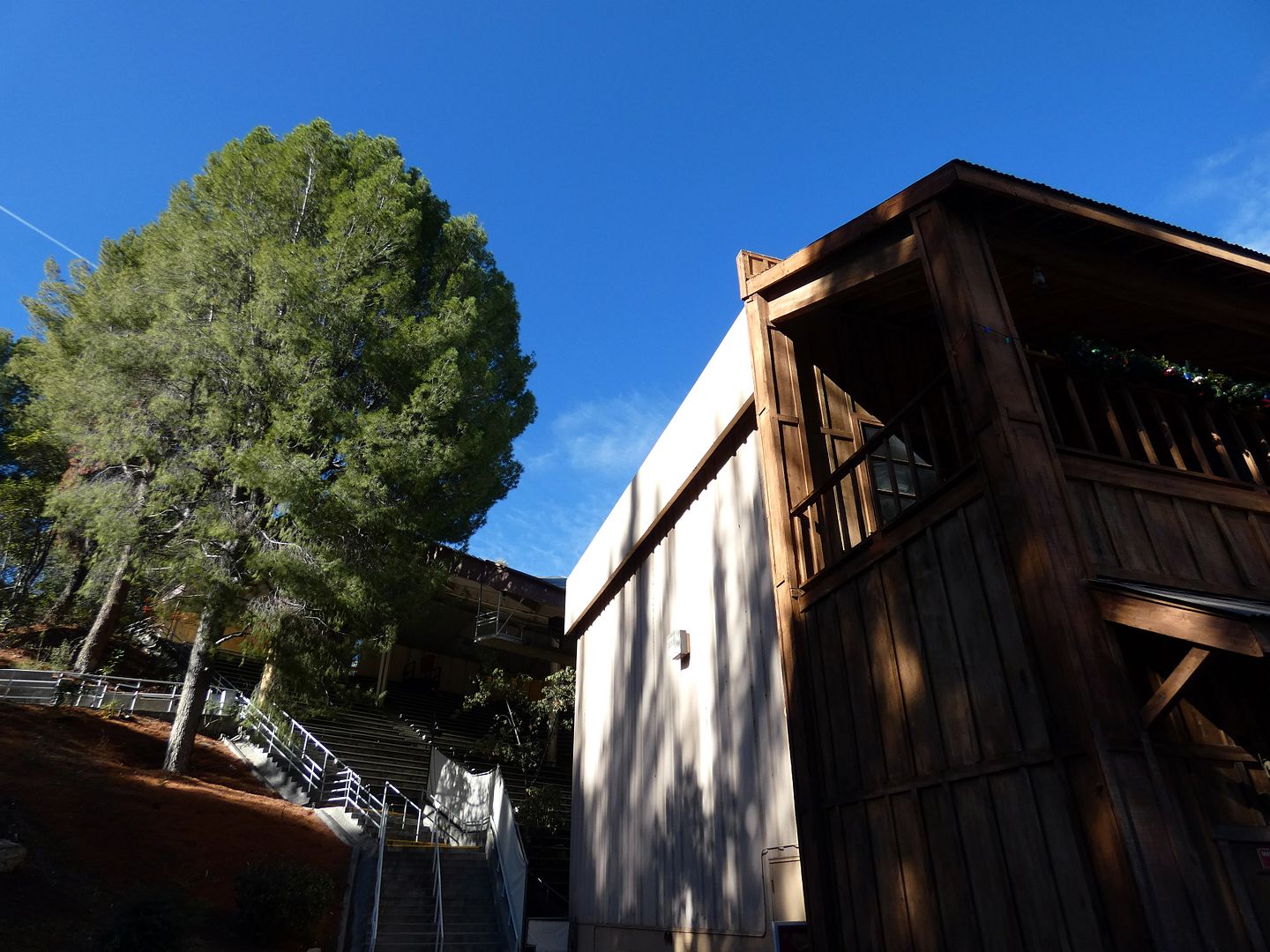 This was once a world-class amphitheater, with past performances from the likes of Barbra Streisand, The Carpenters, Sonny & Cher, Tina Turner, R.E.M., Paula Abdul, New Kids on the Block, Vanilla Ice, TLC, and a "Legends of Rock and Roll" lineup that featured the likes of Chuck Berry. It was empty and "dark," with no performances, every time I visited Six Flags—save for when Santa and Mrs. Claus were perched there during the
Holiday In the Park drive-thru
.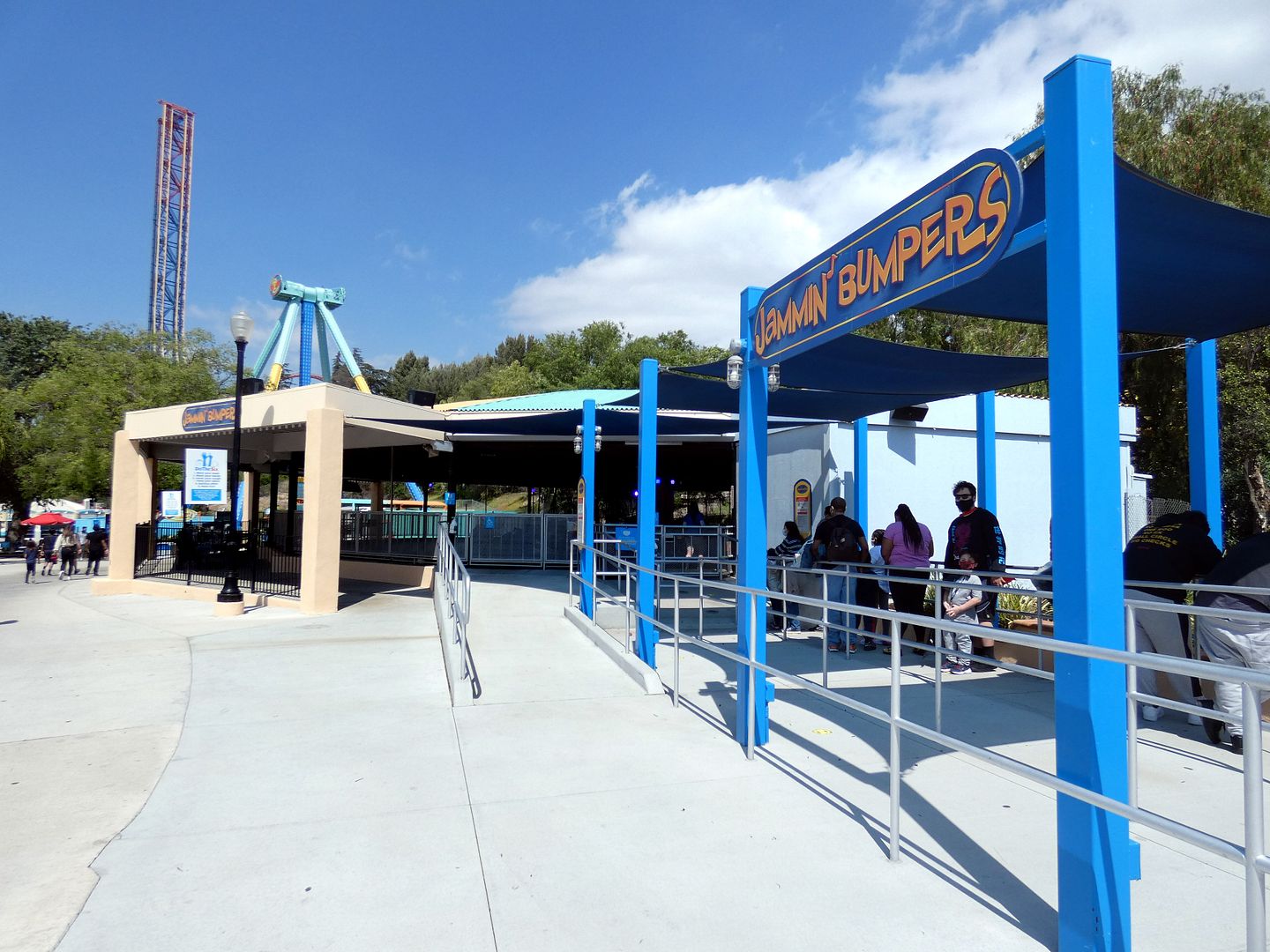 Over on the other side of the park is another original flat ride, a bumper car ride known as "Sand Blasters" upon Magic Mountain's original opening.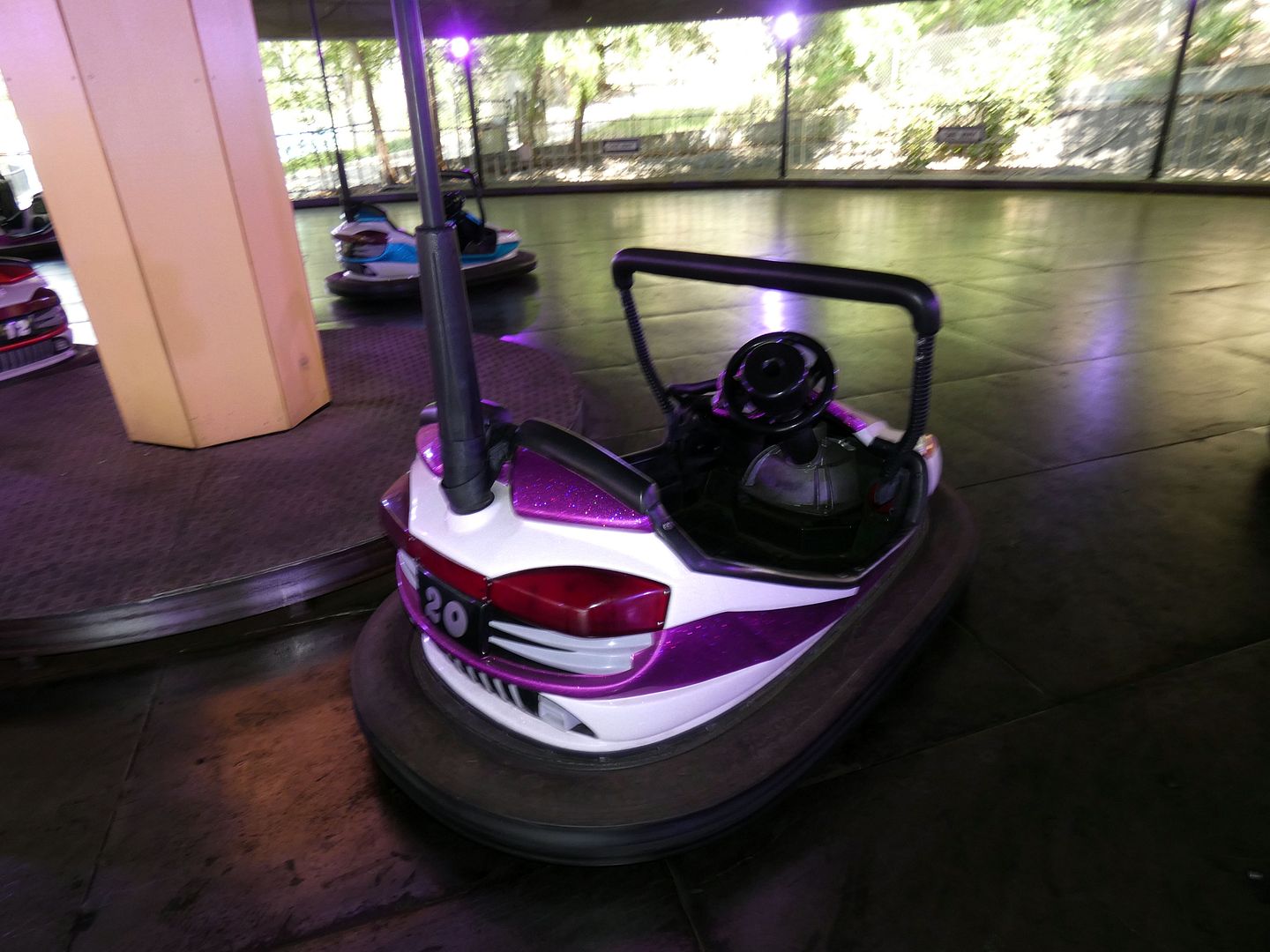 Manufactured by the now-defunct French manufacturer Reverchon Industries, it once featured dune buggy cars—which have since been swapped out with more traditional bumper cars in the contemporary iteration, known as Jammin' Bumpers since 2018.
There is something that's decades old at Jammin' Bumpers: a painted image of Bloop, one of the mascots that reigned at Magic Mountain from 1972 (its second season) to 1985, on the exit sign. During that time period, the "trolls" were found throughout Magic Mountain advertisements, promotional materials, merchandise and souvenirs, and even walking around the park itself in costume.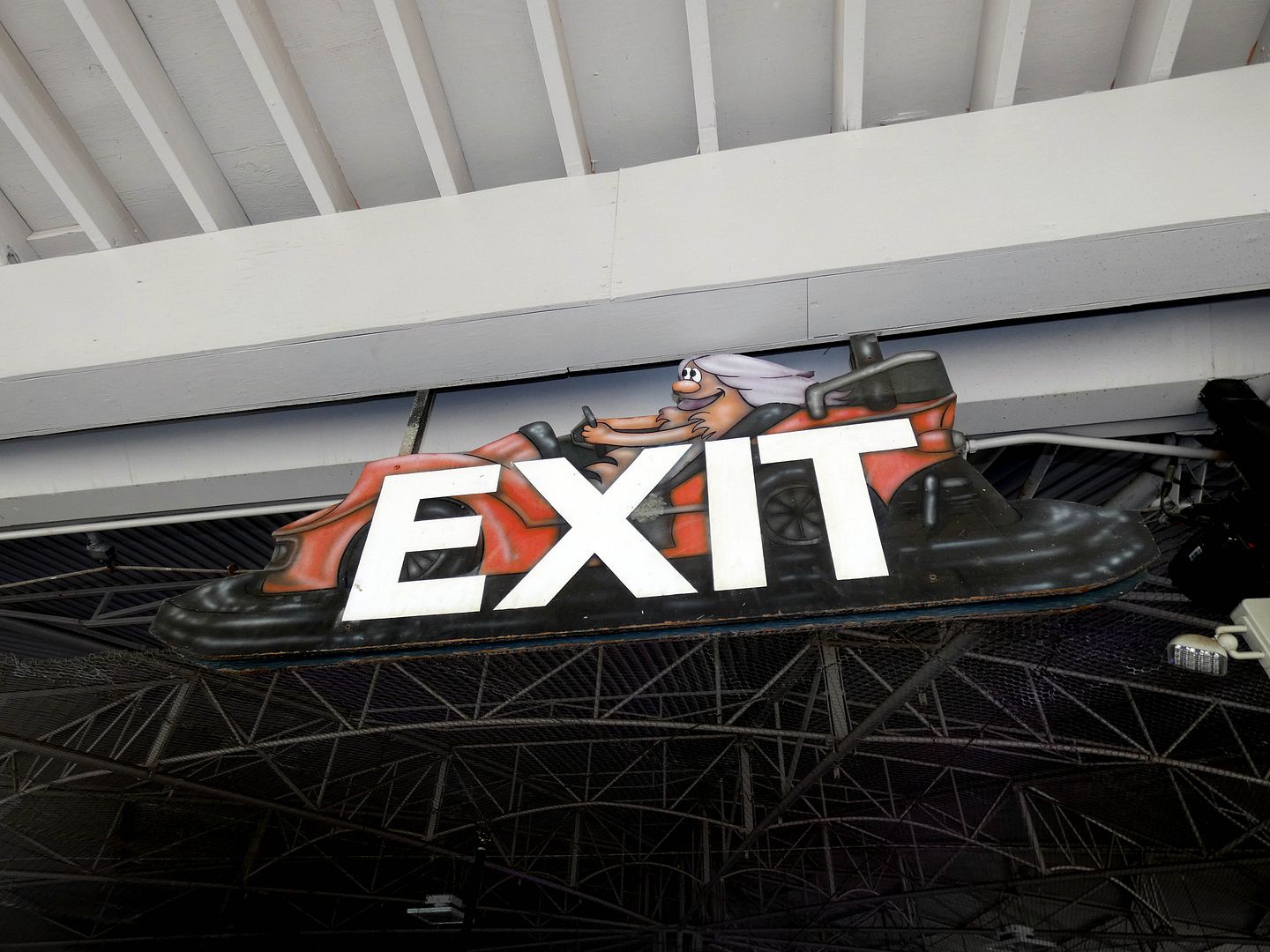 But when Time Warner gained a controlling financial interest in Six Flags in 1985, Bugs came back—and Bleep and Bloop got deep-sixed. Looney Tunes characters continue to dominate the younger-leaning areas of the park, like the former Children's World that transformed into Bugs Bunny World that same year (and retains that branding today). As far as anyone knows, this is the last remaining image of Bloop—or fellow cohorts Bleep, King Troll (a.k.a. King Blop) and the Wizard—in any publicly visible area of the park.
The Gold Rusher, another original ride, used to be considered a "white-knuckler"—and was one of only two rollercoasters at the grand opening. But these days, it's one of the park's tamer rides—themed for the 1849 California Gold Rush.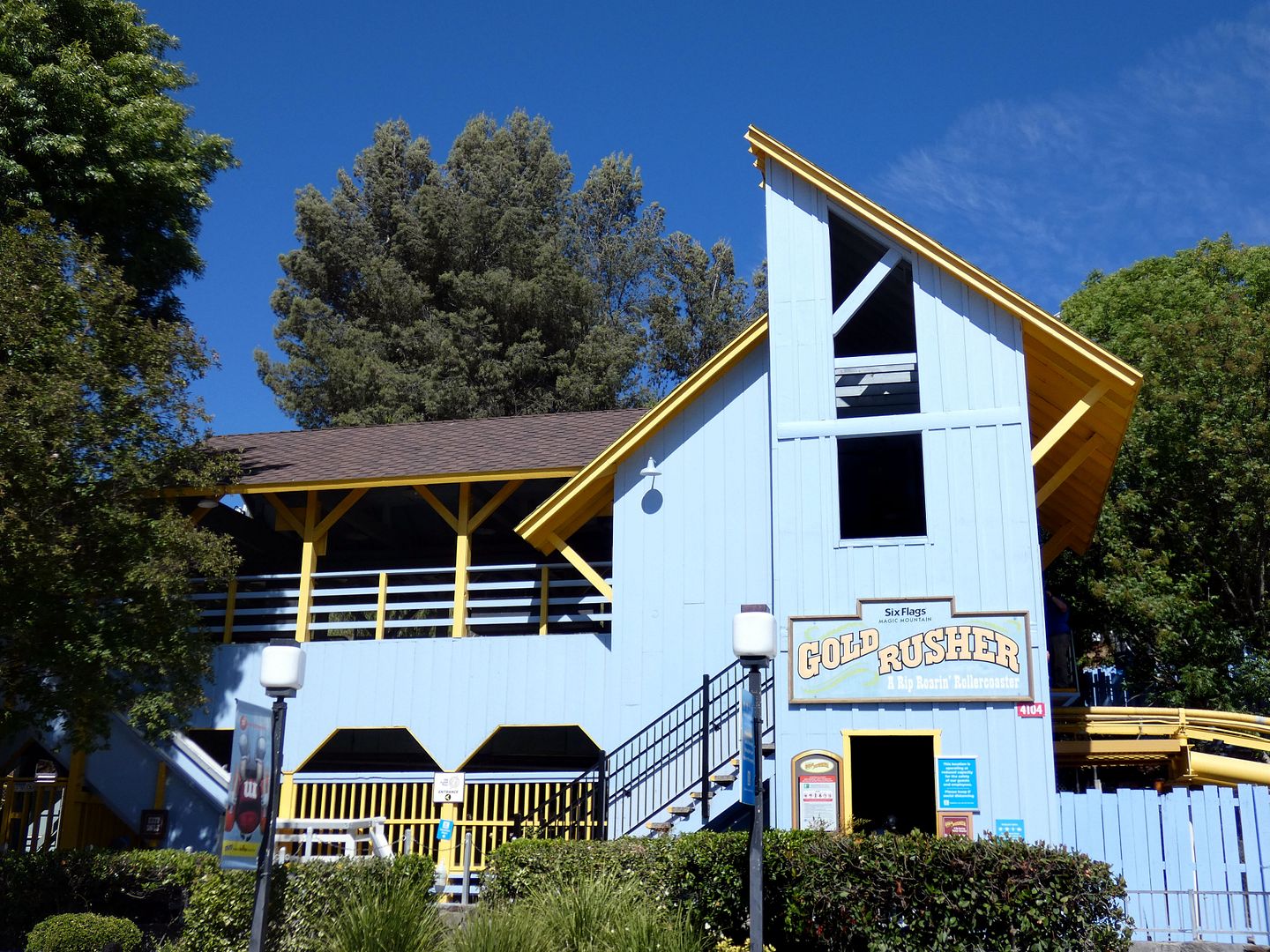 Like the
Jet Stream
, it was built by Arrow Development Company (known as Arrow Dynamics after 1986).
Arrow custom built the Gold Rusher for the terrain of Magic Mountain (a.k.a. the "treacherous hills of the frontier")...
...and with all its twists and turns, it still manages to reach a maximum speed of 35 mph (though it no longer travels over the open water of the Lagoon).
Its "runaway" mine car is somewhat reminiscent of the "Old West" style rides you might find at
Knott's Berry Farm
—and it's great fun.
One thing is for sure: Six Flags Magic Mountain will continue to make itself over. And some of these remnants may not stick around for the long haul (however long that haul ends up being).
But I think my time in 2021 was well-spent experiencing and documenting the park as it is today, upon its 50th anniversary, now that it's officially considered "historic."