Located in what's now known as the Green Street Village Landmark District, it's currently known as Madeline Garden—but it was designed in 1927 in the Georgian architectural style by Louis du Puget Millar as a studio/office/workshop for renowned interior decorator Edgar James "E.J." Cheesewright and his staff of craftspeople and artisans (including woodcarvers), decorators, and furnishers.
Constructed out of bricks that were originally painted white and surrounded by green trim, it started out as The Cheesewright Studios Building...
...located in Pasadena for its proximity to
Millionaires Row
and its built-in clientele.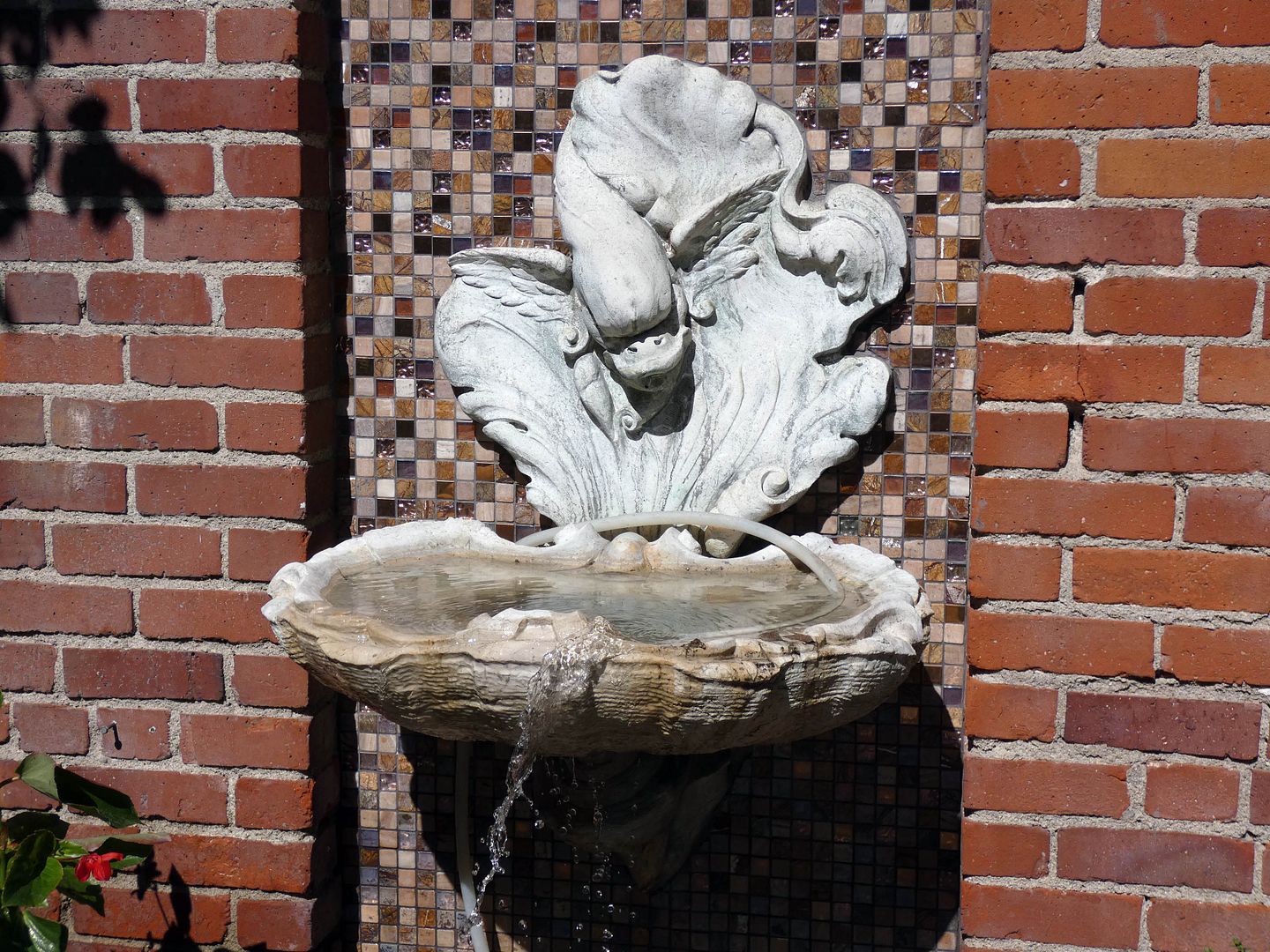 Enter through a French Quarter-style garden court with red flagstone pavers and a porpoise fountain...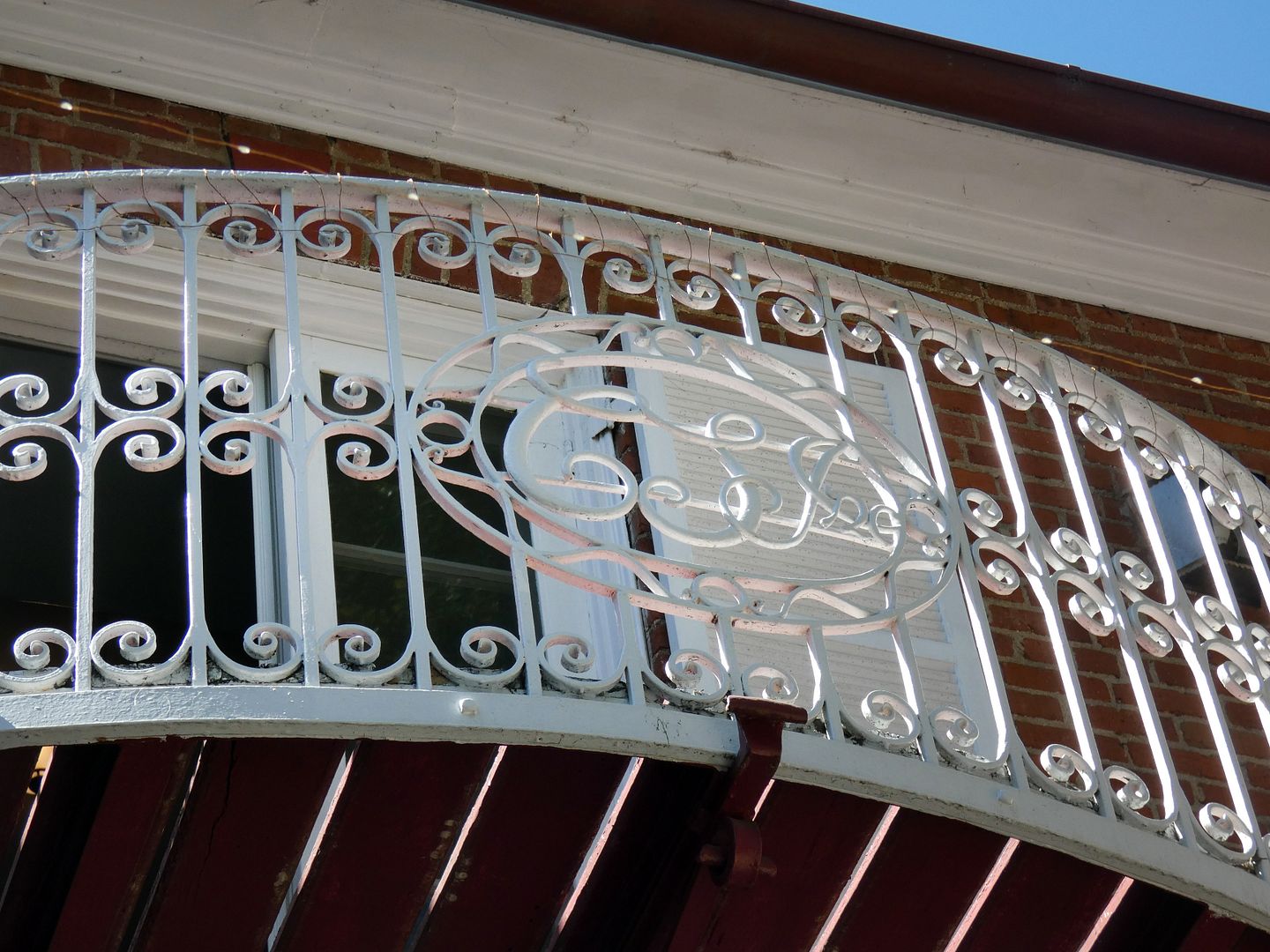 ...where one of the wrought-iron balconies still features the Cheesewright Studios initials (though it's been painted white).
...and at the eastern wing of the building and along its south façade, you can see what it looked like painted white...
...in contrast to the west wing and north façade, which were later sandblasted to expose the red brick underneath.
There's a legend that Albert Einstein (a Caltech visiting professor in the 1930s) had some kind of secret office in the basement of the old Cheesewright Studios building—one that was connected to Caltech by underground tunnels (subsequently sealed off).
Of course, none of that is evident when you enter the Cheesewright Studios today. The naval detachment was moved to Boston after the 1987 Whittier earthquake created enough structural damage for them to vacate the premises—and for the Navy to auction it off in 1990.
In case of another earthquake, the building has since been retrofitted for seismic stability—some evidence of which is visible in the 2-story, open-air atrium off the entrance hall.
That lobby is how you get to both Madeline Garden and the Pasadena Green Plaza Apartments upstairs—with residential units accessible by an original curved staircase (above which hangs what may be an original chandelier).
A more famous version of this same woodblock-printed image can be found in the White House, first installed when First Lady Jackie Kennedy redecorated the Diplomatic Reception Room. The Obamas have famously been photographed in front of it many times.
Other intact decorative and architectural features of the Cheesewright Studios building—despite its deacades-long naval occupation—include brick arches, bay windows, carved doors, and interior transom windows (to encourage air circulation in the time preceding air conditioning).
While fully furnished showrooms were located on the first floor, offices were upstairs—and a freight elevator (with a fire door) helped move larger items around the building. Cheesewright was a collector and seller of European (especially French) antiques—some of which may have been stored in the extant walk-in safe by Diebold Safe & Lock Co. of Ohio (on the lower level).
Cheesewright Studios also dealt in its original creations—much of which were fabricated onsite in its own cabinet shop, furniture shop, upholstery shop, and wrought iron shop (for balconies, gates, etc.).
Most of that activity occurred in the back of the ground floor of the building, which explains the warehouse look of the rear exterior as well.
Although today there are other tenants in the former storefronts—as well as the residents upstairs—much of the former Cheesewright Studios space has functioned as one restaurant or another since 2001, including Chef Claud Beltran's Restaurant Halie.
During my recent visit, our small tour group took our traditional English tea service in that room, under that 20-foot ceiling...
...sipping on oolong and passionfruit tea as we nibbled on scones and quiche...
...various toasts...
...and tiny sandwiches of the vegetarian and chicken salad sort.
In fact, it's the Einstein tunnel rumor that seems to have piqued most of the media interest in the Cheesewright Studios building (at least, what little there has been)—and not the man who lent his name to it.