Carlsbad Aquafarm has been growing various types of sea life in the outer Agua Hedionda Lagoon—a tidal wetland that shares water with the Pacific Ocean—since it first arose out of a 1960s-era San Diego State University aquaculture research facility in 1990.
But it was only five months ago that it first started conducting public tours—and only last week that those tours came on my radar.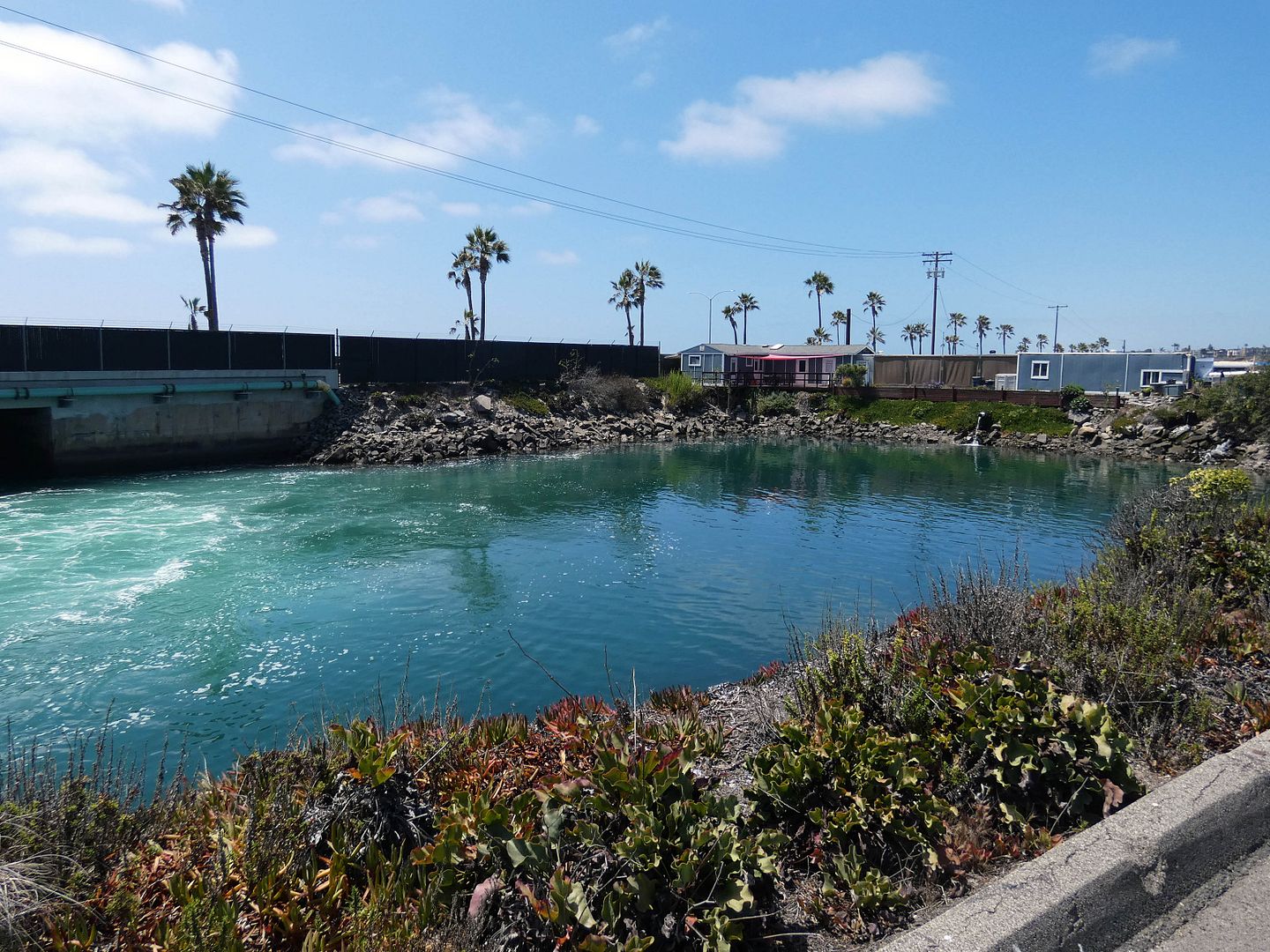 I don't remember taking notice of the "shellfish farm" next door at the time. But now having just visited the
Mt. Whitney Fish Hatchery
back in June, I guess the concept of fish rearing was still on my mind.
Besides being the site of oyster farming, the lagoon—part of the North San Diego County estuarine complex—also features a diverse community of wild marine life, including birds (like pelicans, above), stingrays, sea bass, octopus, and more.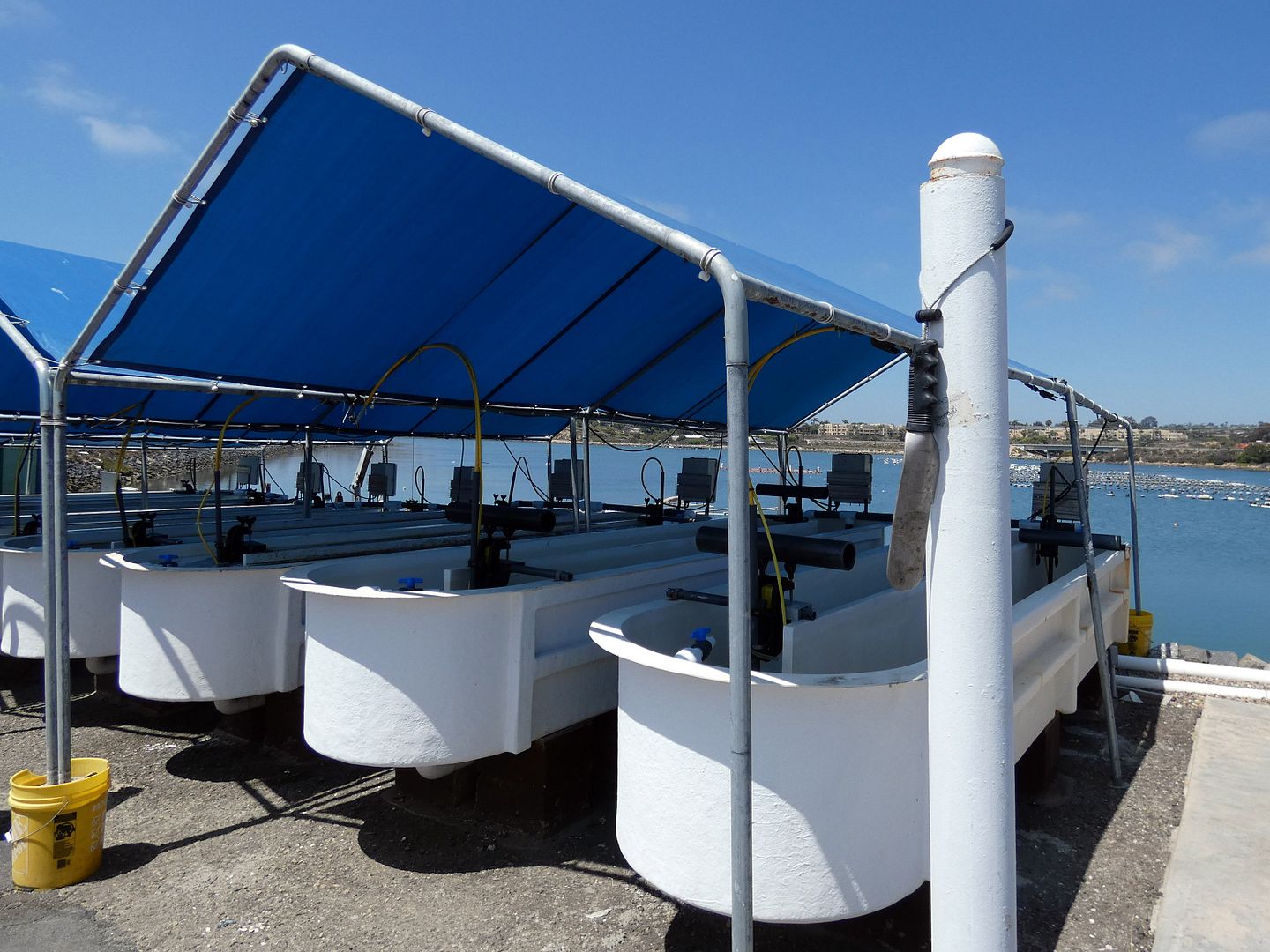 Here, however, most of the operations occur out in the open air—and pretty close to the open sea—including the raceway tanks where "marine livestock" are domesticated to become the "seafood of the future."
Carlsbad Aquafarm may be best known for its oysters—of which it currently breeds and sells two different varieties, the "King Tide" (above) and the "Carlsbad Blonde," both types of Pacific oysters.
In fact, it's the only oyster farm in Southern California right now—the closest one being located about 300 miles north in
Morro Bay
.
They have really giant ones on hand—not to sell or even to eat, but to use as the parents for new oyster babies. The mom's and dad's shells are so huge, they become their own habitat for other sea creatures, like mussels and marine worms.
Of course, Carlsbad Aquafarm also grows and harvests its own mussels—specifically, the Mediterranean black mussel.
But the focus of our tour was specifically on oysters.
We got to see the boxes where they keep the growing babies—a.k.a. oyster "seeds" (pictured below).
It's hard to believe these light, flat shells have creatures growing inside of them.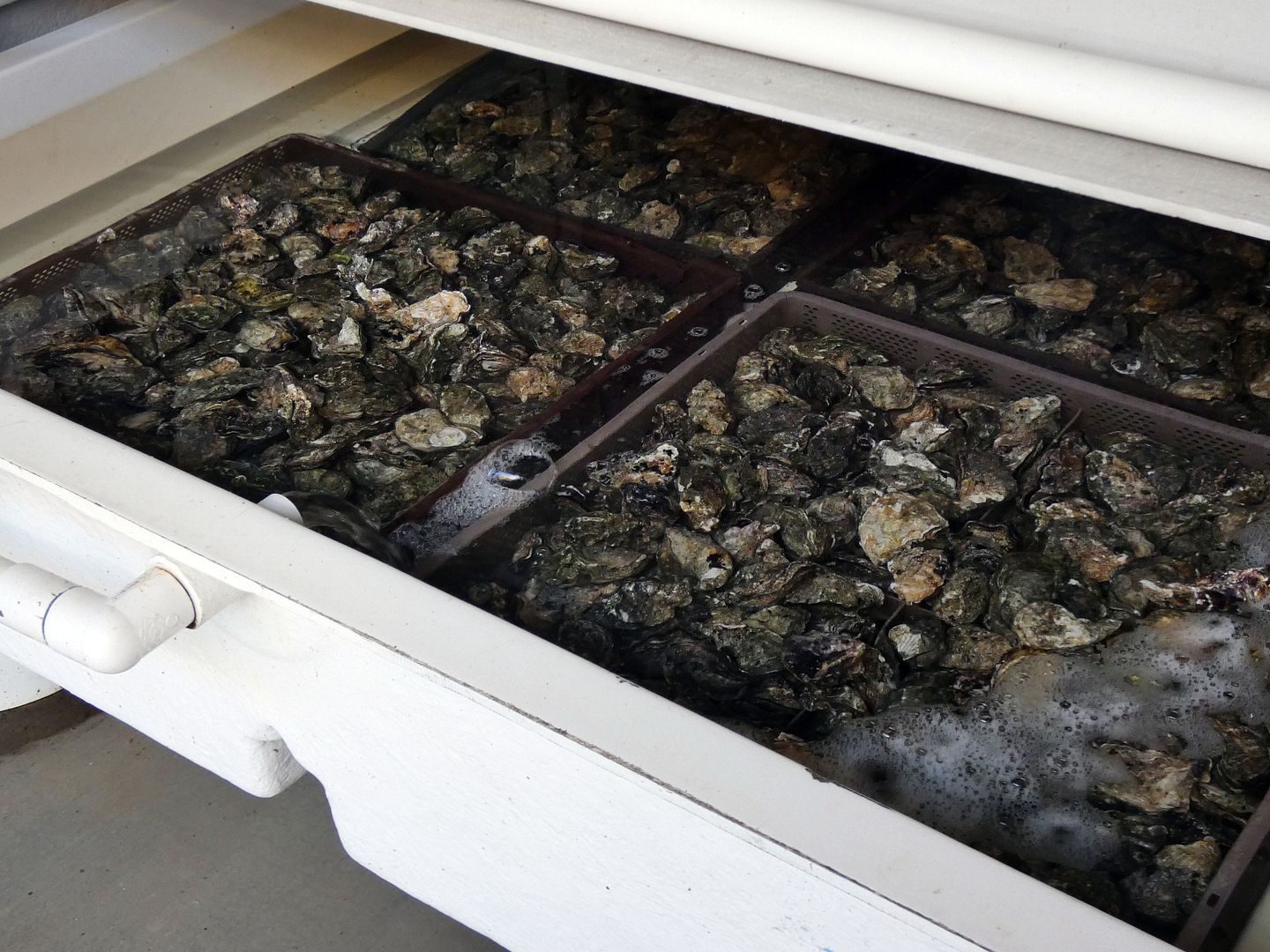 Once the oysters grow to market size (after about a year and a half), they're taken out of the lagoon and put through the process of depuration—during which they're held in ultra-pure, circulating ocean water to leverage their natural filtration capacity to remove any final bits of grit, bacteria, or other contaminants. If a tissue sample taken from one sample oyster doesn't pass muster, the whole batch is put back in for more purification.
I've eaten plenty of oysters on the half shell in my adult years, and I've experienced plenty of sand in my teeth, too. So, I was curious to put Carlsbad Aquafarm's oysters to a taste test.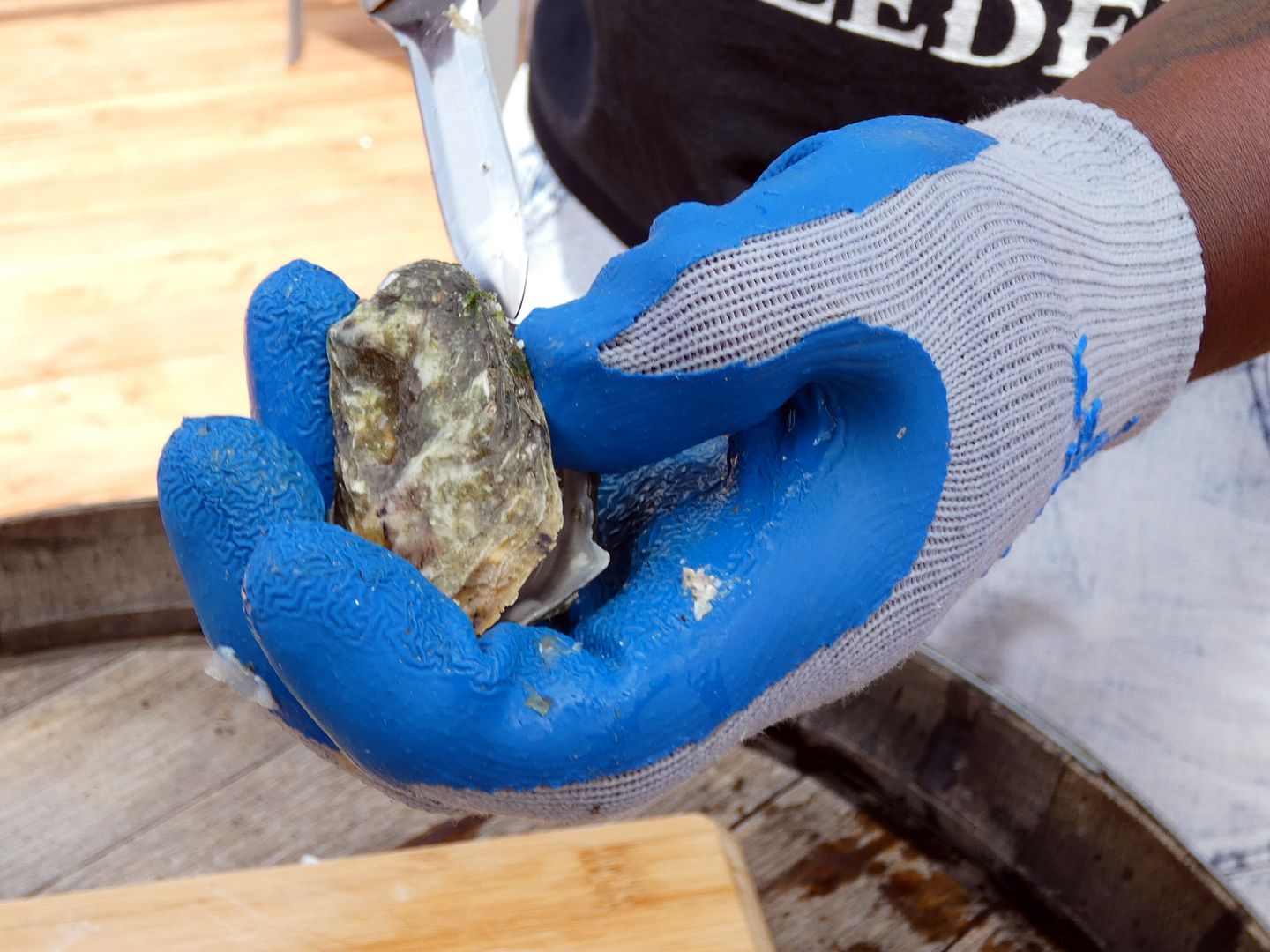 Fortunately, the tour included a shucking demonstration (specifically of the "hinge" method)...
...and after shucking a couple for our own consumption, we tour guests could simply stand back and grab expertly-shucked King Tides off a tray and dress them with condiments however we liked.
I always try my first oyster plain—but then gradually graduate to other condiments (usually mignonette) from there. In this case, my favorite was with squeezed lemon and just two drops of Old Bay hot sauce.
These were creamy, salty (from the purified ocean water that was still inside the shells), and a bit briny—without the slightest detection of grit. (I didn't even get any shell in the one I shucked for myself.)
They'd literally been plucked from the water 45 minutes before and packed immediately in ice. I can confidently say I've never had a fresher oyster—and may never again.
In total, I had about a half-dozen at the tasting that followed the tour, but I could've easily had twice as many as that. (My personal record is 24 oysters in one sitting, but that also involved drinking a lot of rosé.)
I could've bought a dozen oysters to take home, but I always associate oyster-eating with "going out." It always feels like a special occasion.
And this tour felt really special indeed.