It's one of those LA places I'd passed by all the time—but never made enough of an effort to go inside.
I actually worked the red carpet of the 2014 premiere of the film Mr. Peabody and Sherman outside the Regency Village Theatre—but my boss at the time didn't want to go inside to actually watch the movie. And I was his ride home.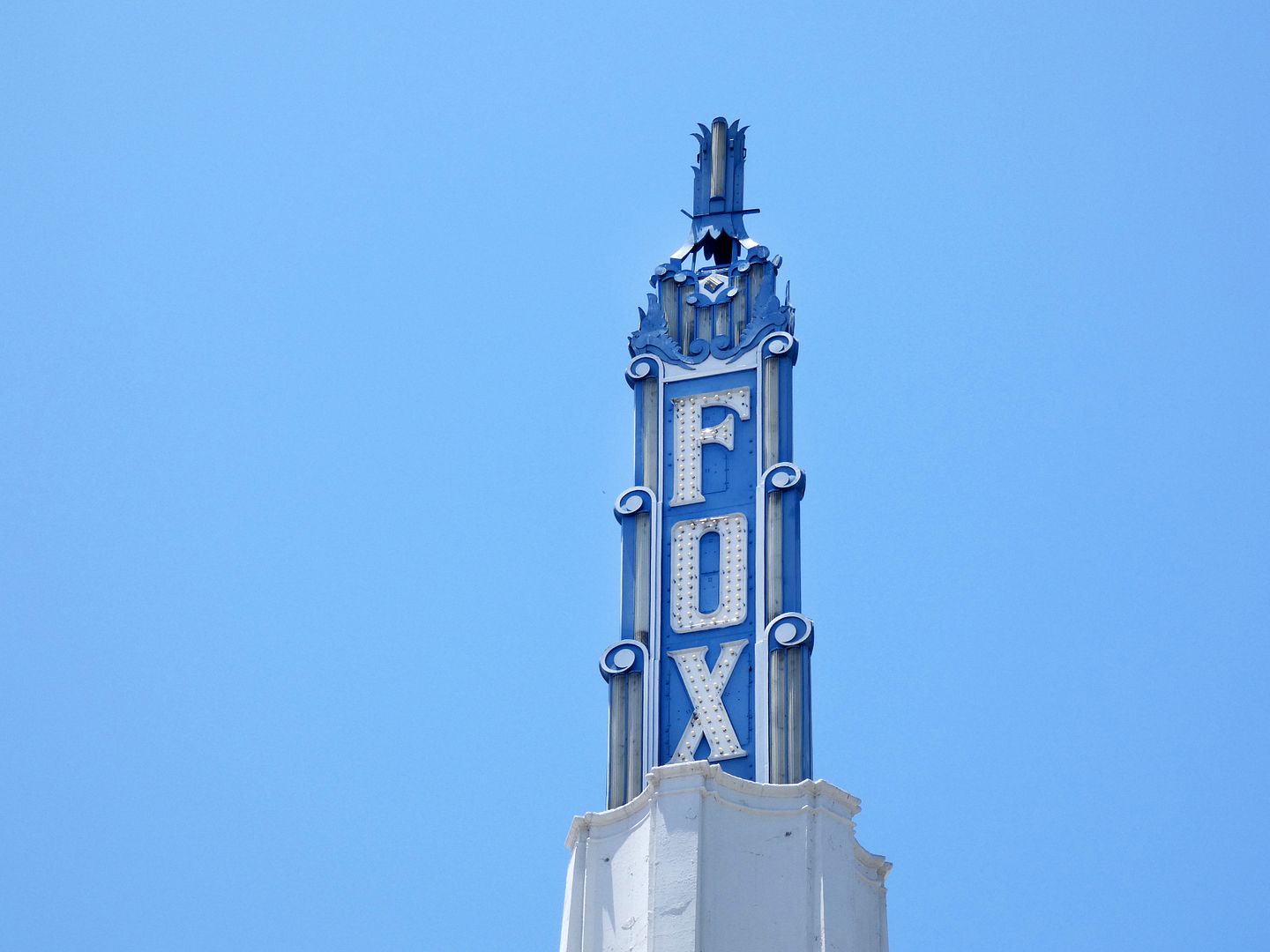 Formerly known as The Fox Theatre, Westwood, a.k.a. The Fox Village Theatre, it was originally operated by Fox Theatres-West Coast (later National General). But even as it's changed hands over the last 90 years—to Mann Theatres and, in 2010, to Regency Theatres.
It's probably most famous for its movie premiere events—which have also included contemporary films like La La Land, Bridesmaids, Daredevil, The Simpsons Movie, Tropic Thunder, Adaptation, Twilight, Knives Out, and more (like the 1989 version of Batman and the 1976 version of A Star Is Born).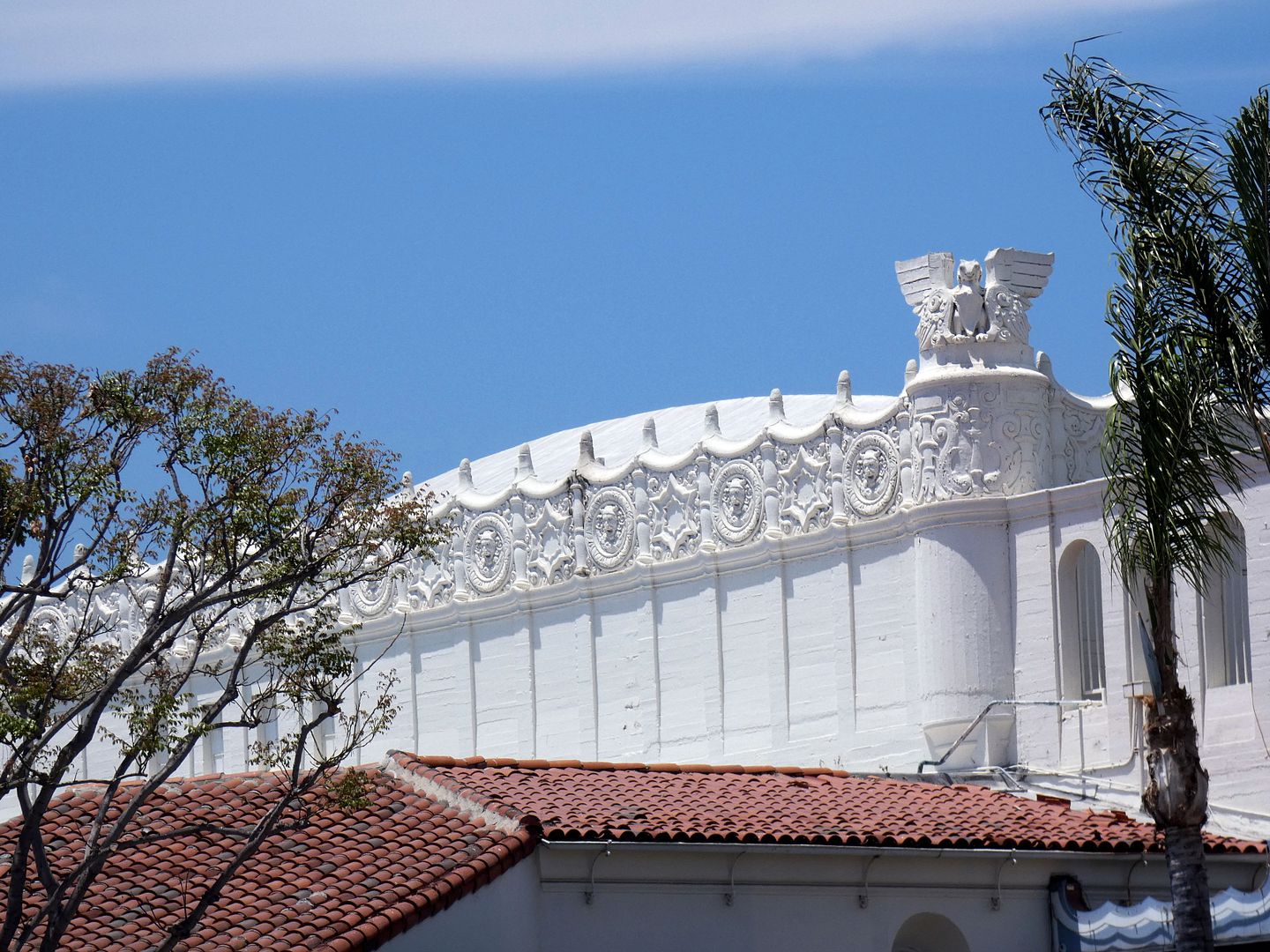 But whoa—that Mission Revival architecture! The Churrigueresque ornamentation! The carved griffins! This is Old Hollywood, indeed—circa 1931, the year it opened.
Visually, it's most recognizable by its 170-foot Moderne-esque tower, topped by a neon sign (restored in the 1980s) that still reads "FOX" in incandescent bulbs (despite no longer being affiliated with any Fox corporation).
The neon marquee still reads "FOX," too, as it looms over the tiled, free-standing box office "island" in the forecourt (still in use today).
The tower is all lit up at night, making it a beacon for UCLA students stumbling home from a night out in Westwood Village.
Interesting, the outer lobby doesn't feature a sidewalk of terrazzo like many of its contemporaries of the period—but rather of flagstone and bricks, which form the pattern of a six-pointed star. It's surrounded by ceramic tiles in the colors of UCLA, blue and gold.
This single-screen theatre's exterior was designed by Pennsylvania-born architect Percy Parke Lewis for Janss Development, which developed Westwood Village in a similarly Spanish Colonial Revival architectural style.
Lewis worked heavily in the Westwood area—including on the design of St. Alban's Episcopal Church—but was more prolific in residential architecture rather than in movie palaces.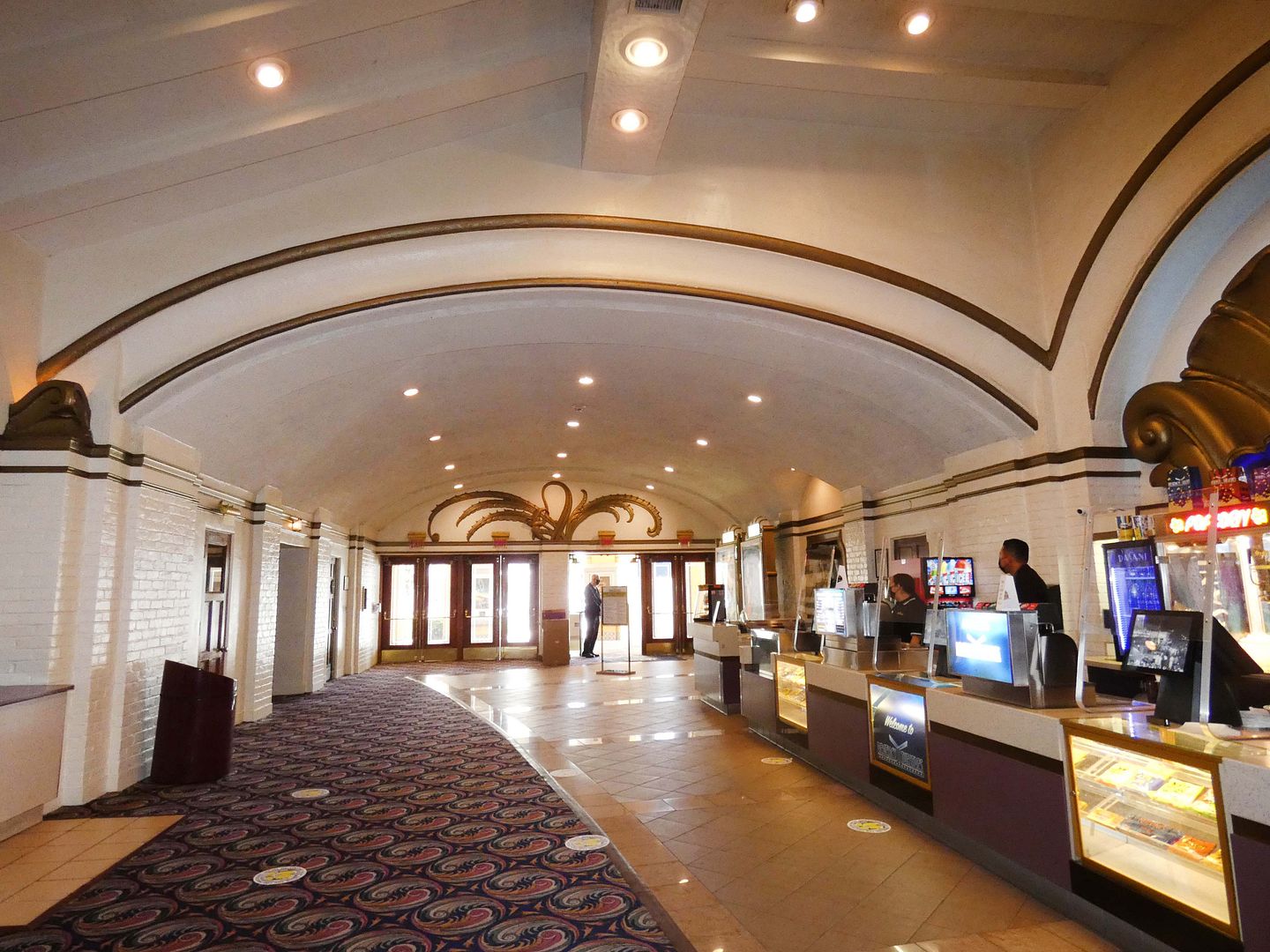 The interior, however, was remodeled in advance of a 1951 grand reopening...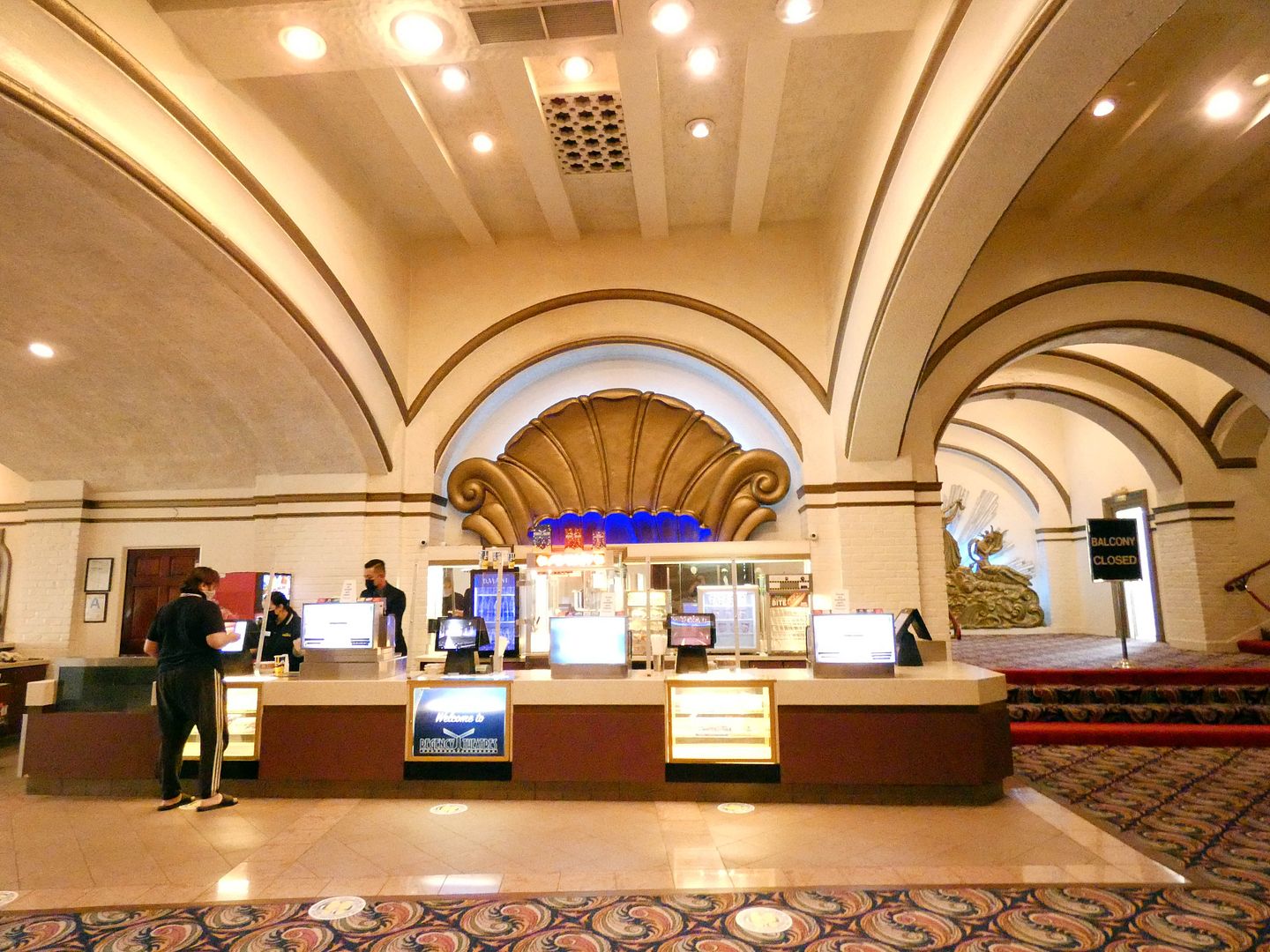 ...when it was
"Skouras-ized"
with many of the types of swoopy swirlies that then-president of Fox West Coast Charles Skouras had placed in the chain's theaters.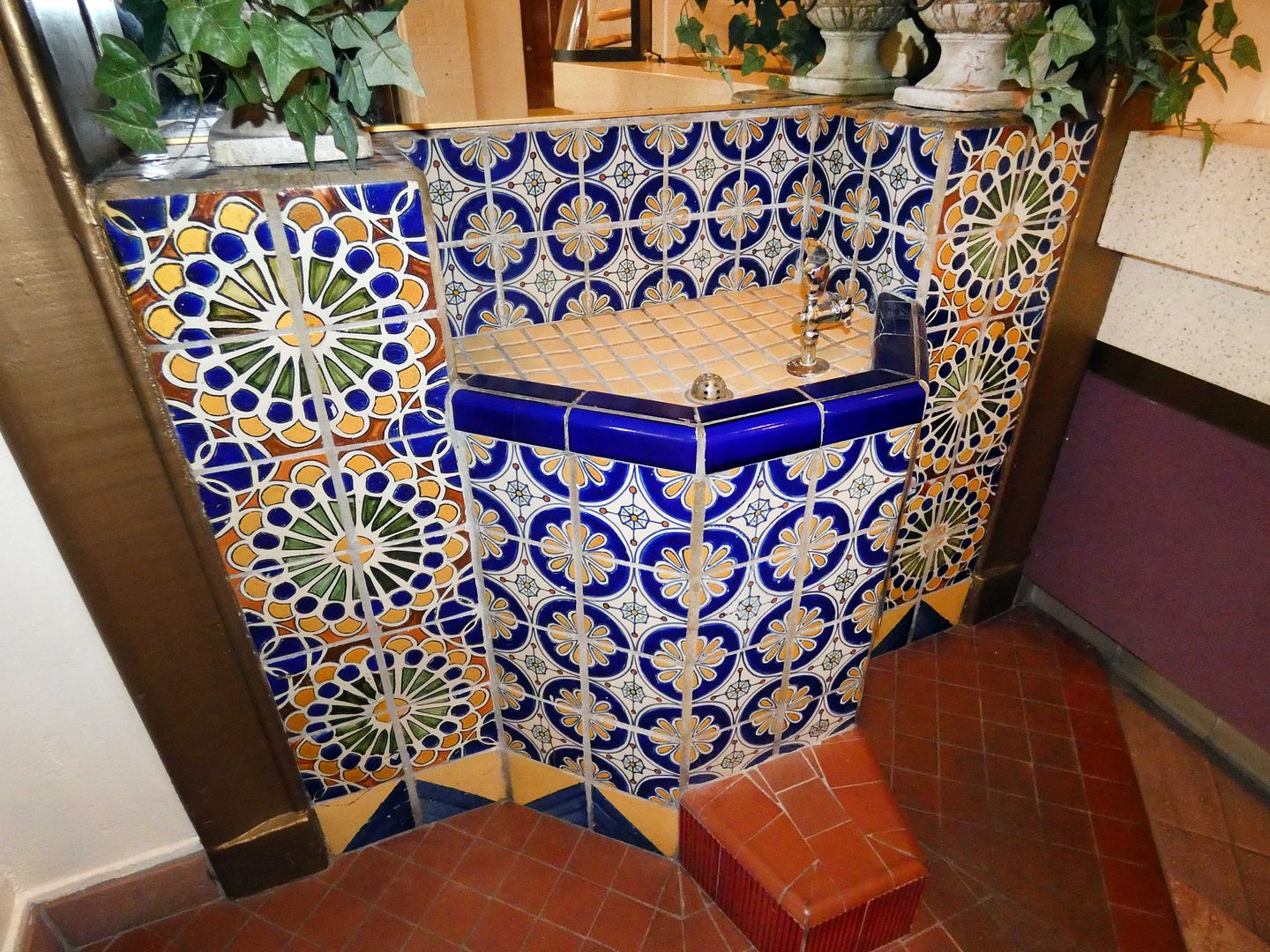 Although an original tile fountain (again in the UCLA colors) does remain right next to the main snack bar/concessions stand.
original bas-relief sculptures behind secondary snack bar
And while the huge arches in the inner lobby remain, the red brick support columns have been painted white.
The new interiors replaced some of the original "California Gold Rush" motifs—although one large one depicting gold-panning remains—with lavish bas-reliefs in a more classical style. (Skouras was Greek, after all.)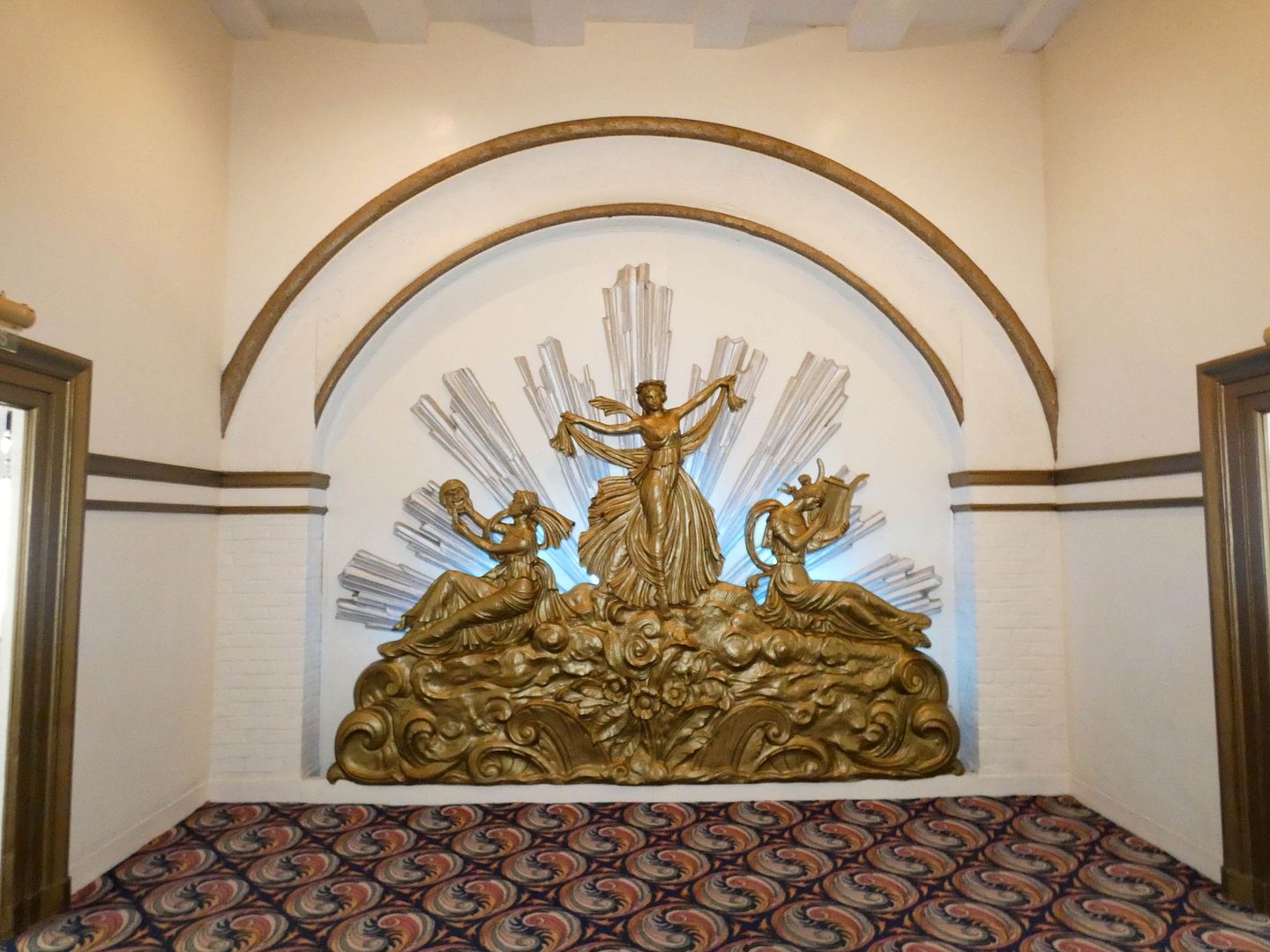 The restrooms are still up a short flight of stairs, although what once was a window has been covered up and replaced by a backlit bas-relief, circa 1951.
This one depicts three of the nine muses, with Thalia/Thaleia on the left holding a comedy mask, Erato on the right holding a lyre, and possibly Polyhymnia (?) holding the folds of her himation and wearing a laurel wreath.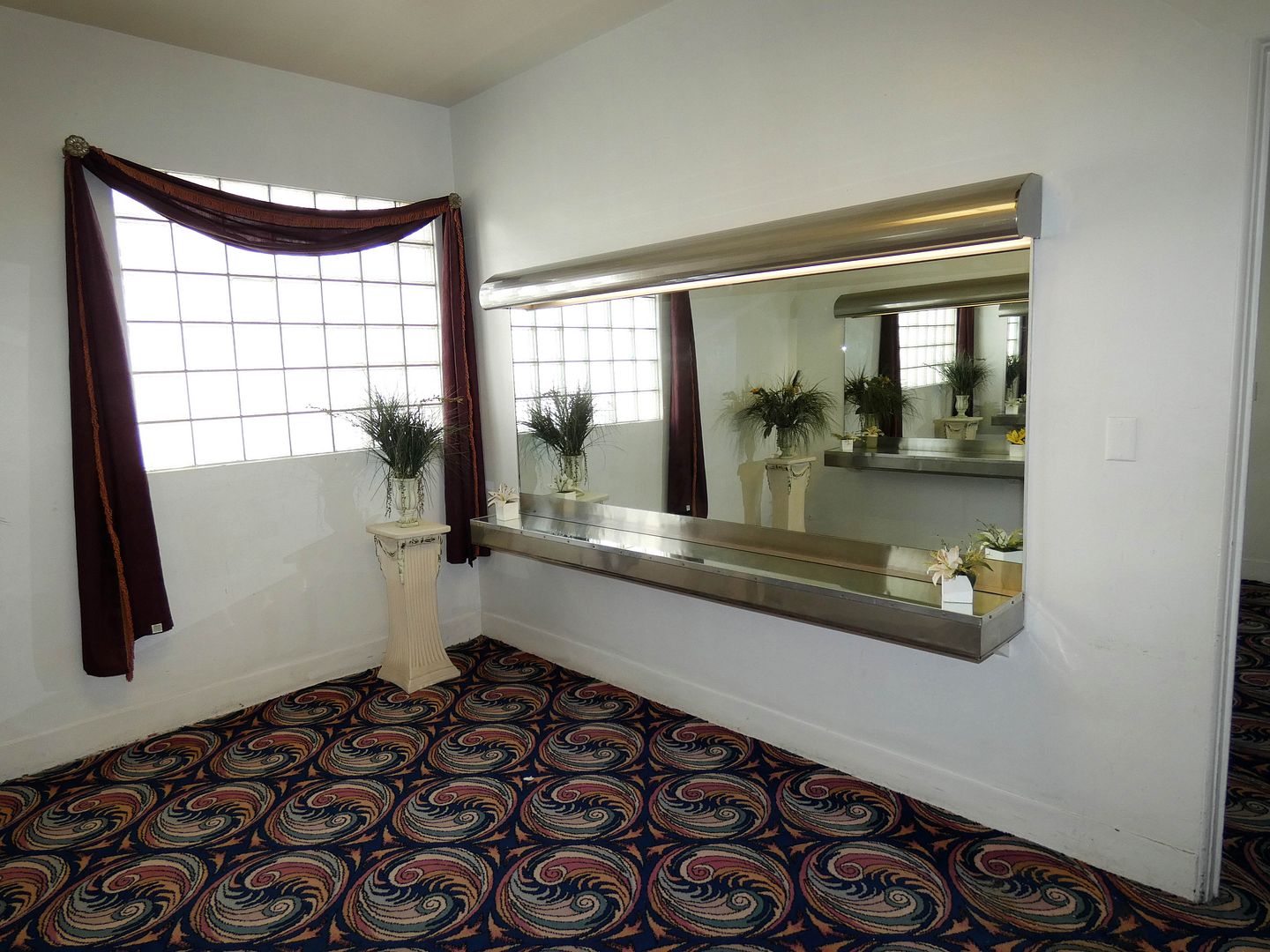 The ladies' room isn't quite as lavish as it once was...
...with no sign of Italian marble...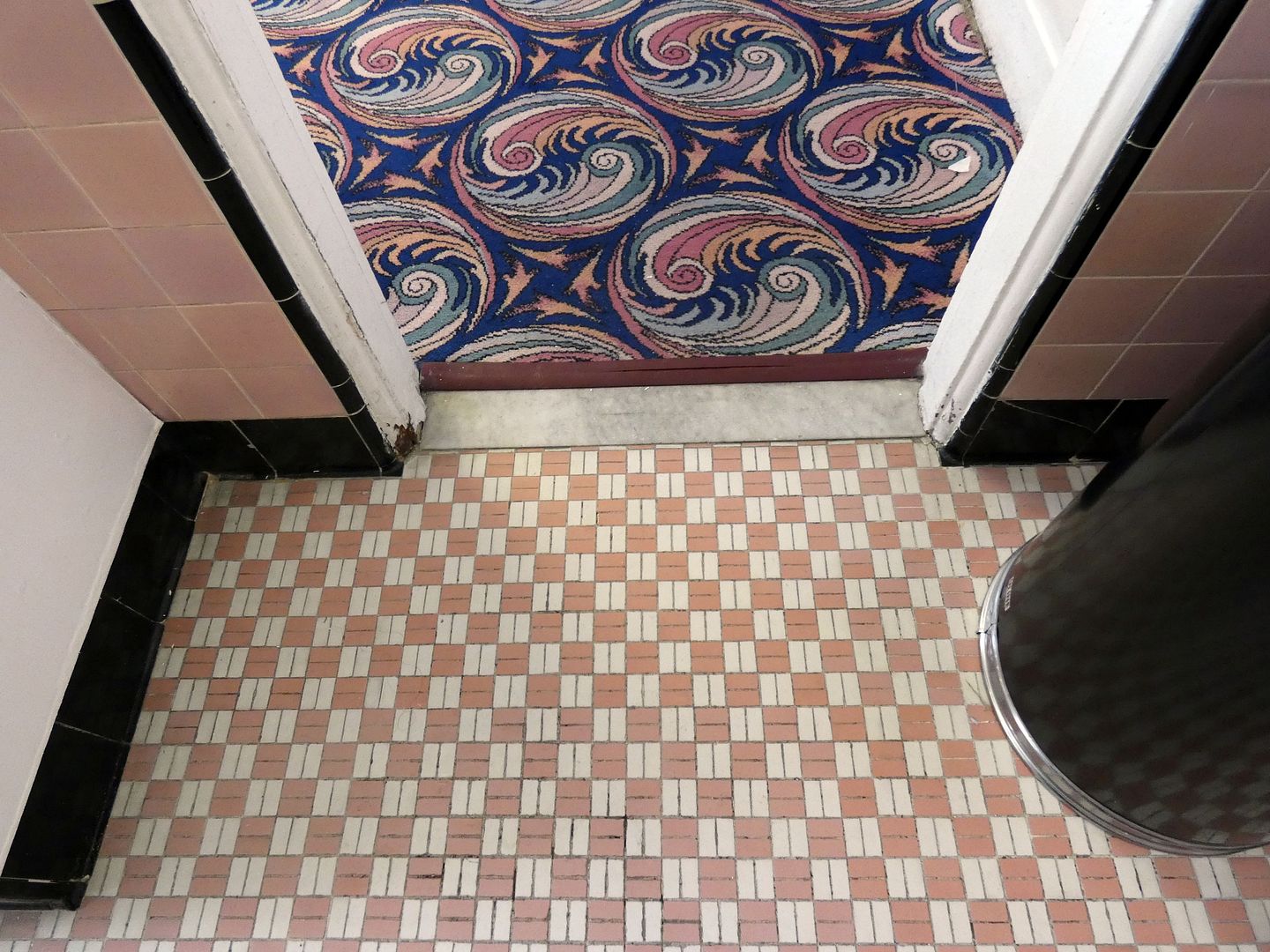 ...and tilework and flooring that appears likely to be from the Skouras remodel.
Unfortunately, balcony access was closed during my visit—which was just a day after the theatre reopened from more than a year of COVID-19 closure.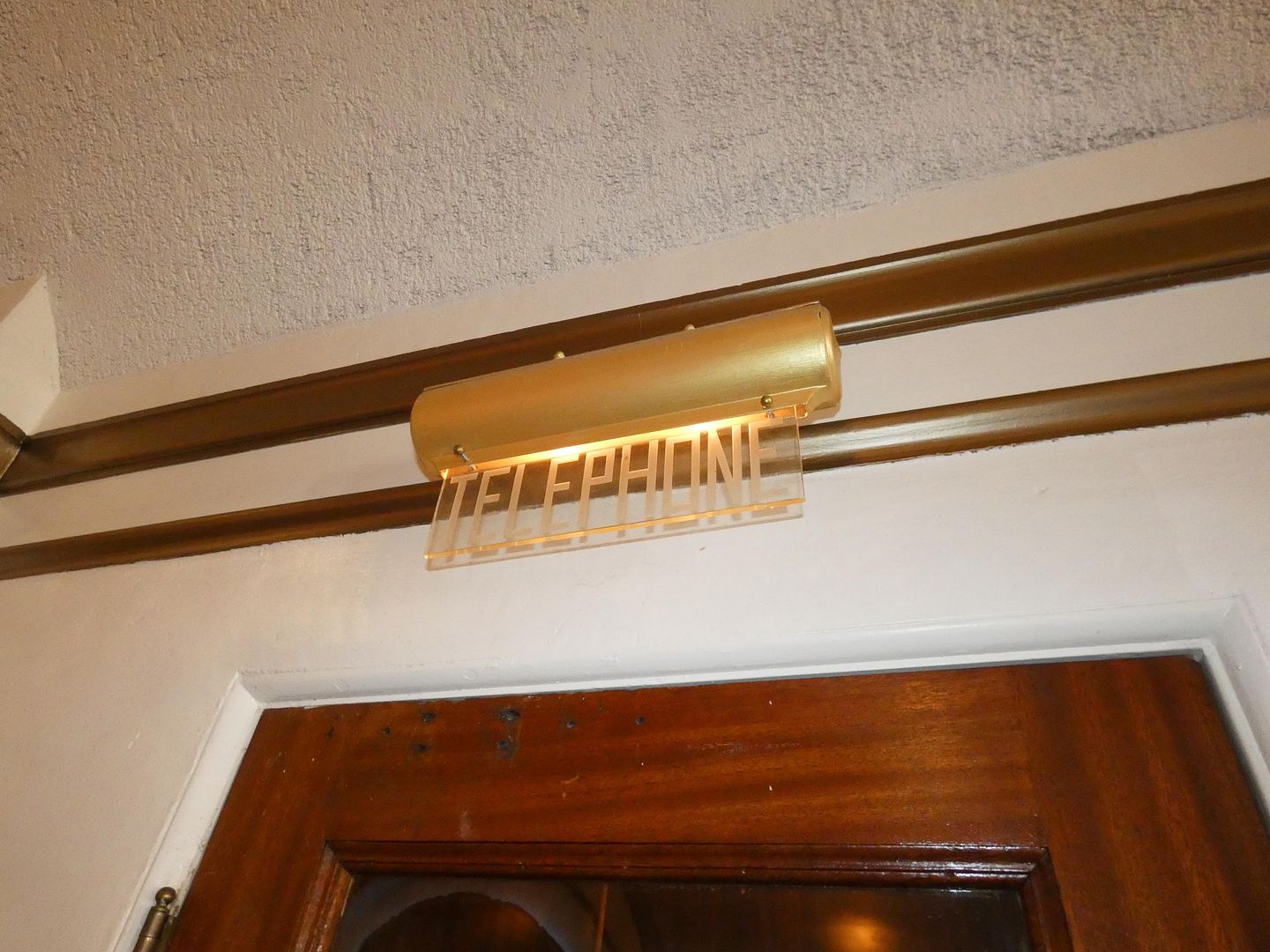 There appears to be a still-working pay phone in the private booth, though.
Inside the auditorium—which is miraculously still intact, not having been duplexed or triplexed—painters have traded "UCLA Blue" with a kind of purplish hue to go along with the Skouras-era gold accents.
No sign of the original painted wall decorations by Robert E. Power Studios, which also provided interior design for the Fox Pomona and
Jensen's Melrose Theatre
, among others.
The original ceiling mural of a six-pointed star (like the one in the outer lobby) survives—though the modern chandelier that once hung from the center of the star has been removed.
The ceiling has also been outfitted with special speakers, as the Regency Village projects with Dolby Atmos and a THX-certified immersive sound system.
These single-screen theaters are a dying breed—and even this one was almost combined with the single-screen Bruin Theatre across the street to create a 12-plex, in a circa 2001 plan that never happened.
Unfortunately, the Bruin is still all boarded up from its own COVID-19 closure. But hopefully it's next in line to reopen, as it's also owned and run by Regency.
In the meantime, I've got more historic movie theaters to cross off my list. I'd gotten lazy and seen way too many new releases at my local mall multiplex instead of supporting smaller and more independent operators.
Related Posts: