[Last updated 12/26/22 11:48 PM PT—Pierce College has responded to student outcry objecting to the shocking nature of the statues and has begun to dismantle the nationally-recognized landmark. Some items were removed from the site and relocated to Valley Relics Museum, separate from the artifacts pictured below. Others may remain in place for the time being.
Because of the fragile nature of the carvings, there has been a lot of concern among preservationists that anything moved be properly handled with conservation in mind and properly accessioned. But that's not really how Valley Relics usually does things, which is why it's able to turn on a dime to get a crane to save giant neon signs and scoop up other historic items that would otherwise end up in a landfill.
Stay tuned for a report from whenever I can get there to see what's left over and where they end up.]
[Updated 3/23/21 7:09 PM PT—new photos from Valley Relics added at bottom of post]
Out of all of the
creepy, abandoned places
I've visited, from
cemeteries
to
ghost towns
to
Death Valley
, this little nook on a college campus in a suburban part of the San Fernando Valley spooked me some of the most.
Somehow, a bunch of endangered old statues—handmade by amateur sculptor John Ehn, a descendent of pioneers who dubbed himself "The Old Trapper"—have found their way to a save haven, where they are maintained by a group of anonymous preservationists.
The pioneers, Native Americans, and saloon girls depicted here don't look so happy.
And although they are not the work of a master artist—Ehn (or "O.T.") had no training besides briefly shadowing Claude Bell (of
Knott's Berry Farm
/
Cabazon Dinosaurs
fame)—they evoke a distressing time in history.
And they provoke feelings of trauma and terror.
Gargoyles line the bases of some of the statues...
...grimacing...
...witnessing the horrors above them.
The Old Trapper wanted to tell stories of the past, and he used the property he built in 1941 as his canvas—The Old Trapper's Lodge, a motel near the Burbank Airport (at 10340 Keswick Street, near Arvilla Avenue and San Fernando Road, in Sun Valley).
Starting in 1951, he used his family members as models to portray scenes from pioneer family life...
...in addition to the battles and kidnappings.
Many of the displaced statues appear stoic in their distress...
...sitting patiently...
...occasionally bemused.
Mysterious benefactors (no one will say who) have been coming to paint them since their creator died in 1981 and their motel was
demolished
some years later for the expansion of the airport runways...
But for now, their layers of colors peel, and their features are cracked...
...faces pitted...
...wardrobes weathered.
What are they looking for?
What are they waiting for?
They are clearly not real...
...but there is something about them that
feels
very real.
The stone-faced "living" sculptures gaze out among their less fortunate neighbors...
...who have passed in various ways...
...and met their untimely fate.
Amidst the human figures is a cemetery of sorts...
...with graves and headstones tucked away under trees and in the brush...
...describing—sometimes in great detail—what befell them.
In the Old West, this would've been considered a "
Boot Hill
"...
...where some were buried with their boots still on...
...before they could cause any more trouble.
Nobody seemed to live very long.
Even some of the headstones have heads...
...with glazed-over expressions...
...and an apathetic pain they feel outside of themselves...
...like many of us humans do.
I rarely photograph people—but I love photographing
statues
.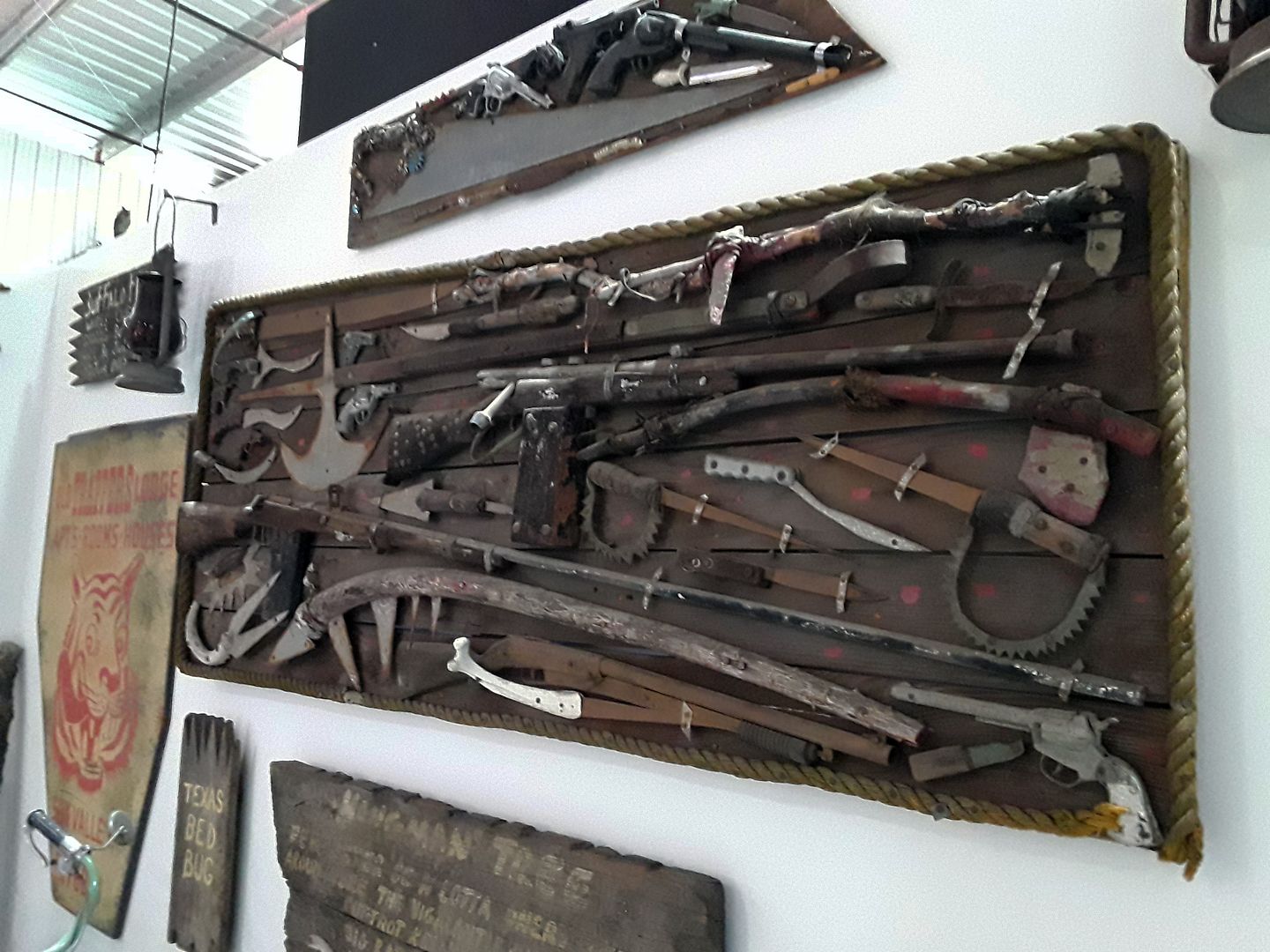 Update 3/23/21
—The
Valley Relics Museum
has brought some artifacts from The Old Trappers Lodge out of its collection and put it on display in the museum.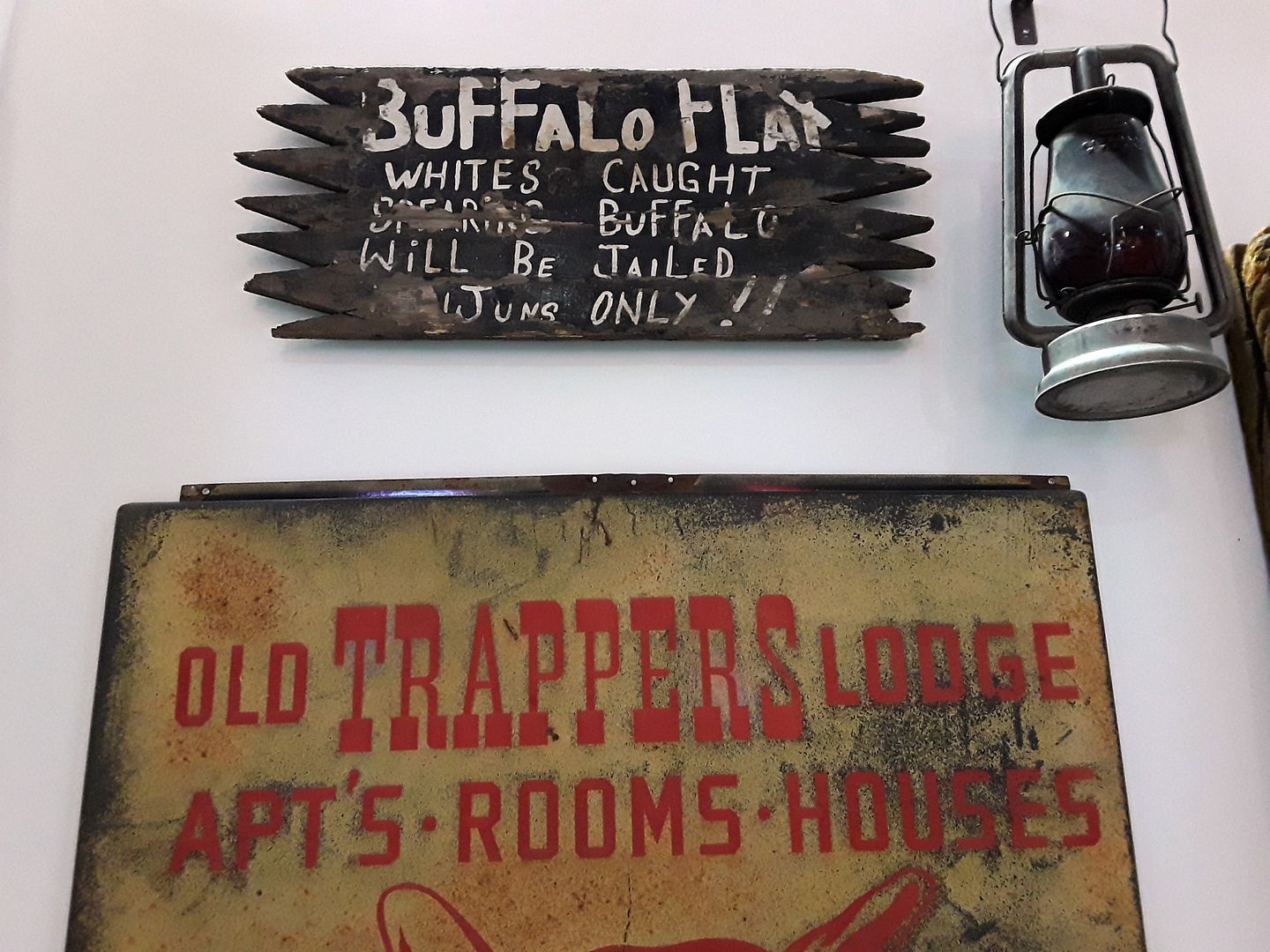 In addition to some trappers' tools (which once covered the rental office's façade), there's also historic motel signage and some racially insensitive (though probably historically accurate) decor.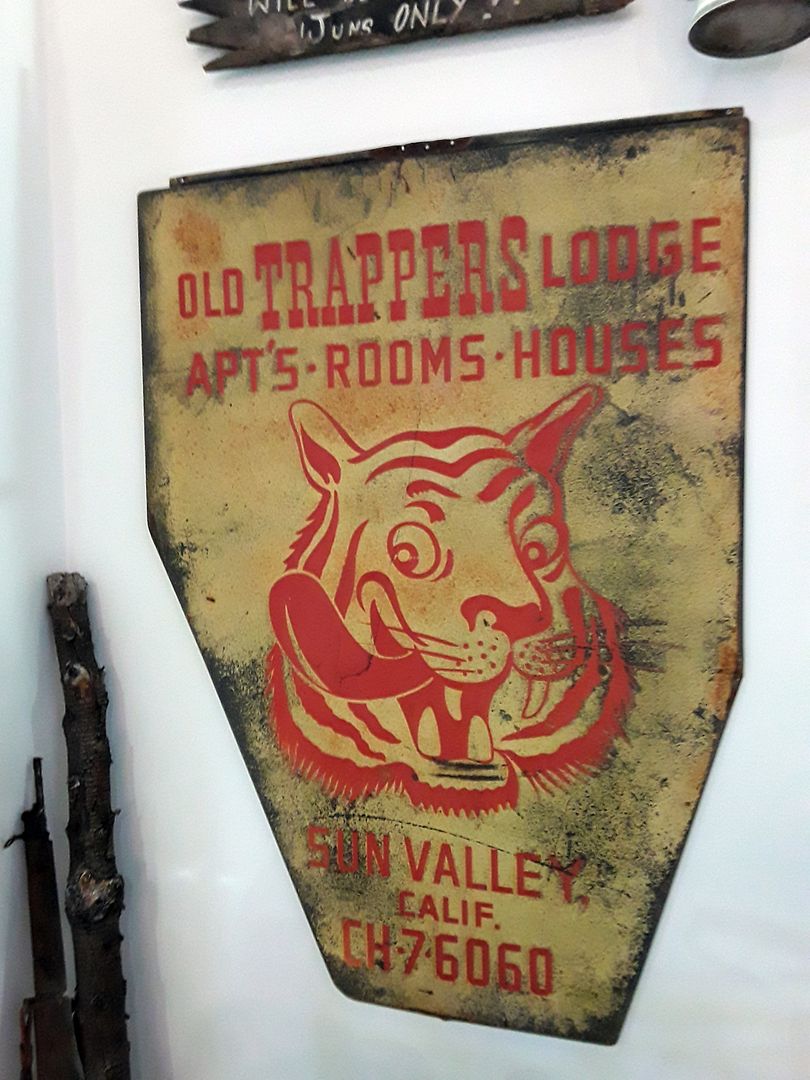 The original site was heralded as a state historical landmark as a 20th-Century Folk Art Environment—and "O.T." as a significant outsider artist.
For historical photos of the statues and artifacts
in situ
, visit the SPACES website.