I love a good case of adaptive reuse. And Riverside, California is the site of a preservation success: the transformation of a Midcentury Modern-style library into a contemporary art museum.
It's now the The Cheech Marin Center for Chicano Art & Culture—yes,
that
Cheech Marin, of Cheech and Chong fame—an offshoot of the Riverside Art Museum.
But it began in 1965 as the
Riverside Main Library
(a.k.a. the "Downtown Library")—known for an architectural style called New Formalism, and replaced by a brand-new library nearby in 2021.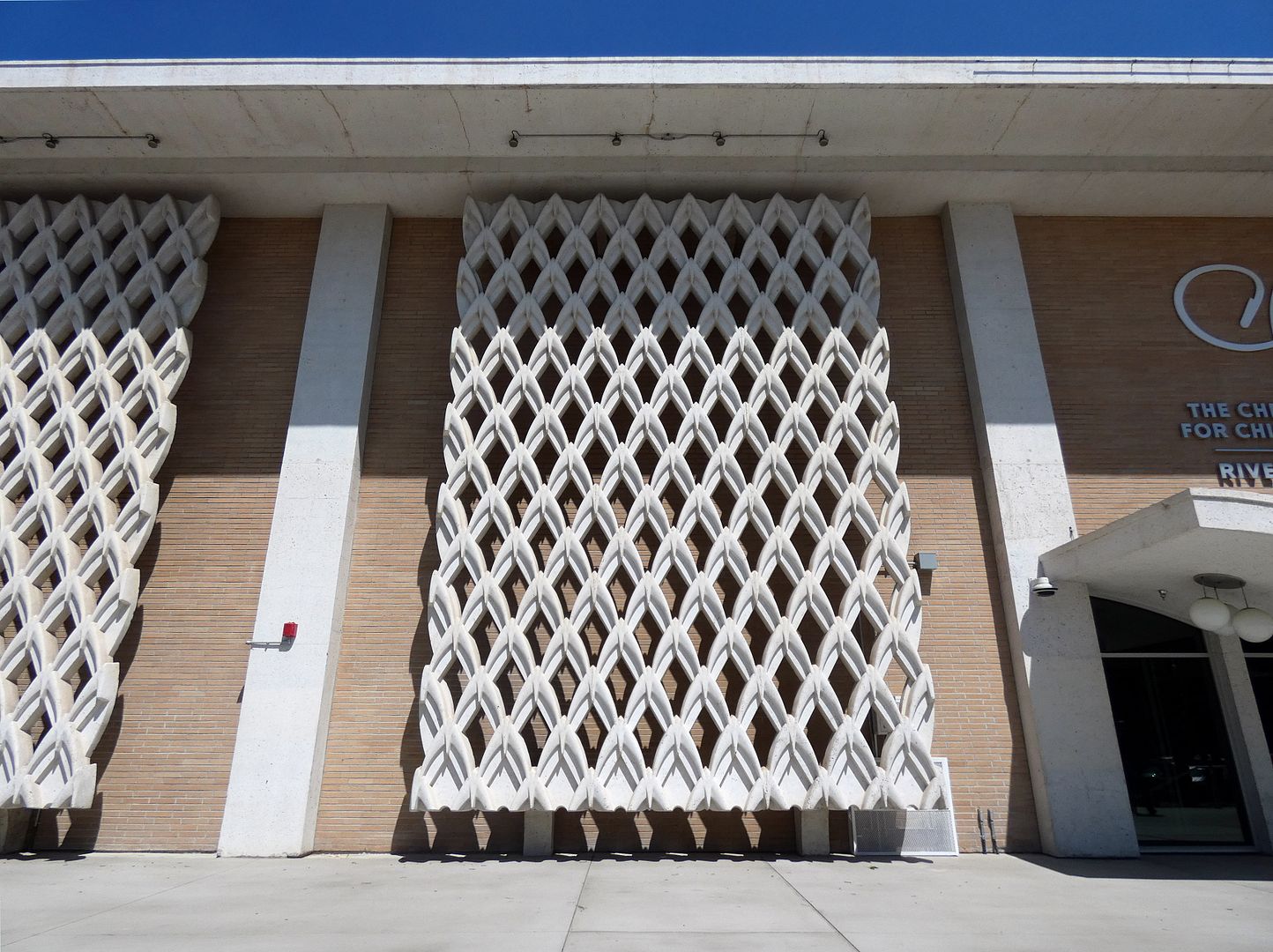 "The Cheech," as it's colloquially known, opened in June 2022 after over five years of planning and renovations—thanks to millions of dollars in donations. (Thankfully, it kept the white screens on the exterior whose interwoven design depicts doves as a sign of peace.)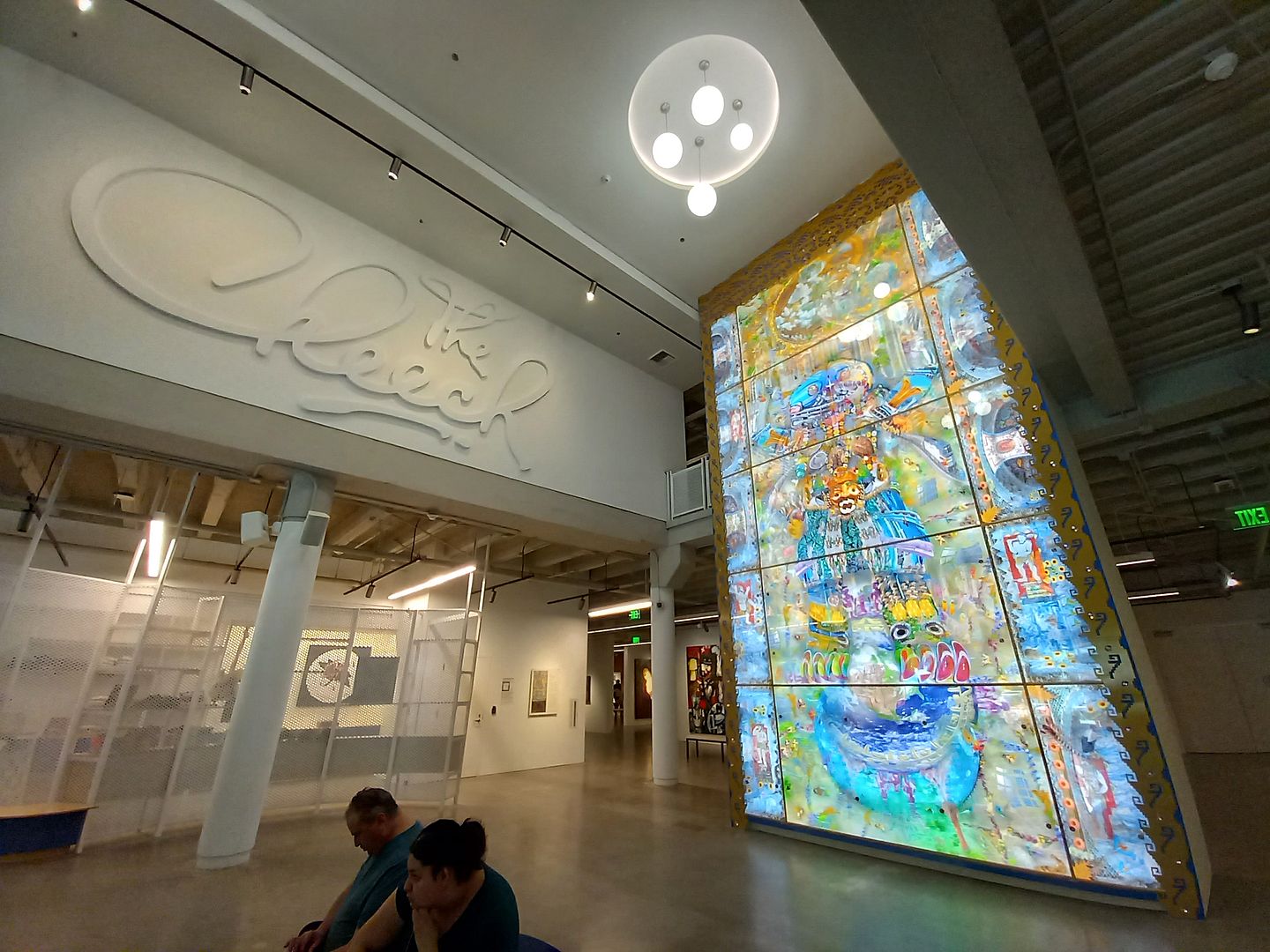 All 61,000 square feet of it have been transformed into a bi-level gallery space—no less a civic gathering space than the library once was, in a major city with a majority Latino population.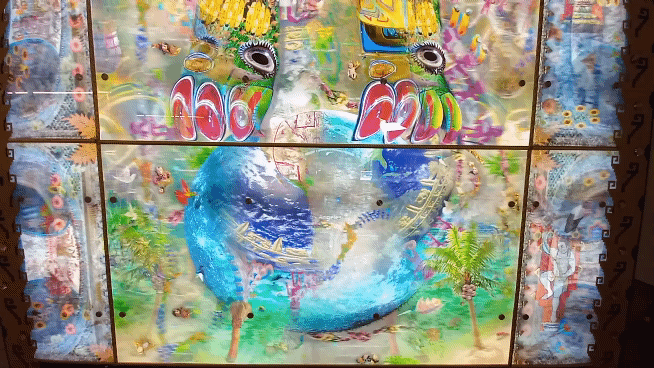 The centerpiece of the museum lobby (or zócalo) is the two-story lenticular mural by the De la Torre Brothers called "Gaiatlicue," which the Riverside Art Museum commissioned.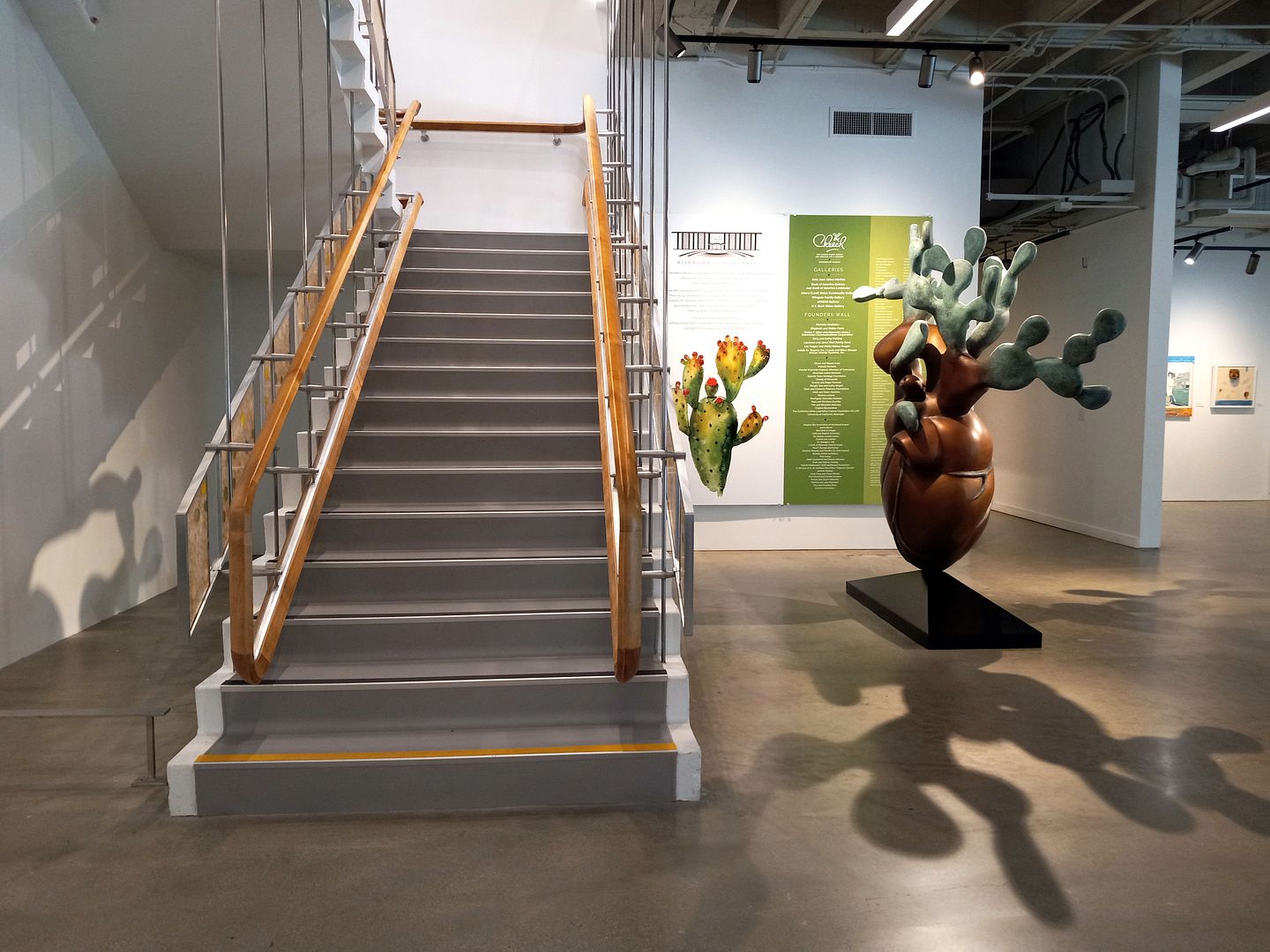 Head up the midcentury-style open stairwell...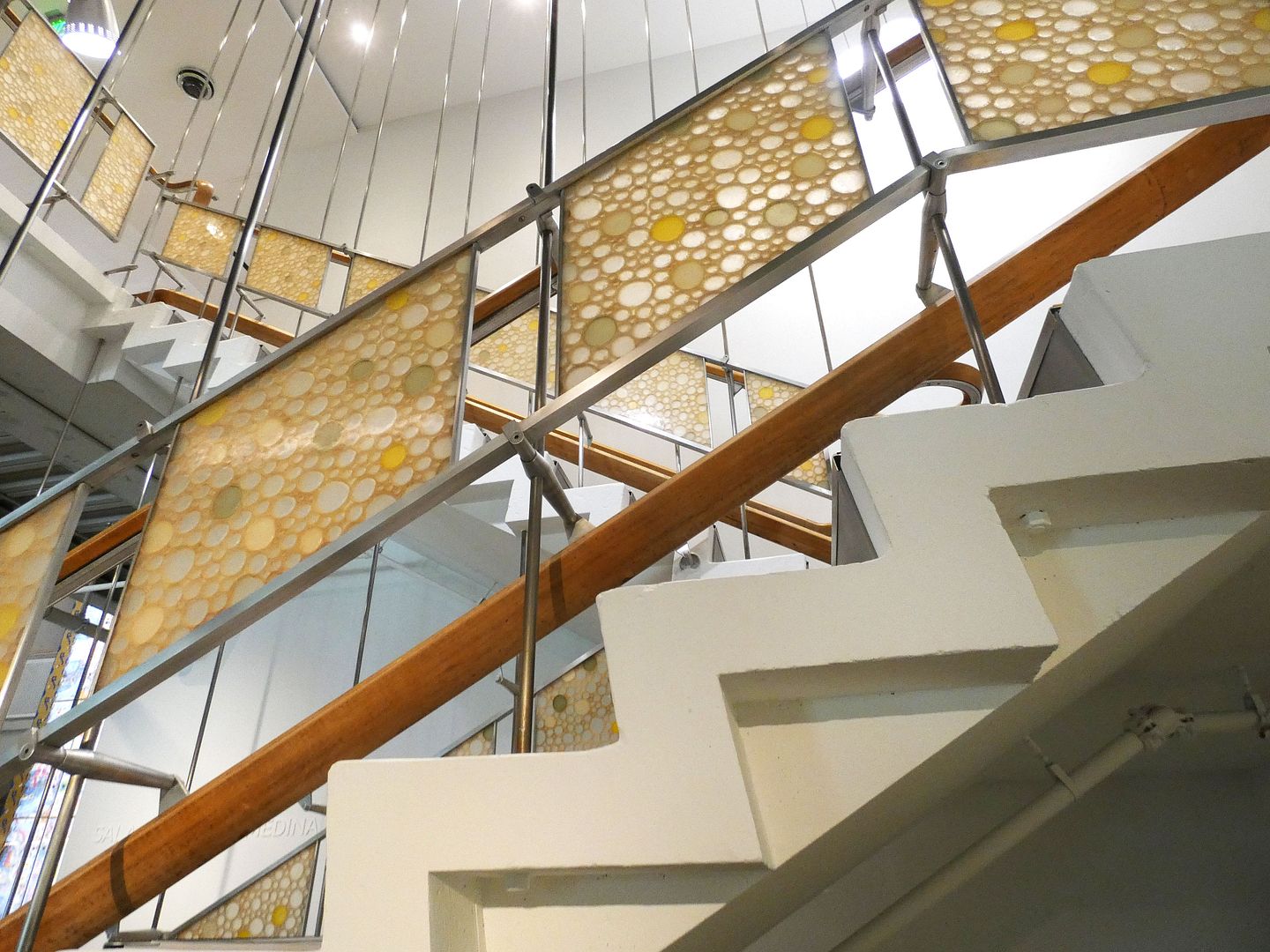 ...with its original, yellow-tinged panels...
...for a top-down view of the monumental piece, which gets its name from the Nahua deity (or "Aztec earth goddess") Coatlicue, whose image is superimposed on a stylized map of East LA to Riverside.
For its inaugural upstairs exhibition, the Cheech featured even more of the De la Torre Brothers' art with a retrospective (or "retro perspective") of the brothers' early works, called Collidoscope (a portmanteau of kaleidoscope and collision).
Llorando de Felicidad, 2010
Collidoscope closed on January 22, 2023—and as it prepares to go out on tour, I had to share what I saw when I visited back in September.
A Dios, 1998
Although Einar and Jamex de la Torre have been focusing more on their lenticular printing as of late...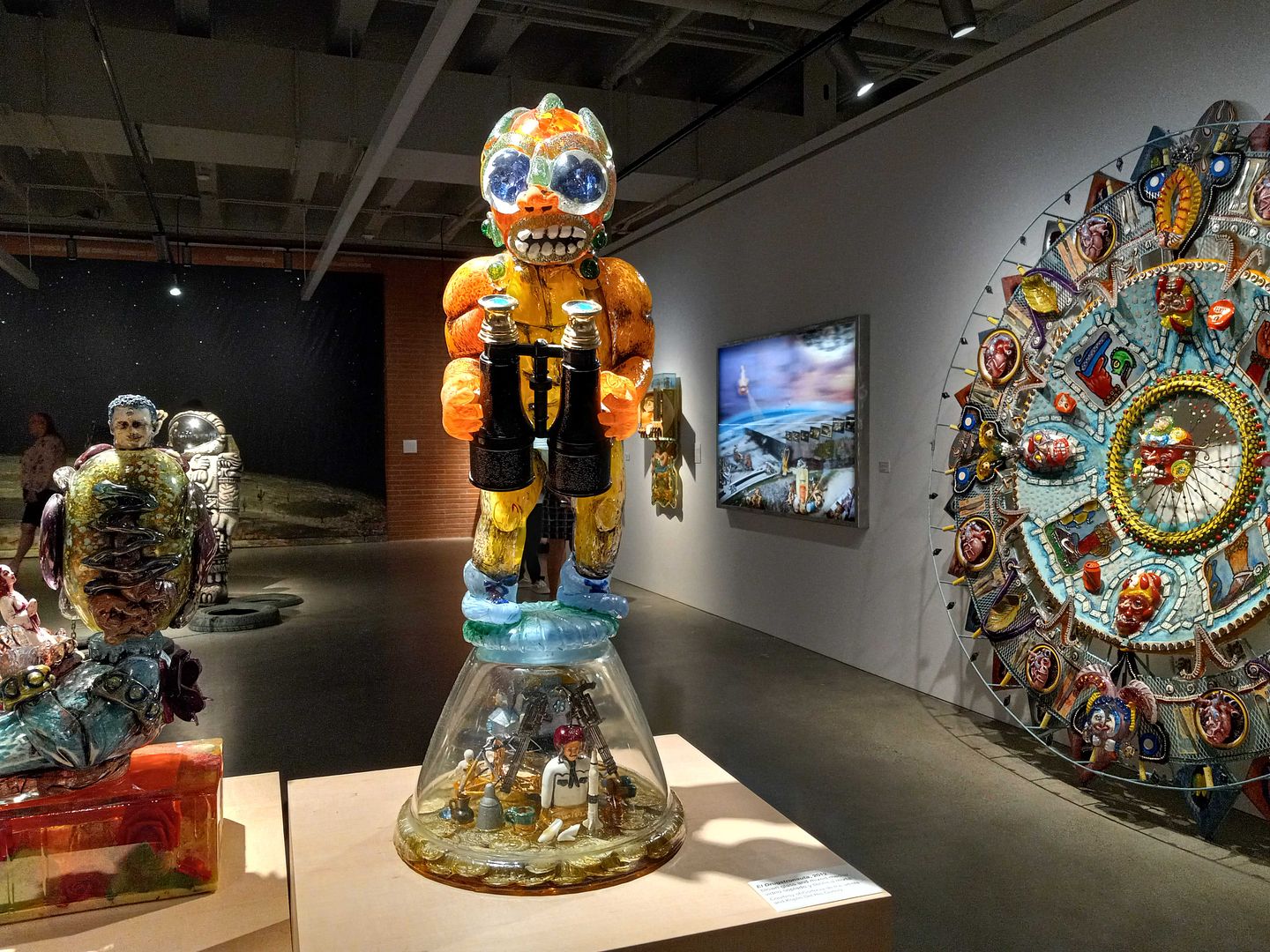 El Drugstronauta, 2012
...their earlier pieces often consisted of an assemblage of blown glass...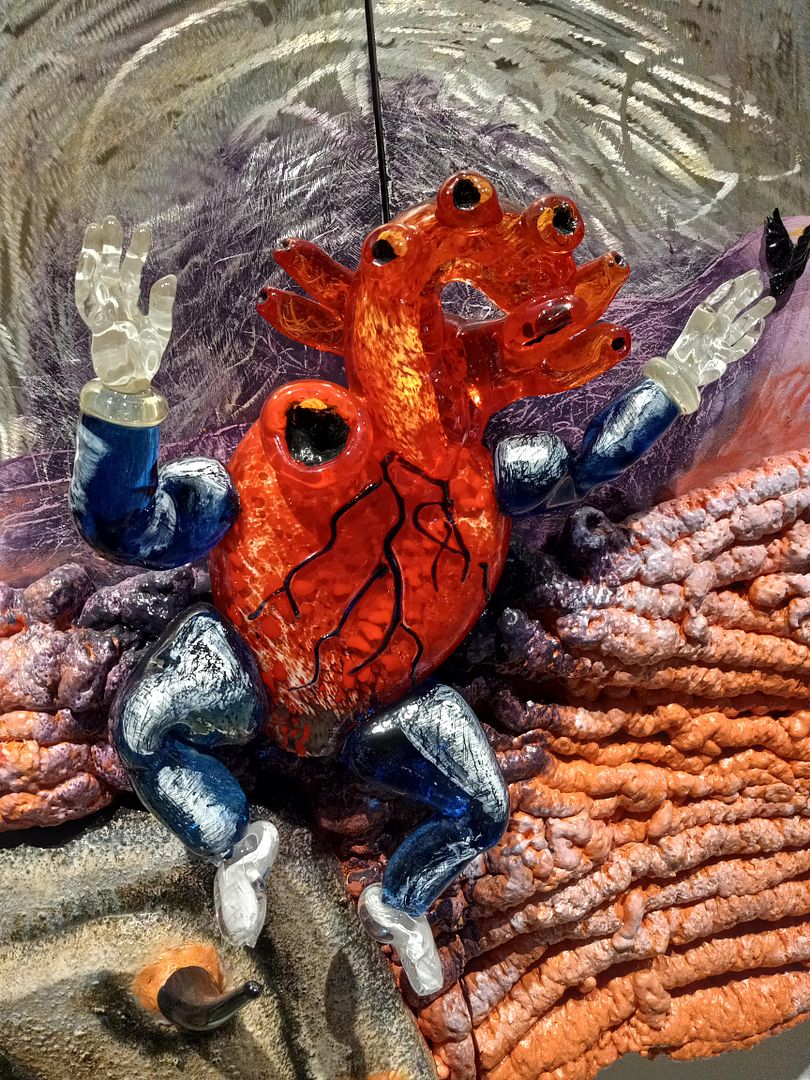 ...with imagery reflective of the Guadalajara-born brothers' bi-national purview and identity.
Prince Tonali, 2016
A highlight was a blown-glass and mixed-media depiction of the musician Prince as a deer...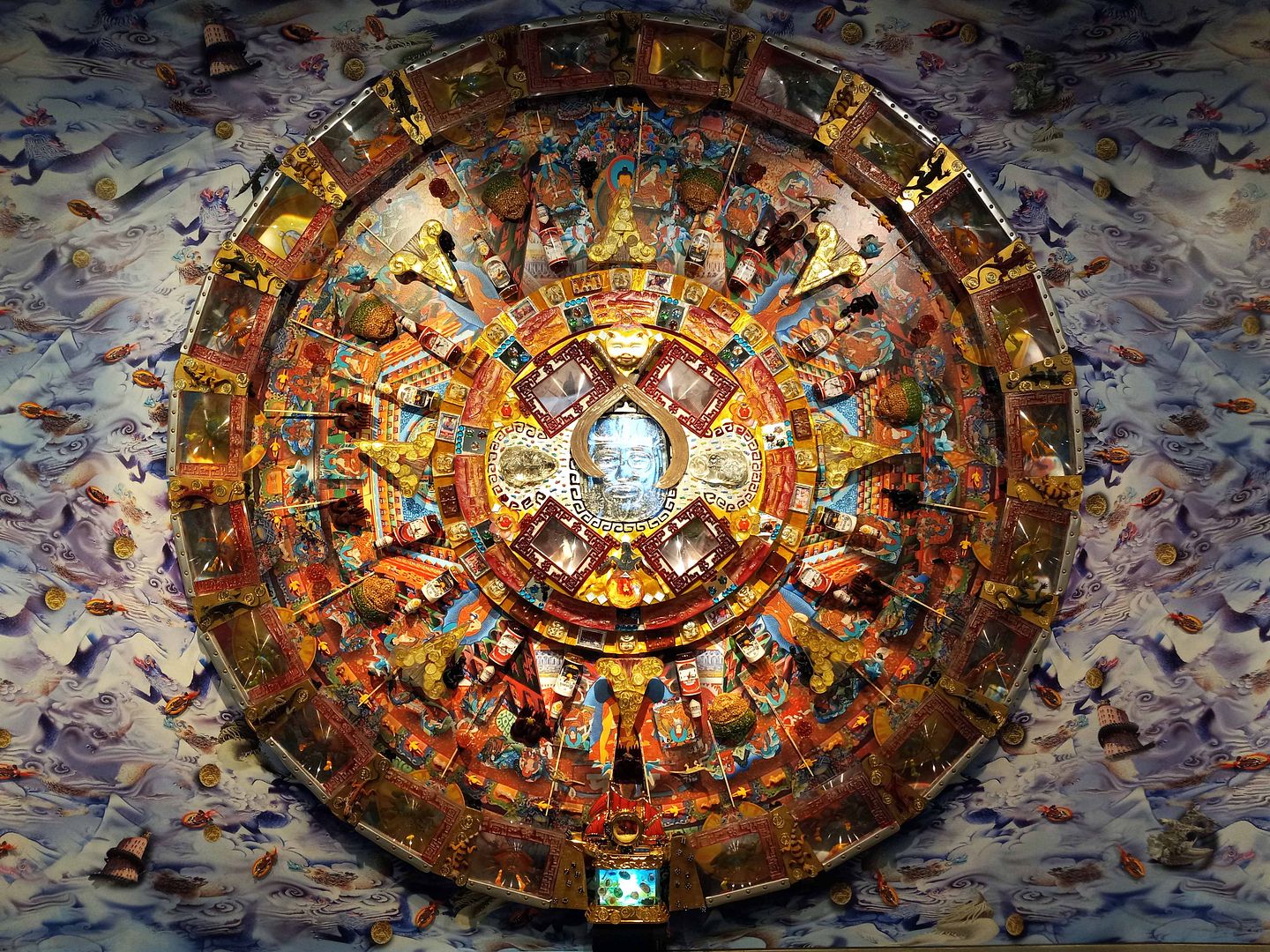 ...many kaleidoscopic pieces that evoke both the geometry of mandalas and Aztec imagery...
...like the Aztec Rolex (mixed media, 2000), which blends ancient and contemporary cultural norms...
...and La Belle Epoch (mixed media, 2002), a kinetic sculpture of blown glass and found materials also evoking an Aztec timepiece and Mexican folk art.
Much of the De la Torre Brothers' work is considered not just Chicano art—but also border art, as the siblings are now based out of both Baja and San Diego.
Some of it addresses the Mexican experience (like The Mexican Government, 2015, above)...
Nueva Generacíon, 2021
...the American experience...
One-Eyed Monster, 2017
...and maybe just the human experience.
Sometimes it's hard to know what exactly you're supposed to get out of the pieces...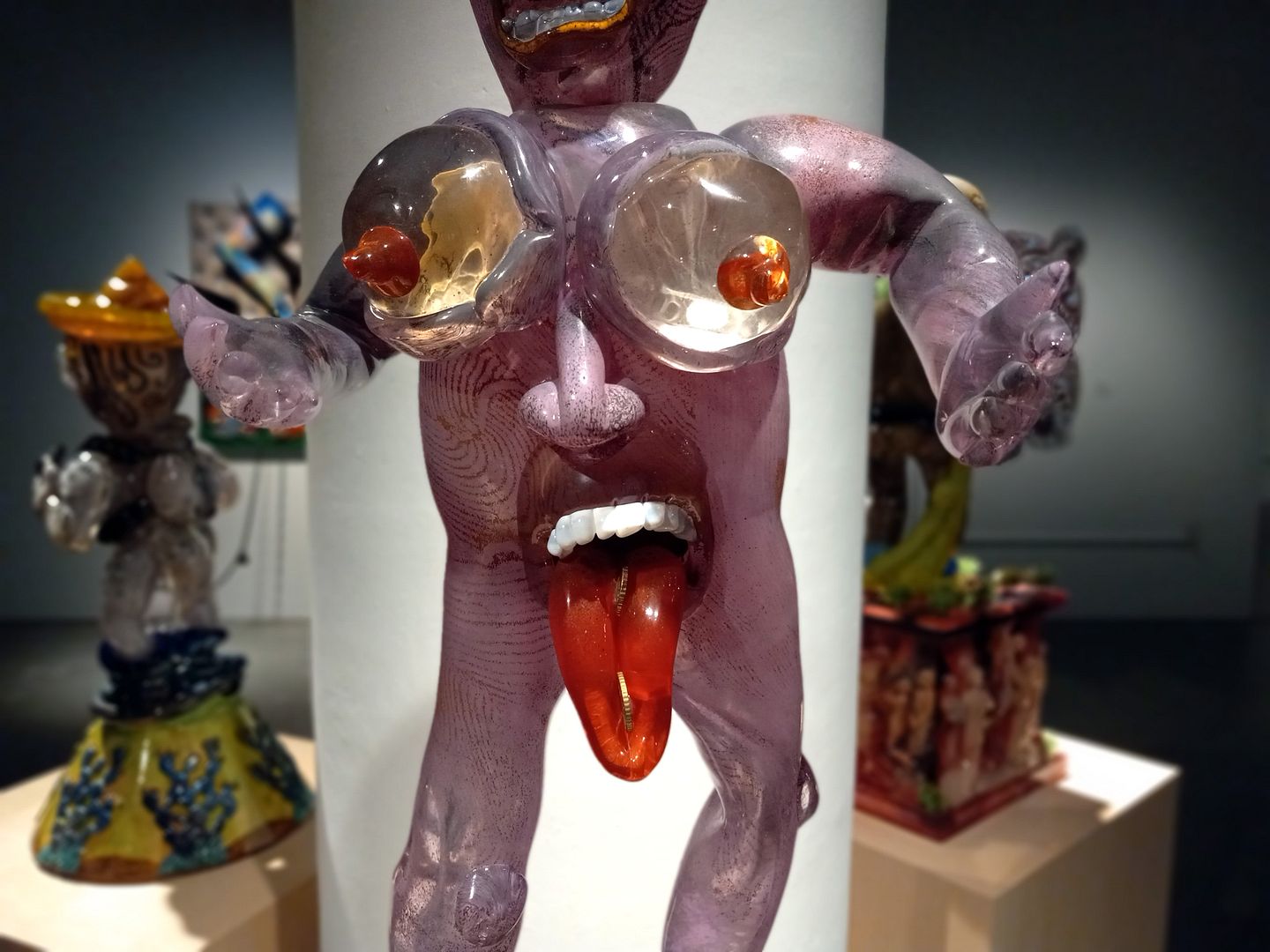 ...some of which might seem provocative, shocking, or even profane.
Pecking Order, 2002
But life isn't always pretty...
Thoughts and Prayers, 2020
...on either side of the border.
And the De la Torre Brothers' sculptures are as complicated and intricate as life itself.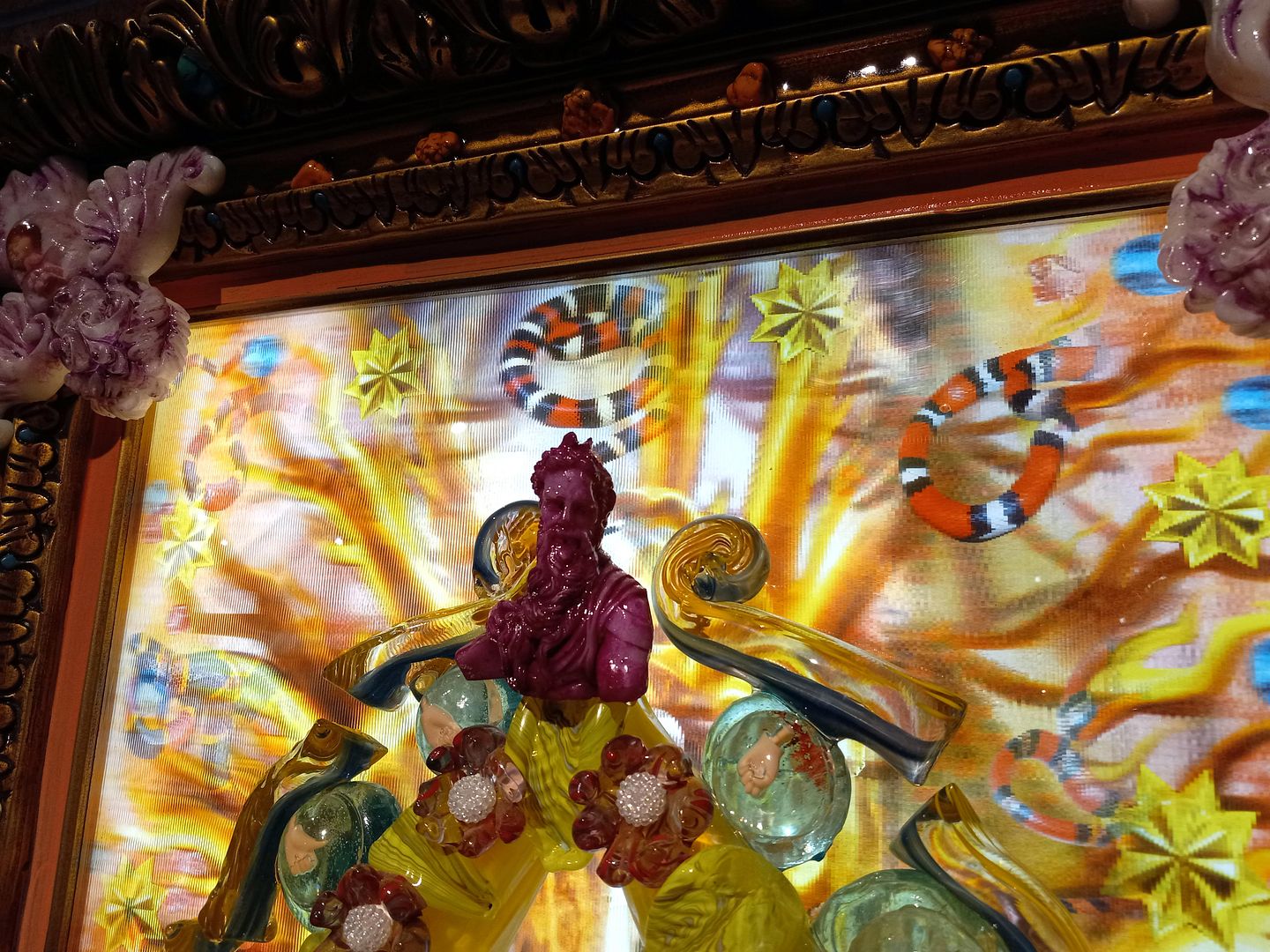 Maybe just as confusing, too.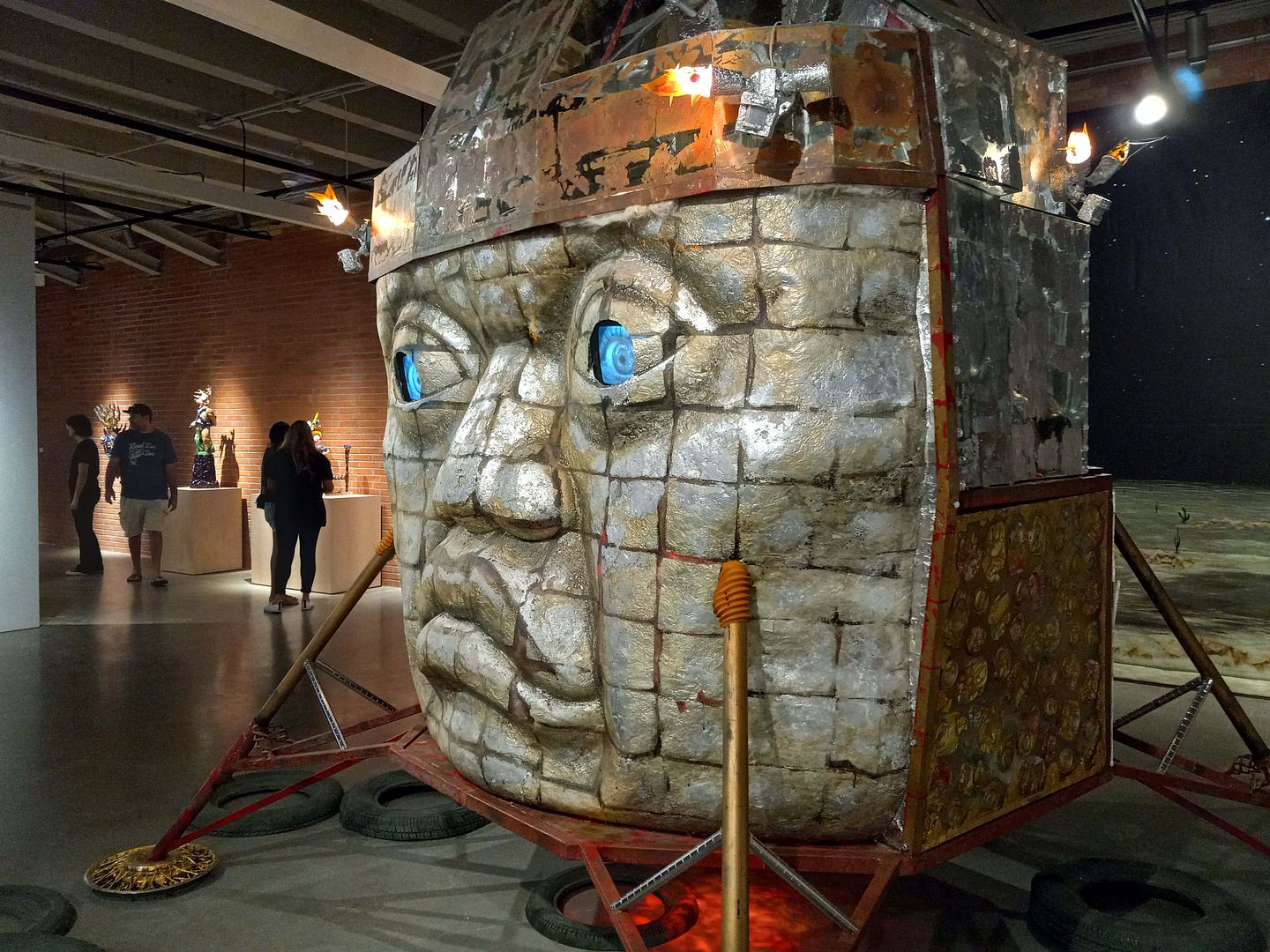 And then there's the "
Post-Columbian Futurism
" of
Colonial Atmosphere
(2002), a 10-foot-tall Mesoamerican (technically, Olmec) head that takes the form of a lunar landing module.
When it debuted in 2002 at USC's Fisher Museum, the
Los Angeles Times
called it an "elaborate installation that dizzily melds pre-Columbian native mythology, Roman Catholicism and American space exploration." Twenty years later, it still felt ambitious and daring—especially as we're still talking about colonizing space in the same breath as condemning illegal "aliens."
For the permanent collection, located on the museum's ground level, Marin donated a total of 500 works to the museum—only a fraction of which is on display at any given time, with the "Cheech Collects" exhibition showcasing the initial selects for the museum opening (including Wayne Alaniz Healy's Beautiful Downtown Boyle Heights, acrylic on canvas, 1993).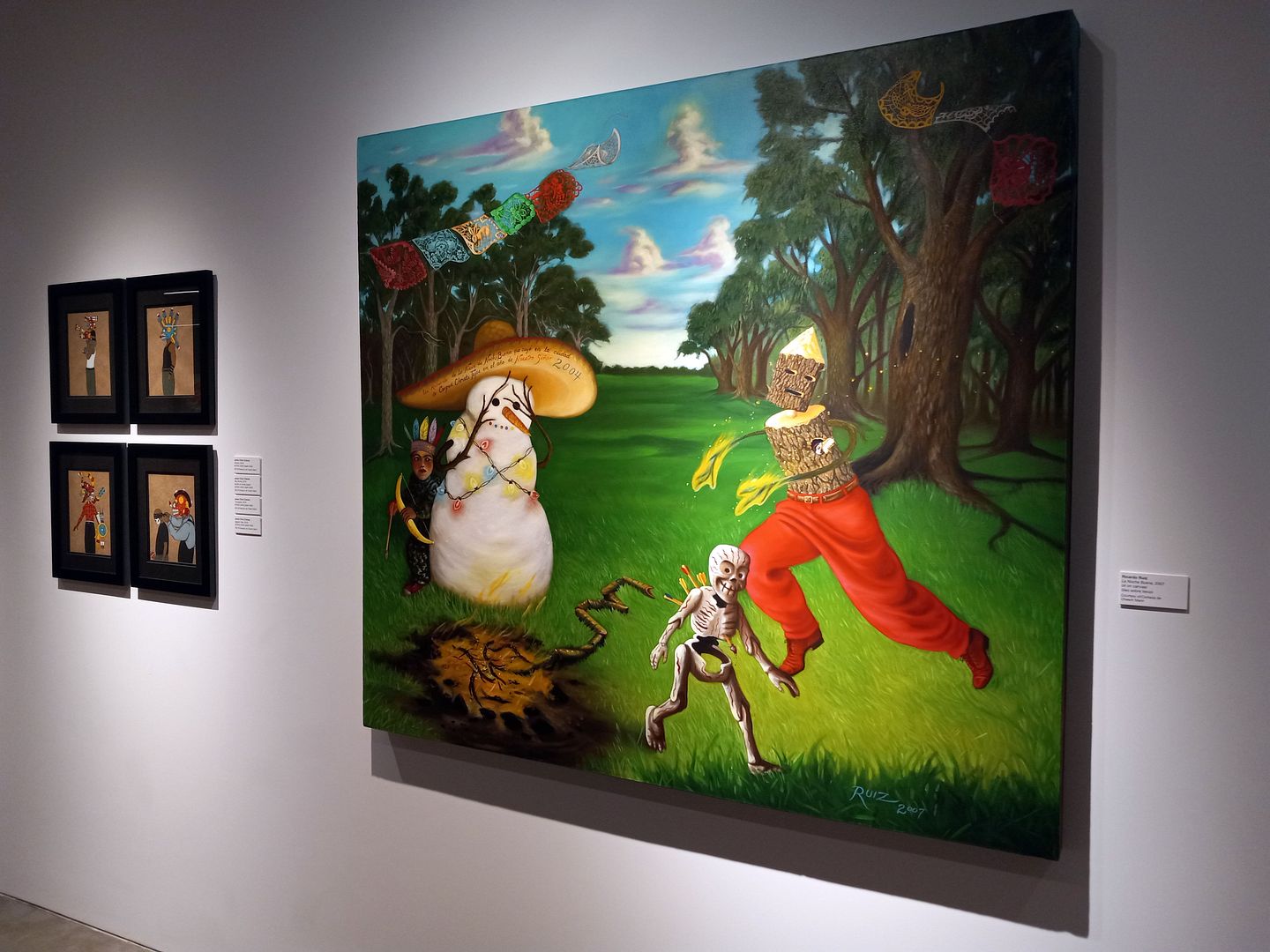 Other selections (mostly paintings) include La Noche Buena (oil on canvas, 2007) by Ricardo Ruiz...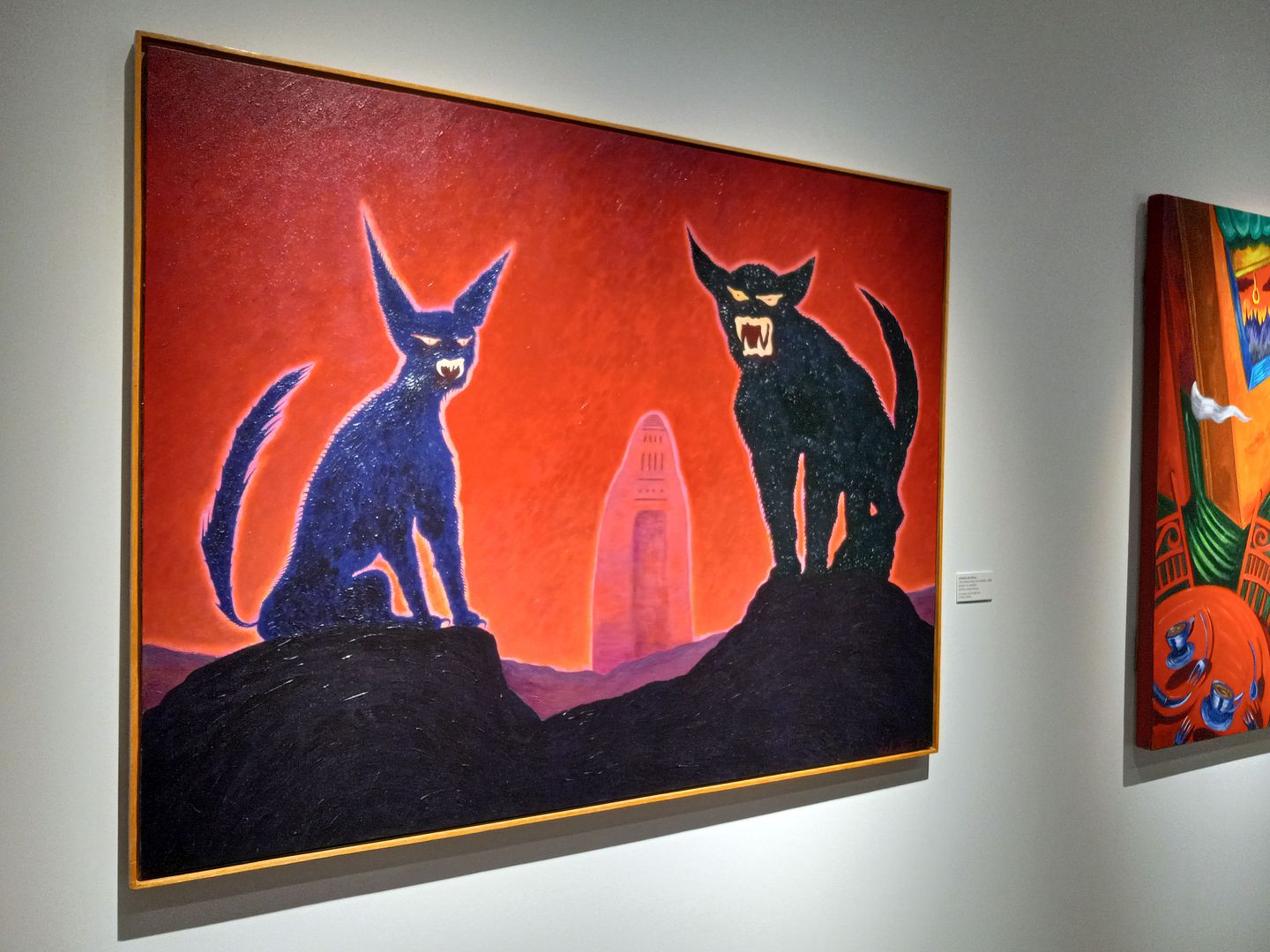 ...Alfredo de Batuc's The Welcoming Committee (acrylic on canvas, 1986)...
...and a portrait of Cheech Marin himself, titled It's a Brown World After All (oil on canvas, 2006) by Eloy Torres.
These are just a sample of the country's finest collection of Chicana/o/x art from the last 40 years—which now has a permanent home, after touring to dozens of world-class institutions around the world.
And how did it come to be in the first place?
A quote from Marin featured on museum signage reads, "The more Chicano art I looked at and thought about, the more that initial feeling of something new and 'known' was reinforced, and with it a recognition of something powerful at work."