[Last updated 6/1/23 3:37 PM PT—Video player embedded at the bottom of this post.]
Last September, I spent the day in Riverside, California researching
one of my SoCal Wanderer articles
for KCET—and while I was in town, I made sure I returned to Tio's Tacos.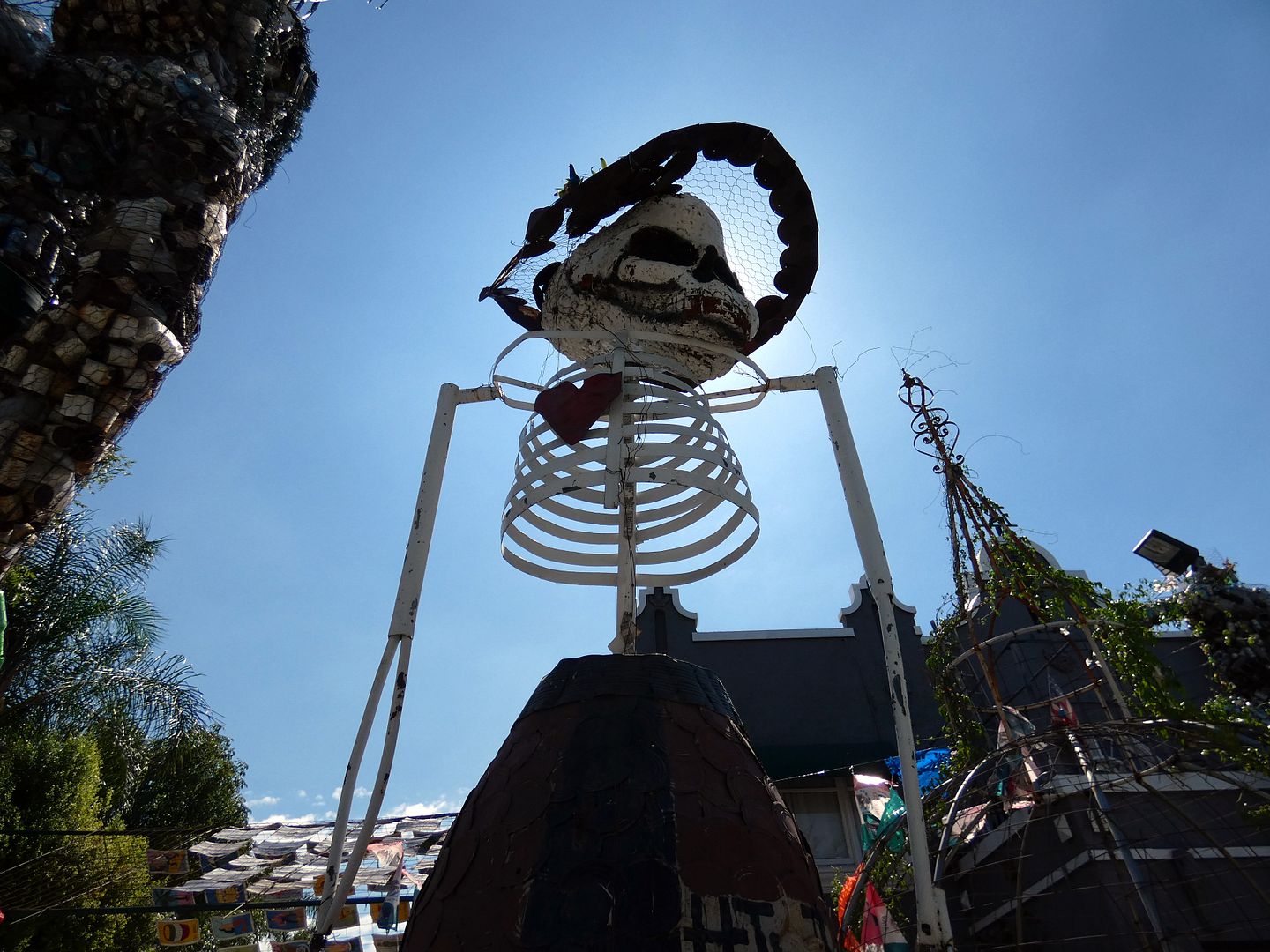 The attraction for me was the backyard garden of folk art and assemblage, which I
first visited in 2012
.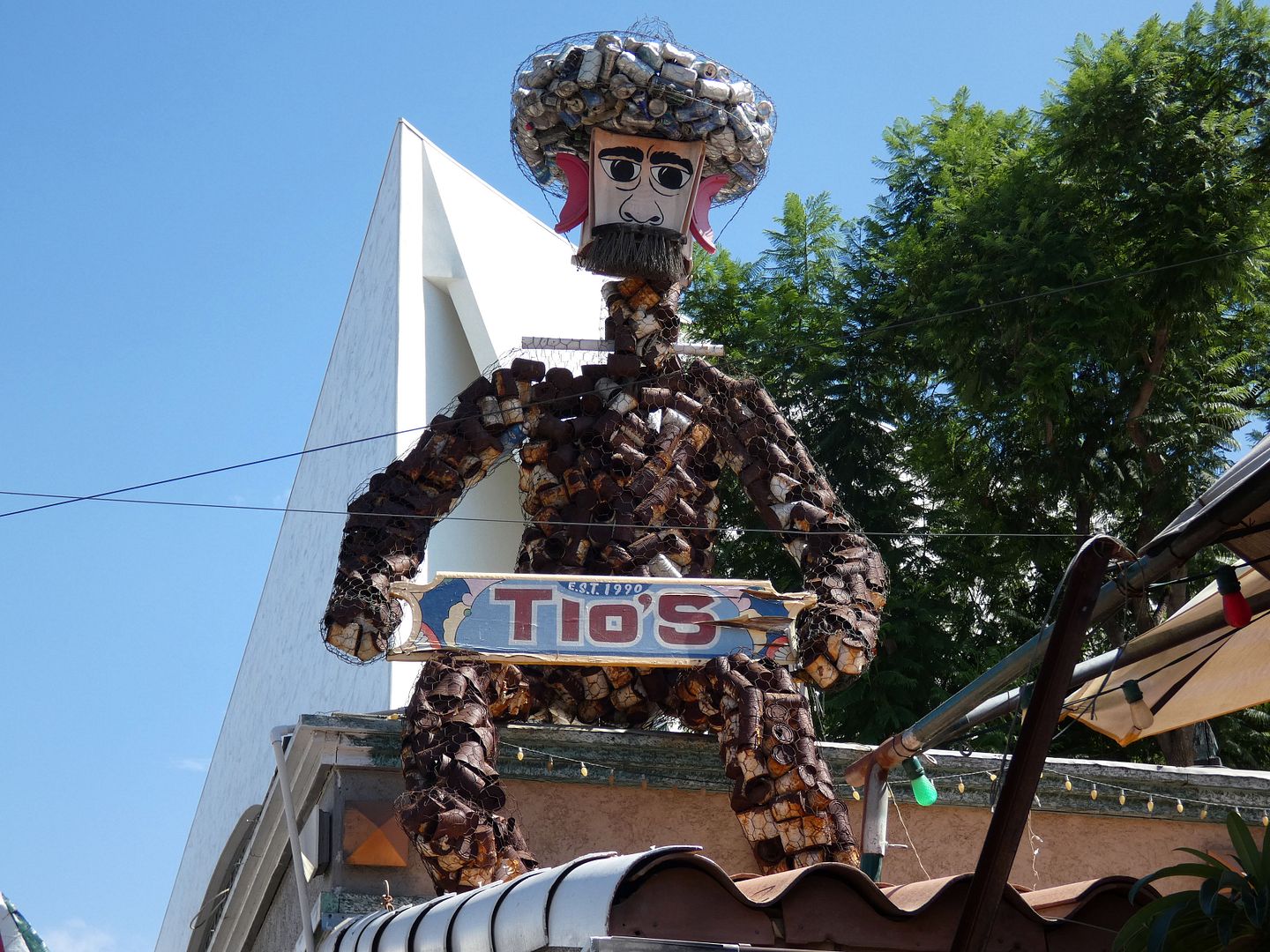 The sculptures have now also taken over the parking area and the outdoor patio in the front...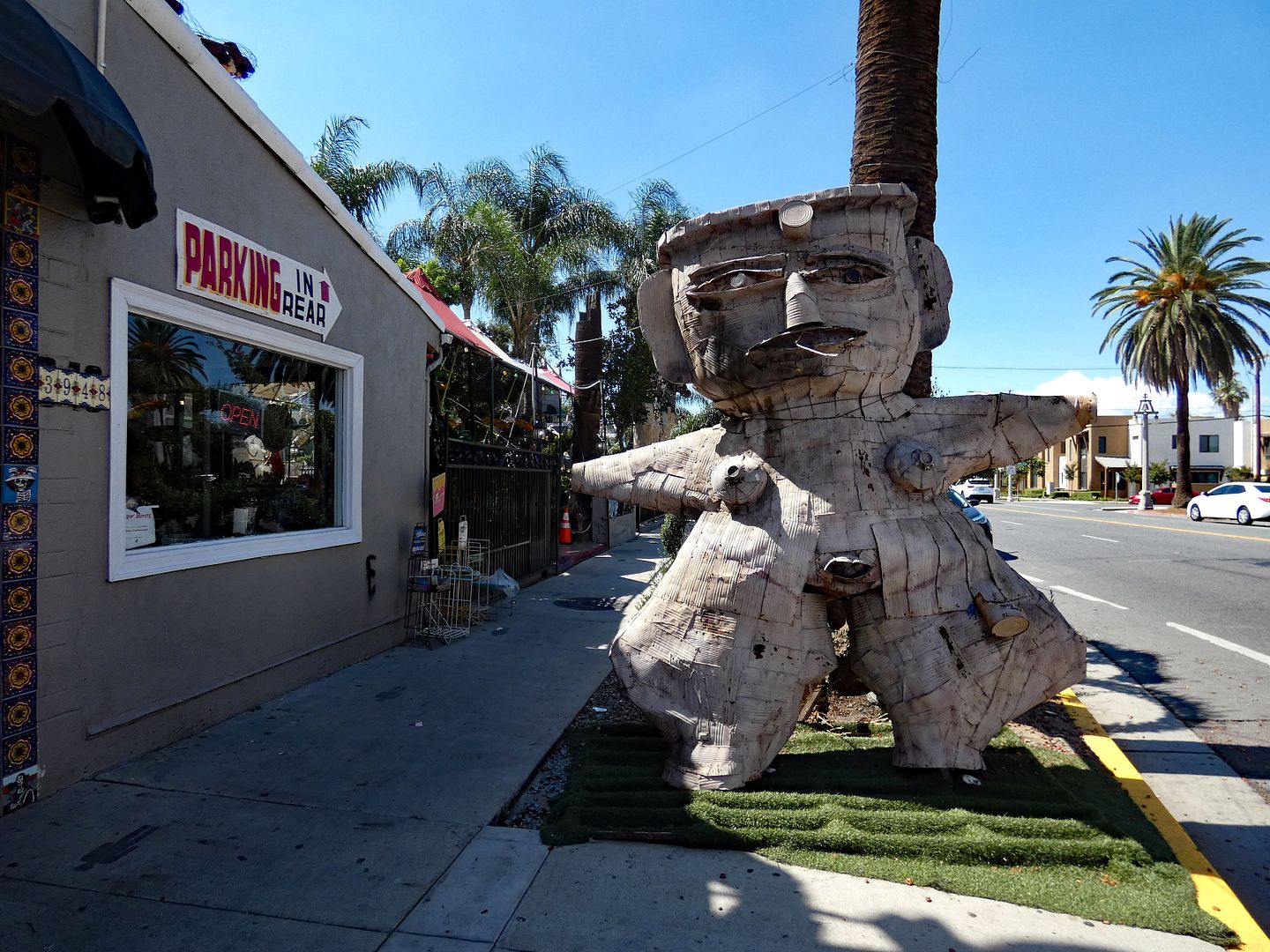 ... as well as the sidewalk by the taco stand's entrance.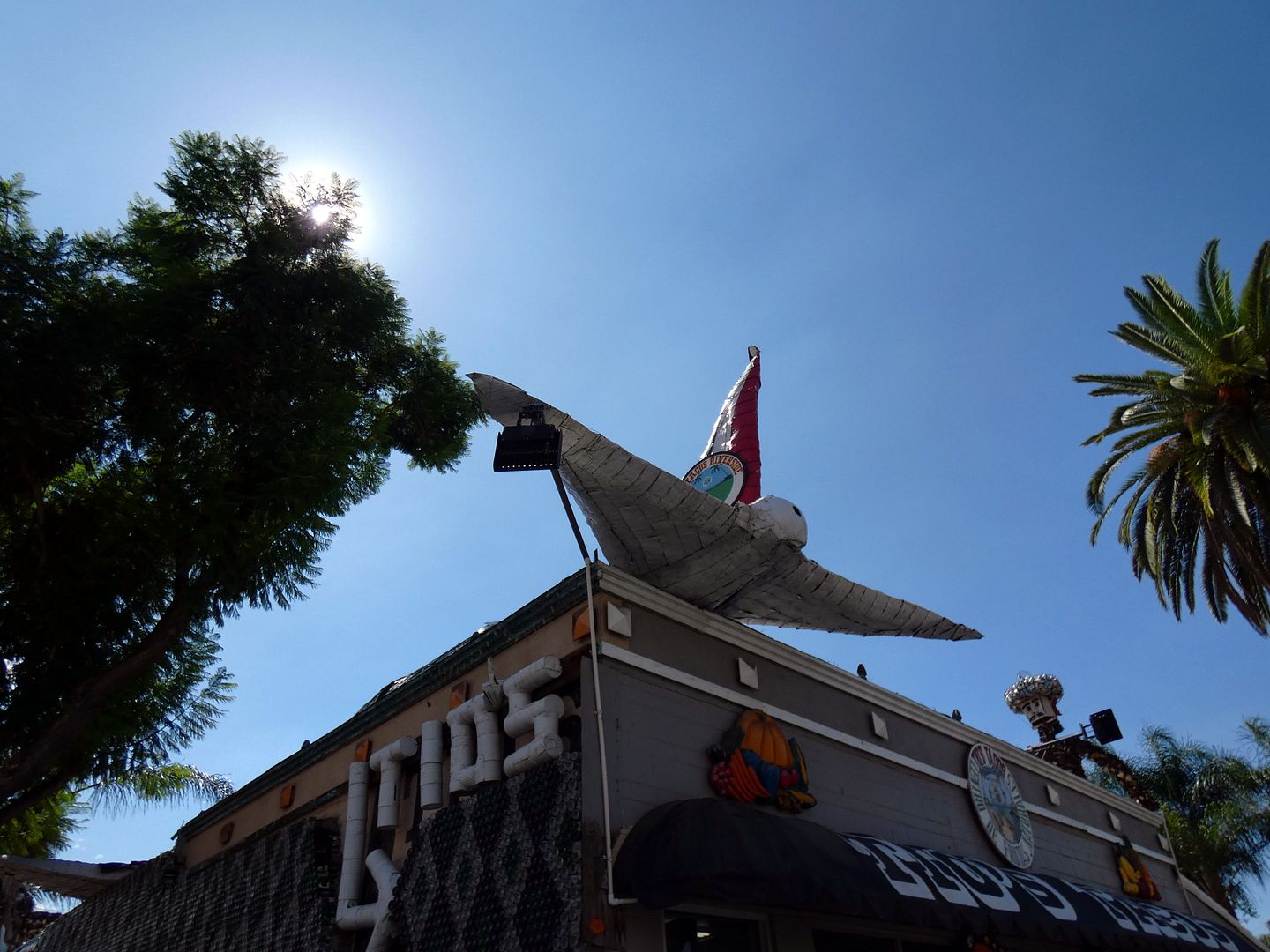 But across the board, the theme is consistent: beer bottles, mannequins, rubber masks, metal can lids, and other found materials.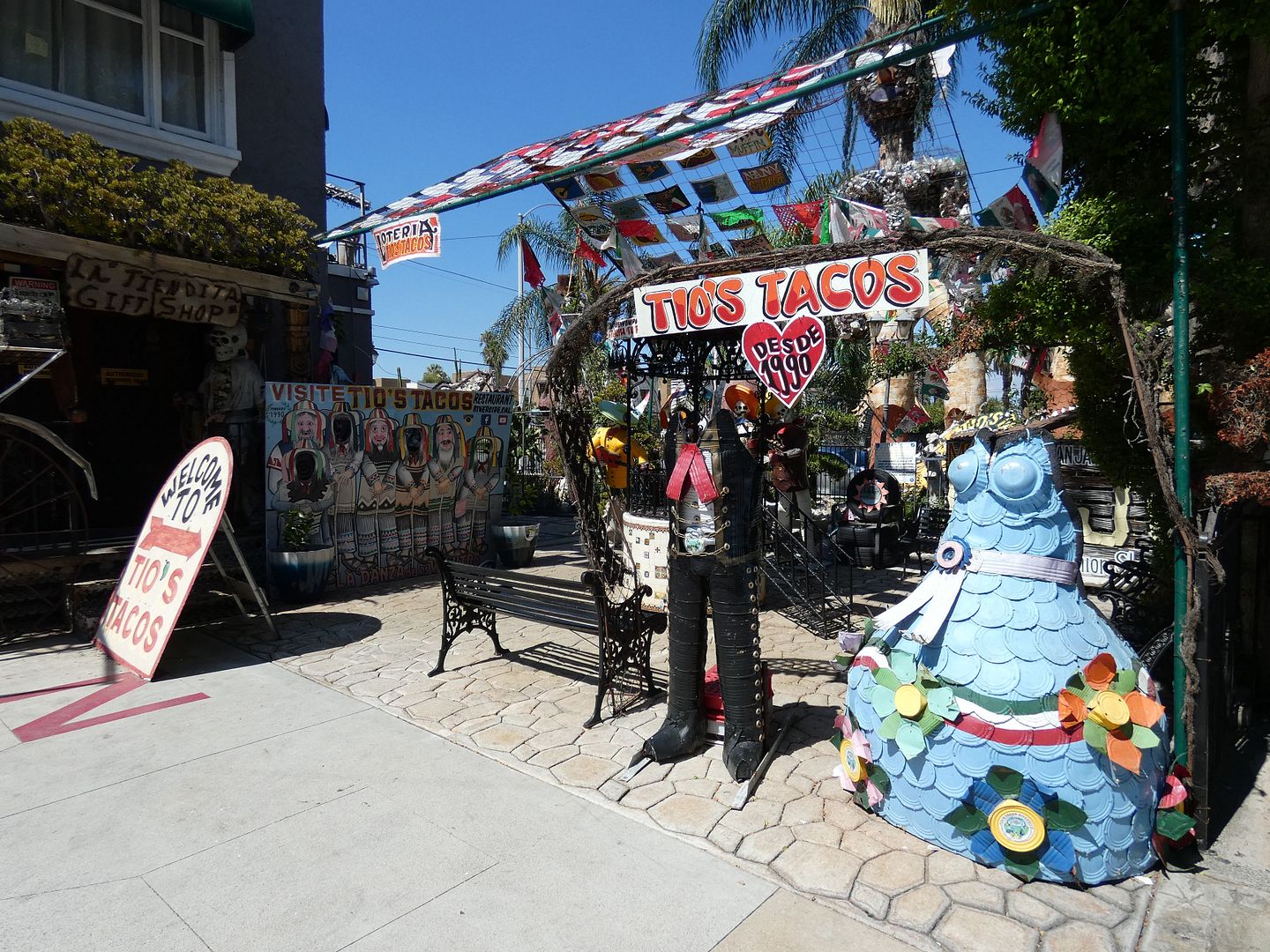 Among the recyled art attractions here...
...are a small-scale reproduction of El Pueblo in downtown Los Angeles...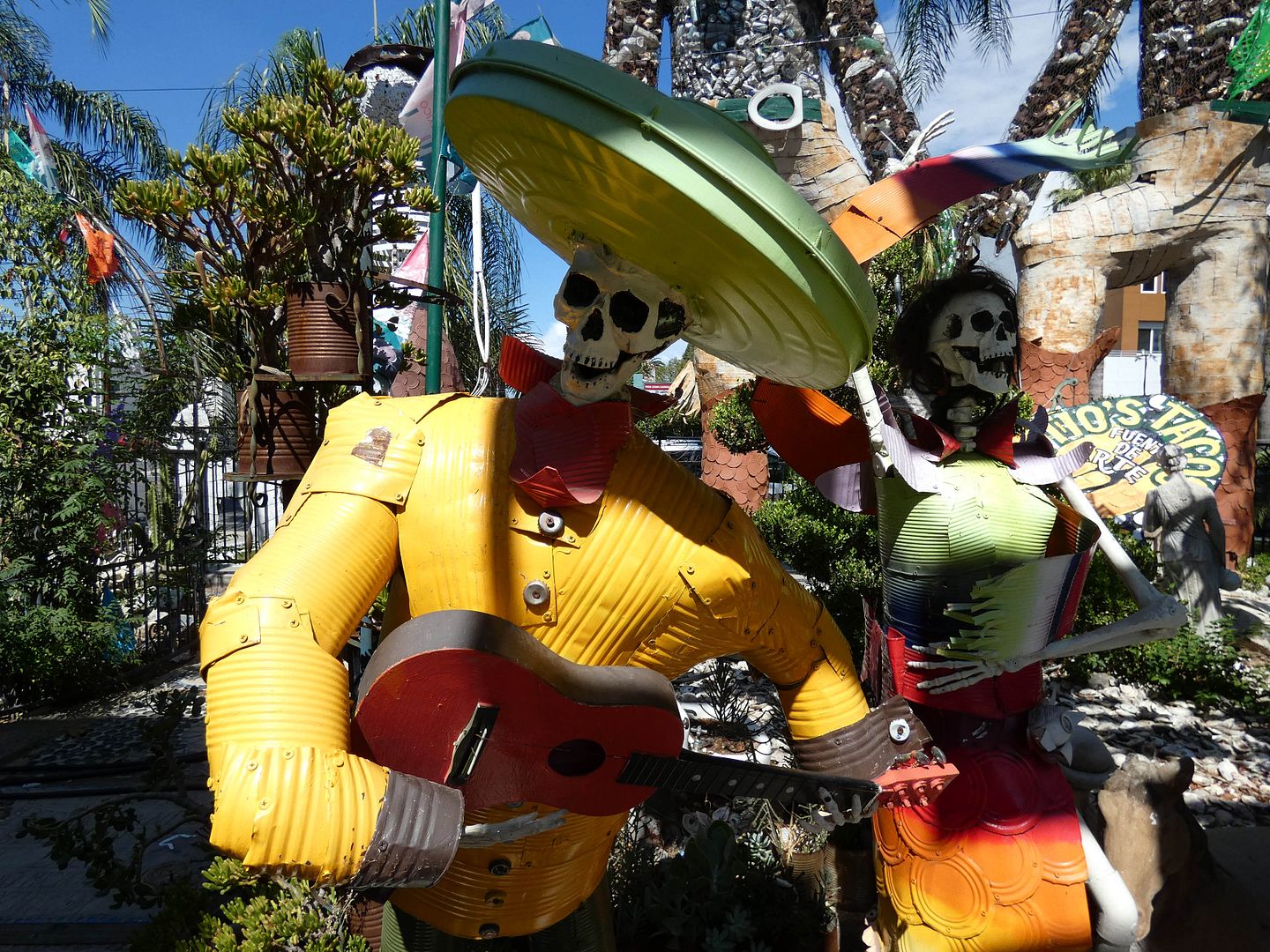 ...and skeleton mariachis...
...with trash can cover sombreros.
They seem happy, though silent.
In fact, there's no shortage of skeletons at Tio's...
...intermingling with other creatures...
...and keeping themselves busy.
It was nice to see that
Sanchez's Beer Bottle Chapel
—an active chapel (
The San Diego Union-Tribune
claims
it's actually consecrated) where you can say a prayer, get married, or memorialize someone you love—had held up over the last 10 years since I'd last visited.
It's named after Tio's Tacos restaurant owner Martín Sánchez—who's also the artist behind the garden's works of art, like the ukulele-playing Popeye.
According to his bio, Sánchez grew up poor in the Mexican town of Sahuayo—and always valued discarded materials as treasures.
Some may call it "junk"...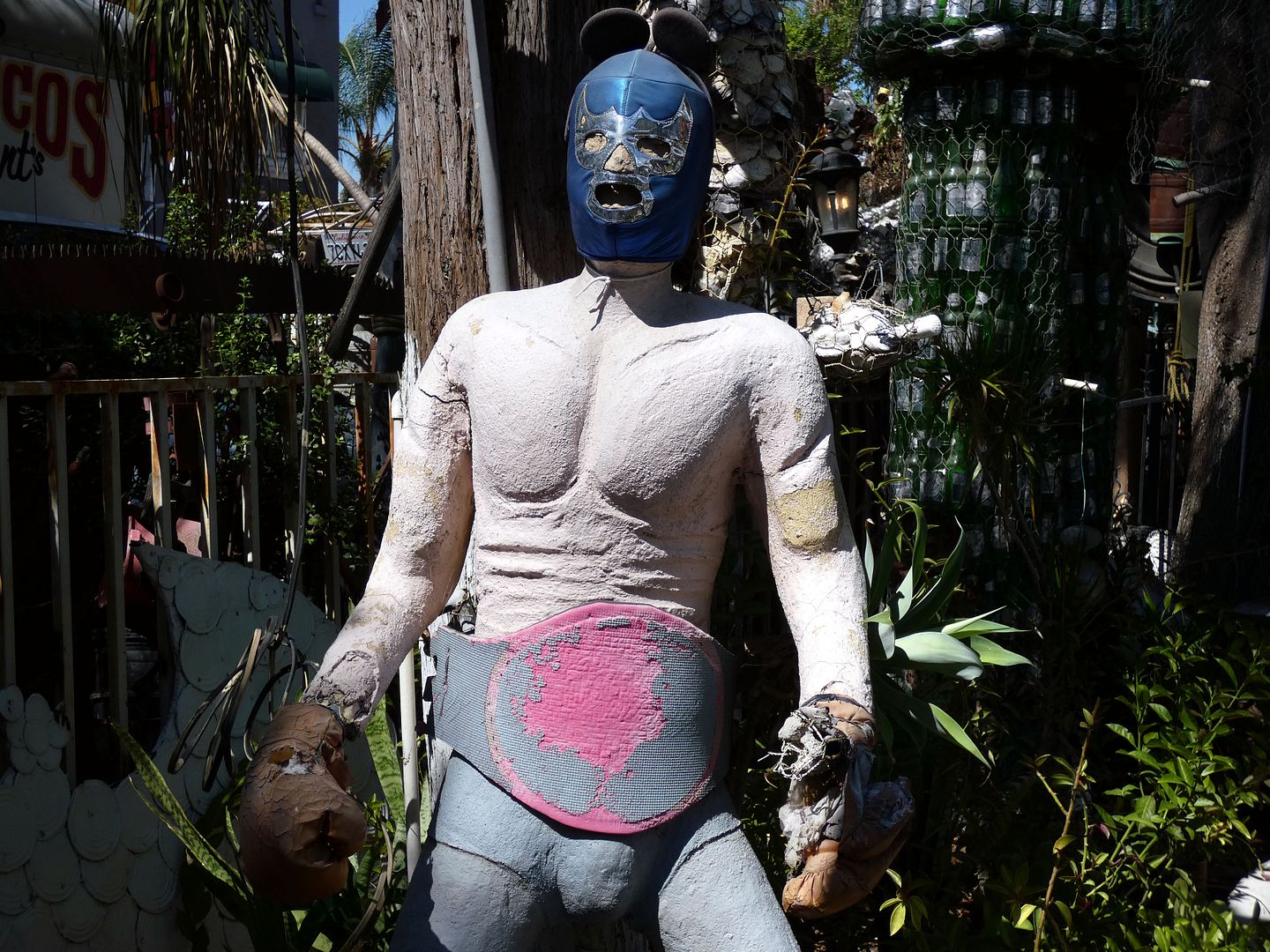 ...and some of it might even look a little scary...
...but there's a lot of ingenuity that went into creating this folk art environment, which surrounds a sprawling fountain/water feature.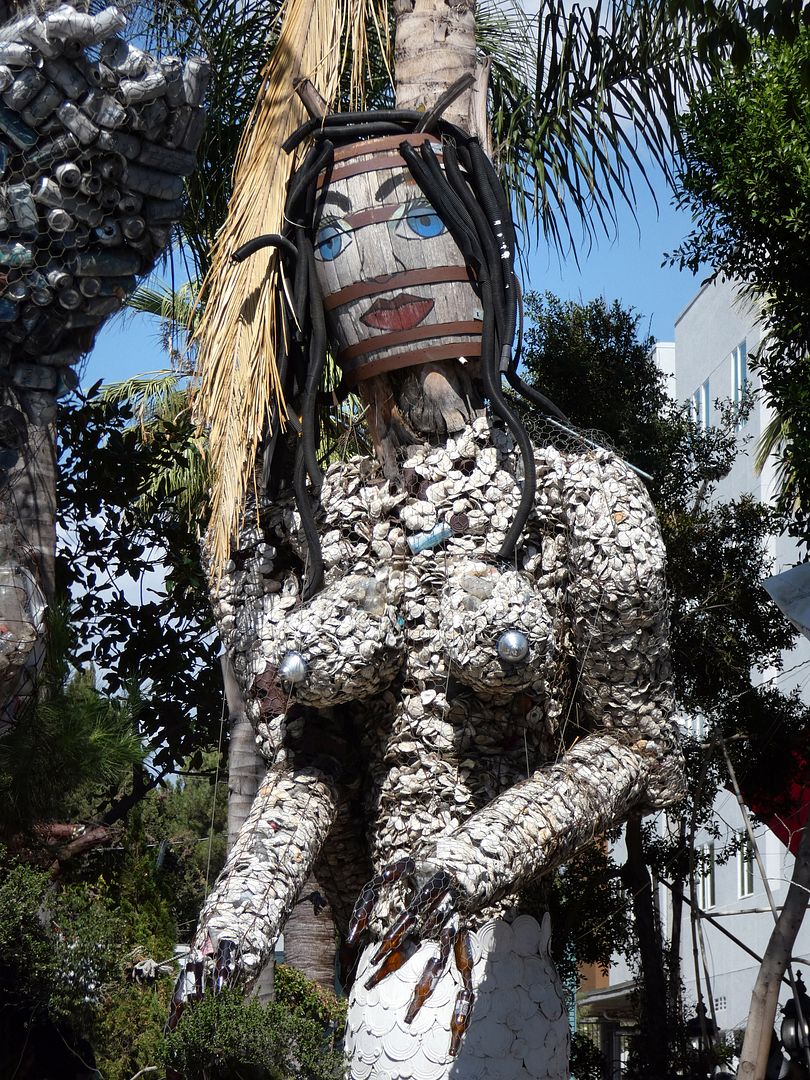 Children are warned not to play in the area, which takes up one acre...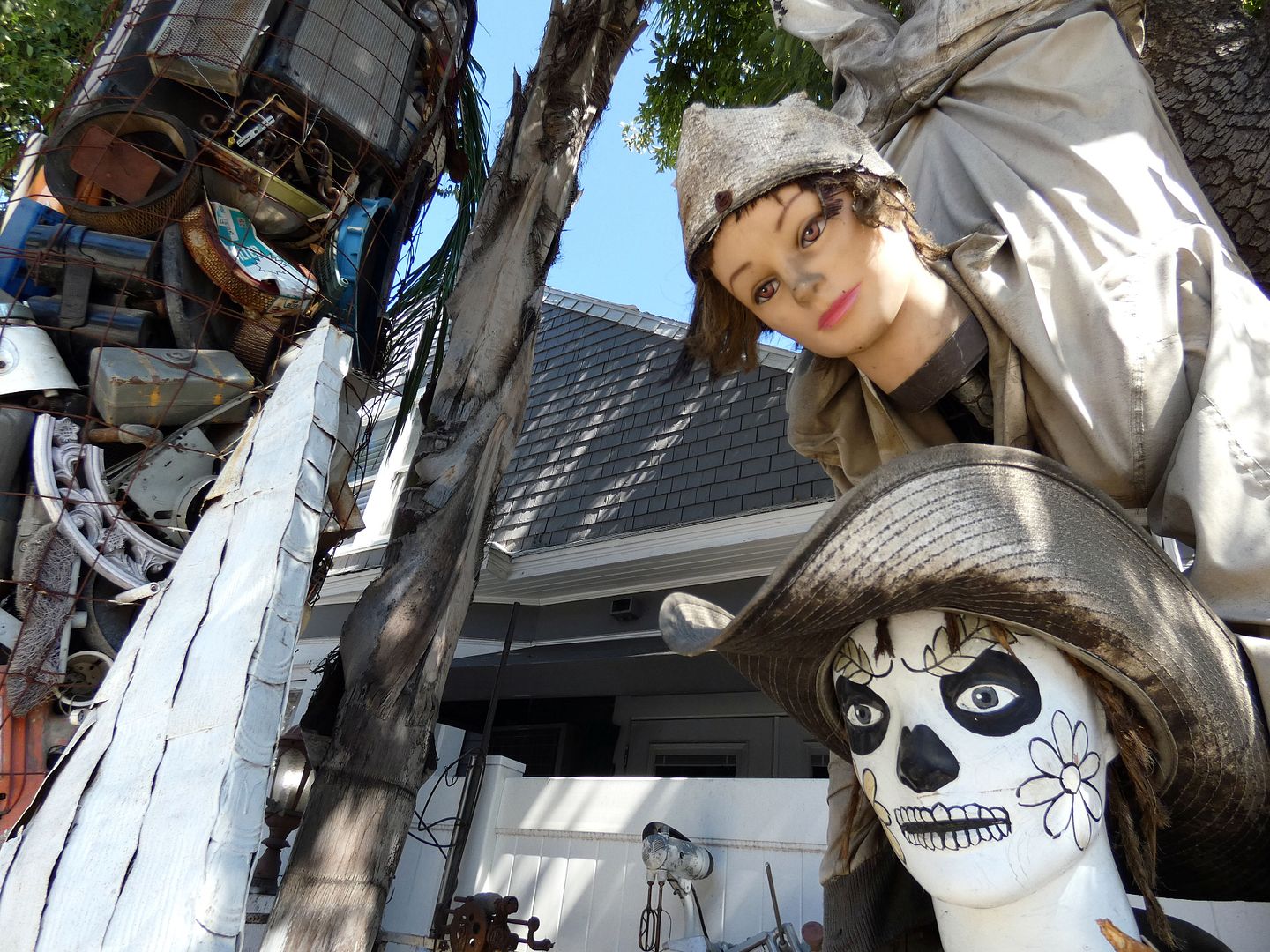 ...and all minors must be accompanied by an adult who holds their hand.
After all, there's a lot that could hurt a child...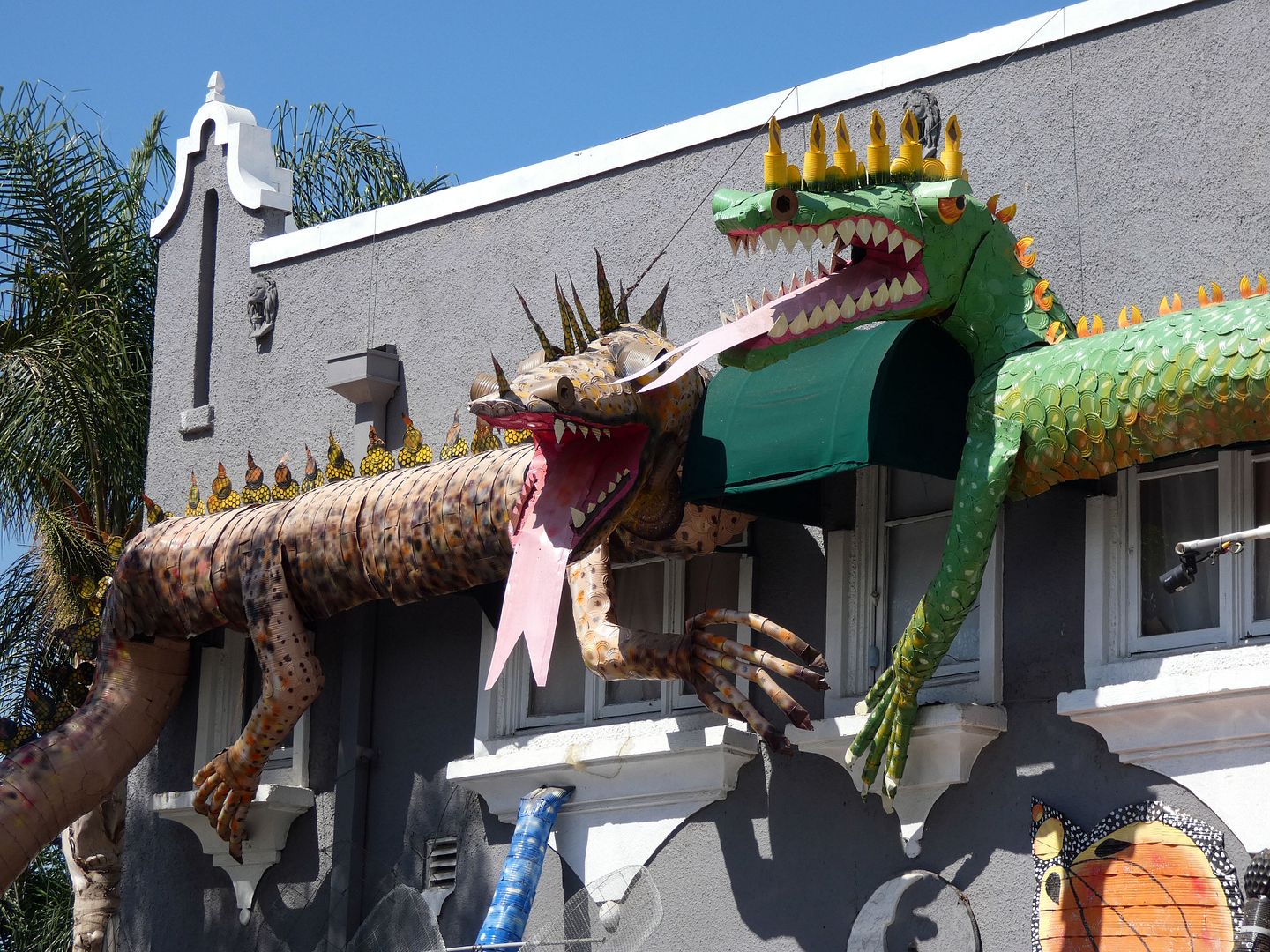 ...like tongue-wagging dragons...
...and hungry serpents.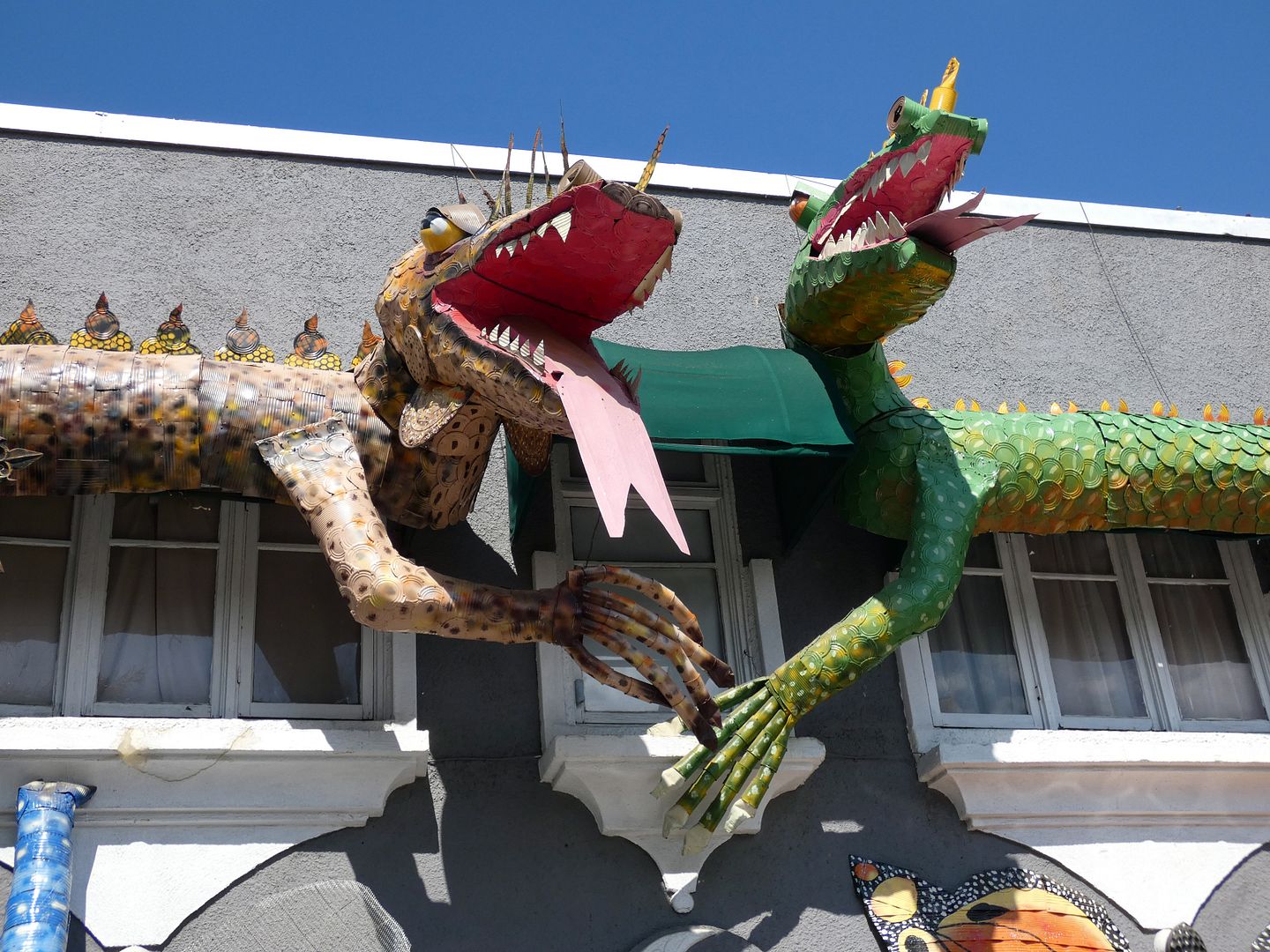 In fact, anyone who enters the garden at Tio's Tacos—which a sign describes as a "Magical Town" (or Pueblo Mágico) does so at their own risk.
But what's worth doing in life that doesn't carry at least a little risk?
Now, there's still one thing I haven't done at Tio's—and that's try the Michoacán-style Mexican food, which it has been serving up since 1990 (just a few years after Sánchez relocated to California).
Of course I'll go back, even just for the art display—which is ever-changing (and, for now, growing). After all, true folk art is never finished.
P.S. I made it back for lunch—and to shoot a video for KCET's SoCal Wanderer! You can watch it in the player above.