Back in 2009, during one of my first visits to
Palm Springs
, I did what tourists do: I rode the Palm Springs Aerial Tramway.
The sign at North Palm Canyon Drive and Tramway Road advertised "Rotating Tram Cars"—and I figured it was a scenic way to get to a cooler elevation during the summer heat of June. (Besides, I was also lured by the Albert Frey-designed former gas station, which had been transformed into a visitors' center.)
circa 2009
At the Valley Station of the aerial tramway (that is, the bottom one, designed by architects Albert Frey and Robson C. Chambers), there's a historic tram car that was in use from opening date in 1963 until its retirement in 2000. This blue one was nicknamed "Coffman" after Tramway supporter Earl Coffman; another red one stationed down Tramway Road near the parking areas was nicknamed "Crocker" after "father of the Tramway" Francis Crocker. (These are later colors, as they were a golden yellow on opening day.)
circa 2009
There are still two tram cars that run up and down Mount San Jacinto—but they're both a metallic gold color (and as far as I know, don't have nicknames).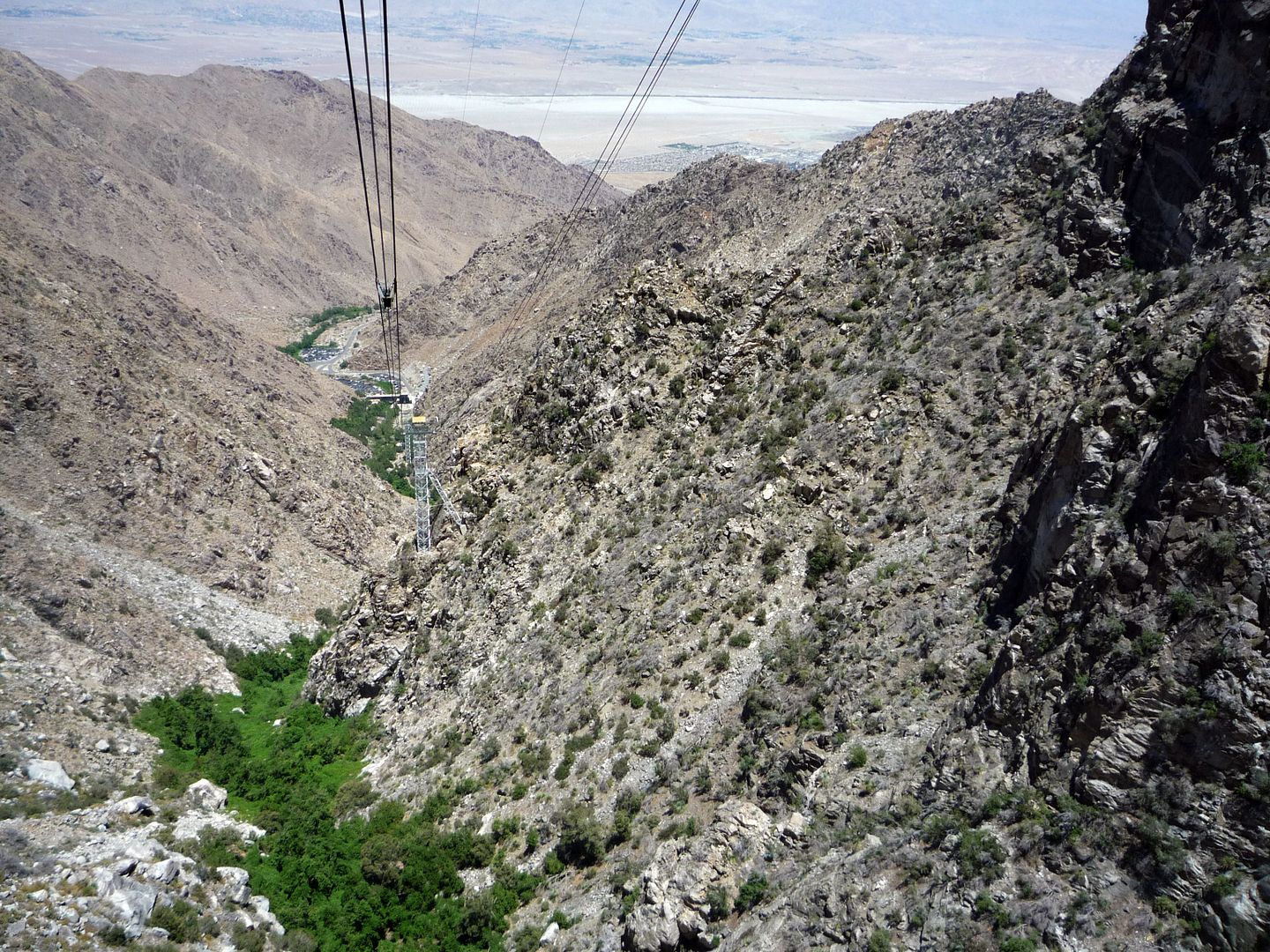 They travel through what's known as Chino Canyon—a feat that, when it debuted in 1963, was the longest and steepest of its kind in the world.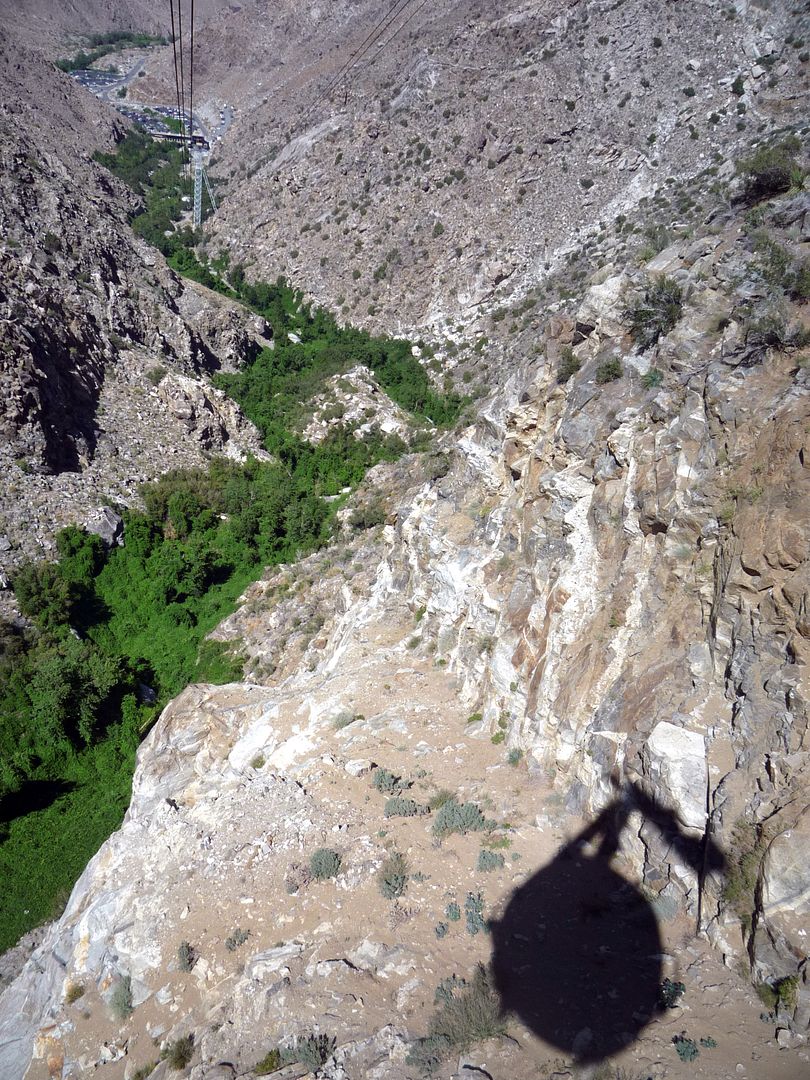 The tram car appears to get startlingly close to the rocky mountain cliffs on either side...
...and what begins as a smooth ride gets a little bumpy when passing the towers (which range from 65 feet to 227 feet tall), as the haul ropes churn through the tower sheaves.
But it's amazingly scenic, with the Palm Springs city grid disappearing from view and the striations of generations of rock intermingling with a strip of green growth after a wet spring.
Back in 2009, when I reached the top, I took a nature walk with a naturalist through Mount San Jacinto State Park's Long Valley with a volunteer docent. After that, at some point also buying a souvenir ornament, I just came back down the mountain and went on with my day.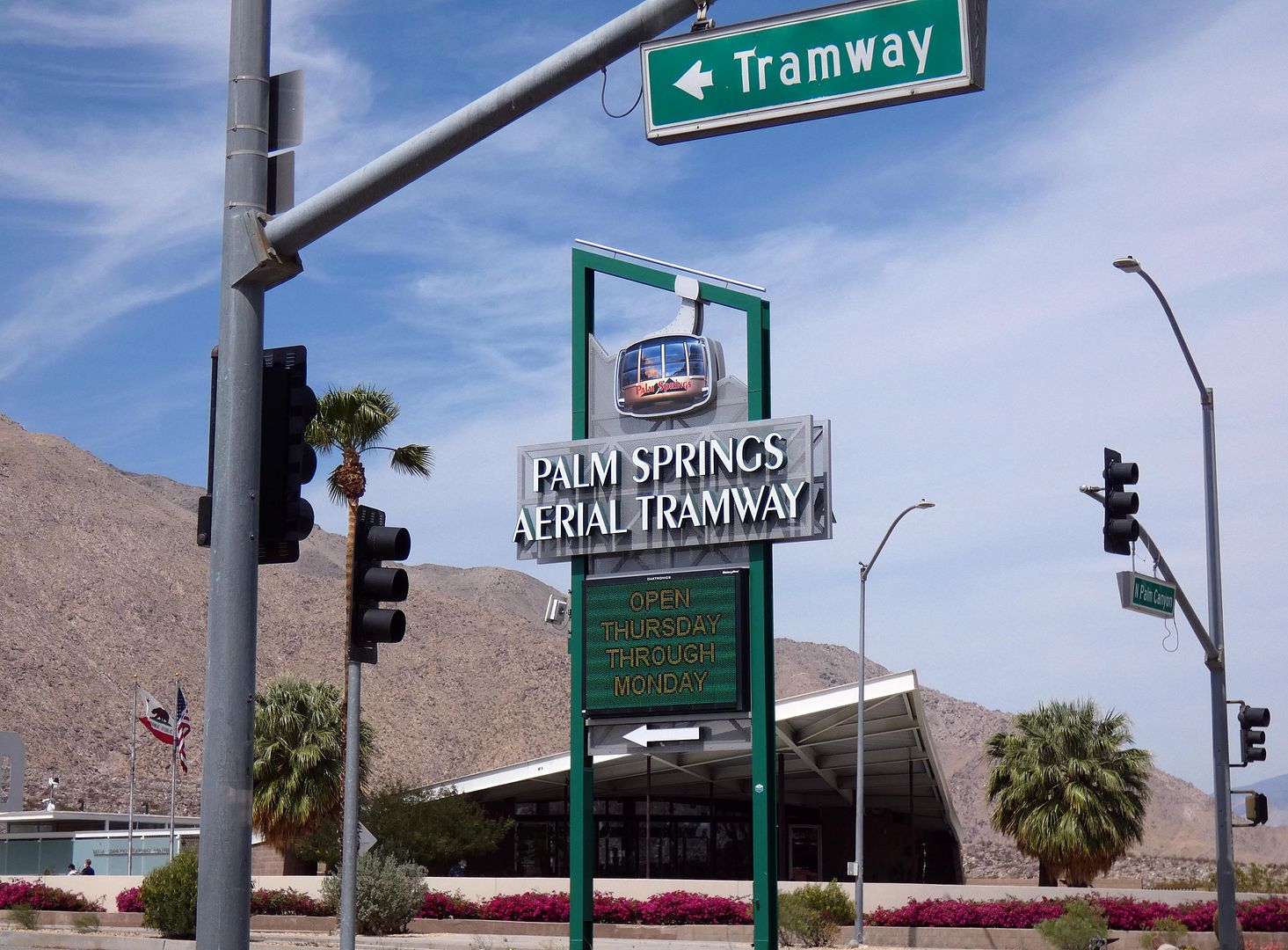 But I've made a habit of visiting that Tramway gas station whenever I'm coming into town, as new signage has gone up...
...and more and more people discover "Desert Modern" architecture and the aerial tramway, an engineering marvel that still takes visitors and locals alike up close to San Jacinto Peak.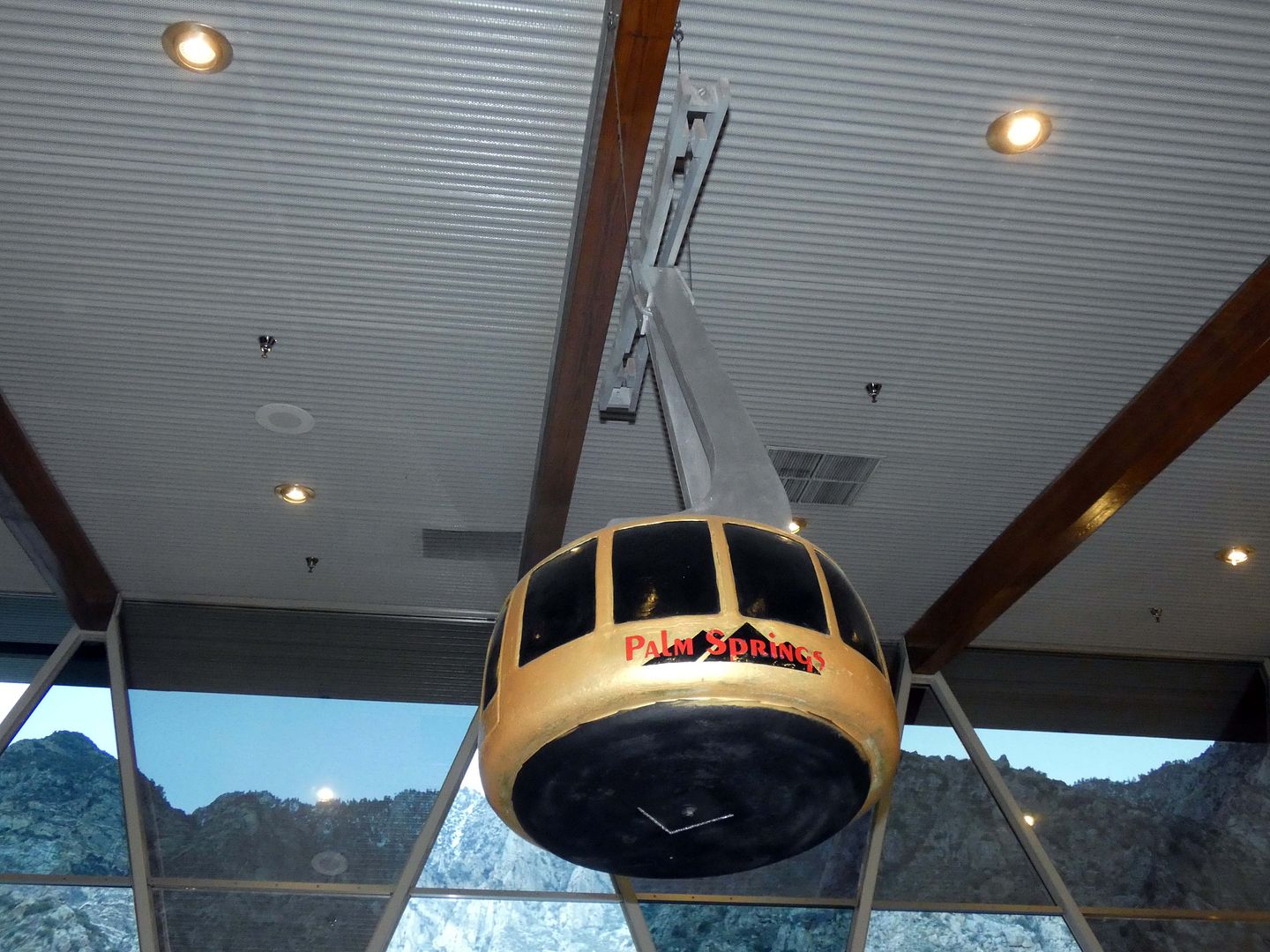 Not satisfied with my daytime excursion, I'd wanted to experience the aerial tramway at sunset or at night...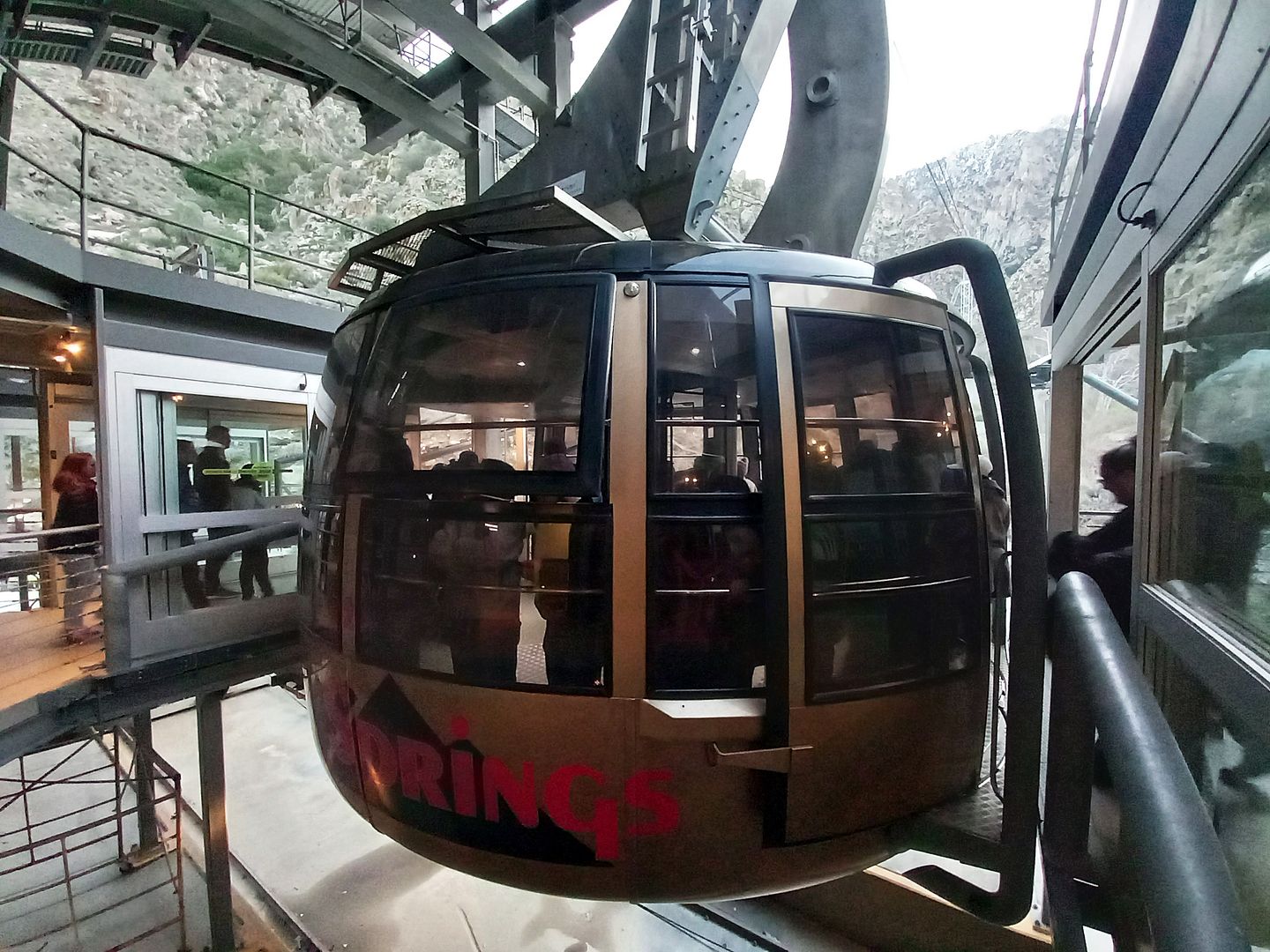 ...both of which I just got to do, 14 years later, when I was visiting a friend who was in Palm Springs on a business trip, and who had another friend who offered to take us up.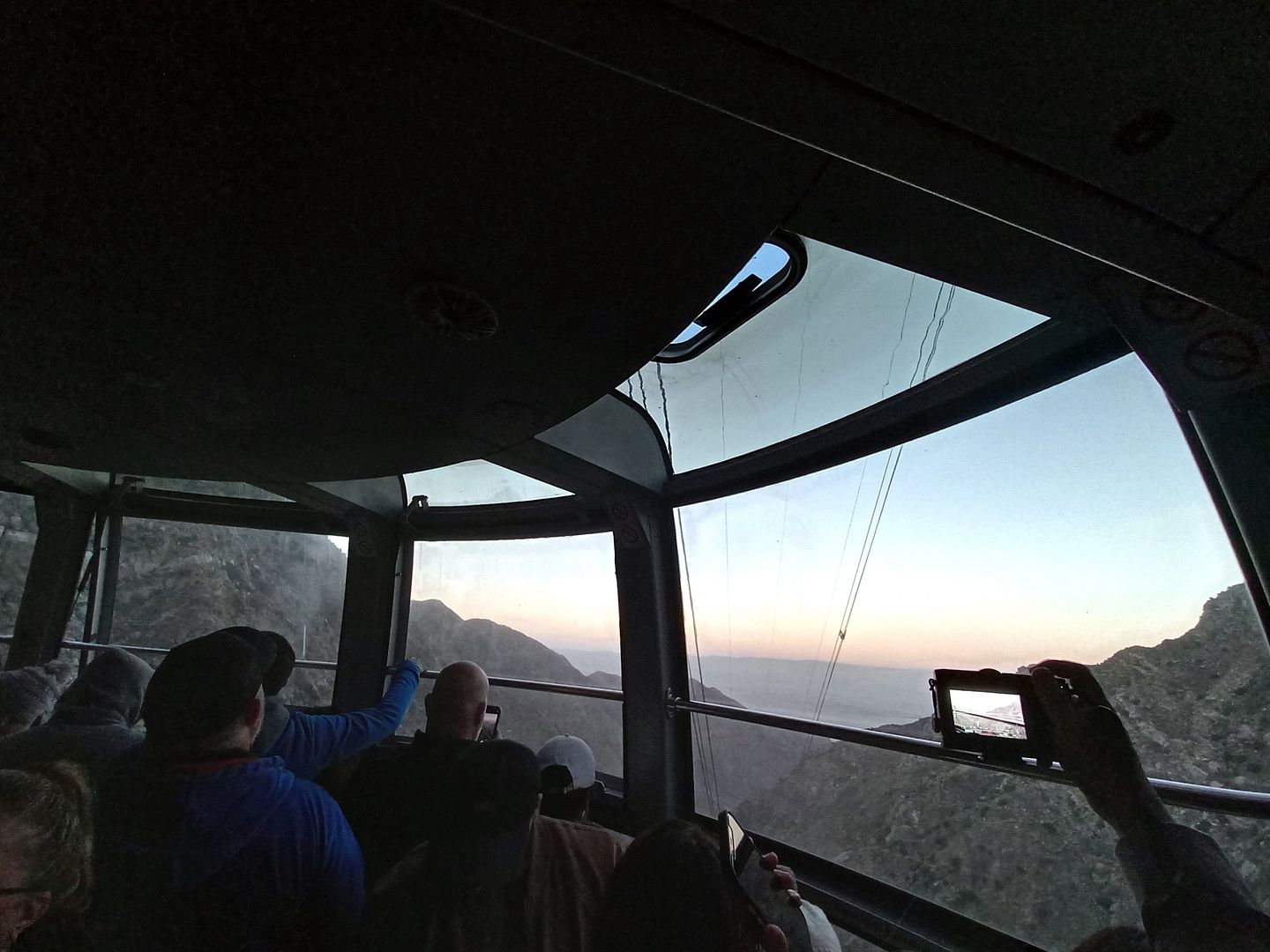 I think the first time around I didn't fully appreciate the enormity of the project to build the tramway—an idea that began in 1935 and was originally dubbed "Crocker's Folly."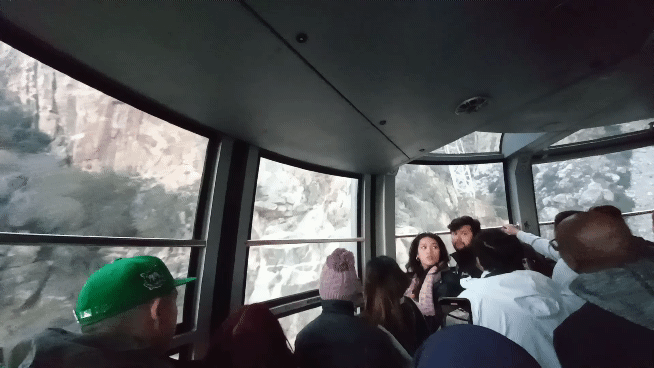 It was entirely funded by private bonds—no public money at all—which is a testament to the faith that the local community had in the project, and to the demand for a way to climb the sheer cliffs to get to a snowy, Alpine mountaintop (especially during those sweltering summer months in the Sonoran Desert).
Dangling from a cable is thrilling enough—but yes, those Swiss-made cars from the year 2000 also rotate (at the time, and maybe even still, the world's largest rotating tram cars), giving you a 360-degree view of undeveloped, open space along the entire journey.
Whether you're facing up-mountain or down-mountain...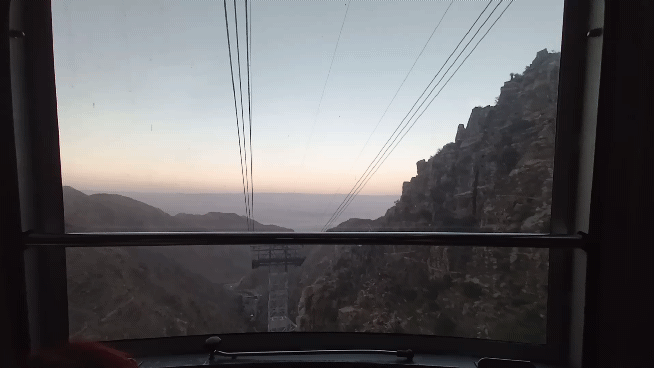 ...it's astounding how everything but the Valley Station was built with the help of turbo-charged helicopters, which were the only thing that could fly the rugged terrain and which airdropped both workers and supplies, as there are no roads anywhere along the way.
The entire one-way trip takes about 10 minutes to travel 2.5 miles...
...ascending 5873 feet of elevation, from 2643 feet at the bottom to 8516 feet at the top.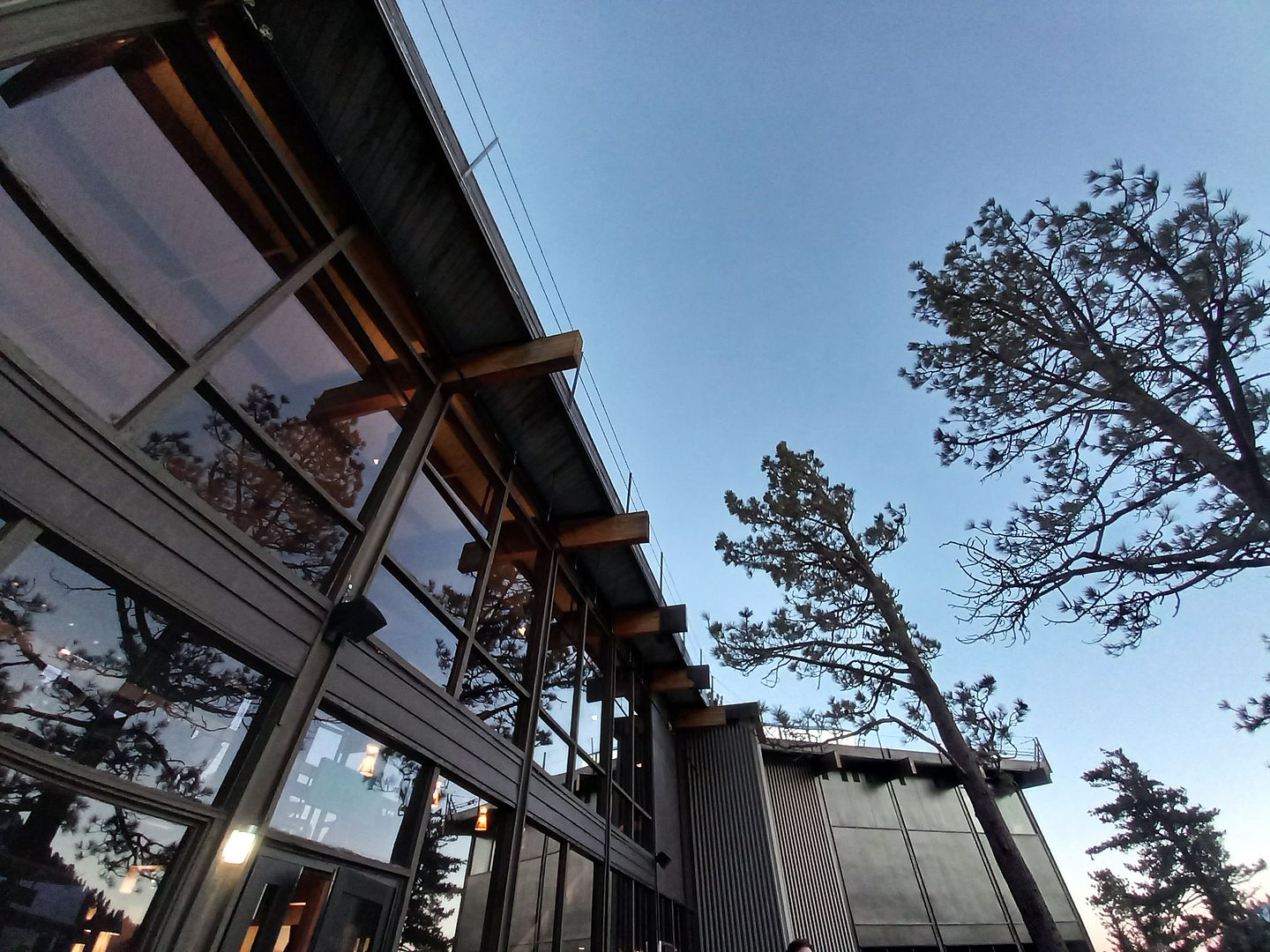 At the Mountain Station (designed by architect E. Stewart Williams), there's a cafeteria/cafe, a bar, and a fine-dining restaurant (supplies for which must be brought up by the aerial tramway itself, as there's still no other way to the top besides a lengthy hike from
Idyllwild
)...
...but the main attraction is really the view...
...with that pink parfait sky settling into the horizon as night creeps forth.
It can be 30 degrees cooler up there than it is down below, which accounts for the snow (and the popularity of sledding, snowshoeing, and cross-country skiing up there).
Otherwise, unless you're dining or hiking, there's not much else to do up there besides take a deep breath of cool, clean, mountain air, snap as many pics as you can, commit the thing to memory, and head back down.
But not before taking a peek into the engine room and the mechanism that's kept it all running since 2000.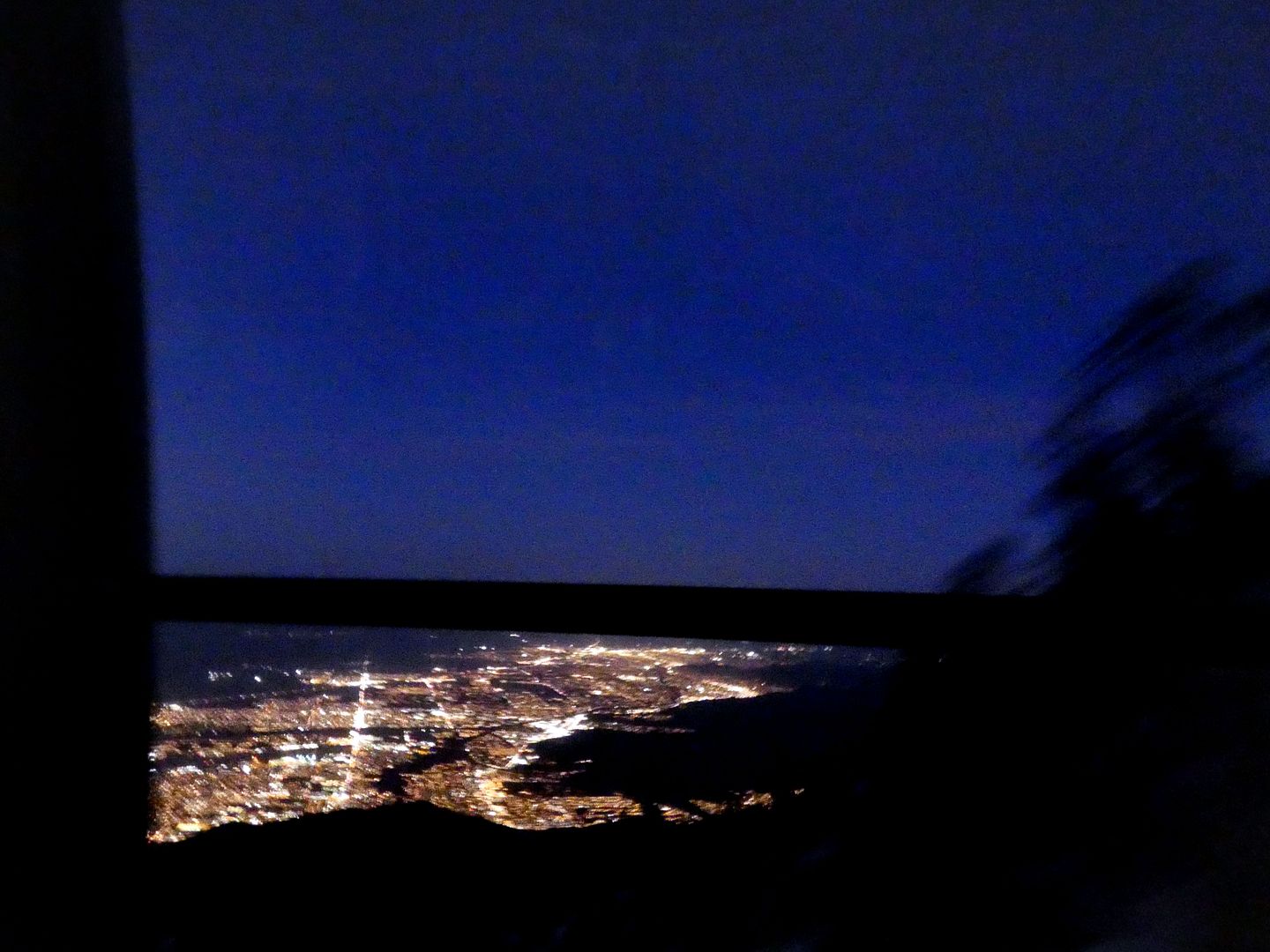 The rotating tram ride down the mountain at night is wild—as the conductor turns the overhead music up and turns the tram car into a dark, spinning orb over a disco-lit city grid and under a deep blue velvet sky.
For more on the Palm Springs Aerial Tramway, which some consider the "8th Wonder of the World," watch the video above.