I don't really remember living in an LA without P-22, the Griffith Park mountain lion.
Mural by Corie Mattie at Hype Fitness, Silverlake
I mean, the concept of mountain lions at all was completely foreign to me when I moved here—so I probably heard about P-22 around the same time I discovered we even
had
mountain lions in LA.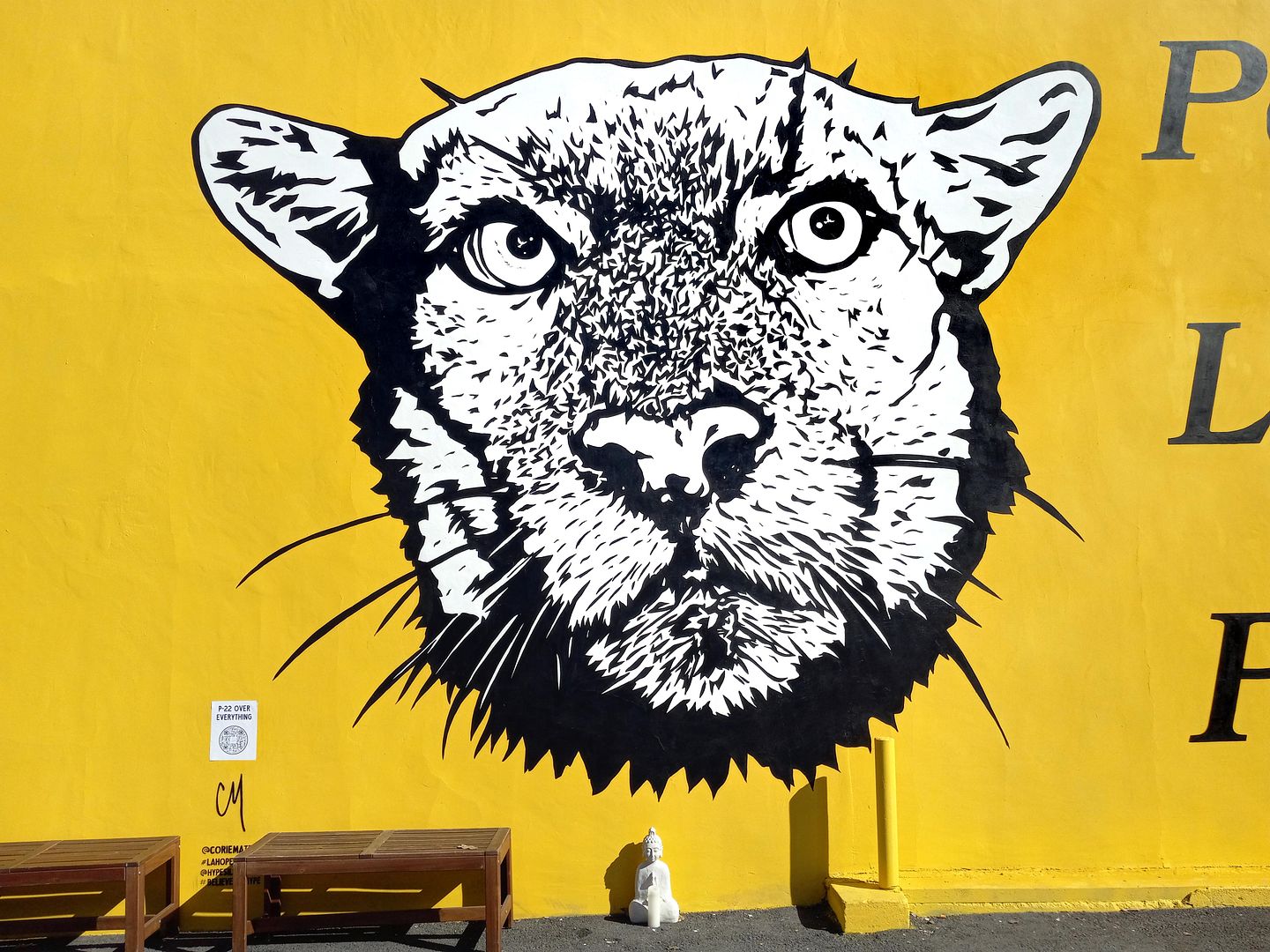 Mural by Corie Mattie at Hype Fitness, Silverlake
But I'd started nighthiking in Griffith Park in 2011—and there had been rumors of a mountain lion in LA's big urban park before he was officially "discovered" on Miguel Ordeñana's trailcam. People had seen him. And people continued to spot him in the park and in Los Feliz and Franklin Hills, the neighborhoods south of the park.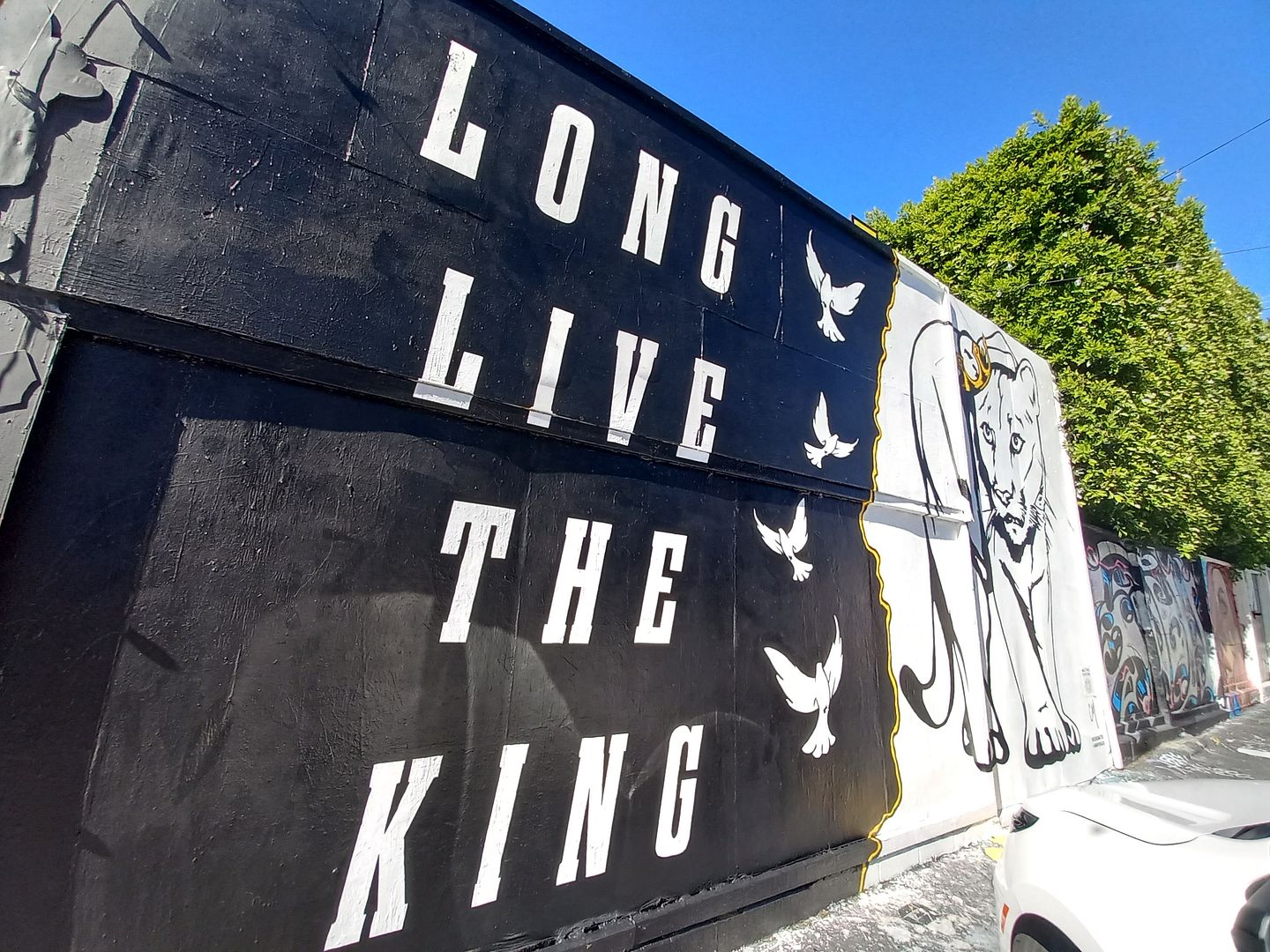 Mural by Corie Mattie at The Fame Yard, Melrose Avenue
I think the first time I ever saw P-22's photo wasn't exactly a glamorous headshot—but when he'd been captured with a nasty case of mange back in April 2014. And a year later, one of the next photos in my memory was of his one eye peering out from a Los Feliz house's crawlspace, lit by flashlight beam, the rest of him in shadows. (He ultimately left of his own accord.)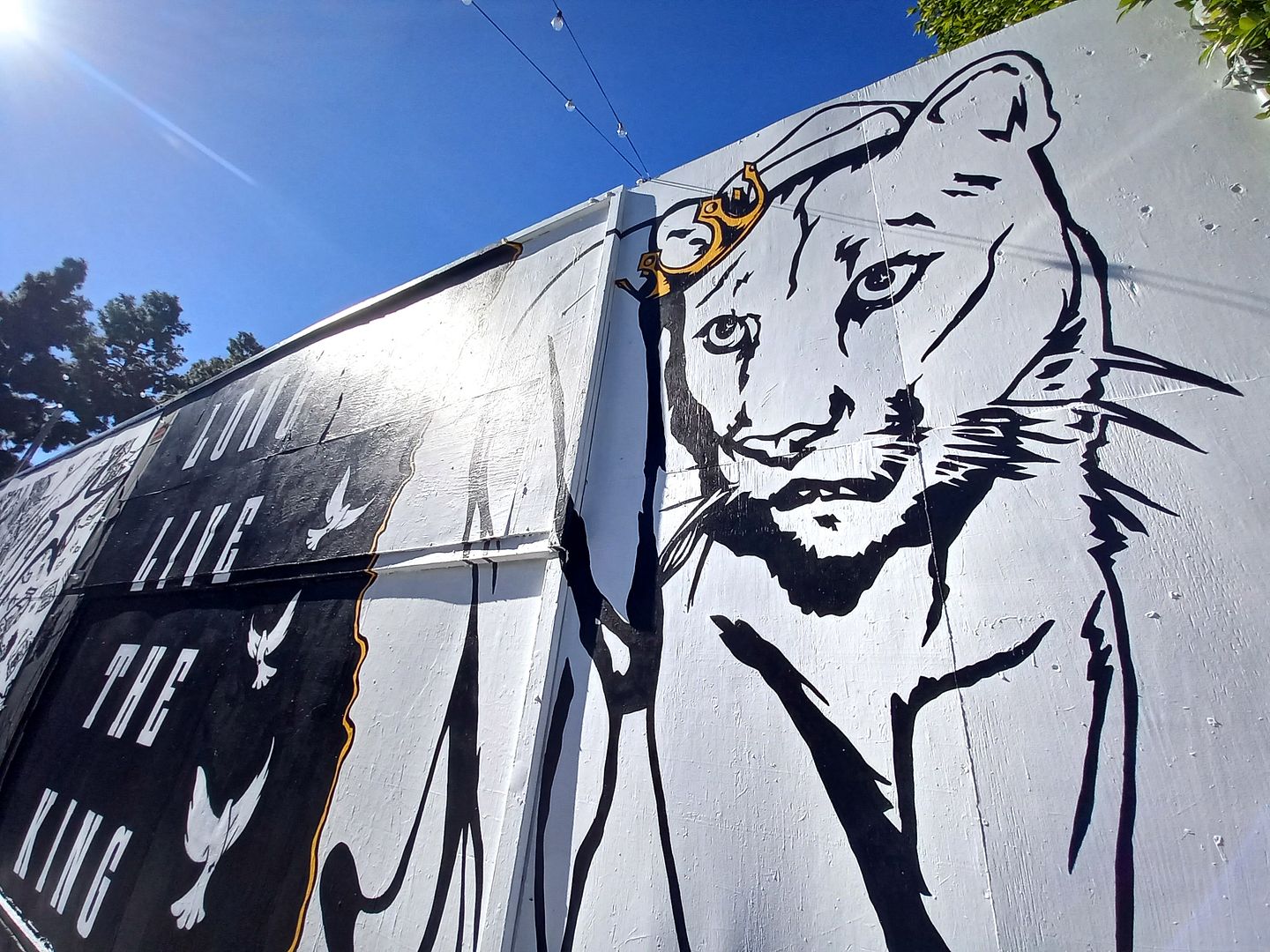 Mural by Corie Mattie at The Fame Yard, Melrose Avenue
I remember exactly where I was when I found out that P-22 had been euthanized last December.
Mural by Corie Mattie at The Fame Yard, Melrose Avenue
I immediately wished that this wild creature hadn't been so celebritized and anthropomorphized. It hurt too much to lose him after all that. I couldn't stop thinking about his life of solitude, penned into a park that's just a fraction of the size of what his normal roaming territory would be, avoiding people when people are everywhere in Griffith Park, day and night.
I mourned for the death of this "Hollywood cat," this "King of the Hills" and "Lion King" and "Brad Pitt of Mountain Lions"—but I also mourned for his life. He made the best out of an impossible circumstance, constantly in search of his next meal (usually, deer) and never finding a mate before succumbing to old age (12 years old, downright ancient for a wild cat) and getting hit by a car just steps away from the park on December 11, 2022.
But by this weekend, I was done mourning, done with the sadness, down with the depression—and ready to celebrate P-22's life at a free event sponsored by National Wildlife Federation, held at the
Greek Theatre
.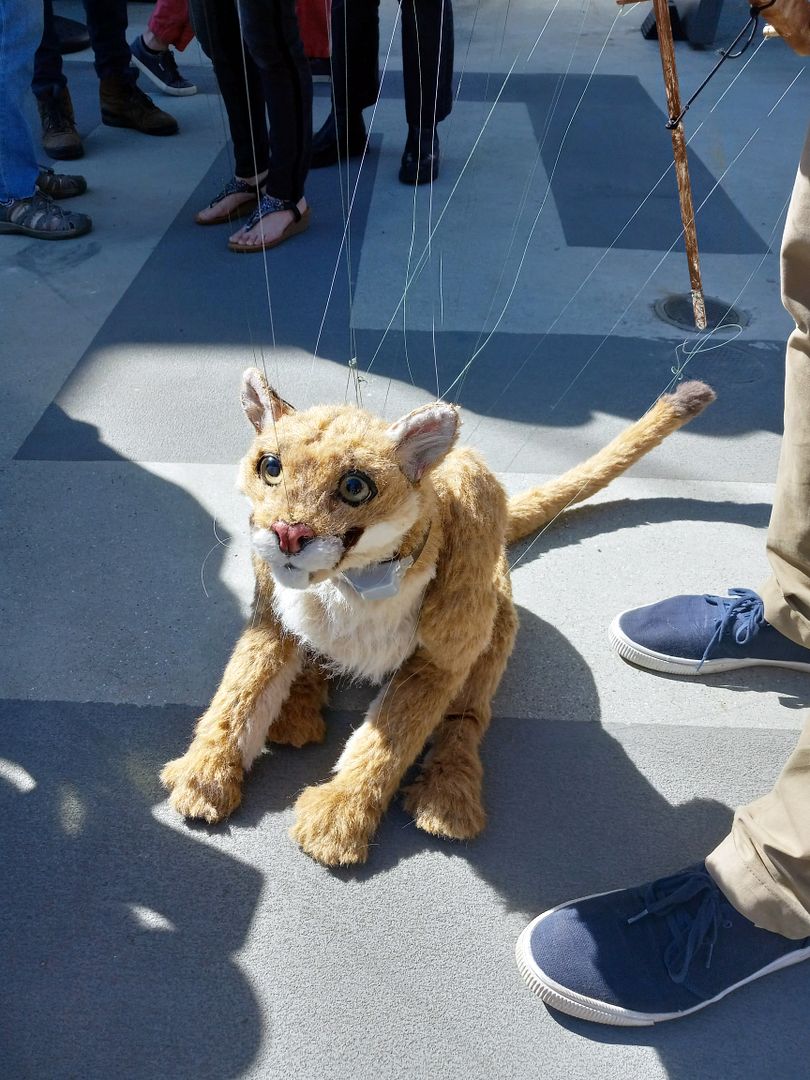 There, I got to meet the P-22 marionette, designed and fabricated by Robin Walsh for the National History Museum of Los Angeles.
And under the direction of NHMLA puppeteer Brian Meredith, that little guy really came to life.
The Greek Theatre event was a memorial service of sorts, with an opening blessing and a eulogy from NWF's Beth Pratt...
...but it also featured uplifting appearances and musical performances (like a ditty performed by actor/comedian Rainn Wilson and a rendition of "The Lion Sleeps Tonight" by a kind of new-generation version of The Tokens).
Representative Adam Schiff (D-California) came to honor the fallen cat and campaign for his inclusion on a future postage stamp. Elementary schoolkids grabbed the mic and explained how learning about P-22 made them appreciate nature and wildlife—one little boy even saying he wanted to become an architect so he could help build future wildlife crossings.
And as the afternoon wore on, some of us in the crowd suddenly turned our attention to the green hillside behind us.
There in silhouette, munching away on the rain-grown grass late into a wet winter, we saw a deer—one that would not become dinner for P-22 that night, or any night.
As one life is lost, another is saved.
Maybe another mountain lion will safely make its way from the Santa Monica Mountains to Griffith Park one day. Plenty of cougars have tried to cross the freeways that stand in the way—the 405 and the 101—and have failed.
But there will never be another P-22.