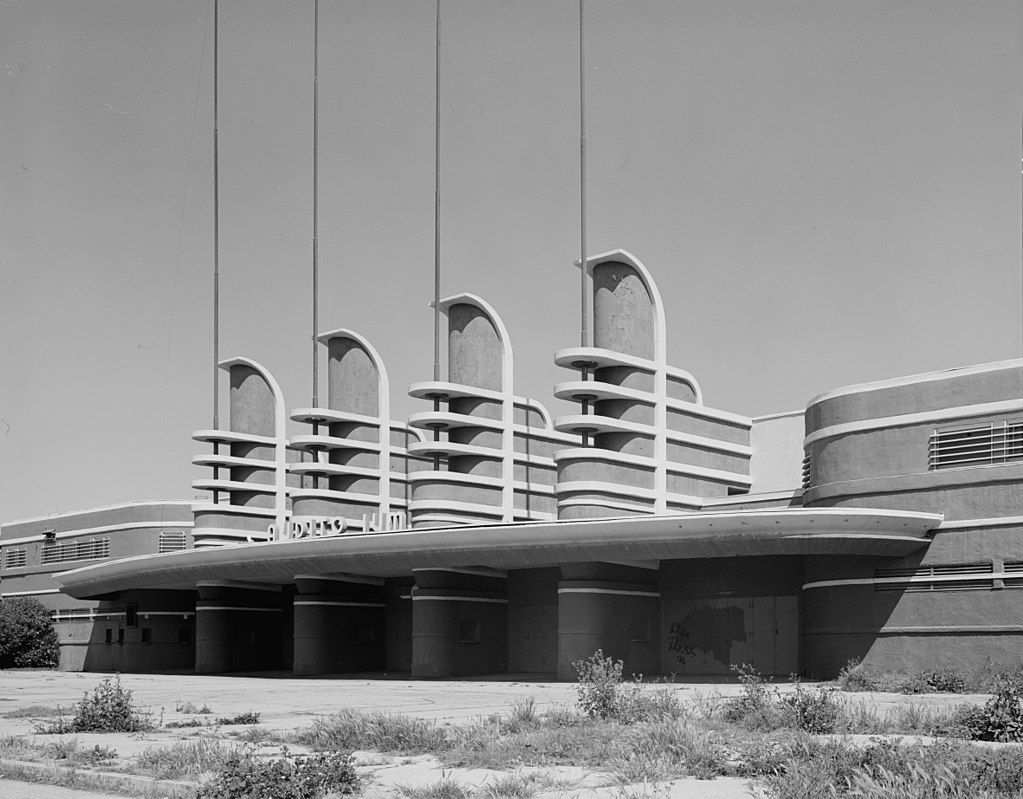 Pan-Pacific Auditorium, seen in Xanadu (Marvin Rand, Historic American Buildings Survey, Public domain, via Wikimedia Commons)
Grease just might've been the first movie I ever saw in a theatre. When it came out in June 1978, I hadn't yet turned three years old. But I remember seeing it on the big screen (memorably at the Cinema East in Dewitt, New York) with my family multiple times, both that summer and the following summer, after it had been re-released to theatres in May 1979 when I hadn't yet turned four.
I didn't really relate to her character in Grease—other than a shared love for Danny Zuko (which I thought was a love for John Travolta, since for me they were one and the same). But we were inextricably linked by a shared name: Sandy, which I still spelled with a "y."
Even after I changed the spelling of my name to "Sandi with an i," I was still either "Sandy Beach" or "Sandy from Grease," something I learned to accept and even appreciate (especially when Darius Rucker, then lead singer of the band Hootie and the Blowfish, sang the Grease song "Sandy" to me at Bowlmor Lanes in New York City sometime around 1998).
In 1980, I started a lifelong love affair with the ONJ-starring film Xanadu. Despite its flaws and bizarro turns, Olivia was luminous and otherworldly in it. To this day, the soundtrack (with many songs sung by her, some with the band ELO) is musically incredible.
The first thing I ever bought with my own money from a record store was the 45 RPM single of Olivia Newton-John's "Physical." I still have it.
My sister and I fought over our copy of Olivia's 1982 Greatest Hits LP, despite the fact that most of the songs we actually wanted to listen to on it we already had on our Grease and Xanadu soundtracks (and my "Physical" 45).
For a long time, it wasn't cool to like Olivia Newton-John, so I kept my affection for her to myself mostly. But by 2007, it was cool to be uncool—so I unabashedly embraced my love for her, encouraging a friend to host a Xanadu and The Warriors double feature (since they both star Michael Beck) and dragging that same friend to see the Xanadu musical on Broadway. I also relentlessly defended the movie and chastised the musical for making fun of it too much.
By the time I started coming to Los Angeles on business trips, the Pan-Pacific Auditorium—featured heavily in Xanadu as the site of Sonny and Danny's rollerskating nightclub—had already burned to the ground, its remains demolished. If I could go back in time, I'd go there.
At least I got to visit
Thunder Road
from
Grease
(and the outside of Rizzo's house, where Sandy got sick after Frenchy tried to pierce her ears).
I had the privilege of being in the same room as Olivia Newton-John twice in my life: once in concert at the McCallum Theatre in Palm Desert (which I drove six hours for, round trip) and once at the 40th Anniversary screening of Grease at the Samuel Goldwyn Theater in 2018 (which unfortunately the line was so long for, I missed most of the pre-screening talk-back).
I'd followed her struggle with breast cancer over the years. I knew it had come back.
But I think I still haven't fully processed the fact that she's gone.
I don't know a world without Olivia Newton-John in it.
Related Posts: