I'd been swimming at the West Hollywood Pool since before I even moved to California. I started when I was housesitting for a friend in the area back in 2009 or 2010.
It's been a huge part of my time living in the Los Angeles area, since first arriving in January 2011. I still live in the
same apartment
. It's the longest I've ever lived in one place.
So you can imagine my heartbreak when it never reopened from its COVID-19 closure and was
unceremoniously demolished
—with zero chance of saying goodbye.
The only consolation? It was being replaced by a fancy new structure with
two
rooftop pools.
The grand opening/ribbon-cutting and community open house of the brand-spanking-new West Hollywood Pool—part of the West Hollywood Park Master Plan—was last weekend.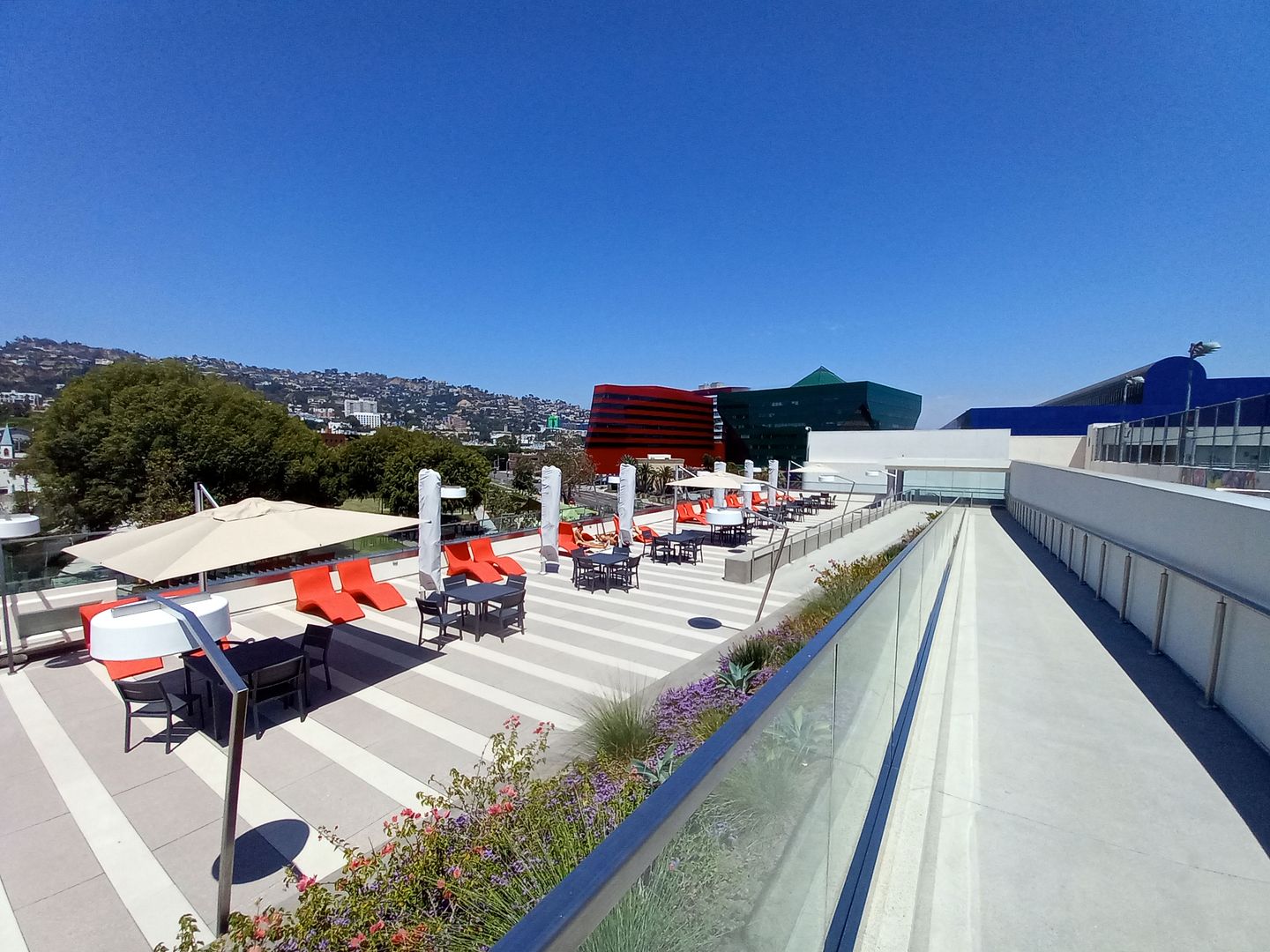 But in reality, it's been open for swimming for a couple of months now.
It felt as though it would
never
open, though the structure itself was completed enough to have the "Neon Diver" sign (which at one point was
in front of the pool entrance on San Vicente Boulevard
) relocated up to its top floor—signaling to the entire neighborhood below that something exciting was coming.
Compared to the "old" West Hollywood Pool, this new one is a serious upgrade—more akin to a luxury hotel's rooftop pool than a community pool for swimming lessons, swim teams, and little old ladies doing their water walk.
Its cement deck is sun-baked hot and swimwater slippery, its poolwater blue and sanitary.
My first time trying it out earlier this month was after work, after sun...
...when the West Hollywood Aquatic and Recreation Center (ARC) glimmered in the late day rays...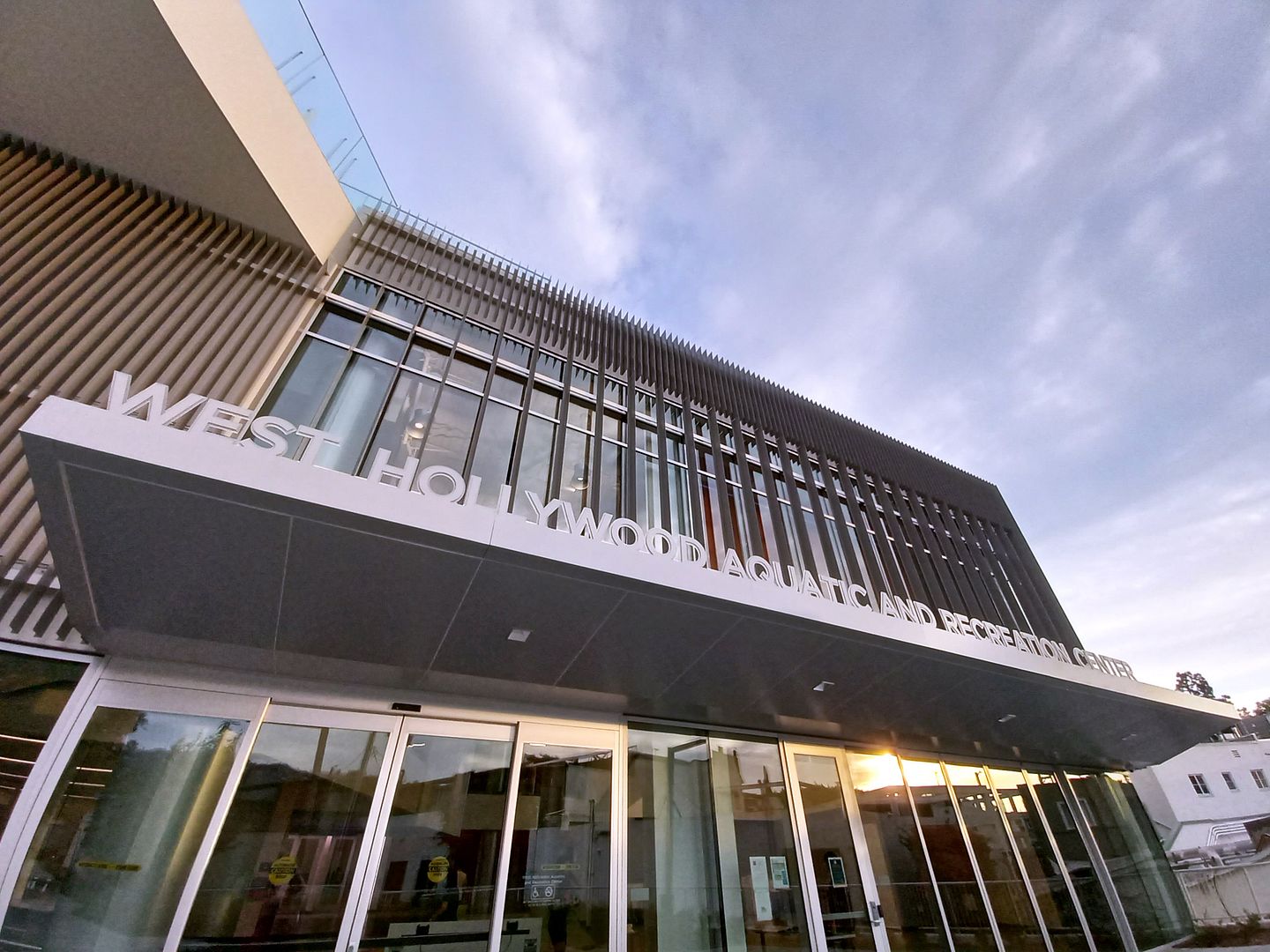 ...and stood steadfast under a swirling-cloud sky.
I checked in on the second floor, where the basketball courts are, and took the elevator to the fifth floor...
...where the Neon Diver greeted me in silhouette, not yet ready to light for the night.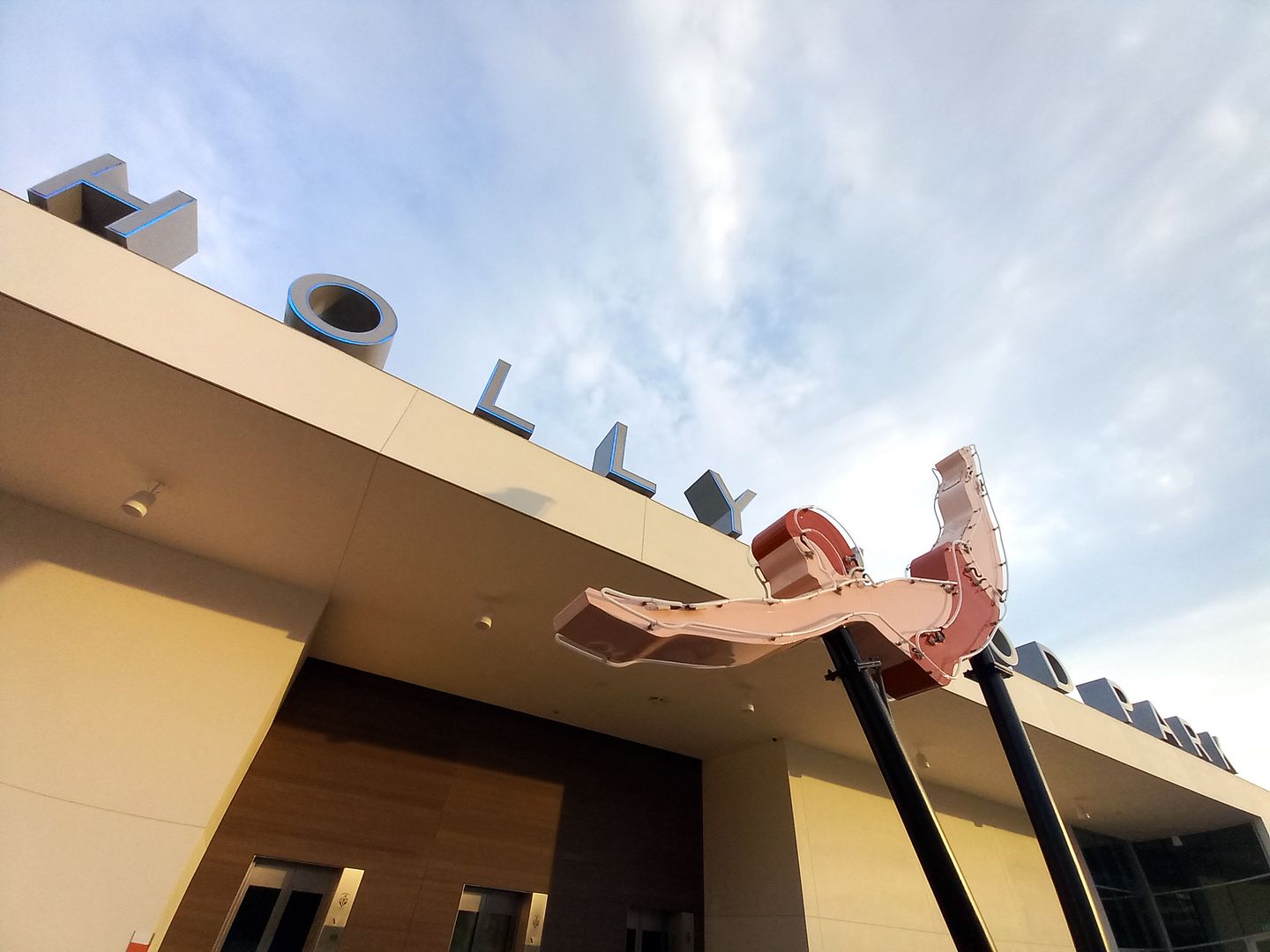 She's technically called the "Motel Diver"—a replica of a circa 1950 sign from the Virginia Court Motel in Meridian, Mississippi. The original is mounted on the rooftop of the Museum of Neon Art in Glendale, California. Both of them were based on the Jantzen "
Red Diving Girl
" logo of the 1920s.
I can't think of a better sign—neon or not—to get me in the mood to get back in the habit of swimming laps, which I'd lapsed on over the last couple of months (and on and off since last September).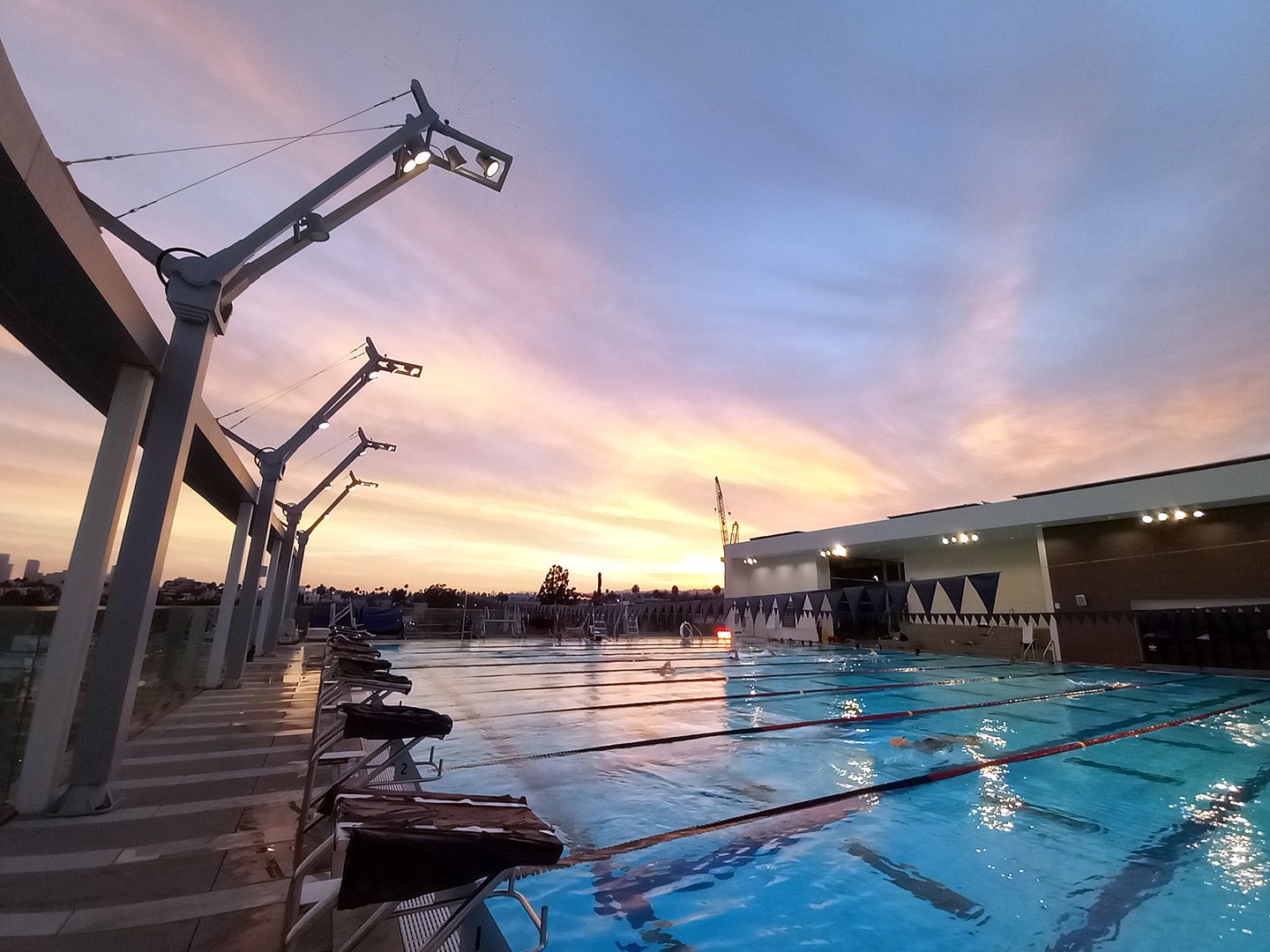 Fortunately, the West Hollywood Pool is just a half-mile from home—a major improvement over the 30-minute drive (each way) I'd been doing to
swim in Santa Monica
.
And as though the pool weren't enough of a draw, how about that sunset and view?! You can see Pacific Design Center, Beverly Center, and even the Downtown LA skyline from up there.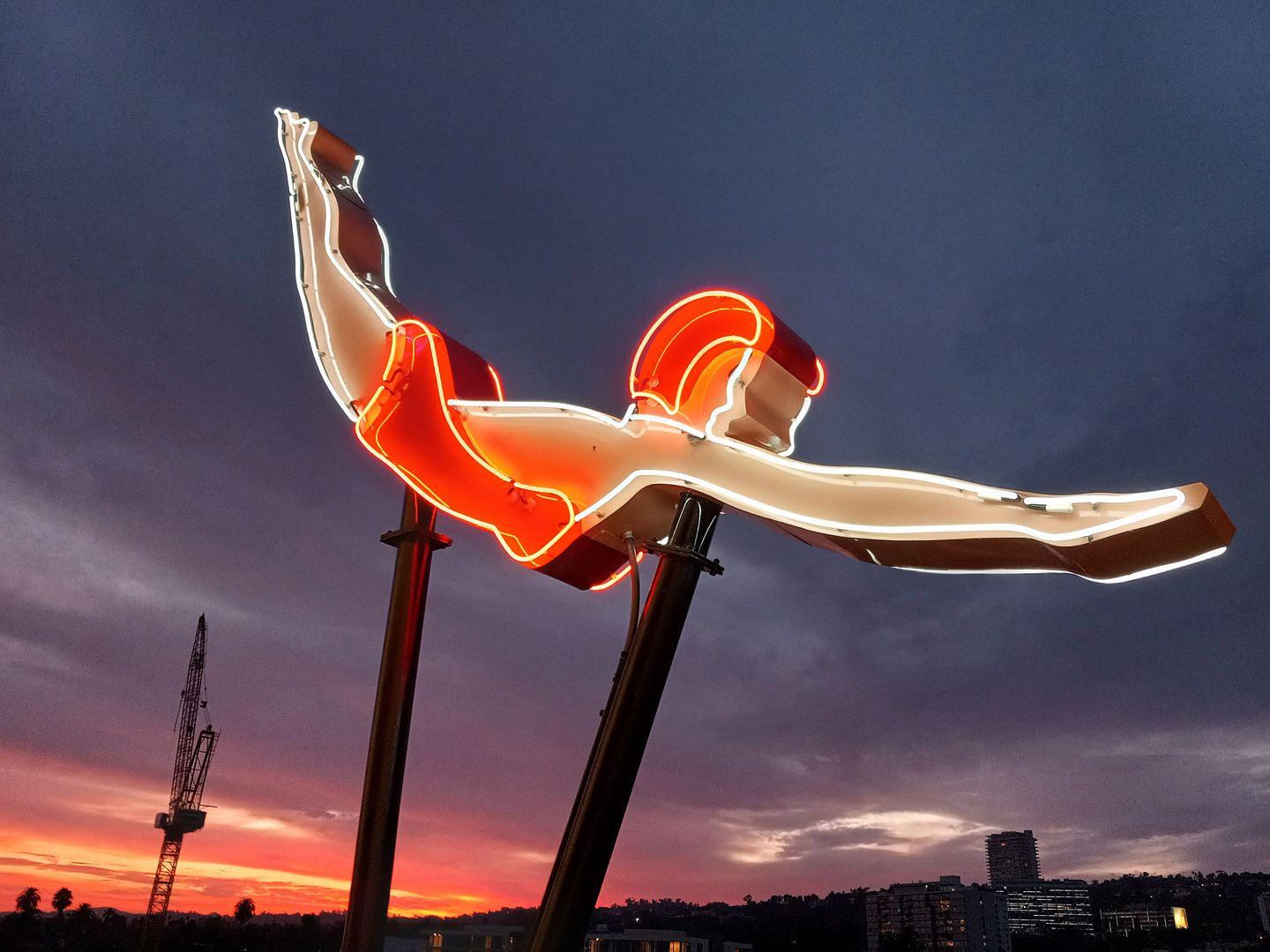 And if you get there at the right time, the fiery sky is ablaze just as the Neon Diver is getting filled with her "liquid fire"...
...glowing red-capped and -suited against a navy-blue, almost-night backdrop.
There's one more highlight of nightswimming (or sunsetswimming, as it were) at West Hollywood Pool—and that's the chance to see a public art installation by artist
Phillip K. Smith III
.
It's called "Parallel Perpendicular," and it's located in Robertson Gardens—accessible just off Robertson Boulevard, just north of El Tovar Place (where the vehicular entrance to the pool parking structure is).
During the day, it just looks like a cluster of mirrored rectangles. But at night, the panels complete the glow of the city's nightlife.
Related Posts: