I usually don't give up a chance to visit a car museum—whether I'm in Nashville, Tennessee or Las Vegas, Nevada. But sometimes it might take me a little while to get there.
The Segerstrom Shelby Event Center and Museum opened in October 2021...
...but with the pandemic and everything else going on in the world, I didn't manage to make my way to Irvine, California to visit it until May 2022.
It's not just any car museum, but a repository of automobiliana and petroliana...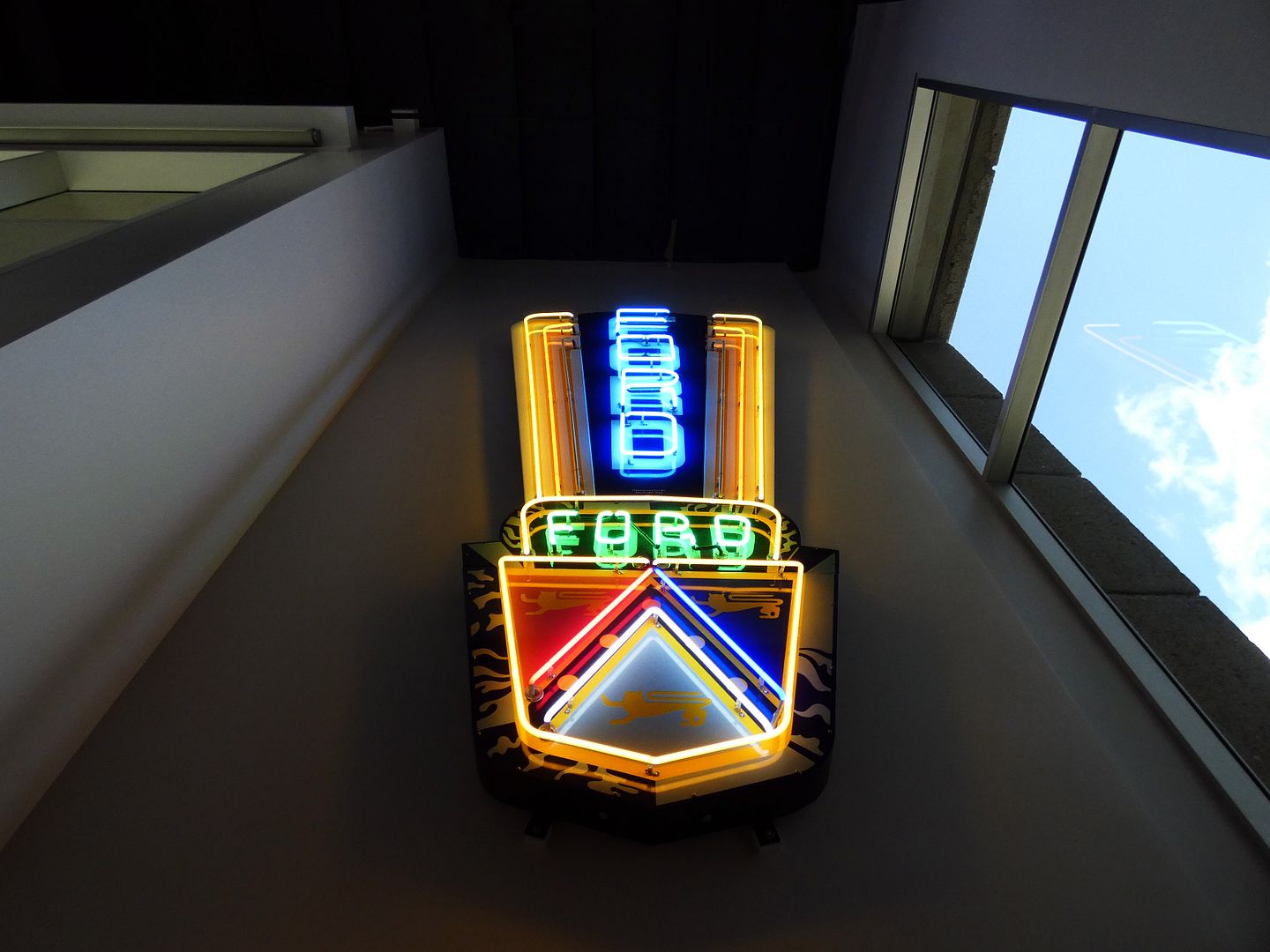 ...from automotive-related neon signs...
...to vintage gas pumps...
...and, of course, automobiles...
Shelby was probably most famous for his work with Ford Motor Company (as depicted in the film Ford v Ferrari)...
...but he was also a successful race car driver himself (from 1952 to 1960)...
...which became an avenue for him to learn how to build his own cars (like the Shelby Cobra), something he said was his ambition all along.
There are more than 80 Shelby-designed cars at the two-story Segerstrom Event Center...
...including the only two GT500 KR convertibles in "Grabber Yellow" with a black top, black interior, 4-speed transmission, and air conditioning...
...whose "KR" designation stands for "King of the Road."
Across from some of the displays of "liquid fire"...
...there's a mezzanine overlooking the ground-floor showroom...
...displaying every sort of gas pump globe imaginable, in a stunning display of "illuminated marketing"...
...bearing everything from buffalos and lions to falcons, hummingbirds, and of course a red pegasus.
They form a nostalgic backdrop for the collection's cars, like the 1969 Shelby GT350 in "Grabber Orange."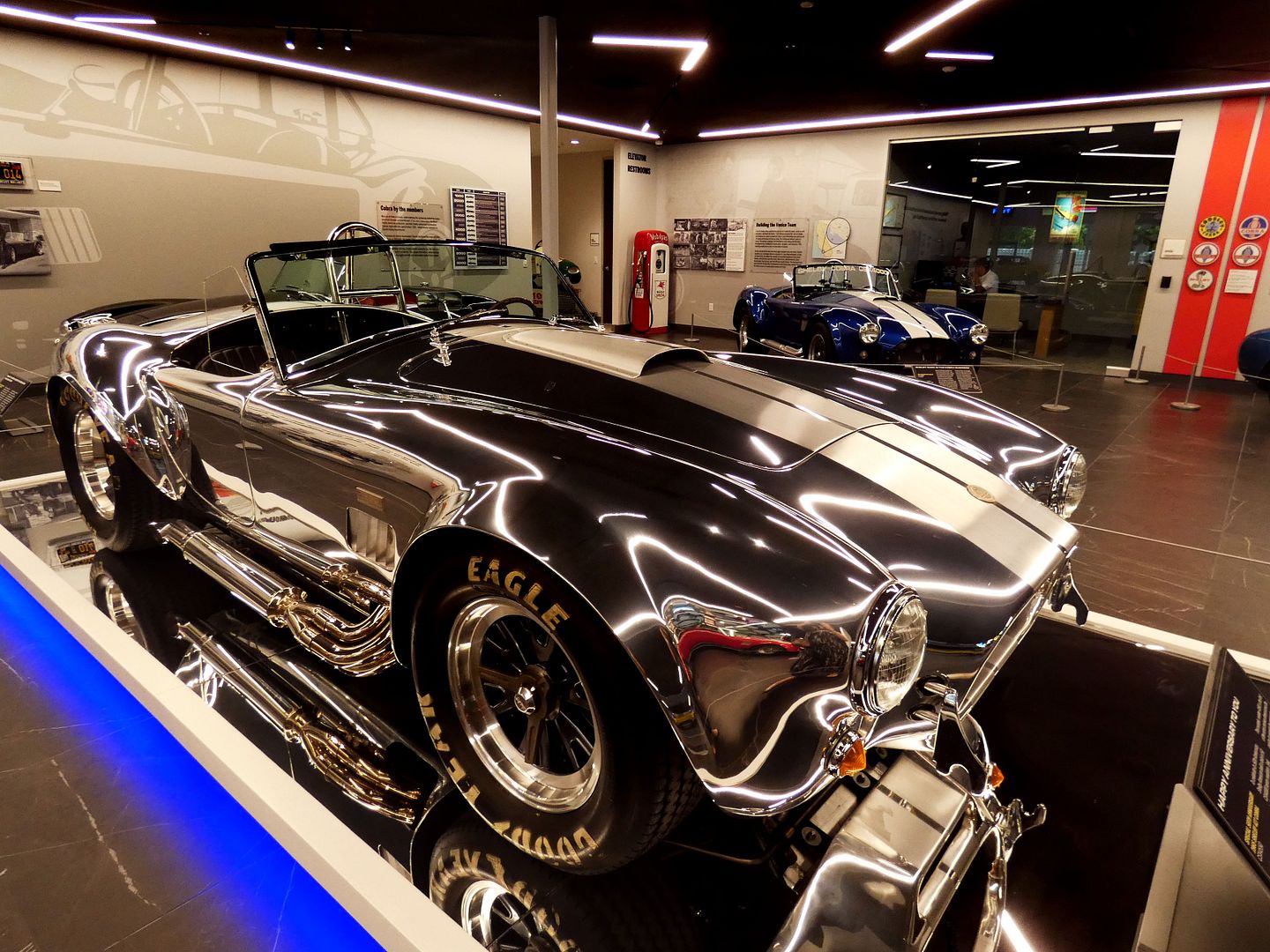 One of the more impressive cars in the collection is the Special 50th Anniversary edition of the 1965 Shelby 427 Cobra...
...the first serial number in a limited series of 50, with a base price of $250,000.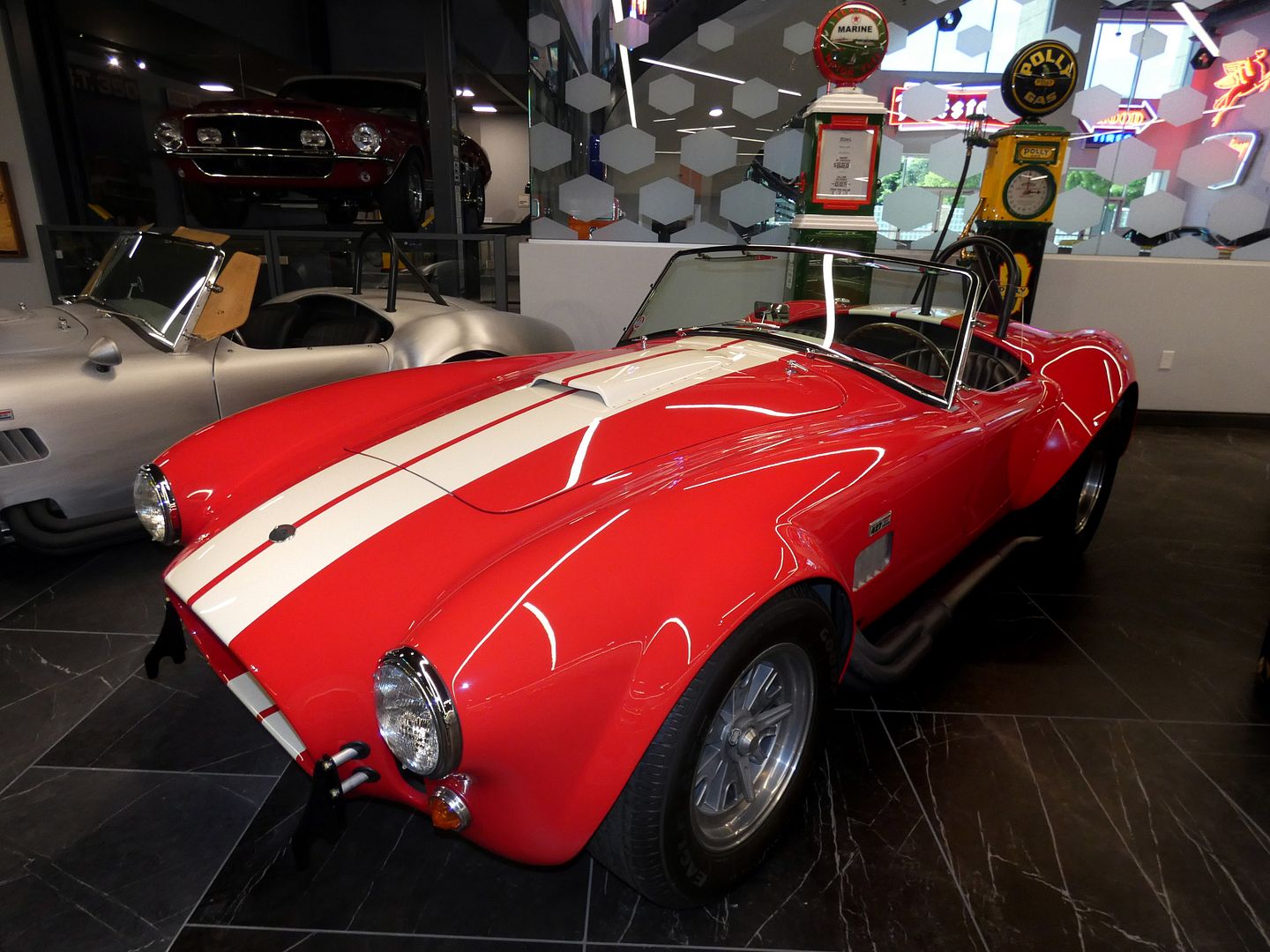 The 1965 AC/Shelby 45 Cobra continuation is rare not only because it's part of the lowest production series numbered Cobras ever built...
...but also because the entire production team at Shelby American signed the inside of the hood (before it was donated to the Carroll Shelby Children's Foundation to be raffled off as a fundraiser).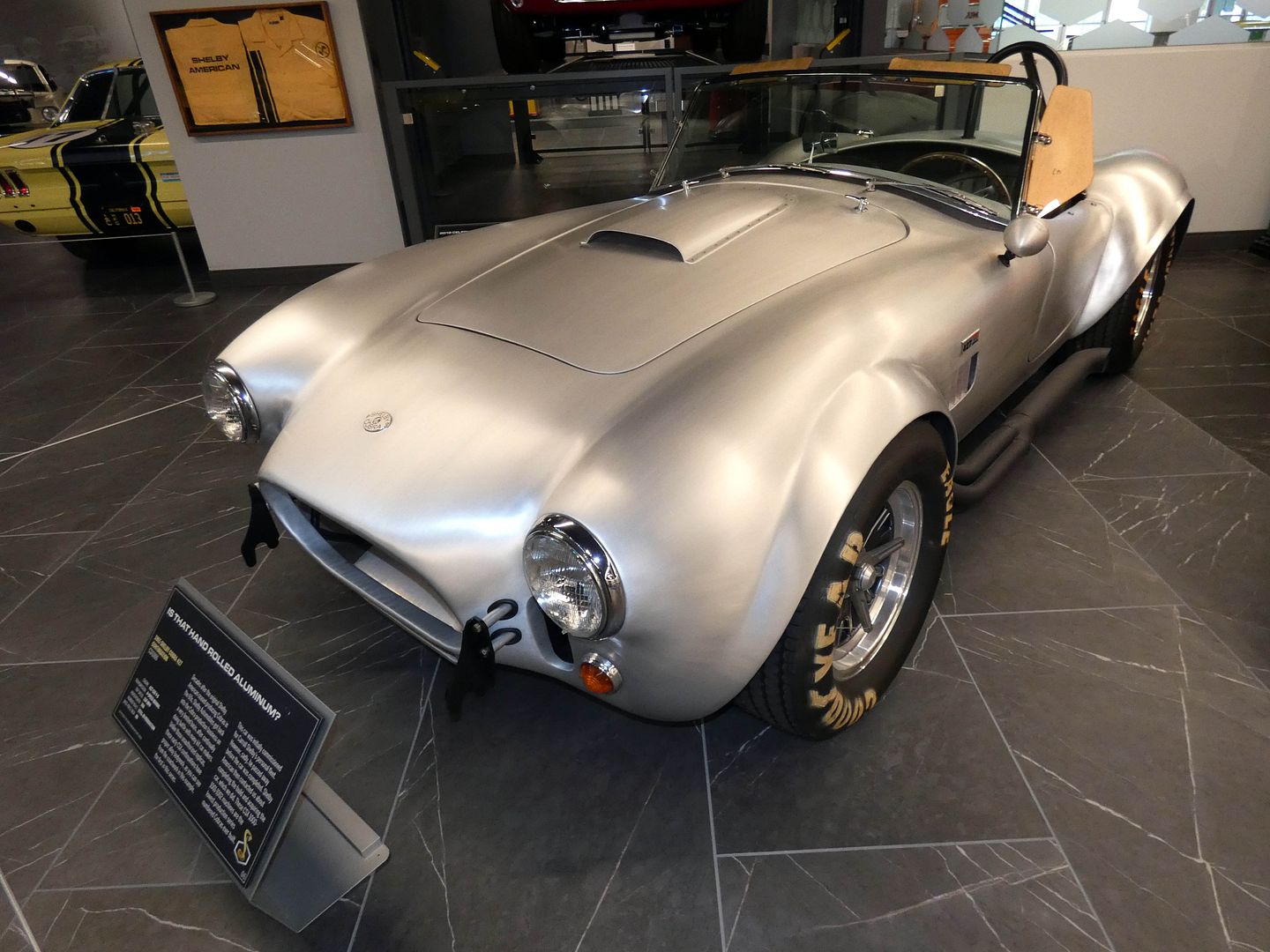 The hand-rolled aluminum edition of the 1965 Shelby Cobra 427 continuation had been commissioned to be part of Shelby's own personal fleet—but he passed away before it was completed.
In 2018, Ted Segerstrom commissioned his own muscle car from Shelby American: a 50th Anniversary Commemorative Special Edition of the 1968½ Shelby GT500KR in red.
This is #2 of a series of just 10 built.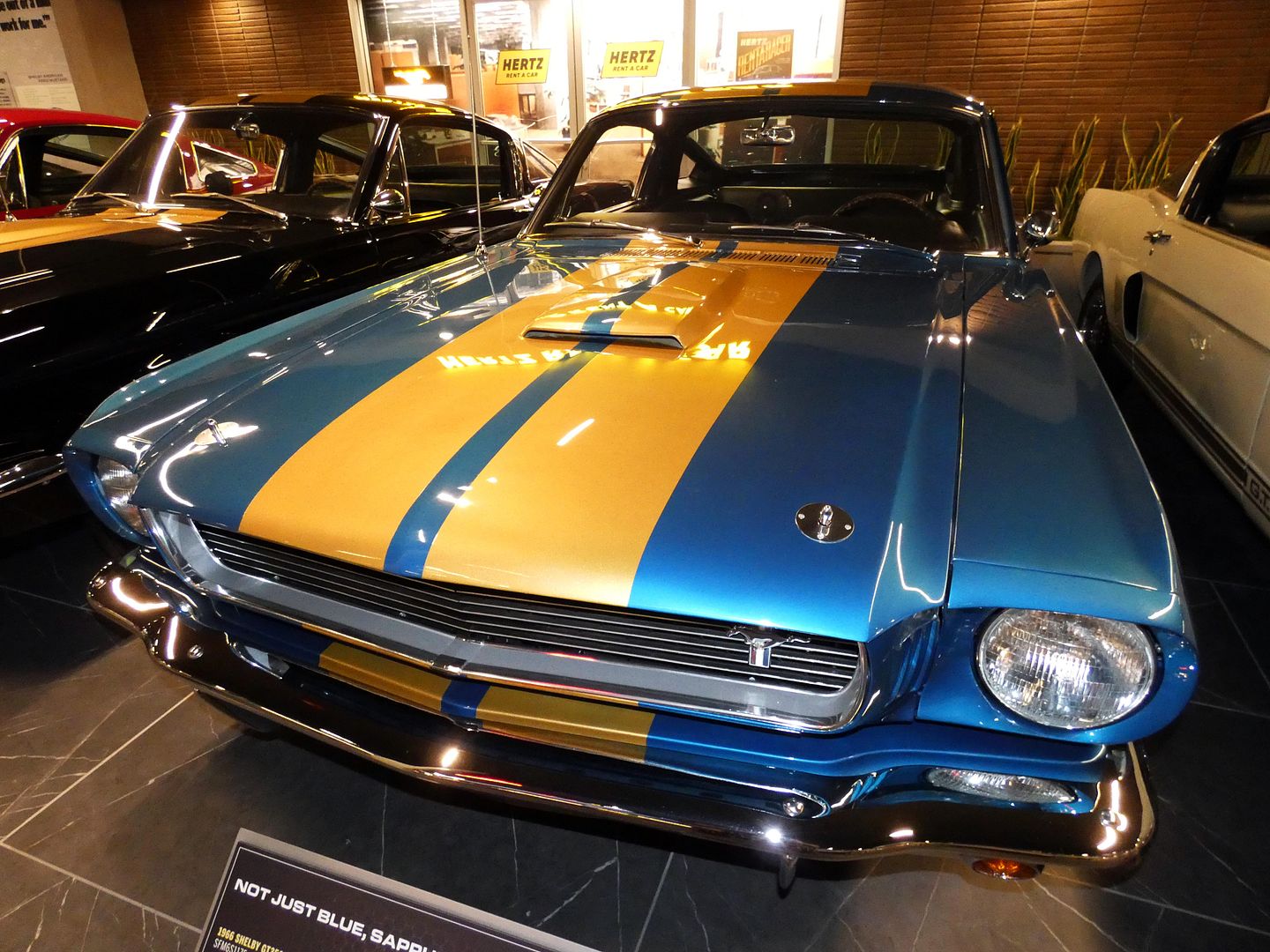 Most fascinating to me was the area in the back that served as a re-creation of a Hertz Rent A Car at LAX...
...where specially trimmed GT 350s (dubbed the Shelby GT350H) were offered as part of Hertz's premium rental fleet in early 1966.
Only the first 85 black-and-gold "Rent-a-Racers" were suitable for a weekend's worth of racing (that is, equipped with 4-speed manual transmission, racing-style brakes, and no power steering). The rest were 3-speed automatic transmission (which could still get up to 126 mph).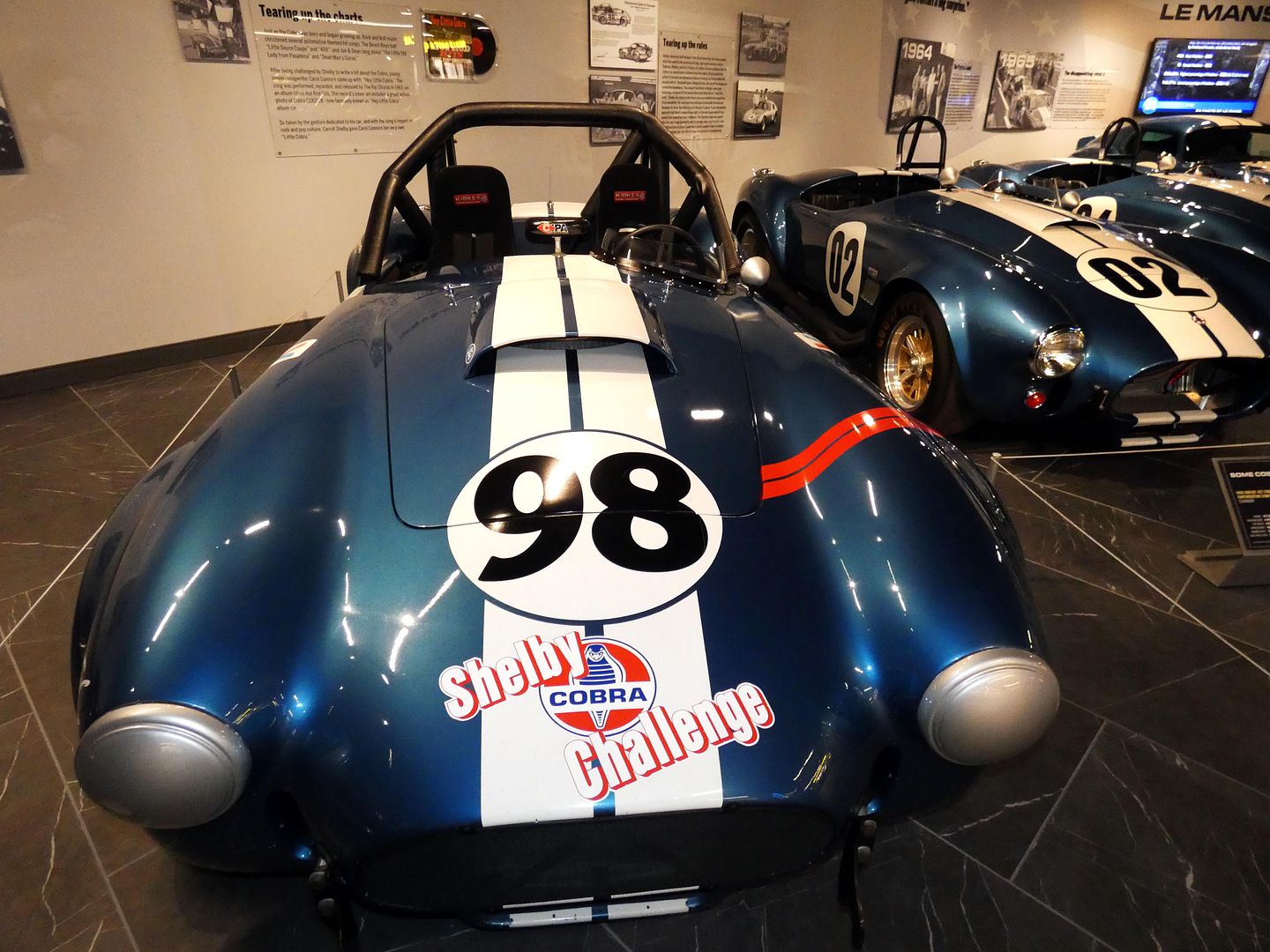 A proper race car, like the Shelby Cobra Challenge Racer, could get up to 165 mph and boast 500 horsepower.
But Shelby managed to make a sports car out of Ford's Mustang (what Shelby likened to making a race horse out of a mule)—and appeal to young drivers while also selling a "young man's car" to older drivers.
Much of this collection was previously in private storage elsewhere in Orange County. Thanks to this new space, the Segerstroms can honor Carroll Shelby's memory—and help raise money for the
Shriners
for Children Medical Center in Pasadena and the Carroll Shelby Foundation (which also benefits children).