Arlington Garden is located on 3 acres of
the former 10-acre estate
of Chicago-born wholesale grocer John Milton Durand, whose mansion stood at the corner of Pasadena's "
Millionaire's Row
" (Orange Grove Boulevard) and Arlington Drive from 1904 to 1964.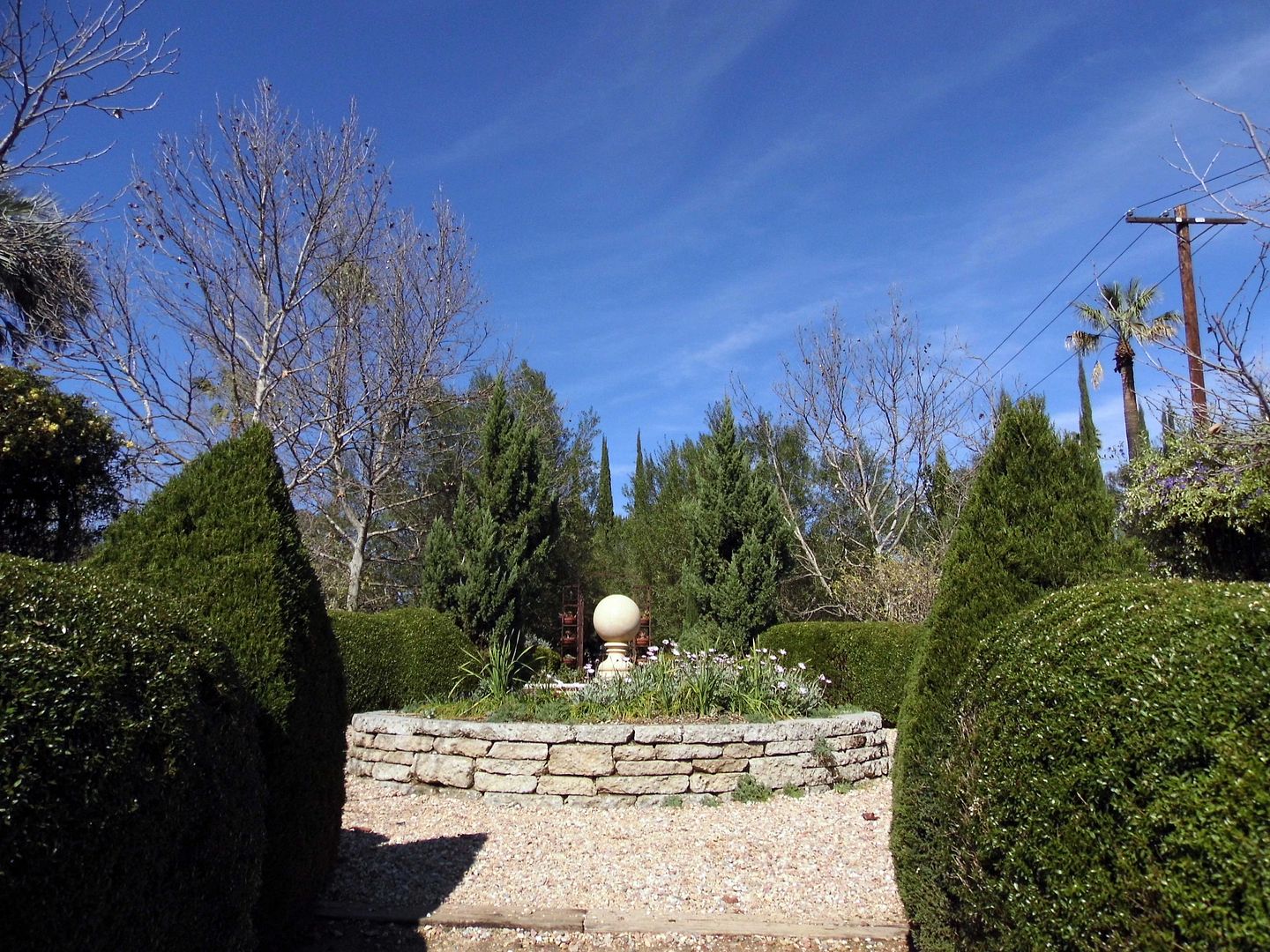 Then located in an area of Pasadena known as Arlington Heights, the now-demolished 50-room, three-story French château was designed by architect
Frederick Roehrig
, a.k.a. "The Millionaire's Architect."
It was a 17,000-square-foot, French Normandy-style manse made out of Red Arizona sandstone, which had fallen into disrepair and sold at public auction in 1961 after Durand's son's death the year prior.
Caltrans
ended up gobbling up the property during the agency's expansion of the
710 Freeway
—and used it as a staging area to store equipment. (Before 1964, the 710 was SR-15; after the 1964 renumbering by the California Division of Highways, it was renamed SR-7. It didn't become the Interstate 710 until 1983.)
The 710 project through that particular area was never completed, and—despite once being the site of a lushly landscaped tropical paradise, with a hedge of Cherokee roses—the parcel had become a weed-infested eyesore.
The City of Pasadena leased the vacant lot from Caltrans—and the city-funded public garden was officially founded in 2005 by next-door neighbors Betty and Charles "Kicker" McKenney, the latter a former Pasadena city councilman (1972-1978).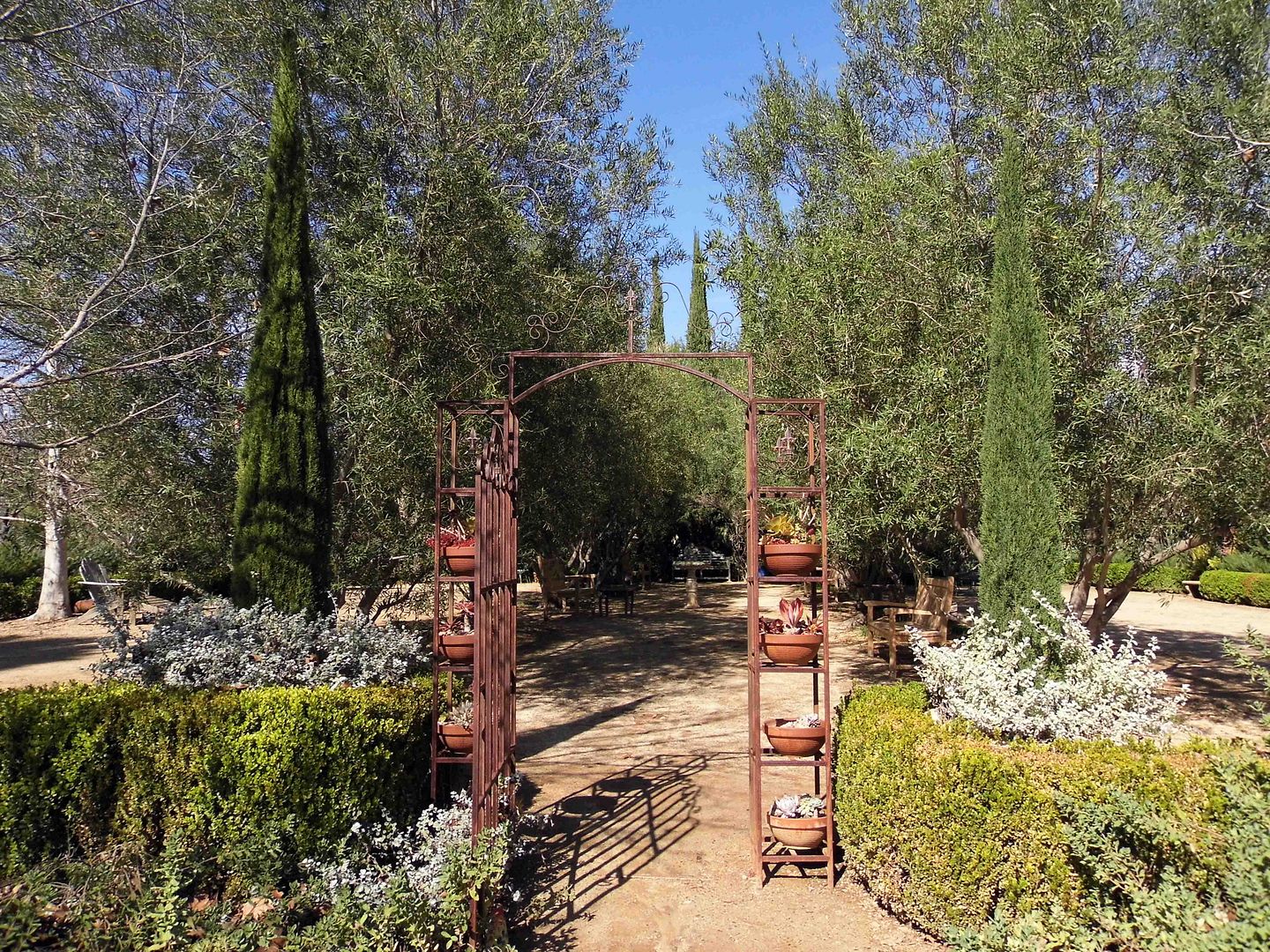 The couple worked with landscape designer Mayita Dinos to plant a
mediterranean
climate zone garden of drought-tolerant plants and trees, arranged in dozens of different garden "rooms"...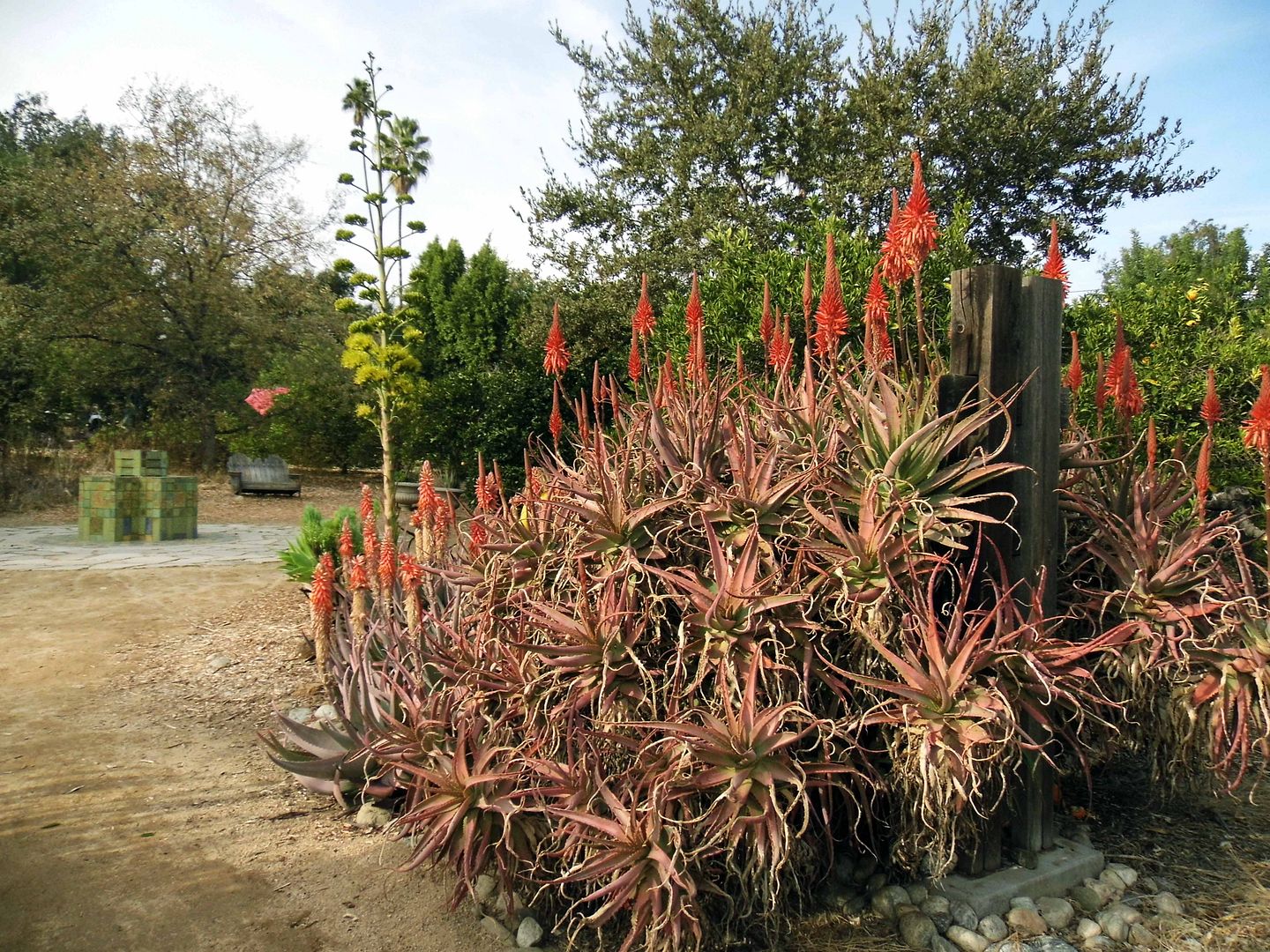 In background: Craftsman Commons Fountain by artist
Cha-Rie Tang
...including a formal allée of olive trees, the St. Francis succulent garden...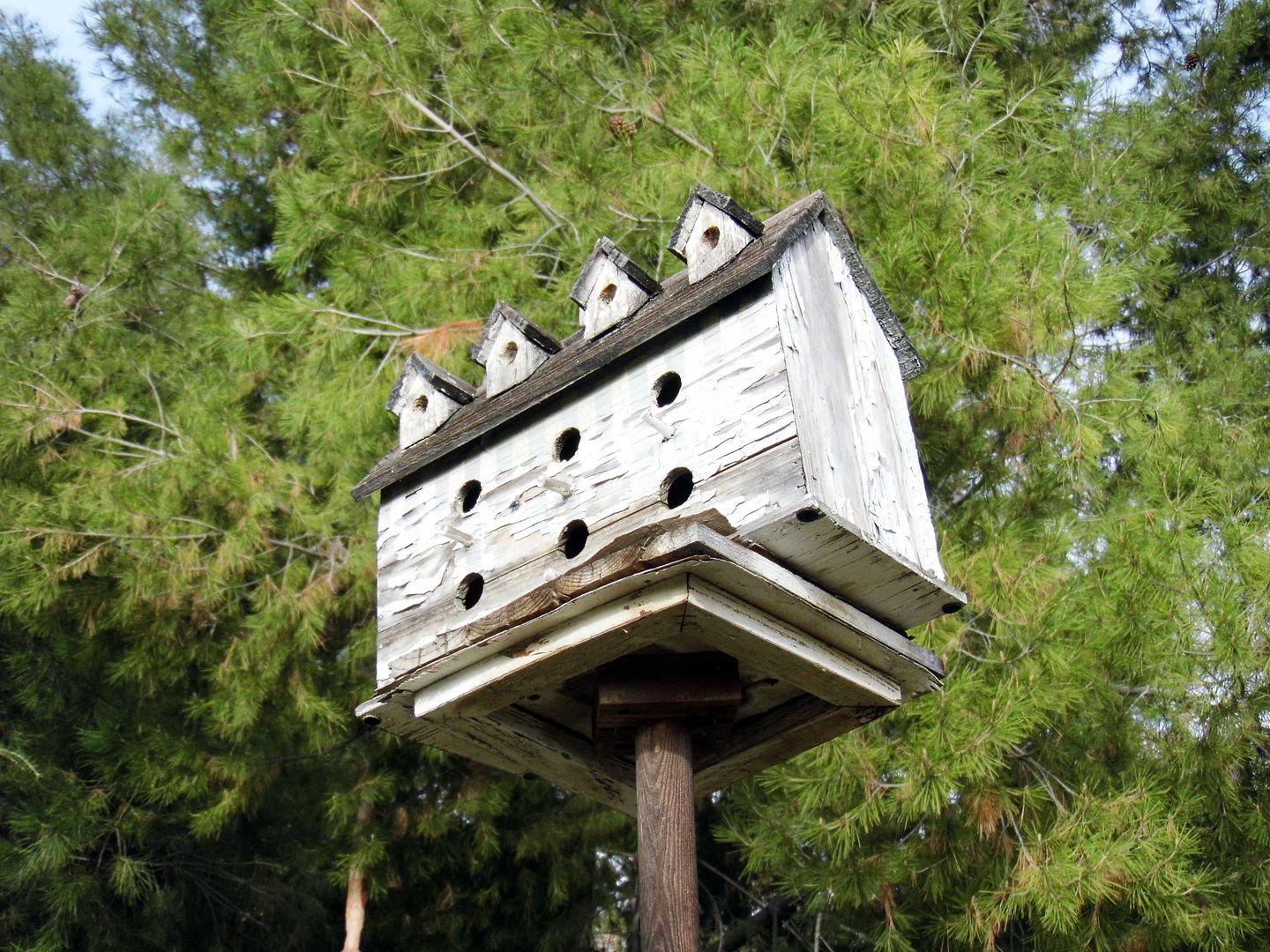 ...a pine forest...
...a Washingtonia Palm Quadrant, a vernal pool, a seasonal wash...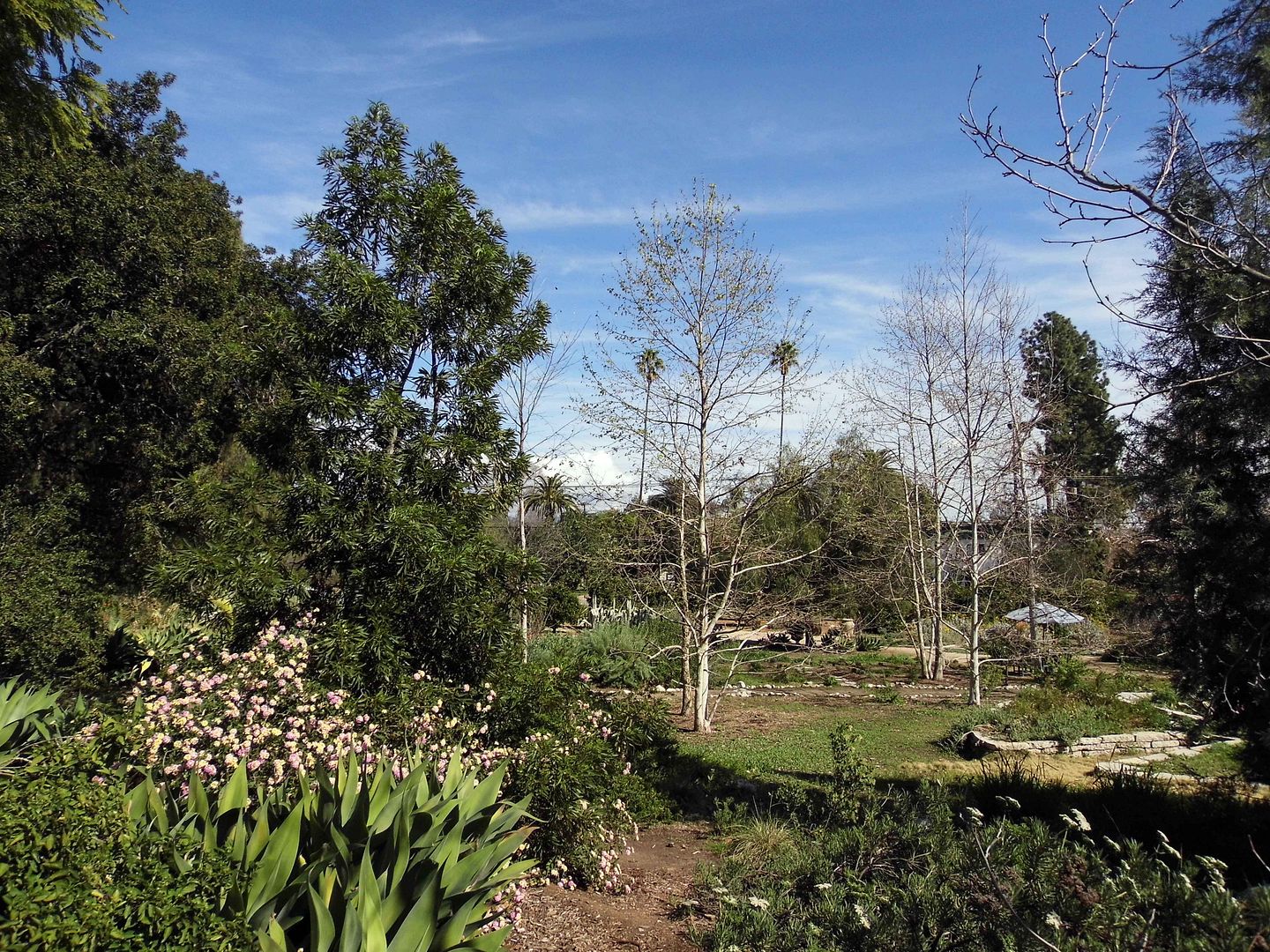 ...an oak grove, a meadow...
...and a citrus grove, the only such grove now near Orange Grove Boulevard or anywhere in Pasadena.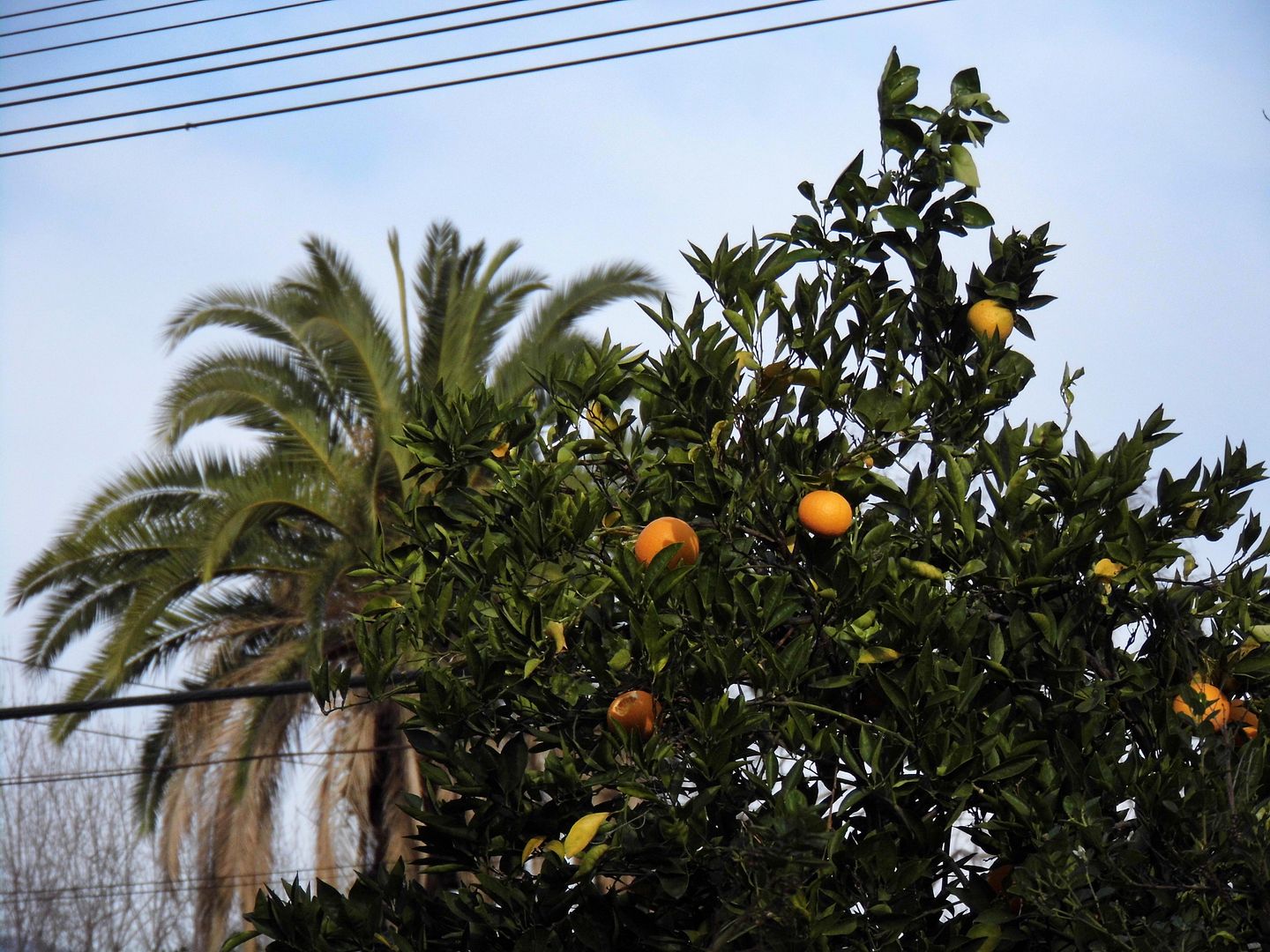 Local schoolchildren planted its Washington Navel orange trees in 2005—and now, Girl Scouts pick the oranges annually so they can be processed into and sold as a sweet orange marmalade, made by
E. Waldo Ward & Son
in Sierra Madre.
All of the hardscape, including the retaining walls, were designed by Marco Barrantes of La Loma Development—using a sustainable material called "urbanite," which is essentially comprised of leftover (and sometimes broken) pieces of concrete.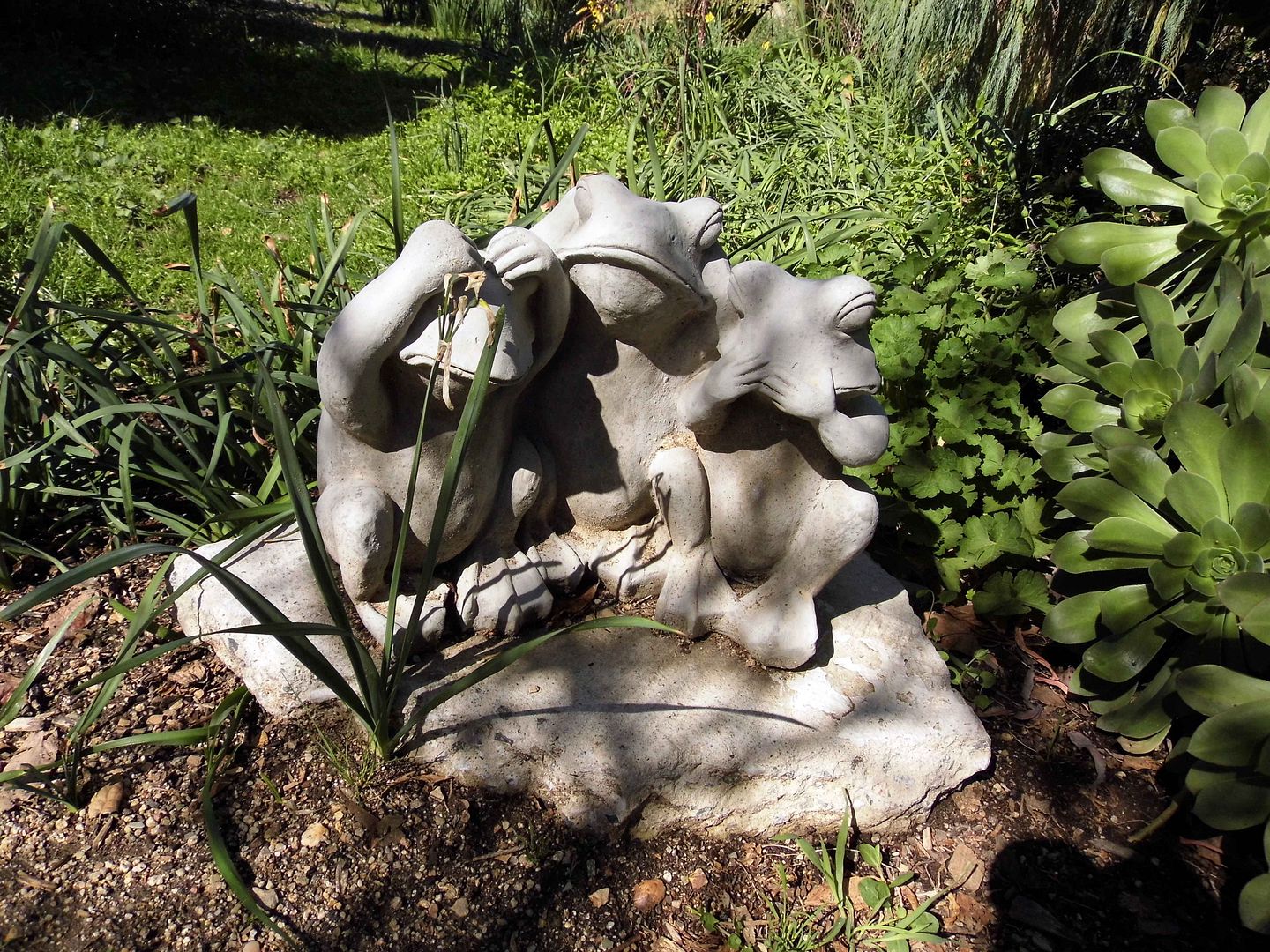 Local residents gifted much of the benches, pottery, fountains, and statuary that adorn the garden "rooms" and pathways.
Some of them are broken, too—but that just adds to the ambiance.
The McKenneys became known as "the constant gardeners" of Arlington Garden for all the volunteer time they spent there maintaining the gardens.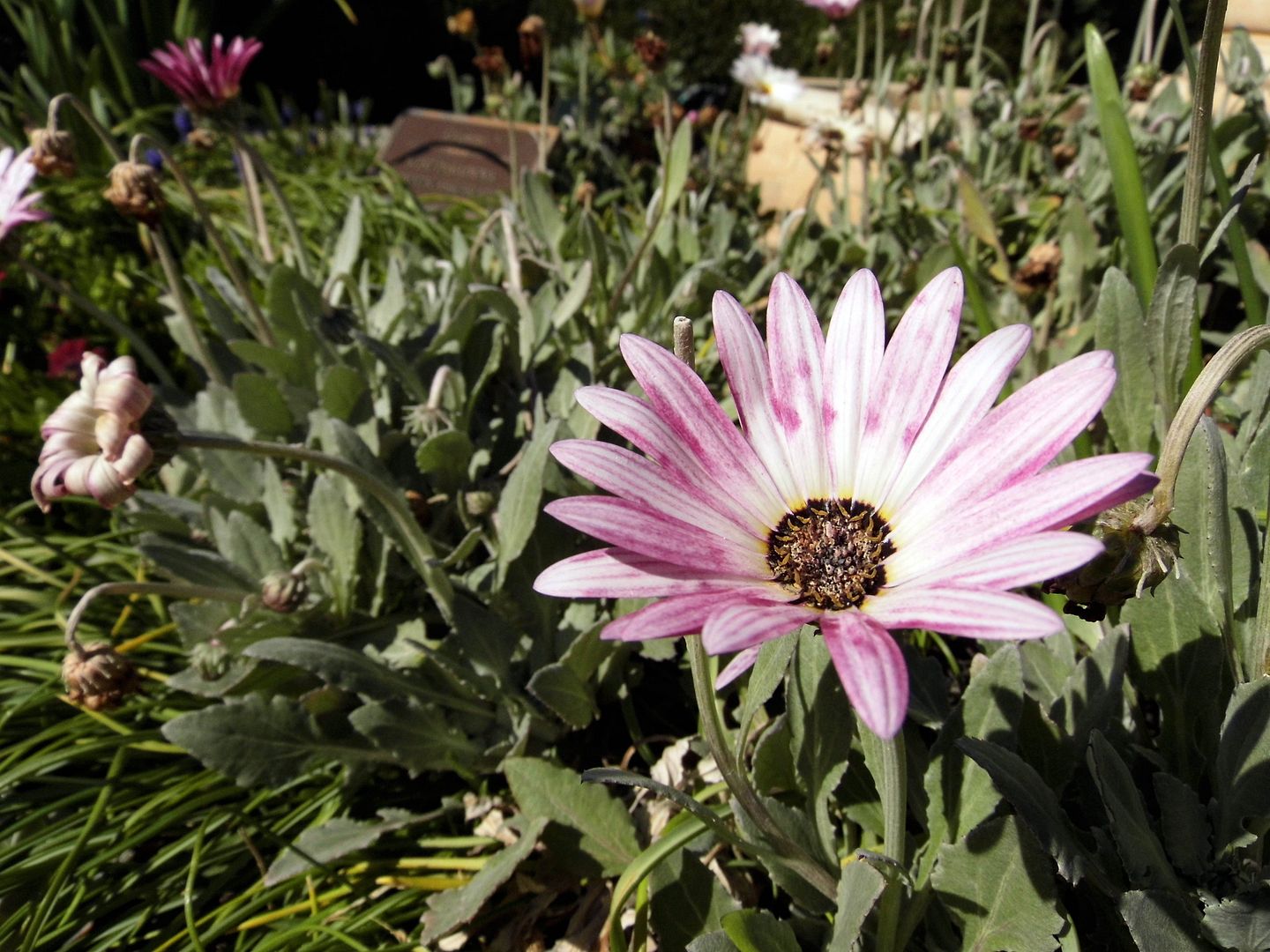 Unfortunately, Charles died in 2015. Betty retired from the garden shortly thereafter and
passed away in 2018
.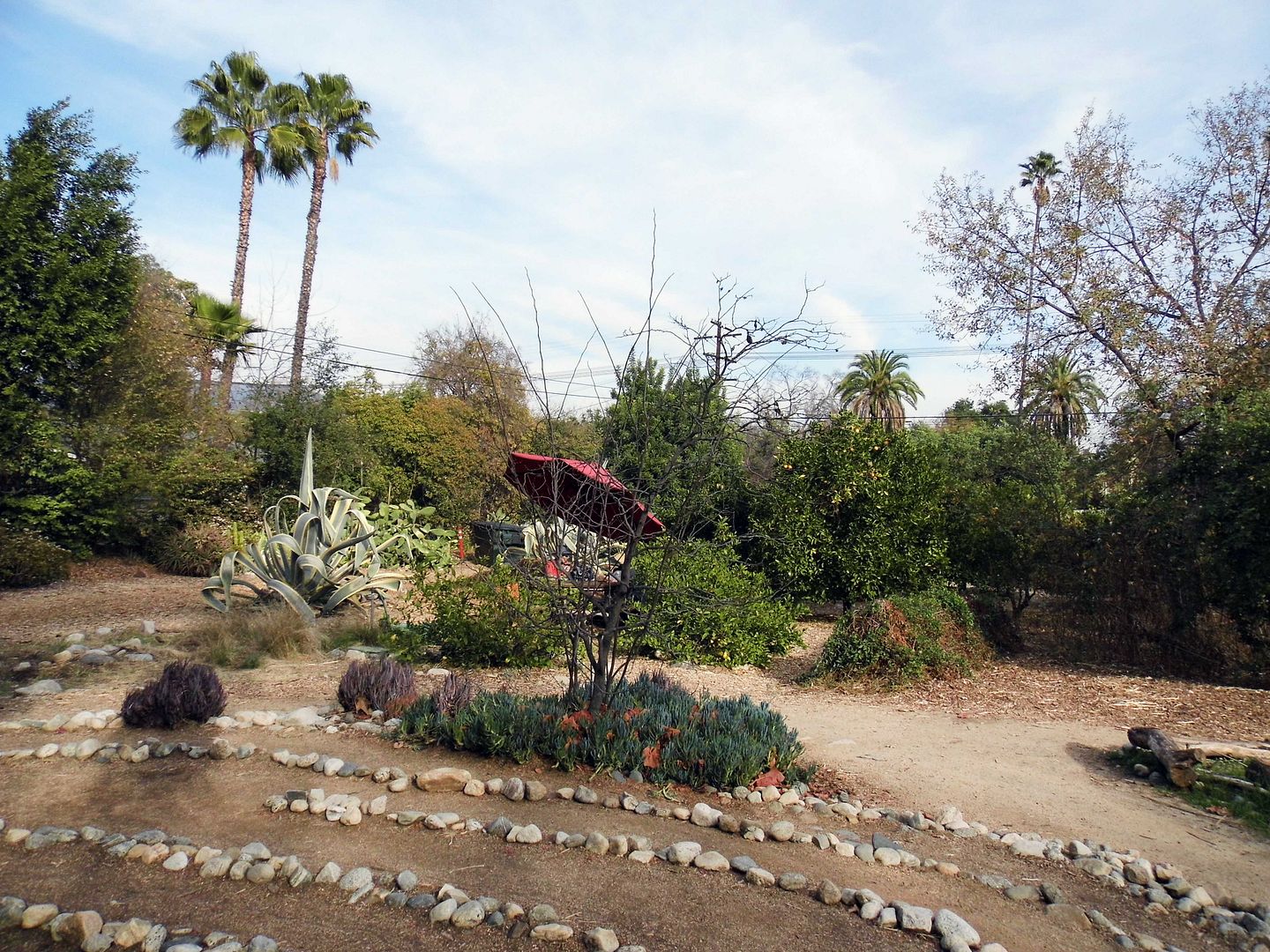 There's more than just plants at Arlington Garden, too, as it also is home to a classical seven-circuit rock labyrinth...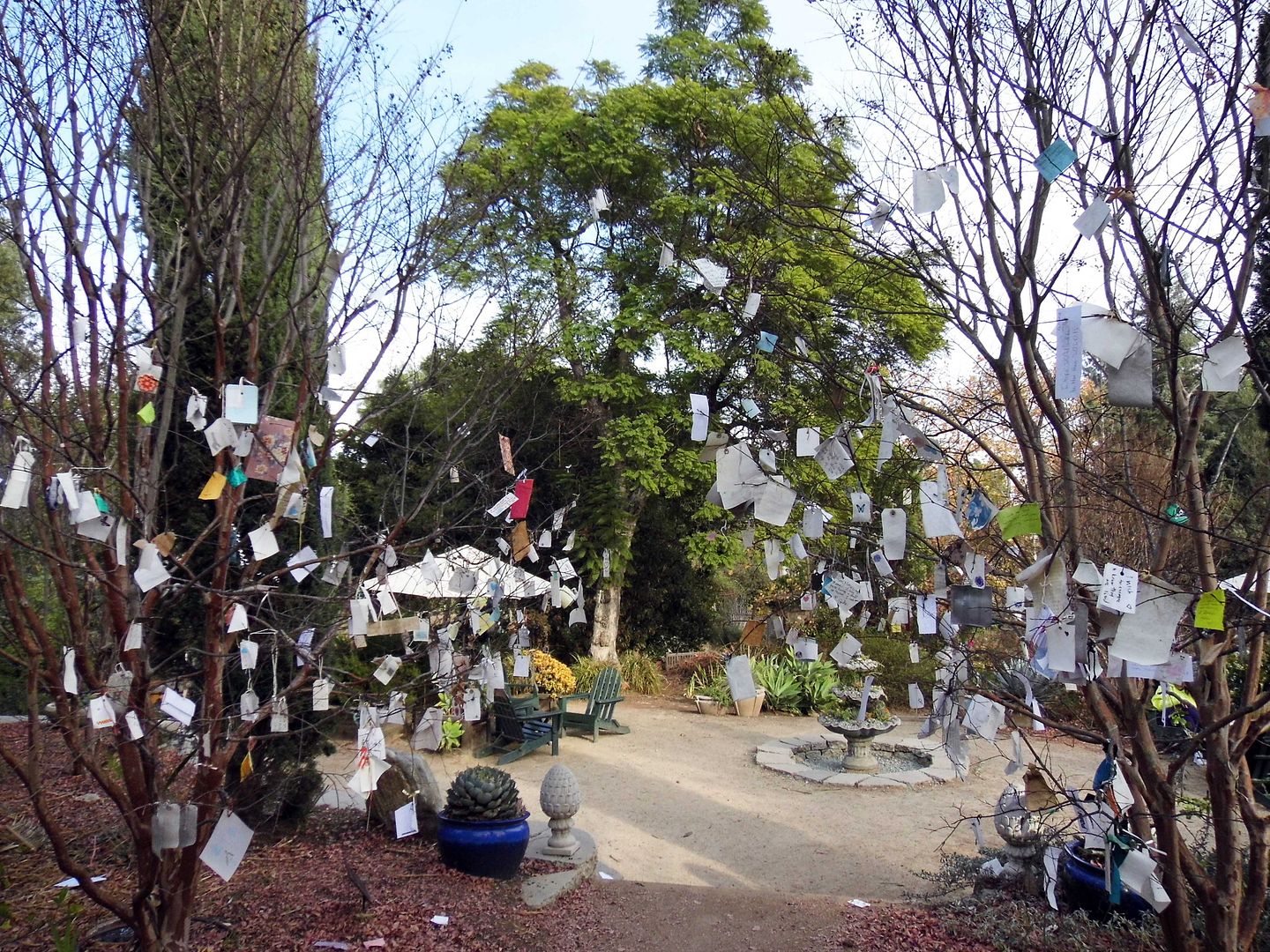 ...and the Wish Tree for Pasadena installation that was relocated there from Pasadena's One Colorado in 2008.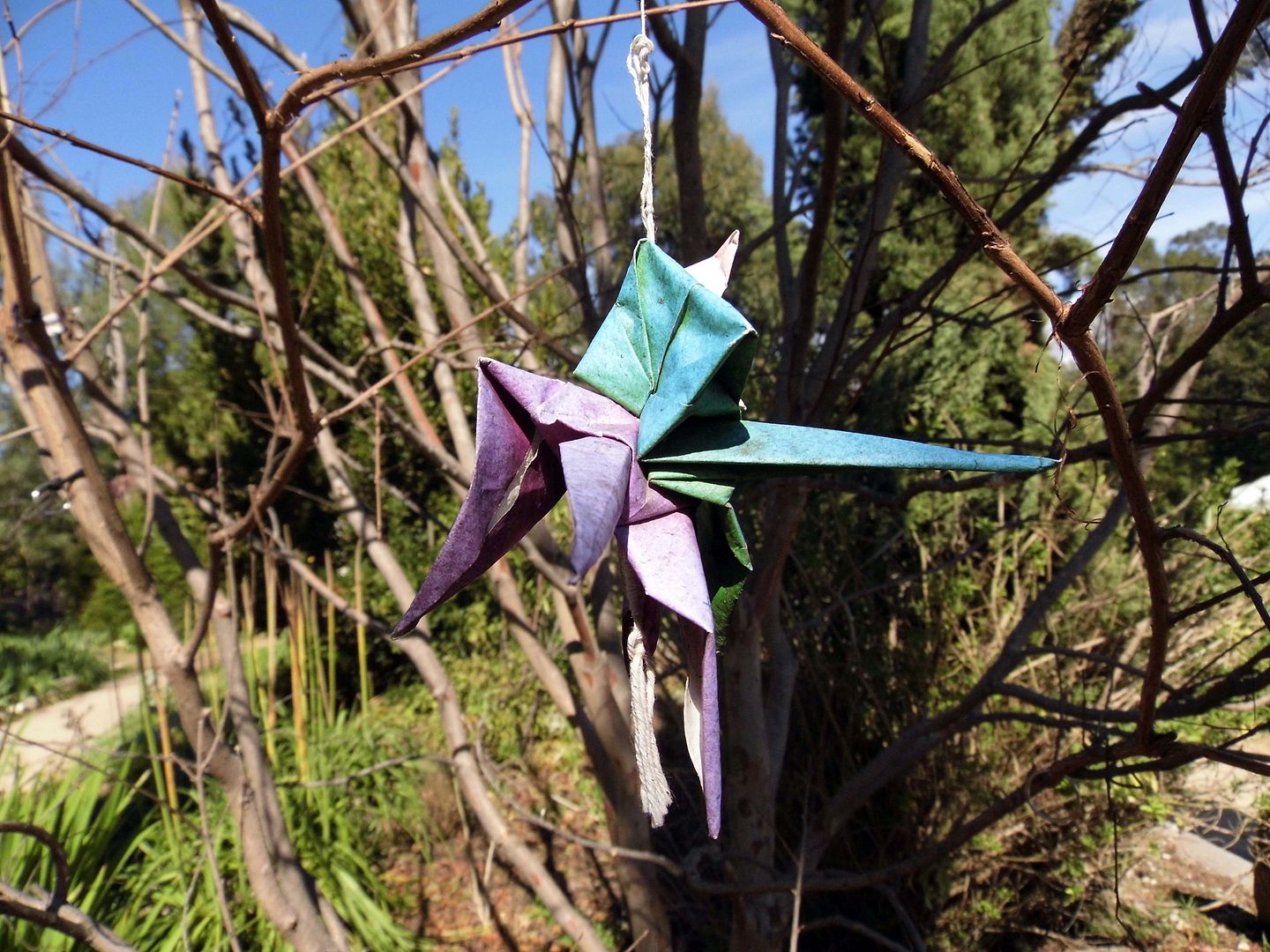 It's one of many such installations by Yoko Ono—an example of living art, in which handwritten wishes hang from crepe myrtle trees (which were replanted from One Colorado as well).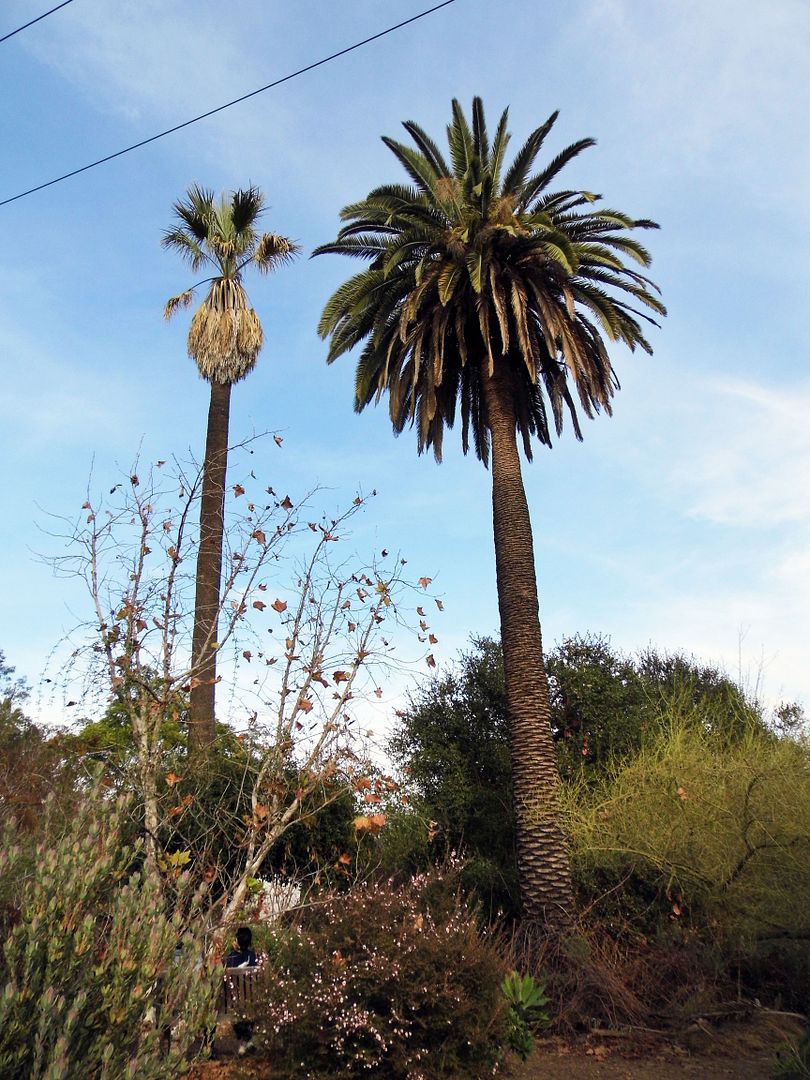 It's quite the evolution from the weedy lot it started as—with just seven palm trees, two coast live oaks, a California pepper tree, a jacaranda tree, and a lot of trash.
Now, it's got so many treasures, it bears repeat visits. (My photos above are a combination of two visits nearly five years apart, 2016 and 2021.)