At least, according to historical accounts, which apparently ignore how grammatically incorrect that is in Spanish.
On one of those "enchanted hills," in a North Valley bedroom community now known as Granada Hills-Knollwood, the Odyssey Restaurant opened in 1970.
And upon my first visit there earlier this month, I got curious as to the history of the area.
The San Fernando mission used to take up pretty much all of the San Fernando Valley. But by 1970, the it was just a fraction of the size it was when it was founded in 1797.
The mission had been secularized and sold to private owners, like California governor
Pío Pico
—who, in order to help fund his
Pico House
in the Pueblo of Downtown Los Angeles, sold his shares of the 116,858-acre Mexican land grant (a.k.a. Rancho Ex-Mission San Fernando) to his friend, the Spanish-born LA resident Eulógio de Célis.
In
1874
, Célis's heirs sold former mission land to Senator Charles Maclay and cousins Benjamin and George Porter (of the Porter Land and Water Company and, later, Porter Ranch).
As the Valley got further and further subdivided, other owners included San Fernando Mission Land Company (including the "Father of Glendale,"
Leslie Brand
), the San Fernando Farm Homestead Association (which became the San Fernando Sheep Company, with denim magnate Levi Strauss as its director), and J.H. Mosier's The Sunshine Co., whose
Sunshine Ranch
largely became present-day Granada Hills.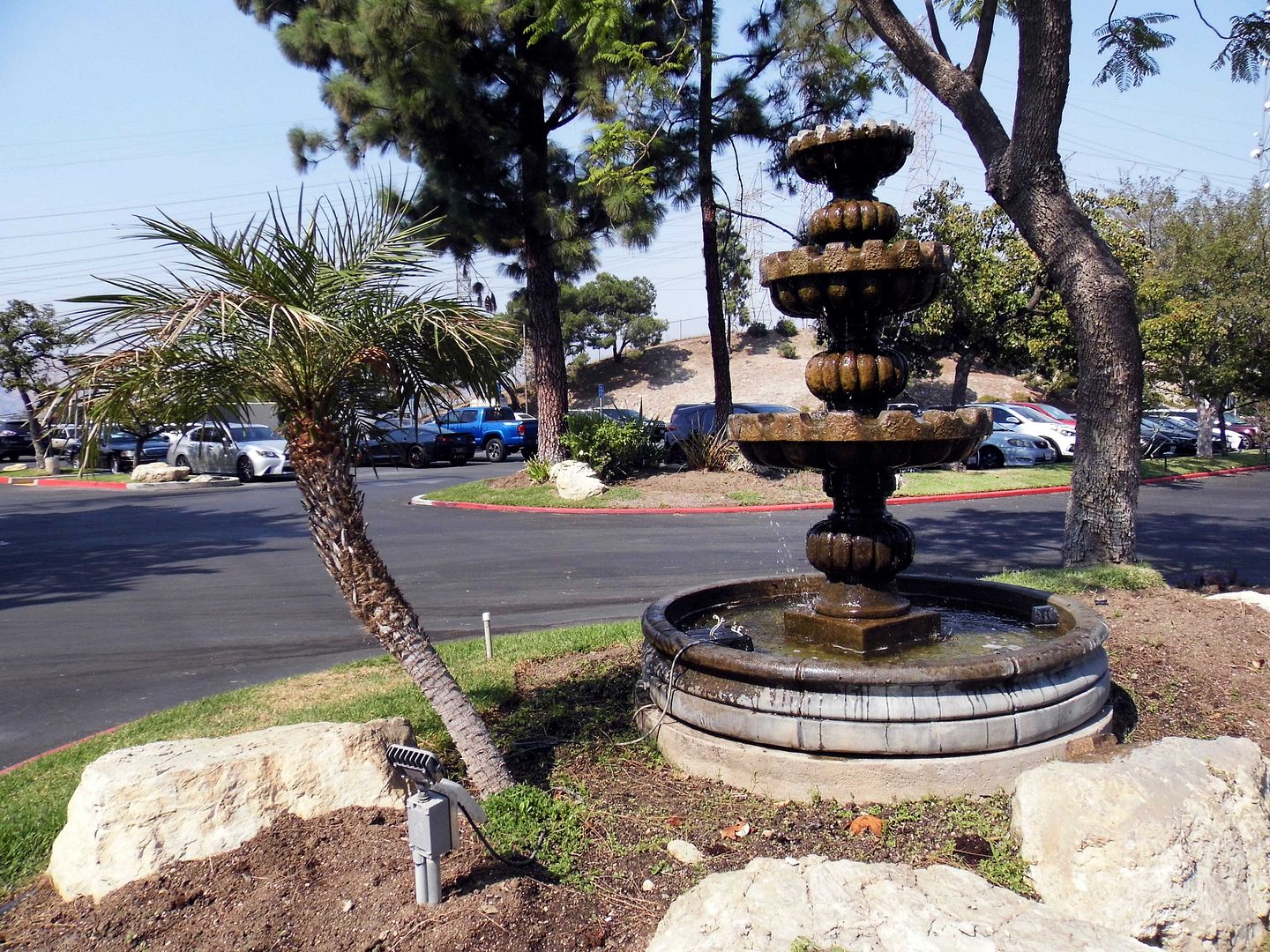 Granada Hills is currently part of the City of Los Angeles—but when it was founded in 1927 (as just "Granada," until 1942, for its similarity to Granada, Spain) it was envisioned as a "City of Destiny" in its own right (and a place to raise rabbits, which didn't actually pan out so well).
It was later advertised as "The Beverly" of San Fernando Valley (assuming that refers to Beverly Hills)—or even the next BelAir. The chamber of commerce now touts it as "
The Valley's Most Neighborly Town
."
I found myself at the Odyssey Restaurant—Granada Hills' second-oldest dining establishment—for a celebratory brunch the weekend after my birthday.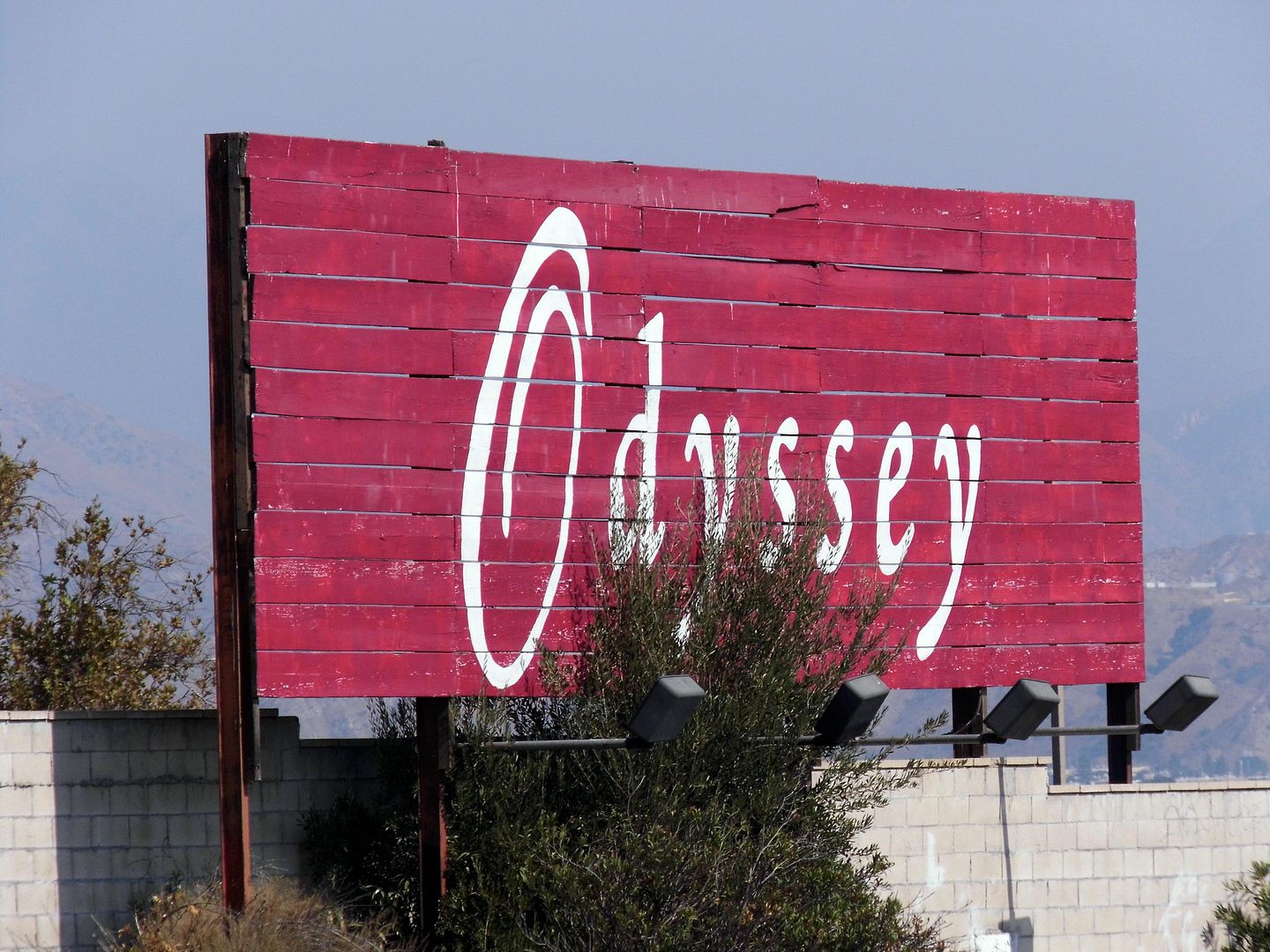 I'd wanted to go for years and years...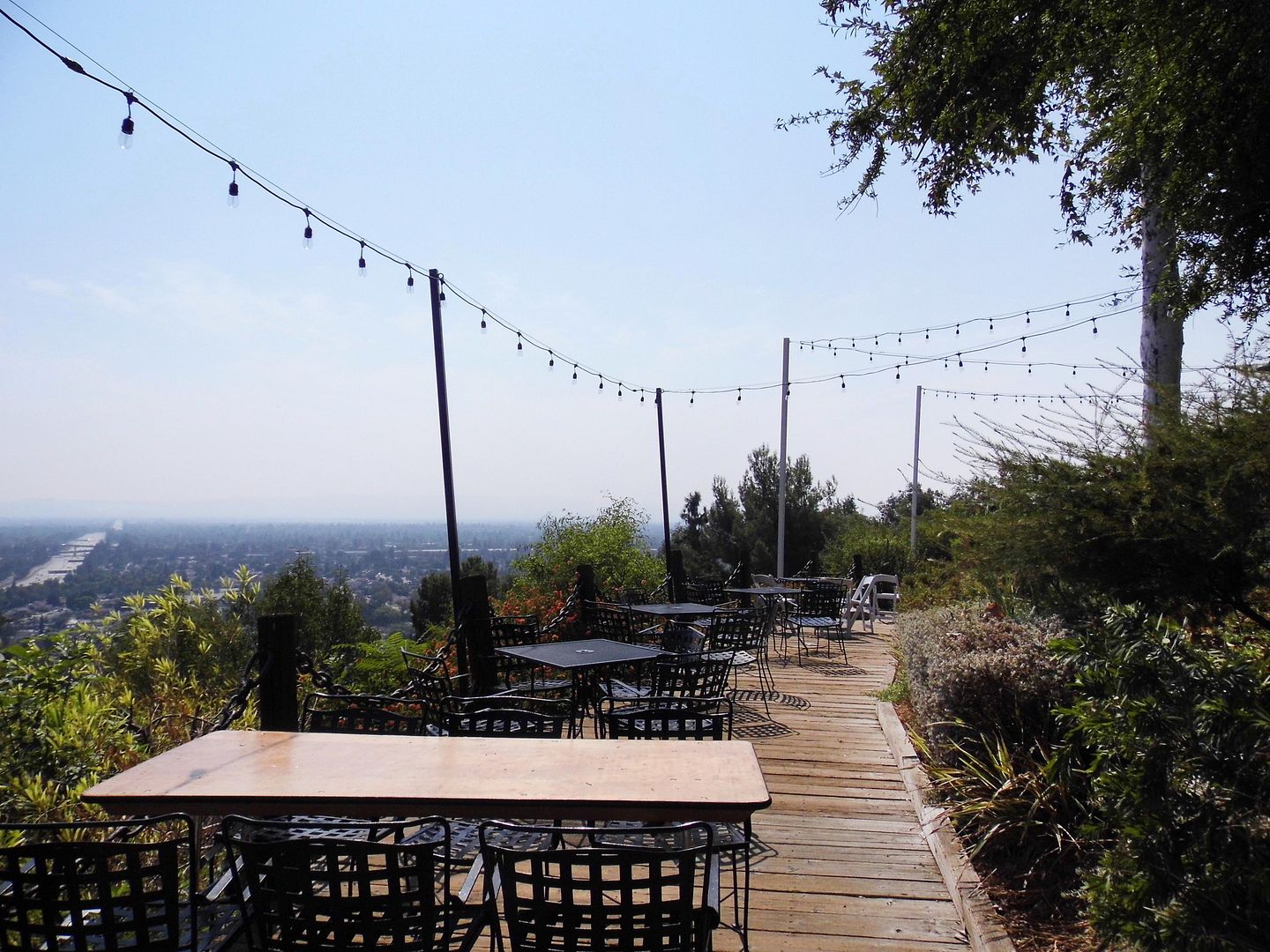 ...but have never had a special enough occasion to dine at a place that hosts so many weddings, proms, retirement parties, anniversary dinners, and such.
I never cared much about the restaurant itself—its food or beverage offerings—but I wanted to have the chance to take in that "enchanting" view.
Seated outside, we dined high above the mission and its cemetery, of course...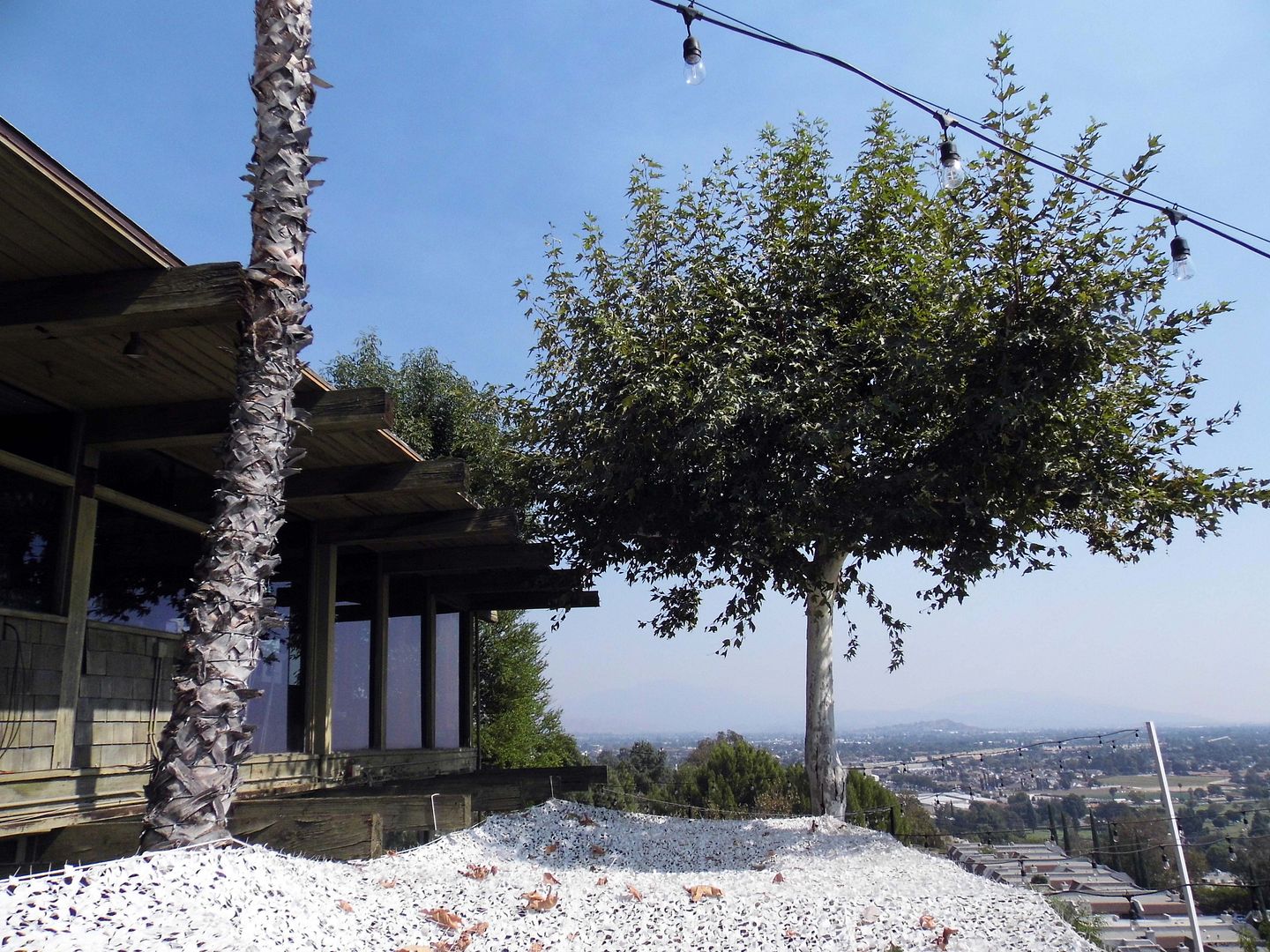 In fact, the area's proximity to The Cascades was so significant, much of the eastern portion of Granada Hills was once occupied by a nursery operation known as The Cascade Ranch.
Once owned by hardware magnate Charles C. ("C.C.") Reynolds, its traces have vanished from Granada Hills. But the saplings of Valencia oranges it sold can be found full-grown at what's considered the
last remaining orange grove of the San Fernando Valley
—on the campus of Cal State Northridge (CSUN).
Although some housing developments have begun to encroach on "Odyssey Hill," it's still relatively unscathed.
The hill itself survived the 1961 completion of the 405 Freeway. The Odyssey Restaurant survived the 1971 Sylmar earthquake (which was
really close
) and the
1994 Northridge earthquake
—both of which seem as though they could've sent the local landmark tumbling down the hill.
And although its former Viking theme is long gone, and the wildfire-scorched sky doesn't always cooperate, The Odyssey still earns its title as "View Spot of the San Fernando Valley" and "A Vision of the Valley."
No one can dispute the fact that this hill is capable of offering a magnificent view of Southern California's unique topography. Odyssey Drive is steep and rustic; when you reach the top you find yourself in a parking lot so big it could invite a nine-hole golf course over for the weekend. "Top of the world, Ma!" you think as you look down over the entire north San Fernando Valley. On a clear day, you can see Encino.
But I didn't visit on a clear day. And I've been told I've got to go at night to see the city lights.
So I'll keep this one on my list for now.
I hope to learn more about Granada Hills before I return.
Related Posts: