About 50 miles west of the Arizona border, 32 miles north of the town of
Desert Center
...
...north of the juncture of Highways 62 and 177...
...is one of the best-preserved sites of General George S. Patton's training efforts in the high desert during World War II.
It's the Camp Iron Mountain area of Patton's Desert Training Center—later renamed the California–Arizona Maneuver Area—accessible off the east side of the unpaved Power Line Road just past Granite Pass.
Now part of the 1.6-million-acre Mojave Trails National Monument, it's just a small sliver of the massive desert warfare training ground—the largest in military training history—commanded by General Patton to prepare U.S. military troops for deployment (possibly to North Africa) starting in 1942.
Those power lines were important because Patton brought electricity to the Iron Mountain Camp—except to the tent cities that the soldiers slept in. They needed to acclimate to the harsh desert conditions, although they did have access to water thanks to a deal that Patton struck with the Metropolitan Water District.
The camp closed in 1944—but nearly 80 years later, there's still much to see that was left behind by the Armored Divisions, including rock structures that served as defensive fighting positions for firing range training.
But that's just the start of what's part of what's been designated as California Historic Landmark No. 985—the former training ground of (primarily) the 3rd Armored Division, 23rd Armored Engineer Battalion
Back in 2017, I was fortunate to take a guided tour of Patton's Camp Iron Mountain with the Mojave Desert Land Trust, headquartered in Joshua Tree.
I hadn't even heard of the area before, although I'd explored
Desert Center
a little and taken a tour of the present-day
29 Palms military training base
.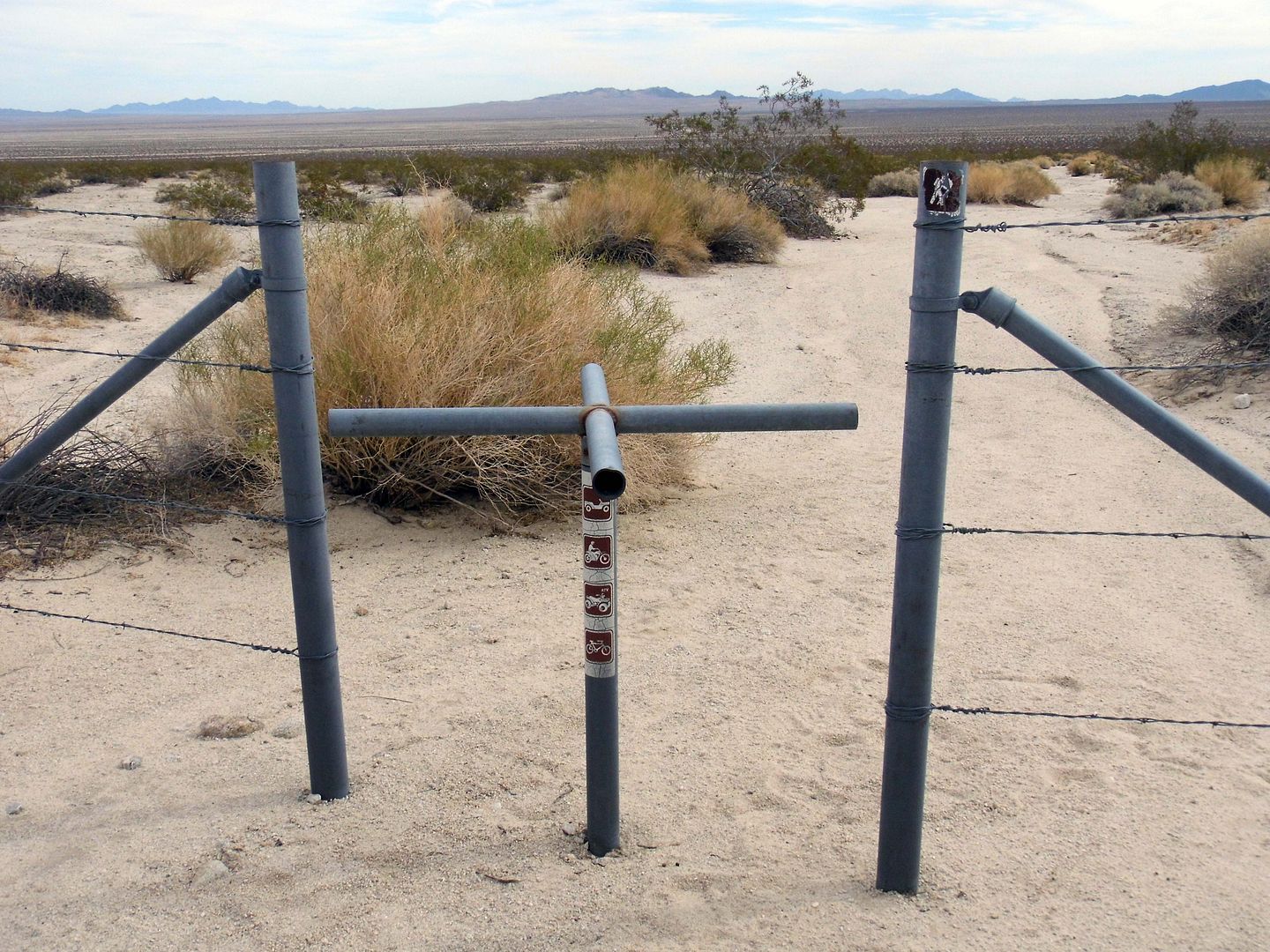 Officially an Area of Critical Environmental Concern since 1980, vehicles aren't allowed past the dirt access road—so, we passed through the pedestrian turnstile on foot.
I suspected that not a lot of people get to walk through here these days.
The tarantulas didn't seem to mind having the place to themselves.
Just beyond the entrance, we walked the rock-lined pathways that once served as dirt roads...
...where the blasts from the training exercises turned sand into glass.
We came across the fenced-off remains of a large topographic (or "contour" or "relief") map built by the U.S. Army Corps of Engineers, which represented a scale model of the entire training ground (one of only
three known to still exist
)...
...suggesting that much of the strategy for the training exercises of other surrounding camps actually took place here, at Camp Iron Mountain.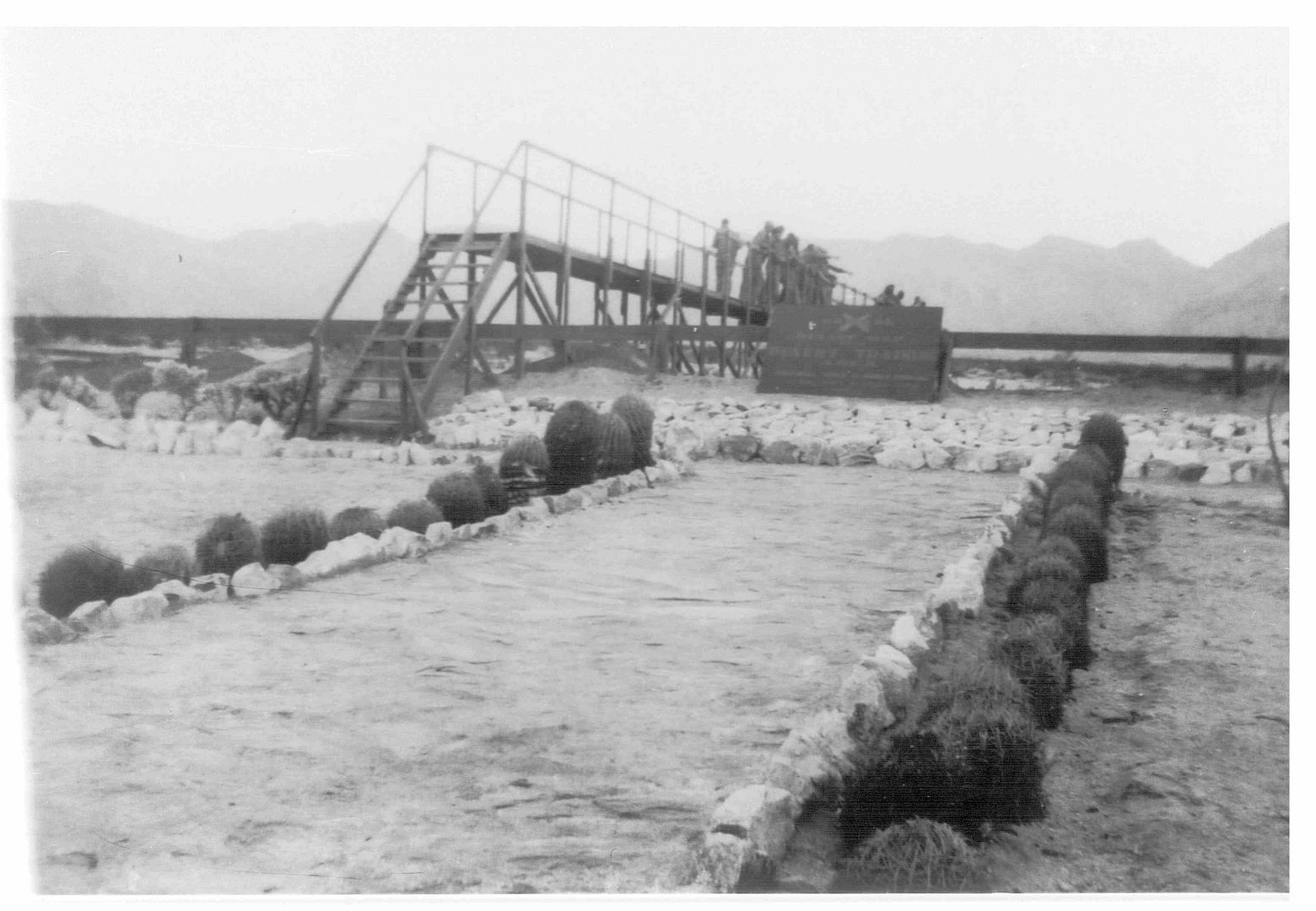 There used to be a wooden walkway to view it from above...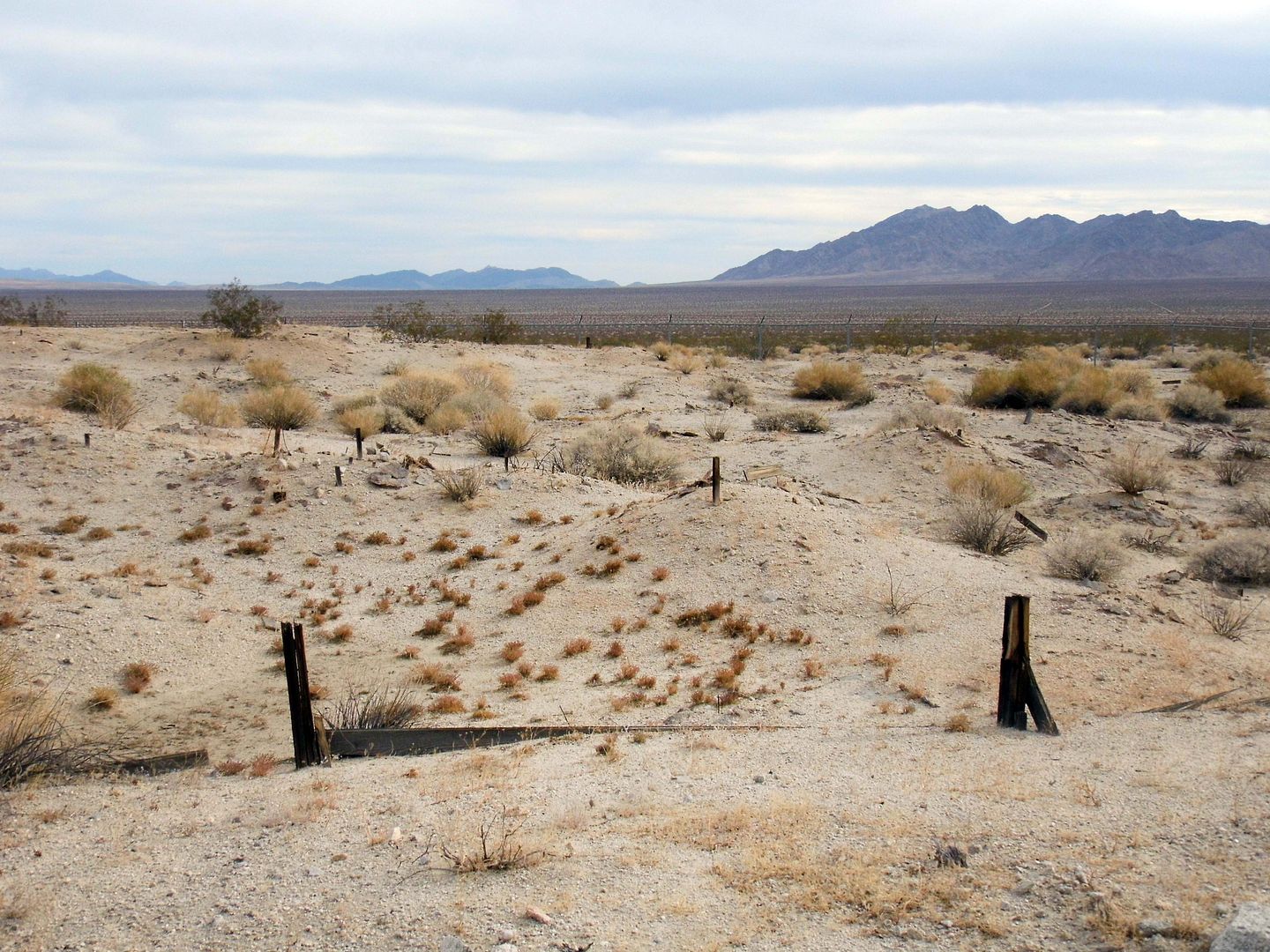 ...but it's degraded so much over time...
...all you can do now is peer through the chainlink.
The soldiers didn't build any permanent buildings at their camp, leaving it mostly undeveloped...
...except for places they could worship...
...like a Protestant stone altar...
...and a Catholic stone chapel.
The cross that once topped the stone peak is now gone...
...but it's surprisingly otherwise intact, thanks to occasional maintenance by the Bureau of Land Management (and its remote location).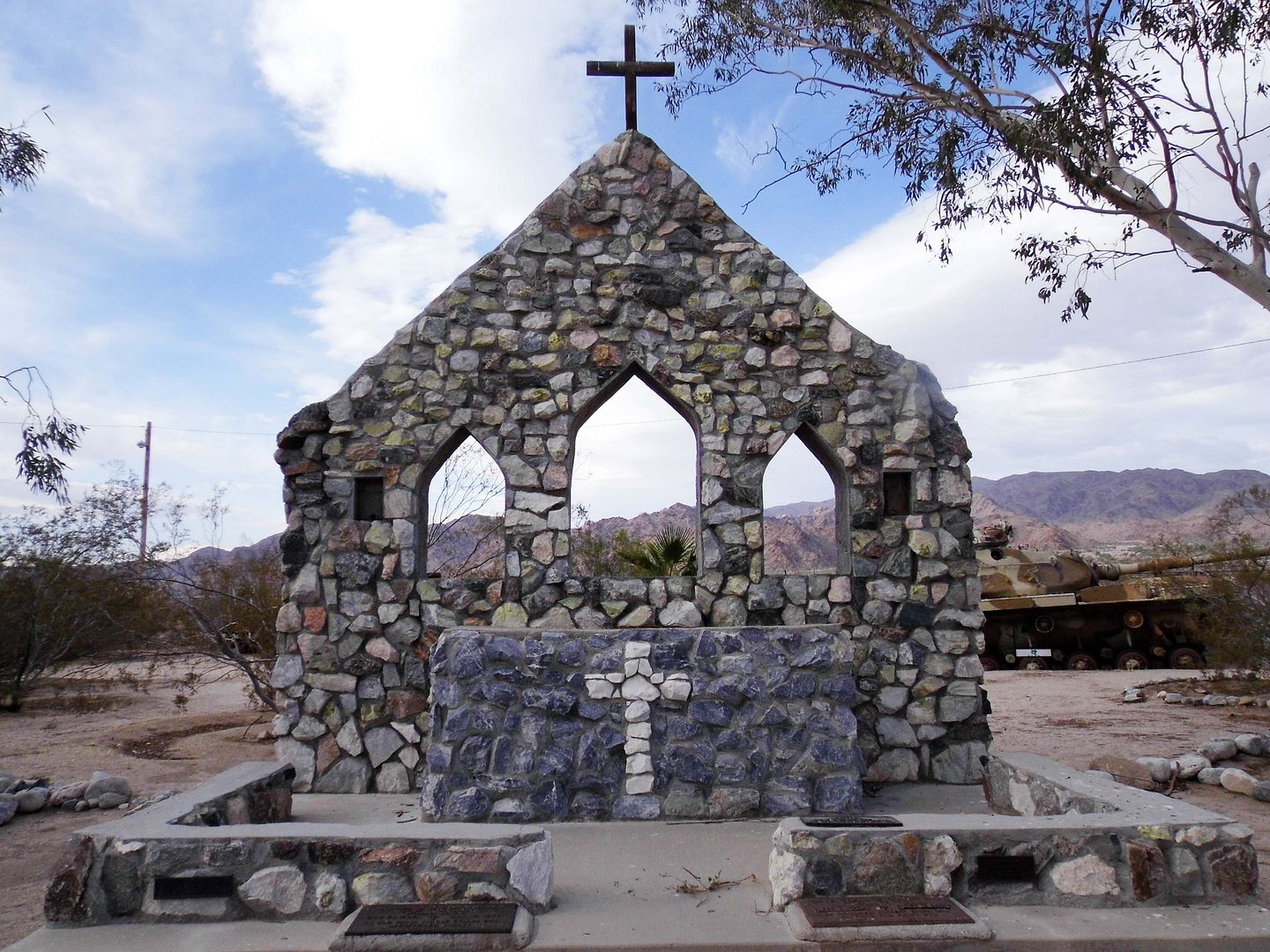 I was pleased to see there's also a small reproduction of the Camp Iron Mountain chapel at the General Patton Memorial Museum in Chiriaco Summit, California (between Indio and Desert Center, part of the site of the former Camp Young).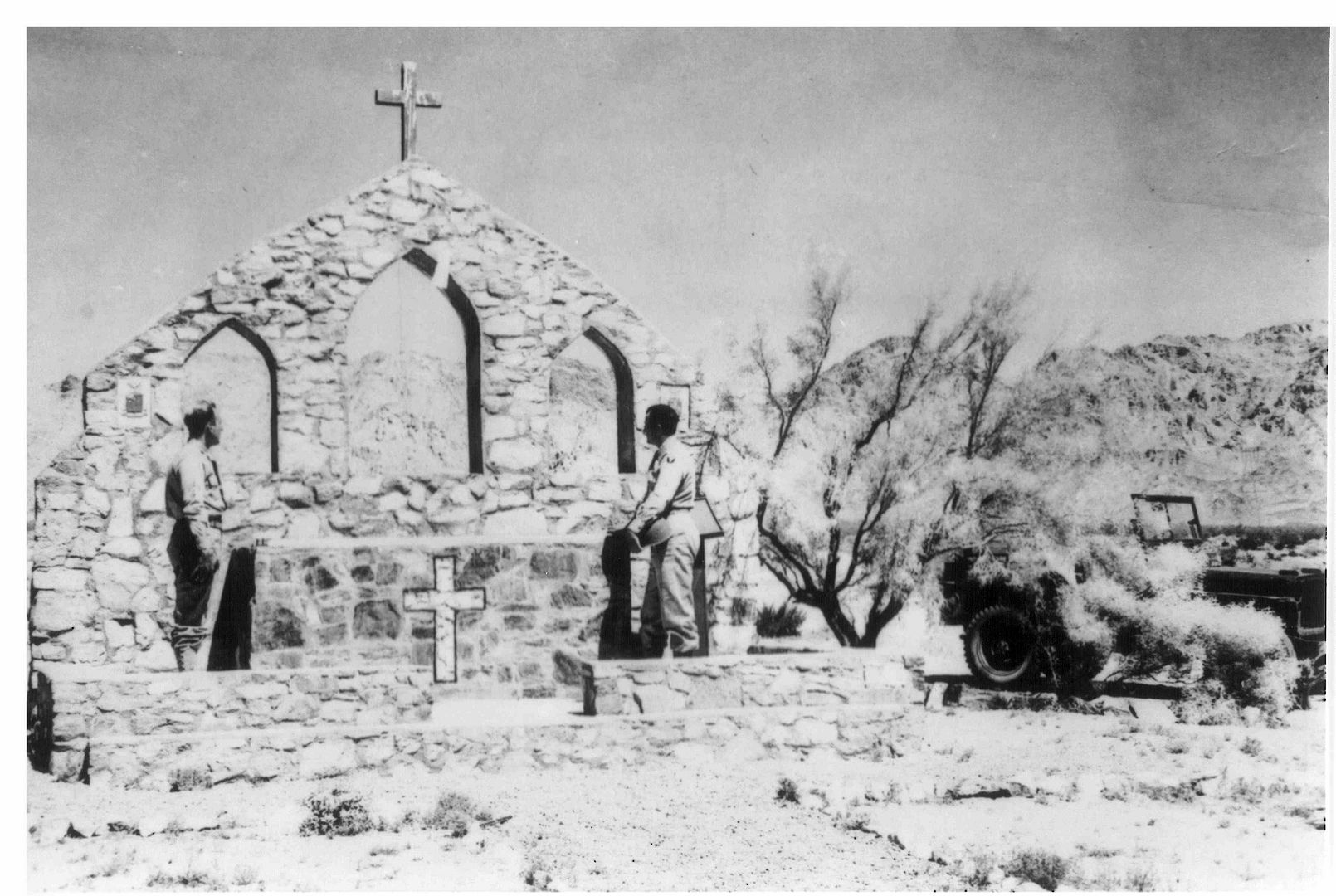 circa 1942 (Bureau of Land Management via Flickr, Public Domain)
For more historical photos of Camp Iron Mountain (and some "Before and After" comparison shots),
click here
.
All photos above circa 2017 unless noted otherwise.