[Last Updated 3/27/21 4:55 PM PT]
When I first visited it in 2011, the Borrego Ranch Resort and Spa hadn't been closed very long.
The former Casa del Zorro wasn't much of an abandoned property.
It was hard to tell it was even abandoned at all.
It occurs to me now that I was trespassing, but I didn't mean any harm.
The jackrabbits and the birds had already decidedly...taken over.
Though the pools and the hot tubs were still bubbling...
...with their still-working filters...
...the manmade creek that ran through the property had been drained.
I didn't know that it was to be sold in 2013 and reopen as La Casa del Zorro, as it was named in 1960 when newspaper magnate James Copley purchased the property.
I also didn't know that when it originally opened in 1937, it was just a simple adobe house known as "Burks Ranch" (named after Dana Burks, an early developer of Palm Springs).
Later, it was to become Desert Lodge, the first grand-scale golf resort in Borrego Springs, at a time when the town's permanent population topped out at 25.
In fact, it had only been known as Borrego Springs Ranch for a short time—just over a year (2008-9).
Almost everyone has known it as La Casa del Zorro (home of the fox), even when it was closed.
I only just found this out for myself.
As it turns out, adobe walls still abound, amidst the resort structures and casitas that have popped up over the last 80 years.
Subsequent modernizations haven't removed the red terracotta roof tiles.
And reportedly, the resort's bar/lounge—The Fox Den Bar—is a mid-century time capsule, not to be missed.
Though somehow I've missed it on every visit thus far!
I won't miss it next time. Stay tuned for this post to be updated with dispatches from The Fox Den.
Update 3/27/21—
Well, despite my best efforts, I still have not made it to The Fox Den Bar, as it's been closed for the
pandemic
for over a year. I was actually going to try to stay at La Casa del Zorro this March, but the timing of
my vaccination
and work schedule and wildflower season and hotel availability all worked against me.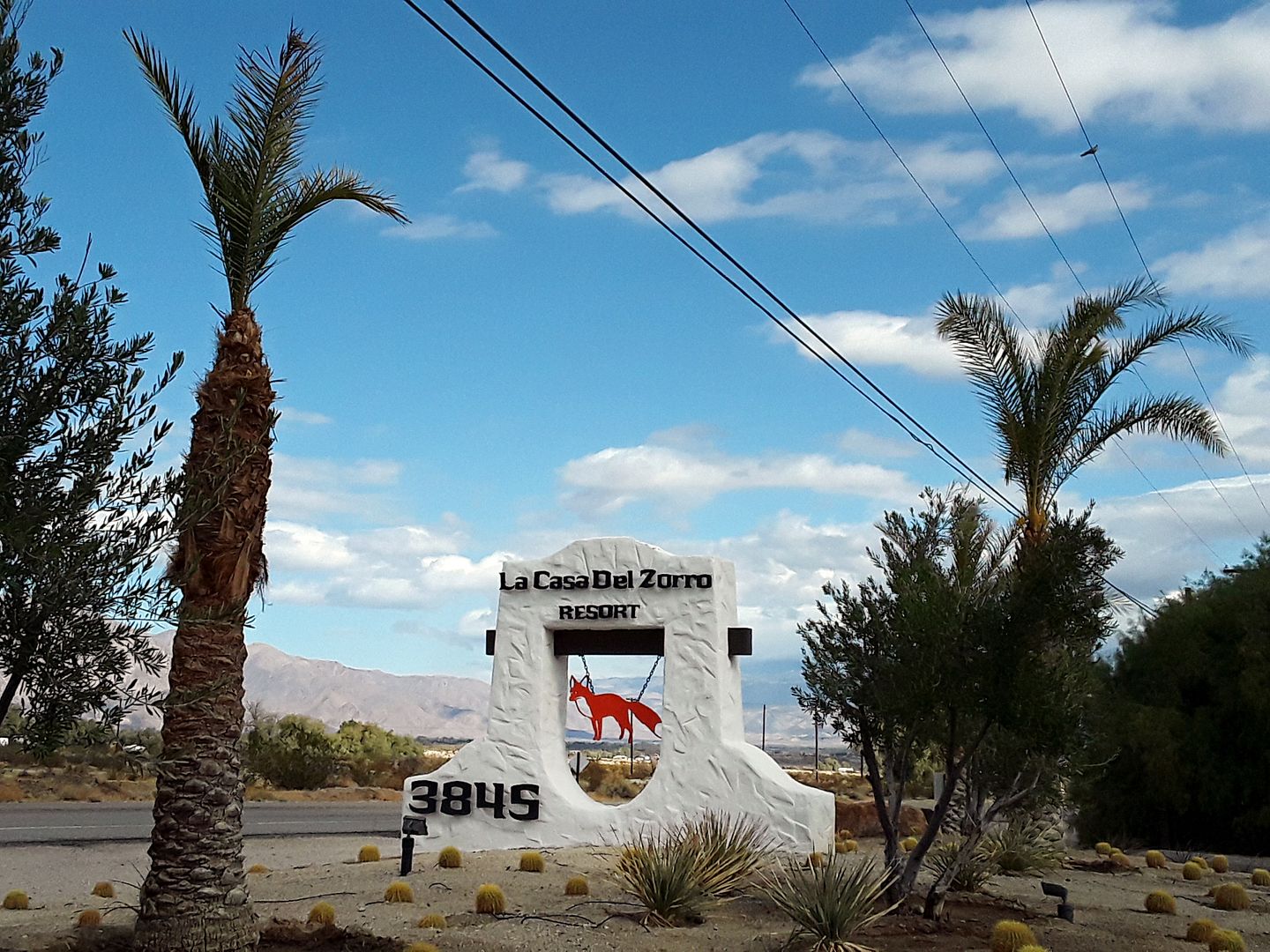 So although I was in Borrego Springs this past weekend, I had to stay somewhere besides La Casa del Zorro—and only managed to snap a couple of current photos of its entrance.