After freelancing for our local LA public media station KCET since 2015, in July of last year I took an inhouse position there—one that may or may not be temporary. While working as a digital producer there, I've gotten to write, edit, and even help produce a digital short video. This is the story of the making of that video.
As
I posted earlier this week
, I started the year off right by attending the Rose Parade in person—and I hinted that I had more to say about the Burbank Tournament of Roses float.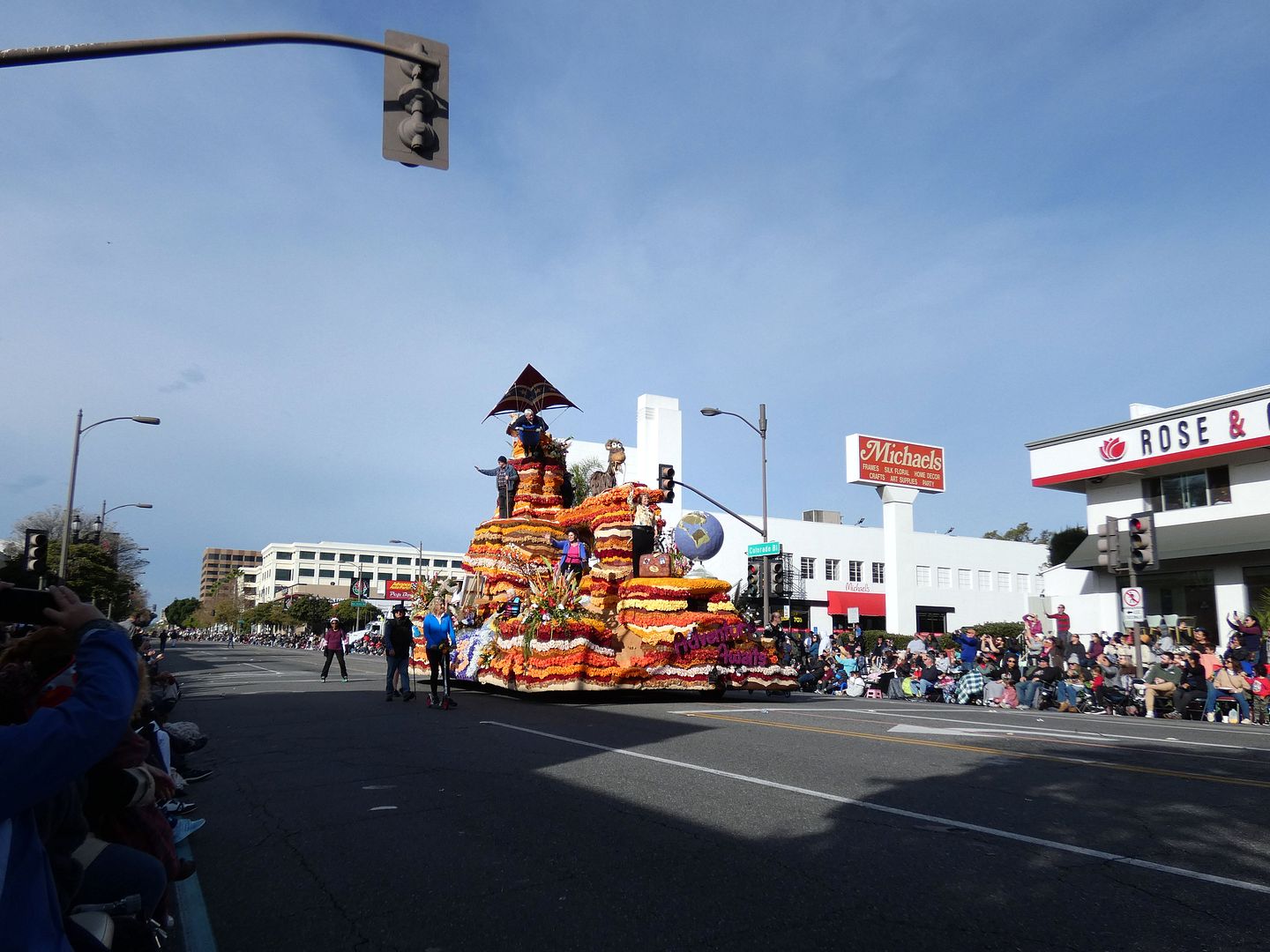 If you saw the parade, it was the float that kind of looked like Utah—with a guy hang-gliding off of a red-rocked cliff.
But back in late November, my co-producer and I didn't yet know what the story was going to be when we visited the Burbank float barn to grab some footage and do some scouting.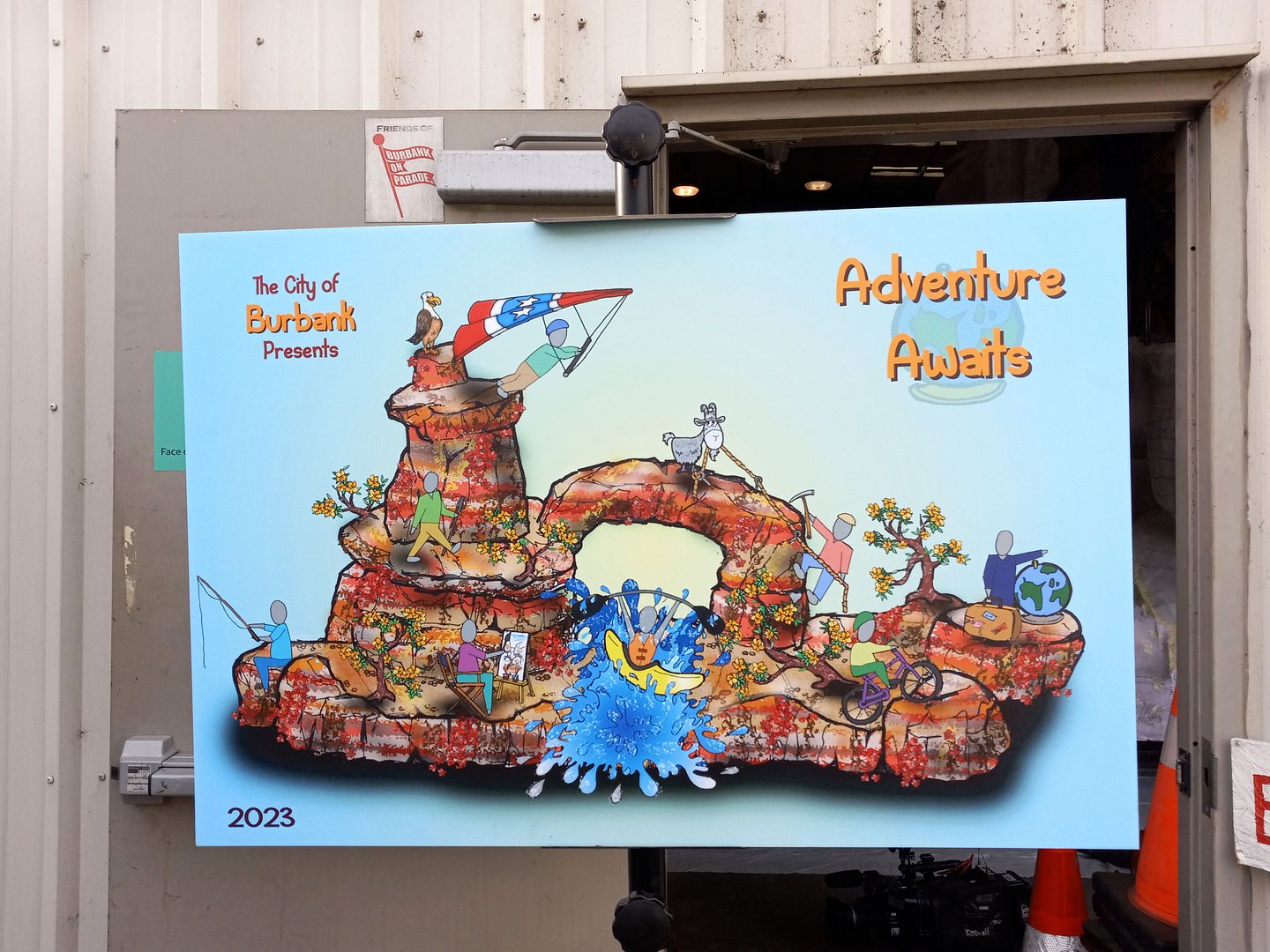 We only knew that the 2023 float theme was "Adventure Awaits"—and that the rendering of it had a whole lot of stuff going on on it.
And we'd wanted to chronicle the making of one of the "self-built" floats—a.k.a. the floats created not by one of the professional float builders (like Phoenix Decorating Company or Fiesta Parade Floats), but entirely by local volunteers.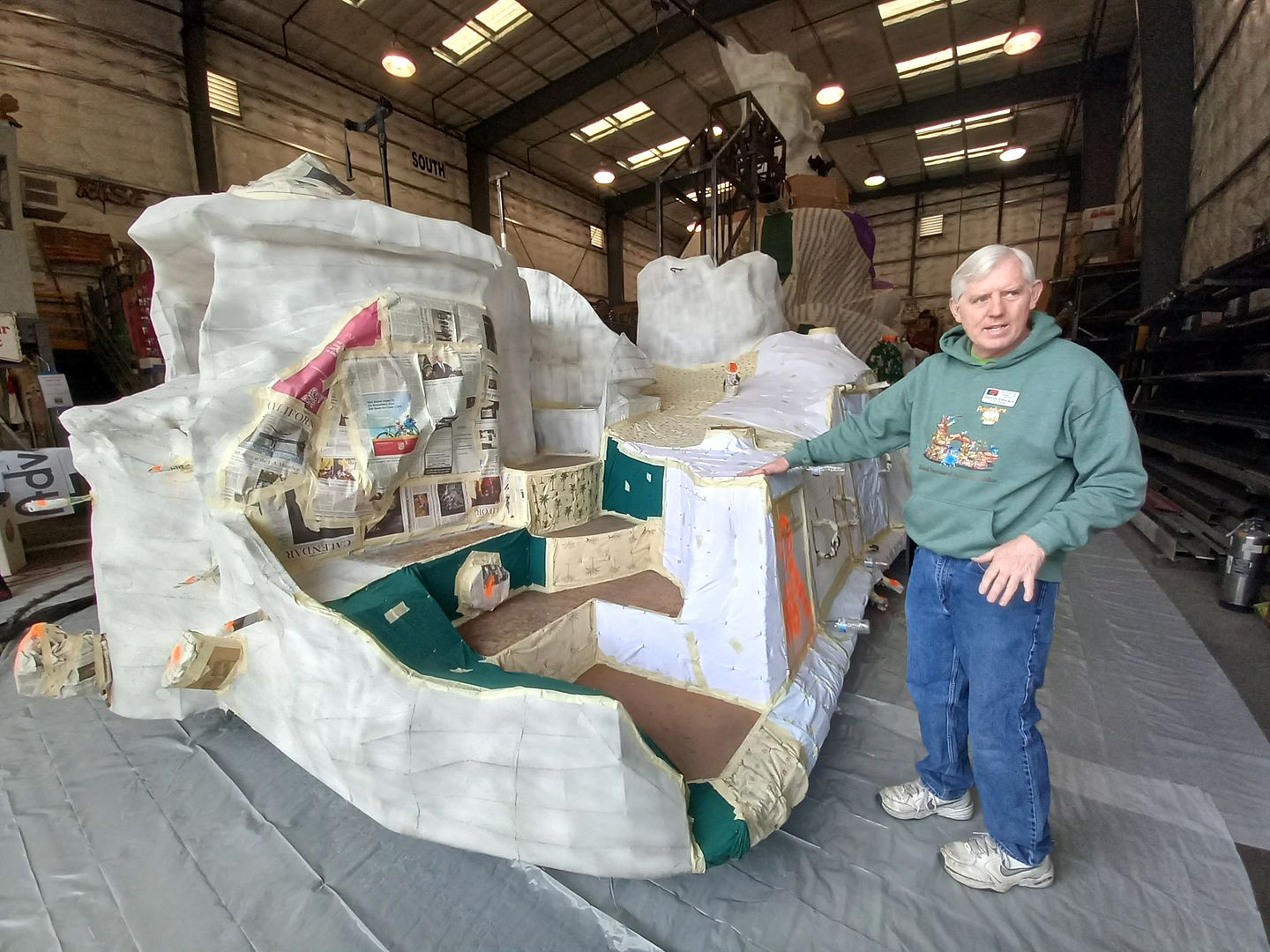 There are only six self-built floats left in the parade—including Sierra Madre, Cal Poly Universities, South Pasadena, Downey, and La Cañada Flintridge—and Burbank's VP of Floats Steven Edwards first showed us the ropes on "foaming day." (That's when pros in hazmat suits spray a space-filler-like foam to cover the superstructure, generally made out of cardboard and chickenwire covered by bedsheets and built upon a chassis that gets reused every year.)
The float process takes all year—and there's even some overlap, as the Burbank float team was already preparing for the design contest for the 2024 float in November 2022. Anyone from anywhere in the world can submit a concept that fits the parade theme determined by the Tournament of Roses Foundation. At the float barn, you can see renderings of many of Burbank's past floats and even some relics of the float builds that were salvaged and not demolished.
This year's Burbank float was "Adventure Awaits"—tied into the parade's overall theme of "Turning the Corner," as we have many corners we turn in our lives. All the "stuff" going on on the float represented all the activities that lie ahead, no matter how old you are: traveling the globe, biking, painting, kayaking, camping, and yes, hang gliding.
Back in November, a month before the "Deco Week" when volunteers place fresh flowers on all the floats, the Burbank volunteers had already made quite a bit of headway preparing dry materials that wouldn't wilt or waste away—like separating the delicate blue petals of statice flowers from their stems and storing them in plastic jars.
In order to comply with Tournament of Roses rules (and earn the approval of judges), all the decorative elements on a Rose Parade float must be of a natural material—flowers, leaves, seeds, beans, fruit, raffia, etc.—and not be dyed.
In early December, we returned to shoot some interviews on the day of the float's first test drive—also the first time that Steven would be hanging from his glider up top. In fact, he'd only been hang gliding once before, specifically to prepare for this feat. He told us it was the most challenging (and maybe dangerous) role among the float riders, all of whom would be in their 50s through 80s—and he wasn't going to have anybody else do it but him.
After passing that float test (one of the major goals of which was to make sure everybody could get out of and off of the float quickly enough during a fire drill), we watched the partially-painted float squeeze through the barn door—with Steven in the driver's seat.
Because there are actually two vertical obstacles for the float to overcome—the barn doorway and the 210 overpass at the end of the parade route—the Burbank builders constructed this one with a collapsable "mountain," whose peak could be sucked down inside the main body of the float.
You can hear Steven and the float's co-designer, Treasurer Robin Hanna—both of whom I got to interview—describe the process in more detail in the above
KCET video
, which I associate produced.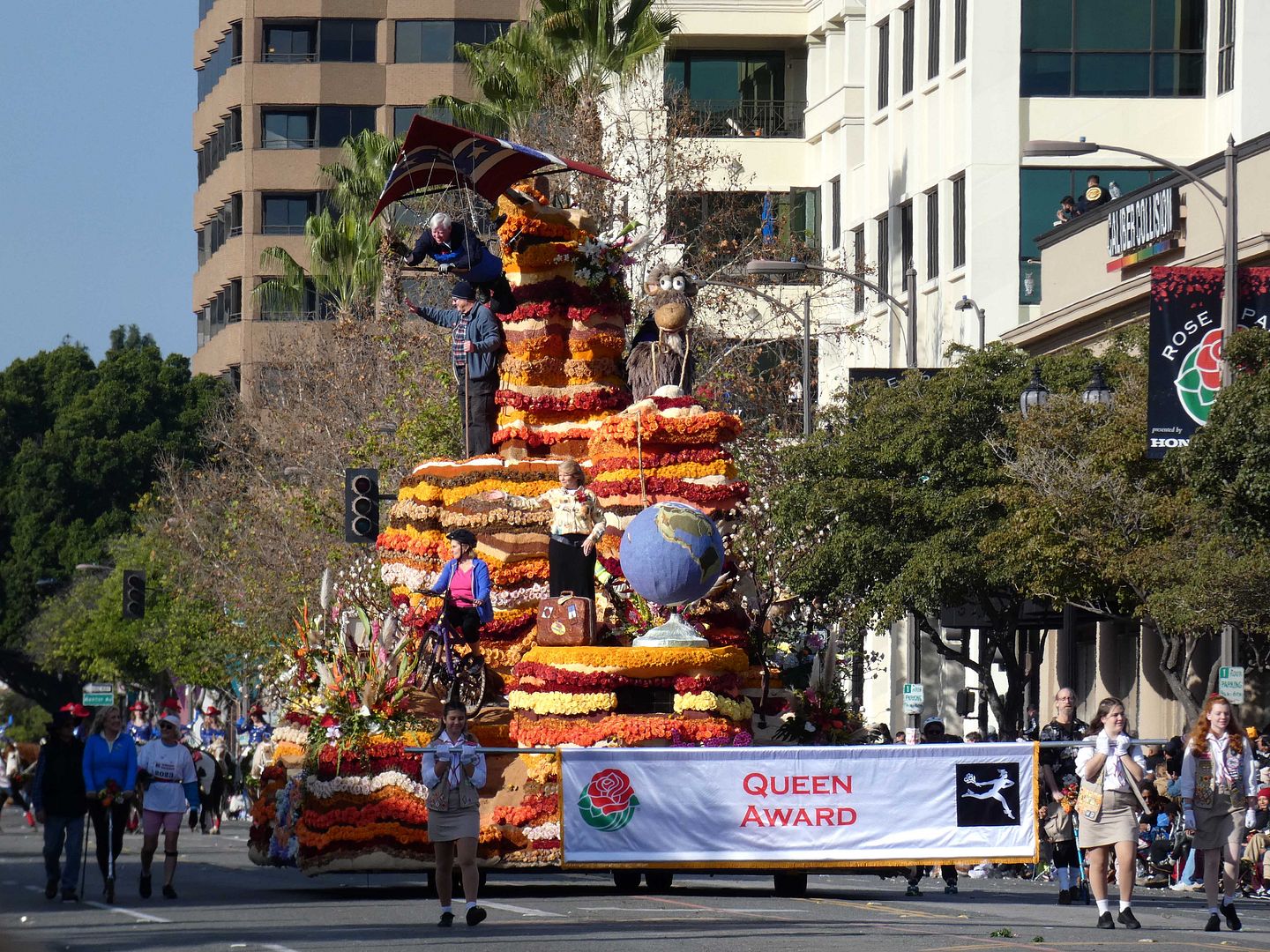 But my interest in the Burbank float didn't end with the completion of the video. I really wanted to see that baby go in the actual parade.
There had been some drama as to whether the main Tournament of Roses organization would even allow Steven to be perched up in that high, seemingly precarious position—so I wasn't even sure if I'd get to see him at all. (Worst-case scenario? They would've had to put a dummy up there.)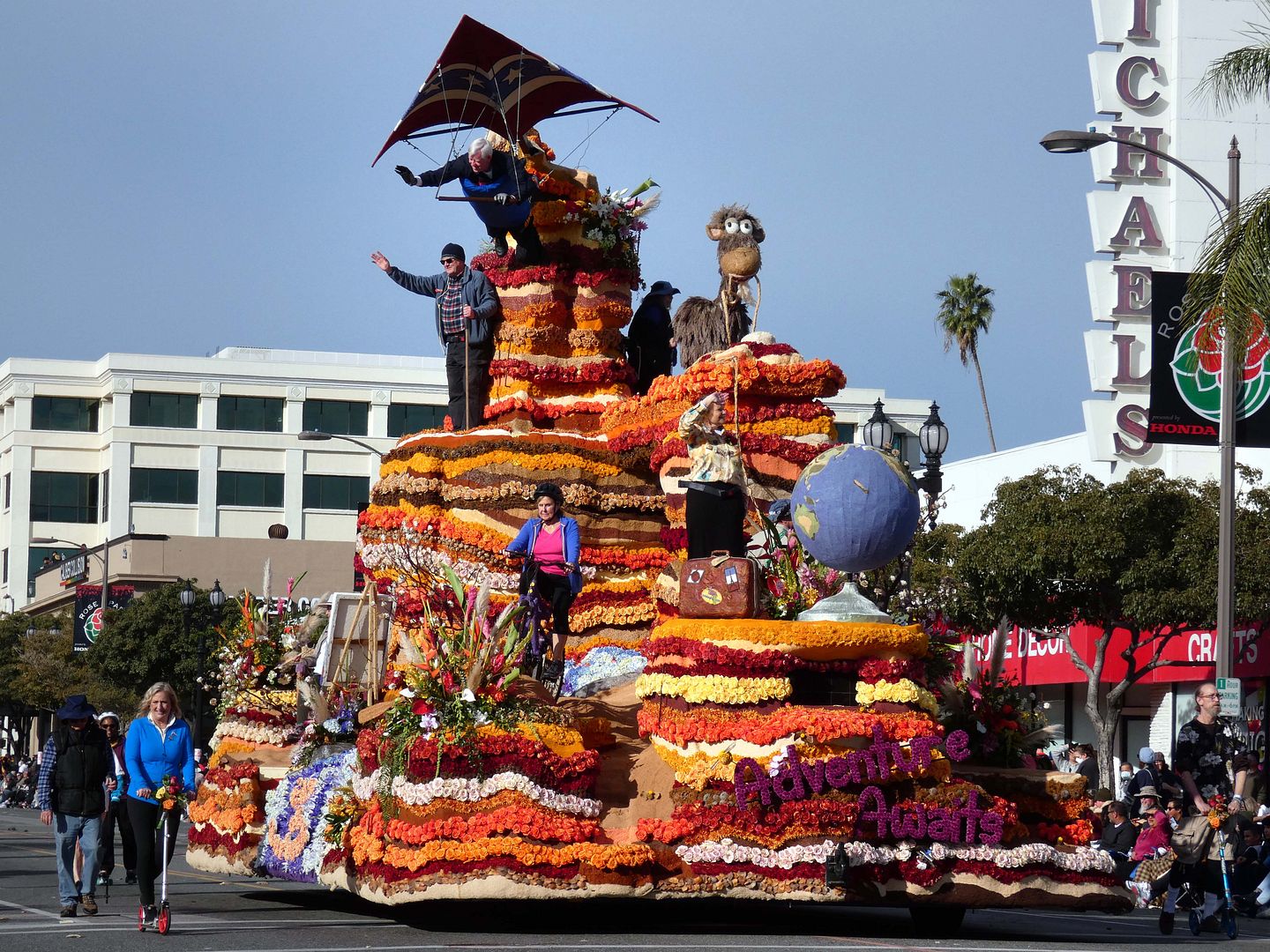 But as soon as I saw Steven release his grip and wave to the crowd, I knew everything would be OK.
What an adventure, indeed! (Now we just have to get Robin up in a hang glider, since that's the one adventure depicted on the float that she hasn't personally done yet.)
A stunning achievement—and an award-winner, too, for best use of roses, which they used to create the rainbow-like landscape of the red rock formation. (After all, it's the Rose Parade, so you've got to have roses!)
There was actually a lot of activity on the float, besides the daredevil stunt of the aerial sort. Other float riders were pedaling a bike and paddling a kayak (that was Robin). The bald eagle's wings flapped, too.
Steven told us that he's devoted much of his life to building floats—not only in his three decades at Burbank Tournament of Roses, but also as a student at Cal Poly Pomona, where he first learned many of the skills he uses today by volunteering to help build their floats.
This year's Burbank float feels like a crowning achievement on his career as an "amateur" float builder—defying both gravity and death as the whole thing floated on eastwardly down Colorado Boulevard.
Congratulations to everyone involved! It was memorable to see it go by—and I hope it inspired spectators and viewers to get out there and take some chances.
Related Posts: