When I attended the
Central Coast Railroad Festival
this year, it wasn't
primarily
for model railroads—but as long as I was in the area, I figured I'd check out a few of the participating ones.
I'm always impressed when a railroader lets their hobby take over their property (either inside or outside their home)—so I was excited to visit the Cascade Peak & Buena Vista Railway in Santa Margarita, California.
The entire layout takes up 2300 square feet of a private home's backyard...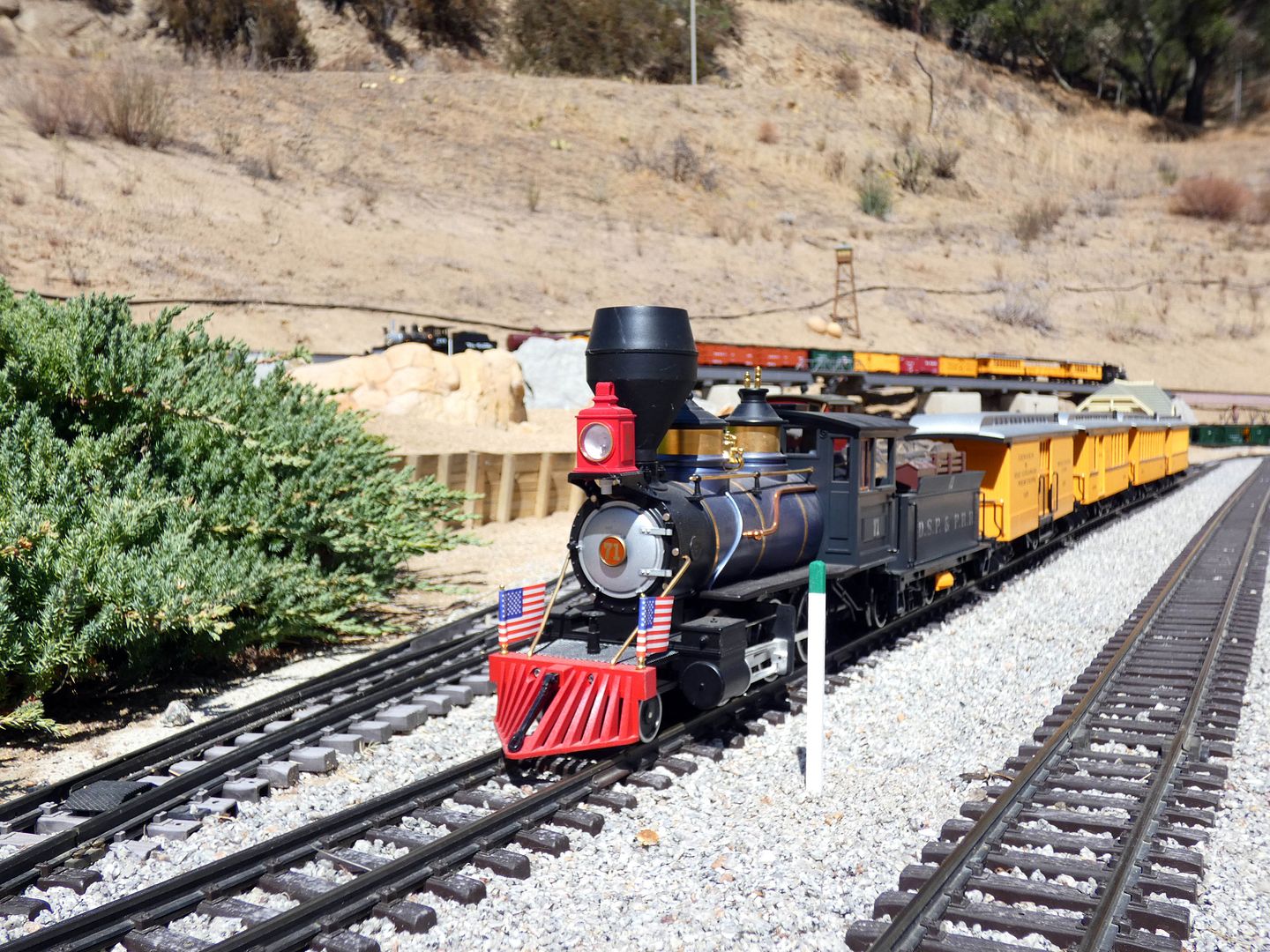 ...including over 730 feet of track...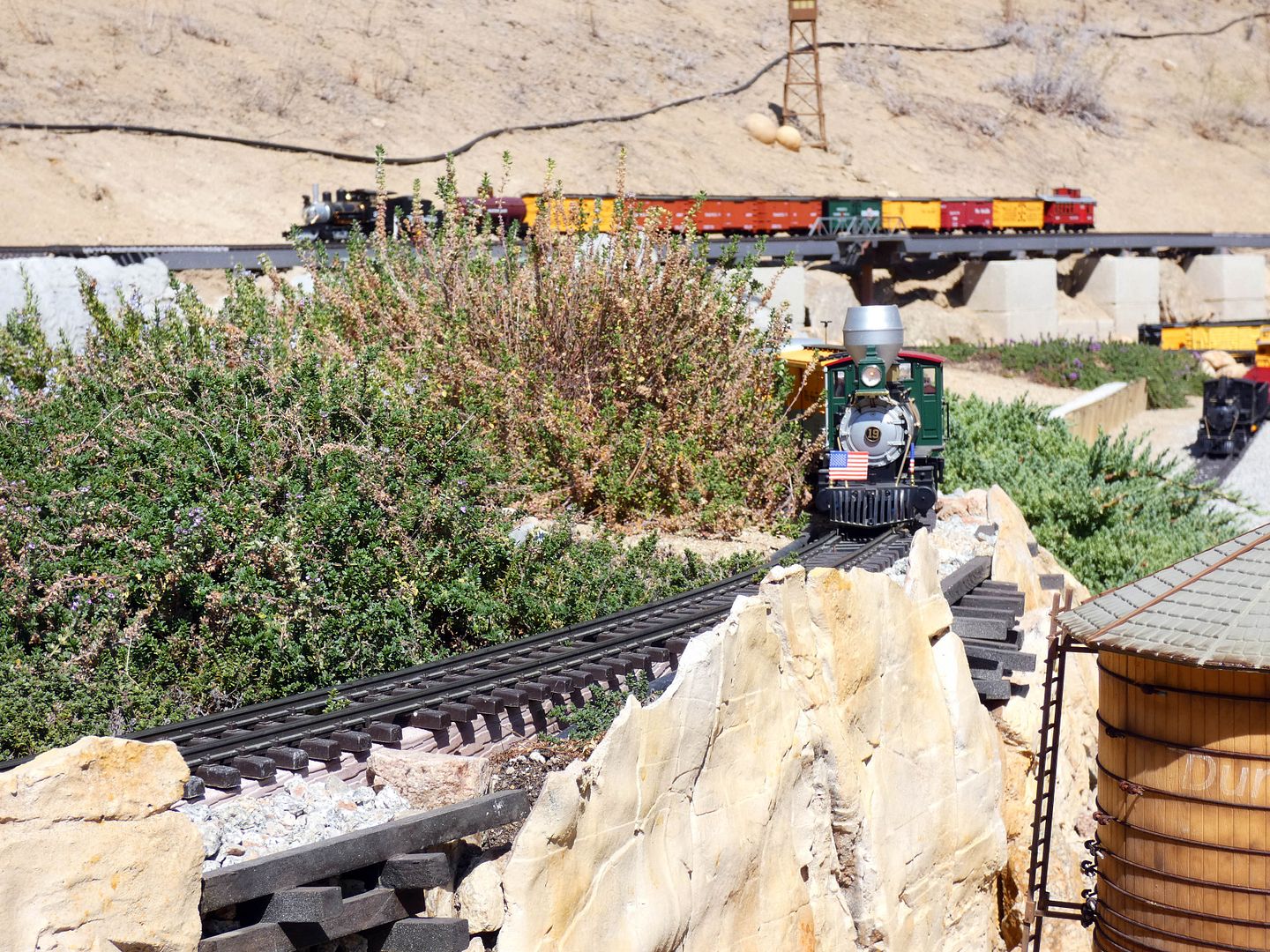 ...laid down on a perimeter loop, a horseshoe curve...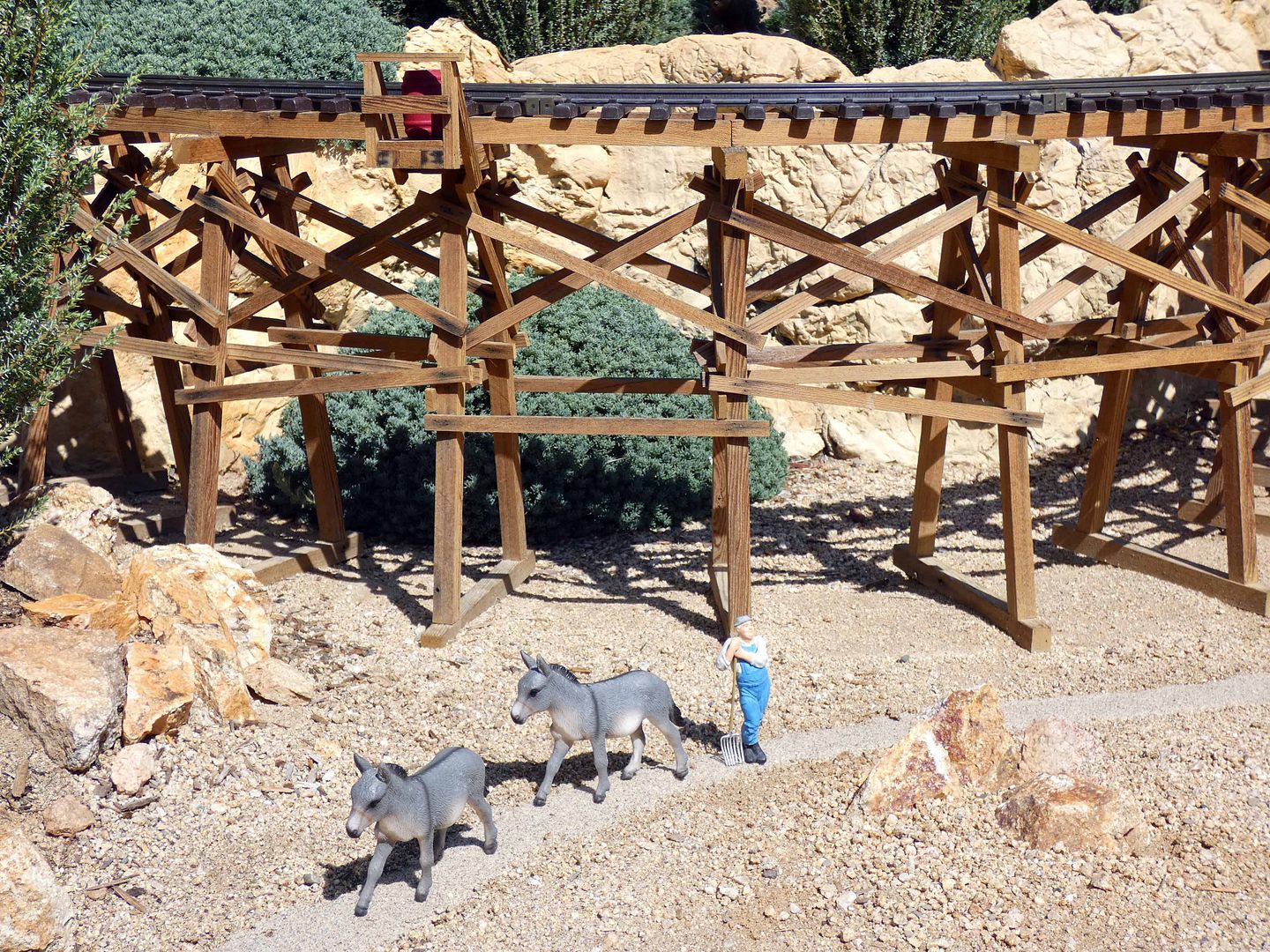 ...and even over a reproduction of the Goat Canyon Trestle over Carrizo Gorge, along the Royal Gorge Route.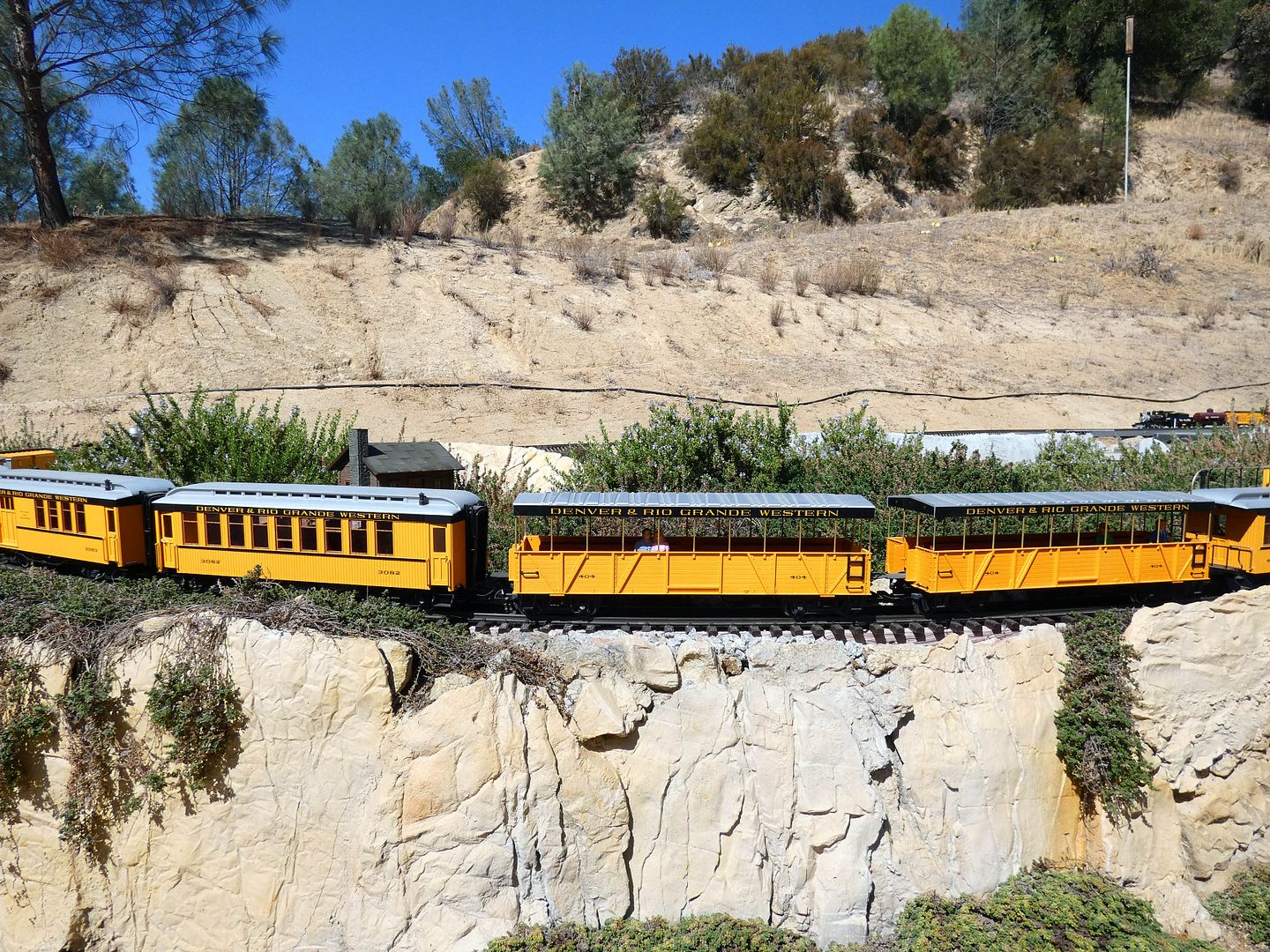 It's a miniature glimpse into California's past...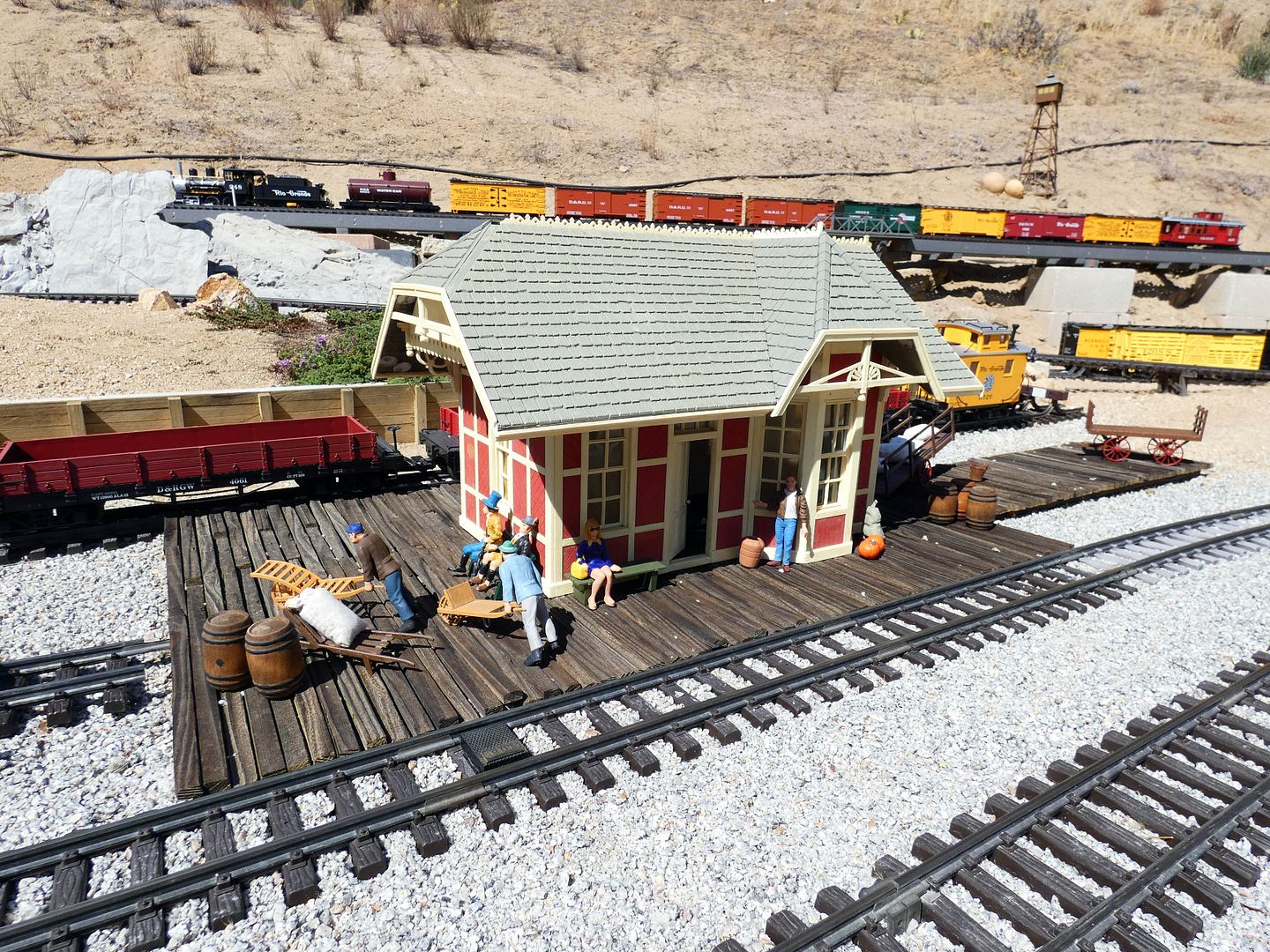 ...where the lines are blurred between reality and fantasy.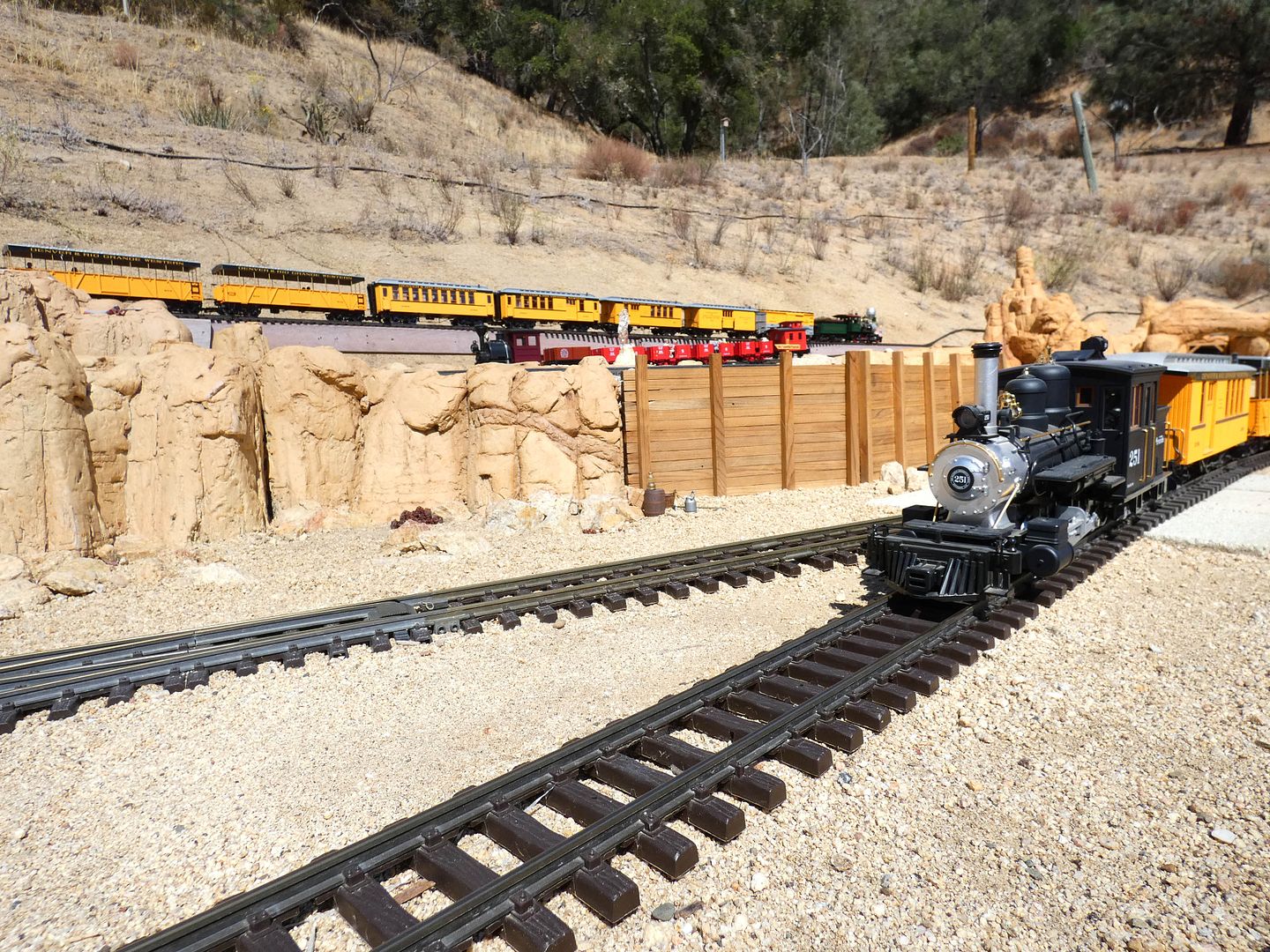 The main rolling stock is Cascade Peak & Buena Vista Railway No. 251...
...a reproduction of the historic Denver and Rio Grande Western scenic railway.
One of the newer additions is the Mine Train...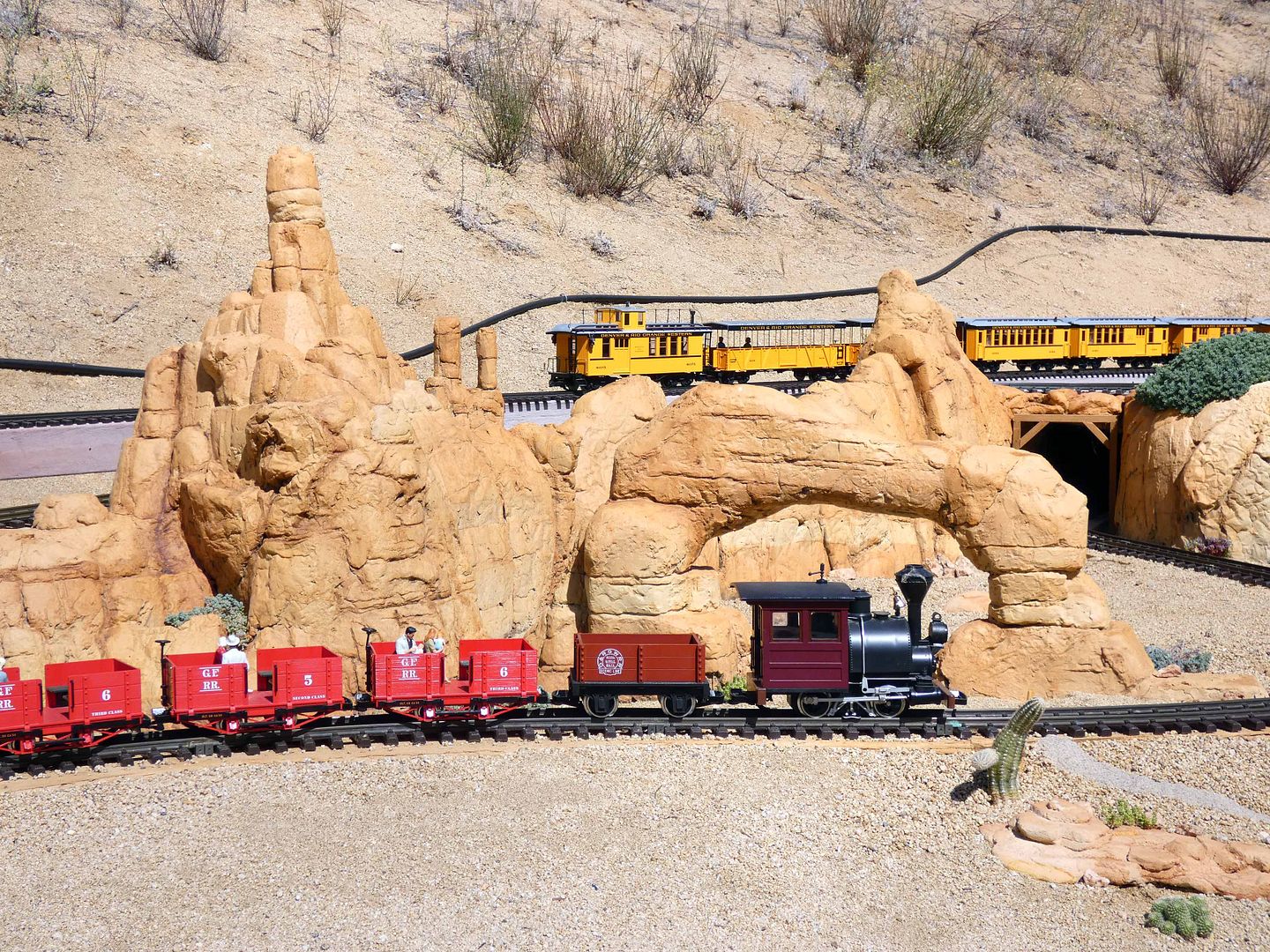 ...which takes its tiny passengers past interesting geologic features and succulents and shrubs...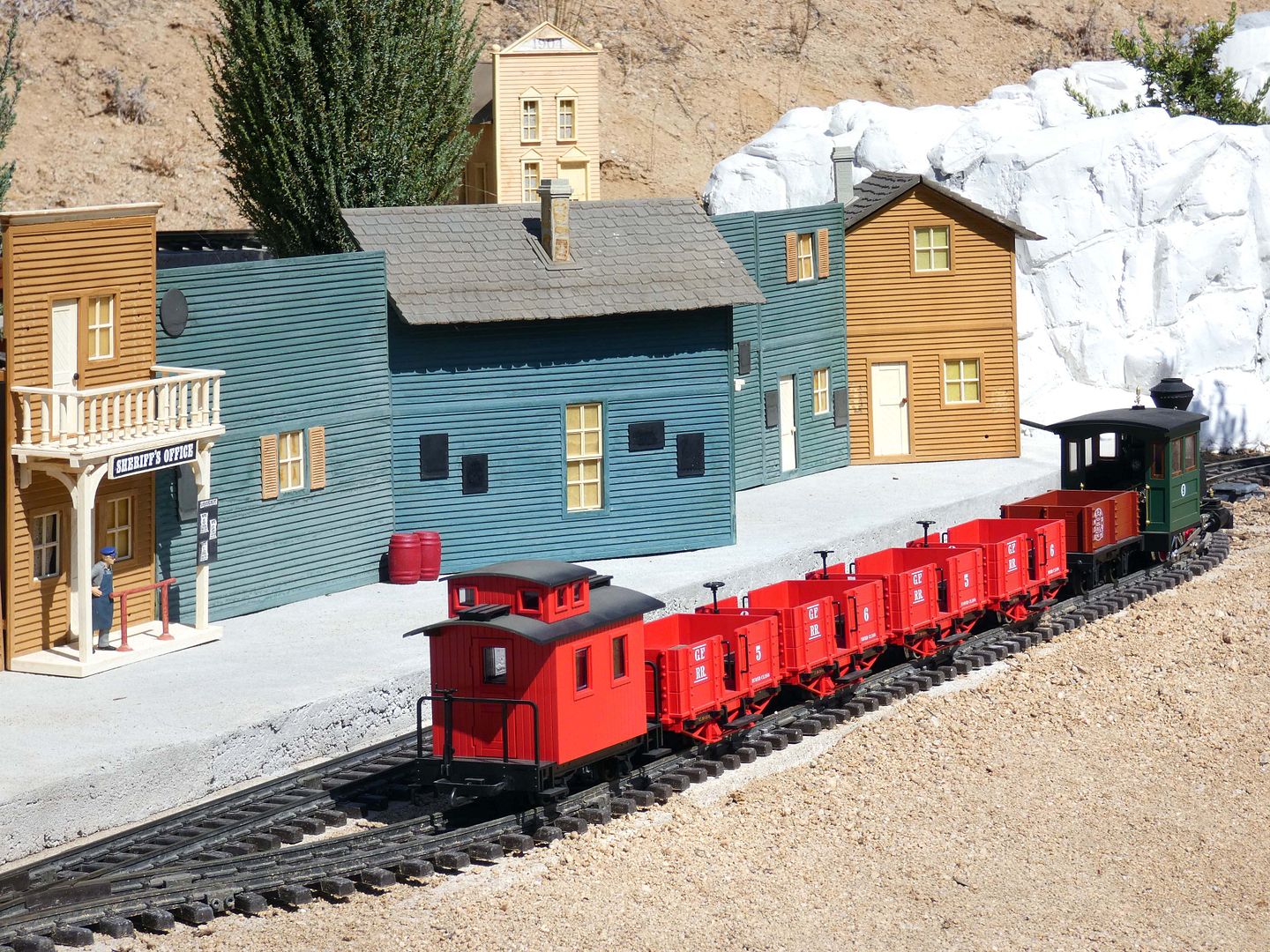 ...and even through a little town.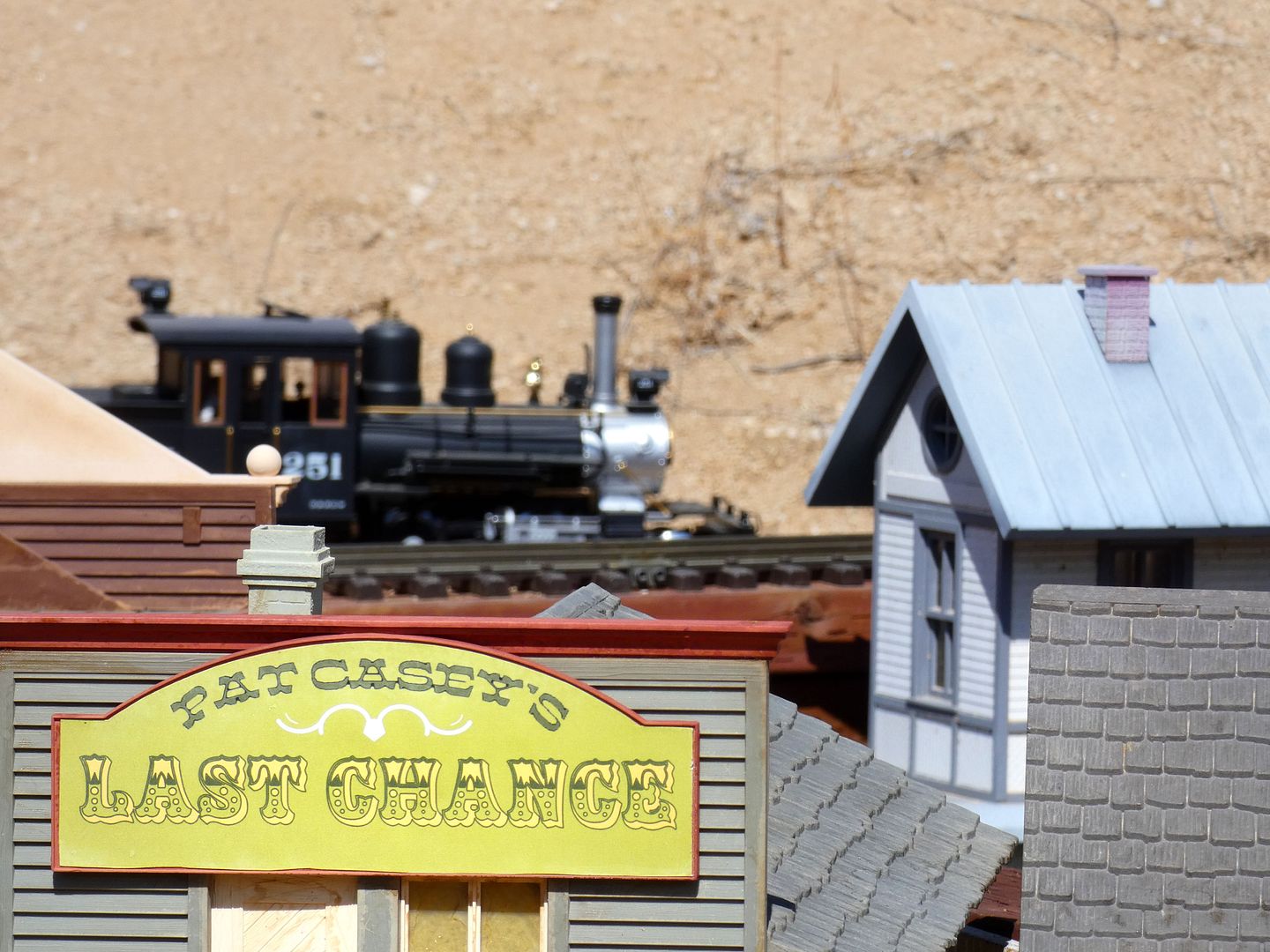 One of the most impressive features of this model railroad, to me anyway, was the use of sound effects.
It wasn't just the trains that made noise.
Each "land" of the railroad (like the "lands" of
Disneyland
) was set up with its own audio soundtrack.
That includes the local geyser, "Ol' Unfaithful" (more on that in a moment)...
...and the Main Street Trolley...
...which runs on a closed loop through town, leaving the tunnels and caverns and rocks to the other trains.
Instead, it just encircles the town gazebo, where you can listen to the townsfolk in their revelry.
The entire model railroad is inspired by Disney and Disneyland in one way or another (like the use of the phrase "Buena Vista," associated with Disney's film releases and various other divisions and properties).
Even today, Disneyland's Main Street
still
has a trolley ride—as does California Adventure's Buena Vista Street (though that's a reproduction of the
Red Car trolley
).
But some of the references are from lost Disneyland features—like the "Kodak Picture Spots," which were replaced by Nikon in 2013, and the "Mine Train Thru Nature's Wonderland," which was replaced by the (extant) Big Thunder Mountain Railroad at Disneyland in 1979. The mine train ride used to pass Pat Casey's Last Chance saloon near Rainbow Ridge.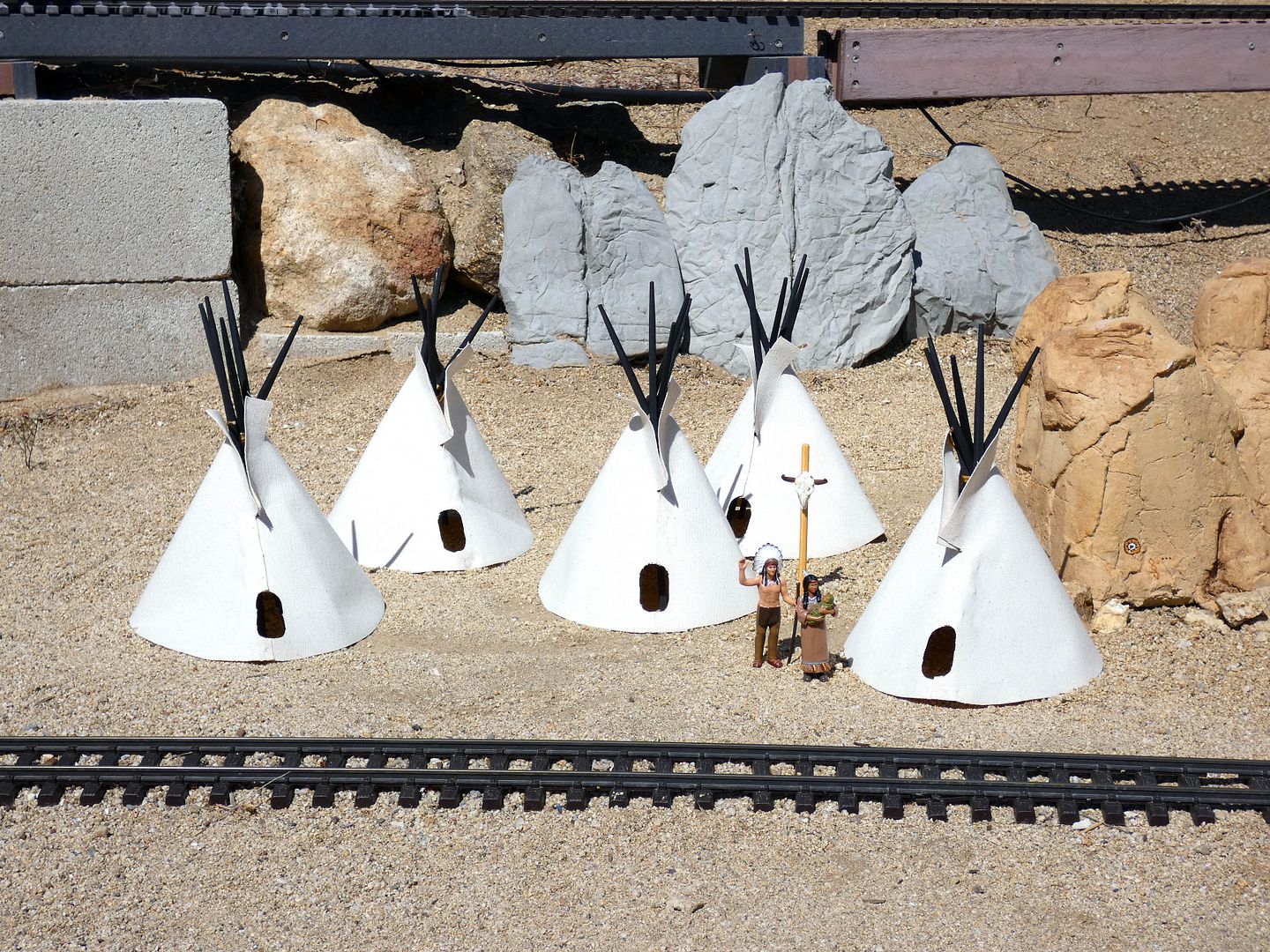 Also lost are the teepees of Disneyland's (now considered culturally insensitive) former Indian Village in Frontierland...
...which opened in 1955 (also the park's opening year) and were removed in 1972 in favor of Bear Country (now Critter Country).
The name "Cascade Peak" itself refers to a former high-altitude waterfall of Frontierland along the (extant) Rivers of America—near an unreliable geyser called "Ol' Unfaithful"—that was demolished in 1998. (Fountains by the Frontier Tower of the Disneyland Hotel in Anaheim currently pay tribute to both.)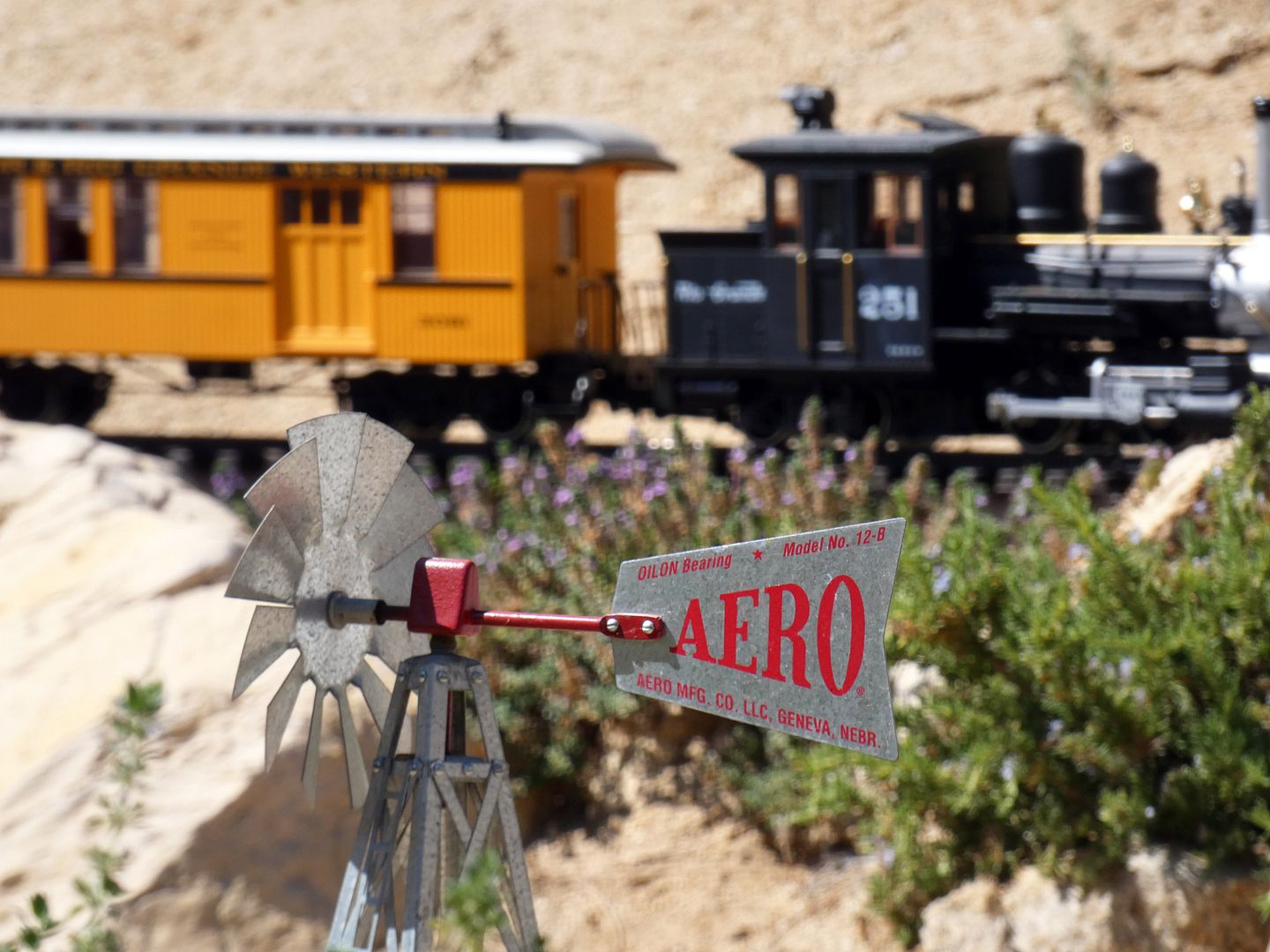 Of course, prior to creating Disneyland, Walt Disney himself ran some Denver and Rio Grande Western rolling stock in his own backyard on the
Carolwood
Pacific Railroad—a train he called the "Lilly Belle," after his wife Lillian (now on permanent display at the Walt Disney Family Museum in San Francisco, not to be confused with the former Grand Canyon observation car, a special parlor car also called the Lilly Belle that sometimes runs on the Disneyland Railroad at the park).
There are more lands planned to be built on the eastern end of the layout—so I may find myself back at Cascade Peak & Buena Vista Railway sometime in the future.
The Disney touches are subtle—and you might overlook them completely if you don't look closely enough (or if you're only familiar with Disneyland in its current Star Wars-ified iteration).
I wish I'd seen some of these lost Disneyland attractions in their full size in person—but I didn't get to the park
until I was 40 years old
and much too late.
Related Posts: