By the time I first got to visiting Barris Kustoms in North Hollywood, California, its founder and namesake George Barris had already passed nearly three years before.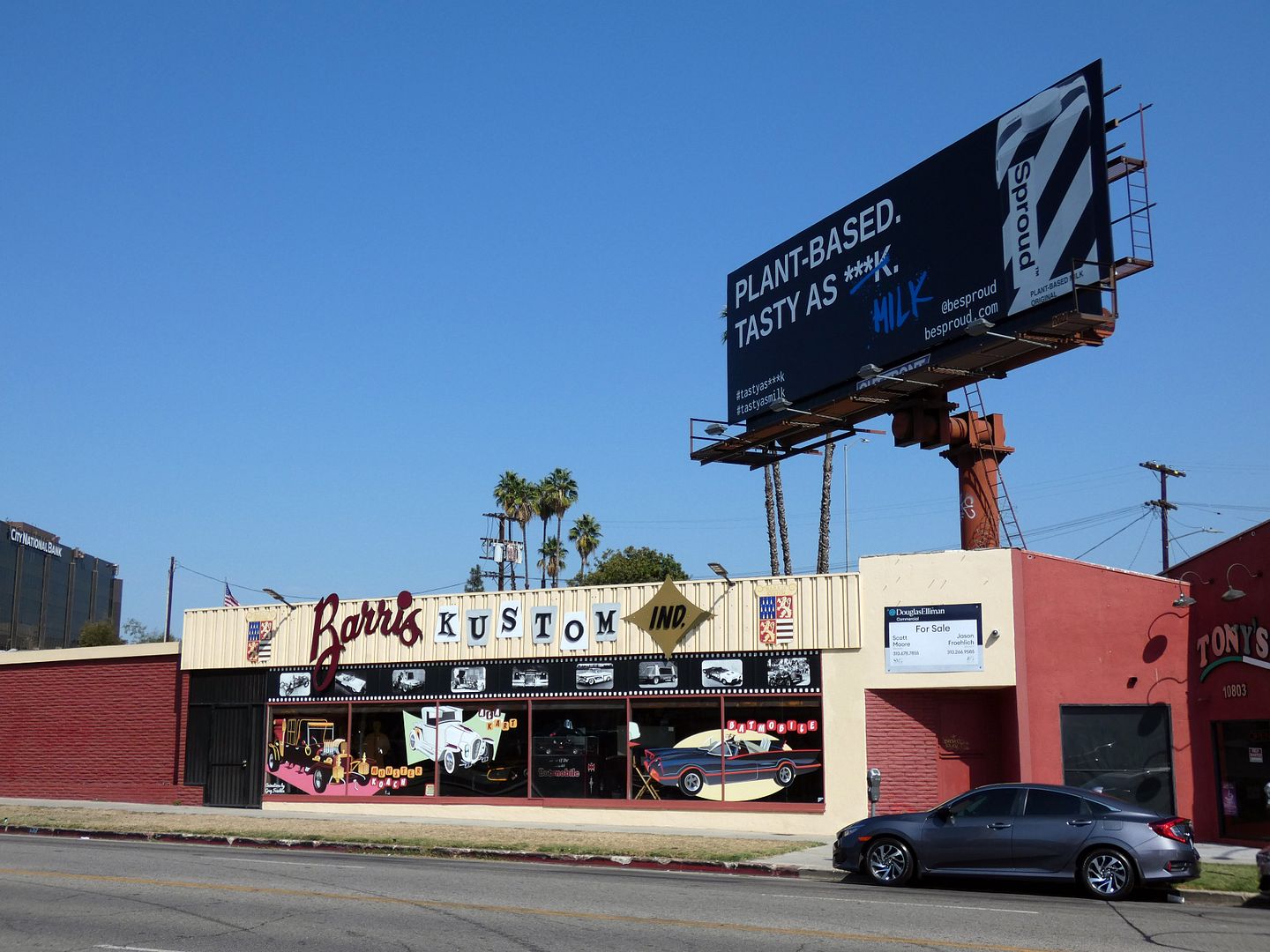 I think I had a sense back then that his car customizing shop—long known as "Barris Kustom City," long before
Pimp My Ride
—might not be long for this world once he was gone.
circa 2018
Unfortunately, I didn't actually get inside during that visit, as the event was more of an estate sale of comic books and other ephemera rather than an open house.
I knew even back then I'd have to go back.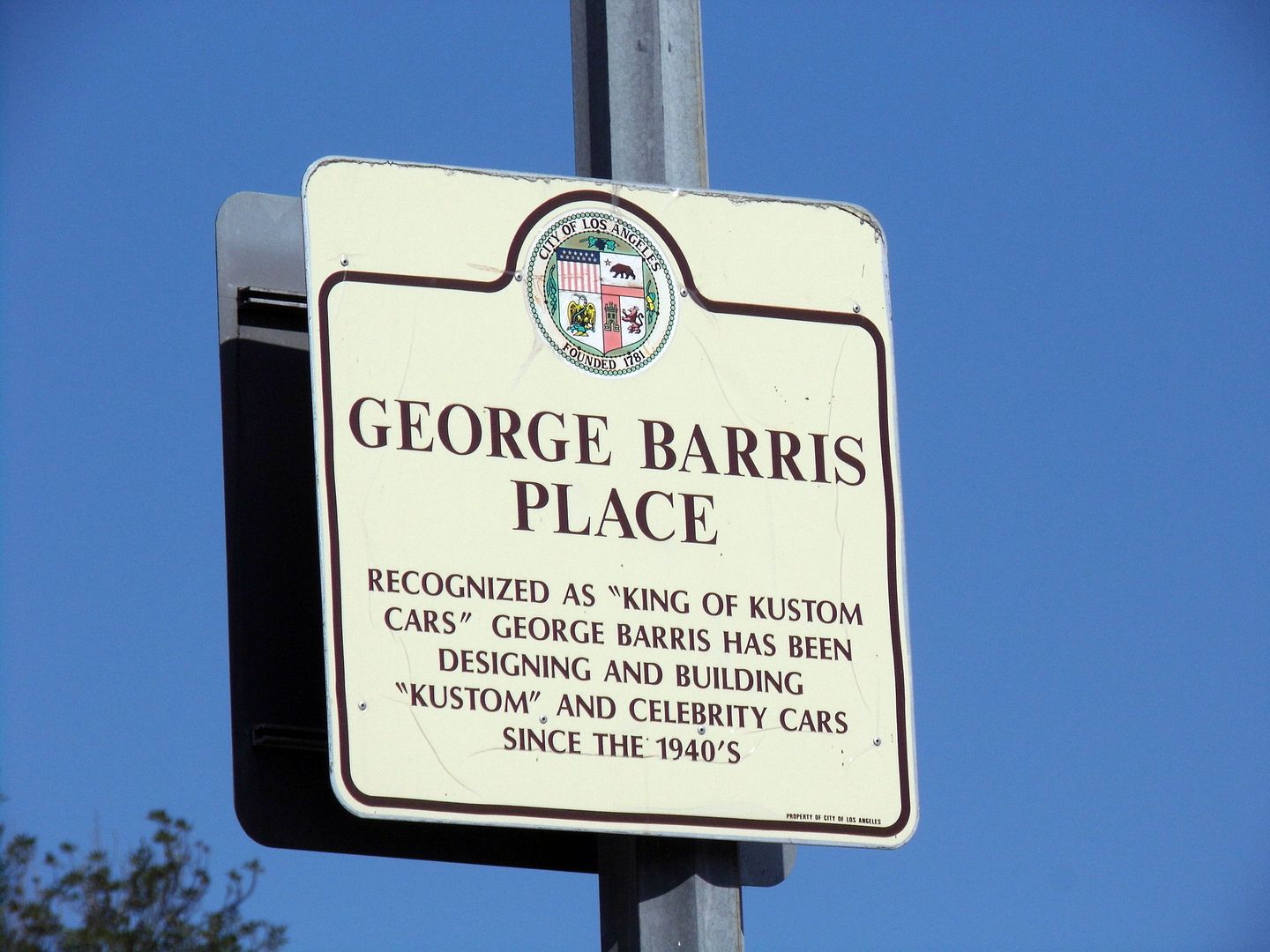 But that need became even more urgent in August, when it was announced that the Barris family would be closing the North Hollywood garage and relocating its contents closer to them in Ventura County.
I didn't know that for all these years, Barris Kustoms had been open to the public one day a week—on Wednesdays. By the time I started to try to go again, though, Wednesdays were no longer a regular thing—instead switching to Saturdays. I showed up on Wednesdays to locked gates a couple of times before I figured that out.
So what's the big deal about getting inside Barris Kustoms? Well, for one, that's where the Batmobile lives.
There were, of course, more than one Batmobiles from the 1960s television series starring Adam West—but this is the exhibition replica that the family owns and sometimes brings out for special events and appearances.
The Batmobile, built by Barris Kustom Industries, is widely considered "the world's most famous car."
But George Barris was known for plenty of other "show cars," too—including The Munsters "Koach."
Barris made the original from three Ford Model T bodies, which explains its 18-foot length.
Barris also made Grandpa Munster's "DRAG-U-LA" from the TV show—which was essentially a drag-racing coffin. (The original is owned by a private collector.)
When I finally returned to Barris Kustoms—for perhaps its last-ever open house, on the last Saturday of September 2021—I realized how much there was to see inside the showroom.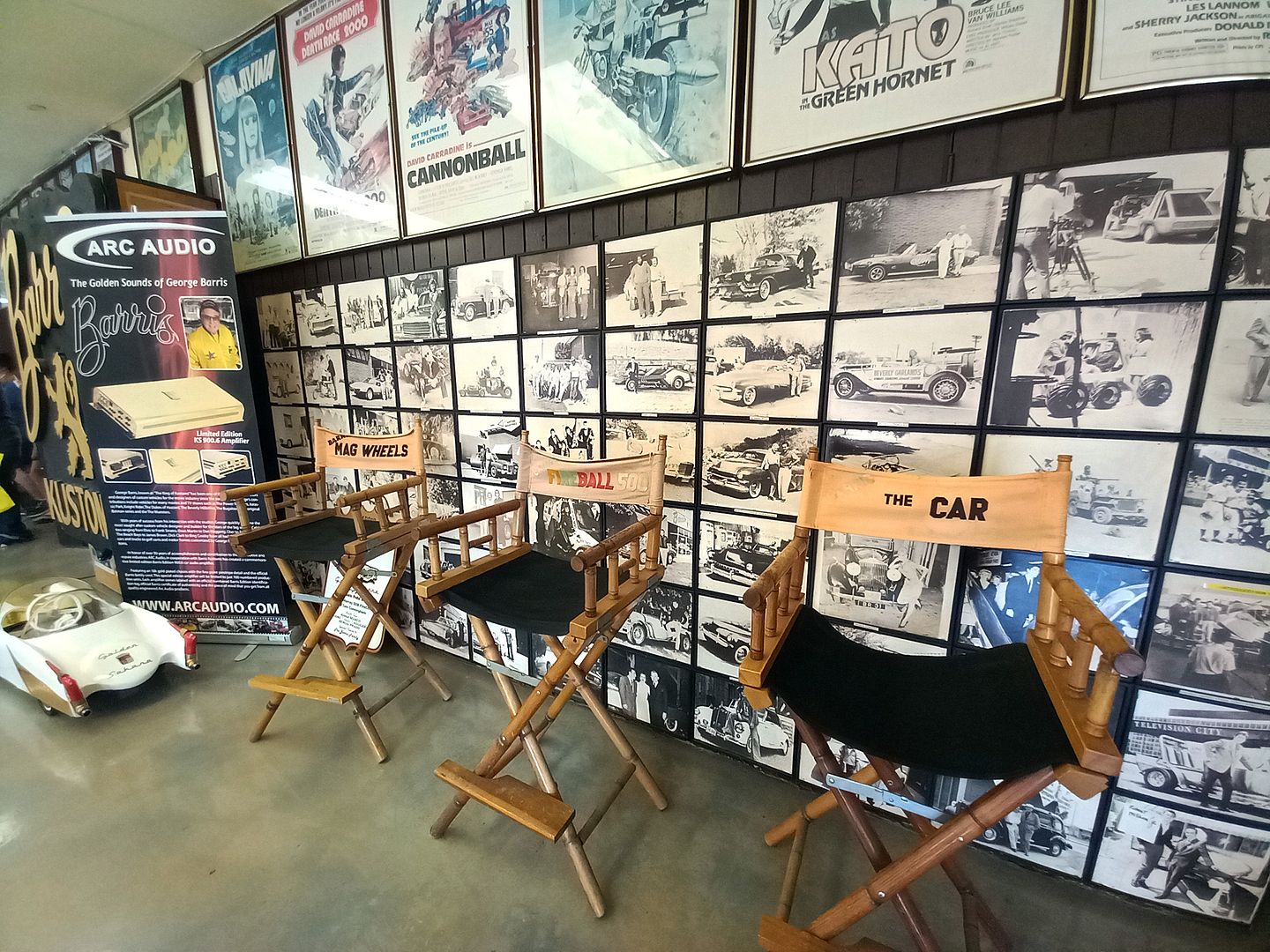 That is, I realized how much I'd missed the first time around—including walls absolutely covered in production stills, publicity shots, behind-the-scenes photos, and more.
There's so much more to the George Barris portfolio than the Batmobile—including the Clampett family's truck from The Beverly Hillbillies.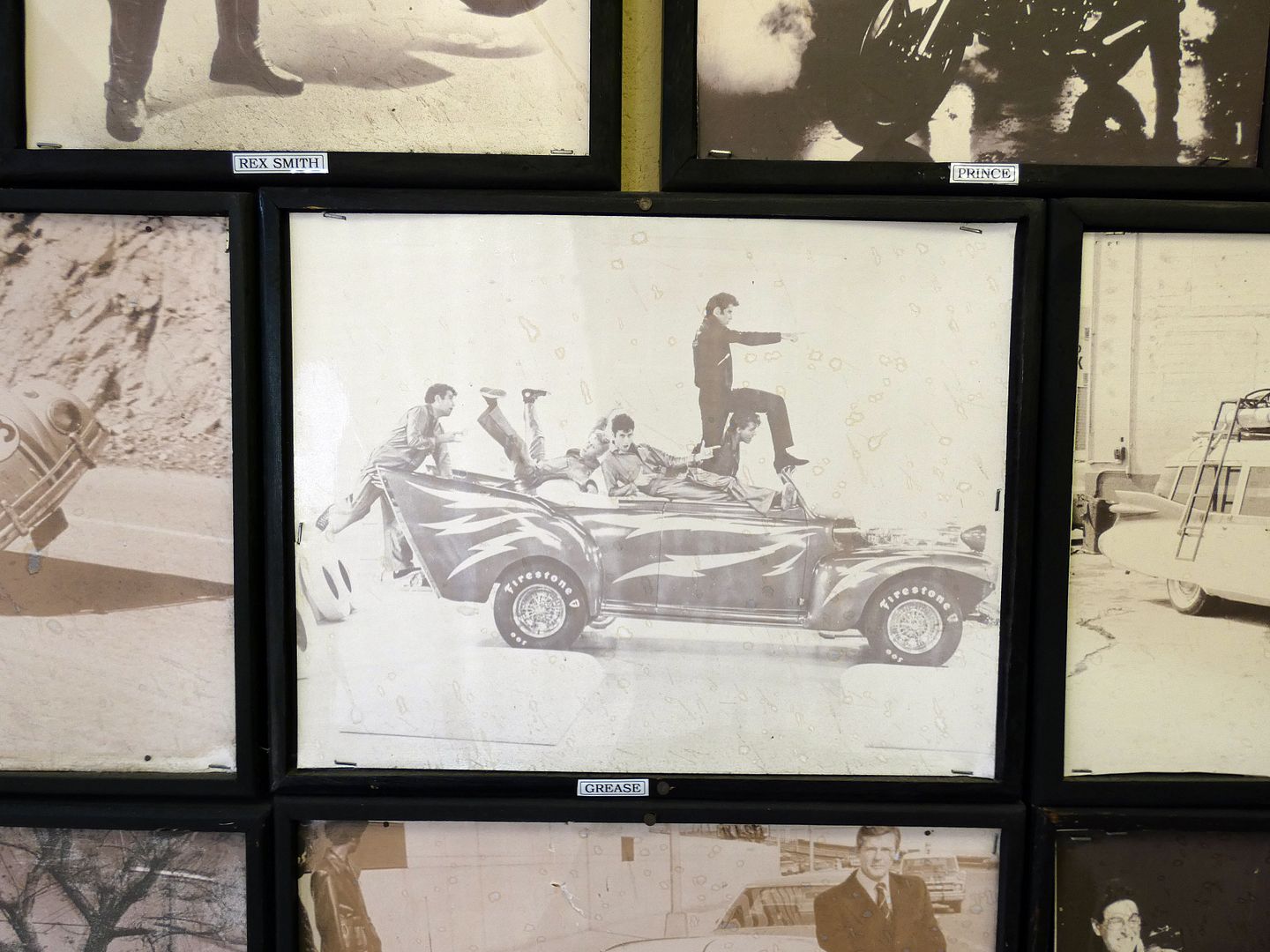 There was also, of course, my childhood dream car—the "Greased Lightning" car from
Grease
. Well, the
fantasy
version of it from the song, anyway—not the actual one that helped Danny Zuko win the
Thunder Road
race.
The life-sized one isn't housed at Barris, but at the
Petersen Automotive Museum
—which rolls it out occasionally for movie screenings (like the
Grease
40th anniversary screening I got to see in Beverly Hills in 2018).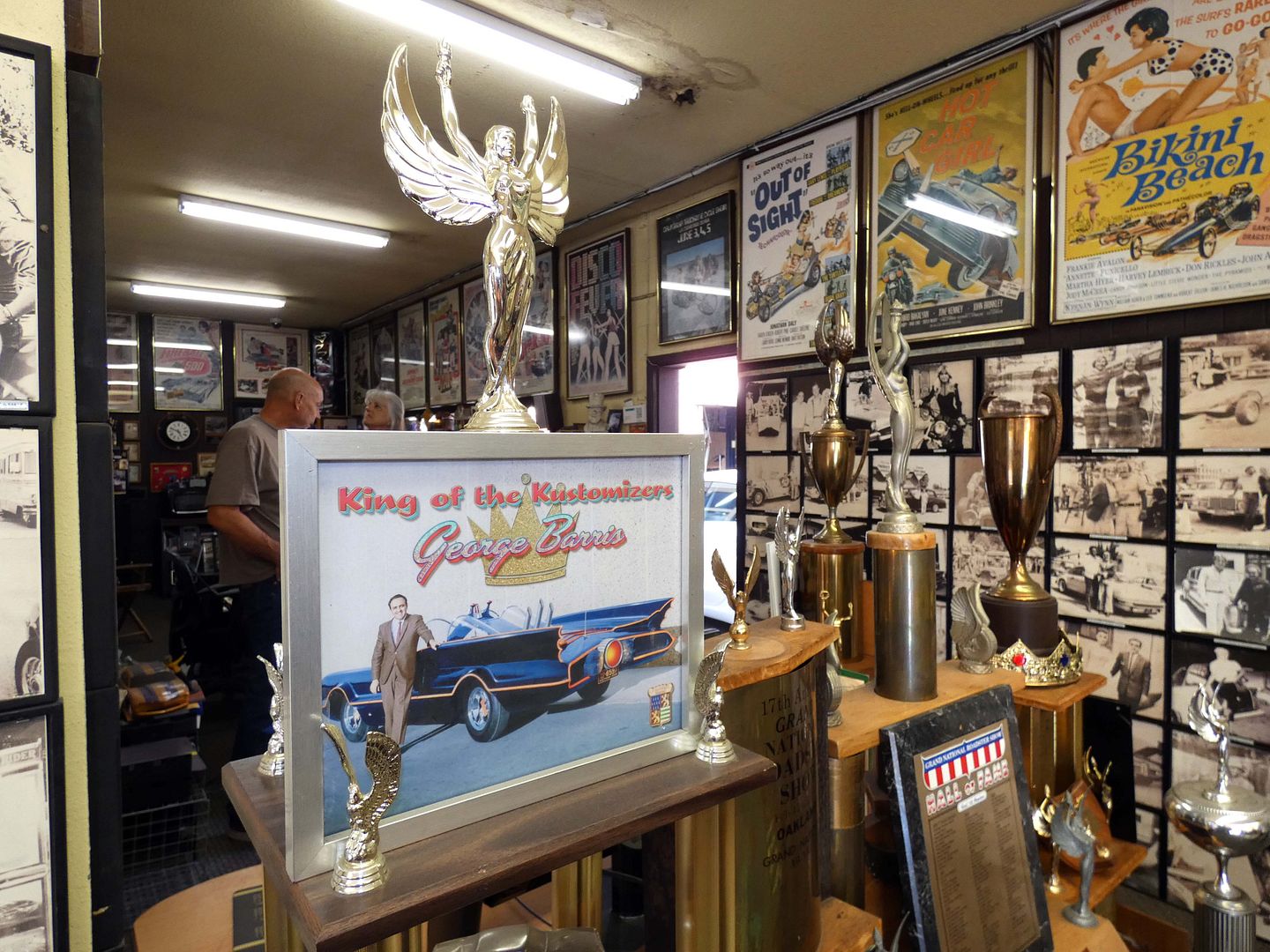 Today, the Barris Kustoms shop pays proper homage to its founder, who's widely known as "King of the Kustomizers."
Born George Salapatas in 1925, Barris died in 2015 at the age of nearly 90—but today, his presence is everywhere at the North Hollywood shop.
A framed photo of him now sits in his chair in his office—which also served as a kind of ultimate "man cave" for the avid collector of diecast model cars and hobby kits.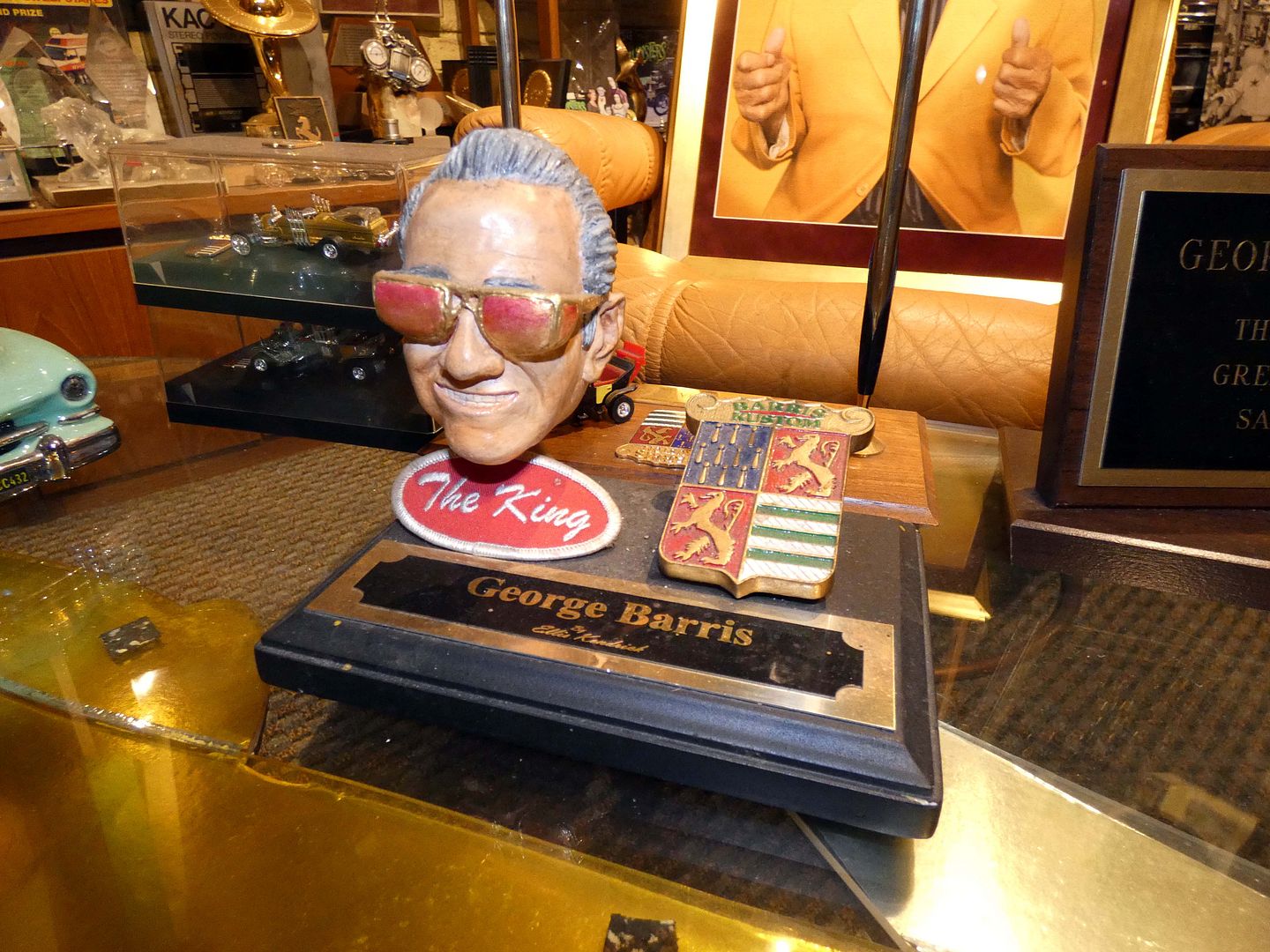 He was the koolest kat of the kustom kar world...
...beloved by Hollywood and hot rodders alike.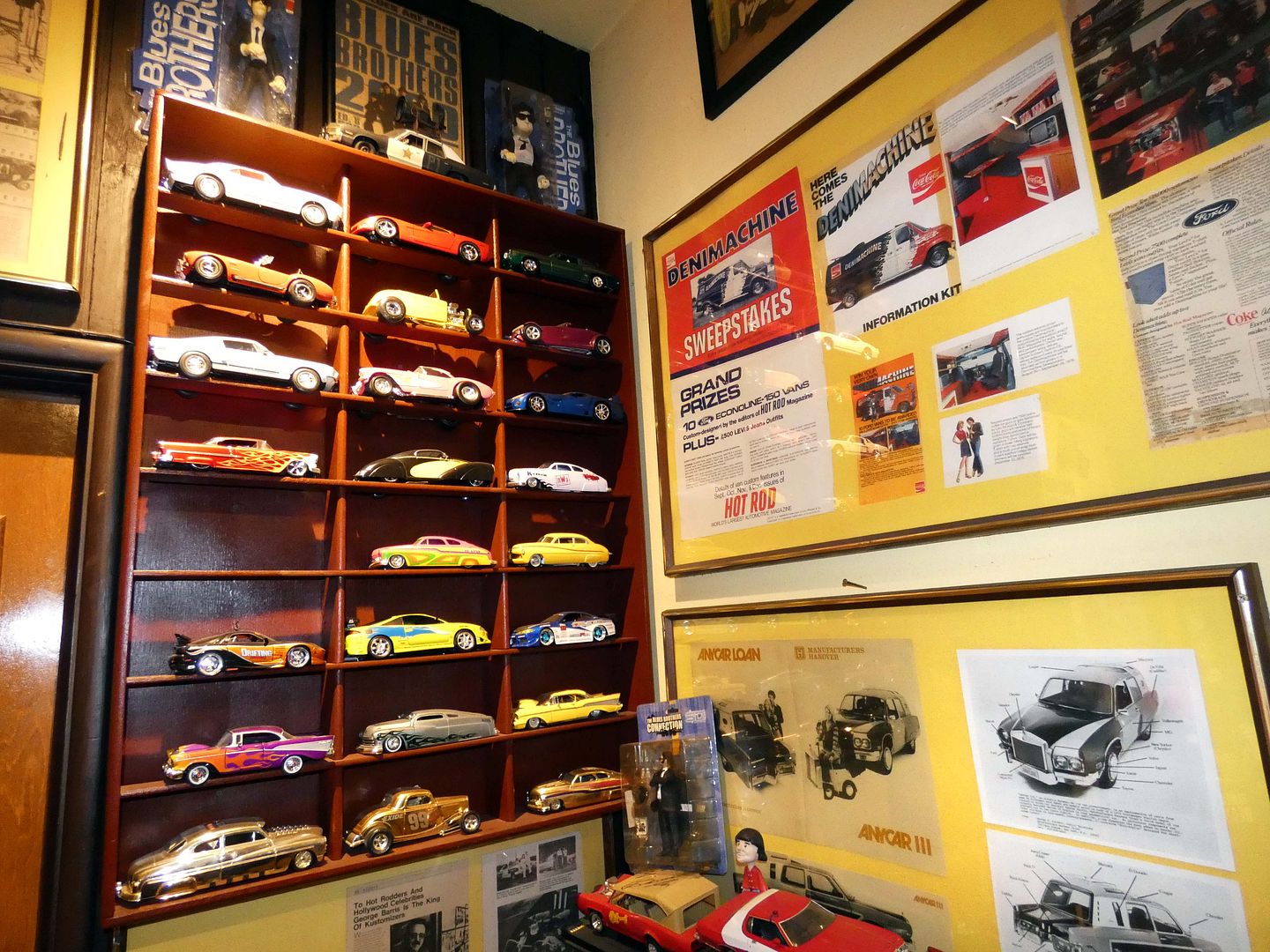 And while Barris didn't start his car customizing business here—that was in Bell in 1944, then Compton, and then in Lynwood—this is where all the history is housed, after having occupied this building for over six decades (since 1959).
That includes some original concept drawings...
...a lot of toys (including the "General Lee" from Dukes of Hazzard, which he didn't design but built replicas of)...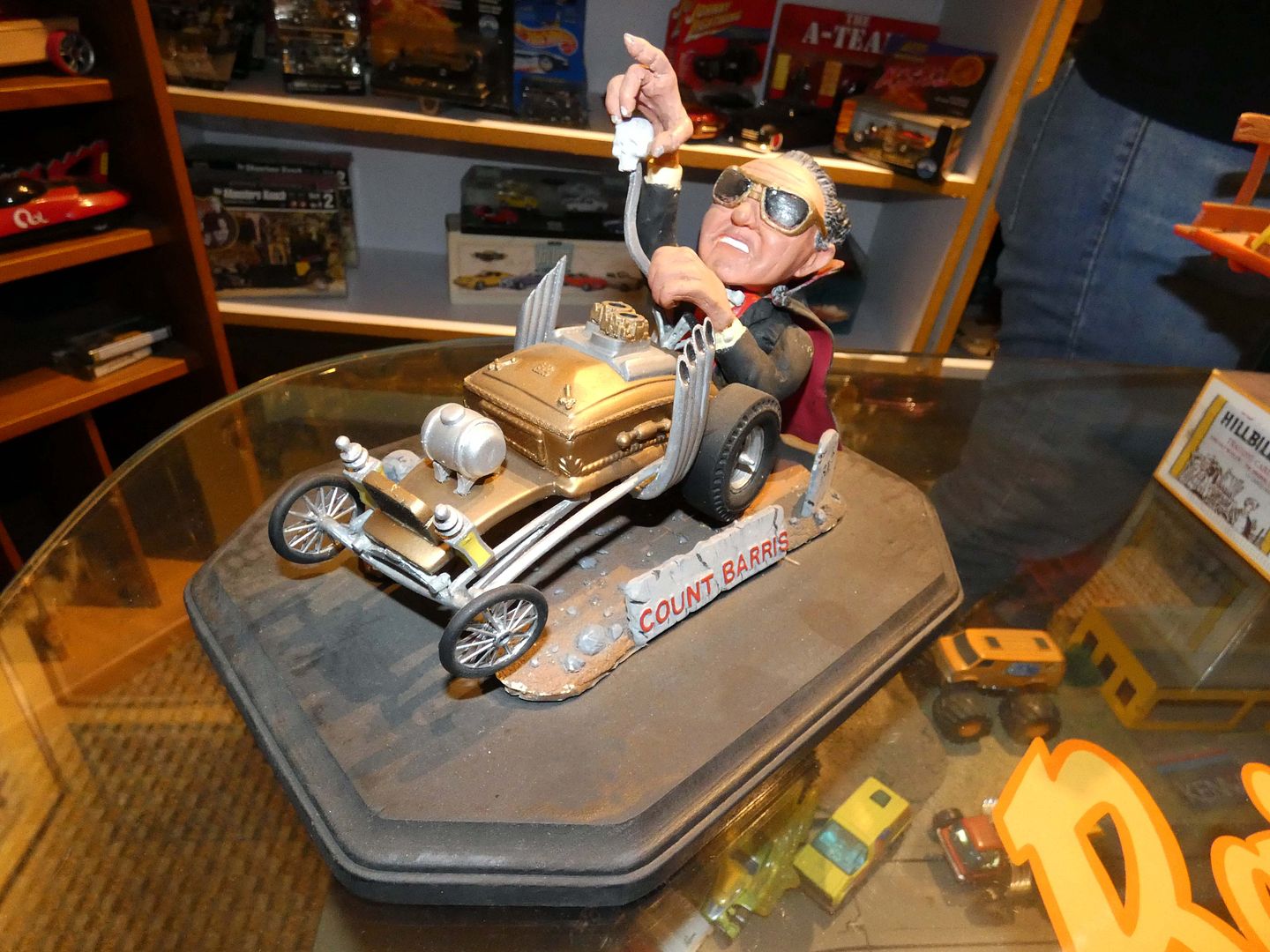 ...and a ton of honors, awards, and gifts (many of which depict Barris himself).
During the Saturday open house, an unofficial tour took us into the garage...
...where we got to peer under the hood" at a lot of classic cars and and custom jobs (many of which were sporting
Edelbrock
parts)...
...like the circa 1980s blue Barrister, built on a 1973 Corvette chassis, and a 1960s tan Ford Thunderbird with turquoise interior.
The garage also currently houses a Chevrolet 3200 truck that serves as a kind of advertising vehicle..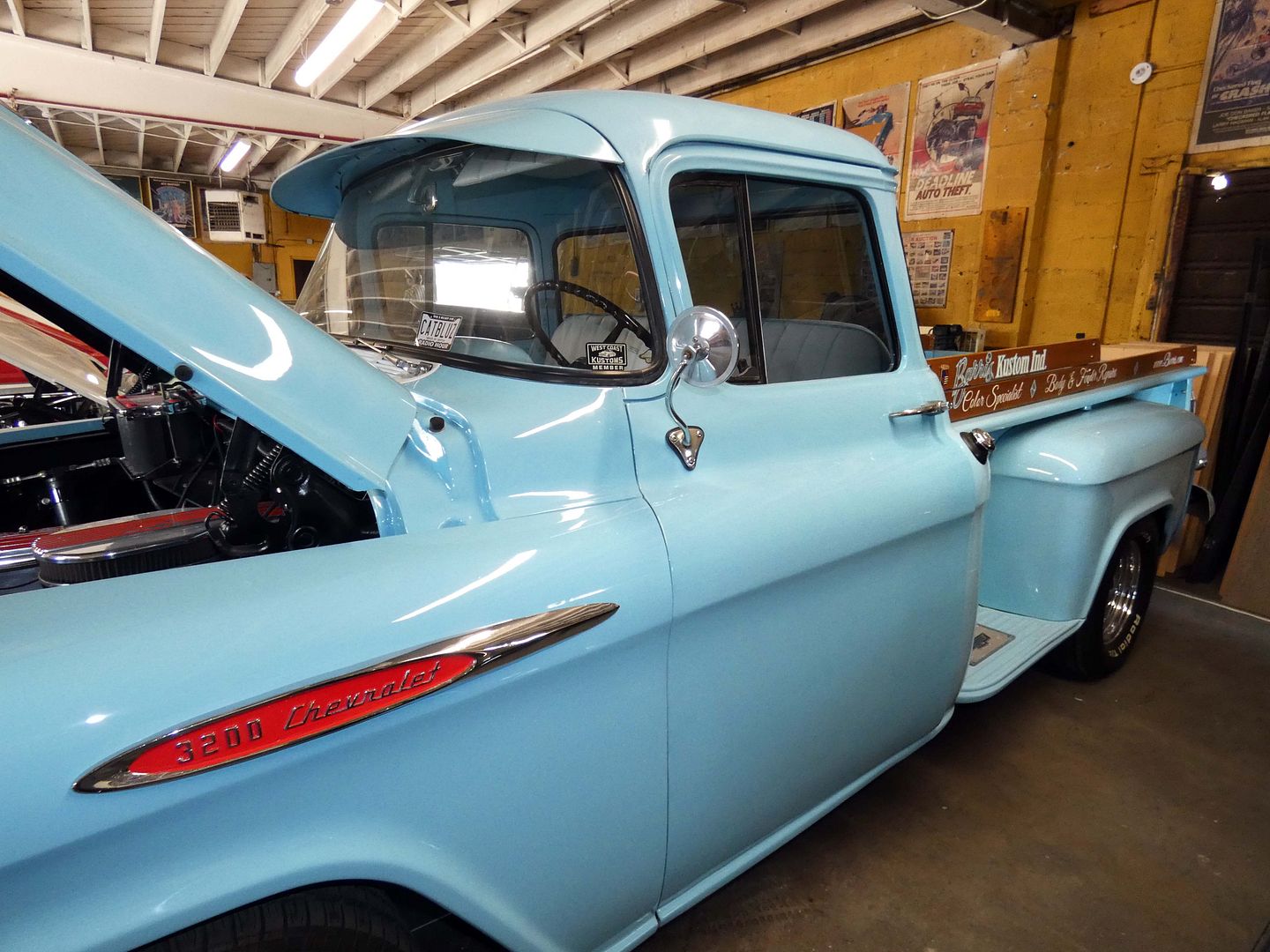 ...although reportedly, there are no more customization projects taking place at the 10,000-square-foot shop.
And for now, the Batmobile mural at the end of the adjacent side street, Riverton Avenue, is still there...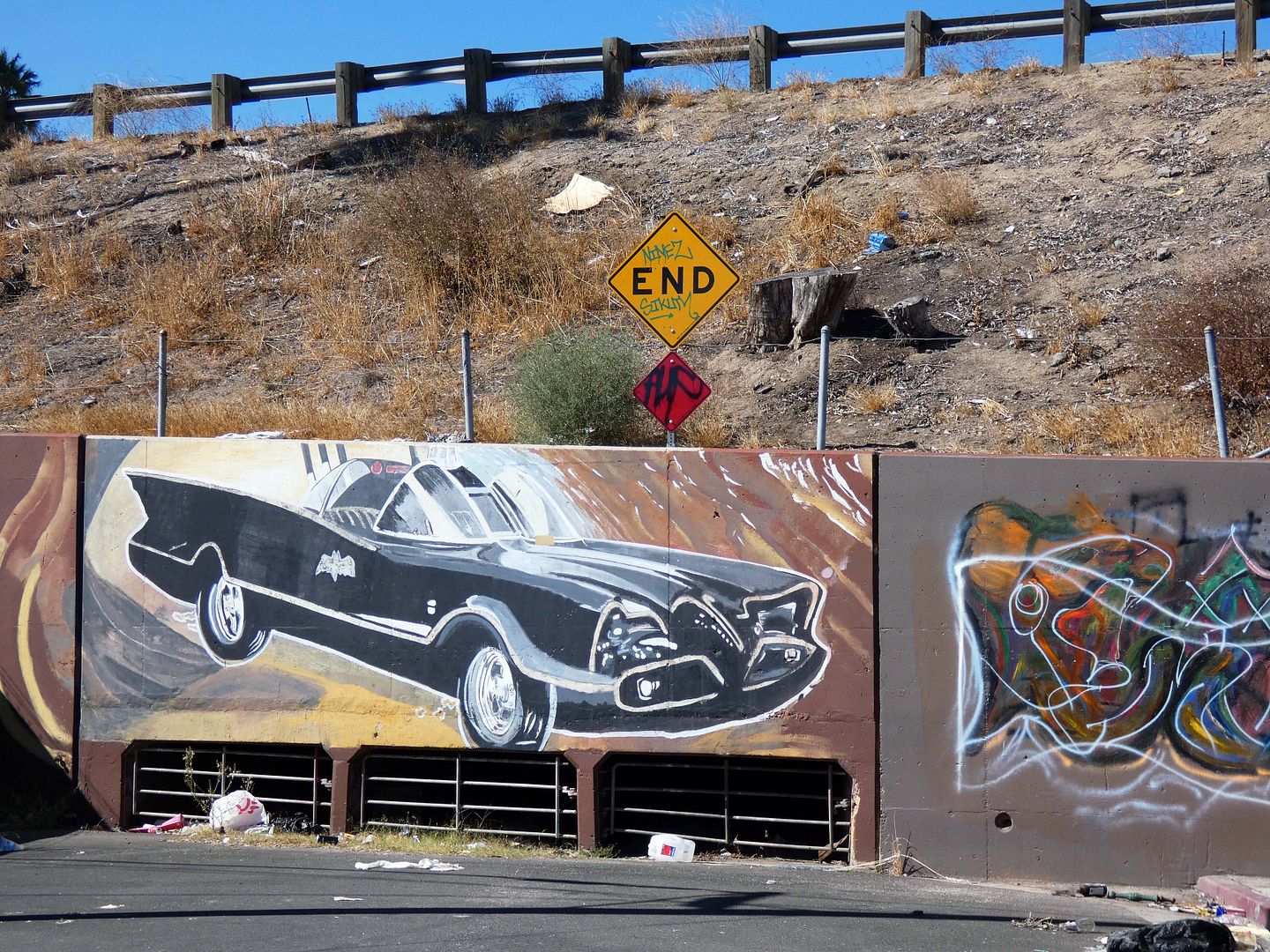 ...but it's at once fading away and shrinking away, as time takes its toll and graffiti encroaches on its territory at the end of a dead-end street.
*Above photos from 2021 unless otherwise noted as from 2018.