When it opened in 1917, the Mt. Whitney Fish Hatchery near the town of Independence was one of the first of its kind to raise trout (even the rare golden trout, California's state freshwater fish) to stock in California's lakes and streams (including those in the High Sierra backcountry) for fishermen to catch.
The Eastern Sierra had begun "opening up" to visitors, as road improvements along old prospector trails—like El Camino Sierra, or what was to become the Sierra Highway—made "the Alps of California" more accessible than ever by car, from Los Angeles all the way north to Tahoe.
There was a great and growing demand to not only attract but also keep tourists in the area by facilitating their thirst for the outdoors—and their appetite for angling.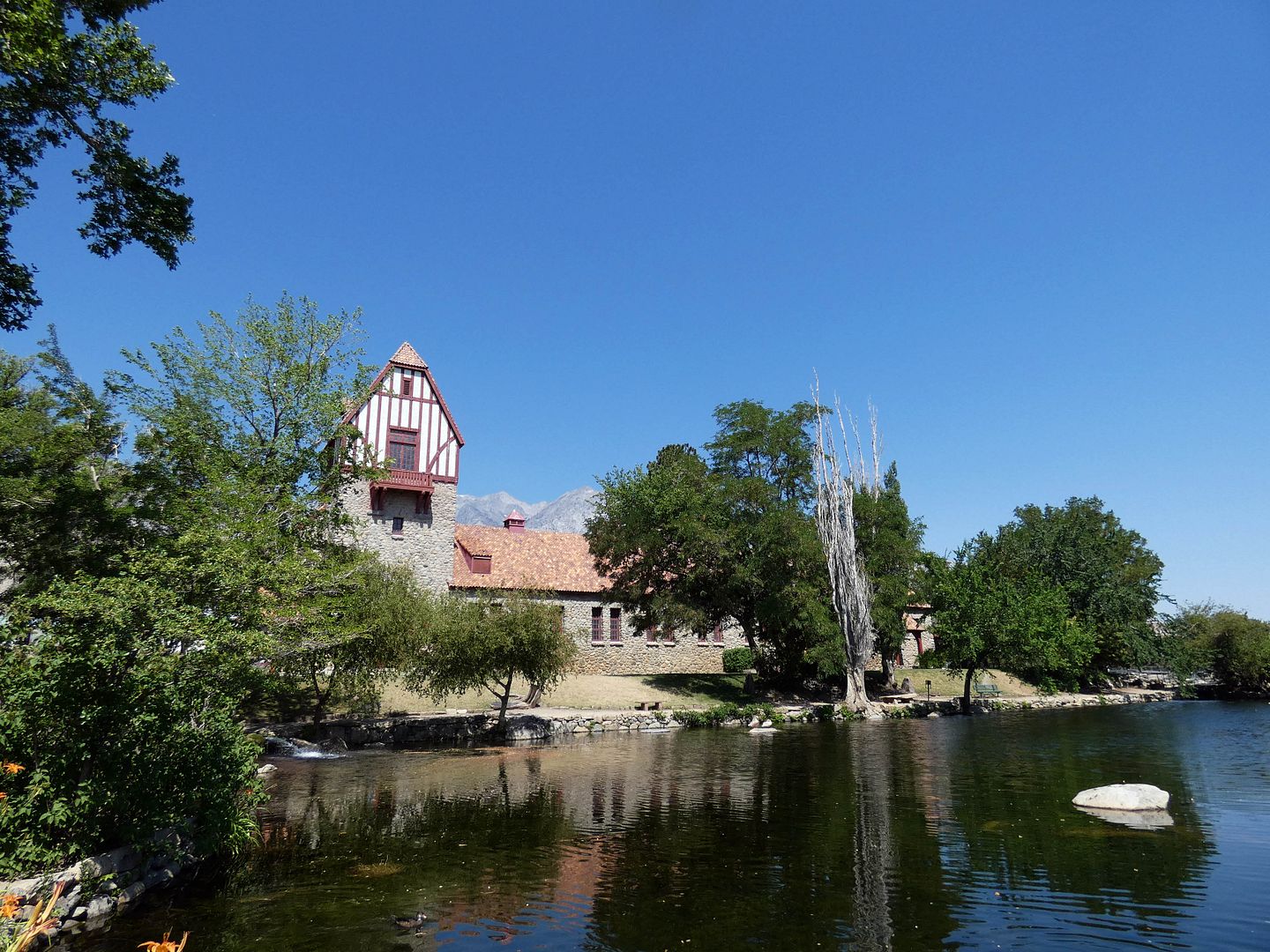 ...which they immediately turned around and donated to the State of California...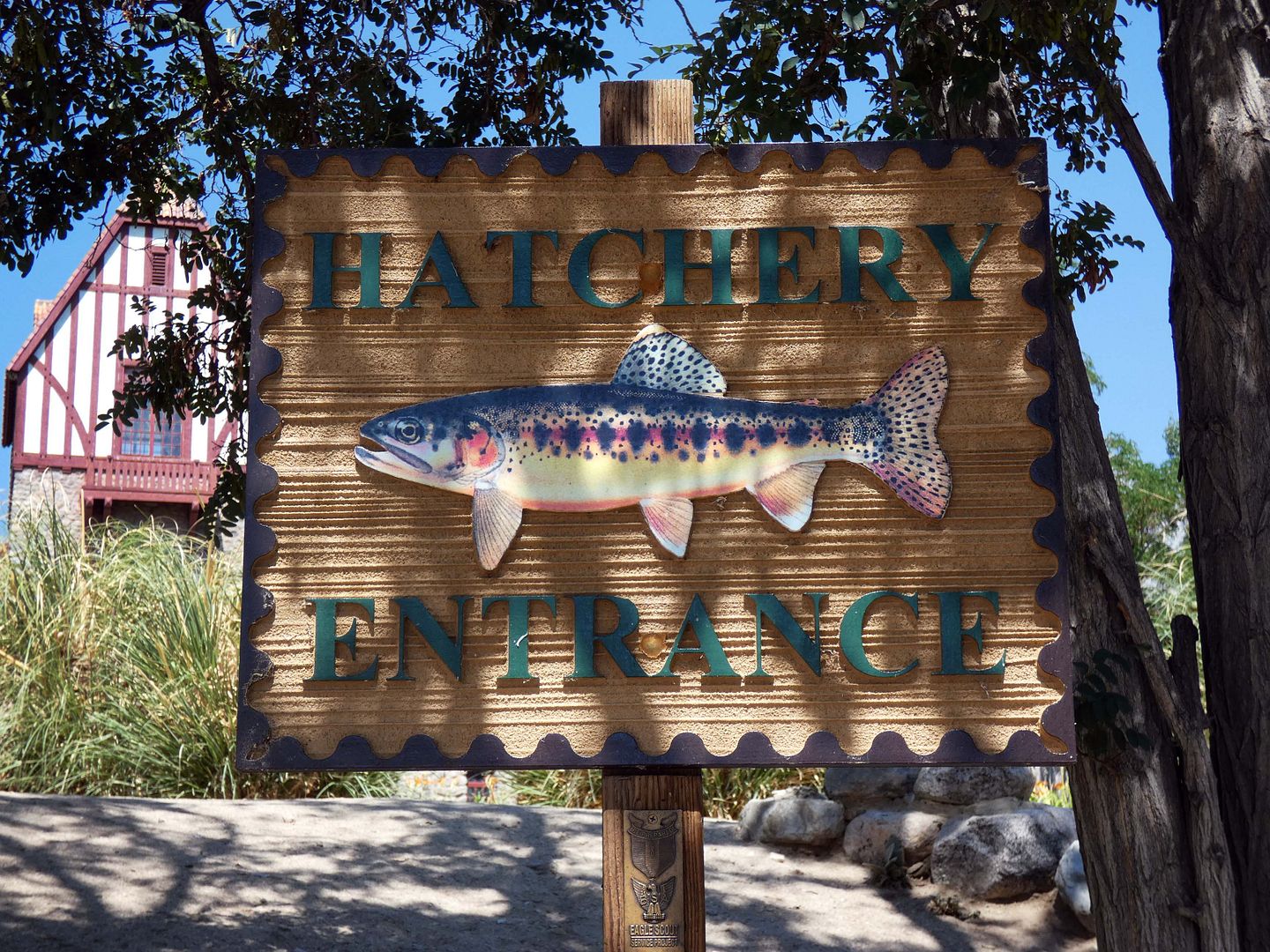 ...for a hatchery to be operated under the jurisdiction of the California Fish and Game Commission.
Once completed, the Tudor Revival-style facility with its 85-foot tower certainly made a splash as the biggest—and most beautiful—that anyone had ever seen. And it probably still is.
Its design, which incorporates stone and concrete, was meant to "match the mountains" and—perhaps more importantly—be "a showplace for all time."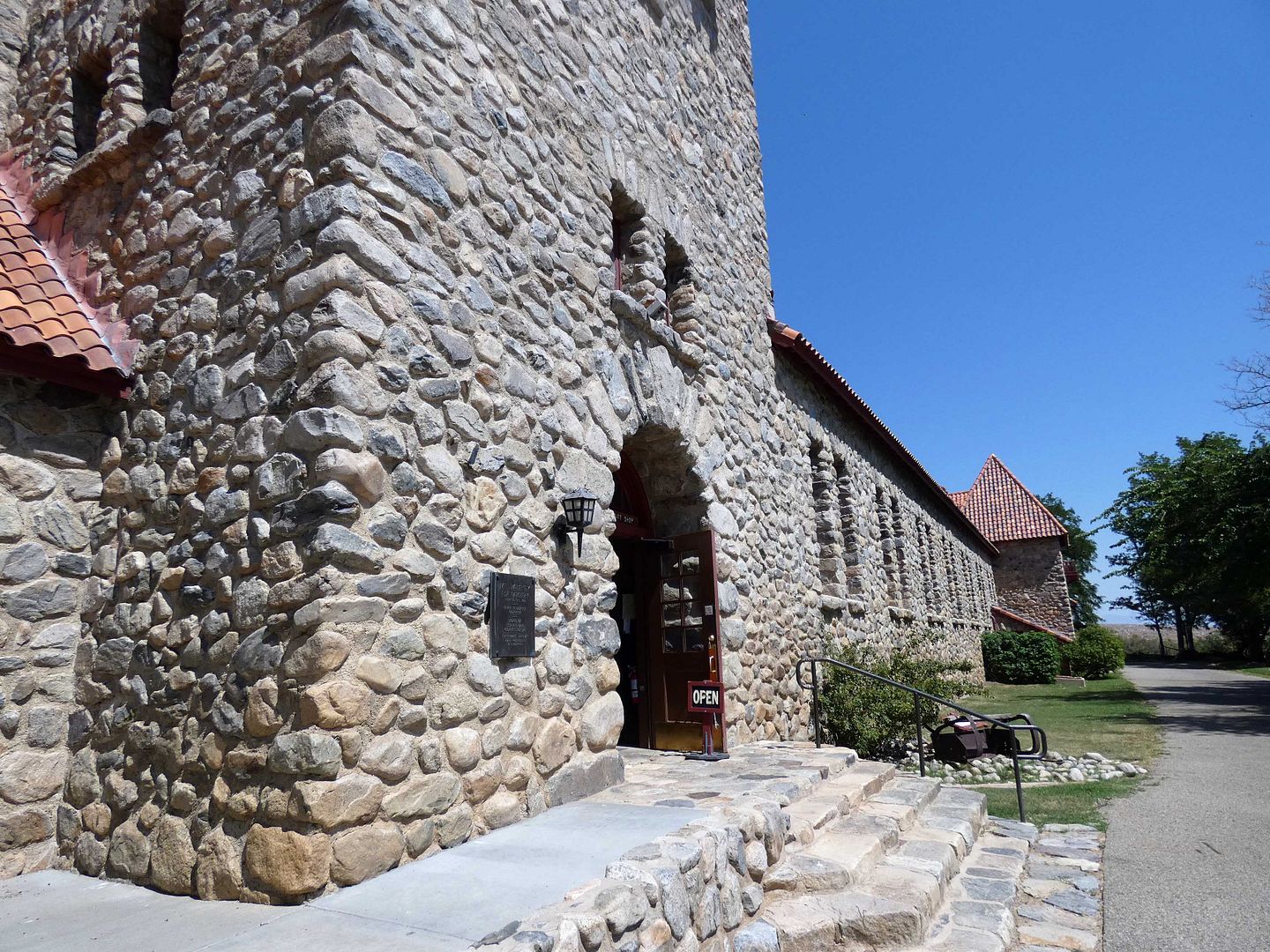 For a total cost of (at least) $60,000, construction crews sorted locally-sourced granite rocks to fit together instead of cutting them.
The facility's hatching program was launched in 1918—at the time, as the sole source of golden trout throughout the Sierra Nevada. Golden trout eggs were taken from wild stock in Cottonwood Lakes near Lone Pine and—at least initially—transported to Mt. Whitney Hatchery by mule train to be incubated and reared.
circa 1938 (Photo: California Department of Fish and Game, via Flickr, CC BY 2.0)
The hatchery room in the main building used to contain 120 troughs with a capacity of 3 million fish at the fingerling growth stage (about 5 inches long, before they're officially juveniles). Once they grew to that size, a pack train of mules and perhaps horses would haul them out in water-filled cans. (Since the 1950s, the fish have been dropped out of planes!)
Although the hatchery remained active in its spring spawning schedule until 2008, the Inyo Complex Fire had burned through the area in 2007—sparing the historic building, but plugging part of the hatchery's water supply with ash and other debris. About 1,000 rainbow trout, which would have been ready to breed and supply eggs the following spring, perished.
The following summer, a thunderstorm caused a devastating mudslide/debris flow came down the South Fork and North Fork of Oak Creek through the burn area—as what happens when a wildfire incinerates all the vegetation keeping the earth in place—and took out two employee residences and two spawning buildings. It also destroyed the hatchery's water and pipe infrastructure, forcing its closure.
(L-R) 10 days following spawn, 20 days, 27 days
Mt. Whitney Fish Hatchery reopened to visitors in 2009—but it hasn't reclaimed its former role with California Department of Fish and Wildlife in stocking the local waterways. Instead, it serves as an interpretive center where you can learn about the history and science of fish rearing—and eyeball some fish eggs taken from rainbow trout broodstock, circa 2010.
There's also a back room with display cases containing antique lures...
...fishing paraphernalia...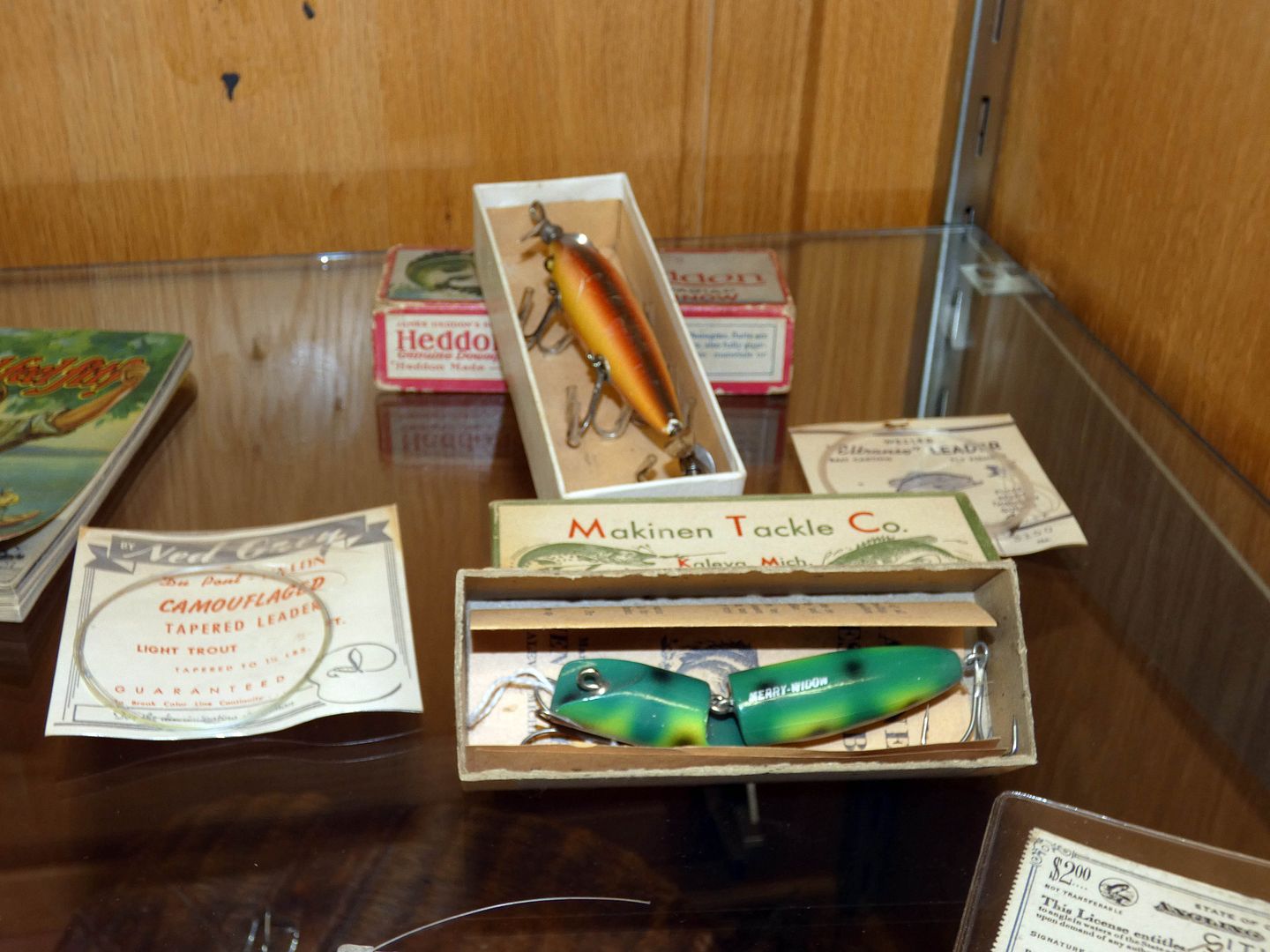 ...vintage flyfishing equipment, and more.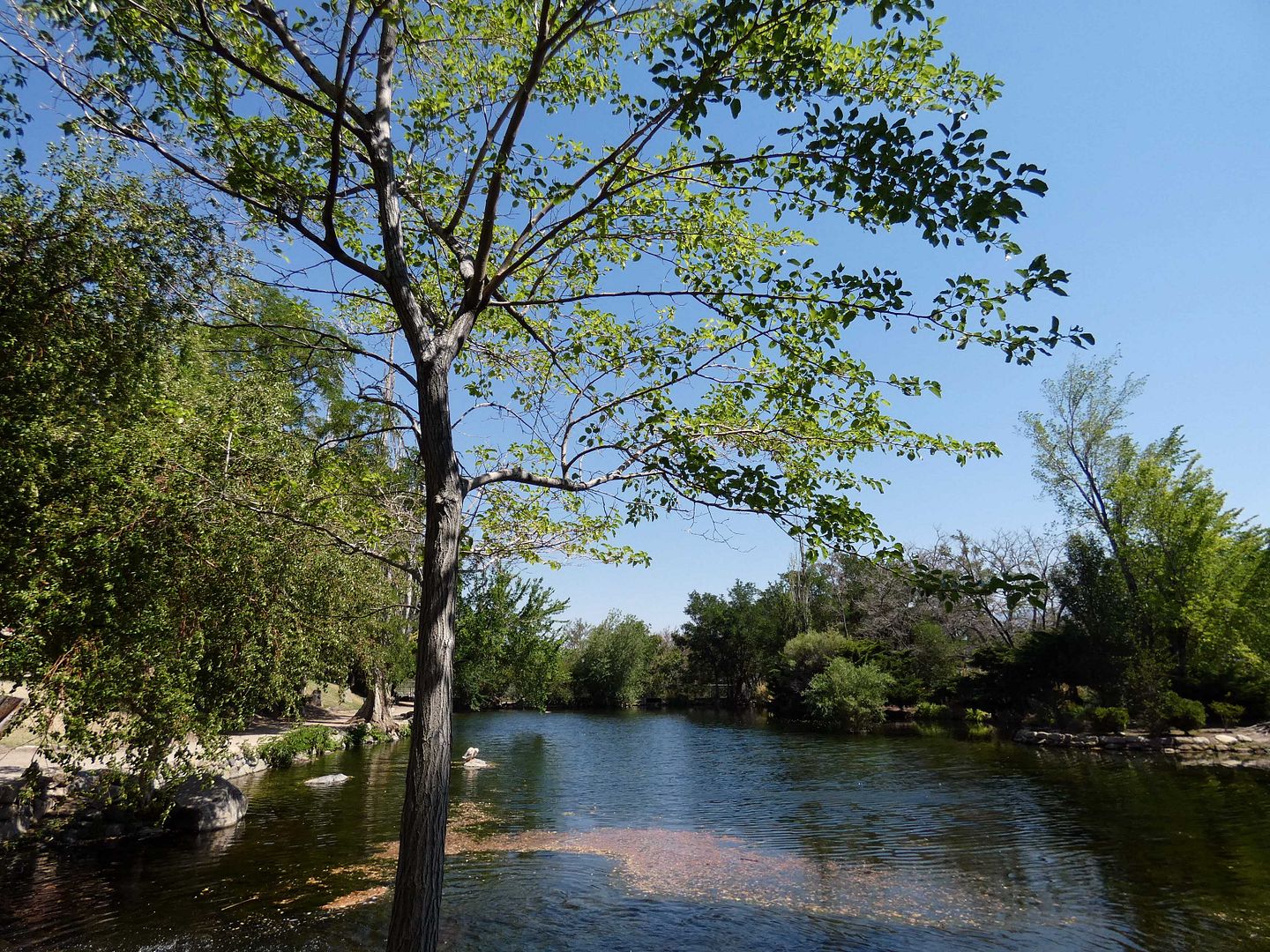 And there are still actually fish onsite—in the ornamental, manmade pond out front. A quarter gets you a handful of fish food from a vending machine, or $1 gets you a whole snack-sized Ziploc's worth from the gift shop attendant.
Even if you don't see many fish swirling about, it's fun to hang out with the friendly ducks.
Related Posts: