It's hard to imagine anyone
accidentally
stumbling on this palm oasis—a clear indication that there's water close to surface, though supplies may be limited.
Located 8 miles down the dirt Corn Springs Road, you'd have to
know
that Corn Spring is a waystation for desert wanderers and nomads on a mission.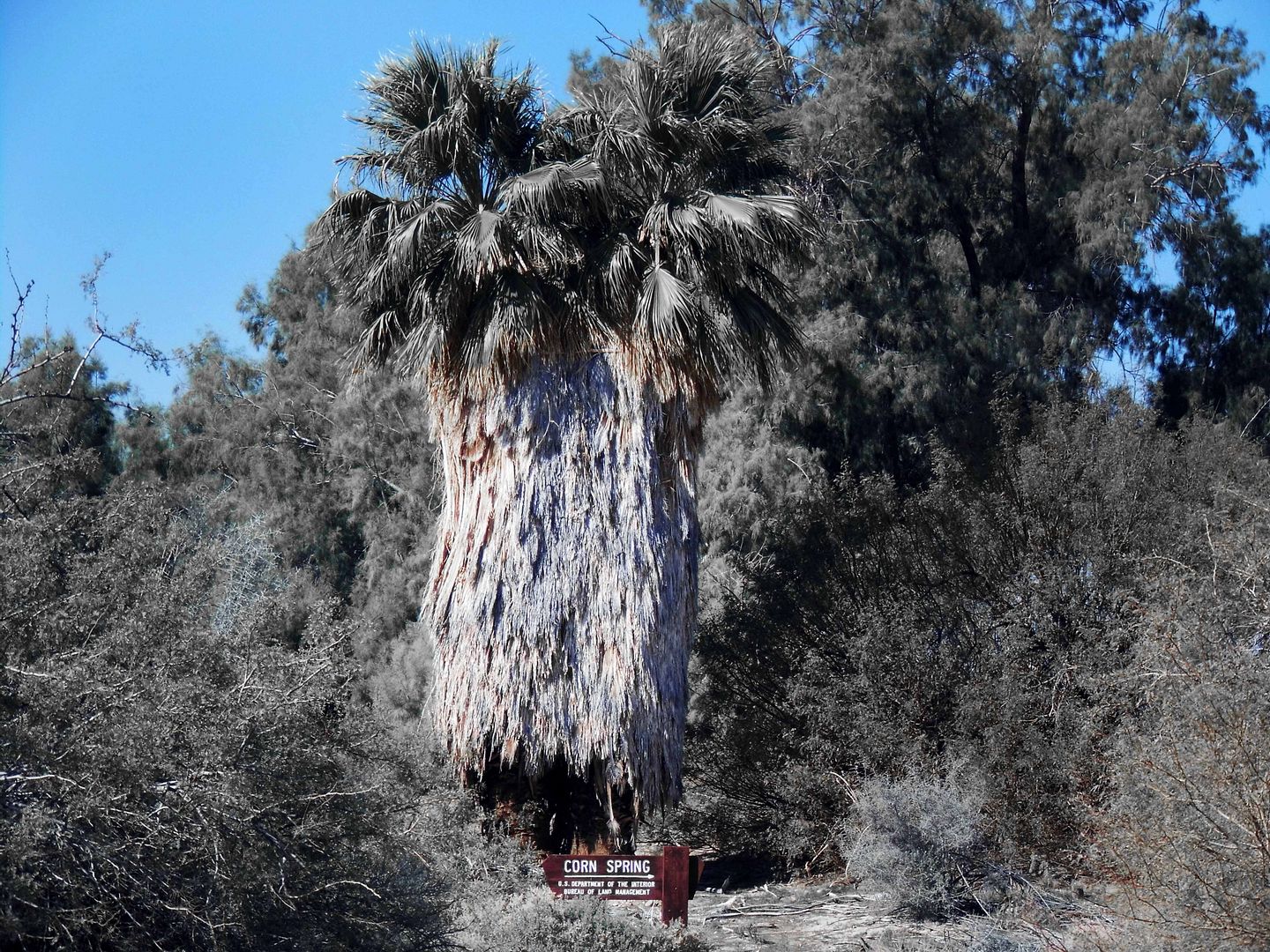 Take the 10 Freeway past the Desert Cities of the Palm Springs area, past the southern entrance to
Joshua Tree National Park
and the
ghost town of Desert Center
, and you could keep going to hit
Blythe
, California or even
Quartzsite
, Arizona.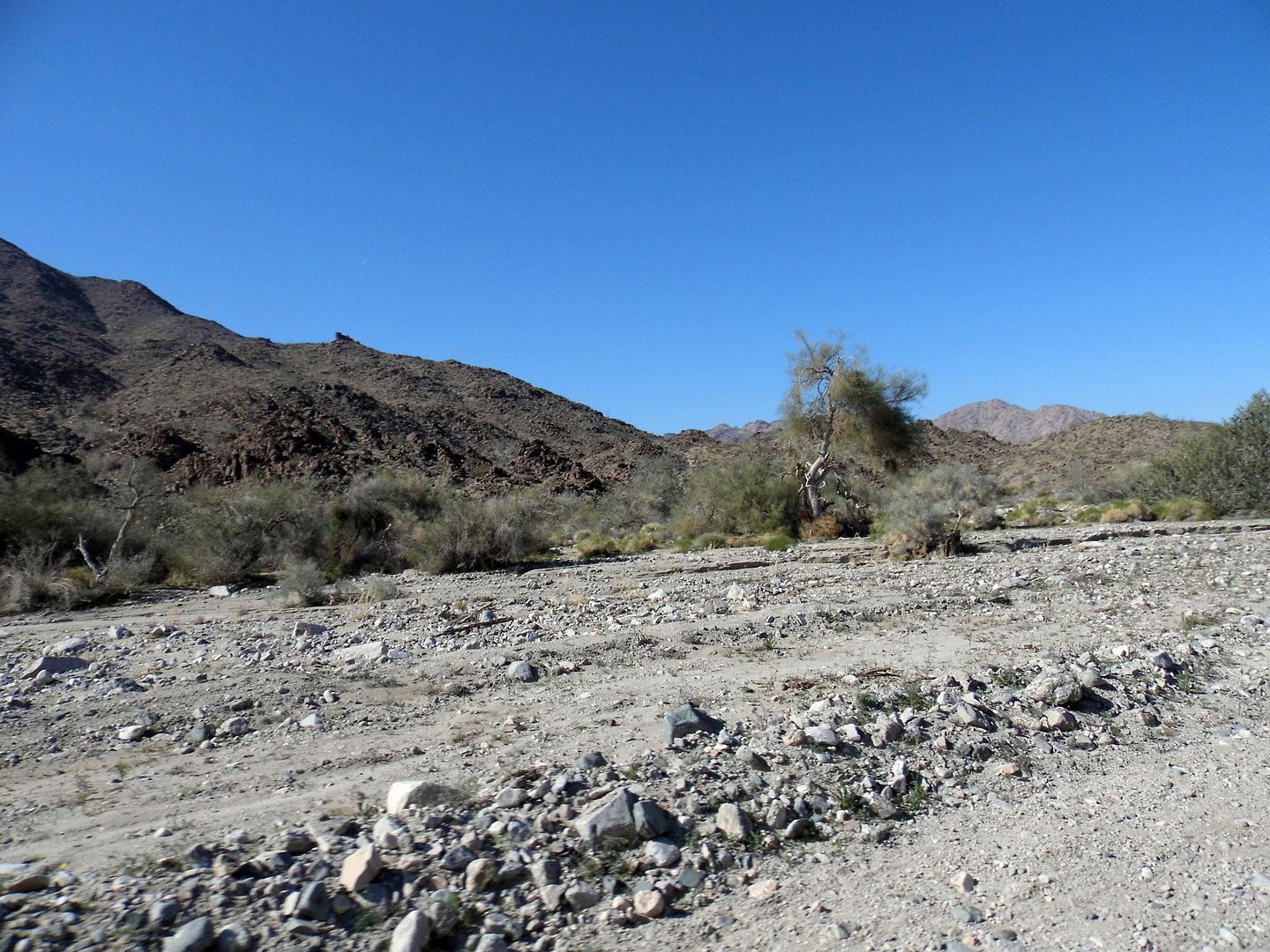 Or, you could take the Chuckwalla Valley Road exit and turn off to the right the first chance you get, with the Chuckwalla Mountains in the distance as the Mojave Desert transitions into the Colorado Desert.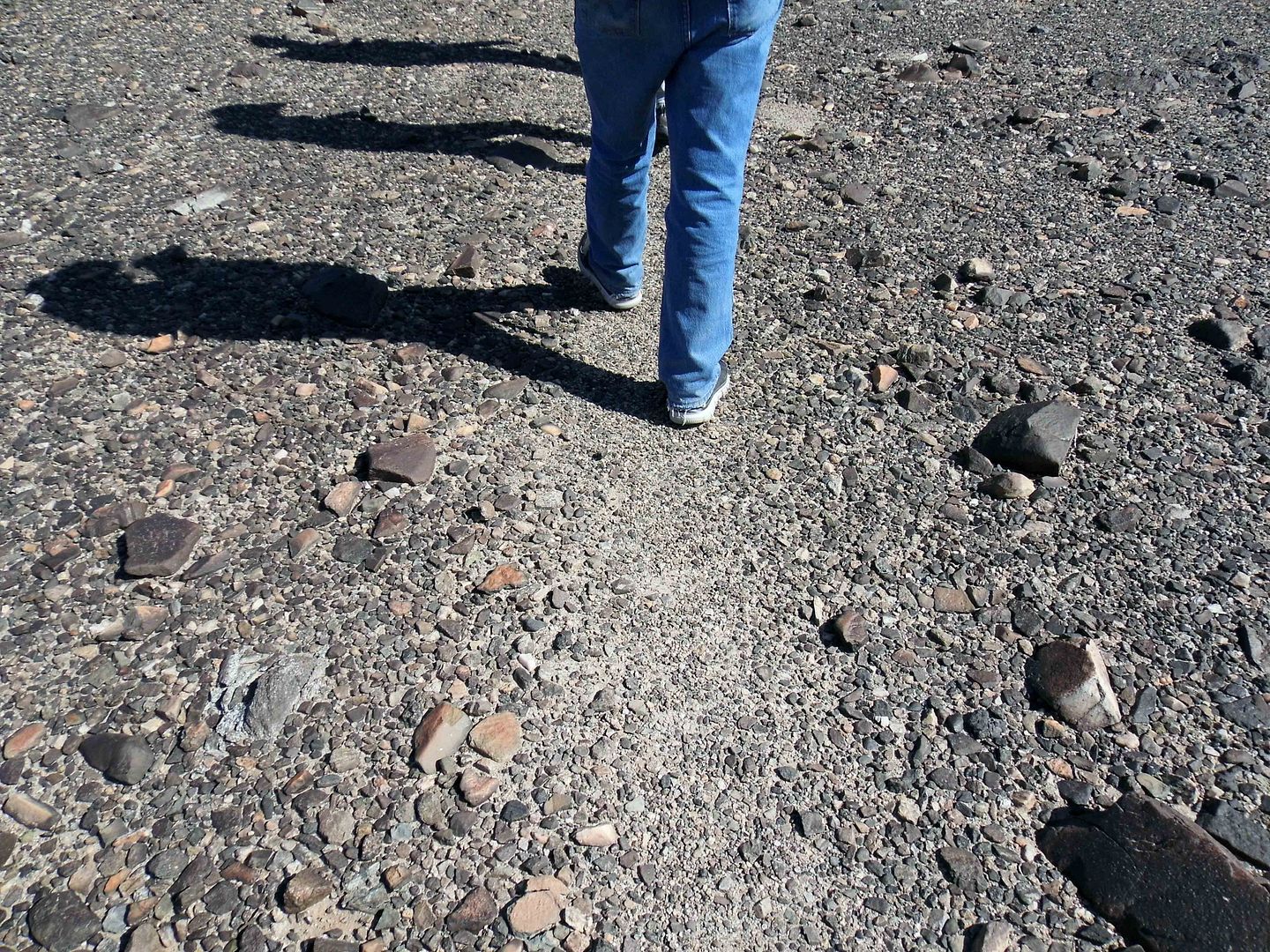 BLM-operated since 1968, Corn Spring Campground now offers some dry hook-ups and national park-stye pit toilets. But long before that, Native Americans (probably the Chemehuevi Tribe) traveled through Corn Spring along a well-worn East-West footpath, still visible today as a light-colored streak atop a stretch of "desert pavement."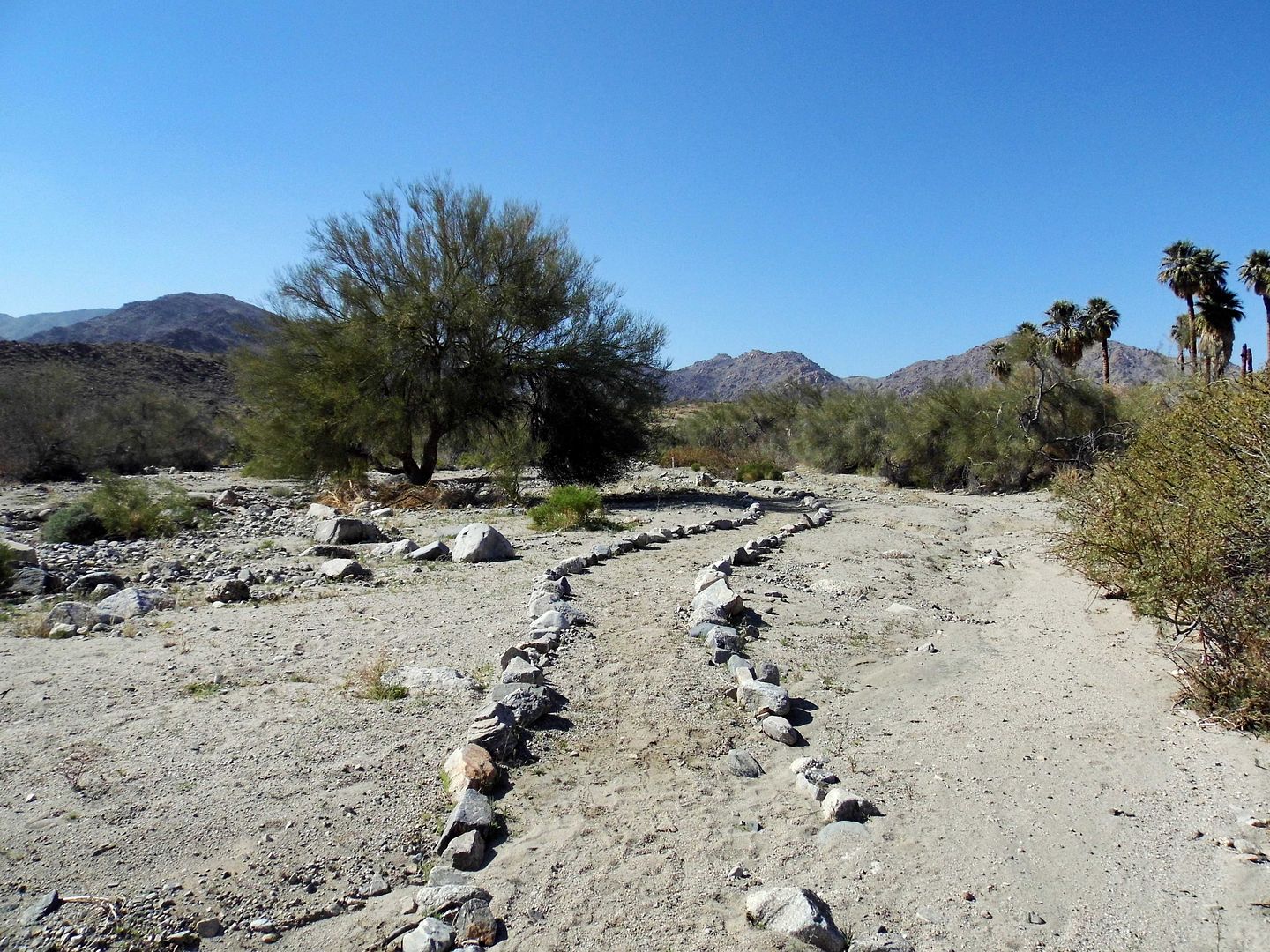 That could've been as early as 1100 A.D., maybe even earlier. No one really knows.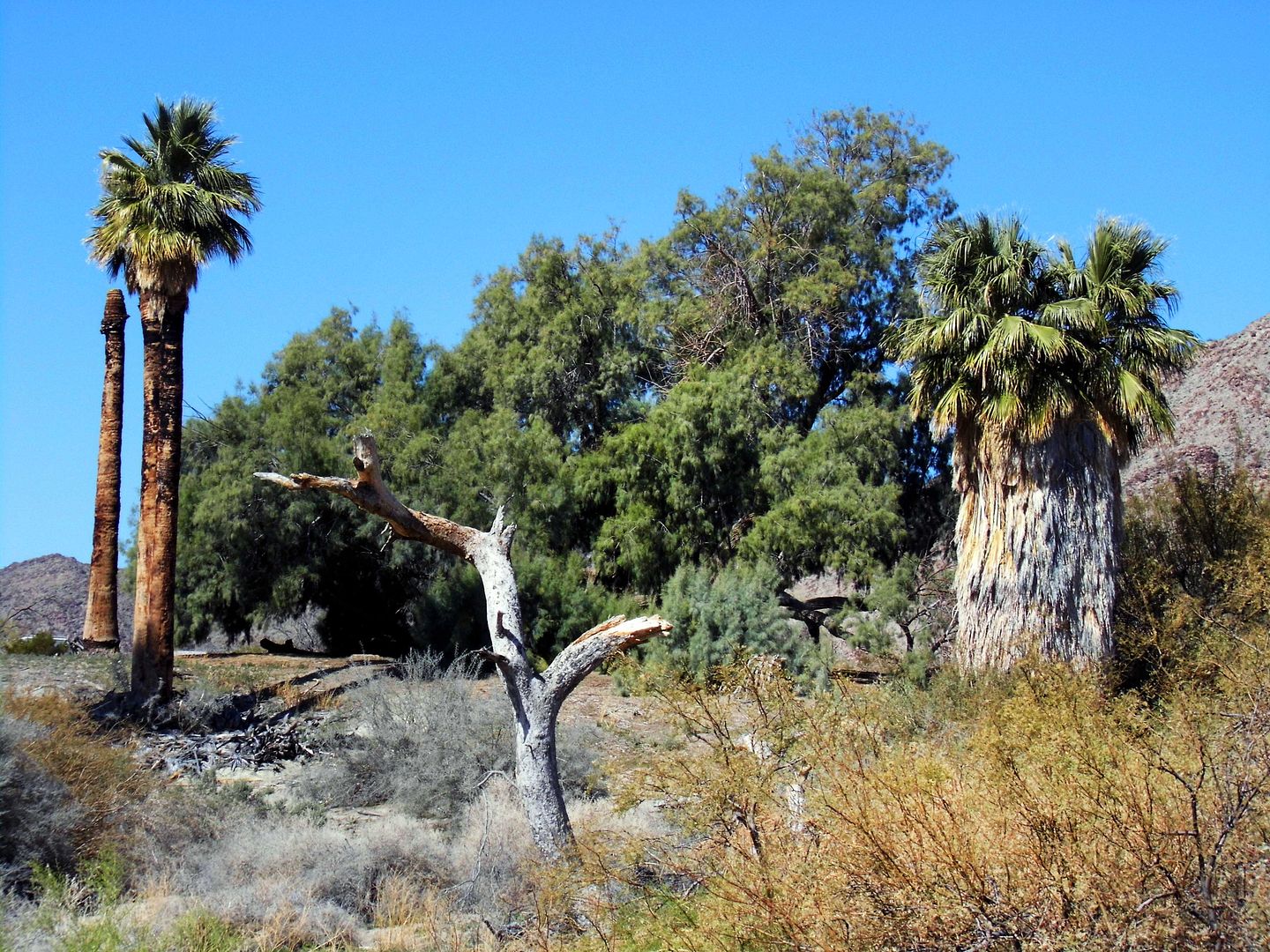 It wasn't until 19th-century prospectors started showing up and relying on the springs that word spread among white settlers. The Corn Springs Mining District was established in 1897, amidst the California fan palms, palo verde, mesquite, and ironwood trees, and desert mistletoe.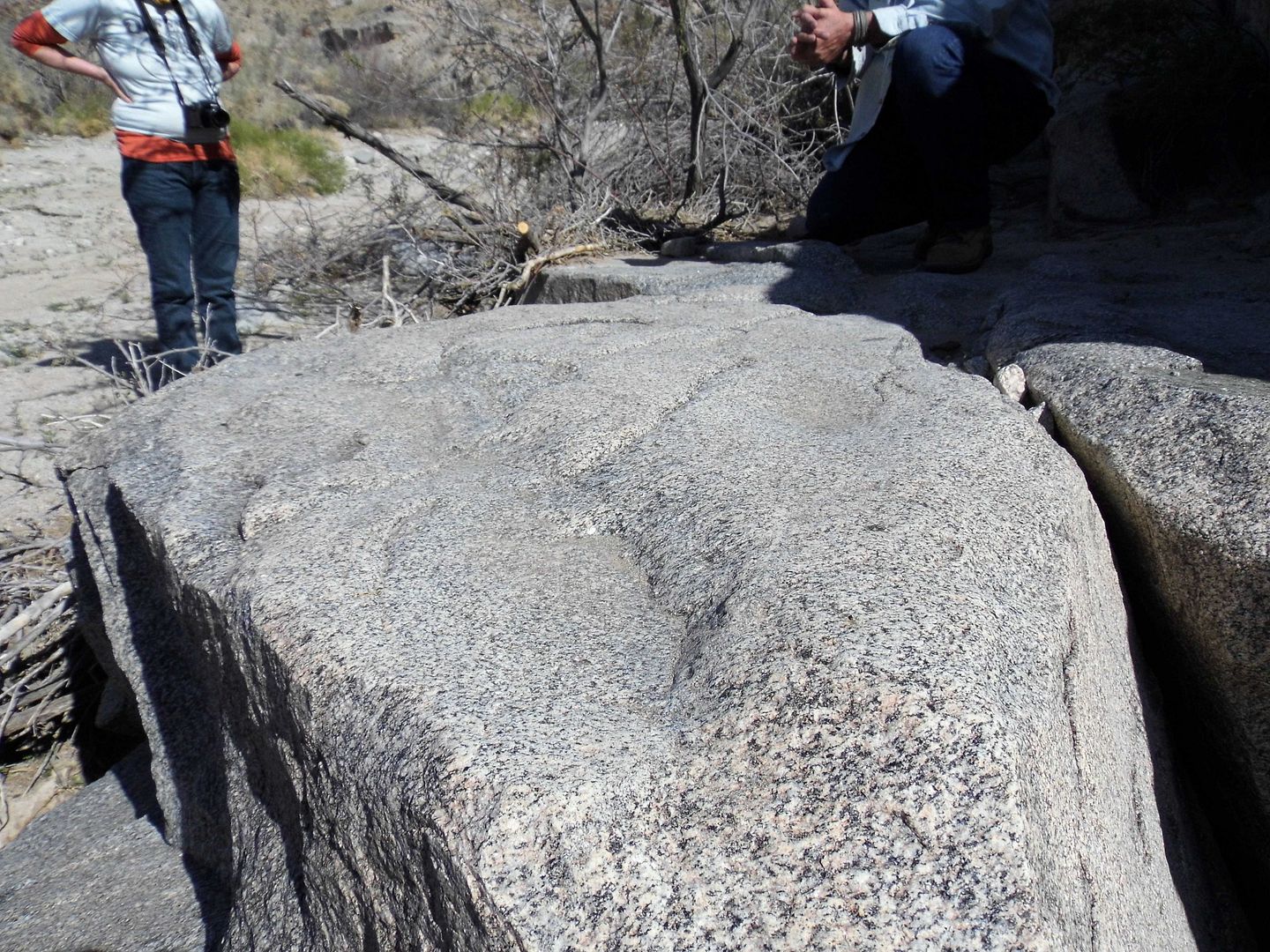 Some of those native plants fed the Native Americans who passed through the area—and who used the nearby granite rocks as their own desert kitchen, slowing hollowing out
metates
as they ground up the multicolored corn they'd planted into flour and other seeds into mush.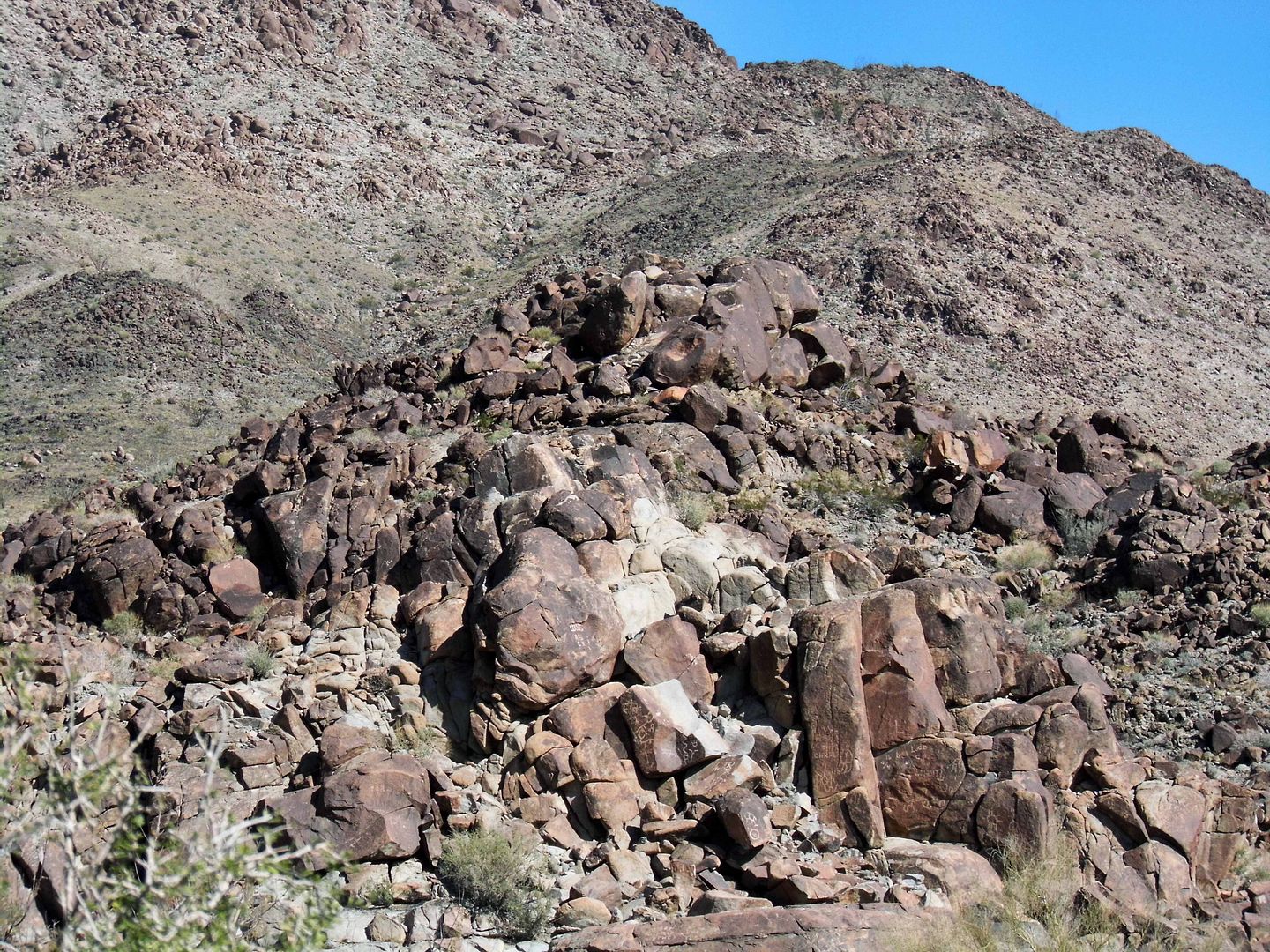 The namesake spring at the oasis was flowing during the heyday of the Pacific Mining District, helping gold and silver prospectors survive the rugged landscape.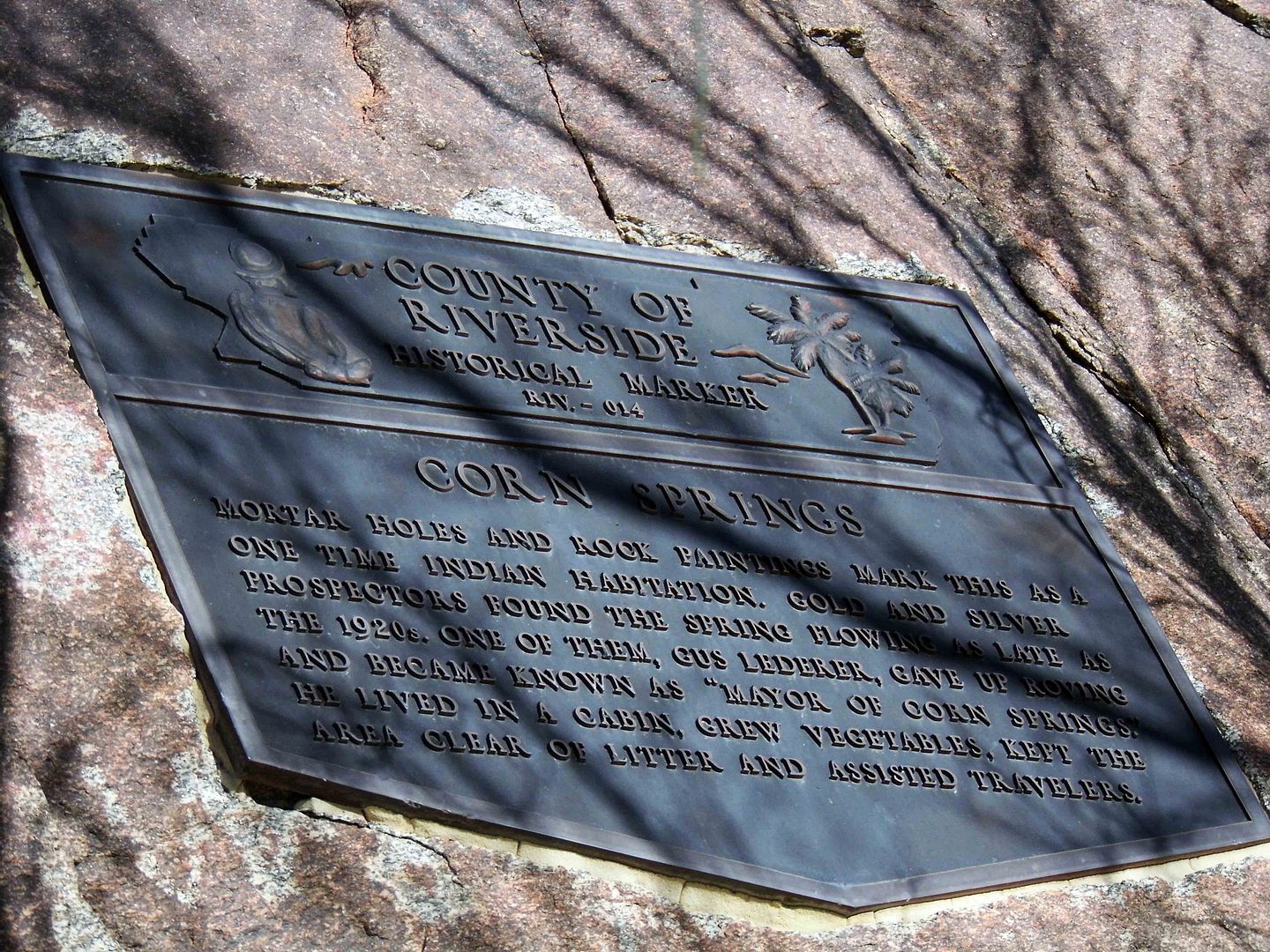 One such prospector was Gus Lederer—the self-proclaimed "Mayor of Corn Spring" from 1915-1932. A graduate of the Colorado School of Mines, he gave up the gold rush and settled permanently in one of the miners' cabins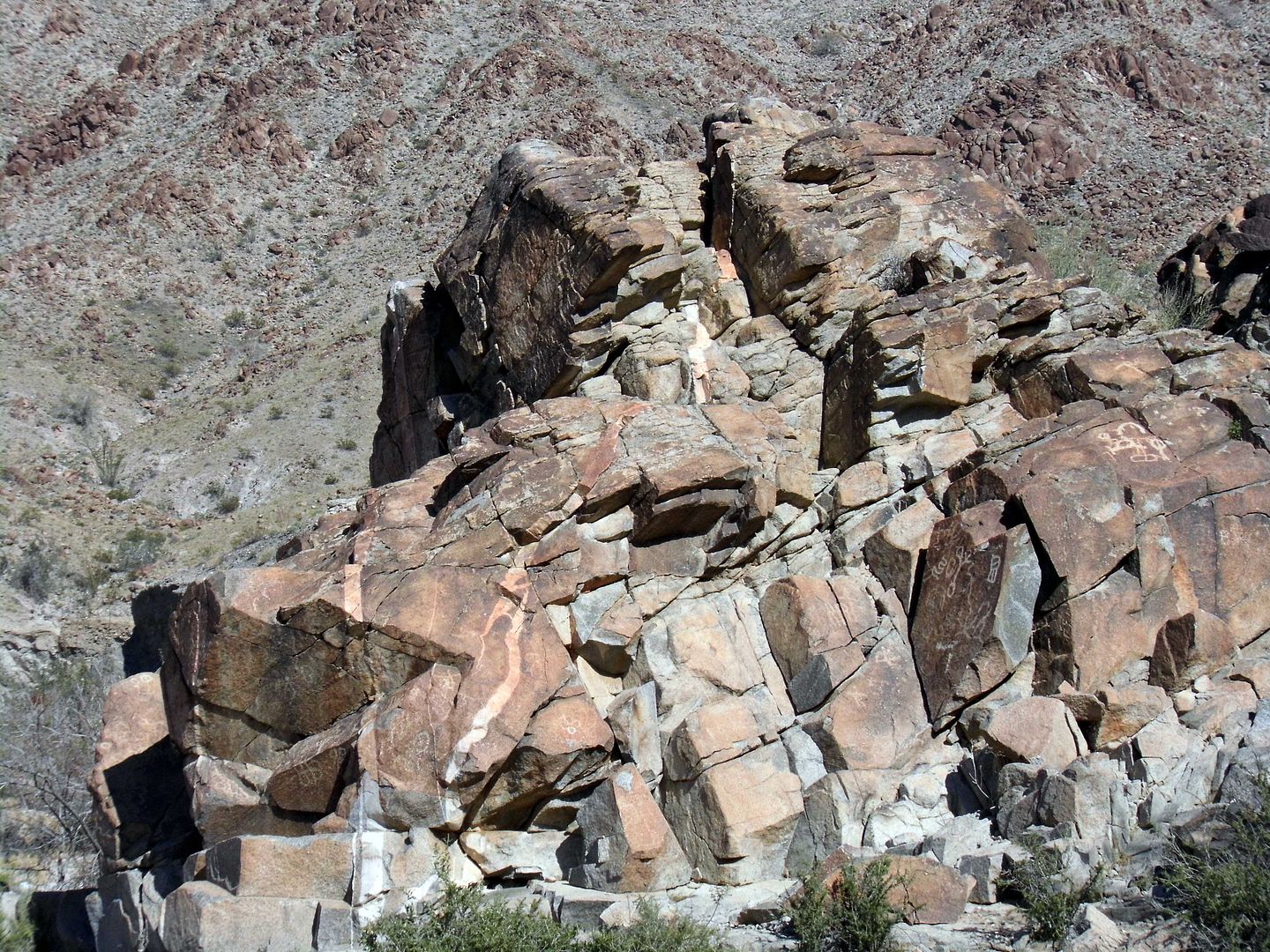 There, he grew vegetables, maintained the site as its unofficial steward, and helped out travelers in need.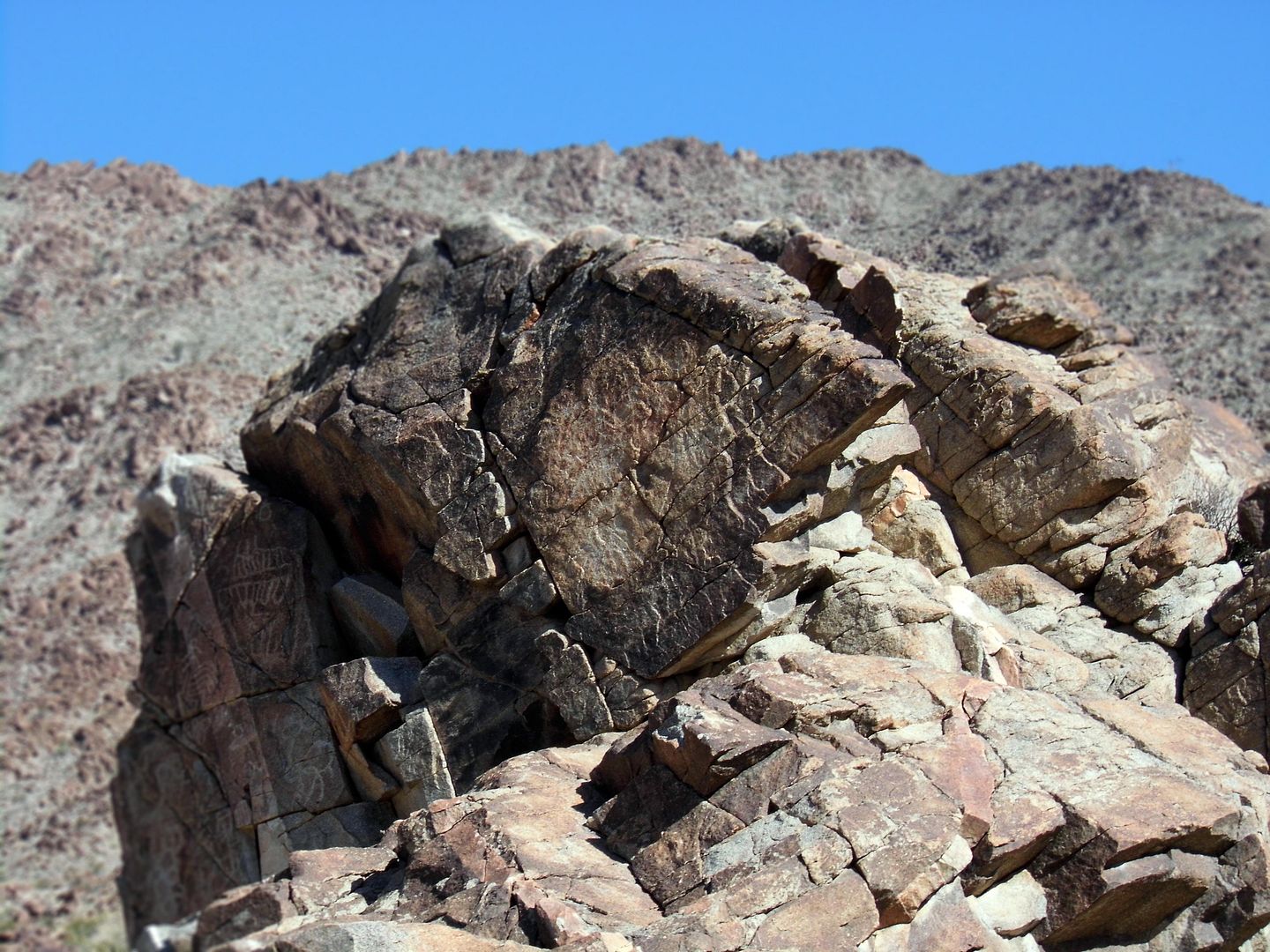 He famously loved the burros left behind to fend for themselves by the miners who abandoned their claims. Legend has it he'd cook pancakes for them every morning.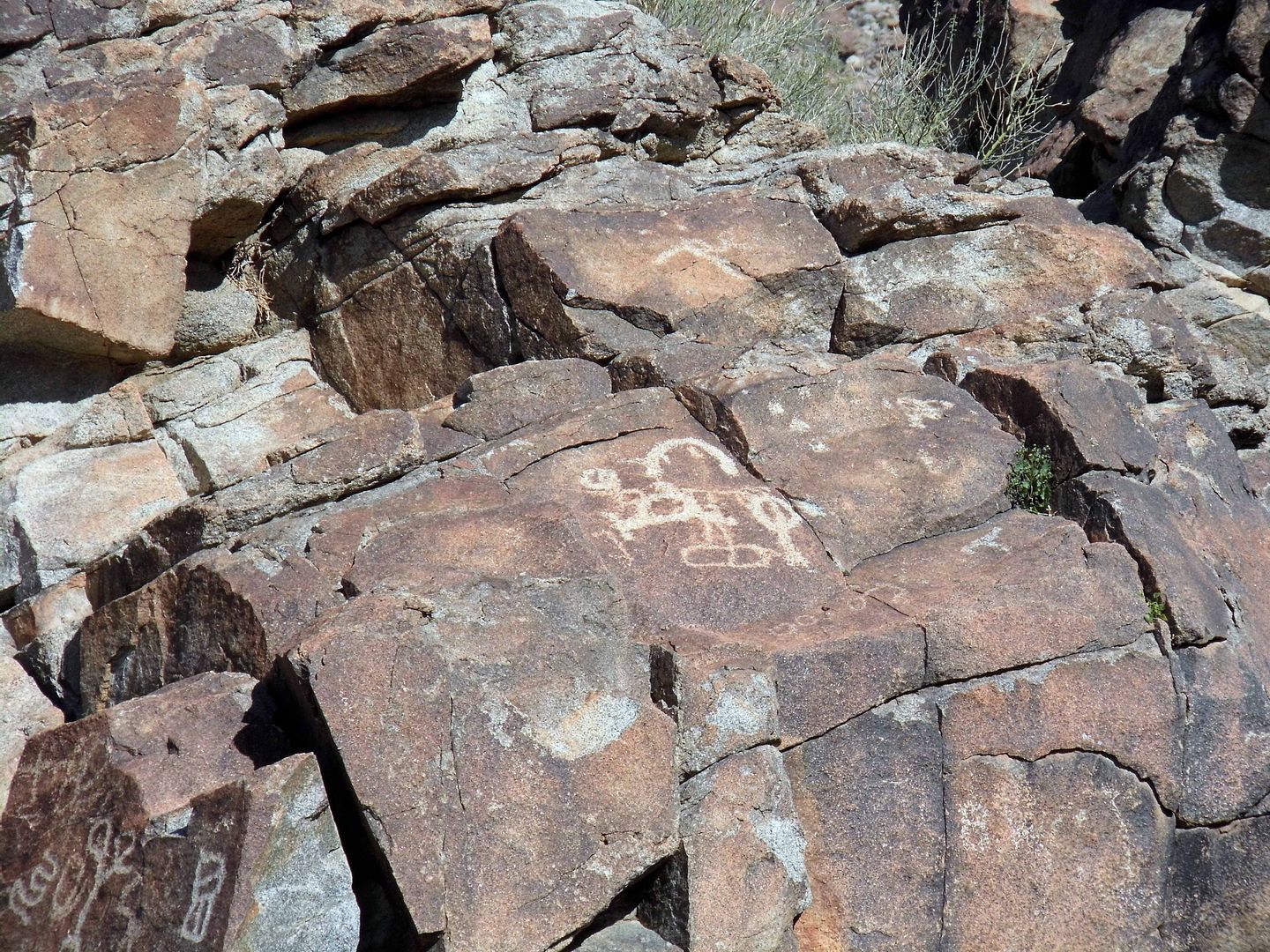 Sometime in the 1920s, the spring stopped flowing so freely. It probably hadn't dried up per se, but likely seismic activity shifted things around so the waters weren't quite as accessible above ground as they were before.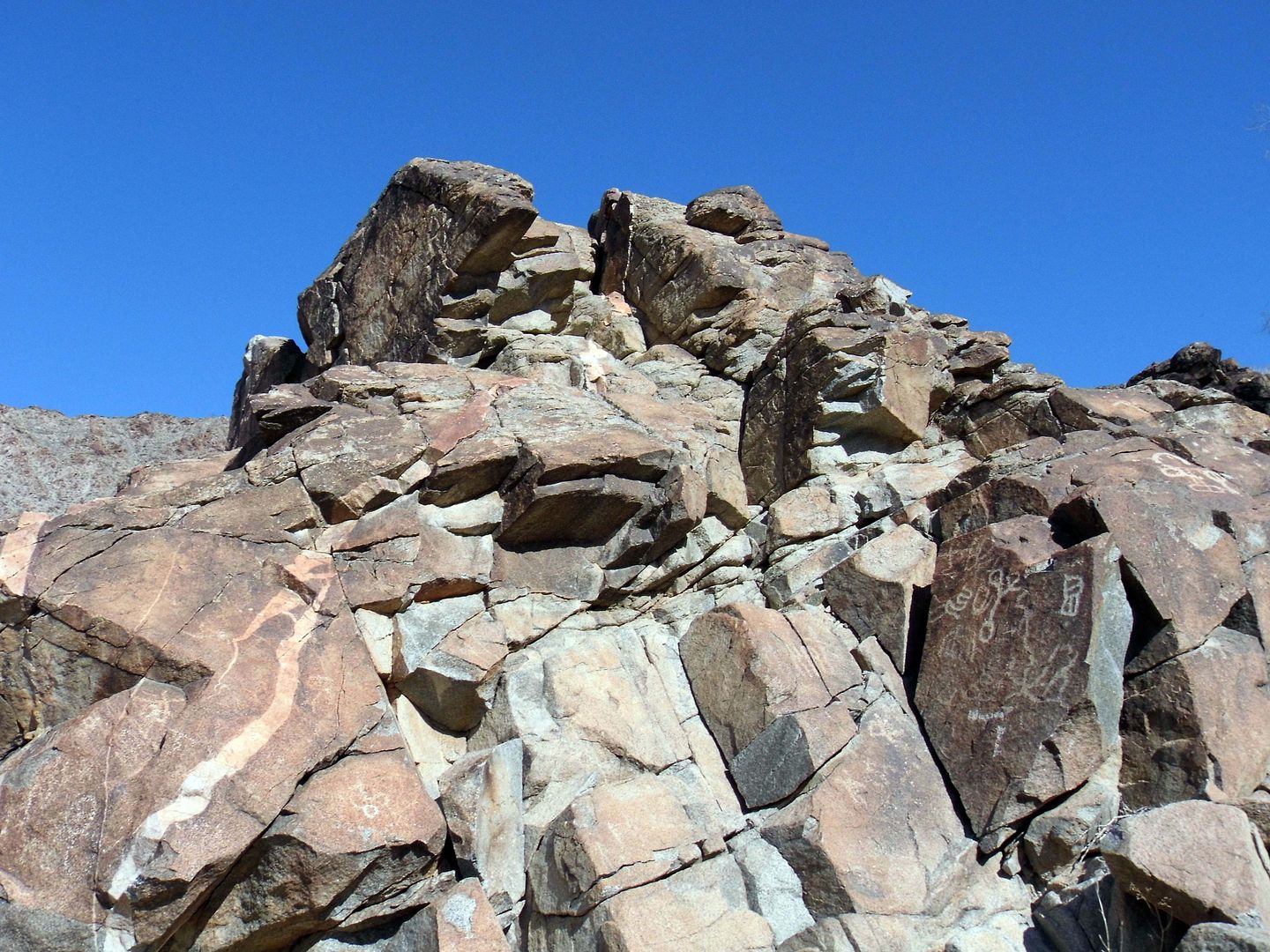 That didn't deter Gus Lederer. In fact, he survived out there in the backcountry until 1932—when a black widow spider bit him on the back of the neck and he couldn't be transported to get help in time to save him.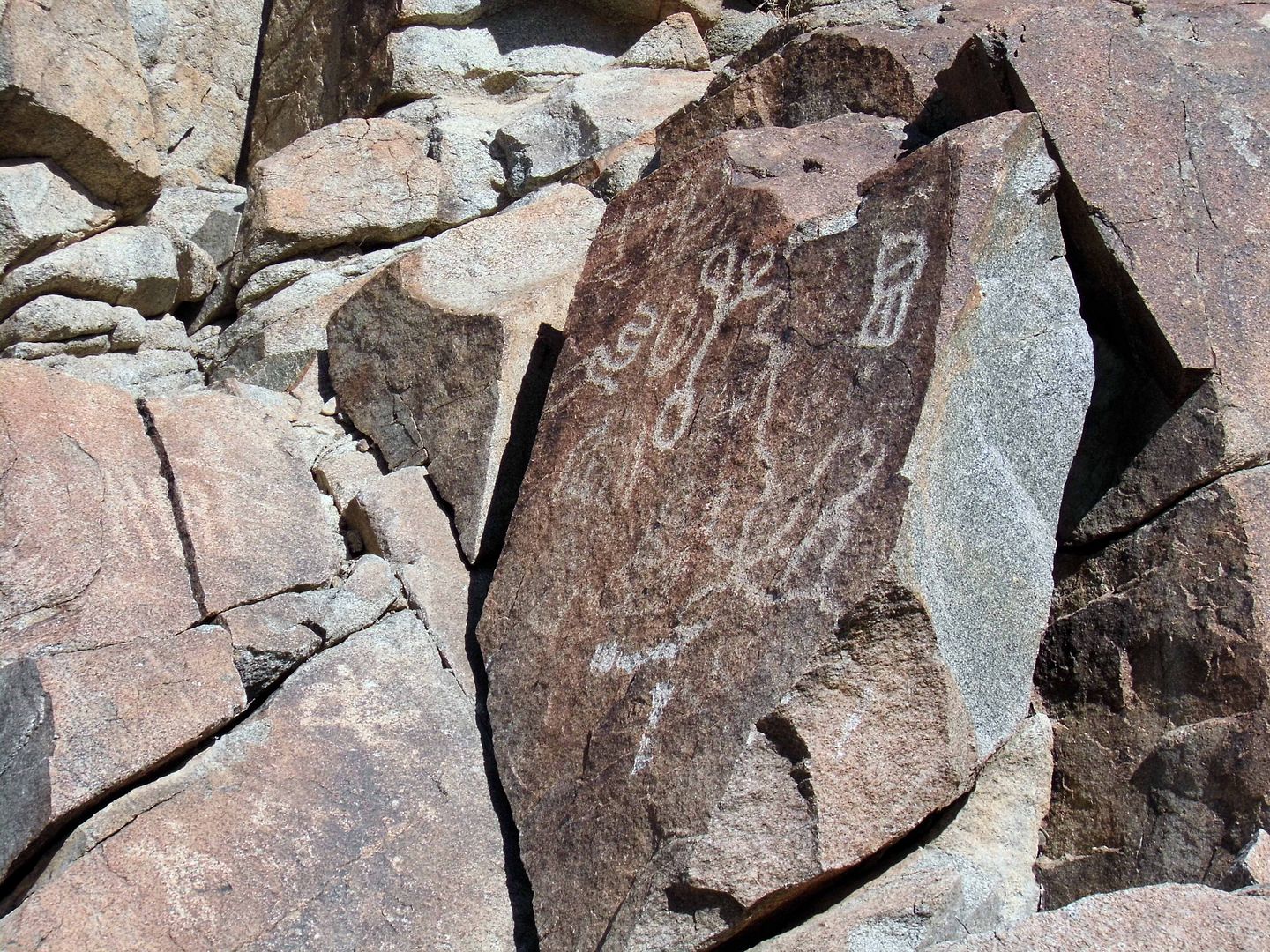 Some of those old cabins are still out there, past the Corn Spring Campground—but because a class on rock art had brought me there, I didn't know to look for them (and wouldn't have had time).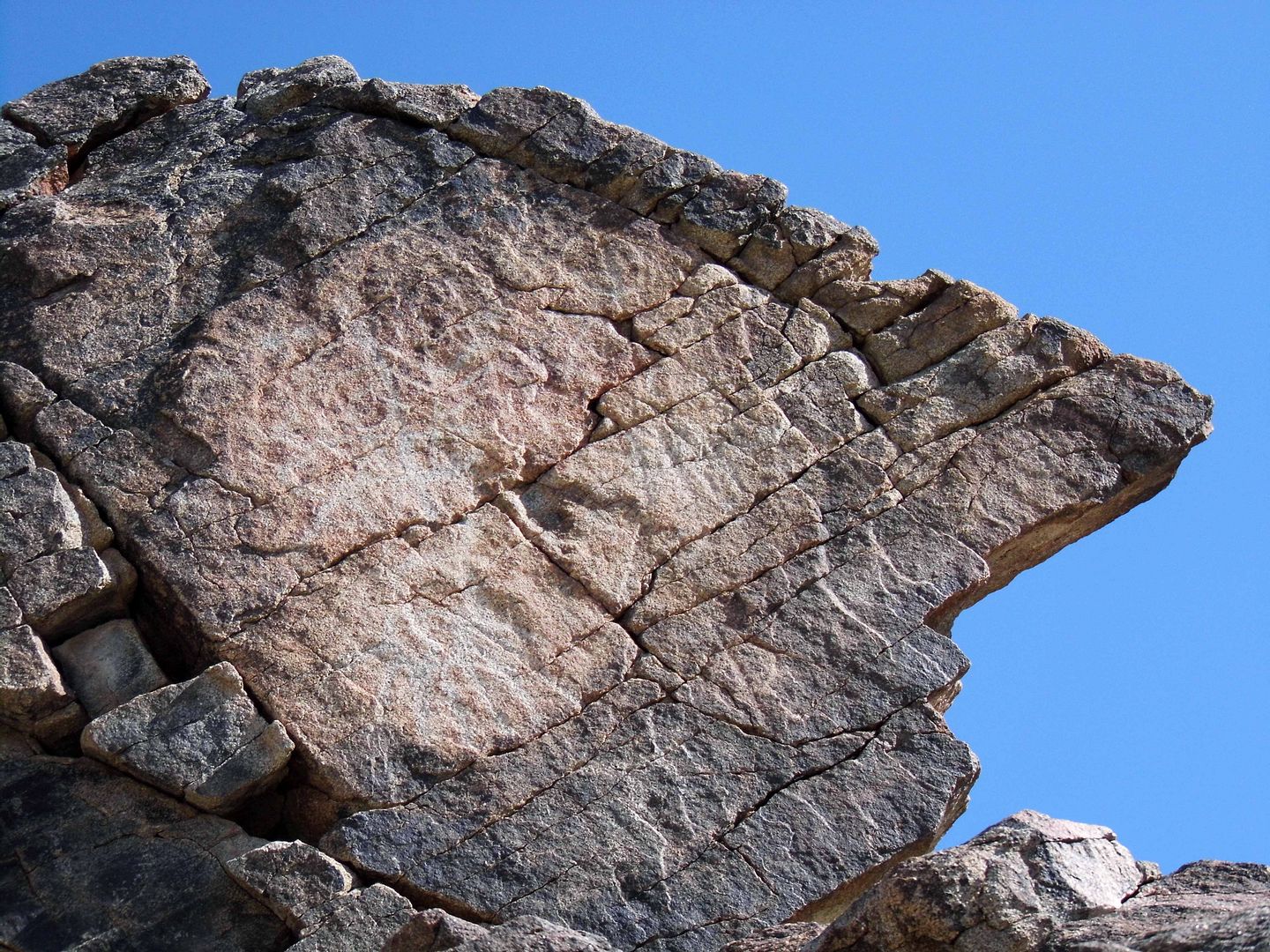 I'll have to go back.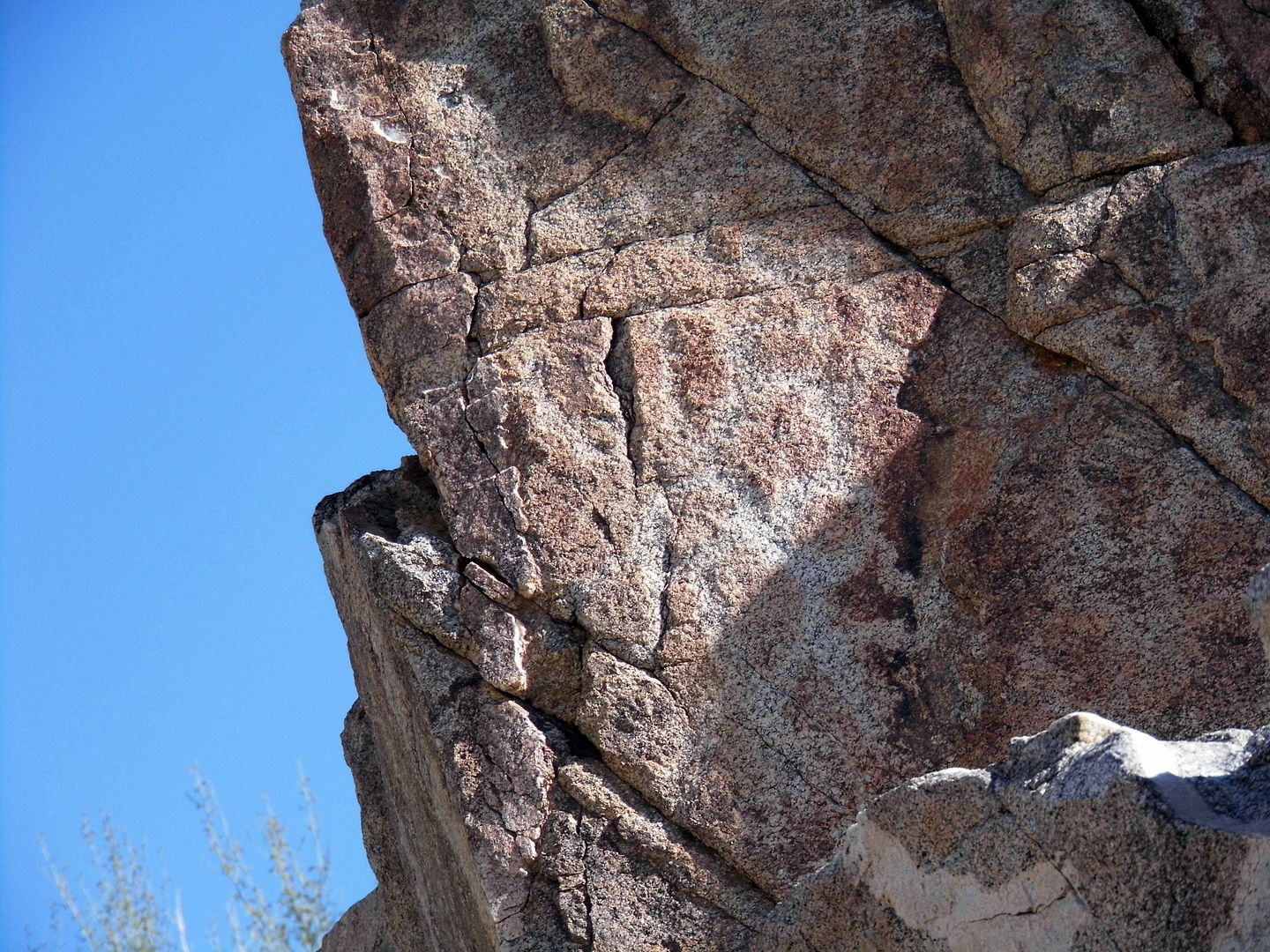 I'd also like to visit the mayor's gravesite at Aztec Wells, where he was buried alongside a couple of fellow miners (including "Little" Tommy Jones, d. 1923).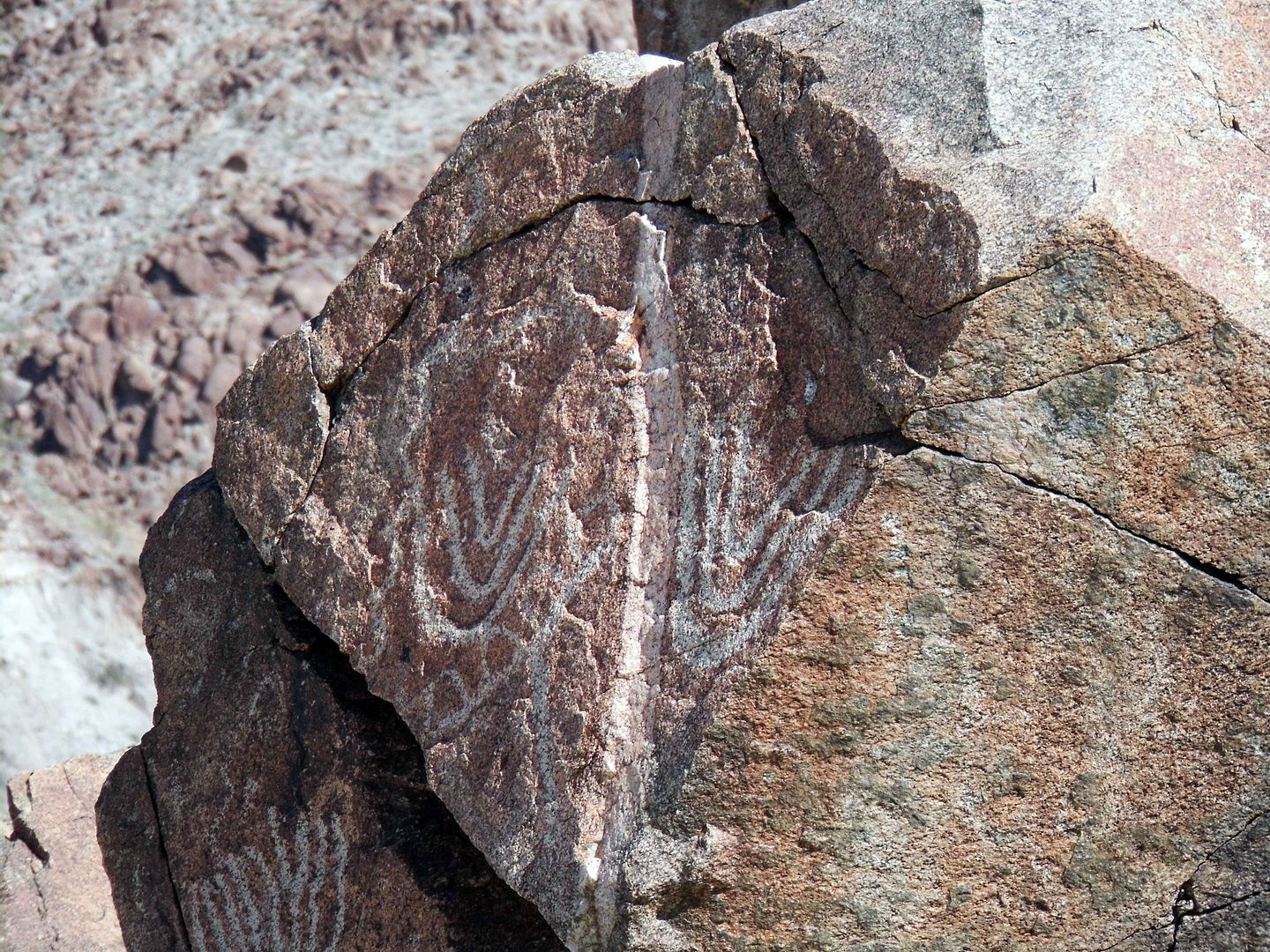 There are probably at least 10 total significant rock art (specifically,
petroglyph
) sites at Corn Spring, though I've now seen two of the biggest ones.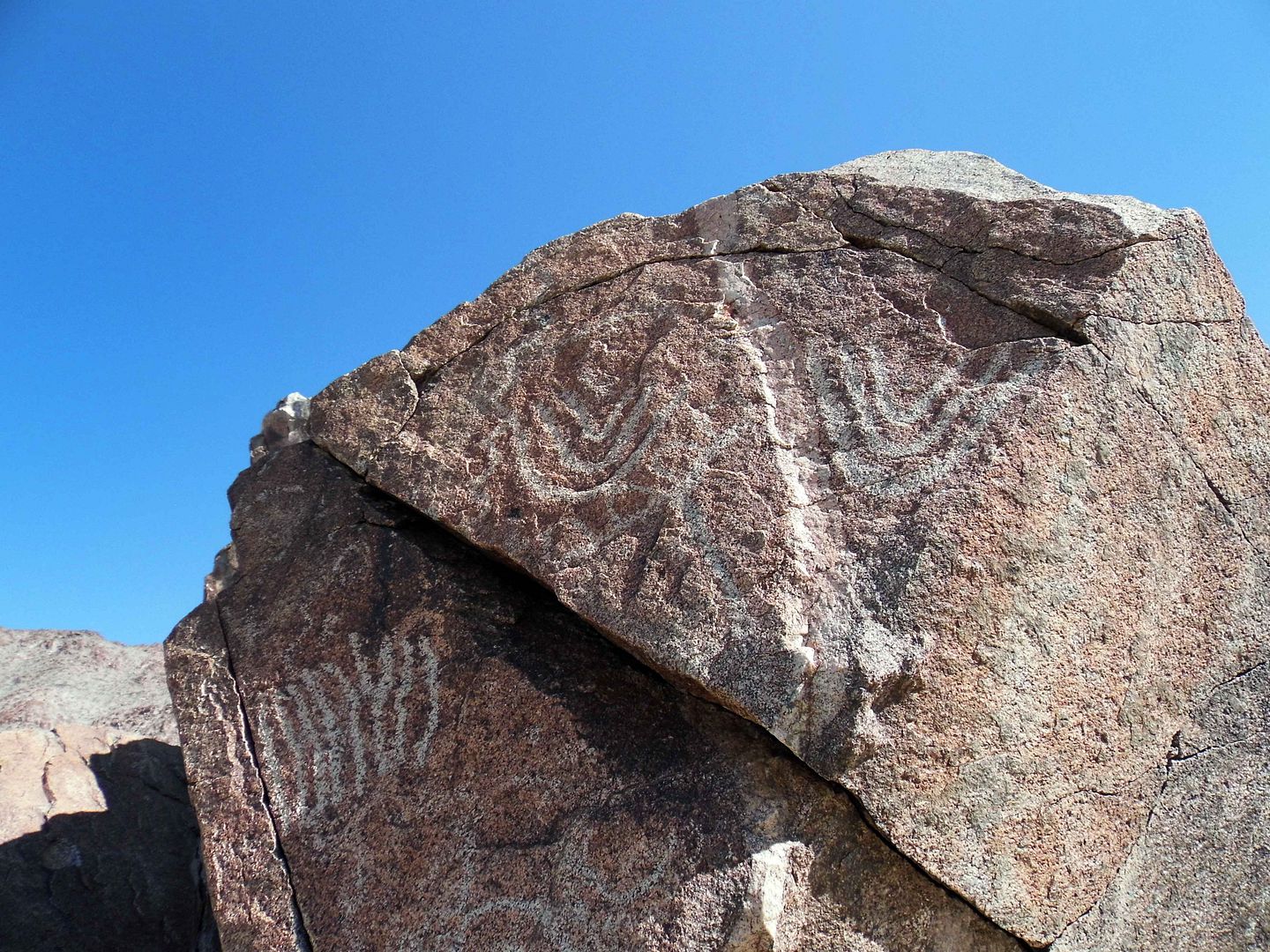 After decades of studying them, scholars still don't know much about what the symbols scratched into the desert varnish mean.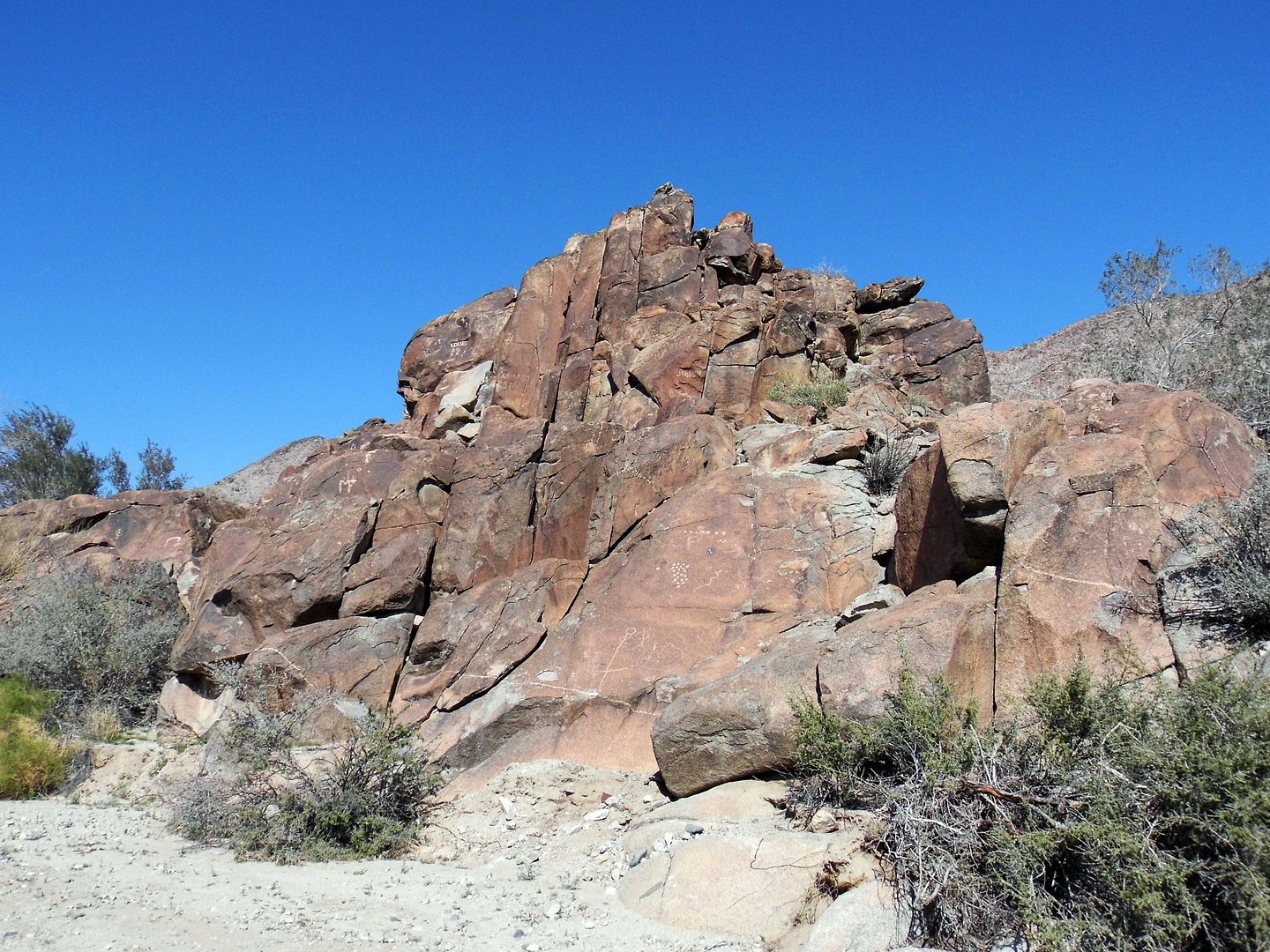 After all, most of the etchings are abstract and not figurative...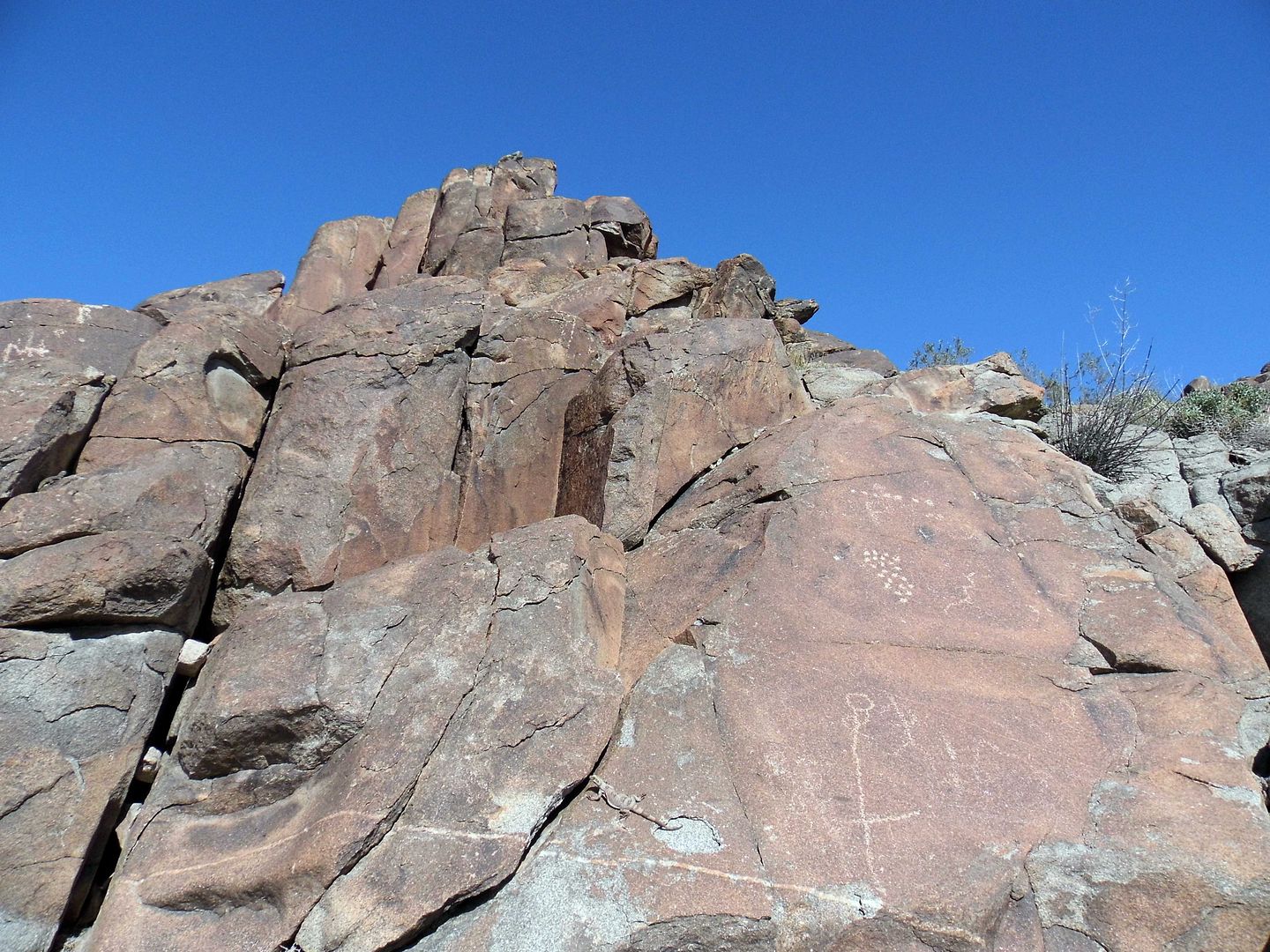 ...though it's our inclination to
see faces
and identify stick men, animals, and even boats out of collections that might actually just be lines and circles.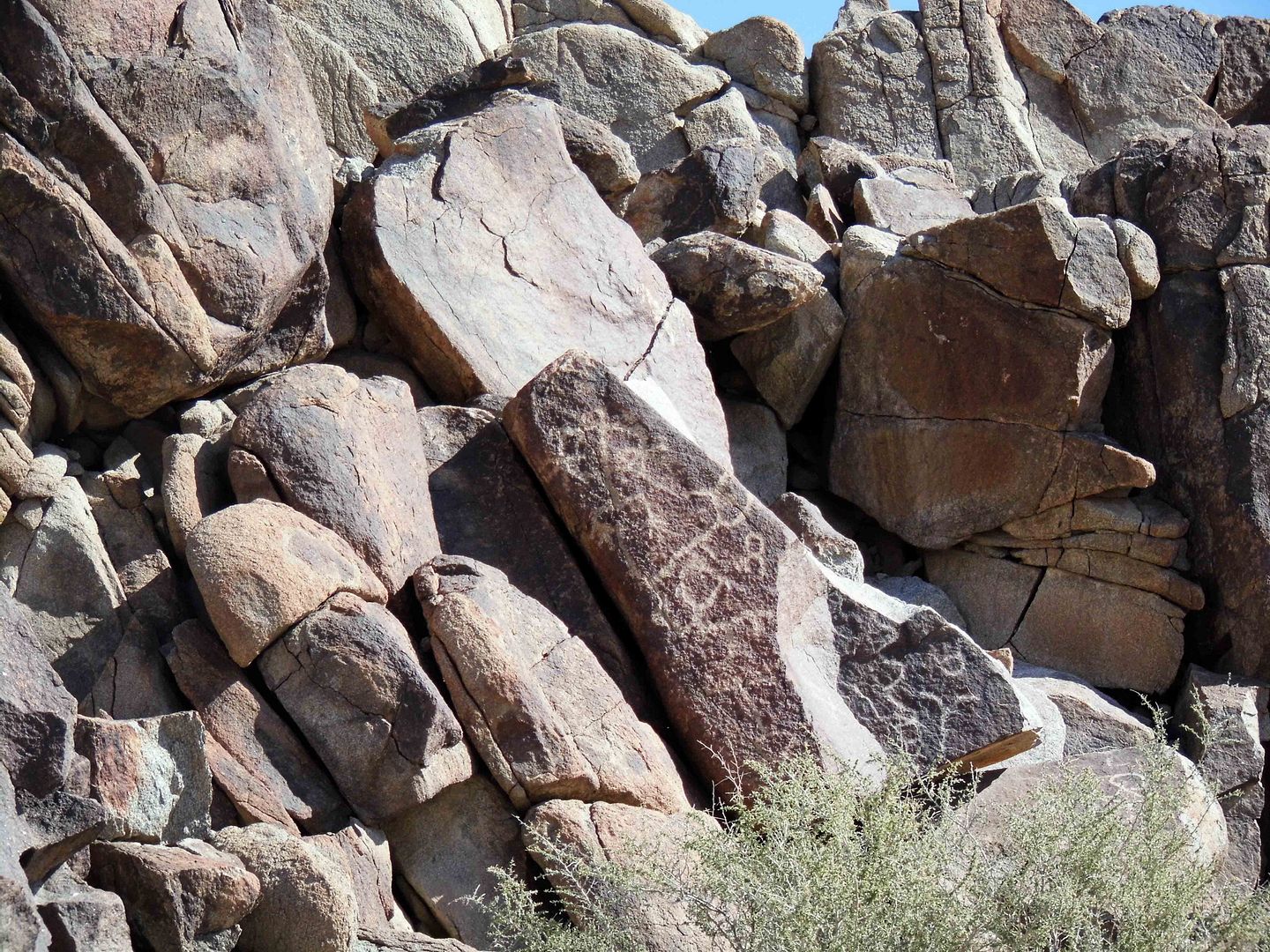 Considering the frivolity of lots of contemporary vandalism and graffiti, there may not be as much significance to the Native American rock art as we might think.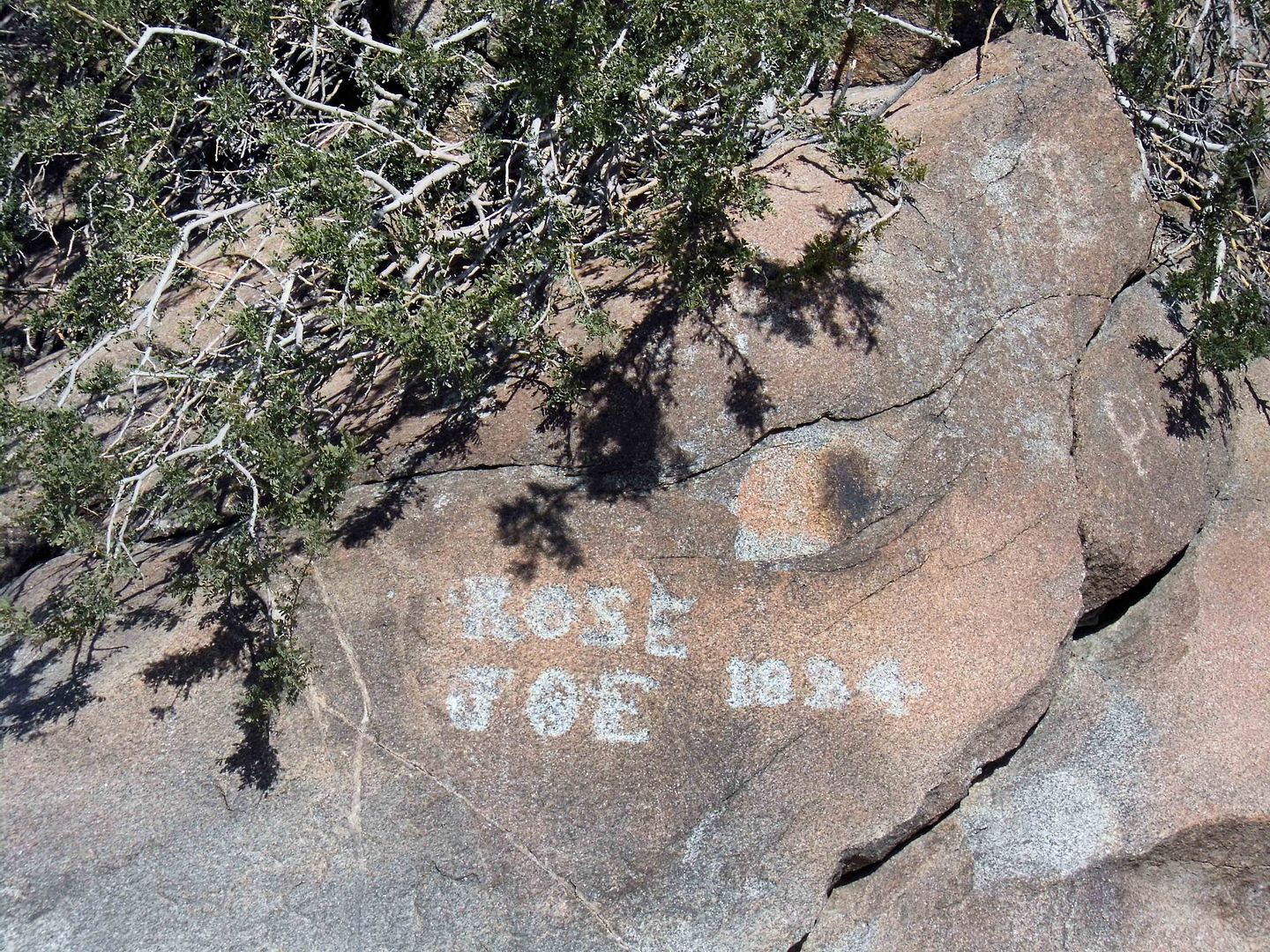 But as more and more time passes, the fuzzier the line between modern-era doodles and historically significant carvings become.
Enjoy this very good video from The Desert Way (an essential resource for desert research) at Corn Spring Campground and Aztec Wells, above.
For historic photos, visit the article "Into the Chuckwallas: Rediscovered Desert Photographs of Susie Keef Smith and Lula Mae Graves" on KCET.org.
Related Posts:
Photo Essay: Ancient Petroglyphs Secured Inside a Navy Weapons Testing Station