[Last updated 9/14/19 7:36 PM PT—new photos added]
It's easy to take places for granted, never visiting because they'll always be there, won't they?
But even long-standing institutions close. And sometimes, it's the announcement of their demise that is just enough impetus for me to finally go. I hate to have to say, "I never got to go."
In the case of Proud Bird Restaurant, I'd never heard of it or even driven by until I heard it was closing. So I went for the first and probably final time.
[Ed: Not my final time!]
It's hard for a restaurant like the Proud Bird to survive when competing with
gourmet offerings now added to the food court of the new Tom Bradley International Terminal
that are quick, easy, and onsite. It's a huge property, a fixture on the south side of LA's airport that celebrates its aviation theme, now decades past the jet age and the aerospace heyday of the 1960s-1980s.
Centered along Aviation Blvd—where flights landing at
LAX
come in so low, you duck your head—Proud Bird Restaurant has been a layover watering hole, a planespotter outpost, and a welcoming home to aerospace employees, military, and civilians alike since it opened in 1958.
It's a historic restaurant just shy of a half century old, but it's also somewhat of a plane museum and memorial to the various airmen (and women!) who have contributed to aviation history in various ways, including renowned
test pilots
.
The original owner, David Tallichet, was a pilot himself, having flown a B-17 (the "Memphis Belle") over Europe in World War II, and was once considered a leading collector of military aircraft.
The restaurant is now owned by David's son John Tallichet, who planned to close the restaurant on November 21, 2013 after a long battle with LAX over the rent.
So what will happen to the vintage aircraft that the restaurant sports at its front entrance and back lawn?
Some of them are fiberglass replicas built by the Tallichet-owned Military Aircraft Restoration Corp., but others are originals.
In the back, you can see their reproduction of a Fokker D.VI, a World War I-era German fighter aircraft...
...the P-38 Lightning...
...a Lockheed-built World War II-era fighter aircraft...
...and an example of the first aircraft to break the sound barrier, Bell's single engine, single seat, mid-wing rocket plane, the X-1.
You can also spot the SPAD S.XIII, a French biplane from World War I...
...the Grumman F6F Hellcat, manufactured for the U.S. Navy, flown by the Americans to fight the Japanese...
...a Blue Angels-branded craft...
...and lots of jets (and jumbo jets) flying overhead.
The planespotting in the air is just as good as on the ground, with a variety of airliners and cargo transporters dipping down low, so close you feel like you can reach out and grab them right there from the Proud Bird's patio.
Because the Proud Bird is technically
on Los Angeles World Airports' property but is not
in
LAX, it not only must pay
rent
(which, under the current lease, is under $20K per month but, under the new lease, would be raised to market value of over $500K per year) but also additional fees, covered in part by a surcharge they pass back to the customer on their bill, duly noting that it is
not
a service charge and gratuity is very much expected and welcomed.
UPDATE: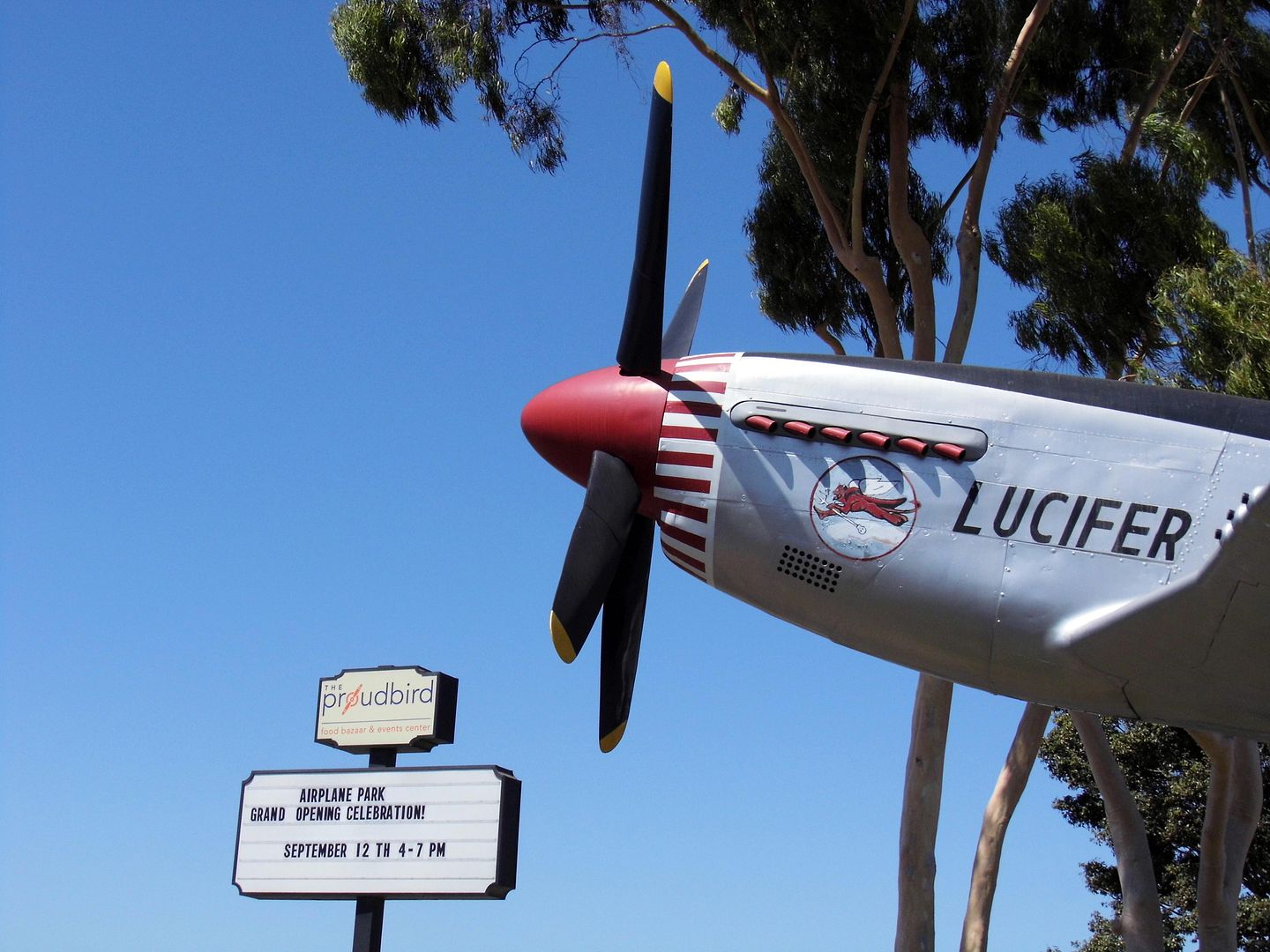 circa 2019
The Proud Bird was open for one more year on a lease extension, but then it did close for good, get gutted, and reopen as a food hall in 2017.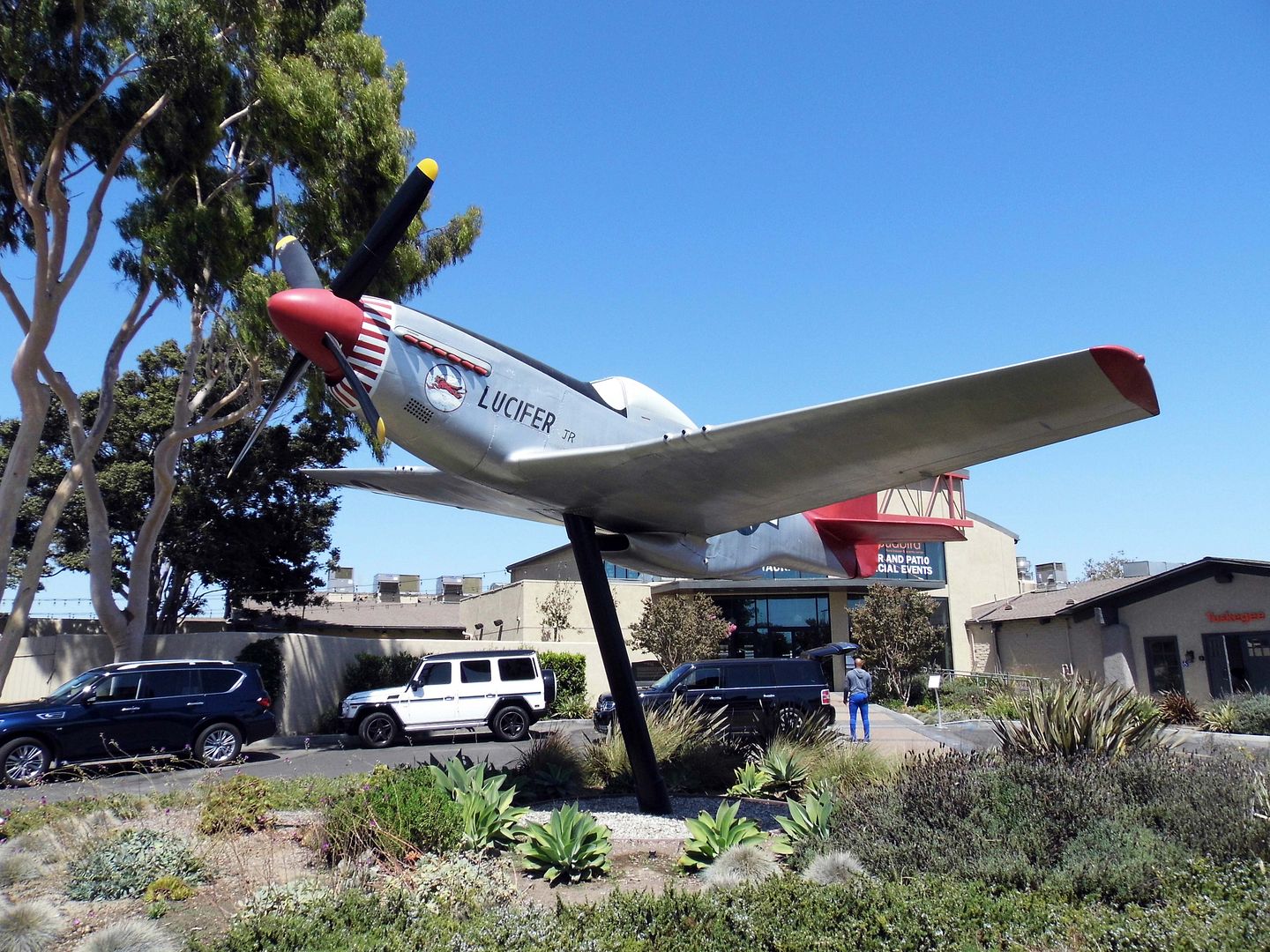 circa 2019
I didn't make it back to check it out until 2019.
circa 2019
From the outside, it doesn't even look like the same place.
circa 2019
And from the inside, it resembles an airplane hangar much more than a food hall or eatery.
circa 2019
In a way, that's to its advantage.
circa 2019
The displays and artifacts are fascinating.
circa 2019
And they stretch from floor to ceiling.
circa 2019
The "Airplane Park" out back has been preserved and renovated...
circa 2019
...with patio seating still allowing for planespotting...
circa 2019
...and fast casual food options being offered in bottomless buffet style on Sundays during brunch, alongside a full bar and comfy seats.
It's not the same as before, but it's unlike any other food hall we have in the LA area.
And it's still a quirky stopover for anyone in the LAX area.
Related Posts:
Photo Essay: LAX's New International Terminal
Photo Essay: Blackbird Airpark, Before Open Hours
Photo Essay: The Planes of LAX's Flight Path Learning Center Museum
Photo Essay: Flight Crew Fashion of a Bygone Era