[Last updated 6/9/19 7:03 PM PT]
What you are about to read is the tale of a
once
-abandoned mineral spa that has been taken over by the CSU Desert Studies Center. Visitors are welcome to walk the grounds but
not
to enter any buildings without permission.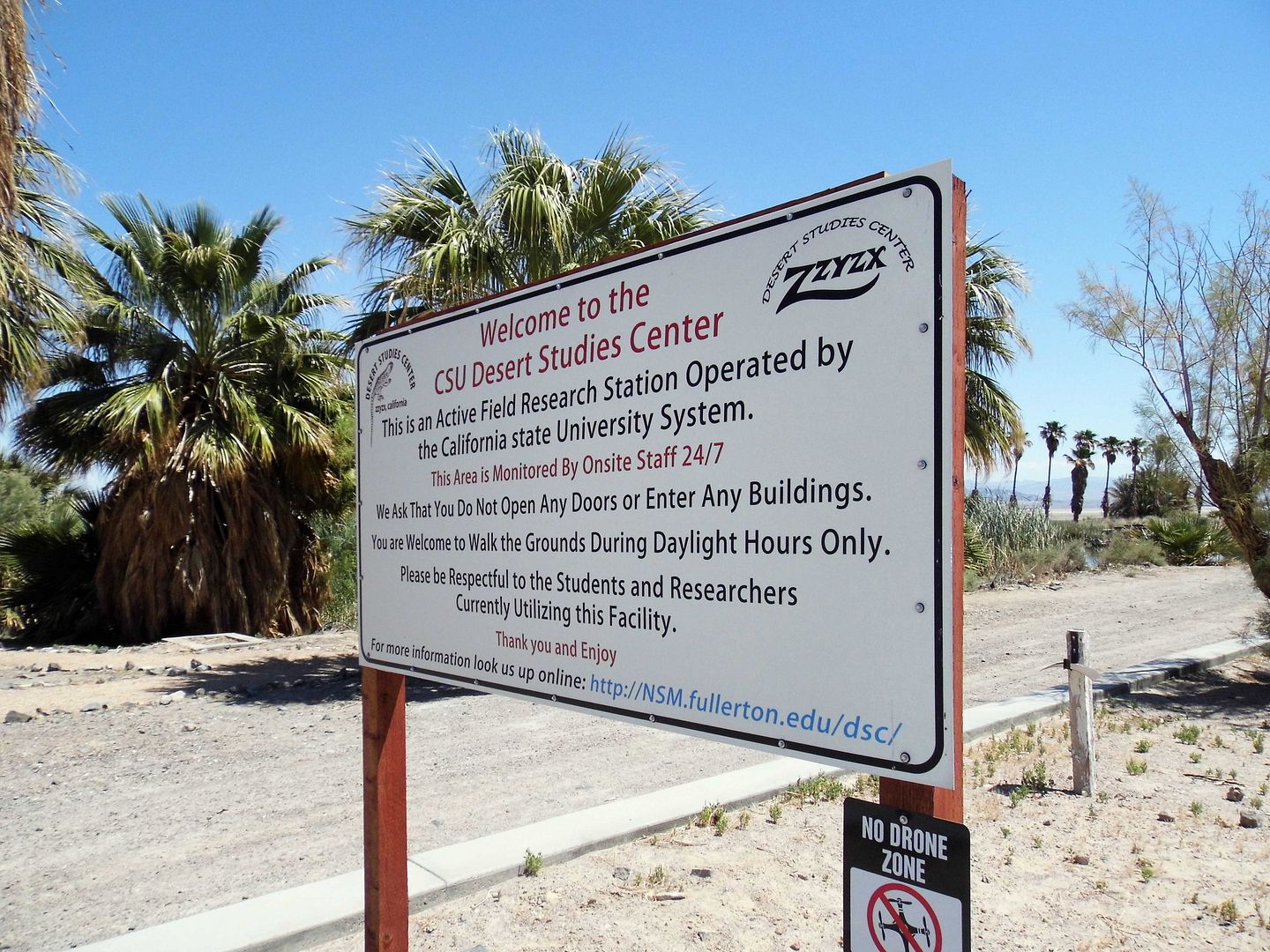 On the way back from
Vegas
for my
birthday
last year, I told the girls I wanted to show them one of my favorite places on earth: Zzyzx.
I'd been there once before, in the summer of 2009 when I spent a month in
Joshua Tee
, and had taken a road trip up through
Amboy
and the
Mojave National Preserve
, and along the old Route 66 through
Barstow
,
Victorville
, and back. I was mesmerized.
I'd gone to see the salt flat, Soda Lake (not to be confused with the
Soda Lake at Carrizo Plain National Monument
), but on my way down Zzyzx Road I'd encountered some bighorn sheep - a rare borrego sighting at such low elevation - and, at the end, the magical mineral springs of the former Soda Springs / Zzyzx Healing Center.
Now, Zzyzx Road and Soda Lake are part of the Mojave Preserve, and the former healing center has been taken over by the Desert Studies Center, a field studies division of California State University Fullerton.
Now, these students are surrounded by magical street names and building monikers...
...which once housed a facility to heal elderly travelers passing through along the old Mojave Road (as well as those stopping over along
the old T&T Railroad
).
Of course, Zzyzx was founded by a self-proclaimed "last of the old-time medicine men": Curtis Howe Springer a popular radio evangelist from the East who, like many, had come to conquer the west and capitalize on the mineral-rich land. He'd already built some successful resort-type spas in Pennsylvania, and then filed a mining claim on the land, naming it "Zzyzx" as a gimmick to be the last word in the alphabet.
But instead of mining the land, he and his wife built an encampment of tents and concrete buildings around a palm tree-lined oasis (known as Lake Tuendae)...
...outfitted with a fountain which now serves as a perching spot for the wildlife that populates the lake...
...including a number of birds...
...and fish like the endangered Mohave tui chub.
There is also a defunct diving board, and a number of abandoned boats along its shore...
...one of which seems to have converged with the skirt of a palm tree.
Although the minerals were - and are - real at Zzyzx...
...the hot springs were not.
In the pools in the pool house...
...the water was not heated naturally, but by a boiler.
The federal government eventually caught up with the quack, convicting him of making false claims, misuse of the land, and squatting on federal land, and evicted him in 1976, thirty years after he first arrived in the Mojave Desert.
Perhaps his tinctures and tonics and teas didn't cure the ailments that he claimed - hair loss, cancer, hemorrhoids - but, looking out on the salt lake from the pool house, you can imagine the healing power of being out in the dry desert, with its high minerality, warm breezes, and blue skies.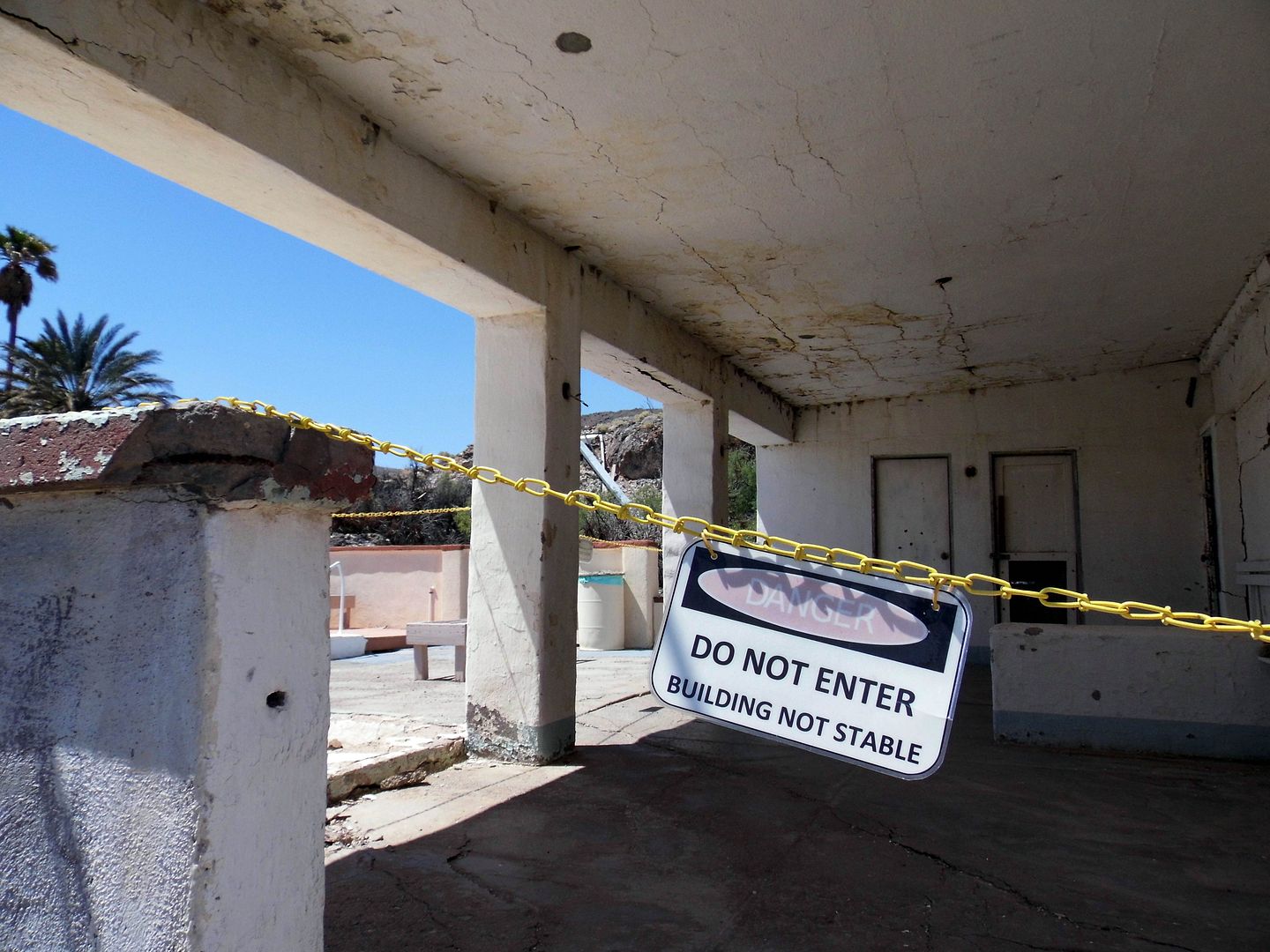 I don't know why I never blogged about it or shared my photos until now. Maybe I wanted to keep it all to myself.
The two times I've visited, I've only seen a couple other people there, and I'd like to keep it that way.
But maybe I'm one of the few people who finds solace along an empty Boulevard of (Broken) Dreams, alone with the birds, out in the middle of nowhere, with nothing to do, and everything to see. I needed that desperately back in 2009.
I don't think I'll ever stop needing it.