I can trace my current spirit of adventure back to New York City circa 2005, when the weekend program Open House New York debuted and I had the chance to access special places that hadn't previously been on my radar—mostly because I'd been otherwise occupied with nightlife and not the NYC I could explore during the day.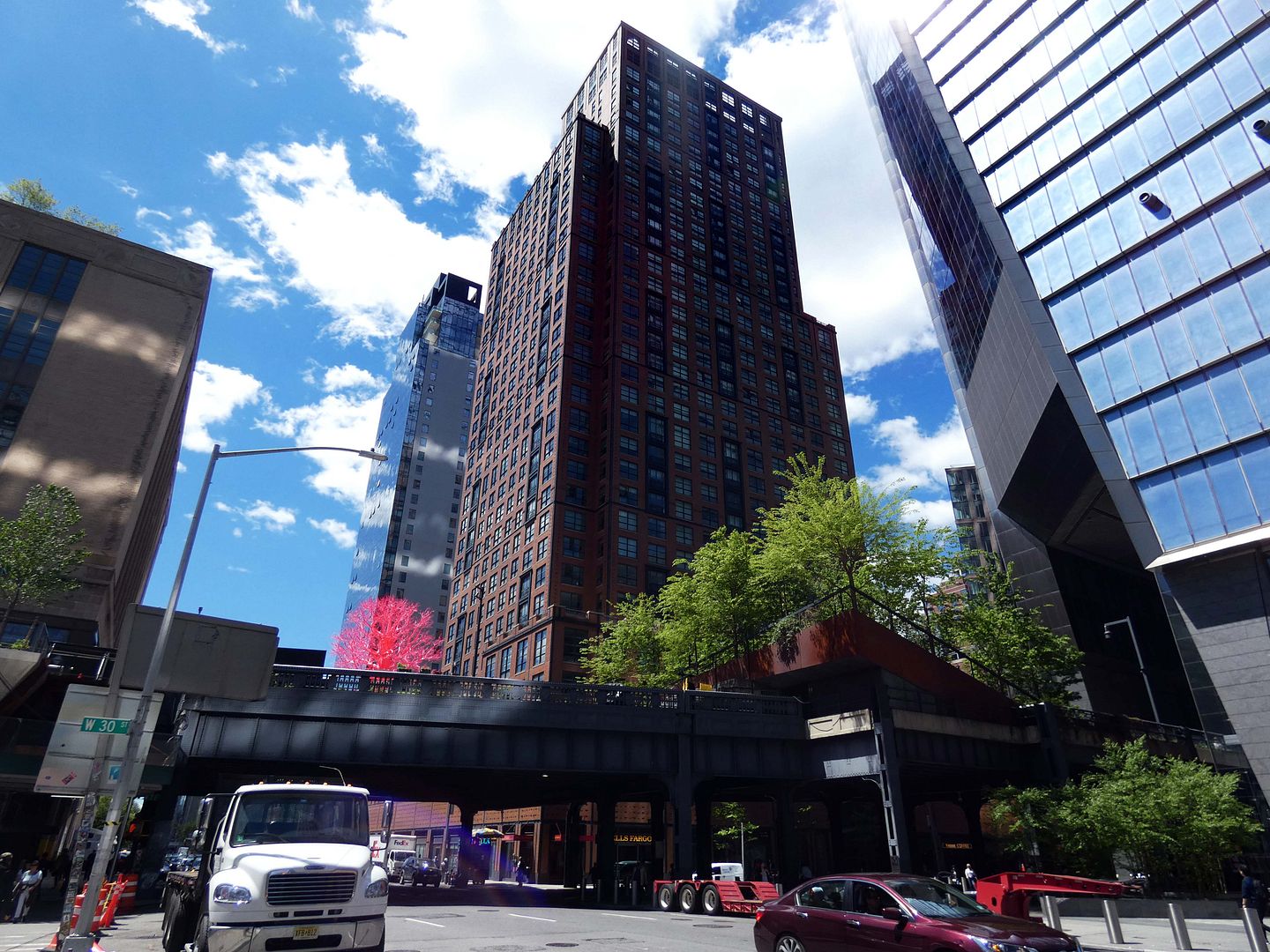 But the shift in my interests
really
ramped up in 2006, when I had the chance to walk upon the abandoned, elevated rail line that once delivered goods to the meatpackers on the far west side of the island.
In 2007, I went to an as-yet-undeveloped and seriously overgrown part of that rail line—which had been dubbed "The High Line"—to get my photo taken for a
promotional campaign
.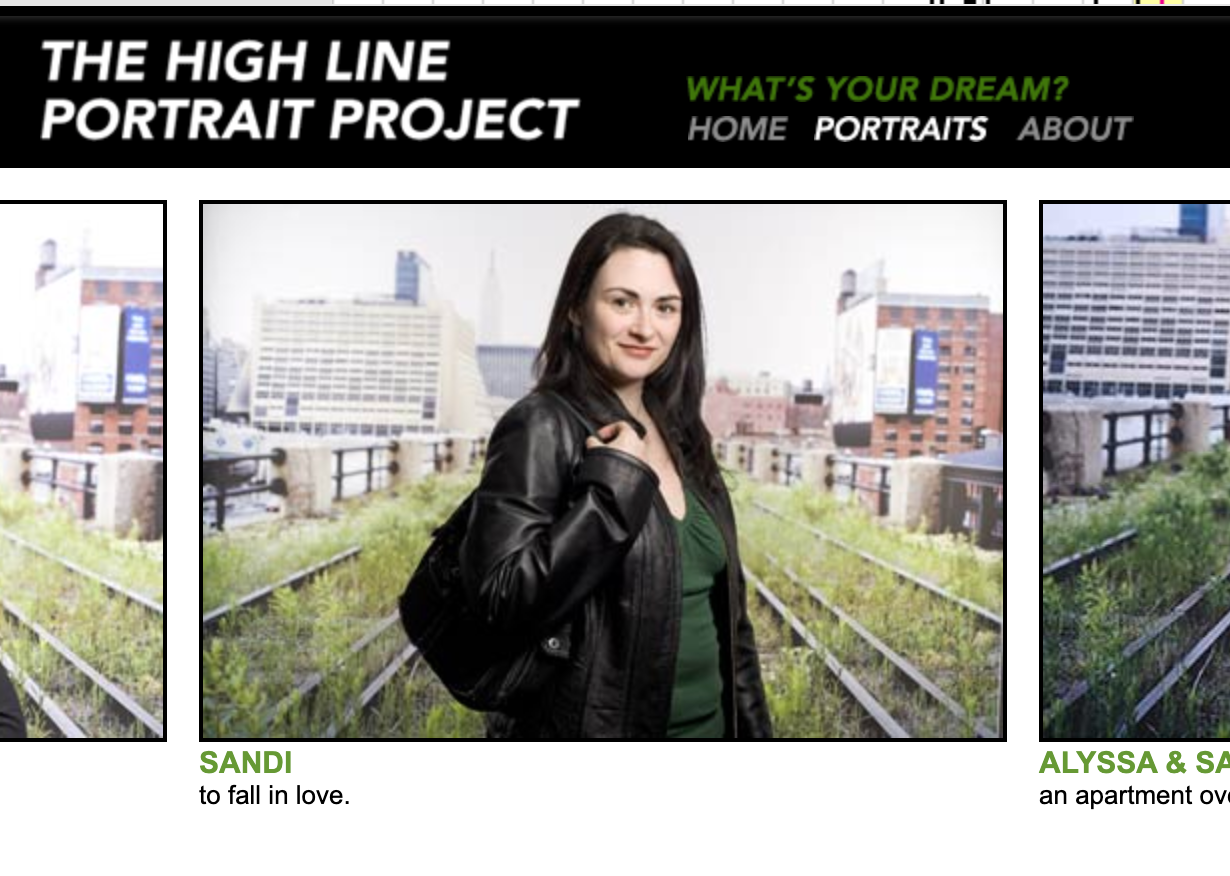 They asked me what my dream was, and instead of saying, "Being on
Guiding Light
," I said, "To fall in love." (In retrospect, I wish my wish hadn't come true.)
Since then, The High Line has held a special place in my heart—and after moving away more than 12 years ago and not being back for a visit in five years, it was at the top of my list of places to go see while I was in town last weekend.
There's a whole new section of The High Line that opened up in 2019 that I hadn't seen yet: the spur that connects the Hudson railyards to the north with the neighborhood of Chelsea to the south.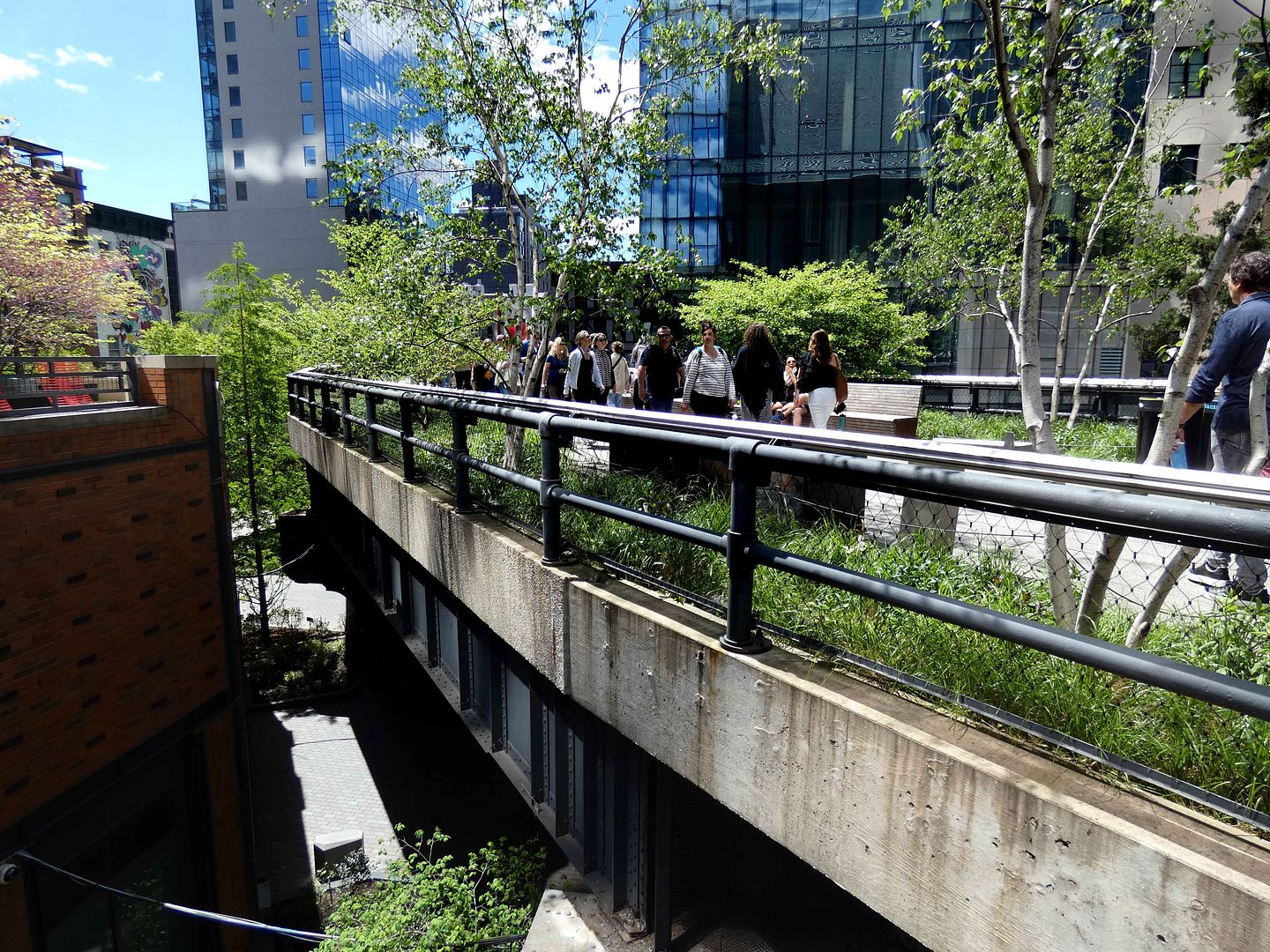 "Hudson Yards" has become a whole development with retail and eateries—but I was really just there to see what the rail line had become.
It shares a similar design aesthetic to the
Meatpacking District section
, which opened in 2009, as it embraces its wild past while developing some seating areas and clearings for walking back and forth.
The difference is that there's a lot of new, shiny construction north of W. 28th Street...
...which intermingles with the old, industrial structures in really interesting ways.
I don't even know what to think of The Shed visual and performing arts center, located in The Bloomberg Building...
...jutting out from the landscape like a big, rectangular, tufted cushion.
Another architectural head-scratcher is The Vessel, a shiny copper beehive of an observation deck that opened in in March 2019 and closed in January 2021 after three people jumped off the 16-story structure to commit suicide.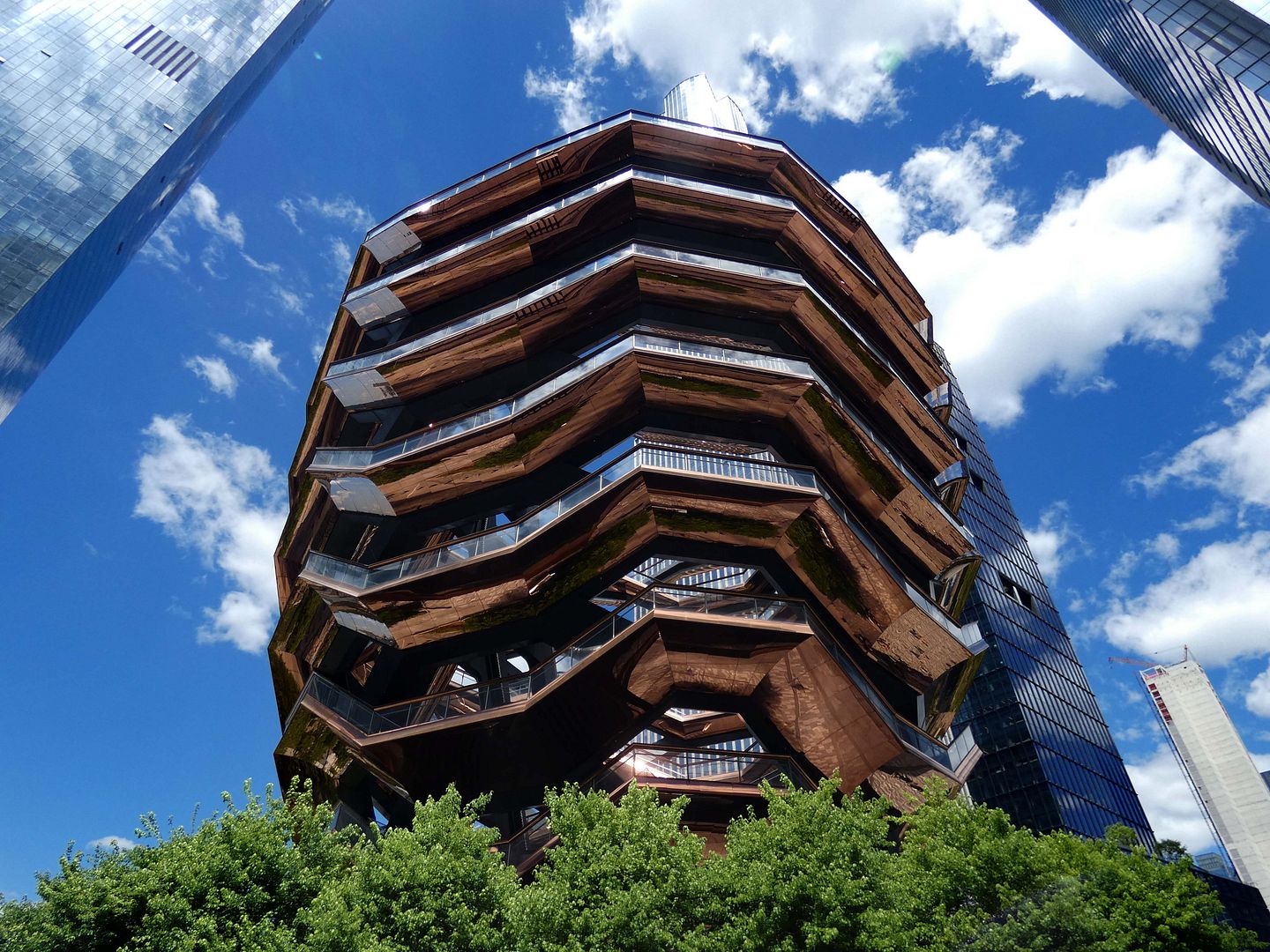 The upper levels are now closed to the public (they say temporarily, but it could be indefinitely). But I still wanted to see the thing and admire its audacity of design.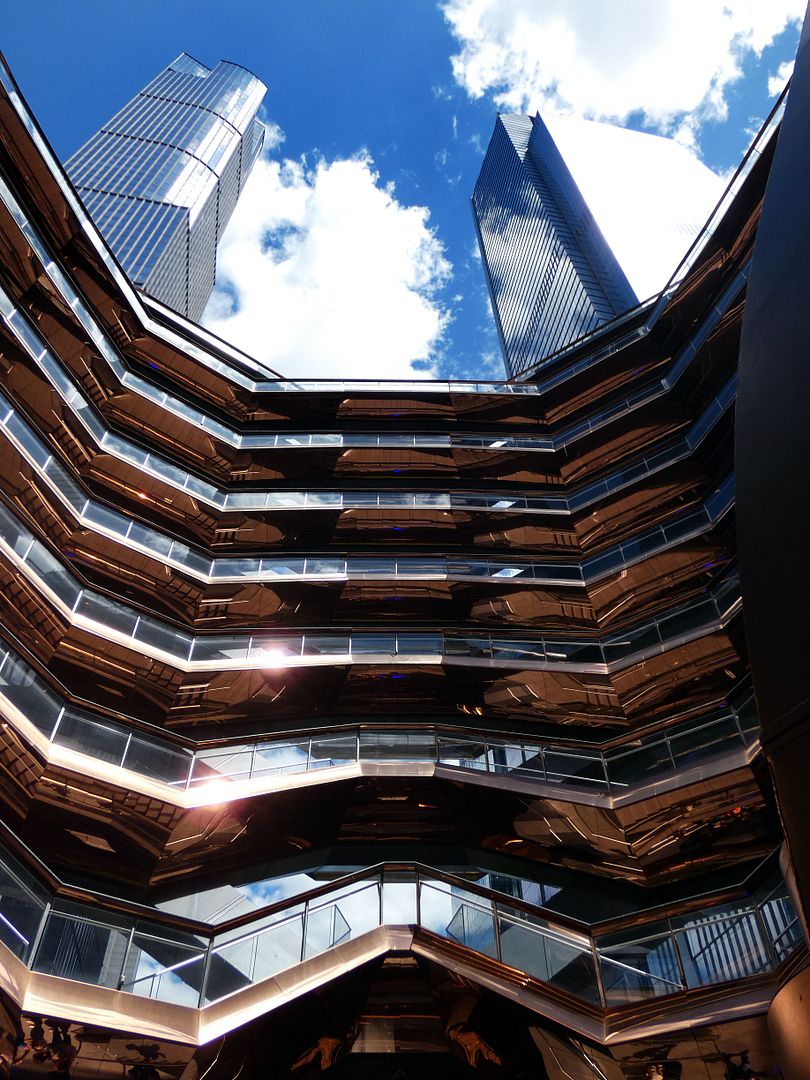 Fortunately, you can enter the bottom of it and look up through its center from its 50-foot-wide base—though you can no longer climb its 154 flights of stairs (~2500 steps and 80 landings).
So now I just have one section of The High Line left to explore: the railyards spur that stars at 11th Avenue and 30th Street and extends to the West Side Highway and 34th Street. It's considered "the last stretch of the park," and it's currently closed for rehabilitation until winter 2023/4.
That section will be interesting to explore because the original plants that grew when Nature began to "take over" the rail line were kept as "self-seeded" plantings.
But that will have to be for another trip.