If you were to drive by South Coast Plaza in Costa Mesa, California—or even wheel around its parking lot, looking for a nearby restaurant, as I have—you might think that it's just another mall.
But this shopping center is a little different.
Not only is it the largest indoor shopping mall on the West Coast, but it was also one of our first. And it's one of the most successful malls in a country where most shoppers seem to be staying home to make their purchases online.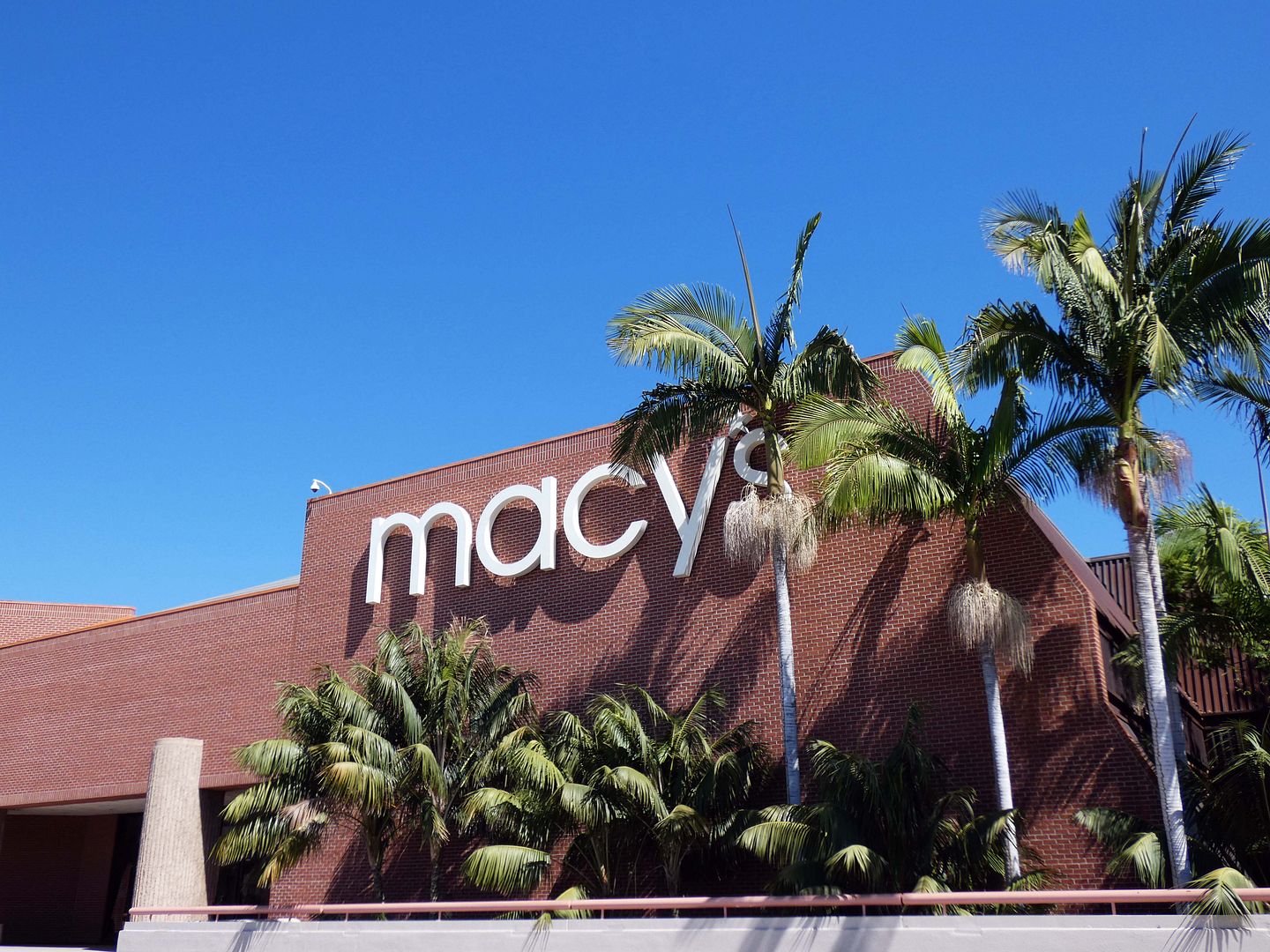 That first building, which later housed what became a Robinson's-May, has been a Bloomingdale's since 2007.
A
Welton Becket
-designed Bullock's department store, which opened in 1973 as part of South Coast Plaza's first big expansion, became a Macy's in 1995.
The Frank Gehry-designed I. Magnin department store, which opened in 1977 as part of another expansion, became a Bullock's Men's Store in 1991. It's now the Macy's Men's Store.
Many of those old façades are still pretty recognizable—although the mall has expanded multiple times over the last 50+ years. But you have to really search for one of the original mall entrances.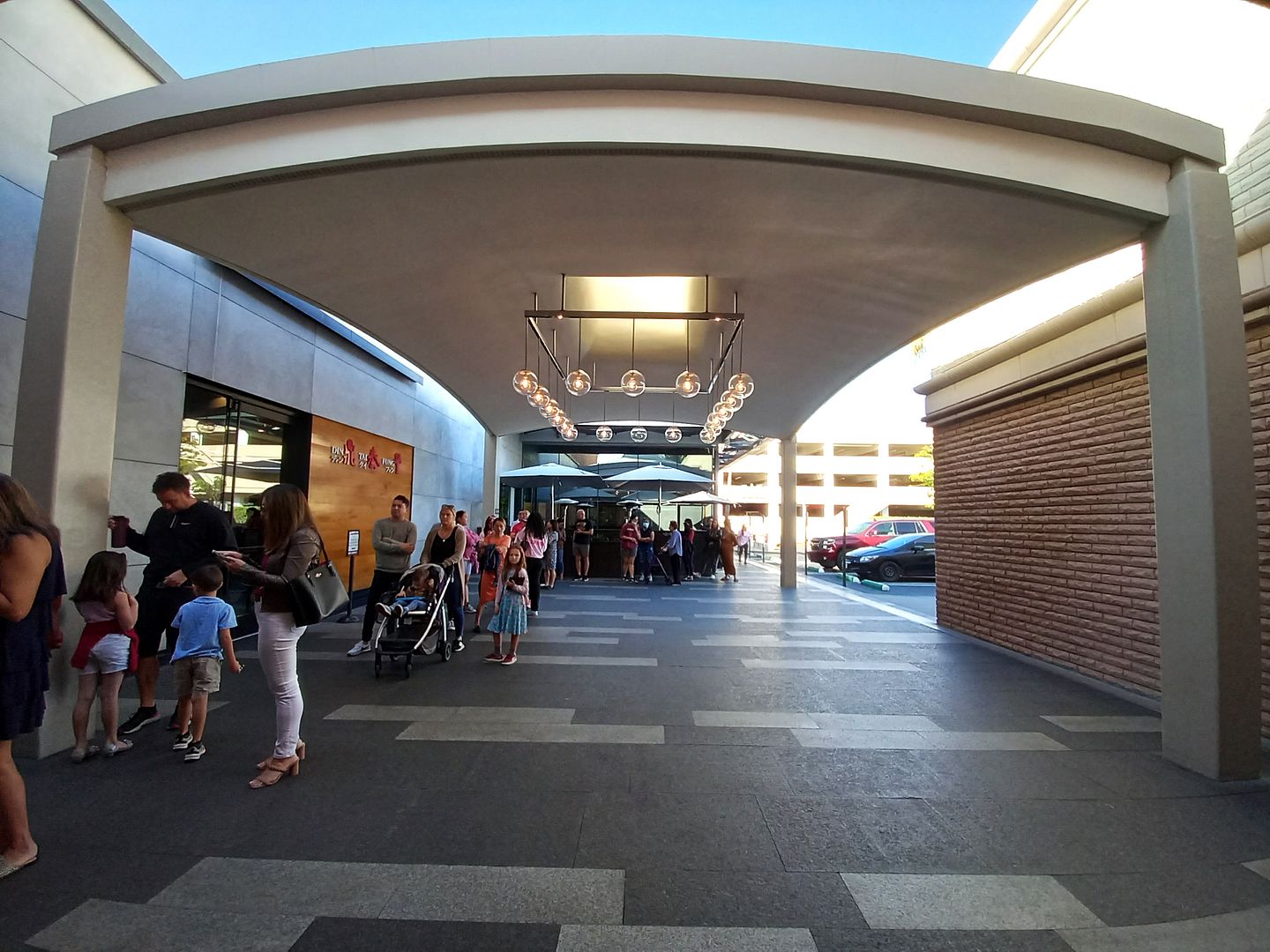 This one is tucked away next to a Din Tai Fung restaurant, in the northeast corner of the mall.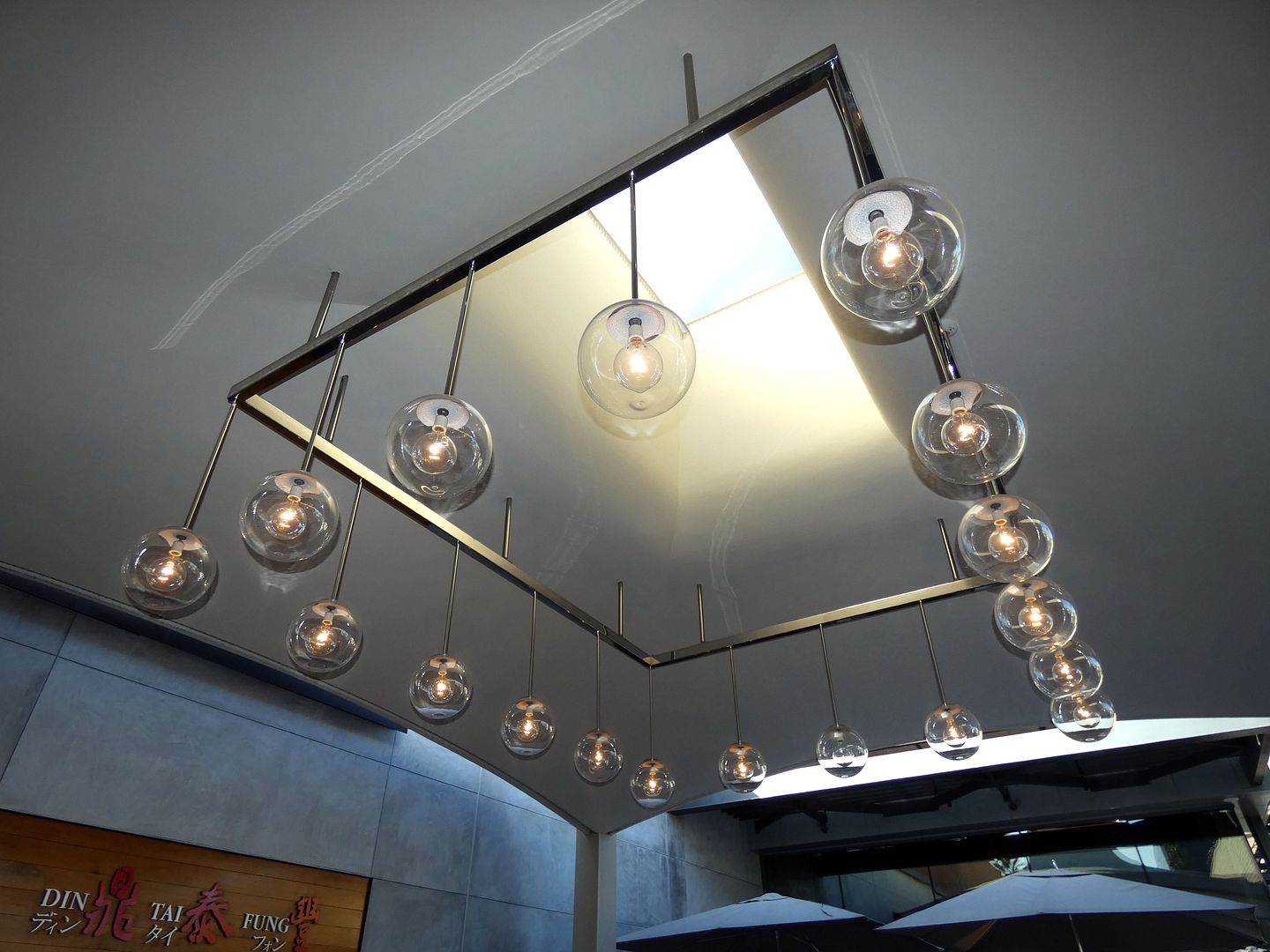 These original features—and everything else from the heart of South Coast Plaza version 1.0—were the vision of Austrian émigré and indoor shopping center pioneer Victor Gruen and his associates Rudi Baumfeld and Karl Van Leuven.
They used the finest materials, like travertine, which you can still spot next to an elevator bank in the original section and original stairwells...
...although it was possible to enter the upper level on foot from the parking lot, and initially no one ever expected anyone to climb from one level to another.
Victor Gruen organized the South Coast Plaza mall—and all of his malls—around central activity courts, like the original and still extant Carousel Court. It's located smack-dab in the middle of the mall, anchoring the space that was once centered between the mall's two original anchor tenants (The May Co. and
Sears
).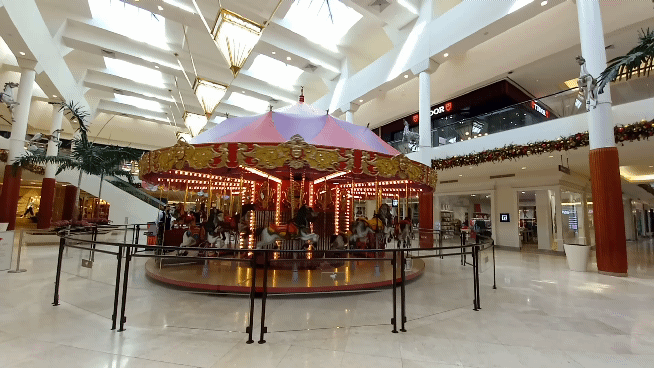 The original fluted wooden columns are still visible, although the lighting fixtures have been swapped out and the
big clock
is gone.
Carousel horses were a part of South Coast Plaza's branding from the beginning—and for just $2.00, you can ride the Victor Gruen-designed carousel, originally nicknamed "
The Jewel Box
." Built by Aero Development Company, it once included 20 circa 1855 horses salvaged from Pennsylvania and refurbished in Northern California. (Current staff members at Gruen Associates don't think any of those 19th-century horses remain operational on today's carousel.)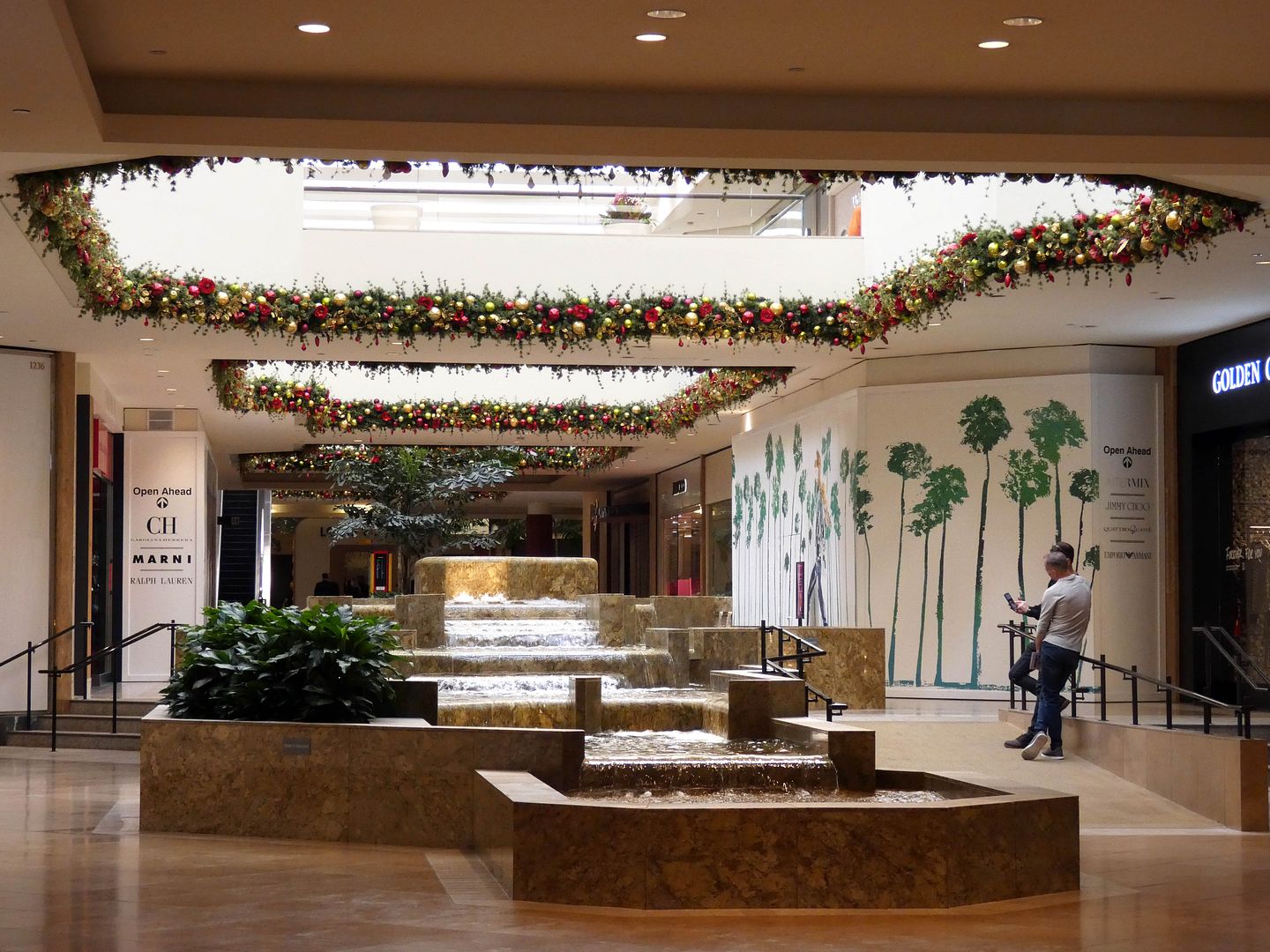 One of the most distinguishing features of the mall that remains from its early days is the cascading waterfall fountains on the lower level...
...although they used to be covered in a pebbly concrete surface instead of the current marble.
They appear more Brutalist than Midcentury Modern—actually part of a "Brutalist Modern" trend of the time.
You can find them in the mall's Phase II addition from 1973.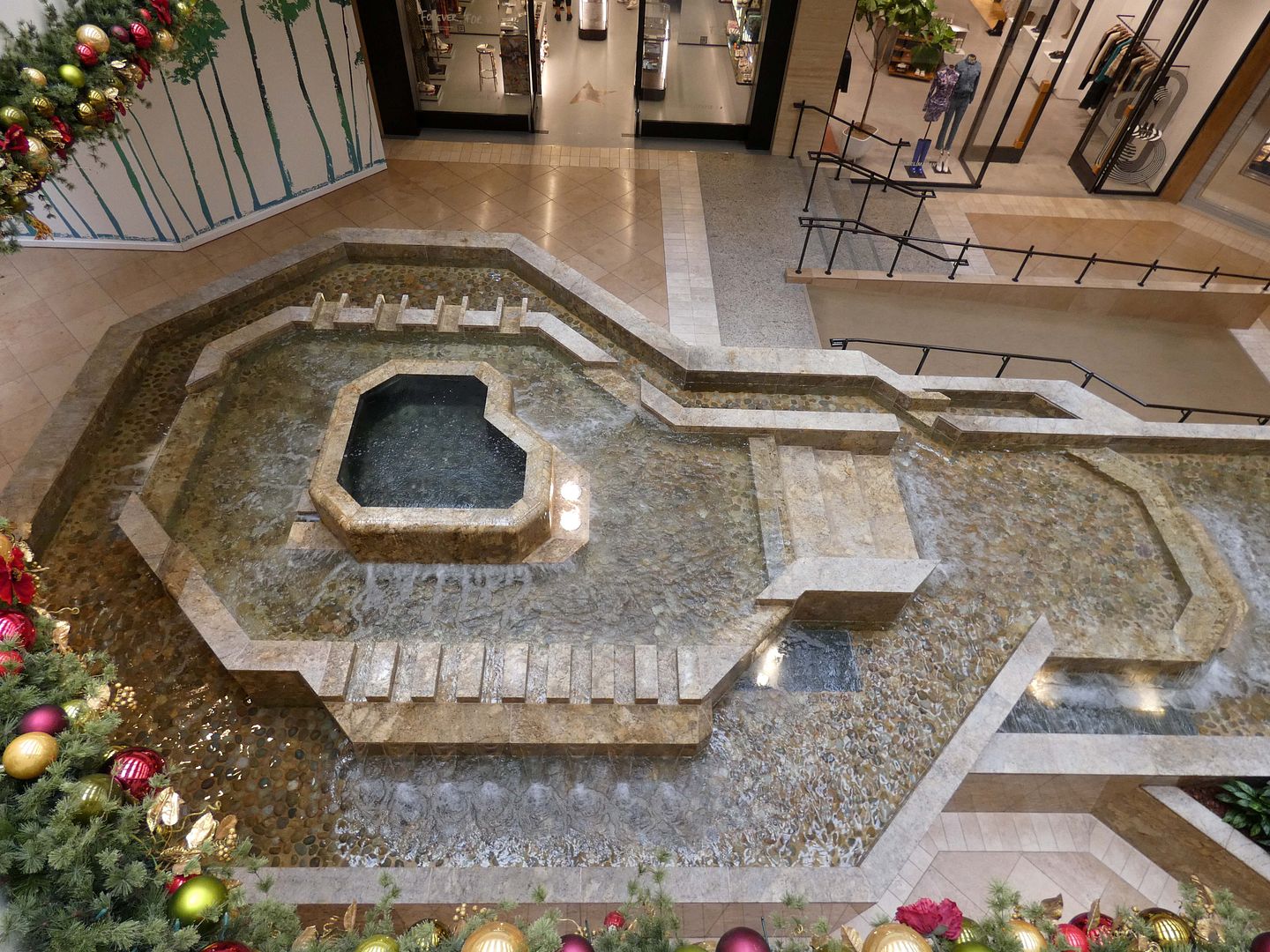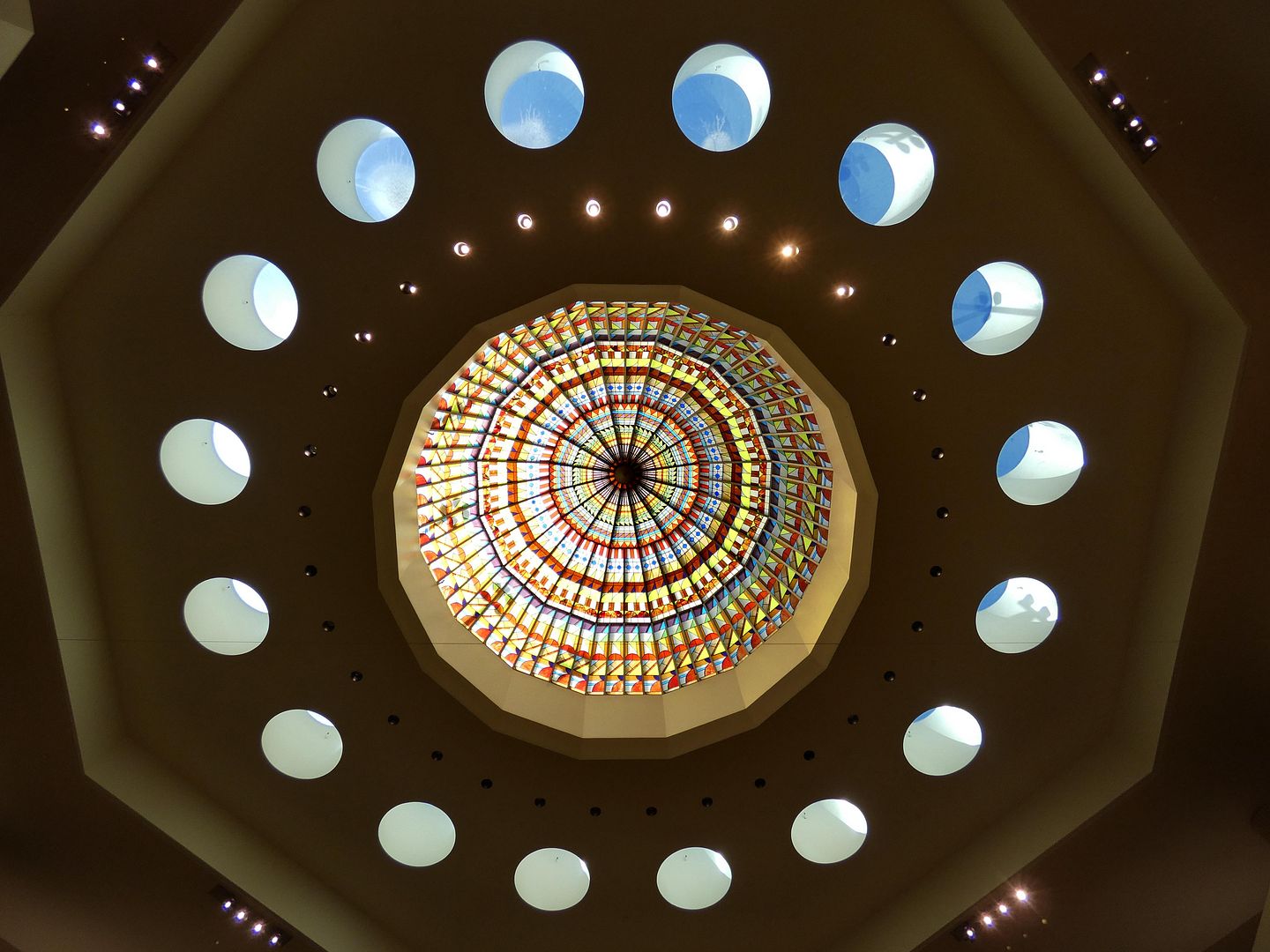 Also added in 1973 was the Jewel Court, whose centerpiece is a stained glass skylight dome, 32 feet in diameter and 10 feet high—requested by Segerstrom himself, who wanted to emulate the dome of the Stanford Court Hotel in San Francisco. The South Coast Plaza dome was designed by Marion Sampler, then head of graphics for Gruen Associates. It was a time when few Black designers were hired at major firms—and Sampler's signature mixture of bright colors and geometric patterns still goes under-recognized today.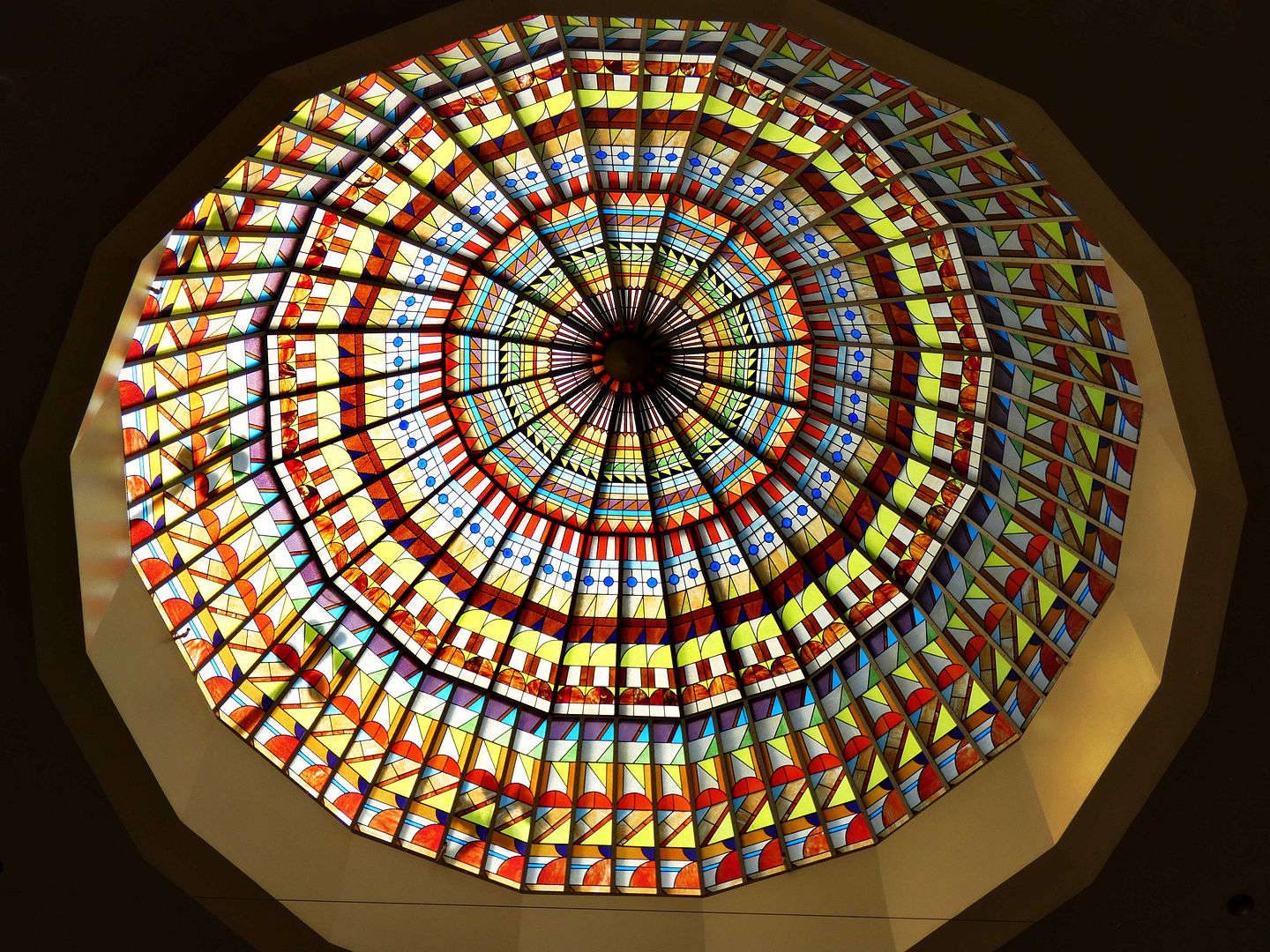 This monumental, kaleidoscopic piece is not only a work of art—but also a feat of engineering, as it's comprised of 7,200 individual pieces of hand-blown glass. Not surprisingly, it was fabricated and installed by legendary LA-based stained glass studio
Judson Studios
.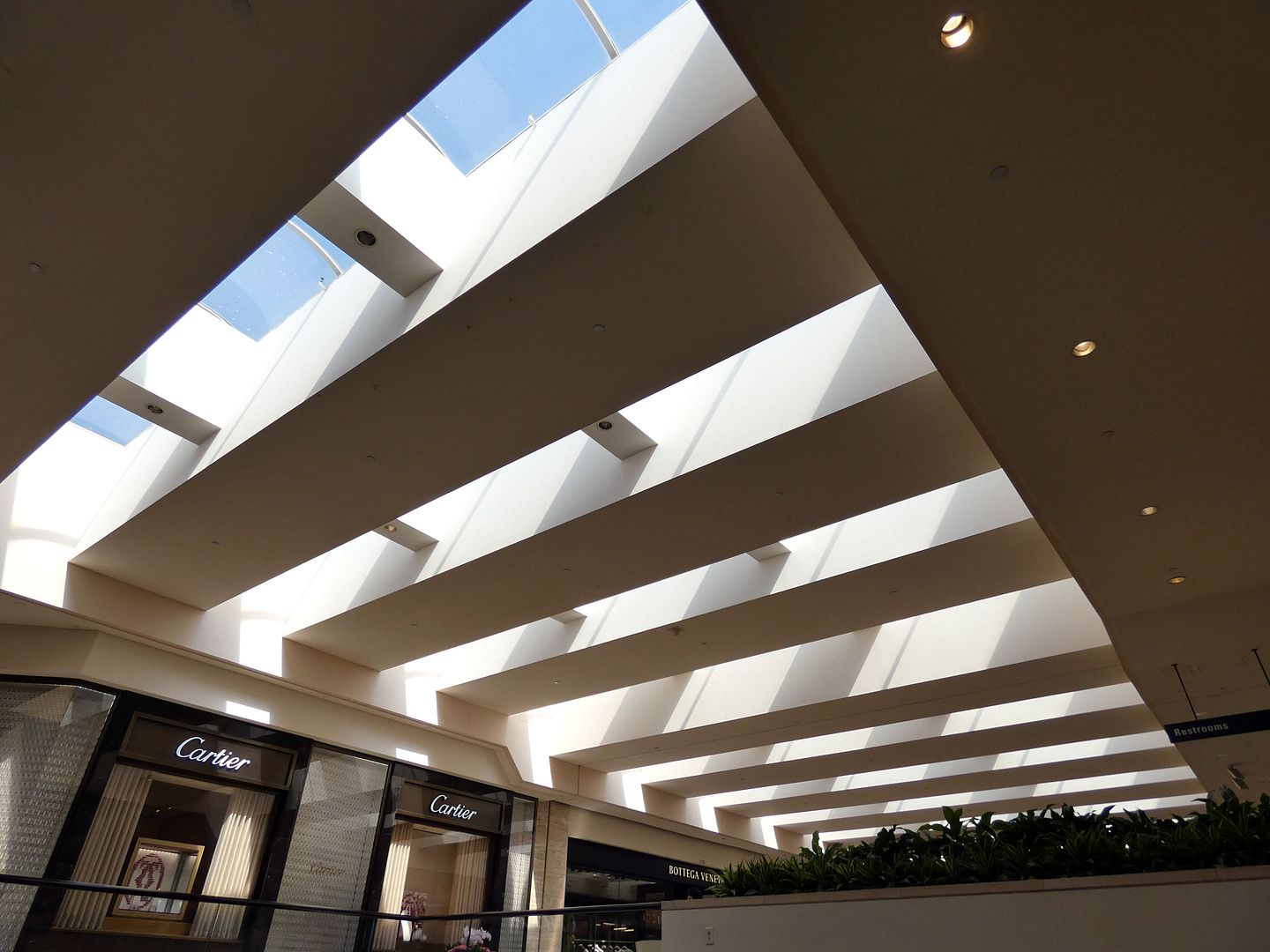 It was actually that stained glass dome that first lured me to South Coast Plaza—but thanks to a recent tour hosted by Docomomo, Preserve Orange County, and the Society of Architectural Historians, I've come to appreciate the mall as a massive entry in the California commercial architecture canon.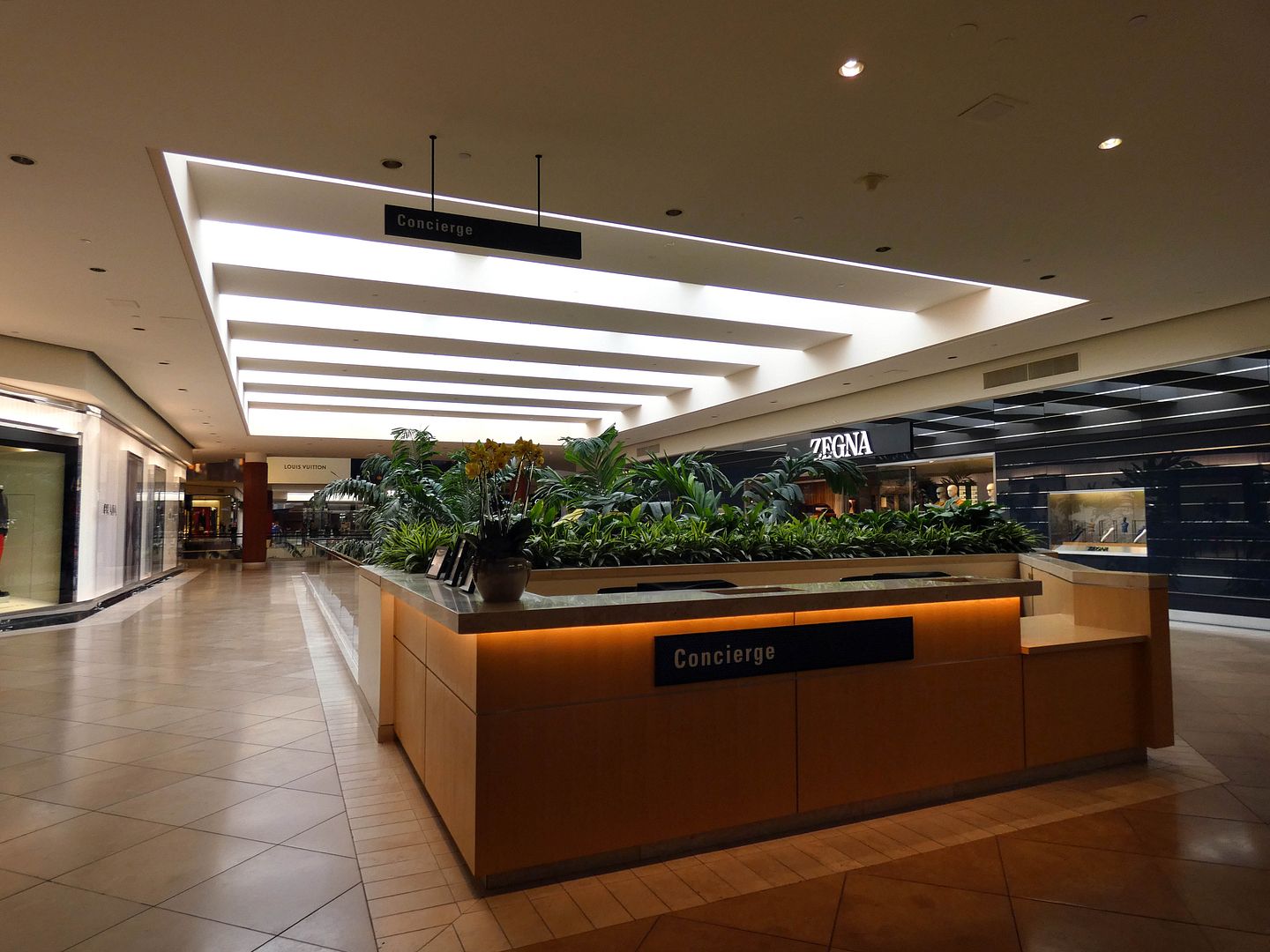 I wish I'd been able to see the original dark red tile floors, which were replaced in 1995 with Italian ivory marble.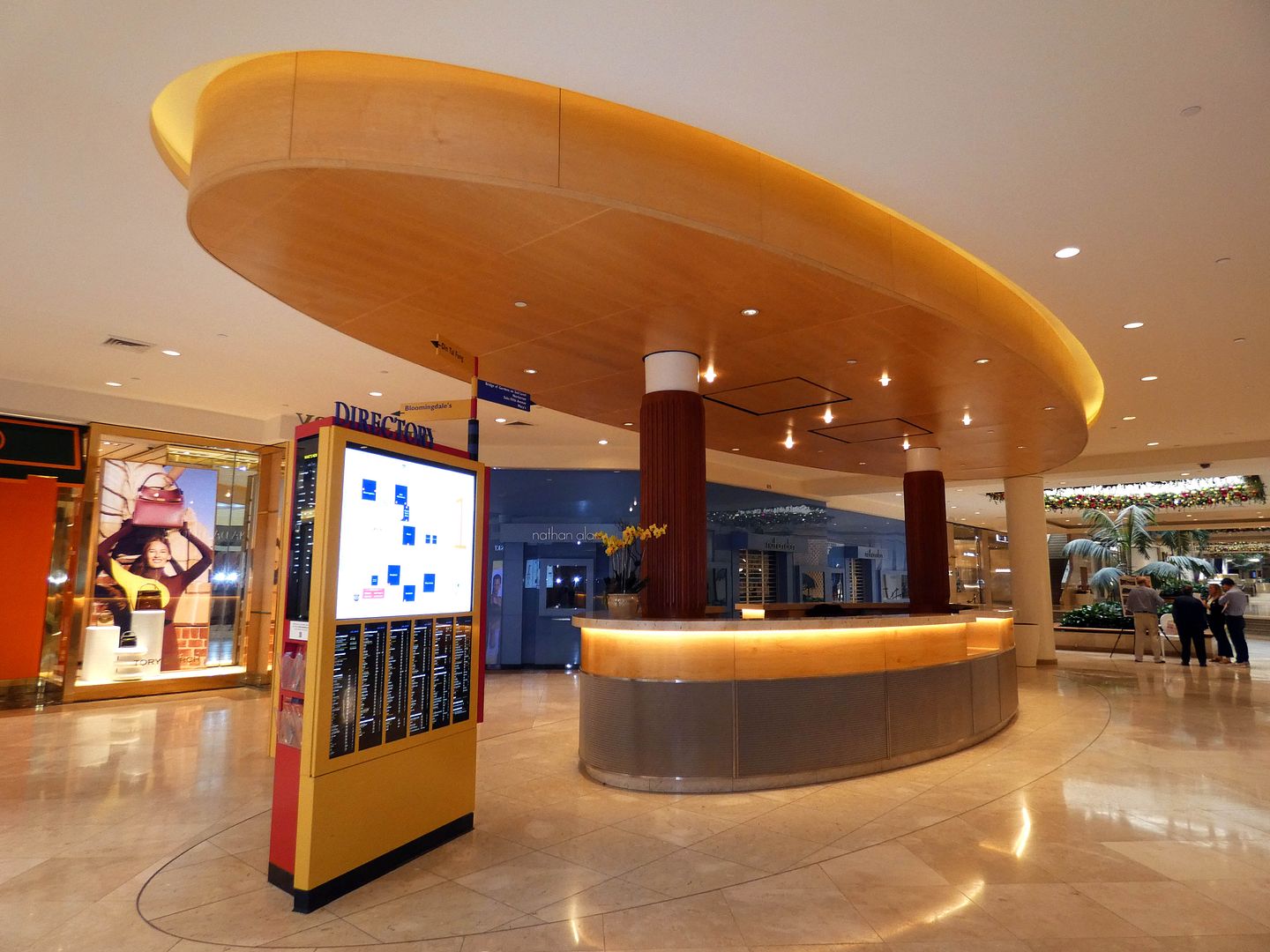 But there are some cool contemporary architectural features as well.
And also in 1995, the design principles shifted to allow South Coast Plaza tenants to express their own brand identity in unique ways, with eye-catching designs...
...which helps many of the current-day luxury boutiques stand out and help drive the success of the business, as opposed to relying solely on large anchor stores.
And the circa 1986 space frame-supported skylight at the very top level is pretty cool to see, too...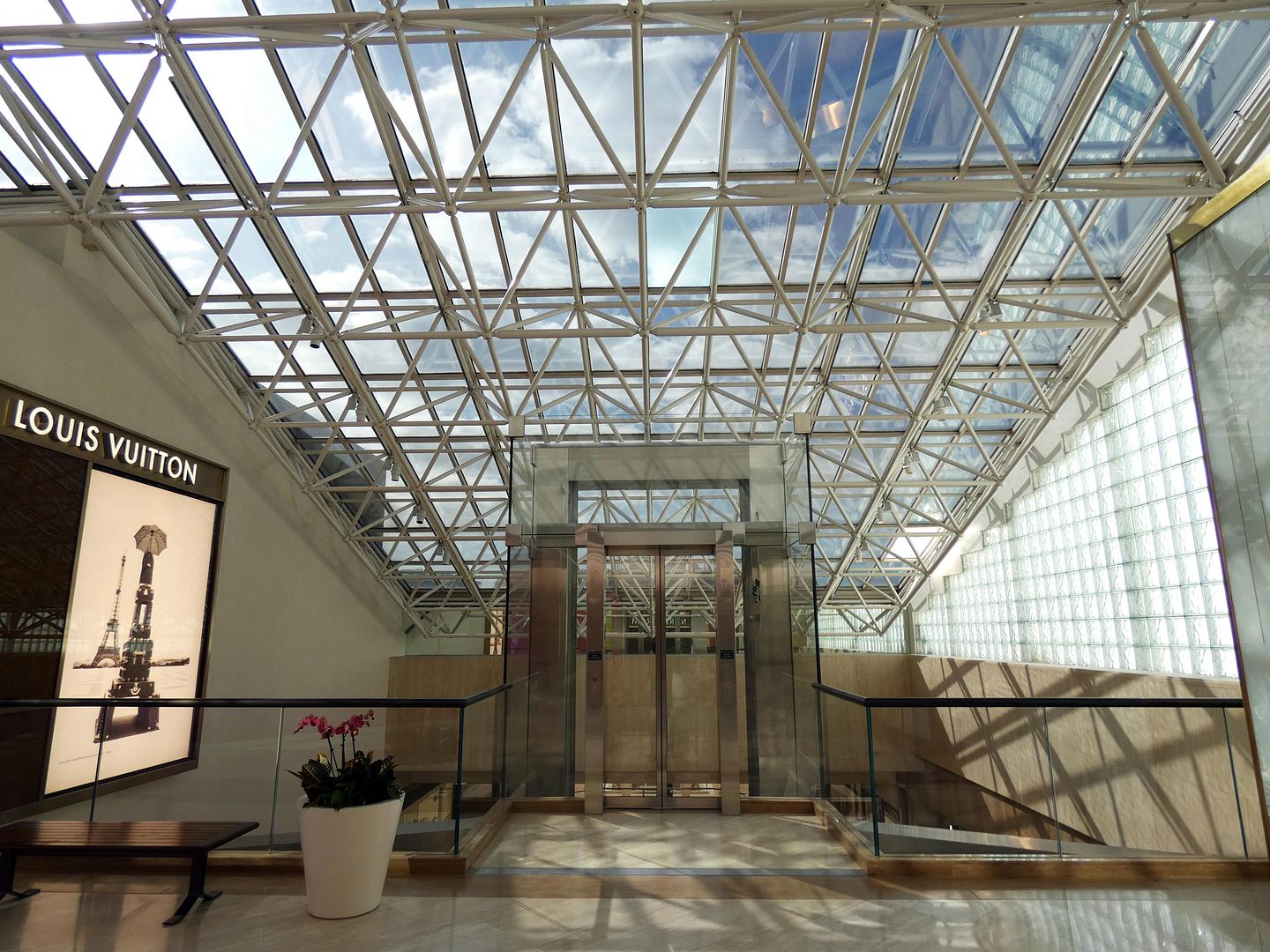 ...as it provides tons of natural light through the glass panels and glass brick wall.
The Sears anchor store is currently vacant, with no tenant scheduled to move in just yet. But otherwise, the mall's tenancy is at 100%—though most of it leans on the luxury side, like an indoor, climate-controlled Fifth Avenue or Rodeo Drive.
There's plenty of other stuff to see, too—like the Bridge of Gardens, which connects the original mall with the Crystal Court annex, and the more contemporary carousel in the Crystal Court that gets its horses swapped out with reindeer for Christmas and bunnies for Easter.
Even if you have no intention on buying anything, it's pretty interesting to just look around.
Finally—my love of wandering through malls gets validated by architectural historians!