I almost didn't write about this adventure because it felt like a failure. But I guess it was actually a partial success.
And since I'm not exactly sure when I'll be able to ever complete the mission, I've decided not to wait—and share what I've got now, even though I found it a bit disappointing.
But let me back up for a moment.
In a constant boom-bust cycle that lasted nearly 100 years, the mining town of Cerro Gordo—in the Inyo Mountains of the northern Mojave Desert, near the 395 to the west of
Death Valley
—produced silver, lead (galena), and zinc ore at one time or another between 1866 and 1957.
I can't remember when I first heard of it. But I know I first tried to go sometime after 2013, after I'd begun working as a field agent for Atlas Obscura and thought that it would make for a great—albeit far-flung—excursion for our group.
At the time, the onsite caretaker with whom I'd been emailing seemed willing to have a bunch of us come up and charge us only $10 per person to tour the town. But shortly thereafter, I got the dreaded radio silence.
In 2017, I even pulled my car off the main road to take a look at the Cerro Gordo historical marker at the bottom of a former wagon road called the "Yellow Grade"—a.k.a. Cerro Gordo Street, which quickly turns into Cerro Gordo Road—and considered making the drive up without an appointment, and all by myself. But as I recall, there were signs at the bottom of the hill stating the town was closed and don't even think about going up there.
So, I used my camera to zoom in on the one structure I could see—not knowing what it was—and thought, "Well, someday." (More on that structure at the bottom of this post.)
powder magazine (dynamite storage)
My hopes were heightened again in 2019, when I received a message from a member of The Friends of Cerro Gordo—who'd read
my KCET article on Death Valley ghost towns
and pointed out that I'd forgotten the greatest of them all, Cerro Gordo. When I explained that I'd intentionally omitted it because it seemed impossible to visit and certifiably closed to the public, I was assured that it was indeed open to visitors and accessible.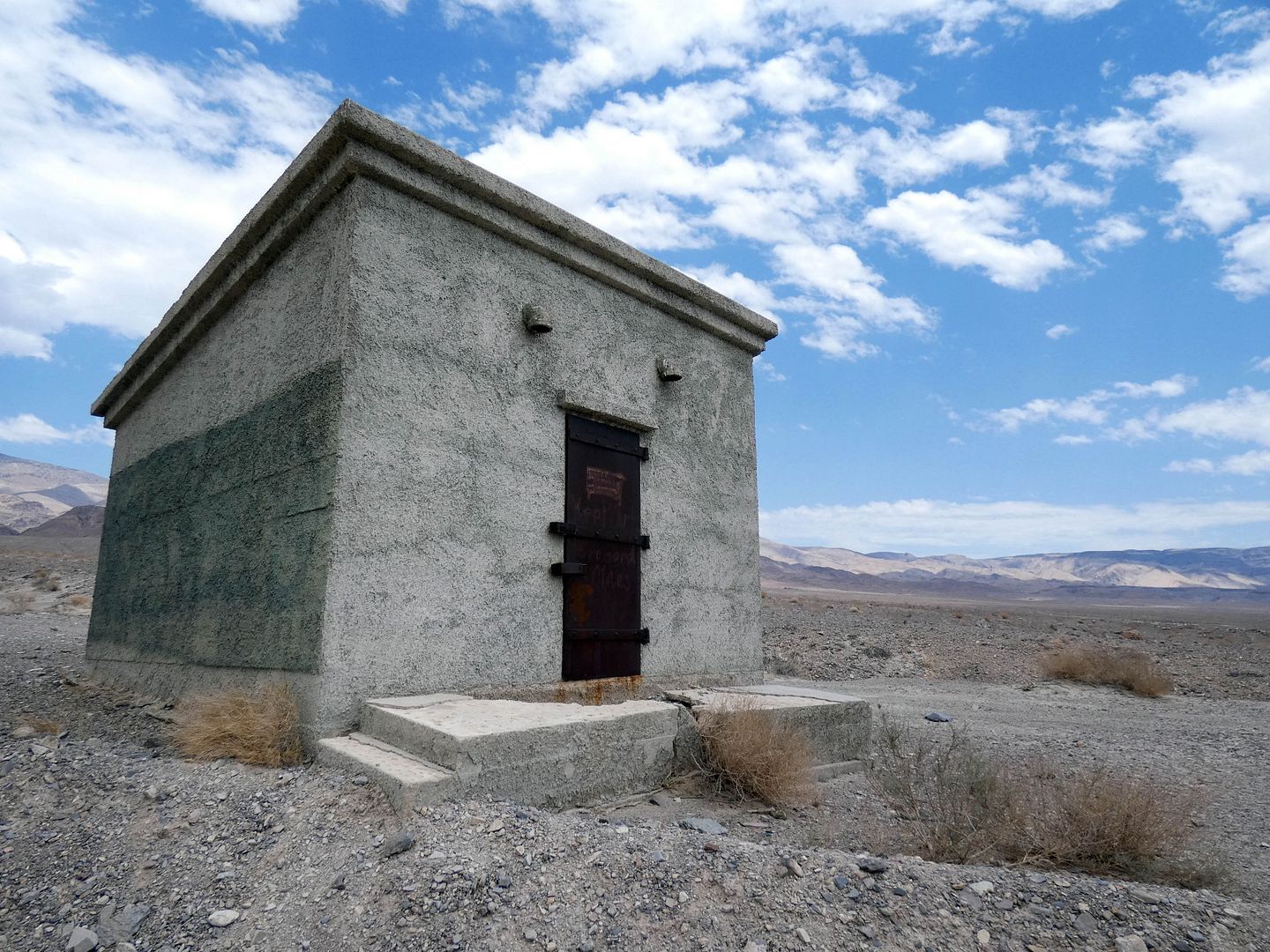 It seemed like I might have an "in" then—but Cerro Gordo is not only several hours away, but it also got buried in snow in the winter of 2019/20. Add to that the
COVID-19 pandemic
that shut pretty much everything down for nearly the entirety of 2020—and a devastating electrical fire that burned the town's circa 1871 American Hotel (as well as the ice house and the Crapo House) to the ground later that year. My visit would have to wait.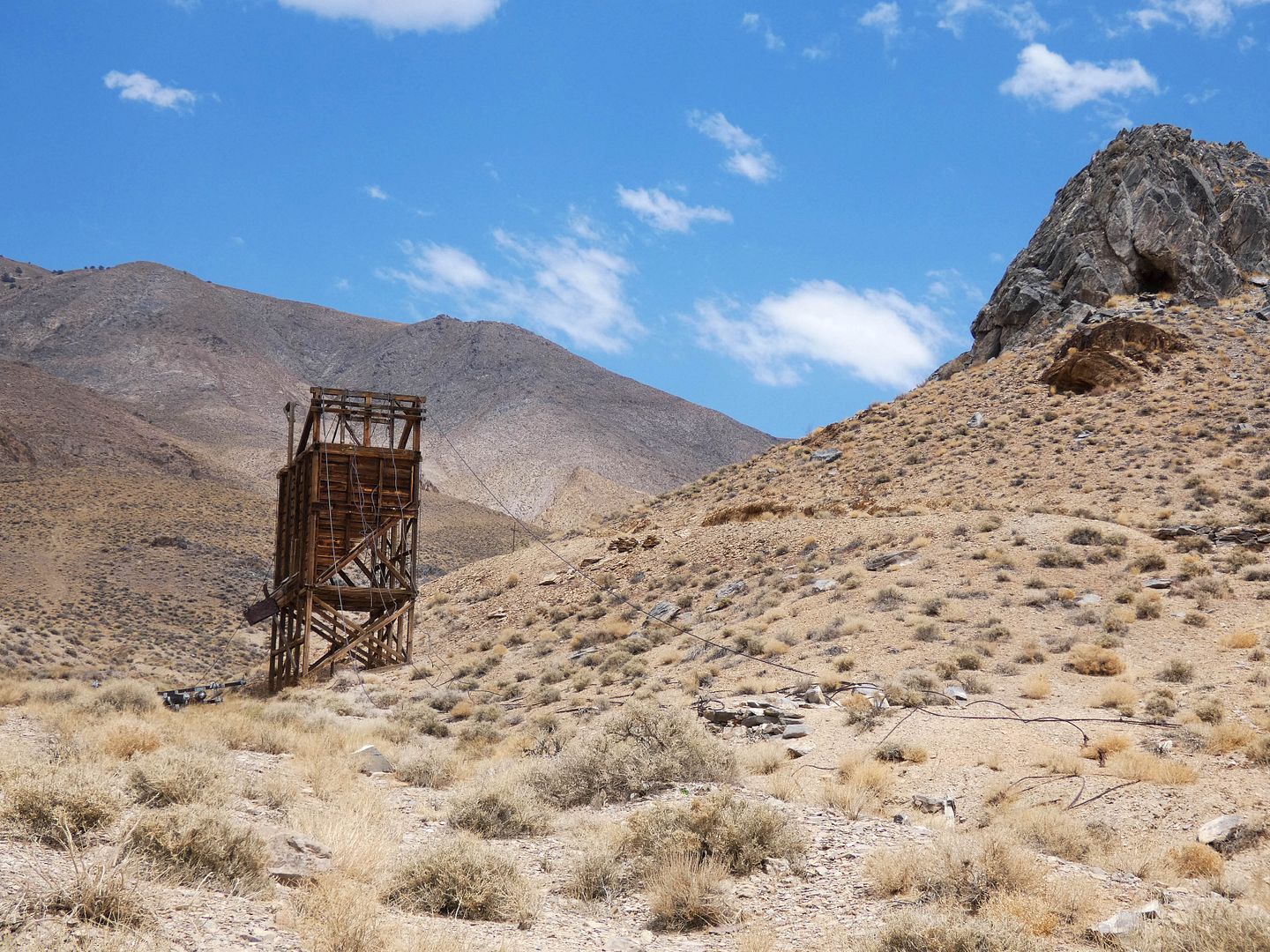 Morningstar Mine tram/ore bin
But since then, Cerro Gordo and its owner as of 2018, Brent Underwood, have become internet famous—and Brent has been updating and communicating with fans via
weekly YouTube videos
as he explores the old mine shafts he now owns and attempts to rebuild the burned-down hotel so that guests can once again stay there.
In one of those videos—just as construction on the American Hotel replica was about to start—Brent addressed the audience and said, more or less, if you're going to be in the area,
come on up and take a self-guided tour
.
He couldn't guarantee he'd be around or available, but he said he'd leave some of the structures open for exploring.
Immediately after that, though, representatives of The Friends of Cerro Gordo were telling a different story on social meda—that the town itself and its one access road, the Yellow Grade, were
closed to the public
. Reportedly, the road itself (once a toll road, climbed by mules) is treacherous enough without heavy equipment also traveling up and down it—especially in the areas where it's only wide enough for a single lane of cars (much less concrete mixers and whatnot).
(left) Victor Beaudry's smelter/furnace
But somehow last weekend, I found myself in a rental Jeep with 4WD and high clearance—certainly enough to tackle that 8-mile dirt road and see what's up there. I kept thinking to myself, "But
Brent said we could come if we were in the area
." And we were.
Unfortunately, as soon as we arrived into town—with no flat tires, no cracked windshield, and nary a frayed nerve, having passed three other cars that couldn't make it to the top—we were turned away.
The current caretaker (a different gentleman than I'd corresponded with years ago) had instructed one of the volunteers to turn everybody away, no matter what. "But
Brent said we could come
" carried
zero
weight.
(right) Mortimer Belshaw's general store
The silver lining? We had to drive up the hill to turn our Jeep around, which meant we go to see a bit more of the town as we climbed Buena Vista Peak...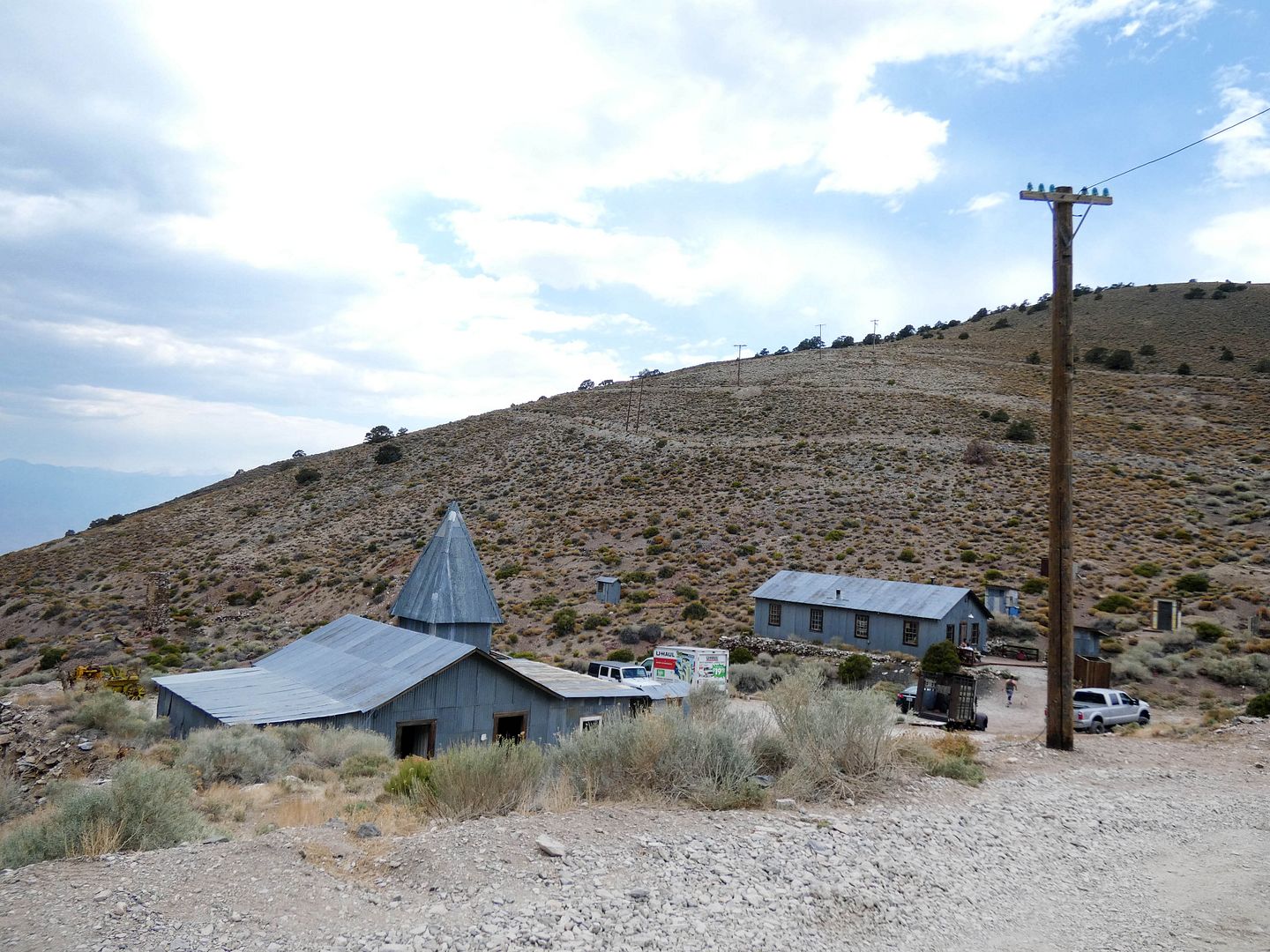 ...though we weren't permitted get out of our car.
Of course, it's not abandoned or even vacant. Brent lives there full-time now. With cats and goats and alcapacas. And we saw a handful of other humans hanging out by two separate structures.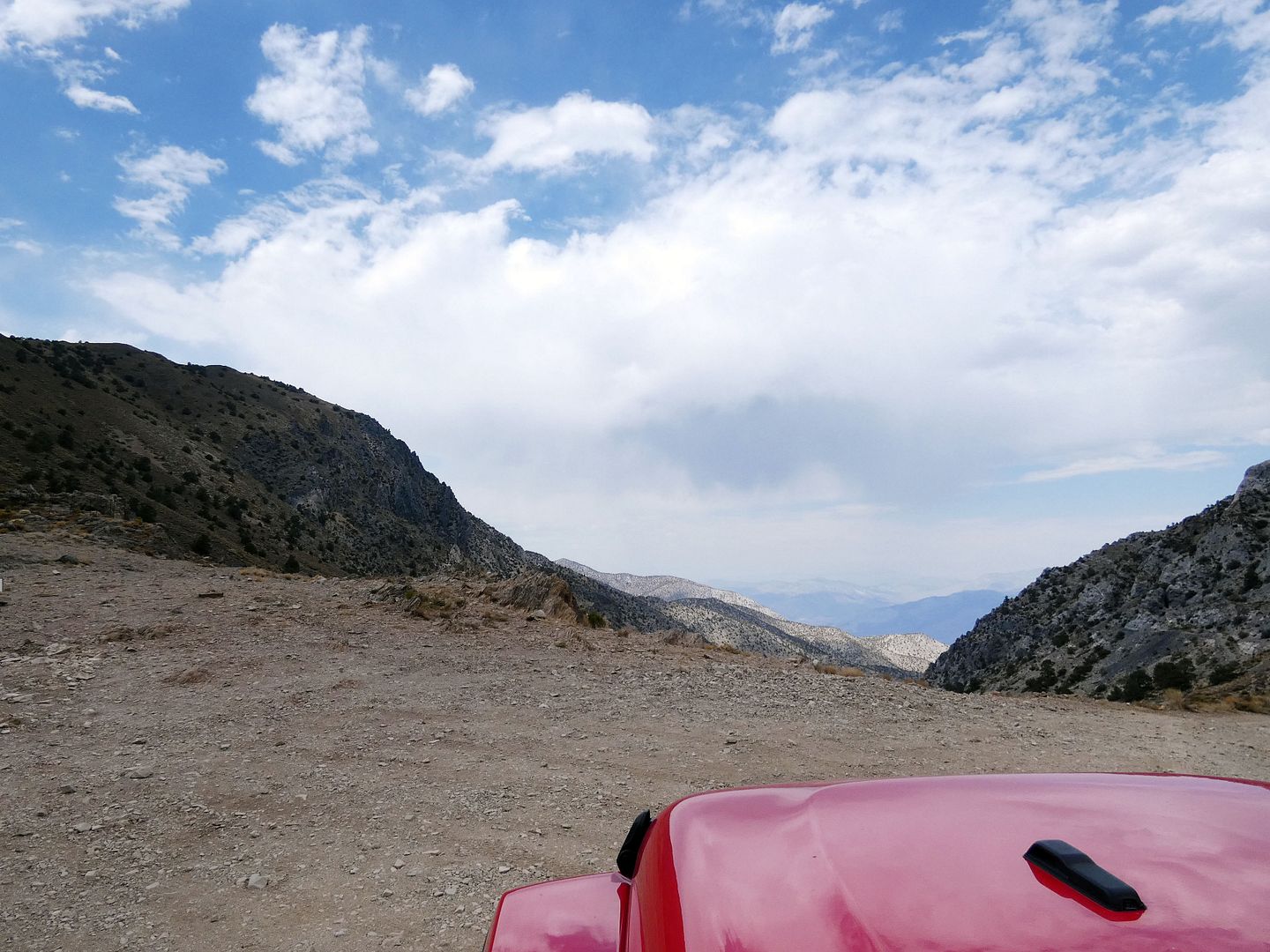 And yet all we could do was reach the turnaround point, exhale (or, in my case, sigh in defeat), and get ready to descend the Yellow Grade.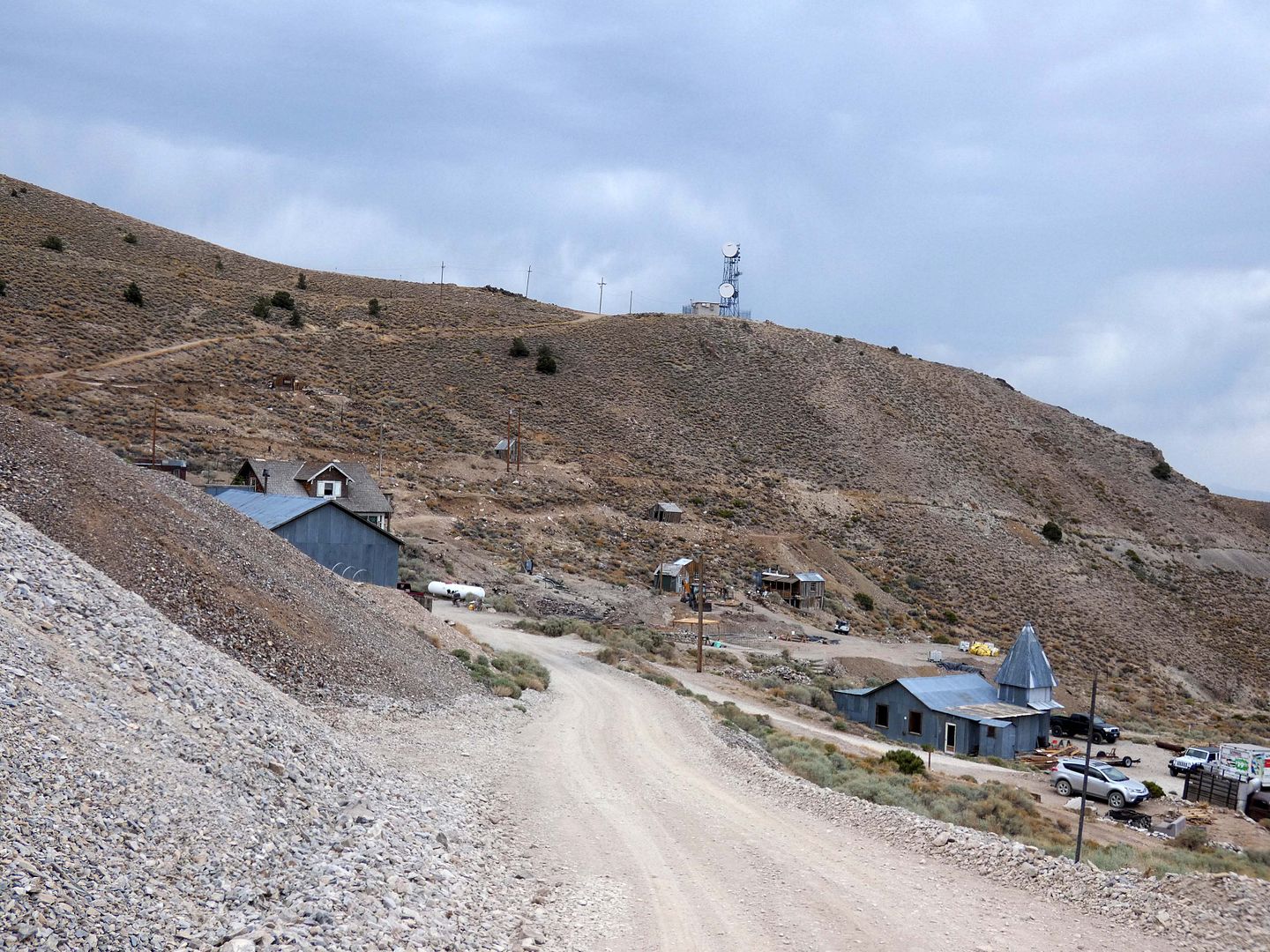 (rear left) Louis D. Gordon House, built 1909-16
"We'll come back when the American Hotel is finished and we can stay there," we told each other as we looked at the big empty spot
where it once stood
, and then passed the circa 2009 chapel for the second time.
We only caught passing glimpses of Lola Travis's brothel, the "Palace of Pleasure"...
...tramway structures (more on that in a second)...
...assay offices...
...and mine shafts.
Certainly not enough to tell the whole story.
At least the drive was beautiful—although the incoming storm clouds were the one thing making me nervous, and making me glad that we were leaving Cerro Gordo when we did, with the remnants of Owens Lake back in view.
Since our return from the Owens Valley—and returning our rental Jeep, which cost nearly $500 for the weekend—I've heard of at least one other person who was allowed to enter Cerro Gordo and stay there, at least long enough to visit the museum in the General Store.
At least they got to get out of their car.
Now, our visit wasn't all for naught. I feel like we got a big chunk of the experience just by driving up and down the Yellow Grade. It just shows how remote the town was and still is.
In fact, that structure I'd spotted back in 2017 turned out to be the lower terminus of the Montgomery tram—an aerial tramway built to connect the mines 5,000 feet up the mountain to a 200-ton smelter at the bottom.
Once the wooden tramway was fully operational as of 1909, ore carts could sail down much more easily than wagons or steam traction engines—at a capacity of 50 tons of ore daily, which had been uncovered below the Union Mine (1888-1892) and would be processed at the smelter before being transported via the
Southern Pacific Railroad
(formerly Carson & Colorado) at Keeler.
The smelter had been built and operated by Four Metals Mining Company, after taking over Great Western Ore And Reduction Company's local holdings—which it had only held since 1905.
There's lots more to tell about Cerro Gordo's history and how it influenced the growth of the City of Los Angeles, but I'll leave that to the experts who've been lucky enough to actually spend some time there:
In truth, I don't know if I'll ever make it back to Cerro Gordo. I'm just kind of tired of trying—and I wonder if my efforts (and money) would be better spent on an easier target.
I know it's uncharacteristic of me, but I find myself kind of wishing I hadn't gone at all last weekend. Maybe I could've waited for a better time.
But when you're at the bottom of that 8-mile road, the only way to know what lies ahead—and whether you'll even make it—is to shift into gear and hit the gas pedal.