I've pretty much come to terms with the fact that there are some places on my
Bucket List
I'll never be able to cross off—maybe because I haven't got the means to get there, nor the will to keep trying.
Or maybe some of those places will simply cease to exist before I get to them—from burning down, being torn down, or simply washing away.
So, when a friend invited me on a trip up the 395 to visit the hard-to-reach and only seasonally visible Crowley Lake columns in Mono County, of course I said "yes"—and of course I prepared for abject failure.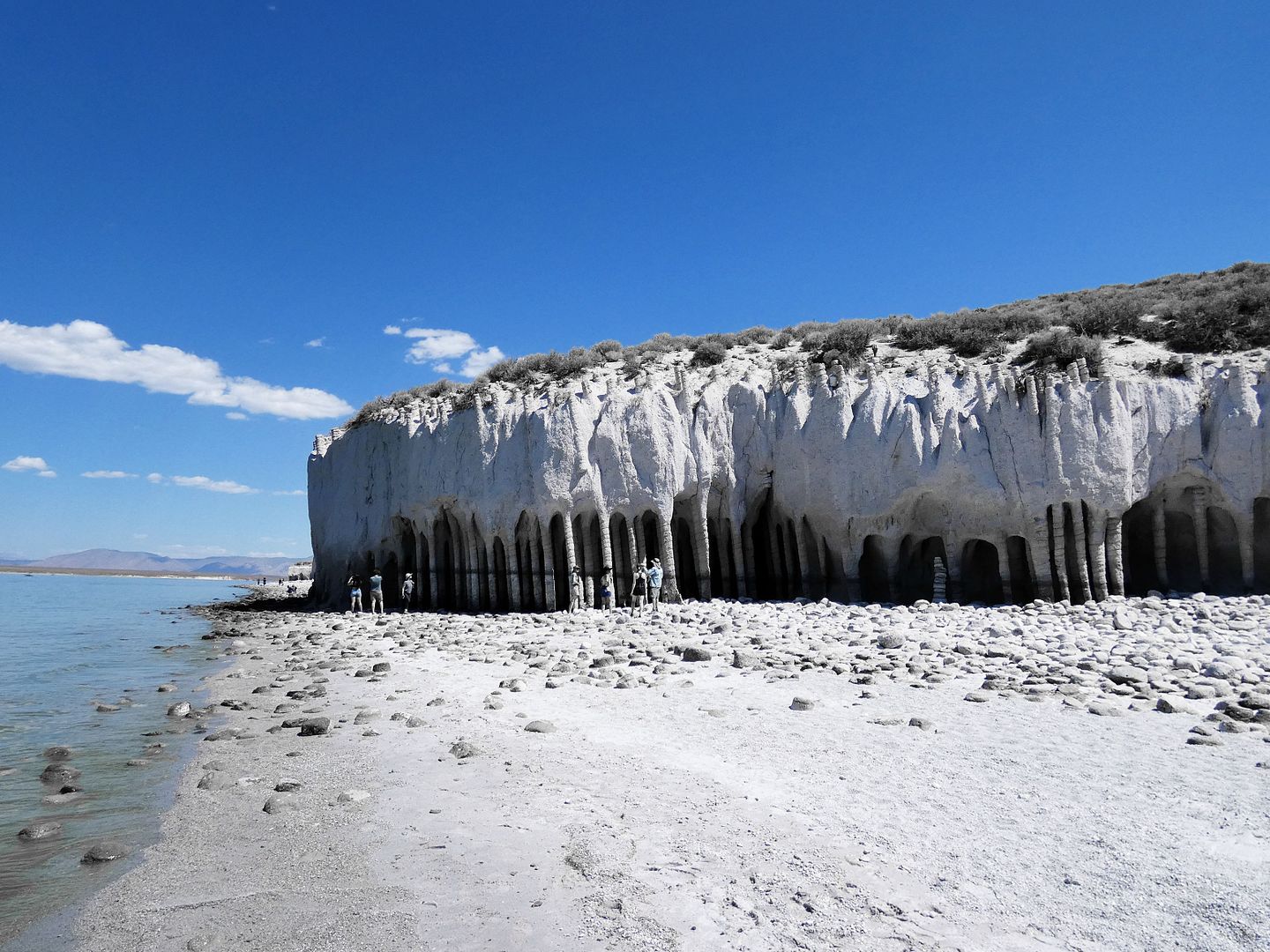 We spent months researching and planning what would be just the right time of year to see them, given that a high water level might obscure them.
And then
another friend
suggested we kayak there instead of trying to off-road to the access point.
I love
kayaking
and I loved the idea of approaching these weird geologic formations from the water—so hooking up with a local outfitter that could guide us there seemed like an ideal scenario. Never in my wildest dreams did I ever think that the one thing that might keep me from getting to those columns would be not fitting in the kayak.
Ultimately, I did fit in it, but just barely—and not without significant pain, breathing troubles, and humiliation. And with all of that, a complete crying meltdown. I couldn't imagine how any kayak rental could take one look at me and think that I'd fit into that tiny hole of the touring kayak—and why they wouldn't just spare me the embarrassment and have me sit in an open-top model. You know, like every other kayak I've ever been in.
I was so devastatingly and existentially upset that it was hard to enjoy the views of snow-capped Mount Whitney in the distance, or the eared grebes gliding across the surface of the lake (and occasionally dipping their heads down to catch a snack).
As we'd taken off from the launching spot, my friend had assured me, "We can turn around at any point." Of course, she'd have to turn around with me—because we were paddling tandem, despite my protests that I'd feel more comfortable alone.
I snarled back at her from the front, "I'm getting to those f-ing columns."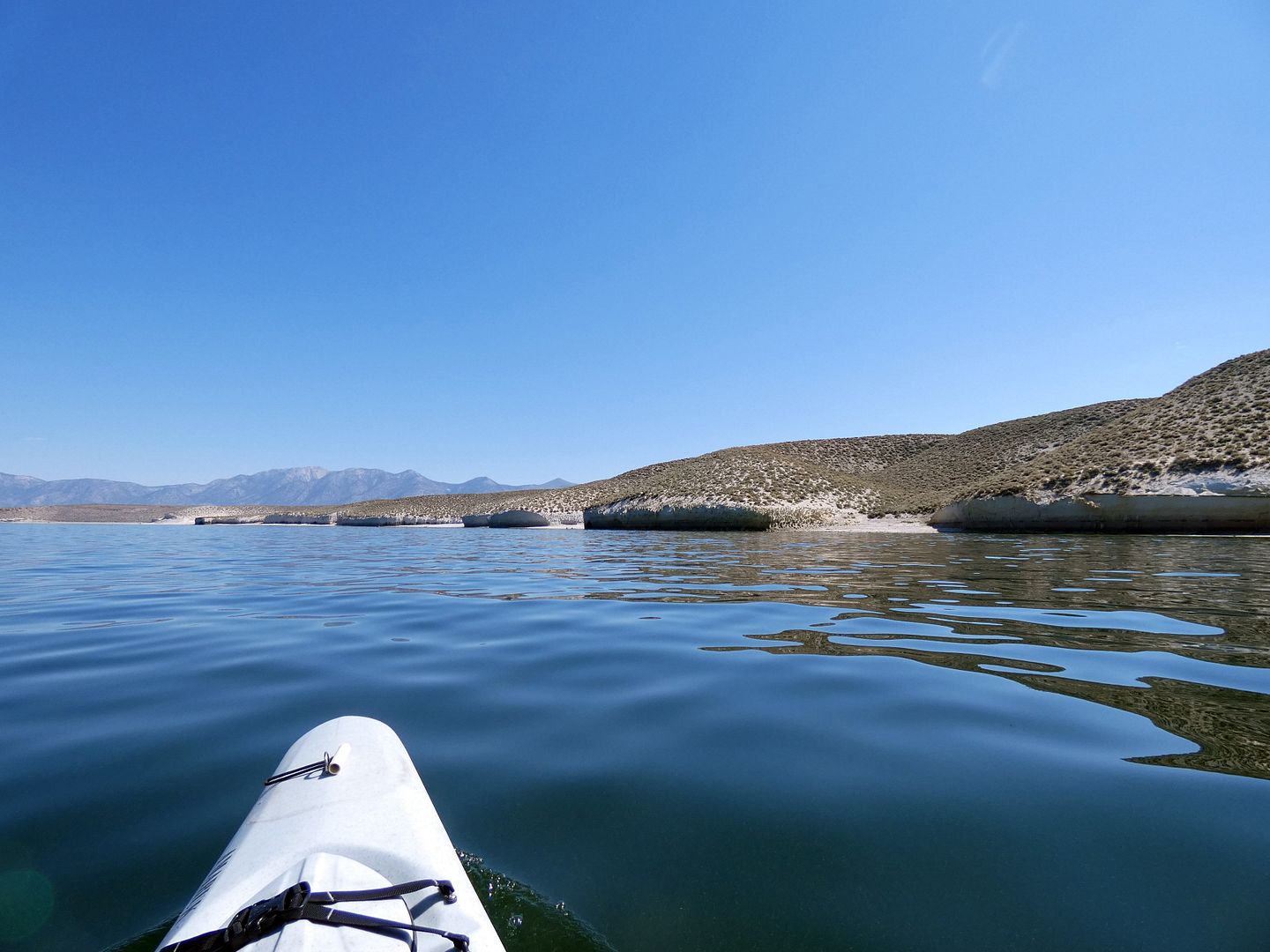 So, what's so special about Crowley Lake? What made it worth pushing through a crying fit and the spectacle I'd made out of myself?
It wasn't just that it's hard to get to, and therefore has a feeling of exclusivity—though I do find that intoxicating.
It's just so flipping weird—I felt like I needed to see it with my own eyes. In fact, the formations were pretty much a scientific mystery until 2015.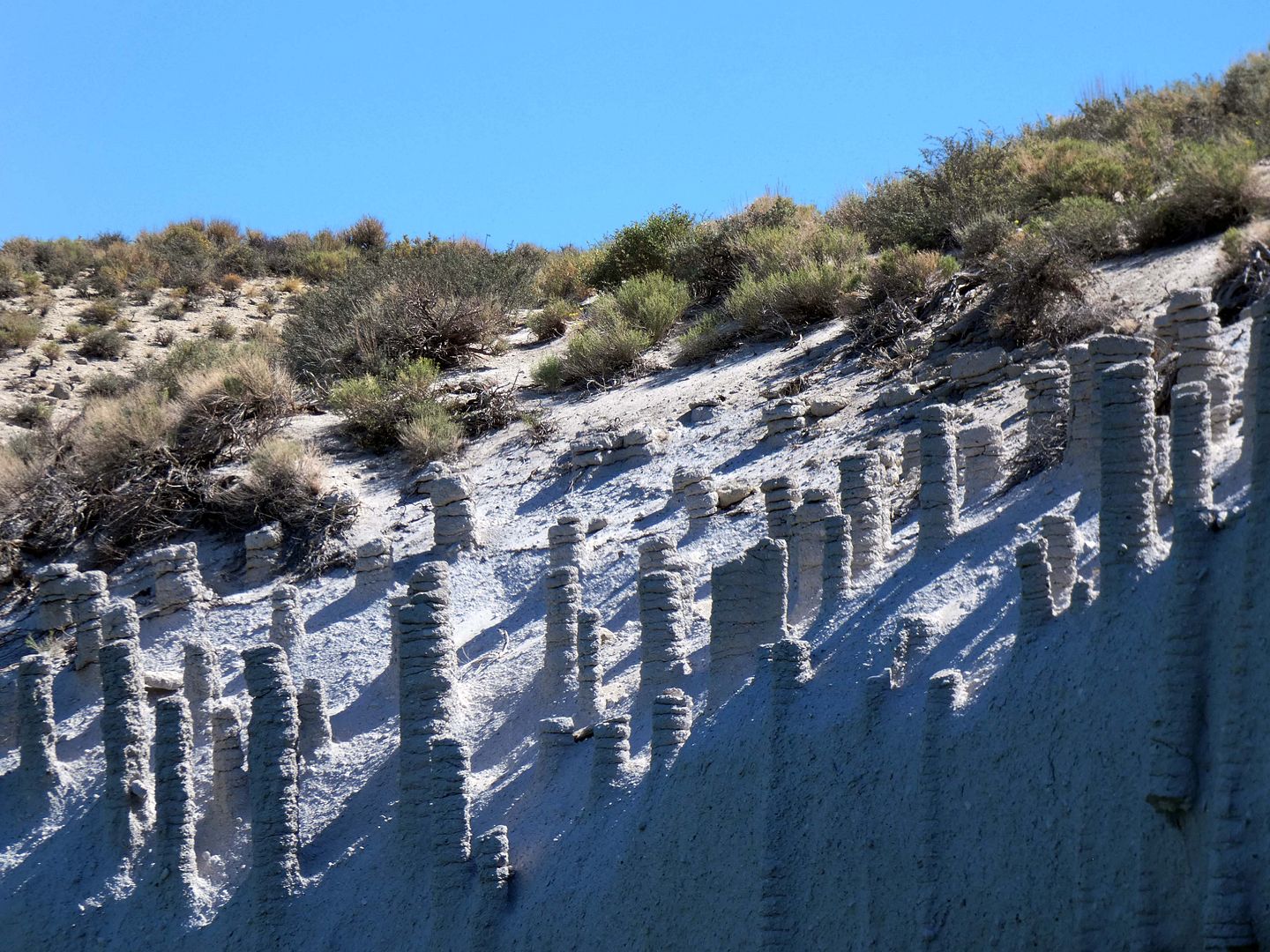 The lake itself is located on the edge of the Long Valley Caldera—a bowl-shaped land depression (or "sink") formed by a catastrophic volcanic eruption 760,000 years ago. Experts call it a "supervolcano" eruption or simply a "supereruption."
Deposits of volcanic ash formed much of the shore around the lake (which is really a manmade reservoir created in 1941 by the
LADWP
's Long Vallley Dam). And when freezing cold snowpack melt hit the hot ash, the resulting boiling water and steam formed these stone pillars—made out of a type of volcanic rock called tuff, which consists of at least 75% volcanic ash. (And this is just one section of the larger Bishop Tuff formation.)
Fortunately, we could paddle up to and land on the beach adjacent to the largest column formation and get up close on foot.
You can clearly see the water line—and how in a non-drought year (unlike the one we're in right now), the formations might be submerged.
As you get closer, it's hard not to think that it looks something like a paleontological find—maybe the ribcage of a dinosaur or some other prehistoric megafauna, or the baleen of an ancient whale.
The plateau extends farther down the shore than I was willing to walk in my subpar water shoes, still traumatized by the kayak trip there, and having not yet fully reclaimed my land legs.
Frankly, I just wanted to go home. Not to the motel in Bishop—but home home, where I could be alone with my cat and not have to explain myself to anybody.
Still, I tried to make the most of it.
I was pretty sure I'd never find myself back there again—so I'd better take it all in.
After all, considering that the column shapes emerged as a result of water erosion—and the water is probably still eroding these formations, at least when the lake level is high enough—who knows how long they'll last?
I managed to delight in the sight of
cliff swallows
entering and leaving their nests to feed their cheeping chicks (though I didn't spot any of the rare bank swallows that make the lake's banks their home).
I tried to take in the scenery from every perspective my feet would take me, looking out upon the lake...
...up at the impossibly blue sky...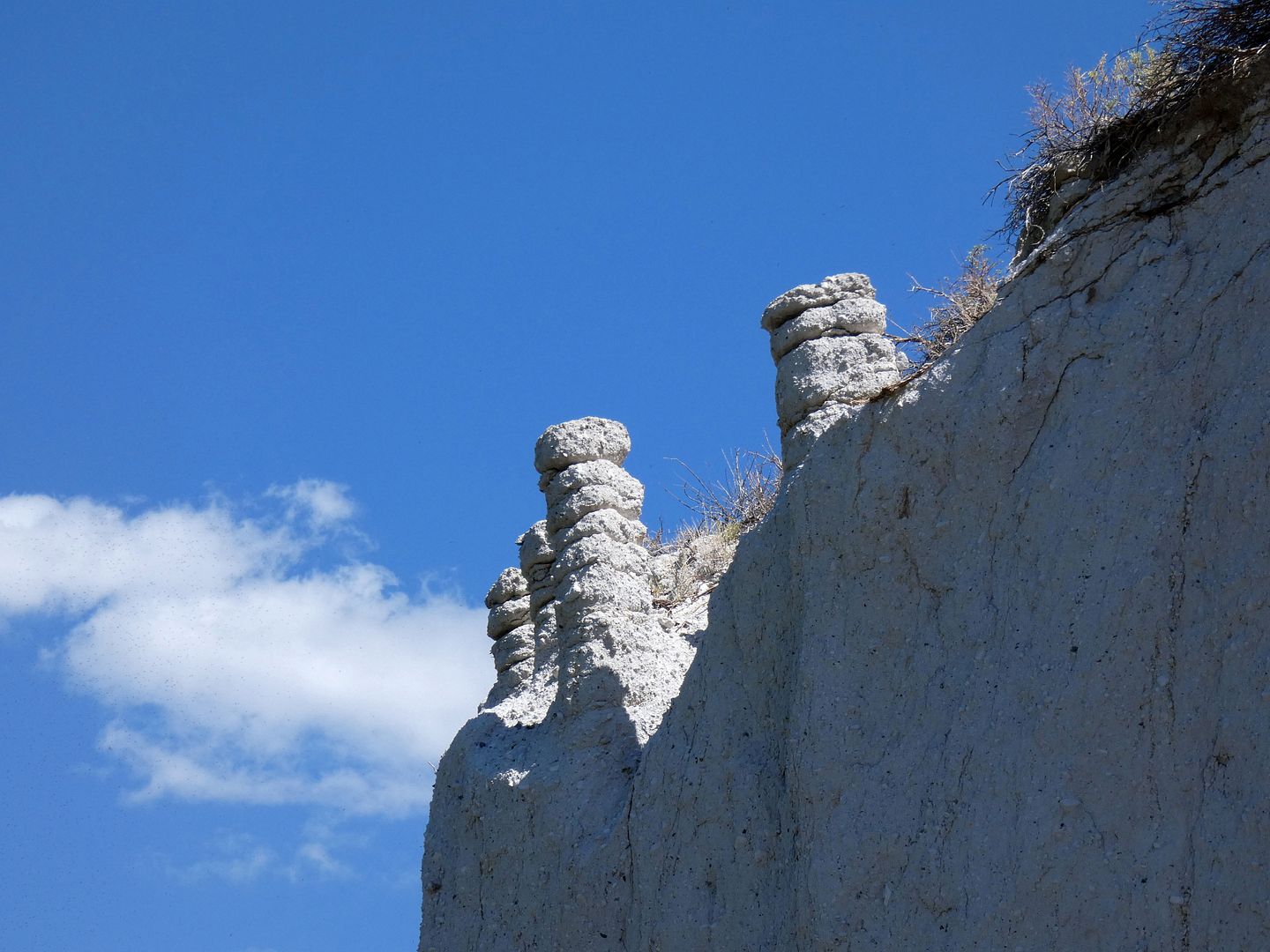 ...and fixing my gaze on the spiraled upper pillars, jutting out as though the plateau had more than just a few screws loose.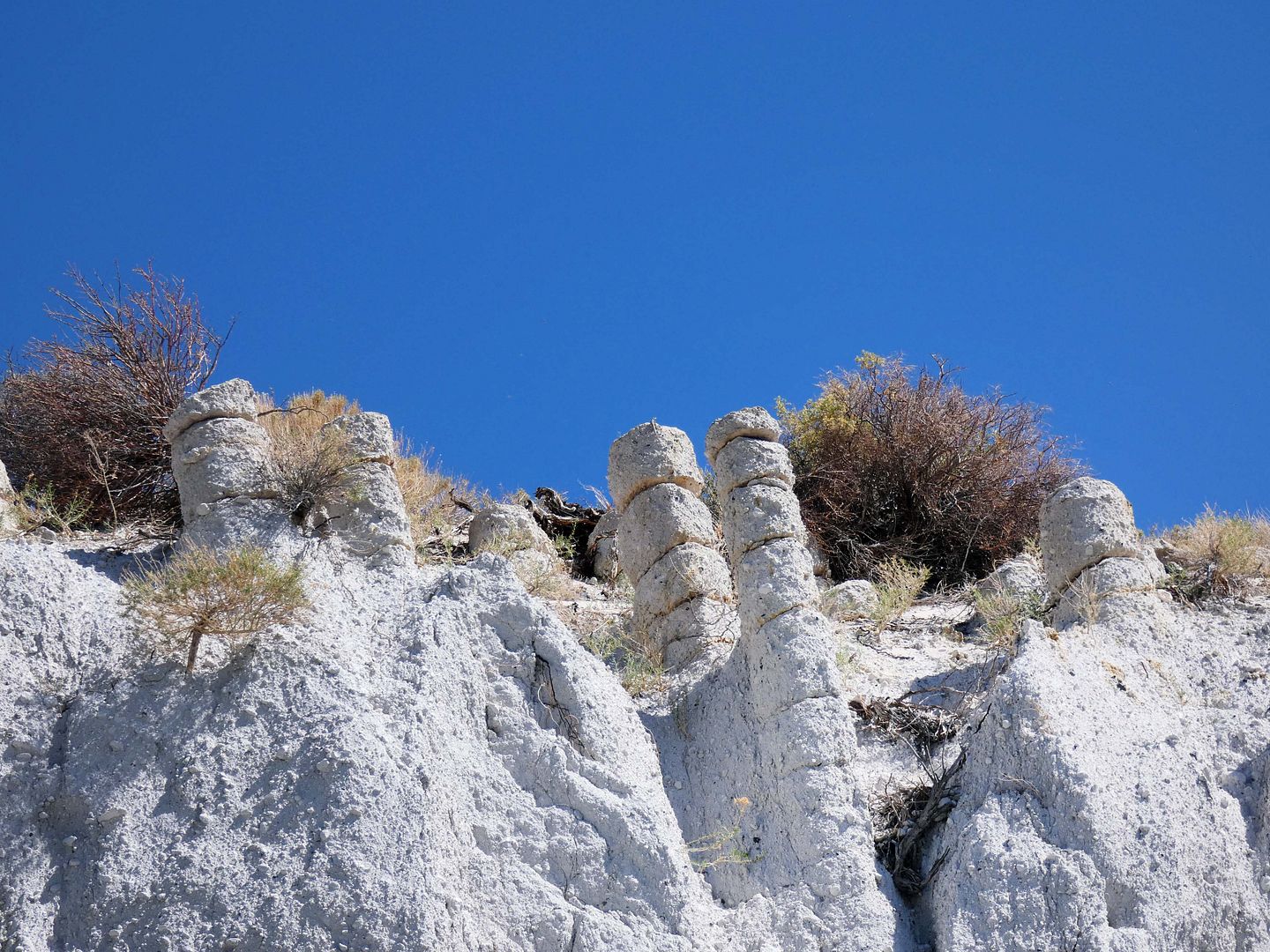 Some of them even looked almost... rusty.
One of the most fascinating aspects of this area is that it's still pretty active. The geothermal activity from underground magma results in lots of
hot springs
—and technically, it could "blow" any day.
The USGS has identified significant seismic unrest in the Long Valley Caldera—including earthquake swarms.
Not to mention the volcanic gas emissions.
In fact, the USGS stated in a
2018 report
that the Long Valley Caldera poses a very high threat—mostly because of how projectiles from an explosion could impact nearby populated and developed areas.
In this case, Mammoth Lakes would be in the crosshairs but also the entire 395 corridor and who knows? Maybe even LA. After all, they've found ash from the supereruption 760,000 years ago as far as Nebraska.
But the most recent nearby volcanic explosion happened at
Mono Lake
just over 600 years ago. Compared to 760,000 years ago, that was like
yesterday
.
And yet, in our naïveté, we go boating, fishing, jet-skiing, and more on that lake, none the wiser as to what might be happening underwater, or underground.
Or what might come to the surface next.
Once we returned our kayaks and turned in our paddles and lifejackets a couple of hours after we'd first set off, I looked at my friend and said, "Worth it."
But then I added, "Never again."
Related Posts: