[Last updated 5/6/22 8:26 PM PT—The Lonnie Hammargren Museum closed in 2017 when two of them homes went into foreclosure and many of the museum items were sold at auction. That same year, Amber and Mike Softing purchased the complex and are in the process of converting it into Pacific Crest Manor. See bottom of post for new photos of the street-facing façade.]
Some people like to do stuff, and some people like to have stuff.
And if they've got enough storage space, they get to have a LOT of stuff.
Such is the case with Lonnie Hammargren of Las Vegas. As a former lieutenant governor of Nevada, he's managed to collect monumental pieces of the state's history and put them on display in his home as a museum.
That is—a museum for him and his wife that only opens to the public once a year.
I, however, recently managed to weasel my way into a private tour of the place. I arrived a little early—and my friends were late—so I got to see the neighborhood looky-loos slowing down as they drove by the stark white behemoth glaring out on the quiet residential street of the Pacific Crest subdivision.
The moment Lonnie walked outside to greet me, he was mobbed by a truck full of dudes who seemed to appear out of nowhere. They were asking for tour information, and they were asking to have their photos taken with him.
And it wasn't because of Lonnie's history in politics. It was—and always is—because of the stuff he's amassed.
Of course, there's also the Mayan facade of the house, which Lonnie calls "Castillo del Sol" and which takes up three different lots, the third of which was purchased in 1989.
Then in 1971, Lonnie began collecting seriously, the same year he became licensed as a neurosurgeon—over 15 years before the start of his political career.
He worked for years as flight surgeon first in Vietnam and then for NASA, as flight surgeon to the astronauts. Later, he became the neurosurgeon to the stars of the boxing ring, mostly working to remove blood clots. His roster of former patients also includes a number of other athletes and daredevils.
The first room you walk into inside the house contains lots of Nevada state memorabilia (as does the rest of the property) and bears the flag of the micro nation Lonnie started (ever the politician).
It's also got one of Liberace's former pianos, a singing Hillary Clinton doll, a talking Elvis head, and various knick-knacks and Egyptian stuff.
Somewhere else in the labyrinth is an entire multi-level room devoted to religious artifacts and ephemera, on display under the stained glass dome rescued from the demolished Dunes hotel and casino.
Outside, up on the roof, it can be hard to make sense of what you're looking at—but Lonnie actually does have it all curated into sections, by category.
As he demonstrates some makeshift telescope contraption that somehow indicates the solstices and equinoxes in his "observatory"...
...you have no sense of your precise location until you catch sight of Ridgecrest Drive below.
Up there, you'll find the mannequins you saw from down there...
...including those who are perpetually riding a rollercoaster...
...that just happens to be the "High Roller" from the
Stratosphere observation tower.
Is this The Planet of the Apes?
Is it the Rapture?
Nah, it's just Vegas, where
old places are always being torn down
and there's enough interesting stuff worth salvaging (without costing a thing other than hiring the crane to lift and drop it in).
The first house—the one on the right, the one he actually lives in—has a backyard that's a bit more manicured and subdued...
...but there's still room over there for a red chili pepper hanging from a tree, and for an elephant.
It seems like every year, Lonnie threatens that it'll be his last open house. After all, he turns 79 this year. Preparations must be exhausting.
But barring any rains (it's happened before) or complaints from neighbors (also happened before), Lonnie will open his house once again the weekend before Halloween in celebration of the 152nd "Nevada Day," commemorating when Nevada became a state on October 31, 1864.
And when Lonnie has lived his final day, he plans to be buried in an Egyptian tomb under the house (which is apparently legal in Clark County).
"But what happens to the house after you die?" I asked him. I wondered if it would be sold and then the new buyers would have Lonnie's corpse hanging out in the basement.
"Oh, I don't know about that..." he said, as he wandered toward the next thing he would show us (which was not, unfortunately, the sarcophagus).
According to
Las Vegas Weekly
and the Pacific Crest Manor
website
, Hammargren gifted many of his items to the Softings—which explainms why there's still some stuff out front and visible from the street.
Reportedly, the couple is also trying to reacquire some of the items that were auctioned off.
They also do some collecting of their own—but they don't plan to allow the public to tour their home. (Although the exterior has been opened for Halloween events, and they plan to throw parties inside.)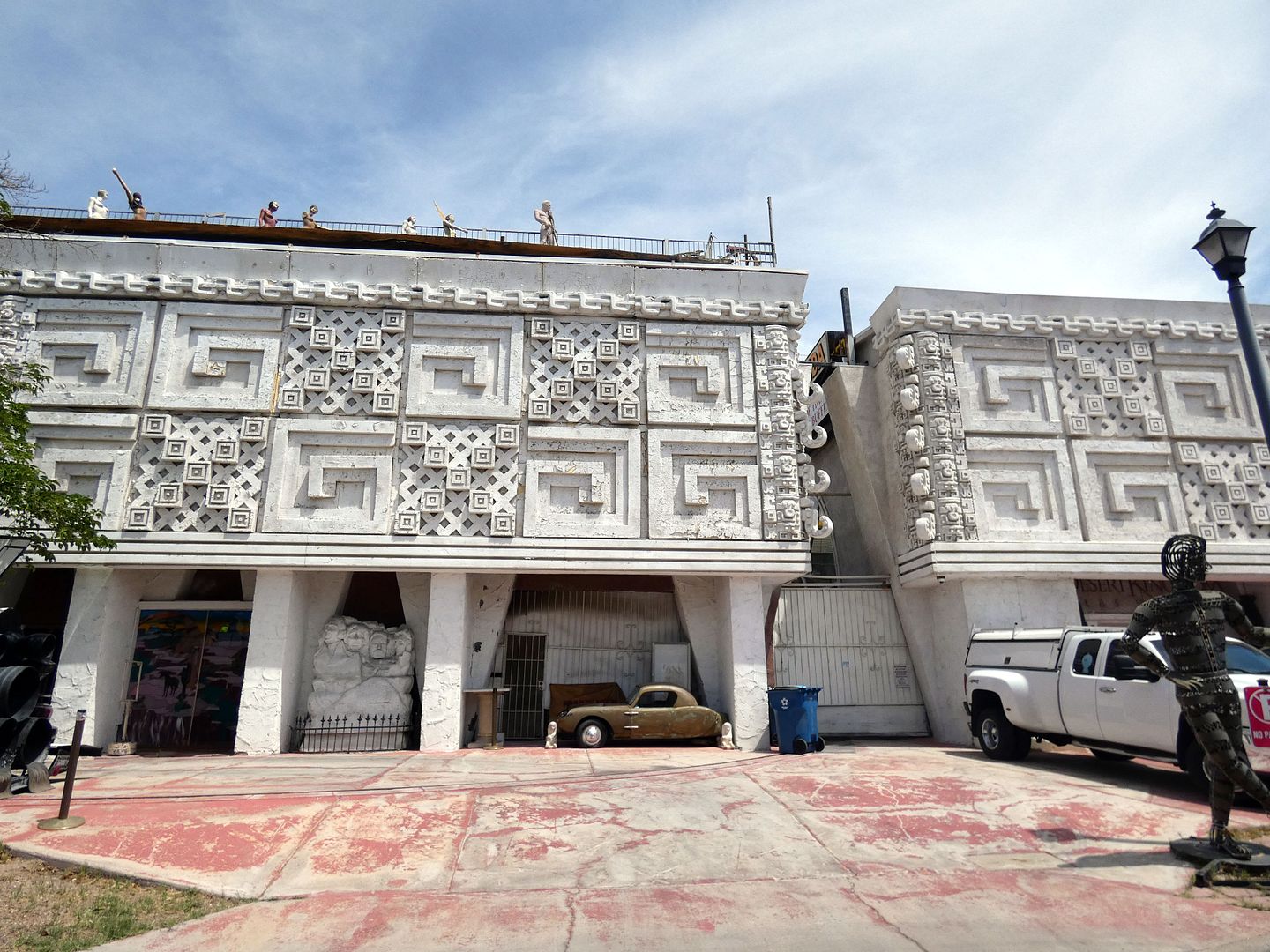 Signs posted outside read, "This is a private residence, Please do not disturb the owners or guests."
"If you'd like to take photos, do so from the street." (Which is what I did.) "Do not walk around property."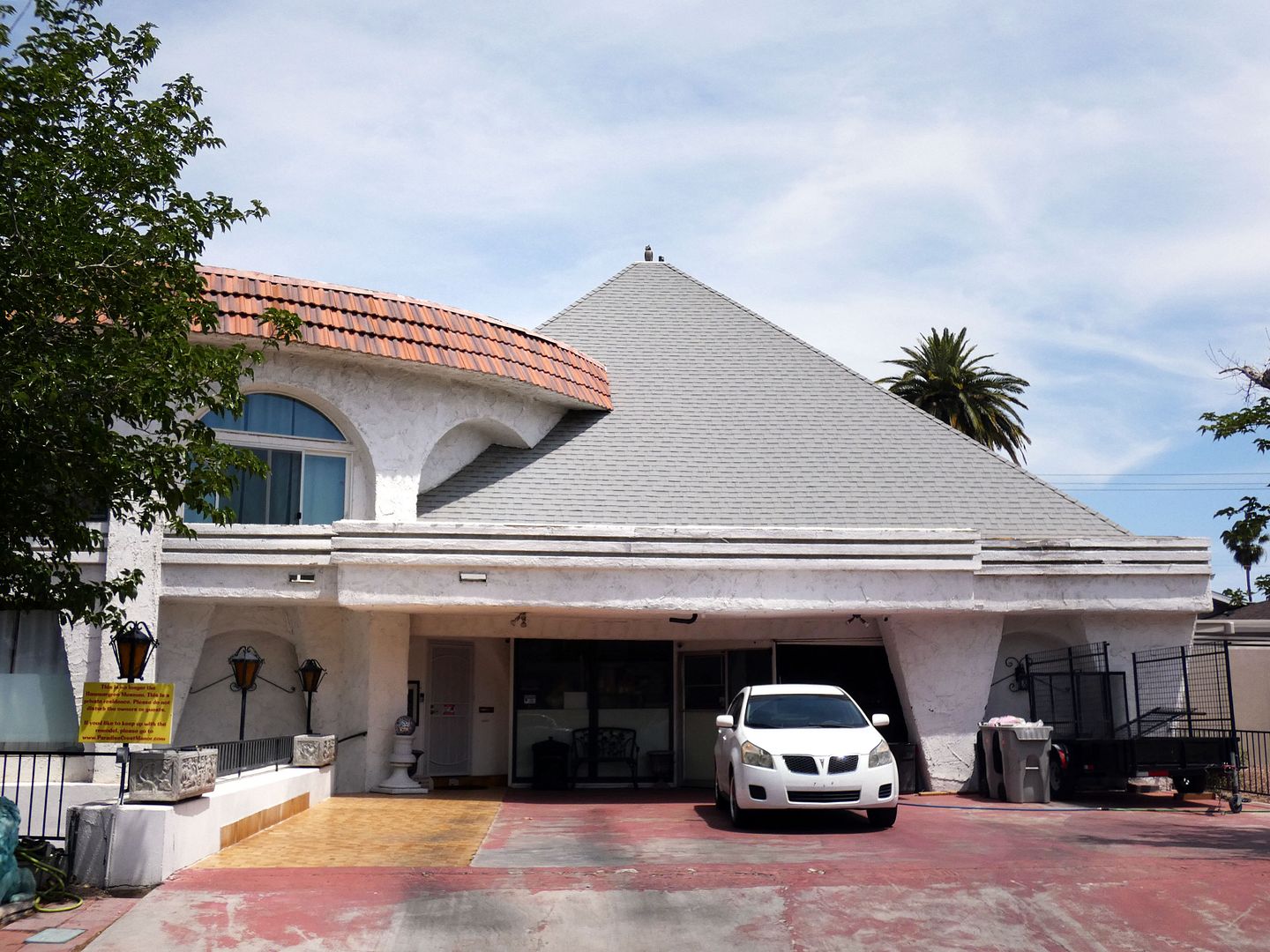 For now, Lonnie Hammargren is still alive and kicking at age 84—so his wish to be buried there hasn't been fulfilled (yet?). In fact, he still lives next door, in the house that was already paid off (and hadn't gone into foreclosure).
To meet Amber and see the house as they transform it, watch the video above (shot in 2021).