"Temperate climate, fertile black soil, and... sea air that contains just the right amount of moisture."
That's how a 1930 issue of the Palos Verdes Homes Association's
Palos Verdes Bulletin
described the conditions on the hilltop where La Venta Inn now stands, overlooking Malaga Cove, in present-day Palos Verdes Estates, California.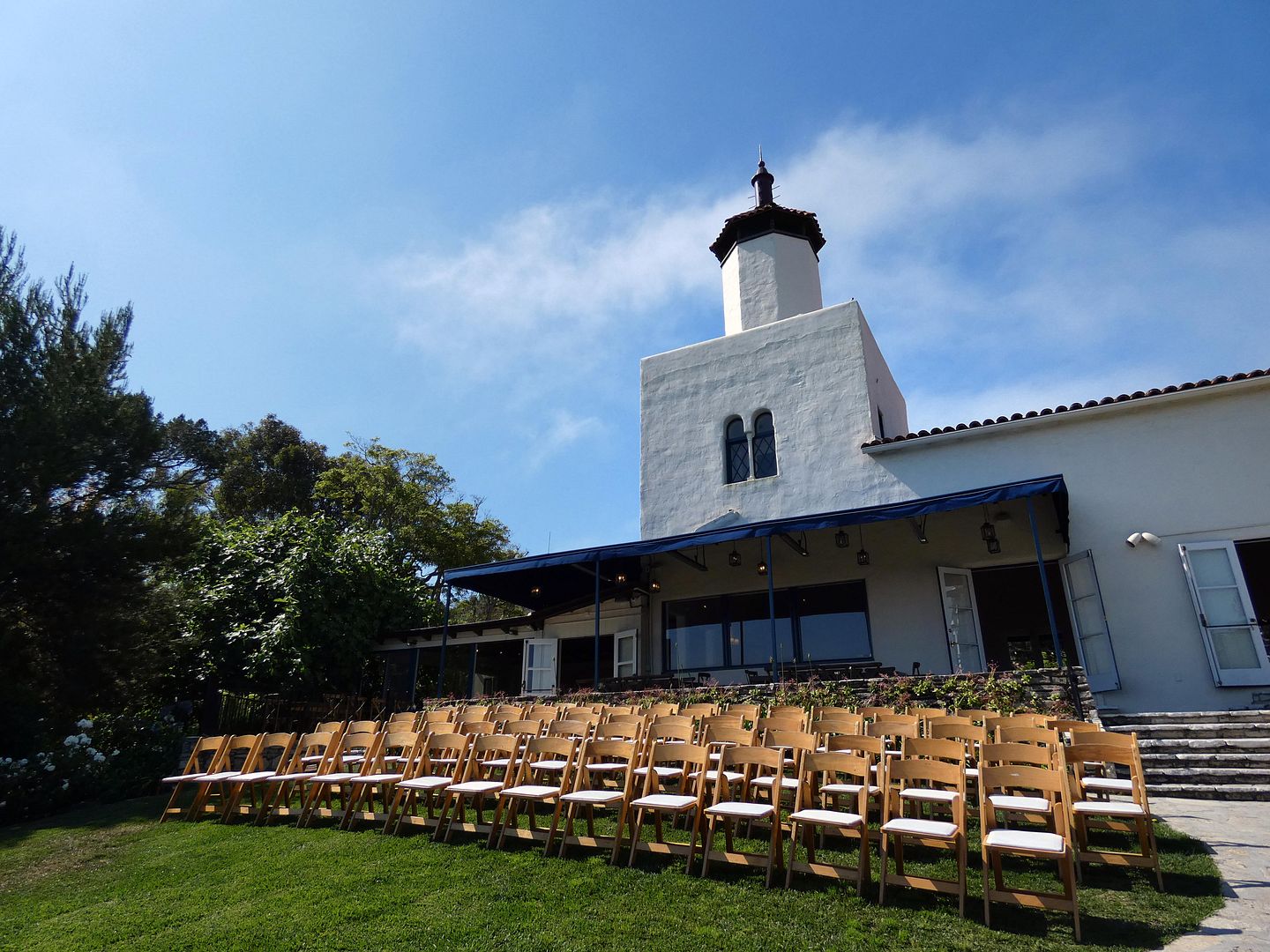 The inn was built in 1923 as "Clubhouse 764," named after its address at 764 Via Del Monte. It was a place for the "Father of Palos Verdes" Frank A. Vanderlip to wine and dine prospective landowners—the first building of the
Palos Verdes Project
, and the first to be built on the peninsula (which was and still is outside Los Angeles city limits).
When it was converted into a "
Spanish roadside inn
" (or "
wayside inn
") in 1924, its first owner, Jay Lawyer, had been
General Manager
of the Palos Verdes Project. But by then it had already done its job: selling plots of land. So, the new in was renamed "
La Venta
," Spanish for "The Sale."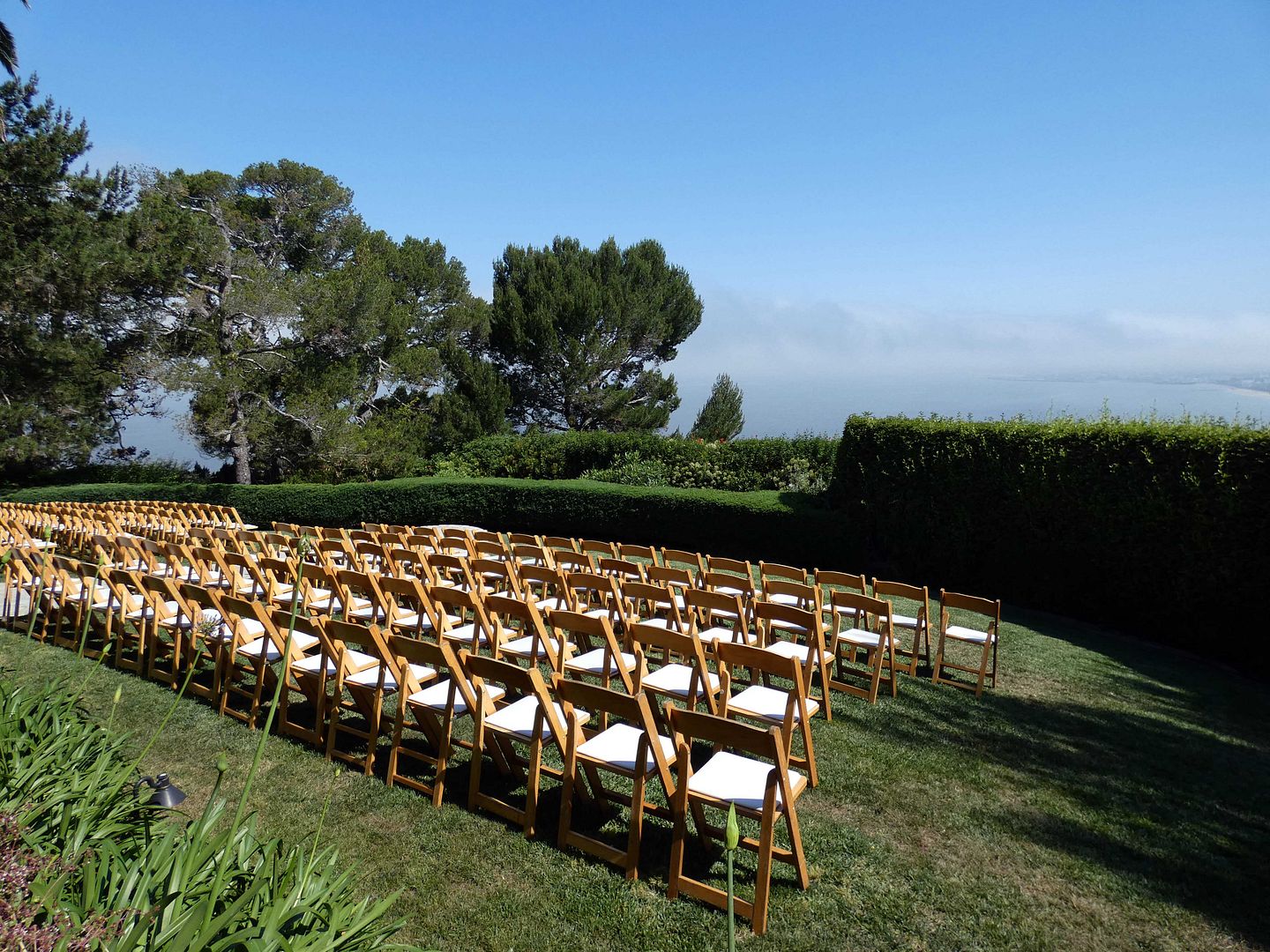 Its first wedding took place on June 6, 1925—and now, the "Ceremony Lawn" is still a sought-after venue "for the ultimate ocean view wedding."
The main building was designed by architect
Walter S. Davis
and his brother (Francis) Pierpont Davis, and the landscape was designed by the
Olmsted Brothers
. You can still see walkways and patios forged of local Palos Verdes Stone on the grounds.
But the first building that greets you as you come up the driveway is the Ocean Cottage, a former real estate office circa the 1940s...
...that now serves as a prep space for bridal parties.
Even from that tiny dwelling, you can experience everything that helped sell this area as the new premier suburb of LA, including the "gorgeous blue of the Pacific"...
...as you're "bathed in sunlight and caressed by the ozone-laden breeze from the ocean" (that is, according to
a 1929 sales brochure
).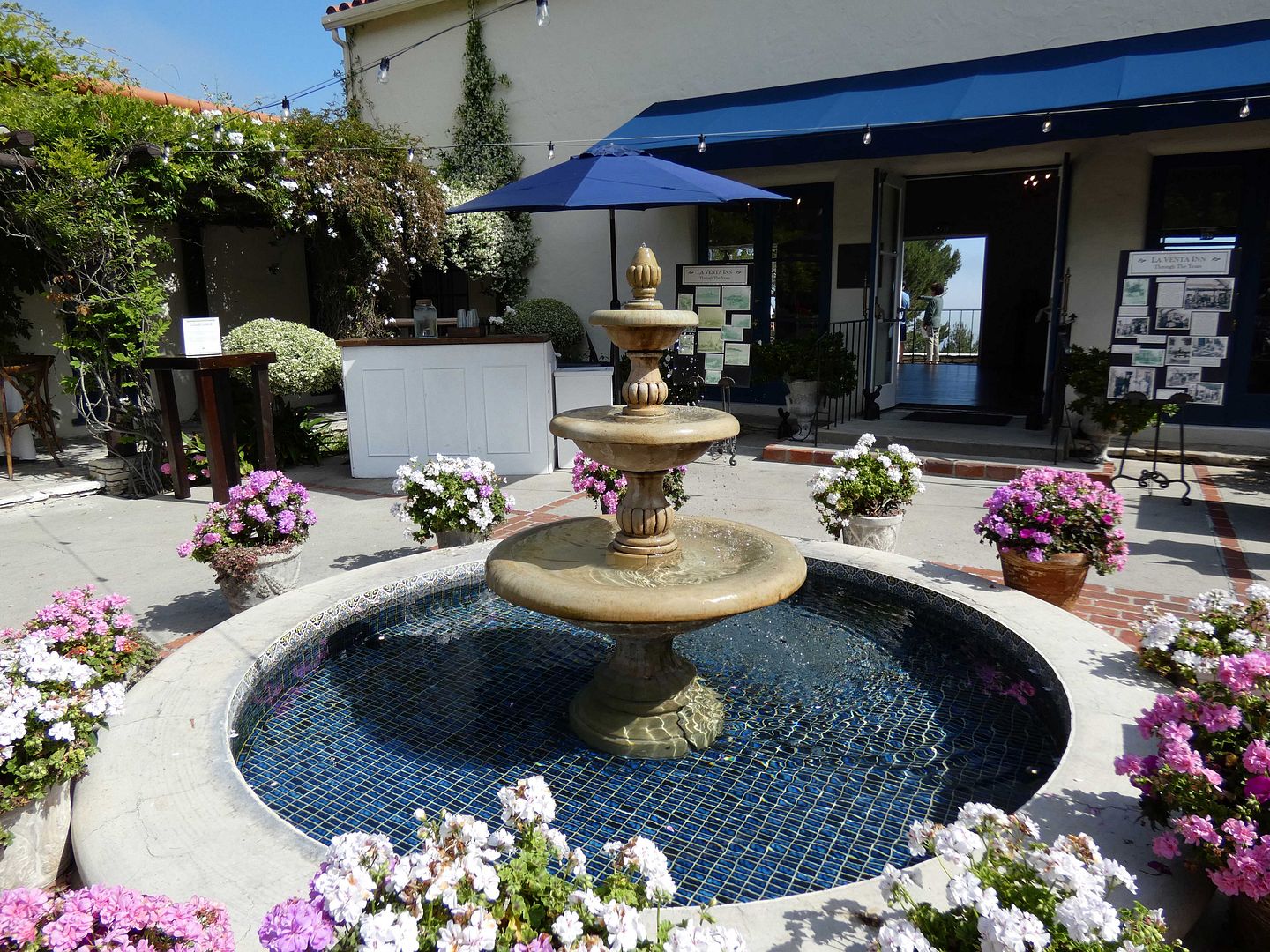 Then there's the welcoming courtyard patio outside the main building...
...which leads directly to what was once known as "The Lounge," or main reception room (now the ballroom), with its open beam ceiling.
The Great Fireplace and its stonework hearth still anchor the large room...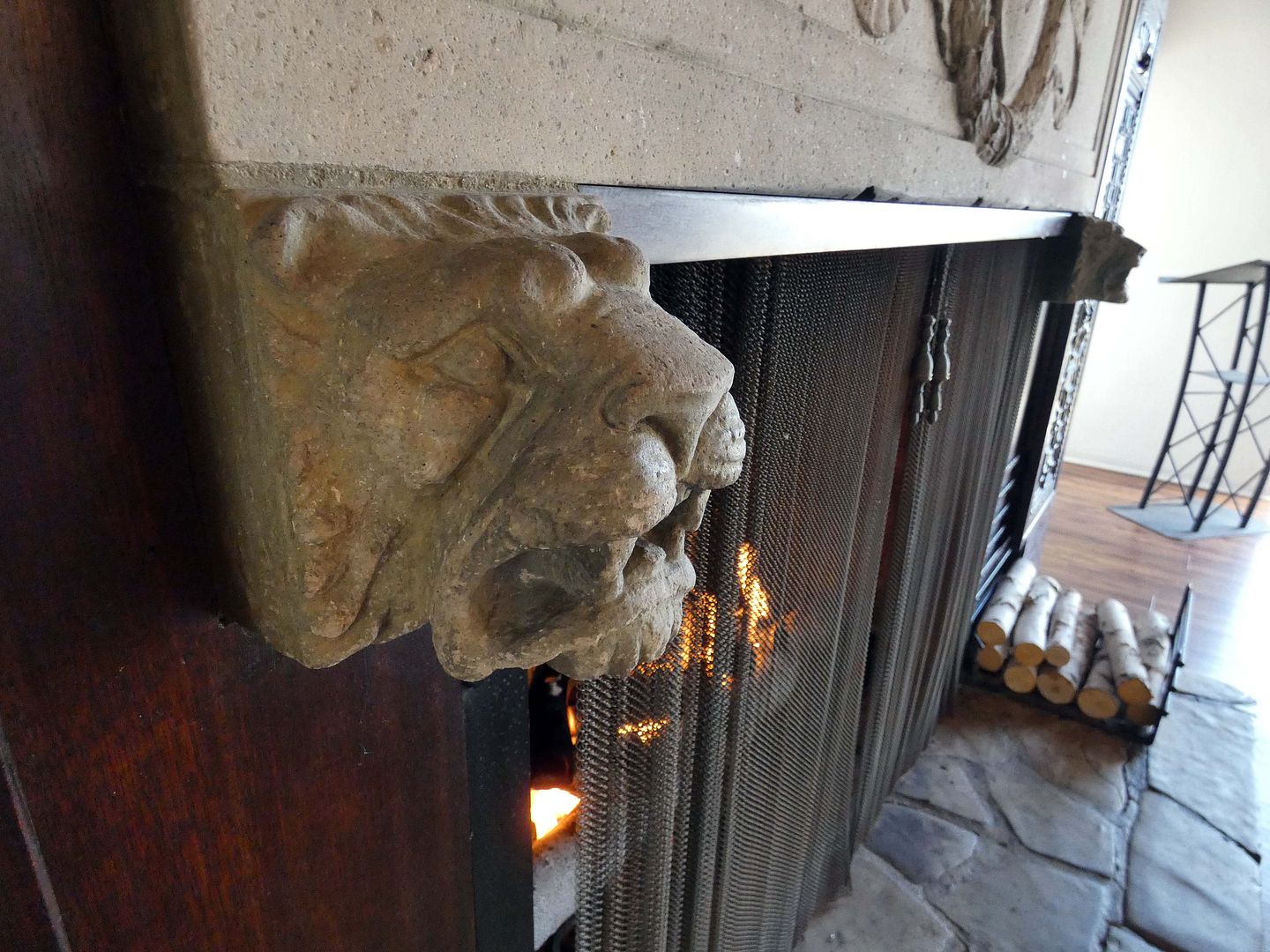 ...and the carved lions still stand watch.
It must've been an impressive room in which to entertain potential land buyers—and to woo them with perks like a
free membership
to the nearby 18-hole Palos Verdes Golf Club.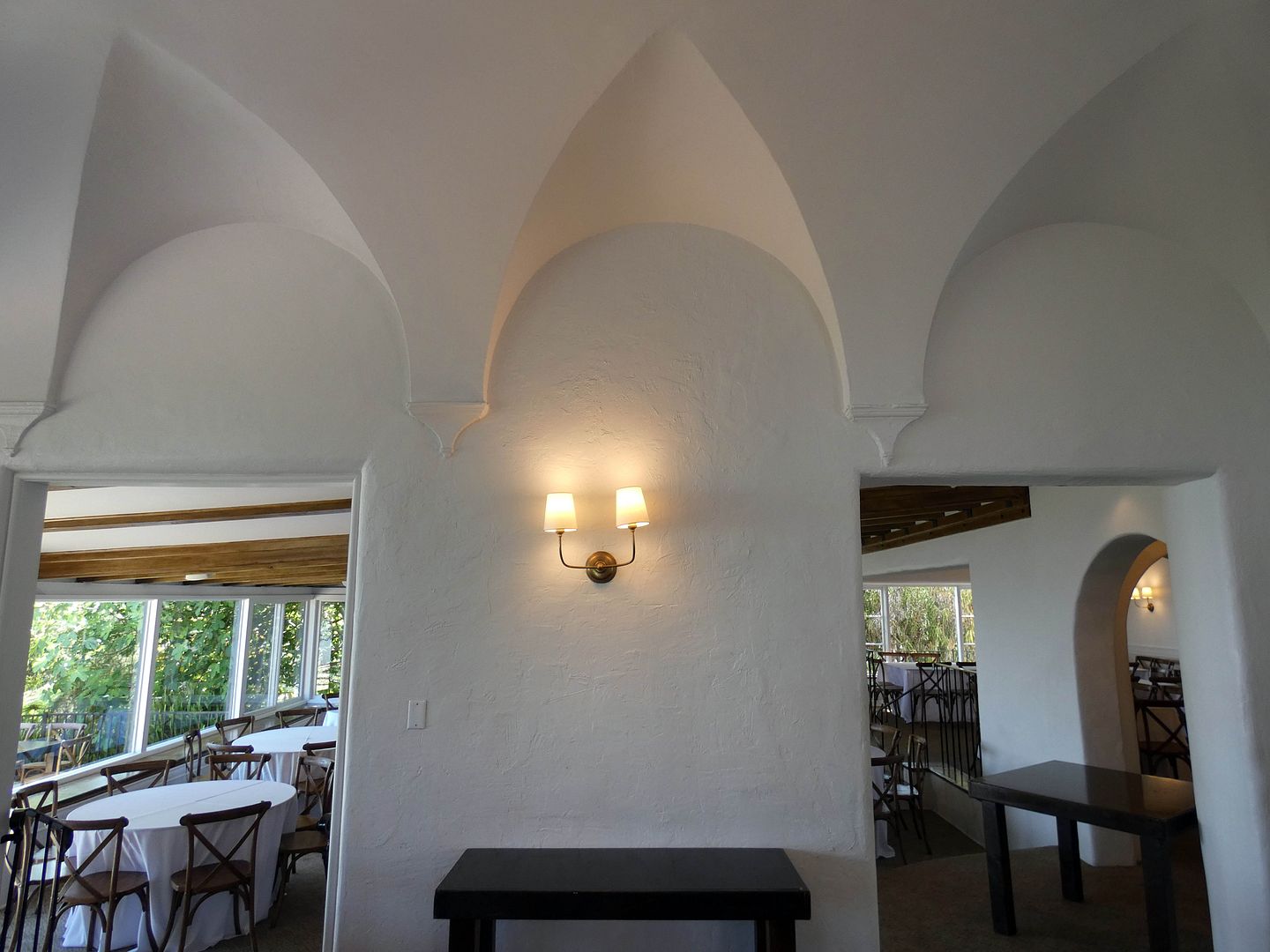 Past the vaulted arch ceiling and arched doorways, there's a dining room that was
added in 1925
(designed by architect Winchton Leamon Risley, according to a 1925
issue
of
Palos Verdes Bulletin
). The "Lower Garden Room" (
photo below
) was
illegally enclosed in 1953
, but it remains that way to this day.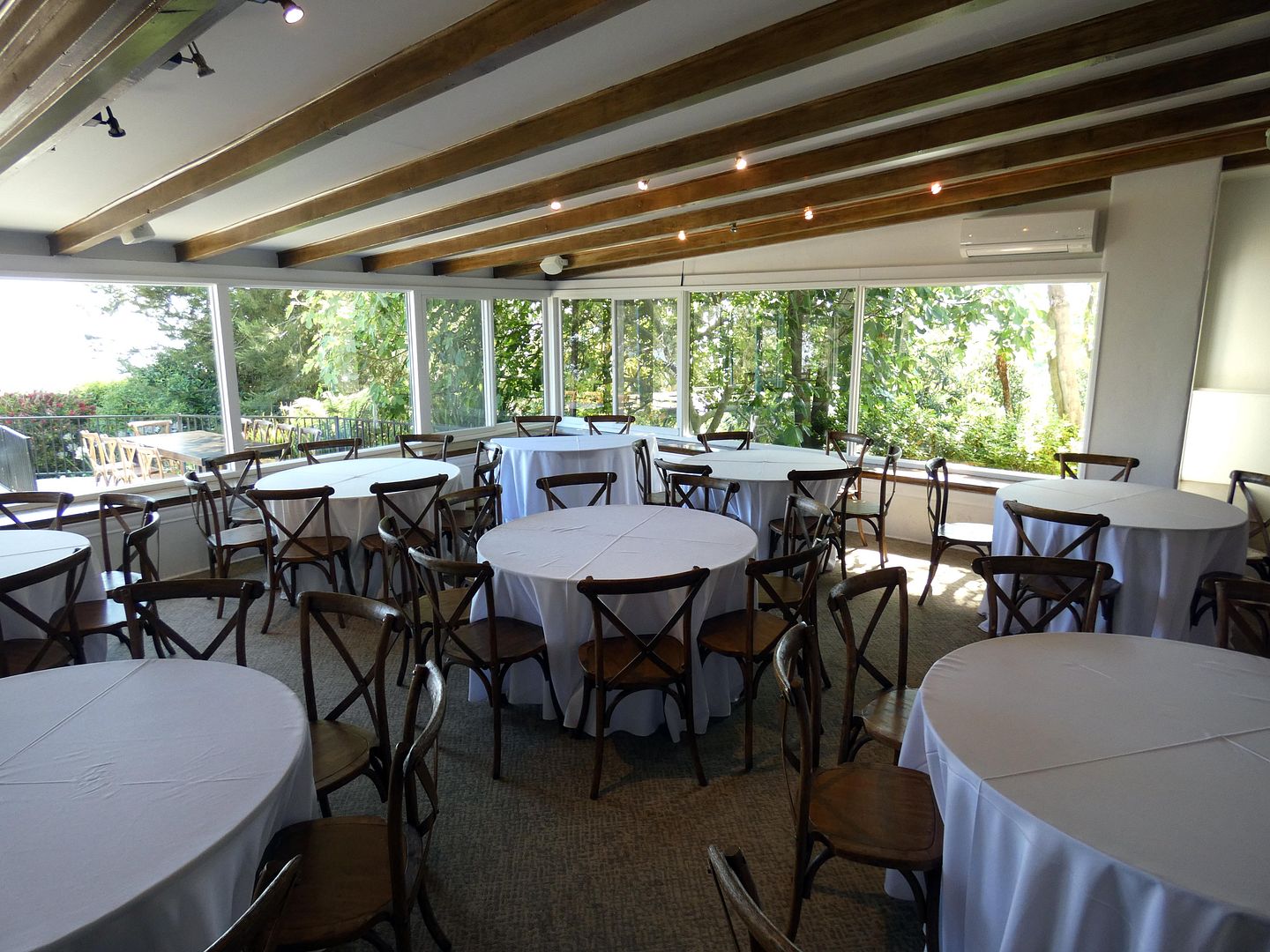 There wasn't much room for many guests to actually stay overnight at the inn, so it became more of a destination for fine dining and special events. Folks from the society pages would gather there with their social clubs and fraternal organizations.
In 1942, the coastal artillery branch of the U.S. military took over La Venta Inn—and especially its tower—to use it as a WWII lookout as part of our coastal defense.

Today, one of the bedrooms has been converted into a bridal party holding room—and decorative accents, like the curtain tie-backs and wallpaper, pay tribute to the peacocks that now make the Palos Verdes Peninsula home (and may have been
brought there by the Vanderlip family
).
Then-surviving Schnetzler family members awarded an operating lease to Frank Eskridge in 1967 and to the New York Food Co. in 1992. In 2021, a new lessee, Made by Meg, signed on to operate the inn.
But Chef Meg has hit a bit of a snag.
You see, when La Venta was built in the 1920s, it was surrounded by countryside—but today, it's surrounded by a residential area of PVE. And not all the neighbors appreciate the noise and traffic that weddings with 200 guests tends to bring.
Some of those neighbors have been
speaking up
, as operations have ramped up after a pandemic closure.
I'm hoping La Venta will weather this wrinkle, just as it powered through the Great Depression, the 1933 Long Beach earthquake, World War II (and resulting disrepair, because of a wartime restriction on construction projects), and, I'm sure, untold numbers of bridezillas.
But regardless, I'm glad I got to see it when I did. (Thank you Doors Open Peninsula.)
Related Posts: