One hundred years ago—on June 17, 1923—a real estate rally helped form what became known as the development of the Palos Verdes Peninsula, which is now comprised of four cities (Palos Verdes Estates, Rancho Palos Verdes, Rolling Hills, and Rolling Hills Estates).
To celebrate, a bunch of cultural institutions, landmarks, historic sites, and other local attractions threw open their doors to visitors this past weekend, as part of "Doors Open Peninsula."
My second stop of the day turned out to be one of the best: The Neighborhood Church, located in the former Haggarty House on Paseo del Mar in PVE.
Built primarily from 1927 to 1928, it was the private summer estate of department store magnate J.J. Haggarty, of Haggarty's in Downtown Los Angeles.
Designed like a Mediterranean villa by Italian architect Armand Monaco, its single-story, horizontal footprint continued to expand with an addition completed in the early 1930s—shortly before the Depression toppled Haggarty's clothing retail business, forcing him to sell the house.
That wing is now used for church offices.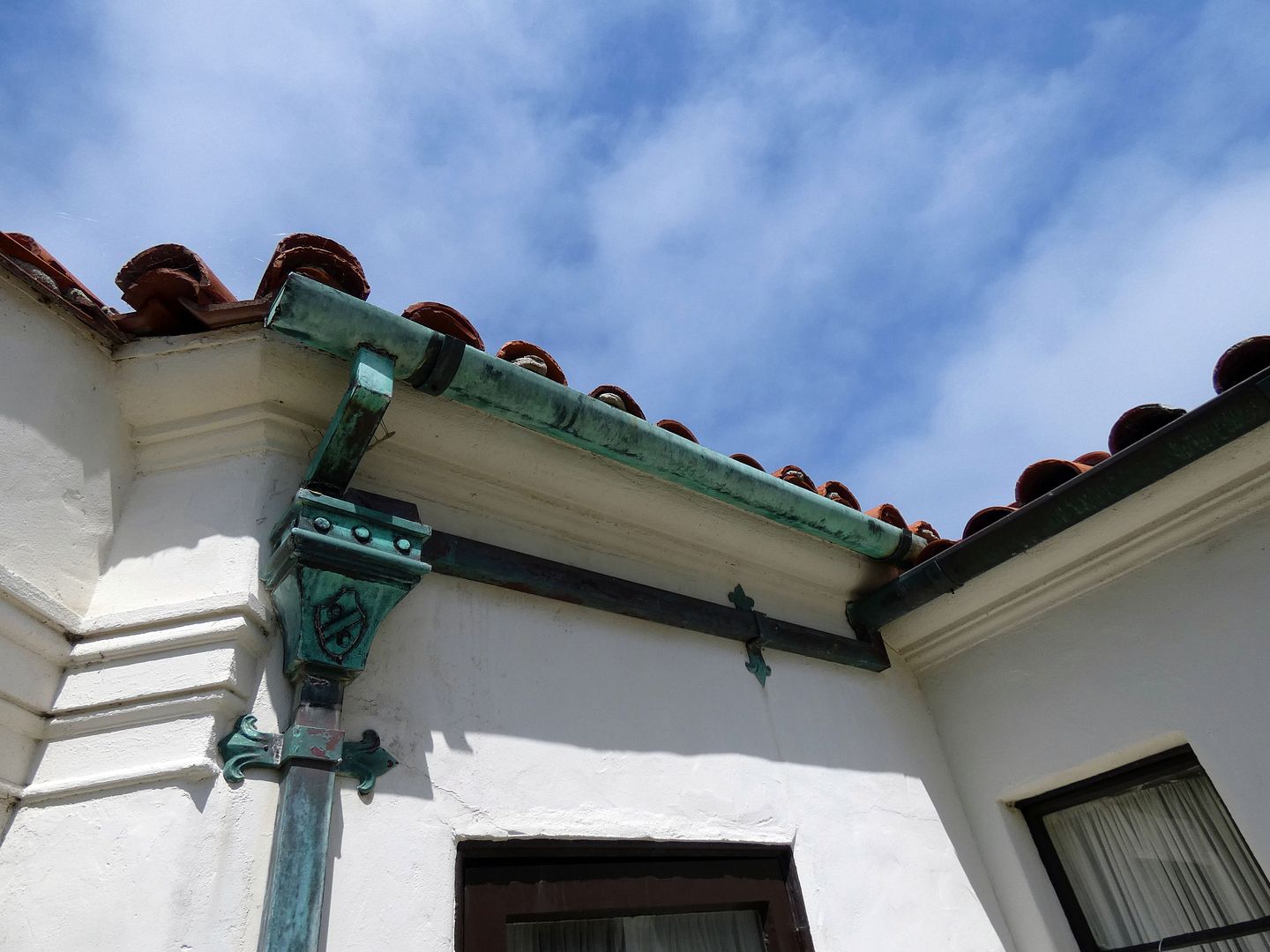 But a lot of the original ornate details, like the copper drainage pipes, remain.
Inside the front door of the former home, the vaulted entrance hall now acts as a vestibule (or narthex) for the church. Its ceiling fresco was hand-painted onto canvas by
muralist A.E. Disi
and then hung in place.
The trapezoidal stained glass skylight by
Judson Studios
is original, although the ecclesiastical windows (including clerestory windows) throughout the structure were added later.
A spiral staircase with a wrought-iron railing leads up to the cupola/tower, which doesn't currently house any bells (but rather speakers to amplify the music from a carillon inside). A cross was added to the top once the church took over in 1950.
You can find Haggarty's initials "JJH" throughout the estate, from wrought iron gates to a stone crest above the front door.
The church's main sanctuary was once Haggarty's
Grand Salon
...
...and still features original pegasus sconces...
...and another painted ceiling (also made of canvas).
...there's a smaller chapel, featuring the church's original wooden altar circa 1950...
...a painted, barrel-vaulted ceiling...
...and a mantel made of crushed Palos Verdes stone.
Down a long hallway, adorned by original star-shaped lighting fixtures...
...there's the former
solarium
and bedrooms, now mostly used for offices...
...another Judson Studios skylight...
...and the green-tiled former master bathroom, now used as a kitchen.
Reportedly, though, the Haggartys didn't spend much time in PVE—preferring to stay in LA's West Adams neighborhood, at their mansion known as "Castle York" (now demolished).
They did, however, invest a lot of time, effort, and money into their summer getaway—even commissioning the landscape to be designed by the famed
Olmsted Brothers
.
Part of the Olmsteds' design included a water feature lined with local rock—which is still extant, although railings have been added to the curved bridge that crosses over the top.
The grassy lawn has been replaced by artificial turf...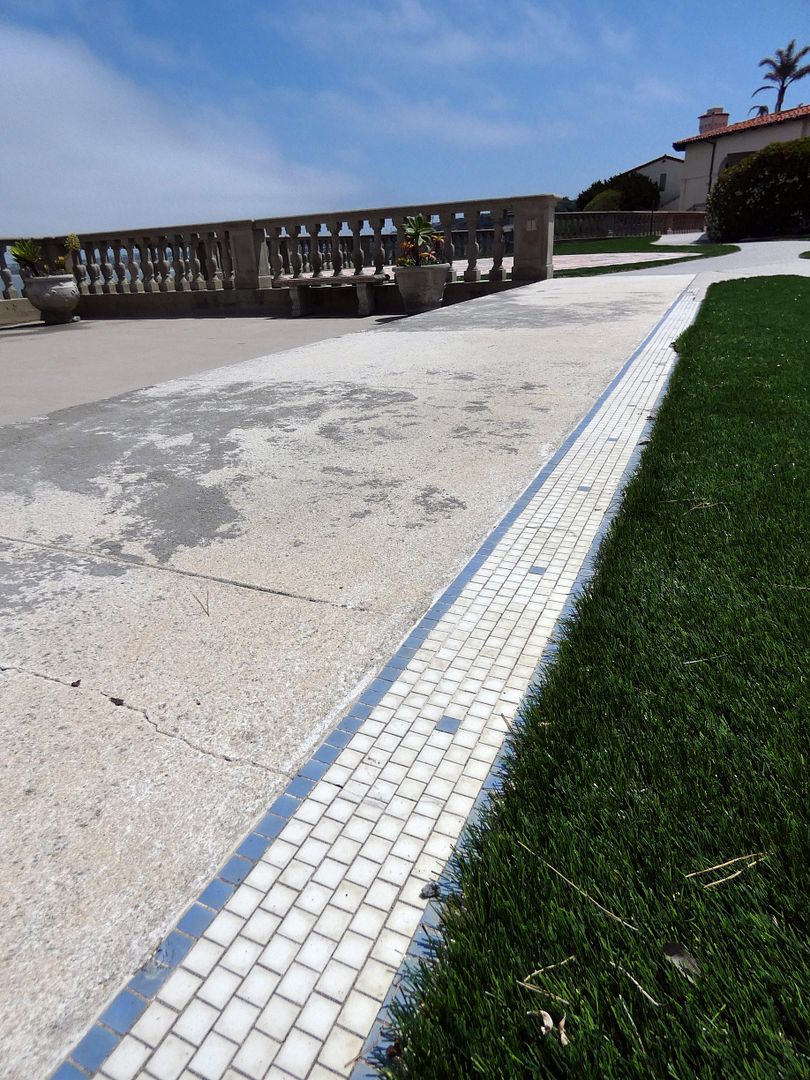 ...and all that remains of the seaside swimming pool is a lone strip of tile.
The subterranean pool house isn't open to the public—except its patio now functions as the Sea Cliff Memorial, commemorating those whose ashes have been scattered from this very bluff. (There are a lot of them!)
A 30-feet-thick seawall built by Haggarty remains, but his long, private pier is long gone (except for a few pylons visible at low tide).
A water wheel used to spin near an ornamental rock feature at the cliff...
...and a grotto made of volcanic rock now serves as the manger during the church's annual Christmas pageant.