"Have you been to Carrizo Plain?" he asked me. I answered, "Yup, a couple of times." (Actually it was three.)
"Of course you have," he said, because he knows me well enough.
The
last time
I drove up to California's Carrizo Plain National Monument—the address says it's in Santa Margarita in San Luis Obispo County, but feels much more Central Valley/Kern County—was during the "
superbloom
" year of 2017.
And although SoCal isn't technically experiencing a superbloom per se (although that term is entirely subjective), we've had a wet enough winter to warrant a return visit to see what kind of wildflowers had erupted this spring.
Fortunately, I was already in the area looking for condors (blog post on that adventure coming soon), so it was just a detour north onto Soda Lake Road—instead of taking Highway 166 east to go back home—and a few minutes to get to the part of the park that was really blazing this weekend.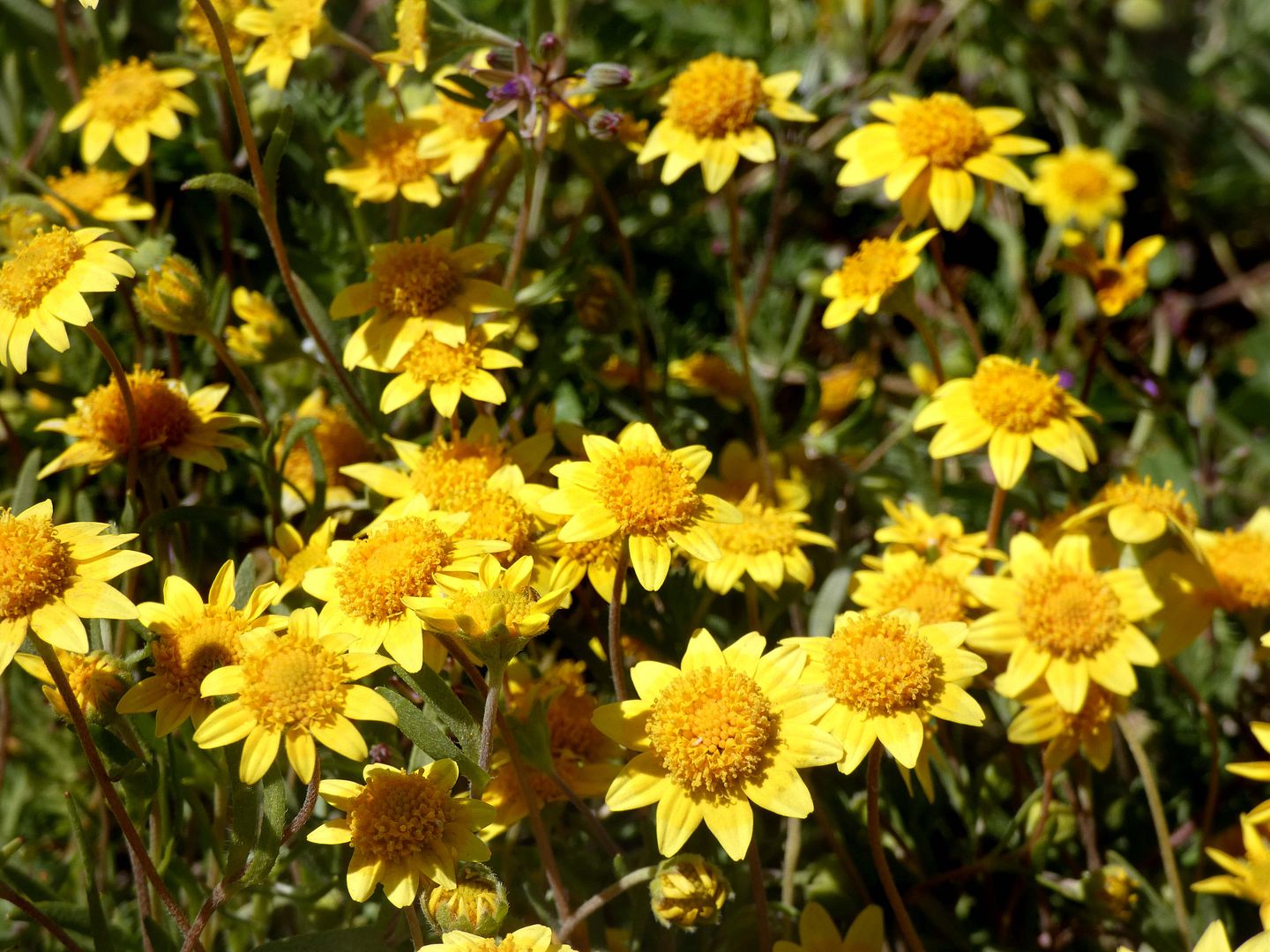 Like the last time, the southern part of Carrizo Plain along the main north-south thoroughfare—particularly on the east side—was filled with California goldfields. They may be small, but they sure are bright.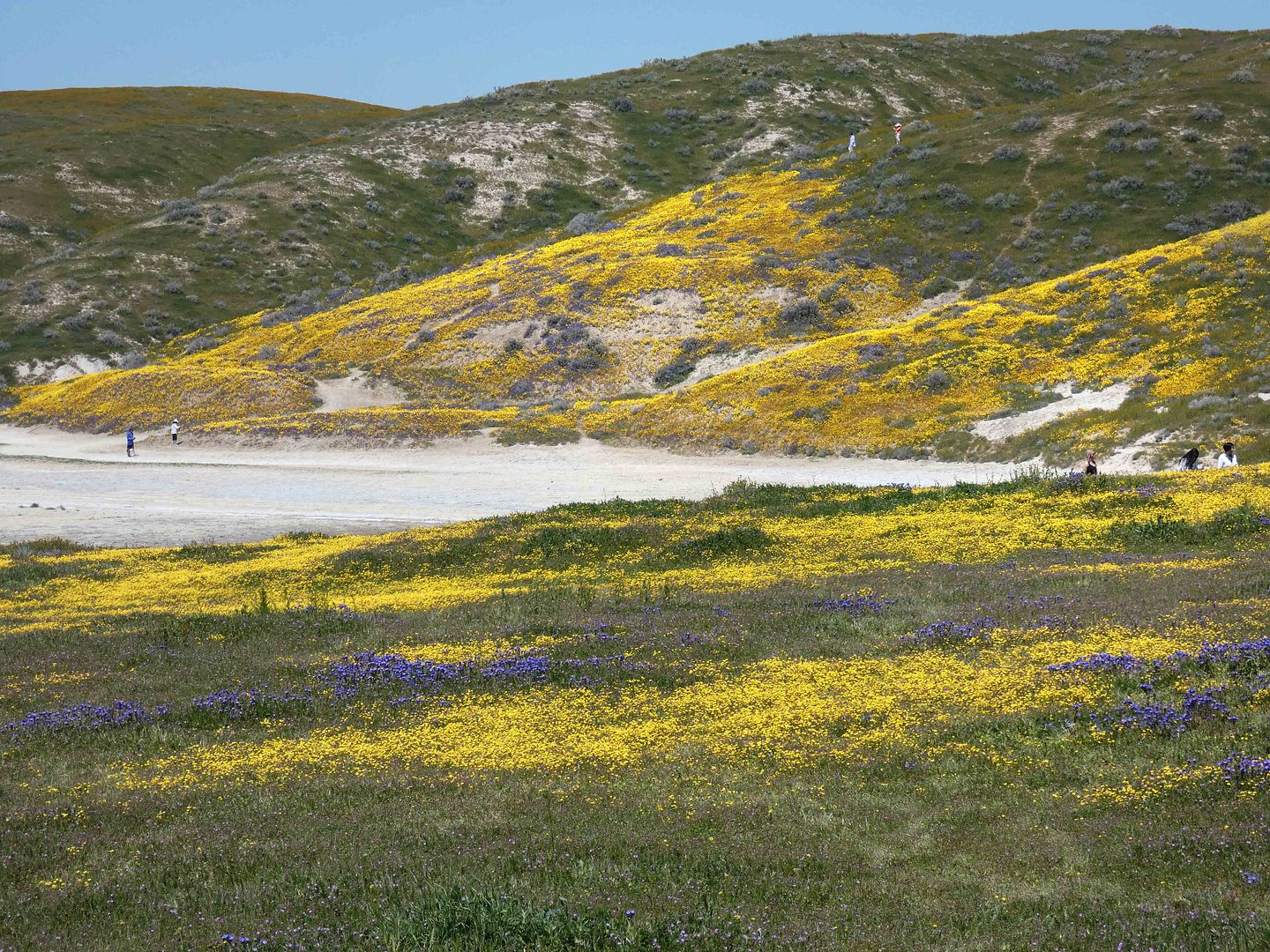 Although they intermingled with some of the purplish-blue phacelia (I think the Great Valley species) in some spots...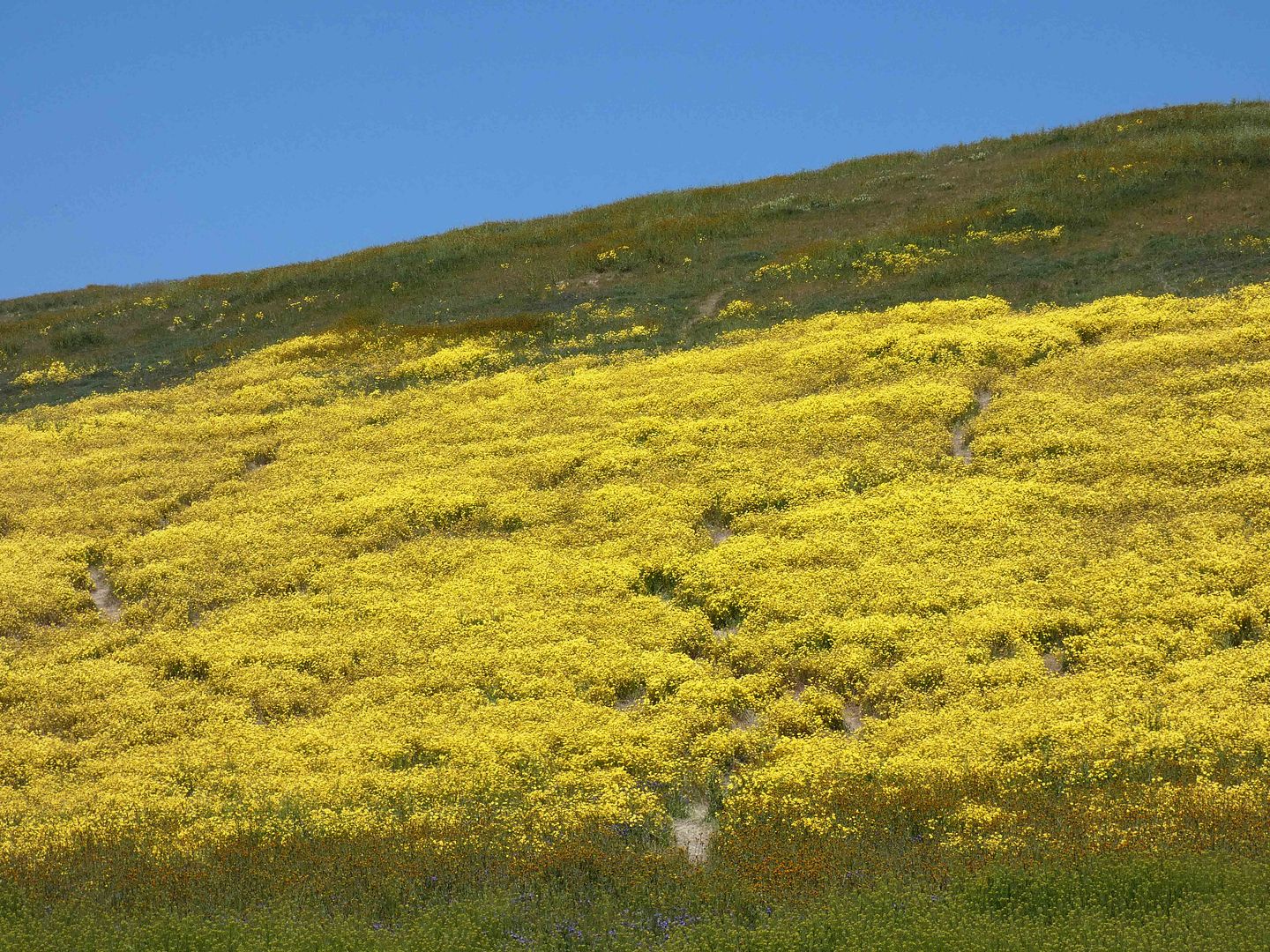 ...they really dominated the hillsides and the Temblor Range of mountains beyond.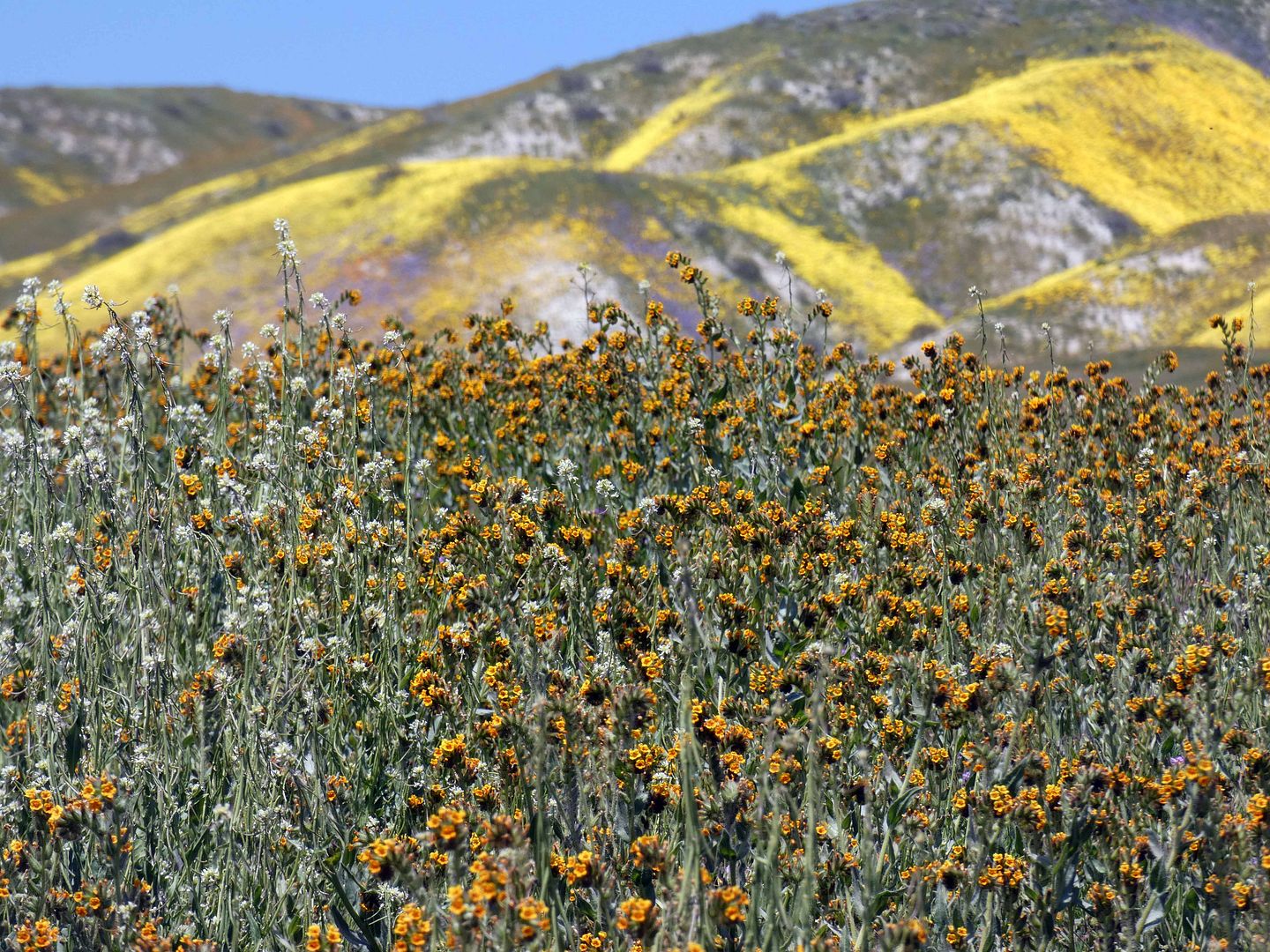 And what might not have been obvious to the casual observer is that where there weren't goldfields or phacelia, the ground was
carpeted
in the less-showy-from afar fiddlenecks. (It's been a big year for fiddlenecks
elsewhere
too, including Antelope Valley, though no one knows exactly why.)
With a bloom like this, the two-lane Soda Lake Road was choked with traffic, including cars trying to park along the side with no shoulder, and drivers and their passengers crossing to and fro.
It took some effort to get some solitude and quietude...
...and, in some cases, a little deviation from the paved road.
I was also determined to not
behave badly in the bloom
—no matter how tempting it was to get
really really
in the thick of it.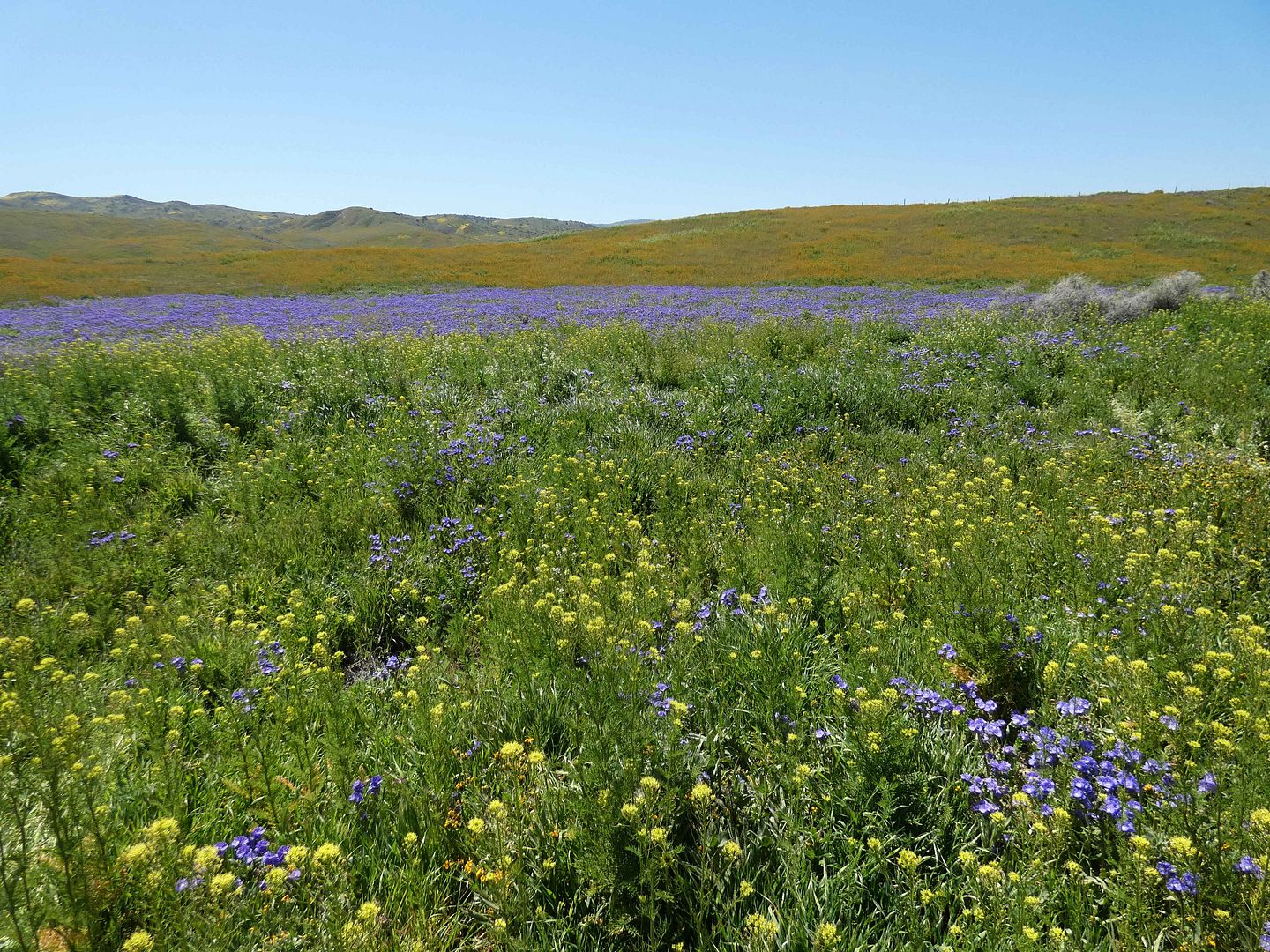 I'm trying to set a good example. And I don't want to
ruin the bloom
for those who come after me.
So if I couldn't reach a section of flowers from the road, or an existing dirt path, or a patch of grass with no flowers on it, I didn't go there and simply admired from afar.
And there was certainly plenty to admire—and, in some ways, more spectacular to take in the entire tableau rather than just individual patches of solid colors at a time.
It's really amazing how much of it there was, both near and far.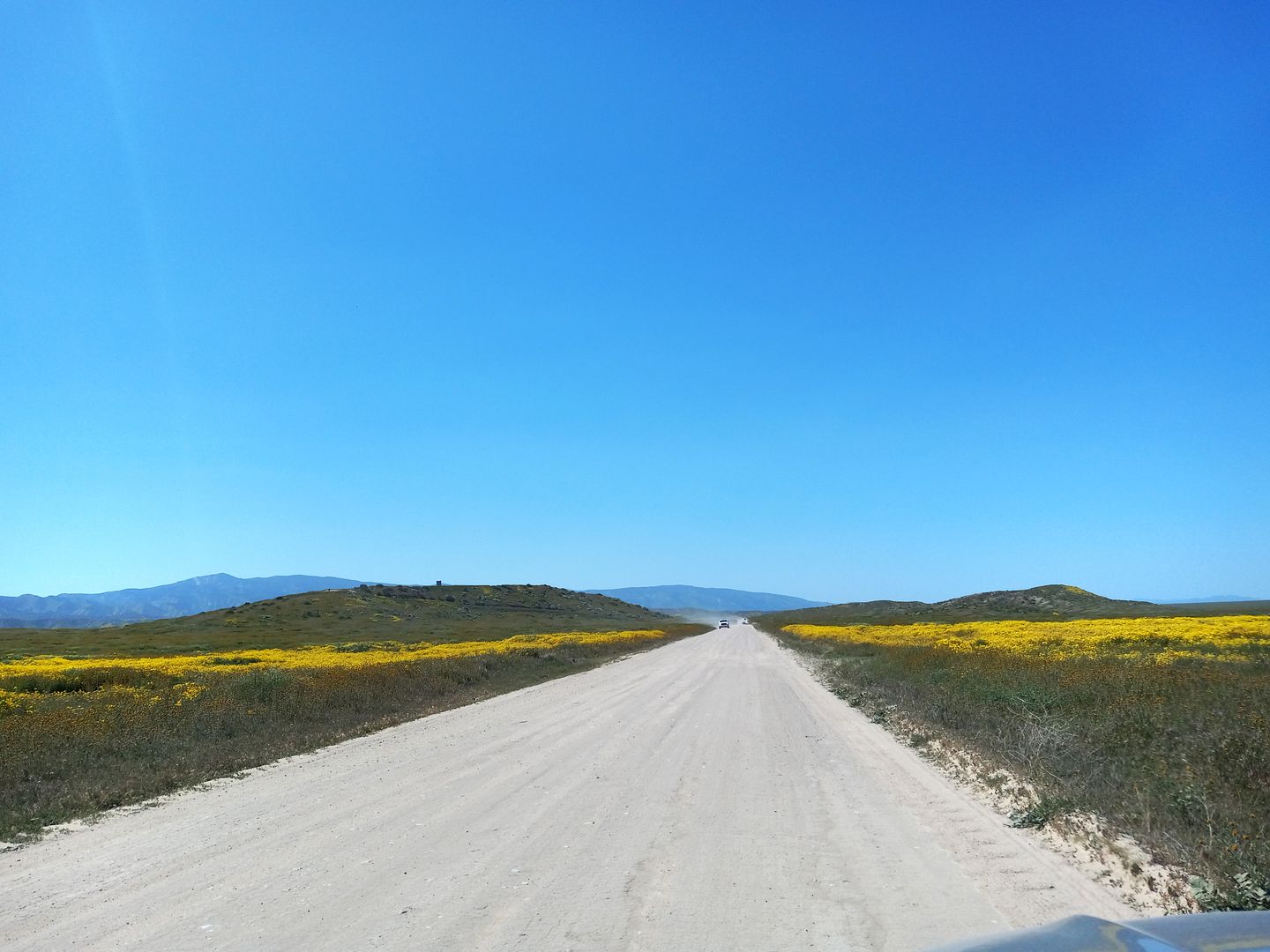 It was impossible to see all of it, though I took a turn down Panorama Road to get a closer look at a curious stripe of flowers I could see on both sides of a dirt road—as though the seeds had been dropped by a helicopter there or painted by a brush in God's hand.
It's something to behold—and considering the density of the flower growth and the saturation of the colors, as well as the bright and sunny spring weather (unlike the gloomy gray of
April 2017
), I'd consider this better than
the last superbloom
.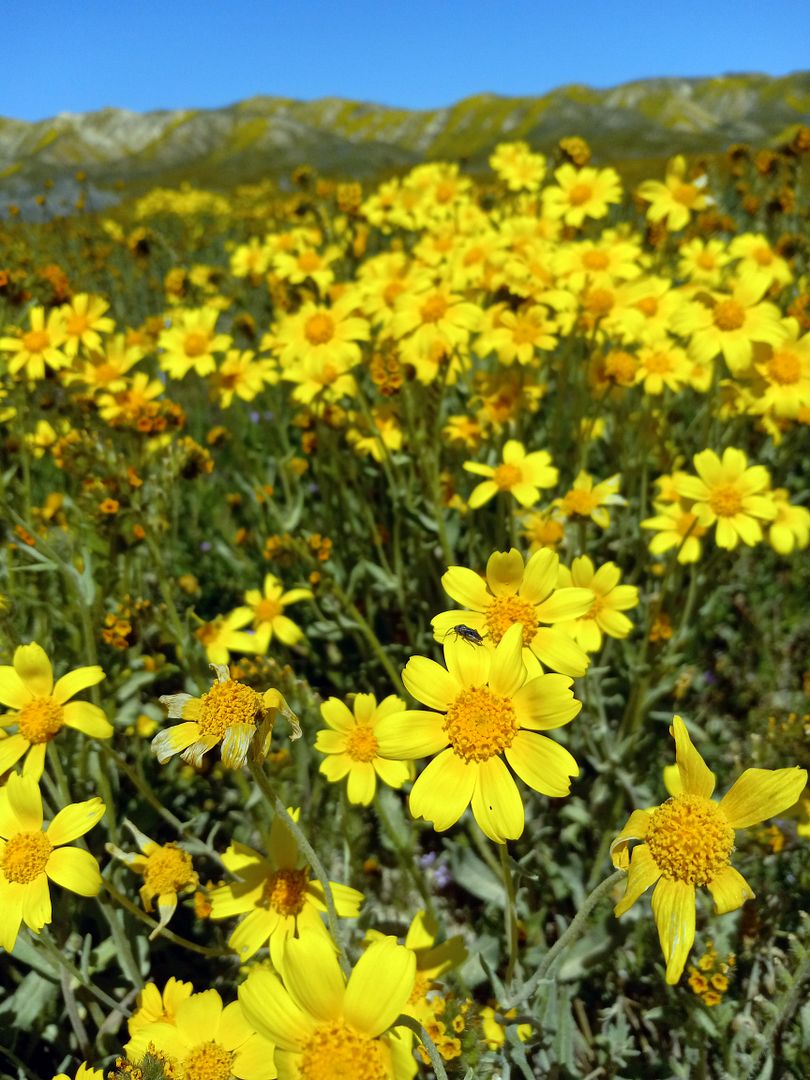 Having had my fill of yellow daisies, I headed back to Soda Lake Road and continued north...
...turning off at the lake itself, whose shore offered more variety, like purple owl's clover (which I think I saw in patches elsewhere from a distance)...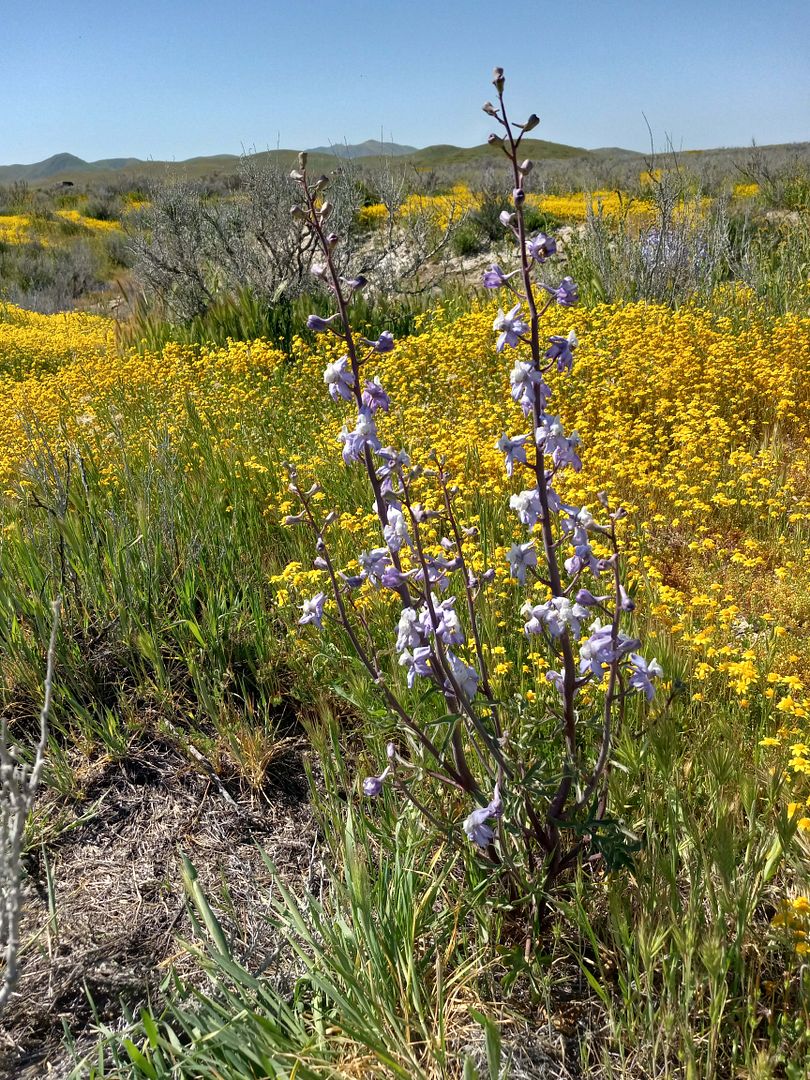 ...and the light bluish/lavender larkspur.
Soda Lake—an ephemeral, alkali lake that dries up into a stark white salt flat in the summer time—was full.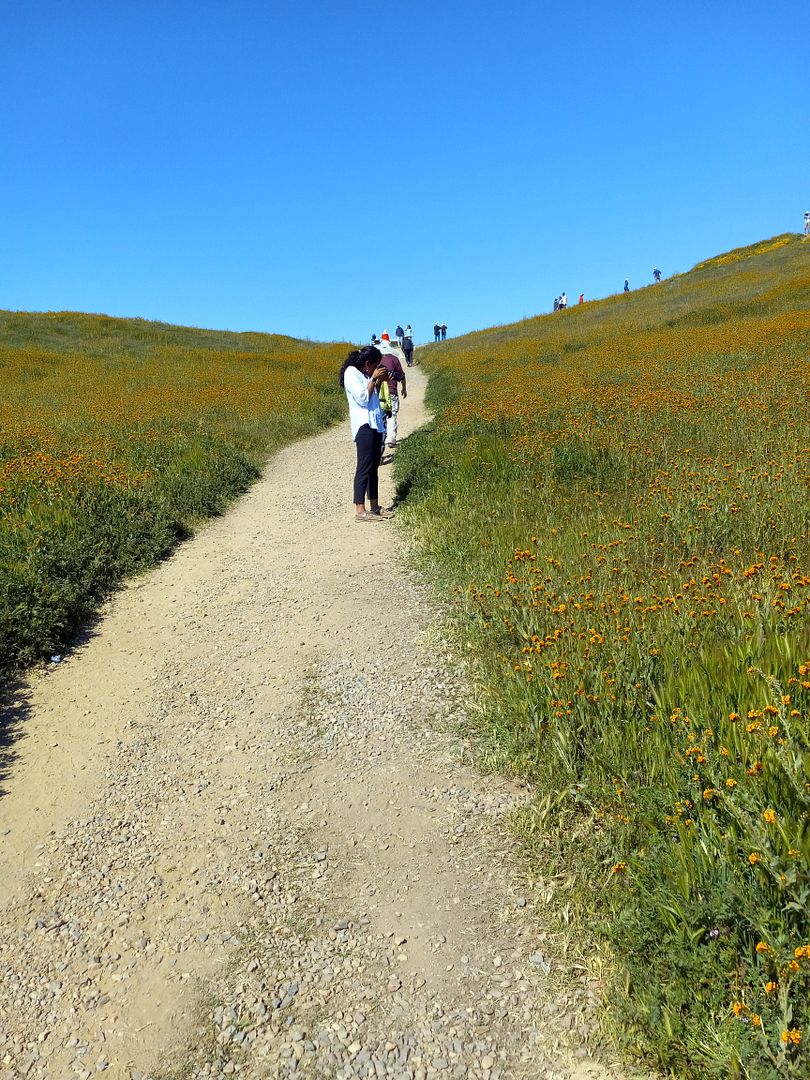 I climbed up the hill to the Soda Lake Overlook to get a better look, because this was shocking to me.
The normally-dry lake would have some water in it after a wet winter—but in the spring, it's usually no deeper than a foot, with an increasingly receding shoreline.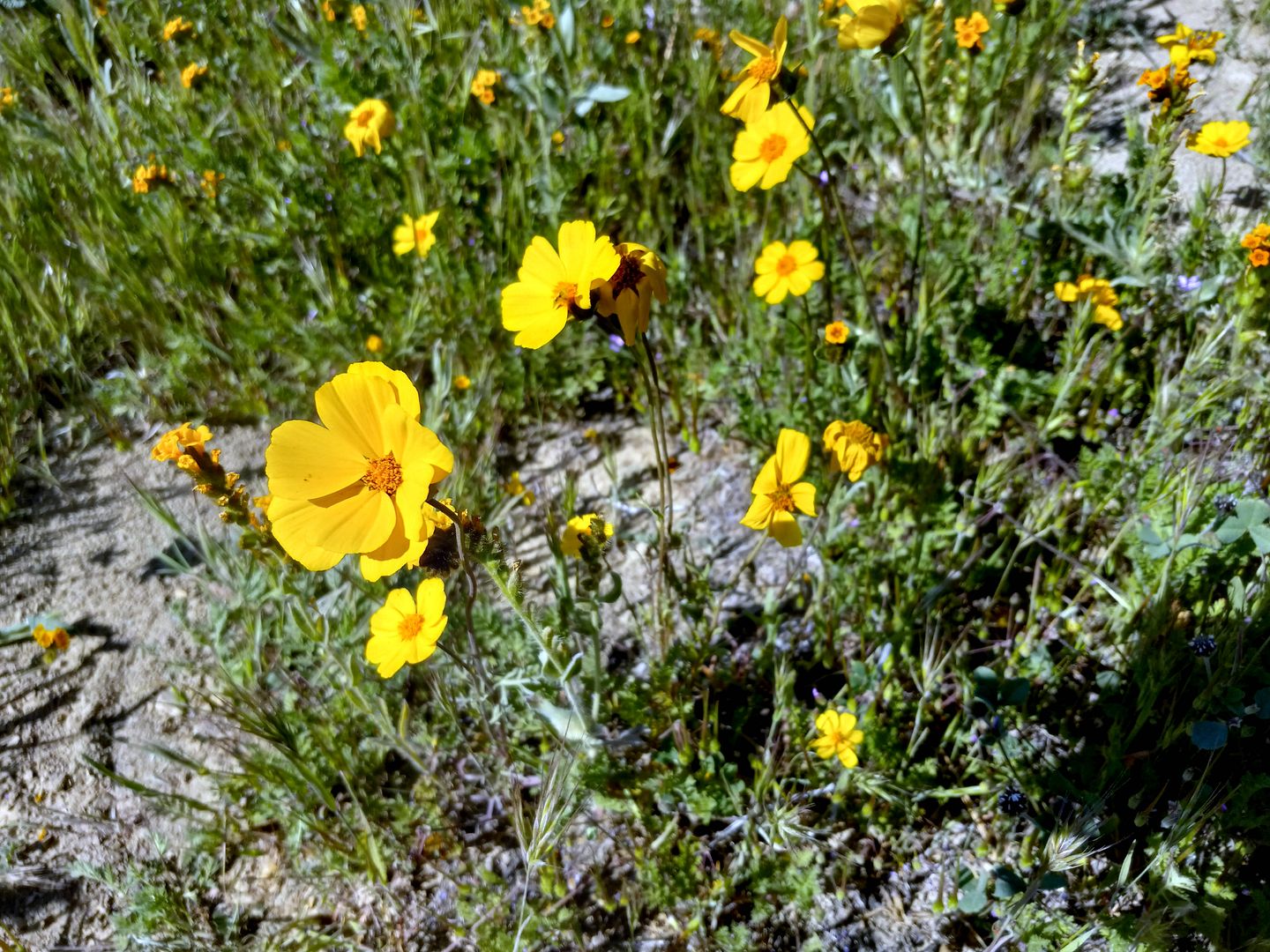 I wonder how many first-time visitors to Carrizo Plain had no idea about this seasonal change—and instead just focused on snapping their photos of the hillside daisies (and, for them, more importantly it seemed, themselves with the flowers in the background).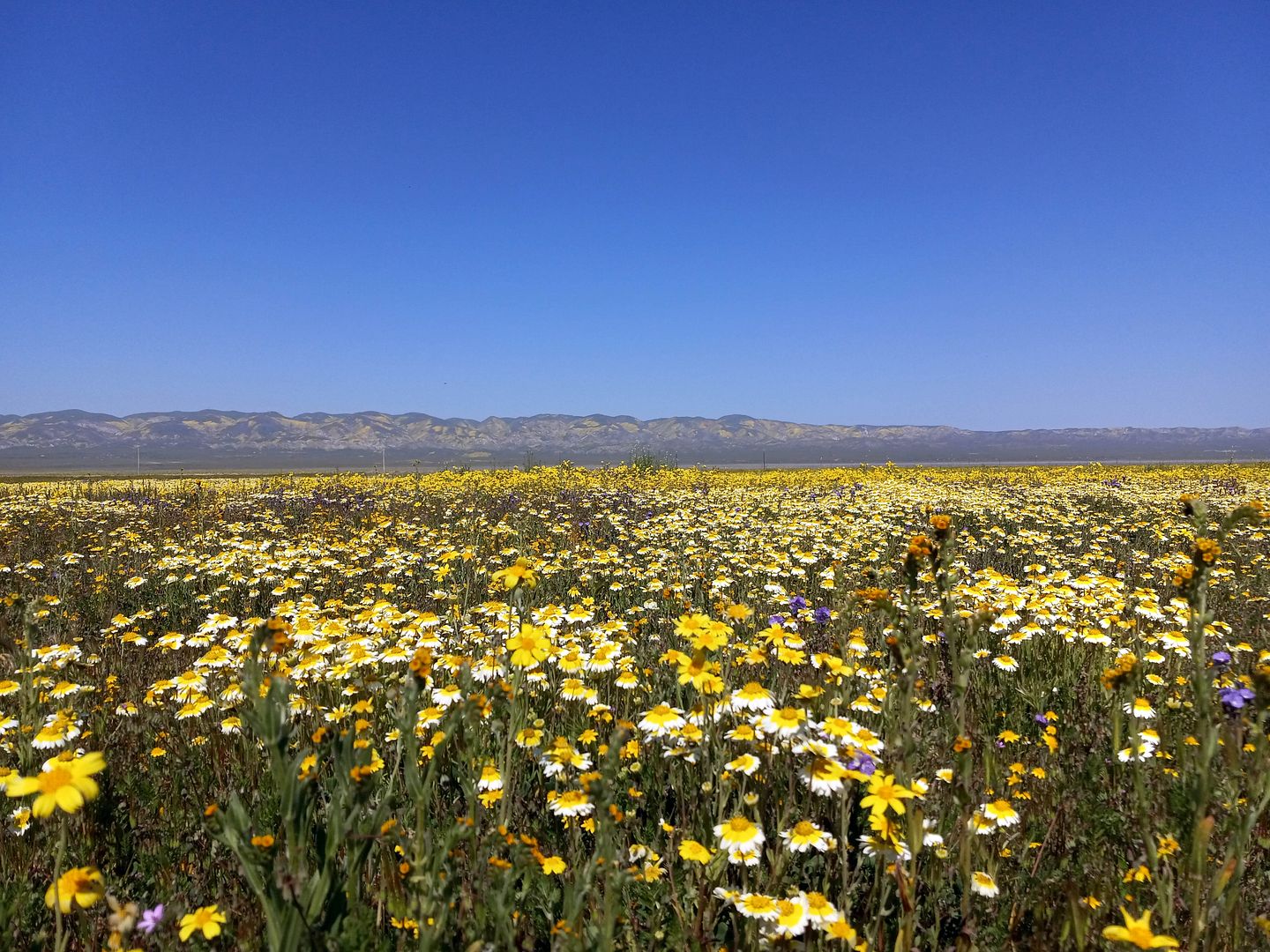 Just when I thought I'd seen pretty much everything and was heading to the northern terminus of Soda Lake Road, I noticed a new explosion of flowers...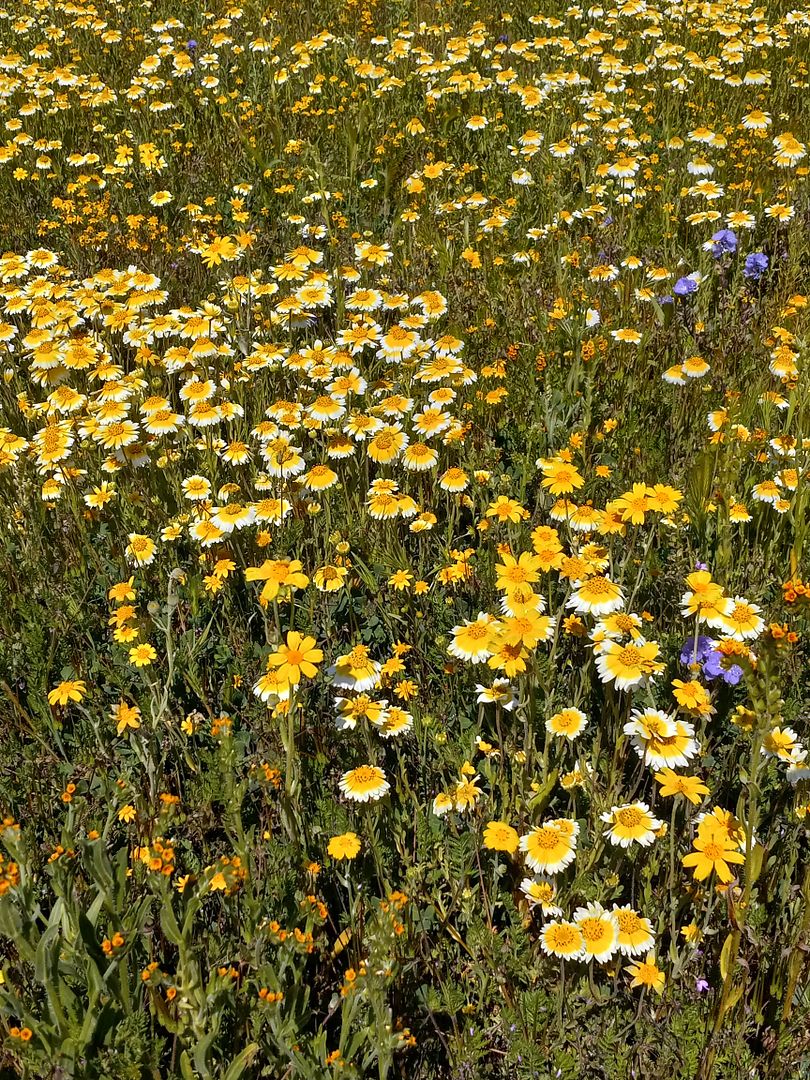 ...this time tidy tips, those yellow daisies with the white tips on their petals.
This was the first time I'd entered Carrizo Plain from the south, as during my prior visits I'd come from the northeast (i.e.
Bakersfield
) or the northwest (i.e.
Big Sur
).
But this switcheroo in my itinerary meant I ended up saving the best wildflowers for last...
...because the stretch of Highway 58 from Soda Lake road heading east past 7 Mile Road was just absolutely breathtaking.
And instead of admiring those rolling hills from a great distance...
....it almost seemed as though I could reach out and touch them from my car window...
...especially as I drove right through them.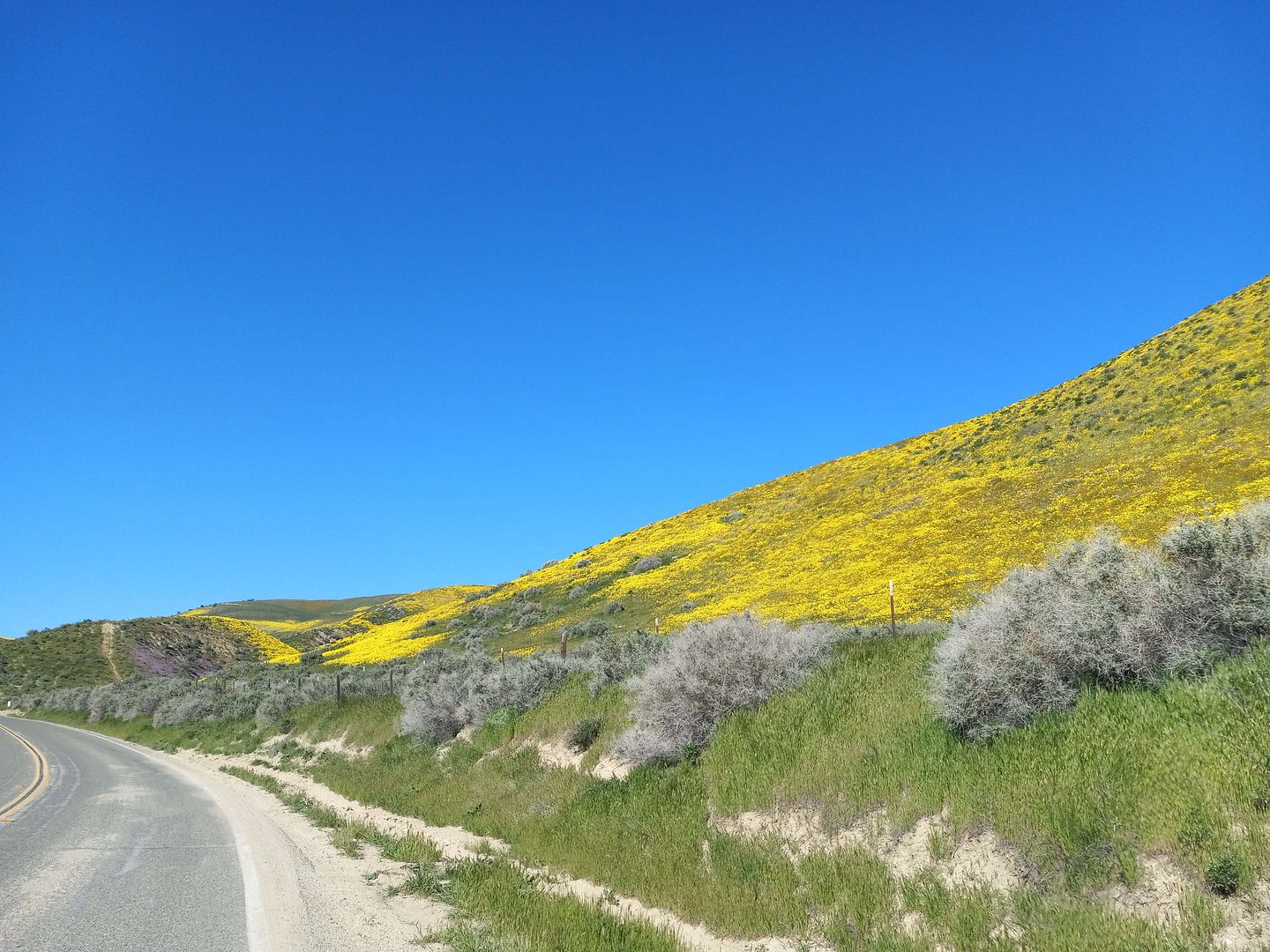 With all that yellow taking center stage, it was as though the greens also got greener...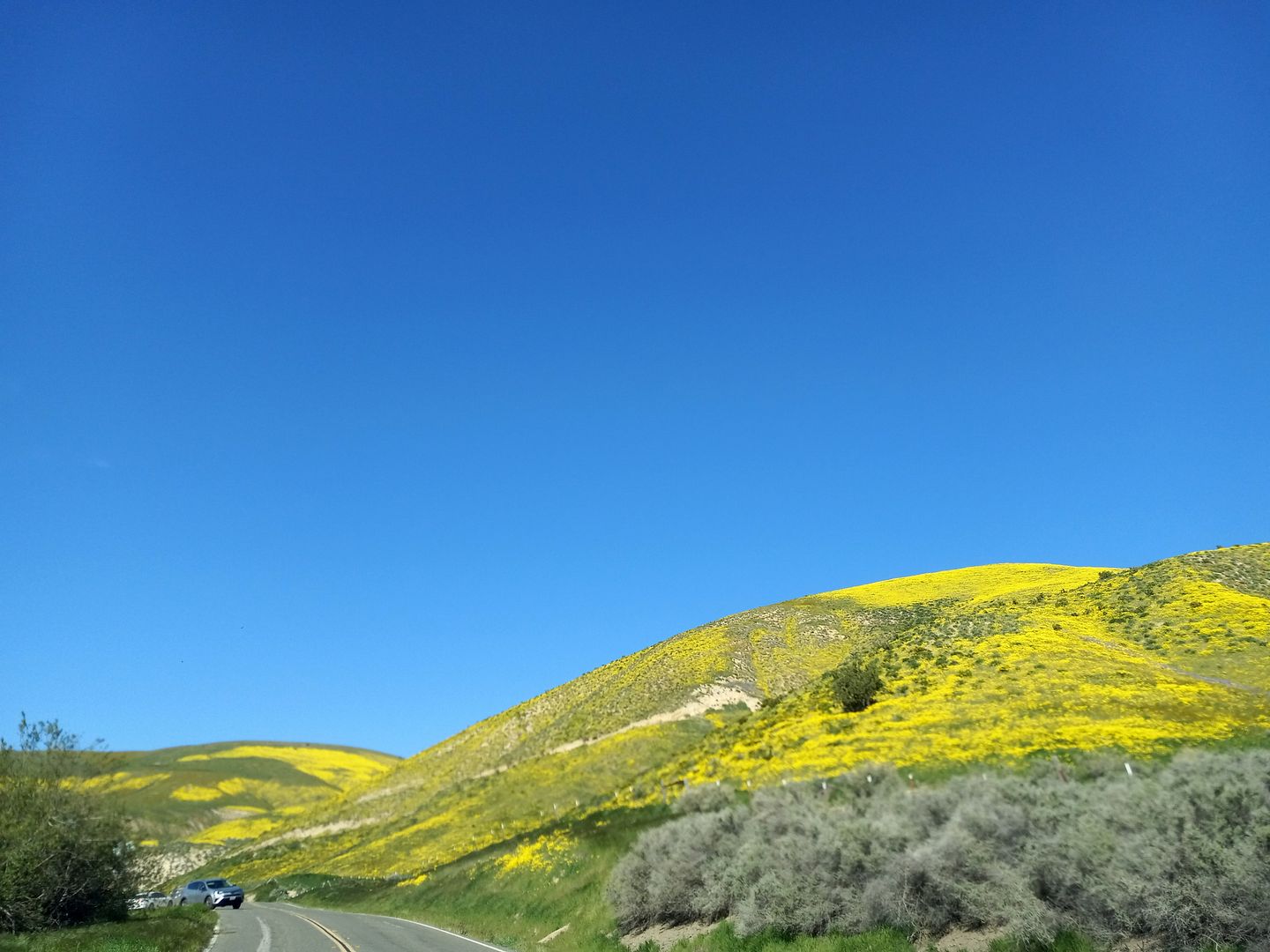 ...and the blues a deeper shade of blue.
It was hard to make any progress on my drive home, as I kept wanting to pull over and admire, document, catch my breath.
And even though I left it behind just a day ago, it feels as though my photos of it are but postcards— hand-painted from a black-and-white reality in order to beckon all those east to come out west and behold the golden peaks that bathe valleygoers in an unreal glow.
Related Posts: