Some people live wherever they can find a place they can afford—even if they have nothing in common with their neighbors.
I have been that person my entire adult life, surrounding myself with strangers and mostly hiding from them inside my apartments and avoiding them in the hallways. We have not been bound to each other by a shared ethnicity, religion, or set of values.
Just a similar budget and vague geographic preference.
But other people live in intentional communities—where everybody's working towards the same goal and more or less living there for the same reason.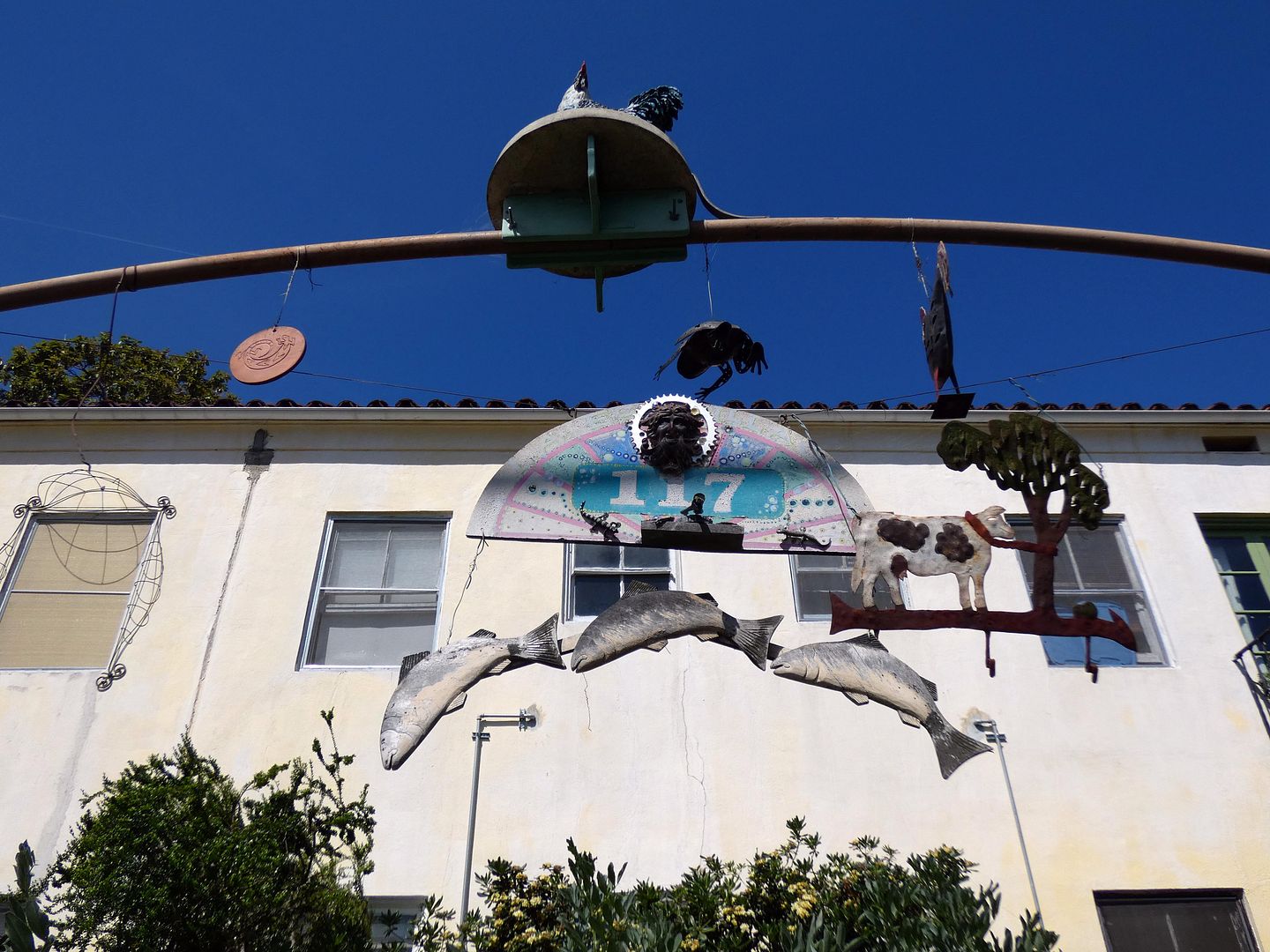 Is this a euphemism for "commune" or a modern-day version of a
utopian community
? I haven't quite figured that out yet. But it's the basis for the Los Angeles Eco-Village on LA's Bimini Place—a kind of co-op that reuses old buildings to provide affordable housing and eco-centric services and support to its residents.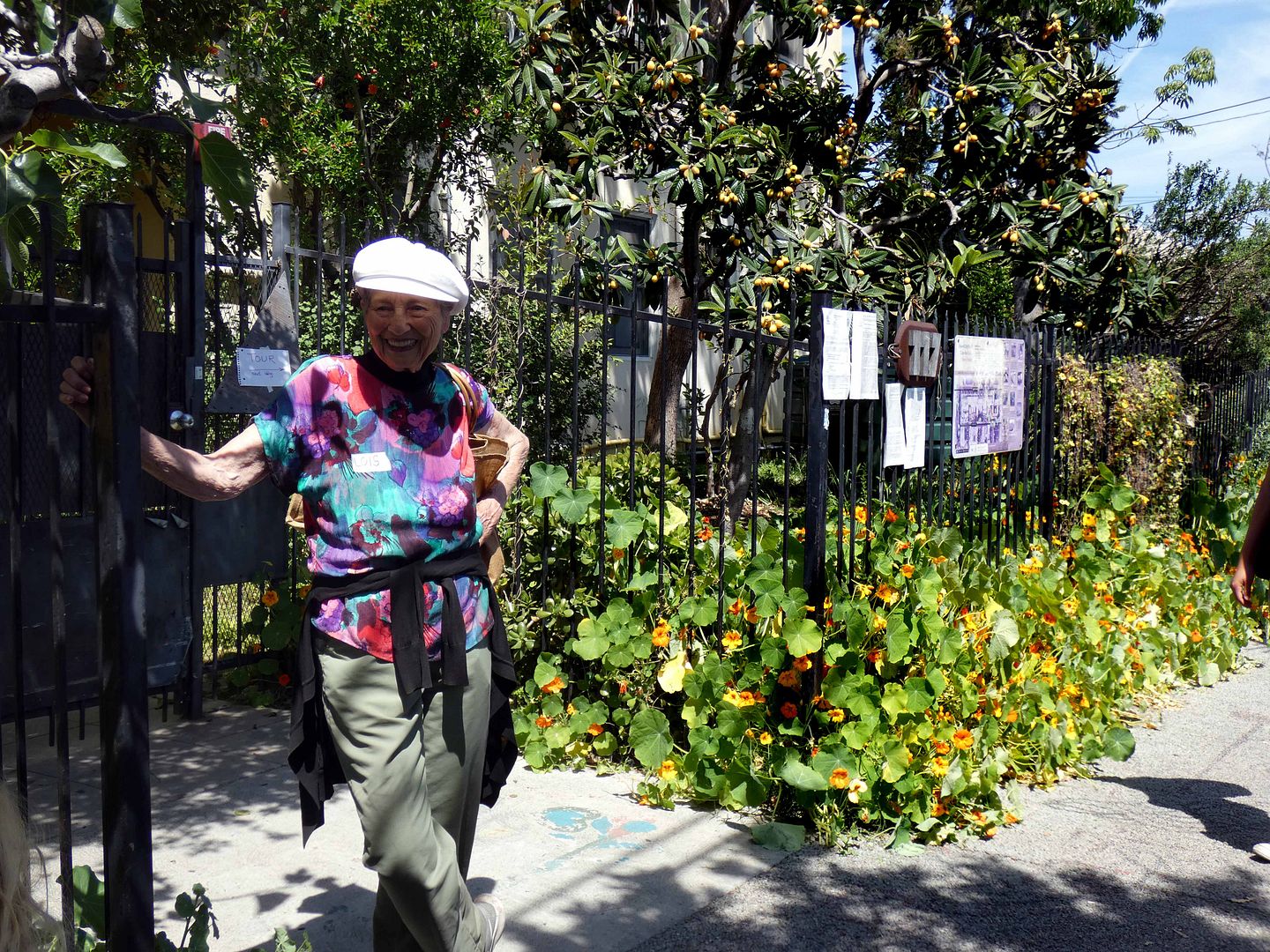 Founder Lois Arkin, now in her 80s, took us on an Earth Day tour of the cooperative compound last weekend...
...showing off the former Bimini Apartments, just one of the buildings they've taken over, which is now under the stewardship of Beverly-Vermont Community Land Trust.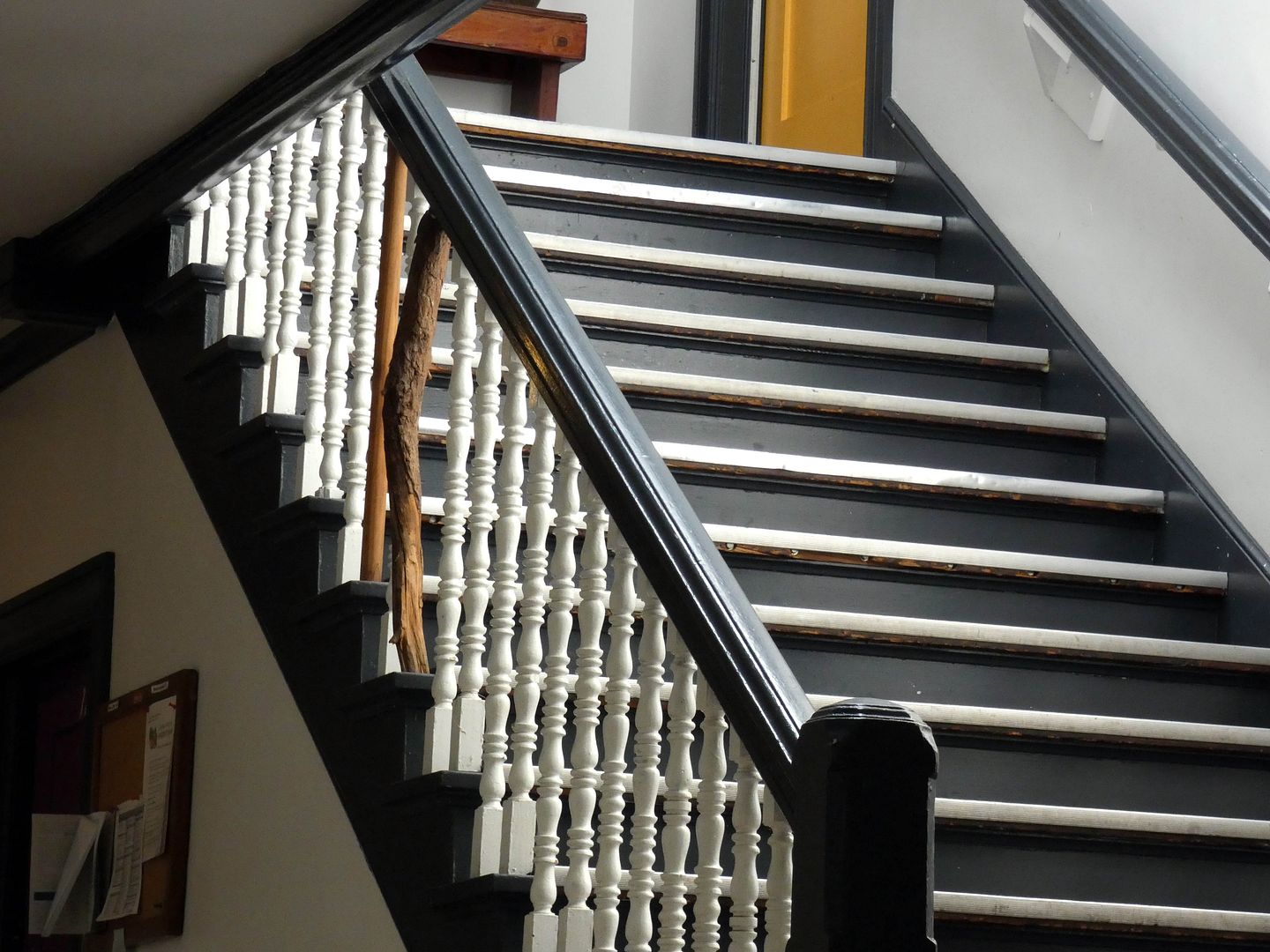 Initially developed in the 1920s, this area was ground zero for the
1992 LA uprising
—though this apartment building was miraculously saved from being burned despite its proximity to a strip mall that went up in flames. LA Eco-Village was not coincidentally founded in 1993.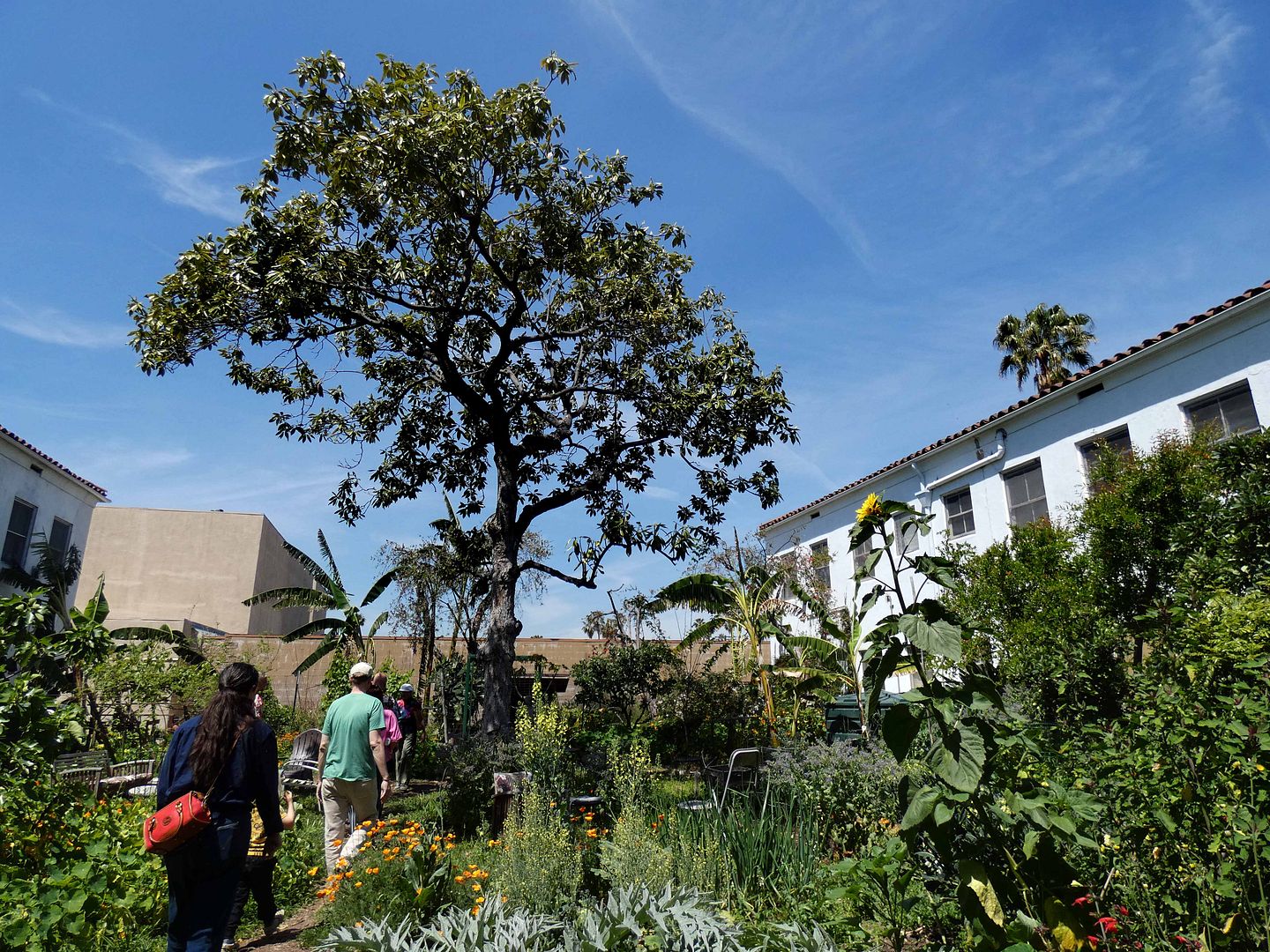 Lois had lived across the street when the Bimini Apartments building went up for sale—and it became the perfect place to gather a small community of people who actually shared a vision for environmentally-friendly living.
That includes growing some of their own food and cooking it in homemade sun ovens/solar cookers.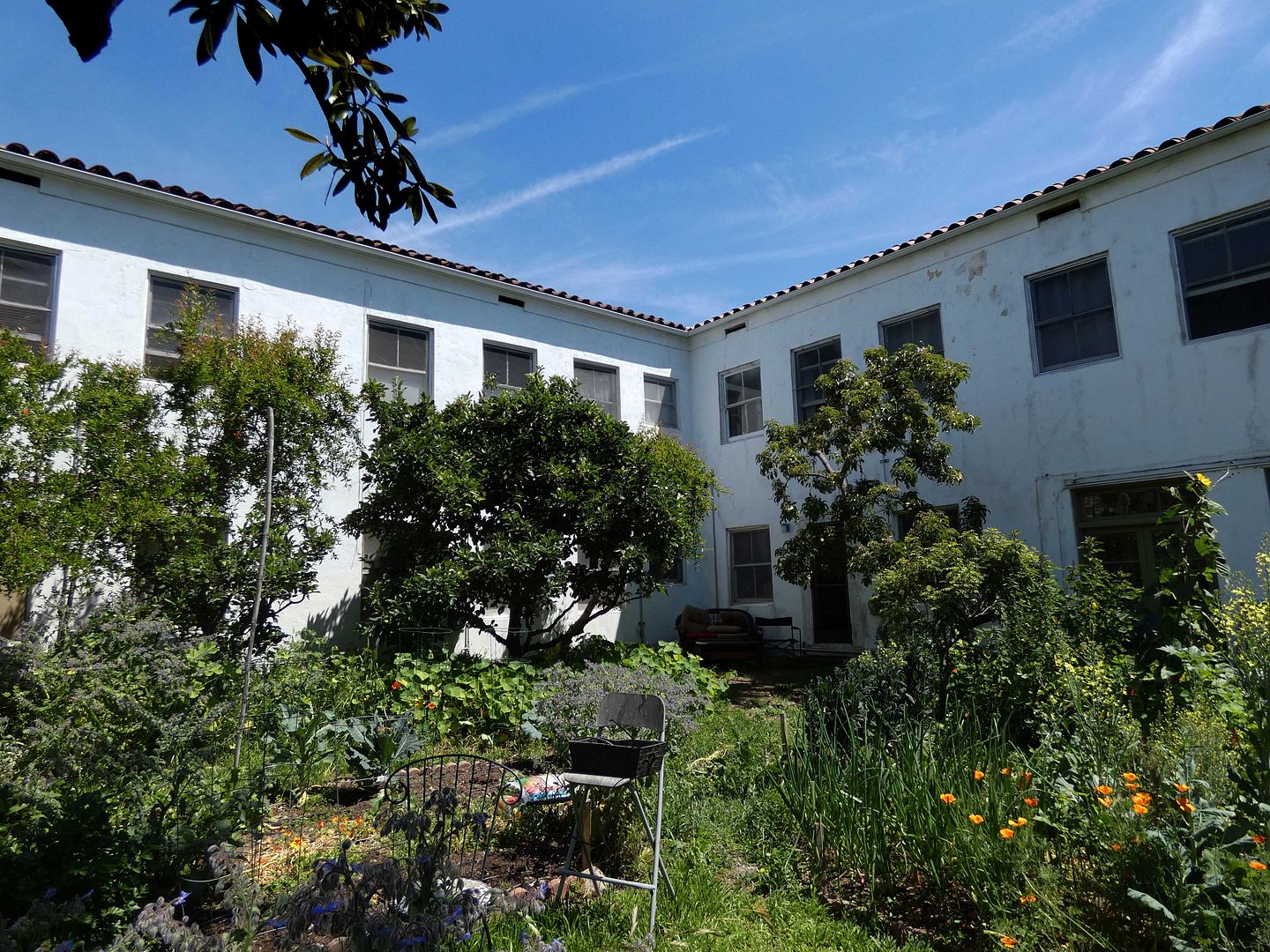 The apartment building's courtyard grows lots of greens...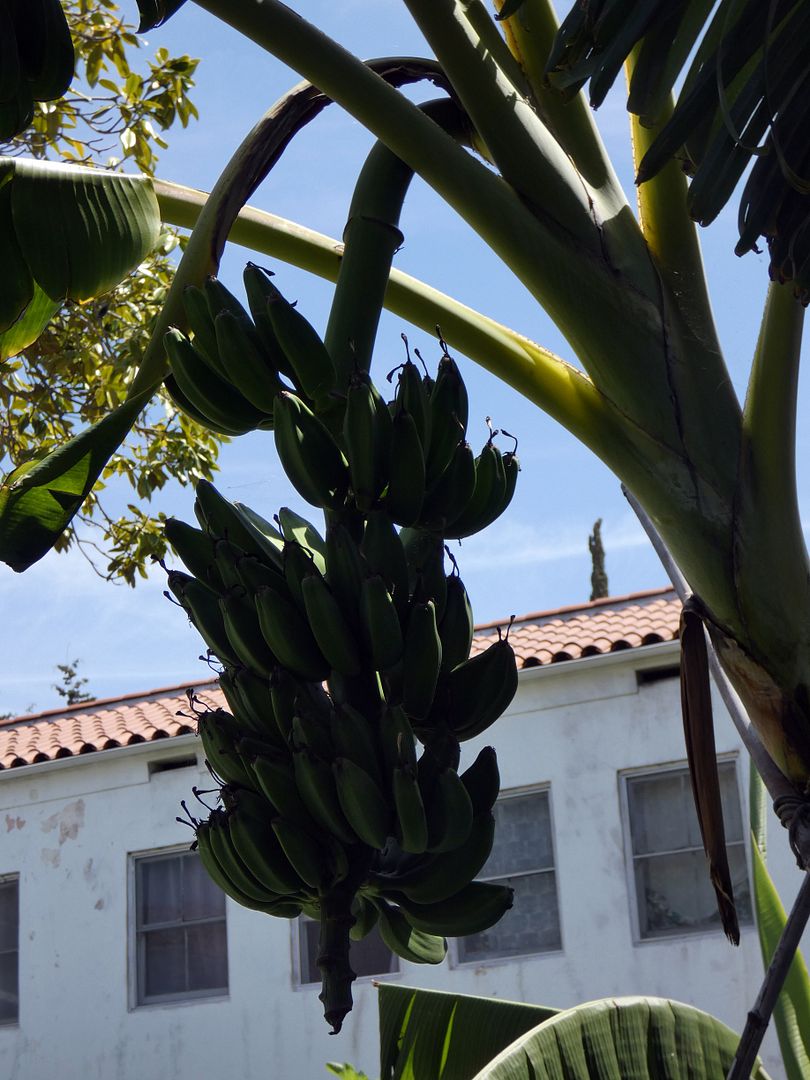 ...fruit, like bananas and papaya...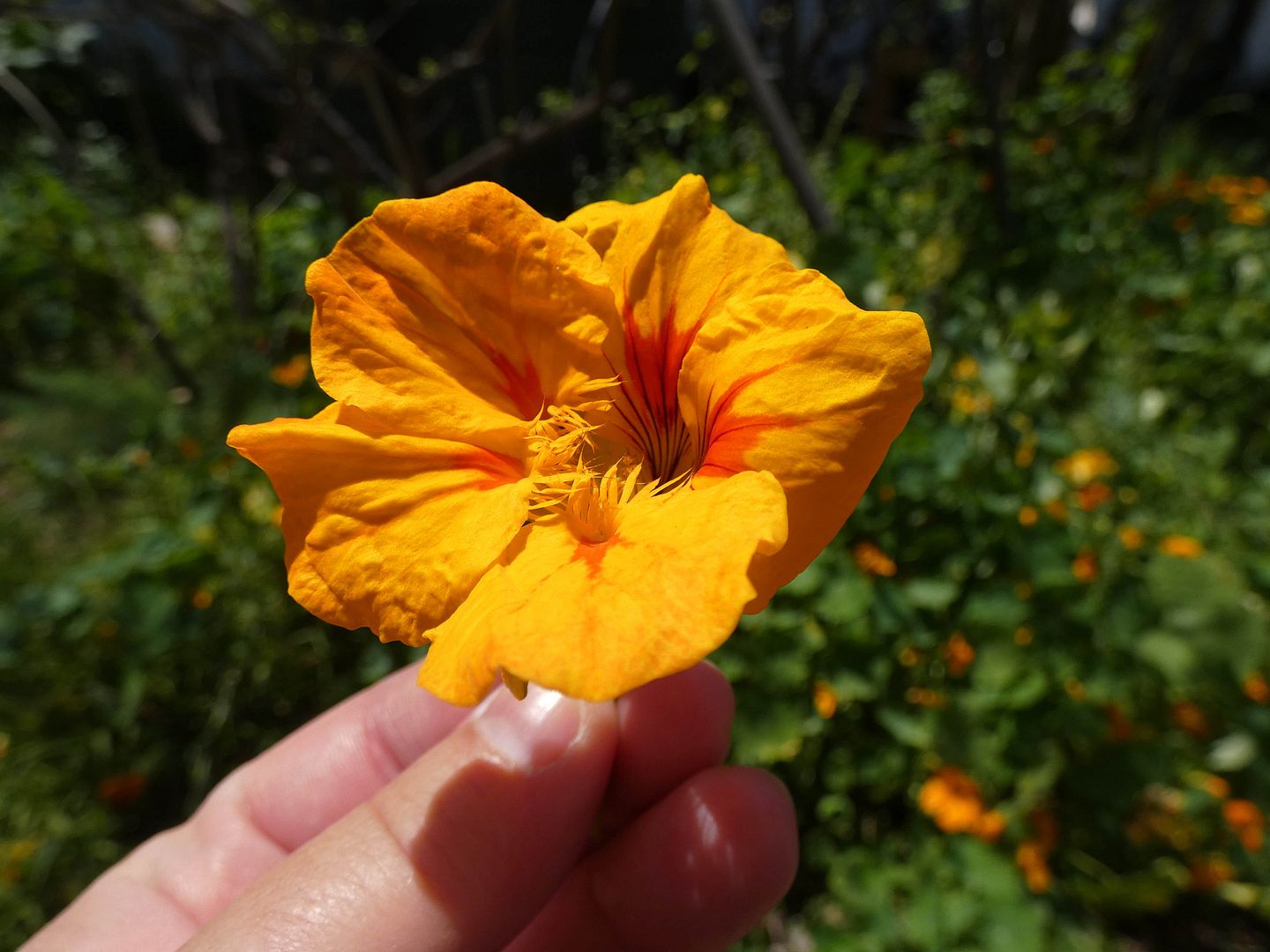 ...and herbs and edible flowers, like nasturtium.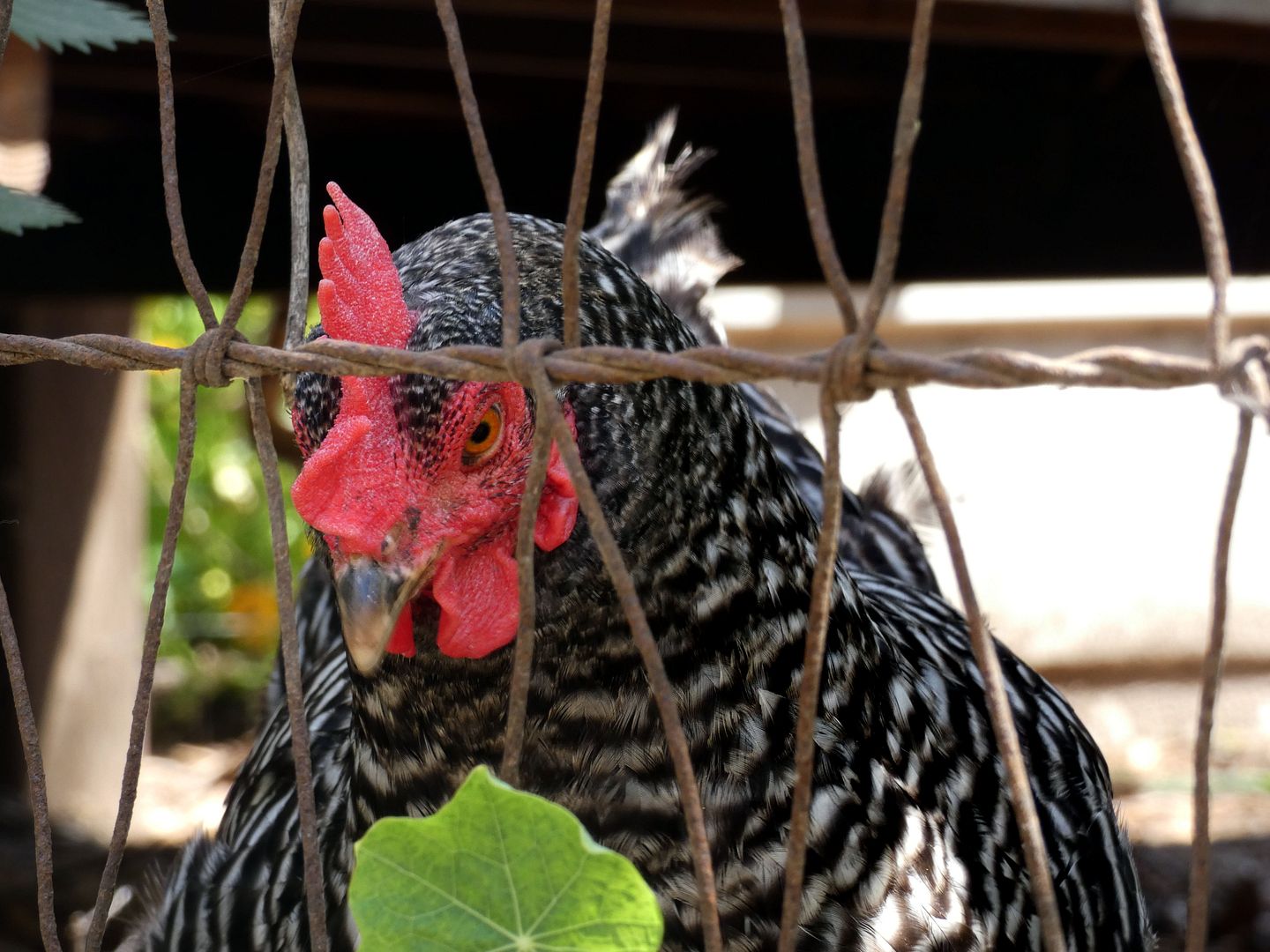 The hens provide eggs, of course.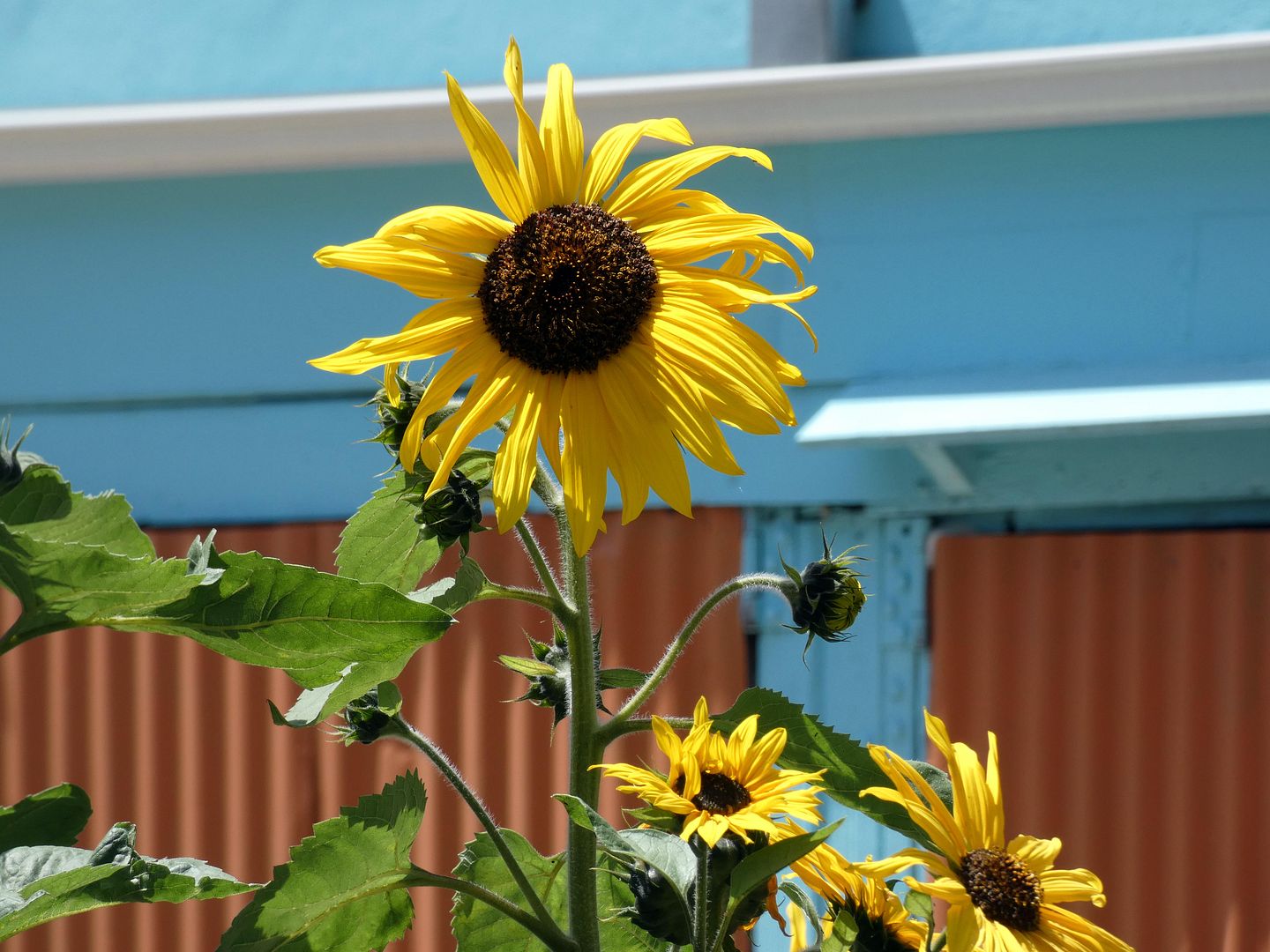 The next building to the south is also part of the eco-village...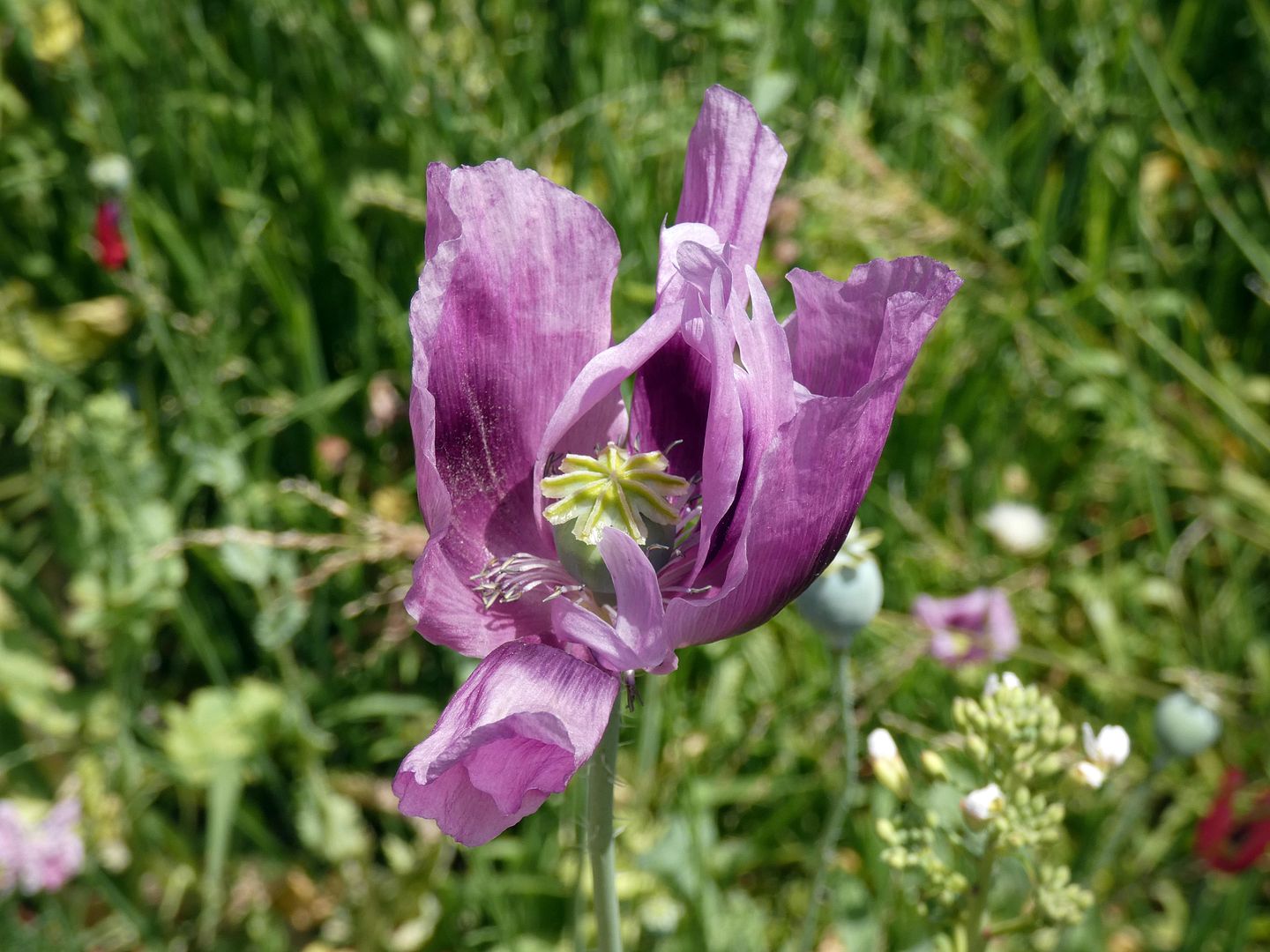 ...with some asphalt ripped out of the back alley in favor of a garden...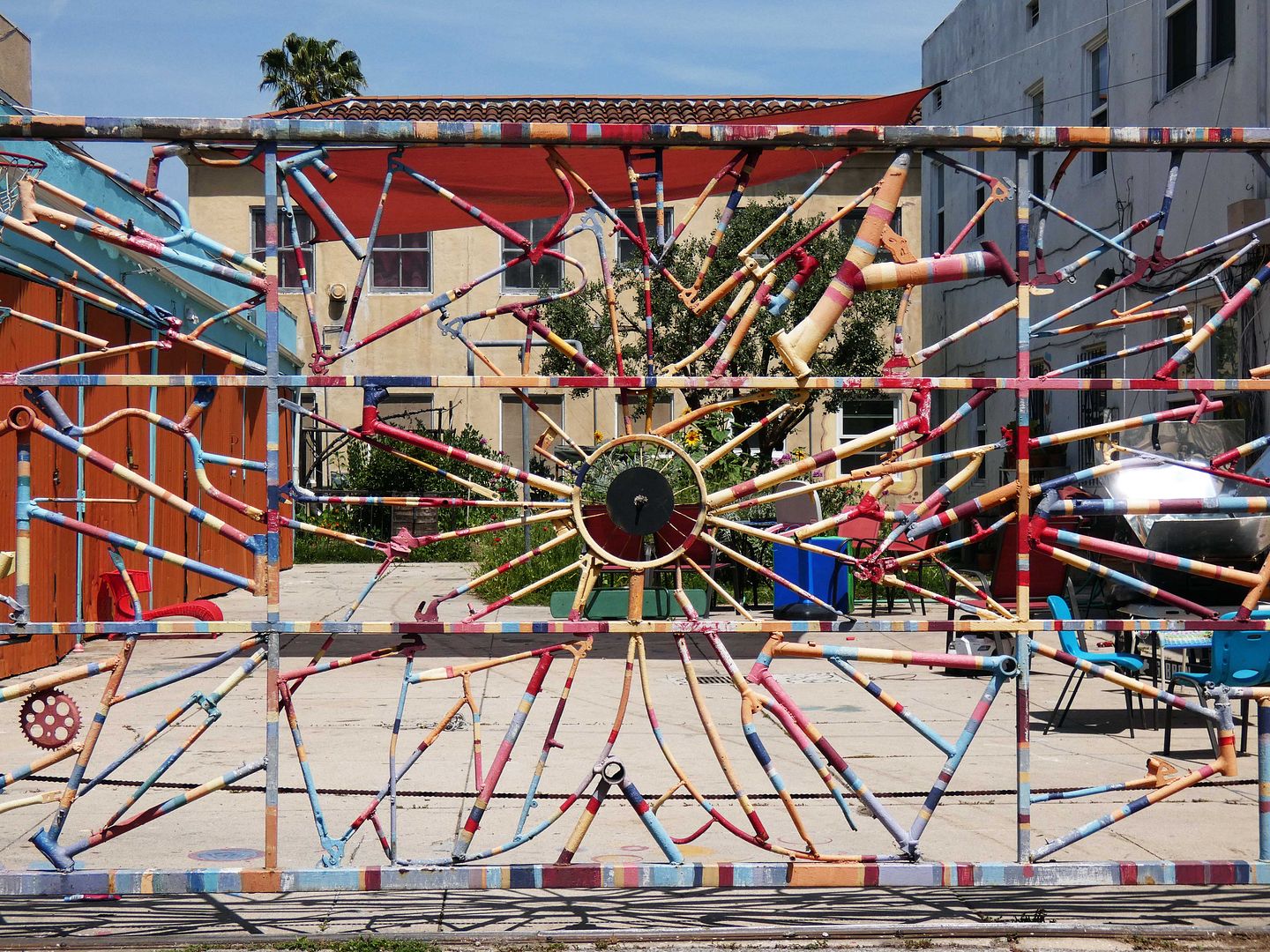 ...and a colorful gate made of recycled bicycle parts for security.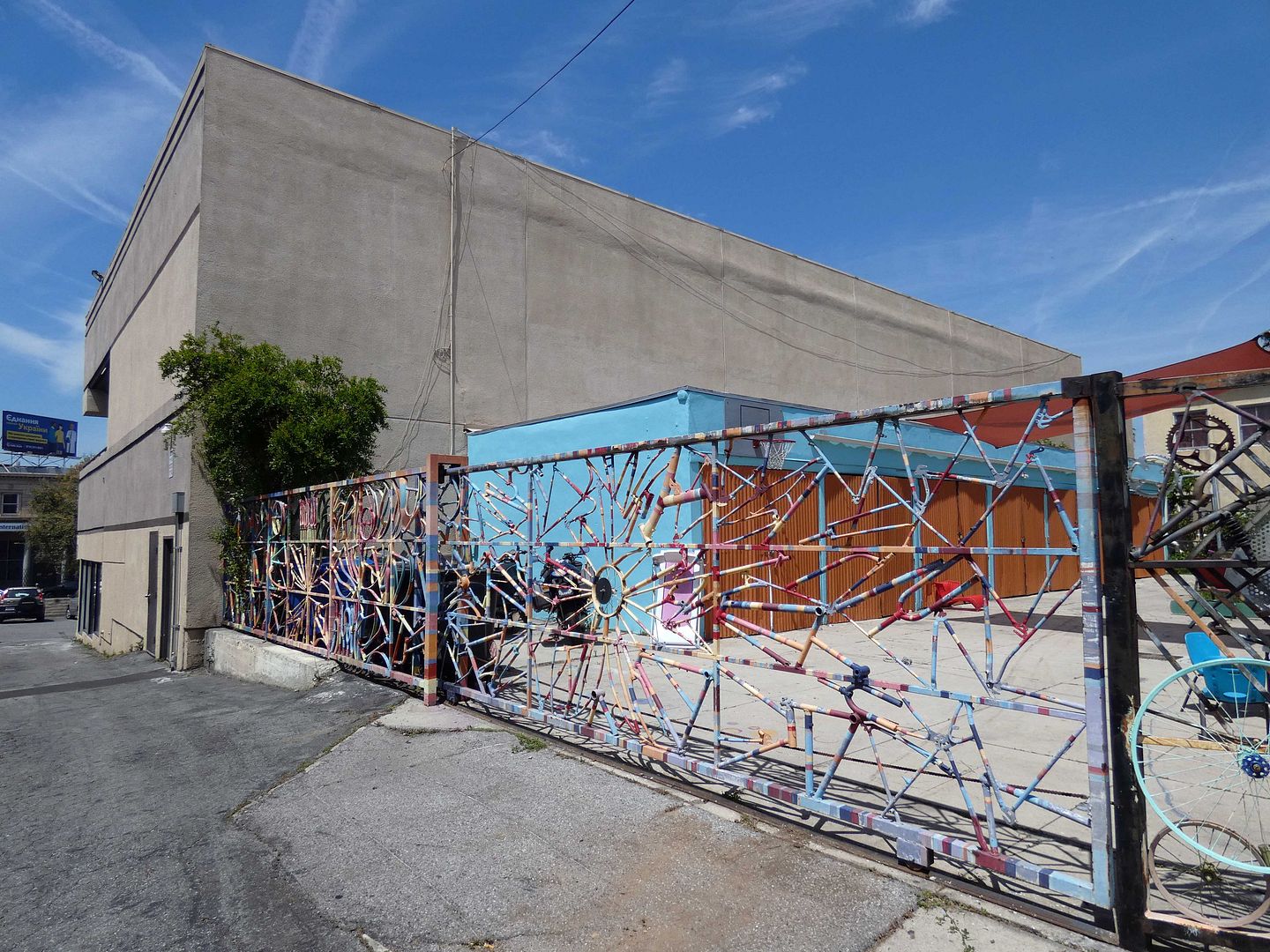 The strip mall to the west, facing Vermont Avenue, is still there.
And the hope is to close the alley to the south of 151 Bimini Place to traffic. The actual plan is to close off much of Bimini Place as well to create a pedestrian plaza.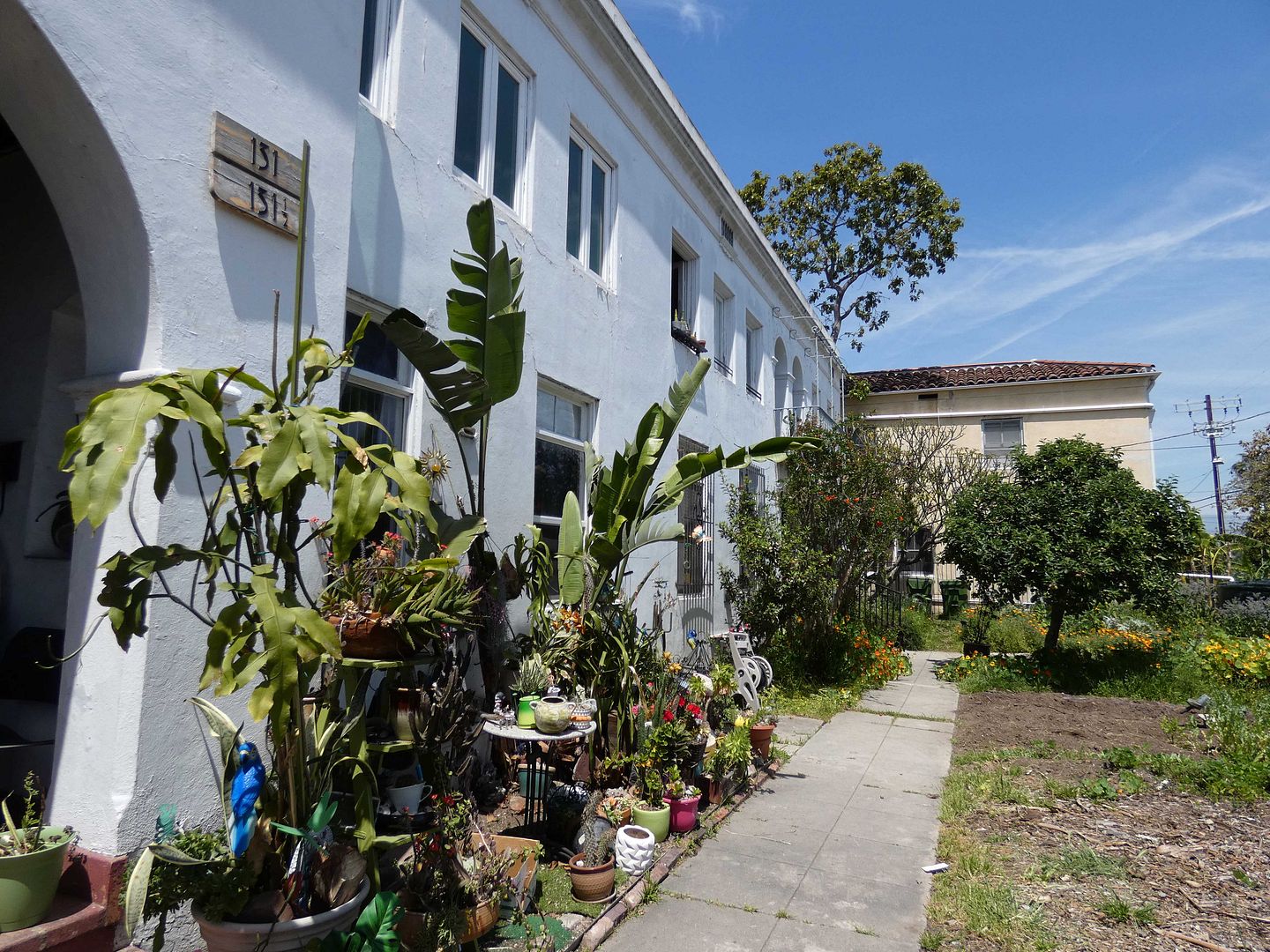 One of the tenets of this eco-village—and eco-villages in general—is giving up the culture of individual car ownership.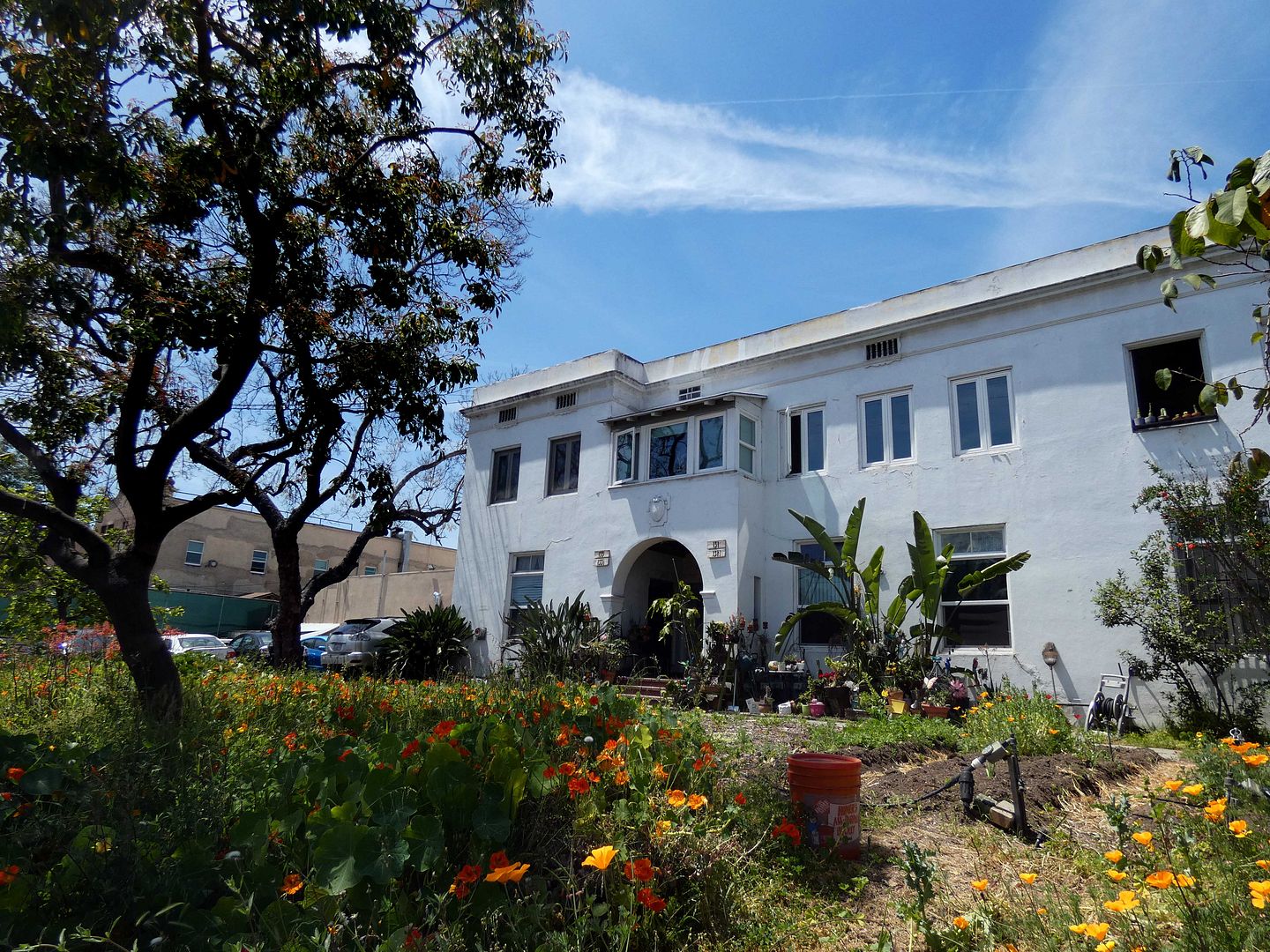 Fortunately, this part of Bimini Place is just a 0.4-mile walk or bike ride to the Vermont/Beverly Metro station.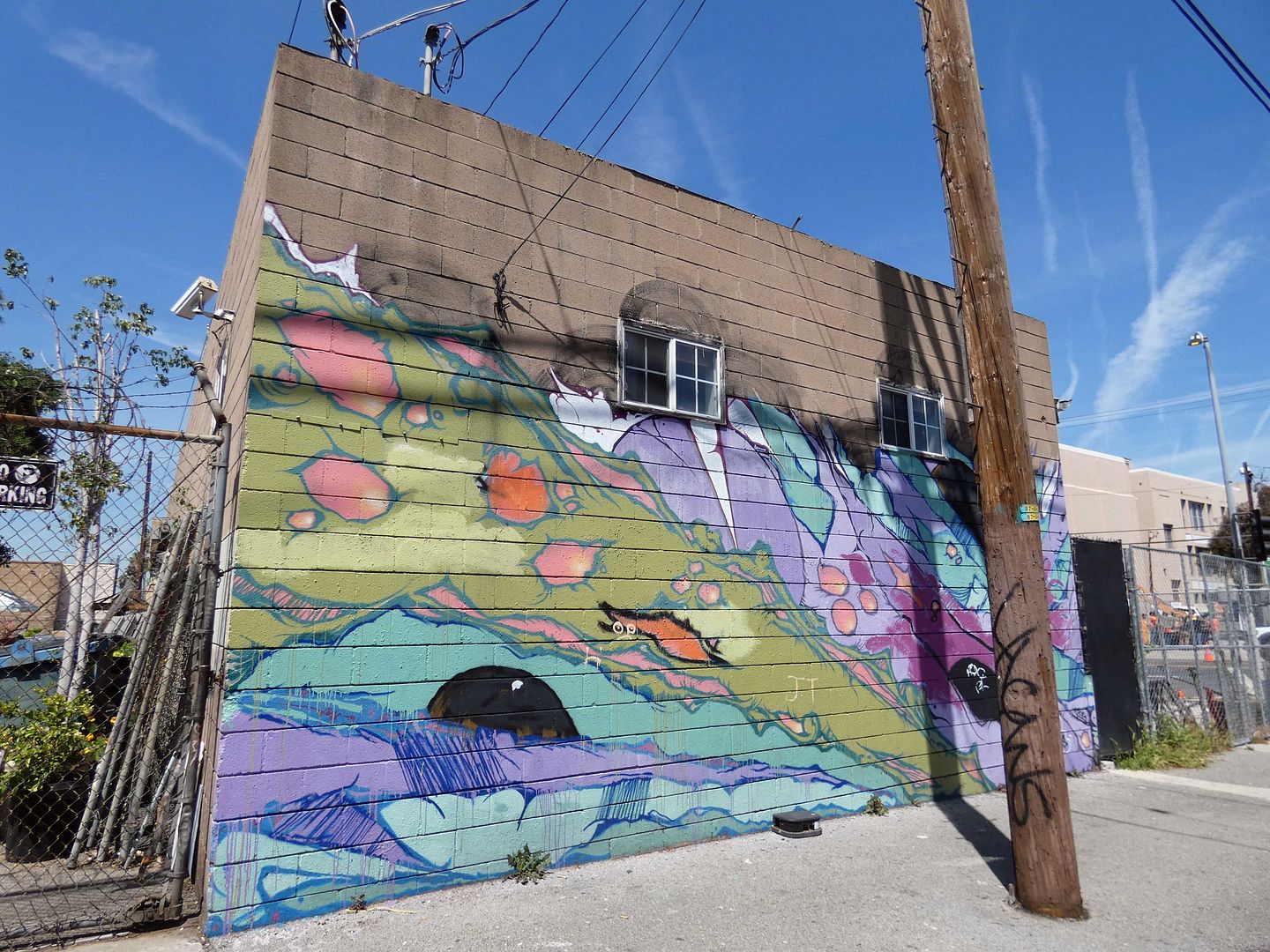 And the Eco-Village has its own bike-building workshop located in a 1960s-era former auto shop, called Re:Ciclos (a play on words combining the concept of recycle and bicycle).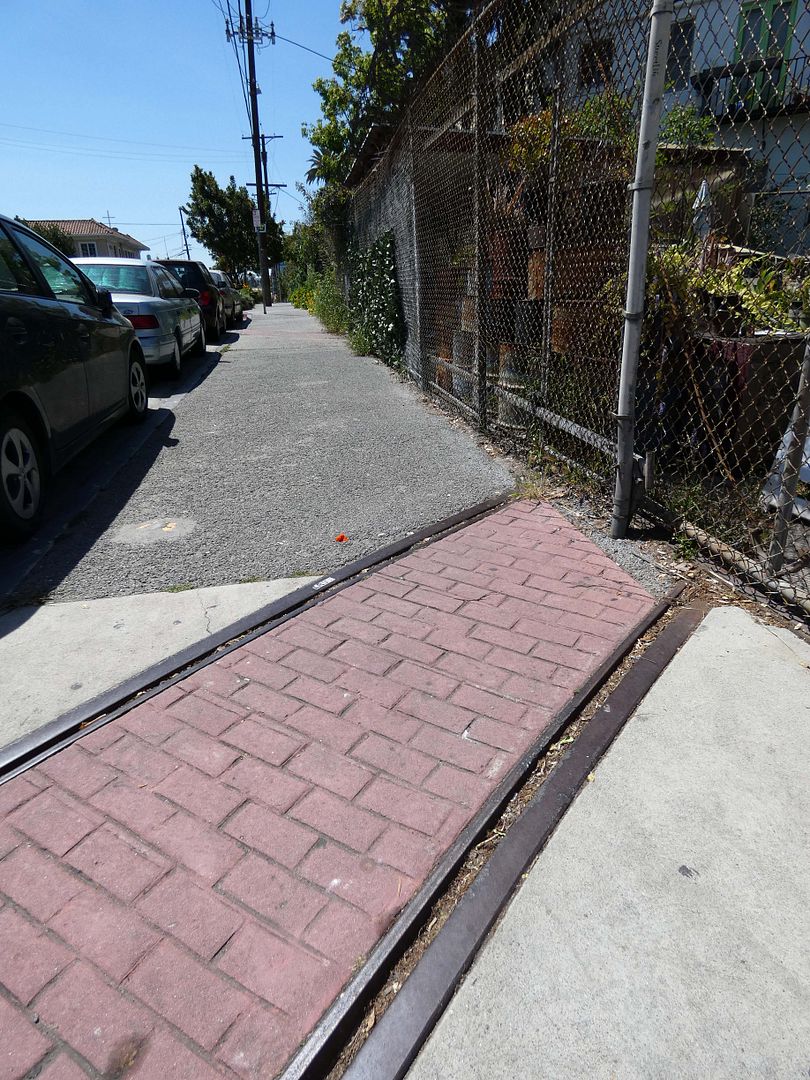 This was transit-oriented development all the way back in the days of the "yellow car," a.k.a. Los Angeles Railway's H line streetcar—whose tracks are still visible on the sidewalk and run alongside the auto shop, though service was discontinued in 1947. (The Eco-Village hopes to bring back a restored, vintage streetcar and park it here as a historical and educational display.)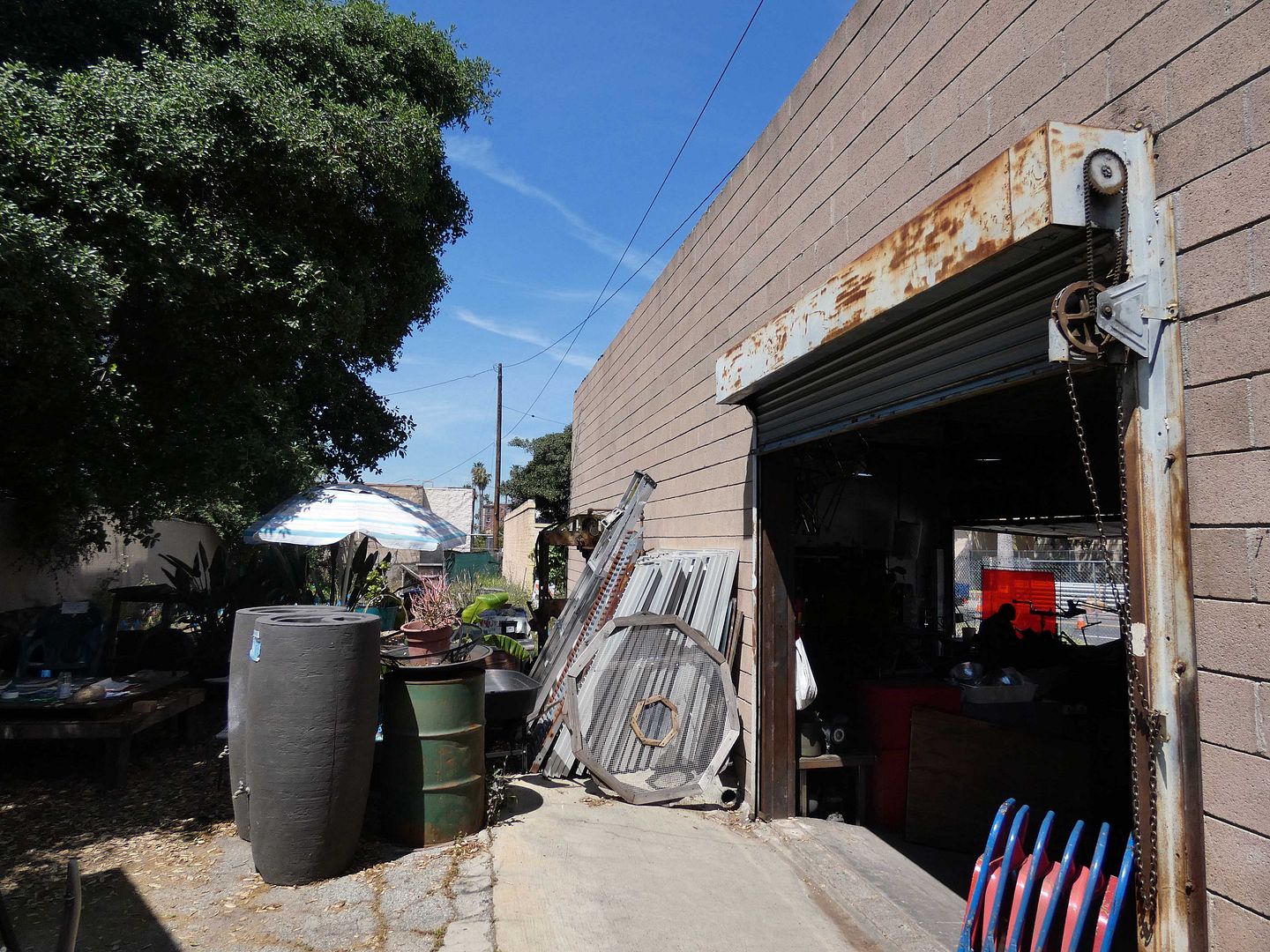 Inside this former car-oriented industrial space, which the Eco-Village acquired in 2016 and is transforming into a community hub...
...there are lots of bike parts...
...being welded together with other salvaged materials mostly to create cargo bicycles, which allow bicyclists to carry a lot more stuff around (and increase the car-free mobility in an urban environment).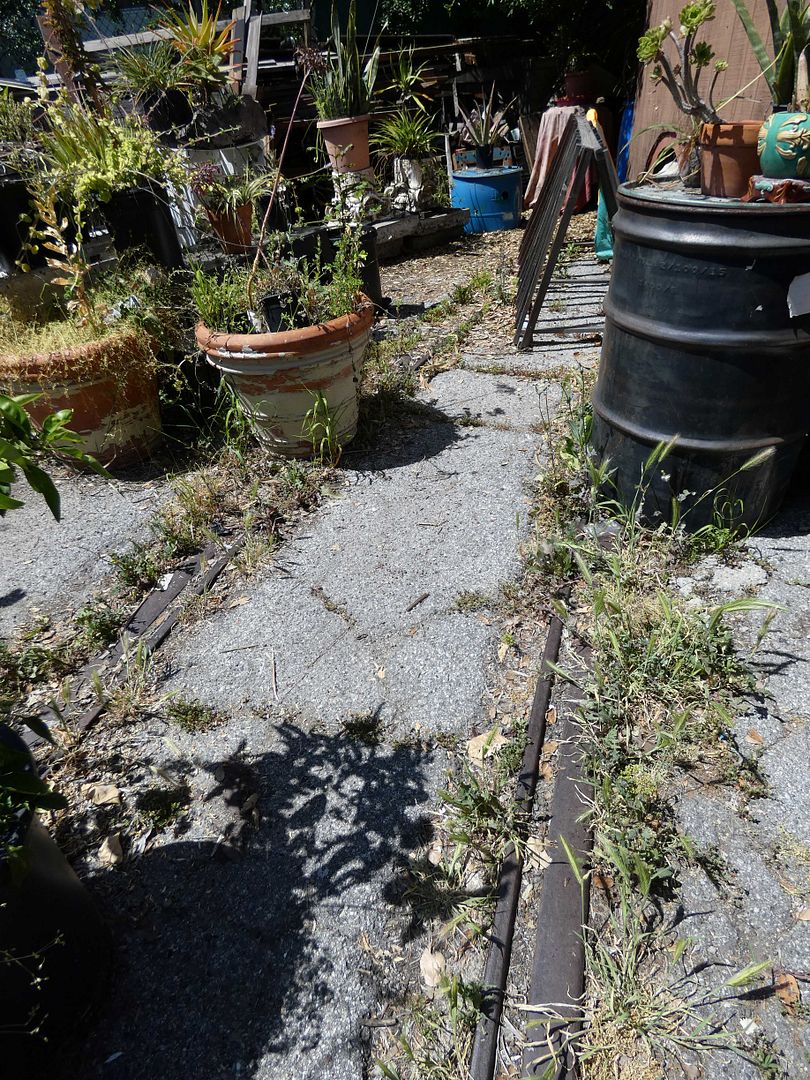 Follow the streetcar tracks, past the rain barrels and the aquaponics system, and they'll lead you to an experimental brownfield clean-up, a.k.a. a "phyto-myco remediation study."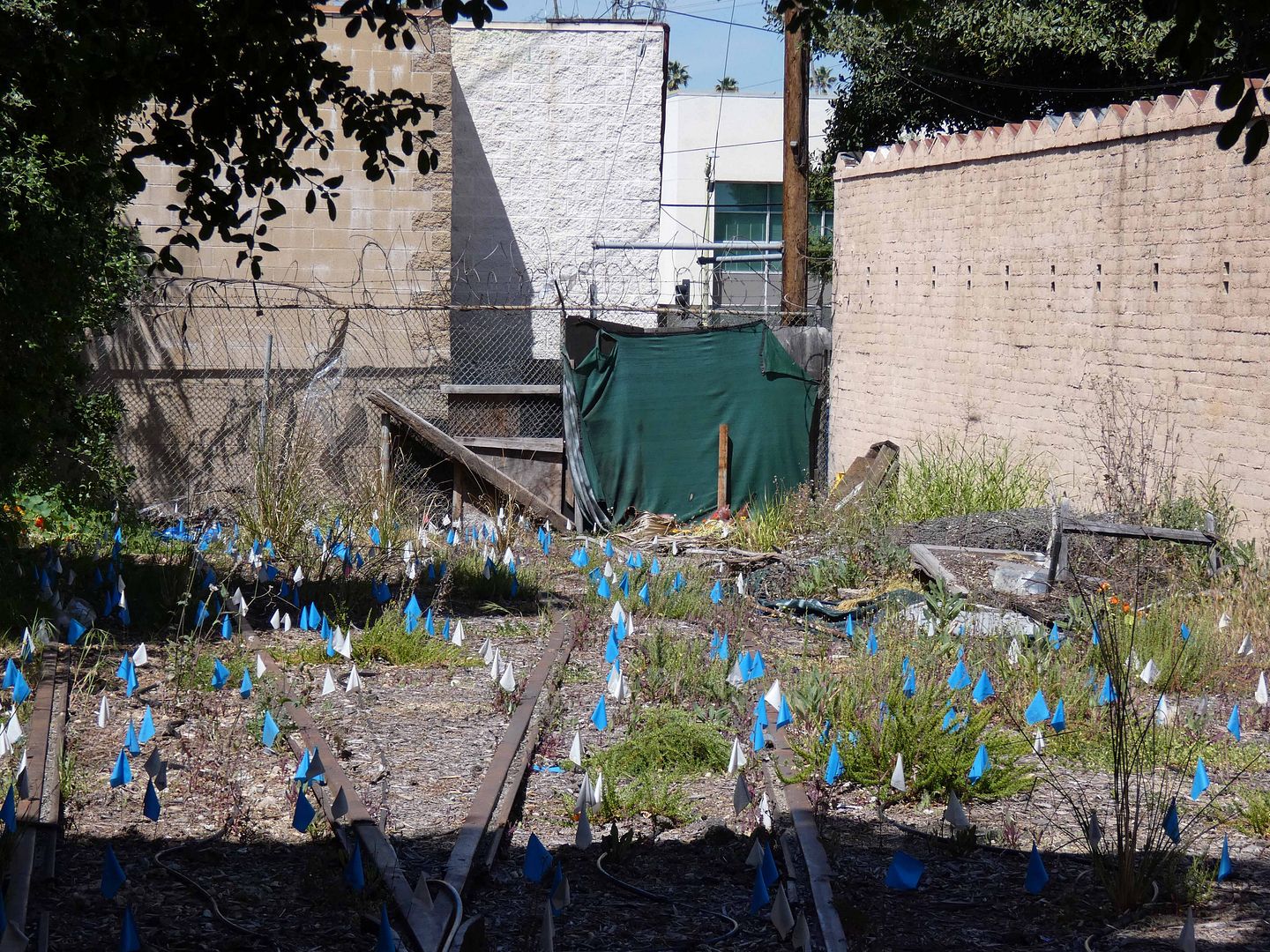 Researchers (including ones from UC Riverside) are attempting to extract and neutralize contaminants from the soil by using certain types of plants and mushrooms known for their ability to mitigate pollution.
And then there's the community learning garden across Bimini Place, at White House Place...
...where there are more (and fancier) chickens.
Lois has particularly close ties to this space, as it's where the four-plex where she once lived once stood. Over the years, it had become a vacant lot—and the Eco-Village fought plans to turn it into a parking lot, eventually signing the deal to transform it into a garden in 2011.
LA never ceases to surprise and delight me.