What would bring me to Peppertree Lane, driving up through the northeastern Simi Hills—those same hills that reminded Dr. Bardin of the Judean Hills outside of Jerusalem?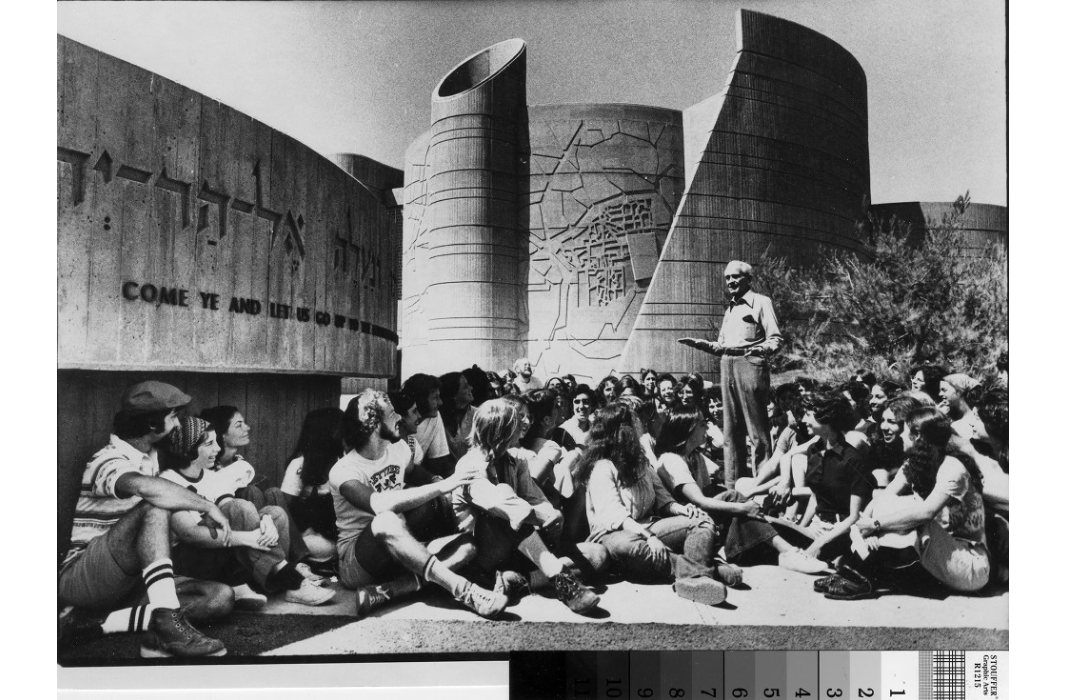 Shlomo Bardin talks to campers, with an inscribed excerpt from
Isaiah 2:3,
circa 1970s (Photo: American Jewish University, via Online Archive of California)
The House of the Book—a fixture on the Brandeis-Bardin Institute campus of American Jewish University, which, since 1968, has been the largest parcel of land owned by a Jewish institution outside the State of Israel.
Dr. Shlomo Bardin founded the BBI in 1941 as the "Brandeis Camp Institute" and headed it until 1976, the year of his death. (He's also buried on campus.) During his lengthy tenure, he oversaw the addition of this futuristic, cylindrical building—commissioning it of Sidney Eisenshtat, FAIA in 1954. It wouldn't be completed until 1973.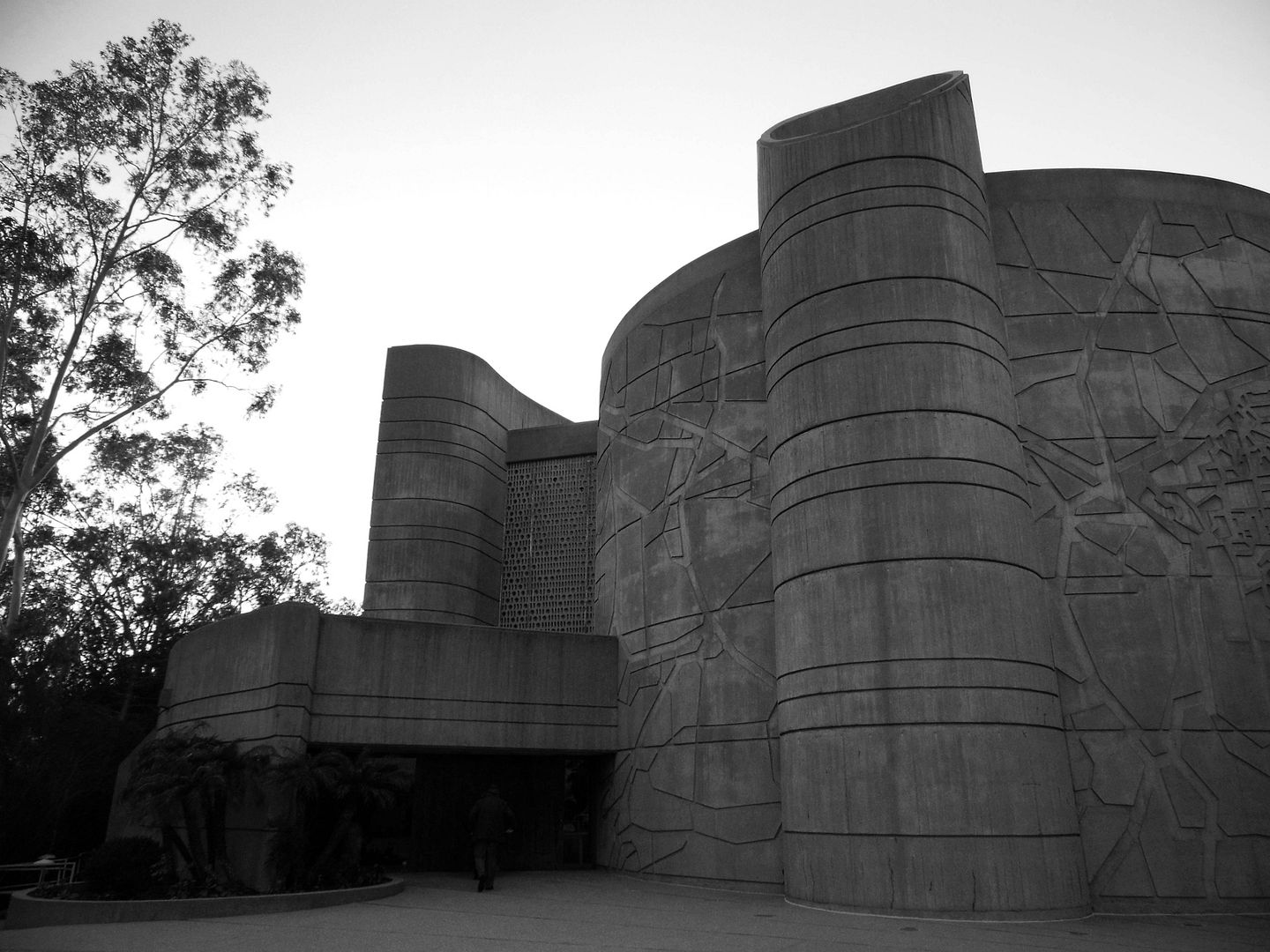 Not surprisingly, Brutalist-style monolith, appearing like a poured concrete spaceship, has become a sci-fi icon—with appearances in
Star Trek IV: The Undiscovered Country
(as the extraplanetary Camp Khitomer) and
Mighty Morphin Power Rangers
(as the Command Center).
That may not
exactly
be what Eisenshtat—an observant Orthodox Jew (and past president of Congregation Beth Jacob in Beverly Hills)—intended when he took on the commission for the hilltop monument.
House of the Book (its name usually referring to a religious school or studies) is currently used as a conference center, performance space, and library—having hosted music ensembles, folk dancing, lectures, and song circles both inside and out.
Its art glass window panel and leaded glass, prism-like skylight offer intriguing details to a sculptural building that's got few decorative touches...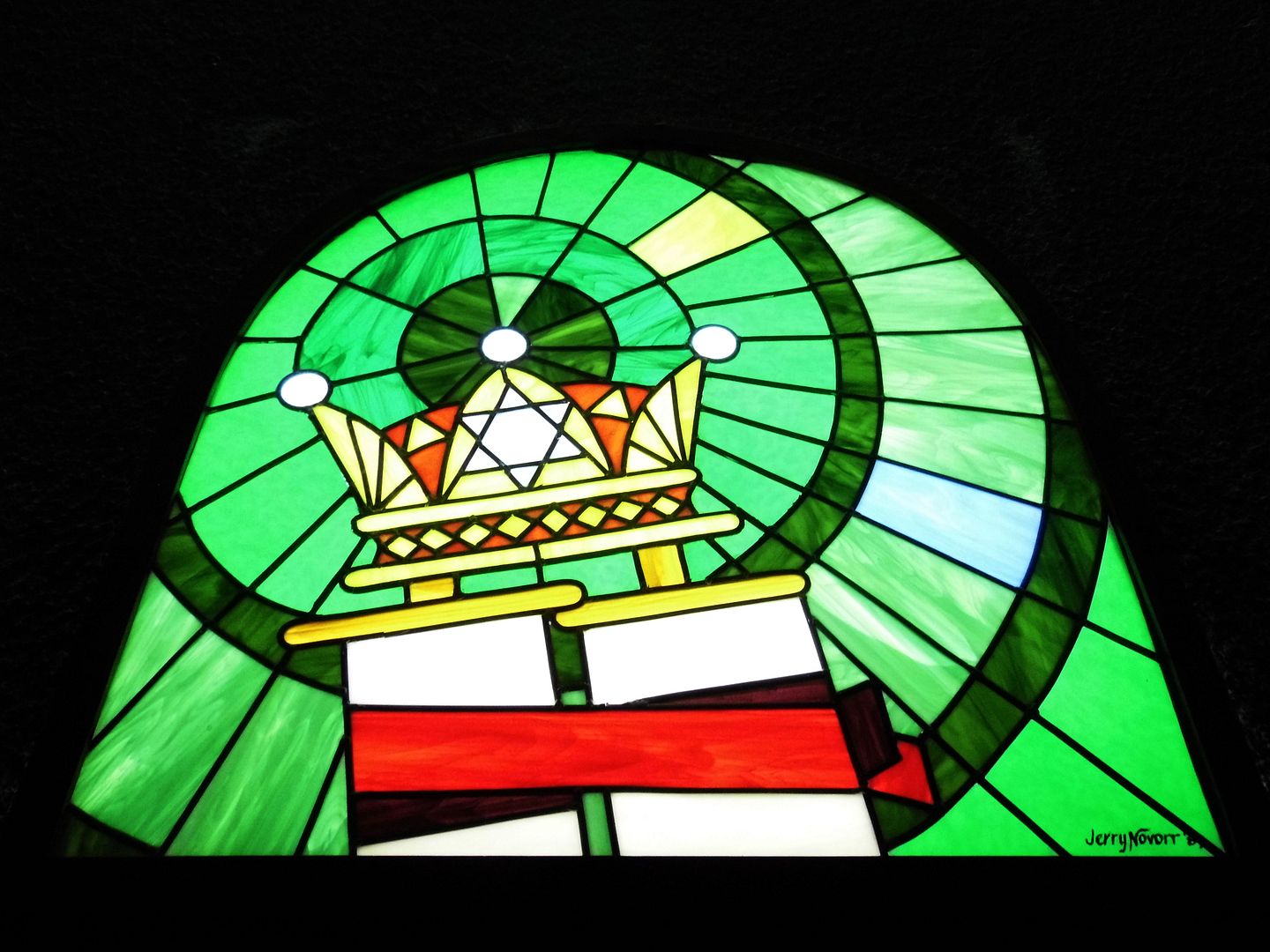 ...except the three artificially-lit stained glass windows designed with a Star of David motif by alum Jerry Novorr (Class of 1980), who taught paper-cutting classes at the school.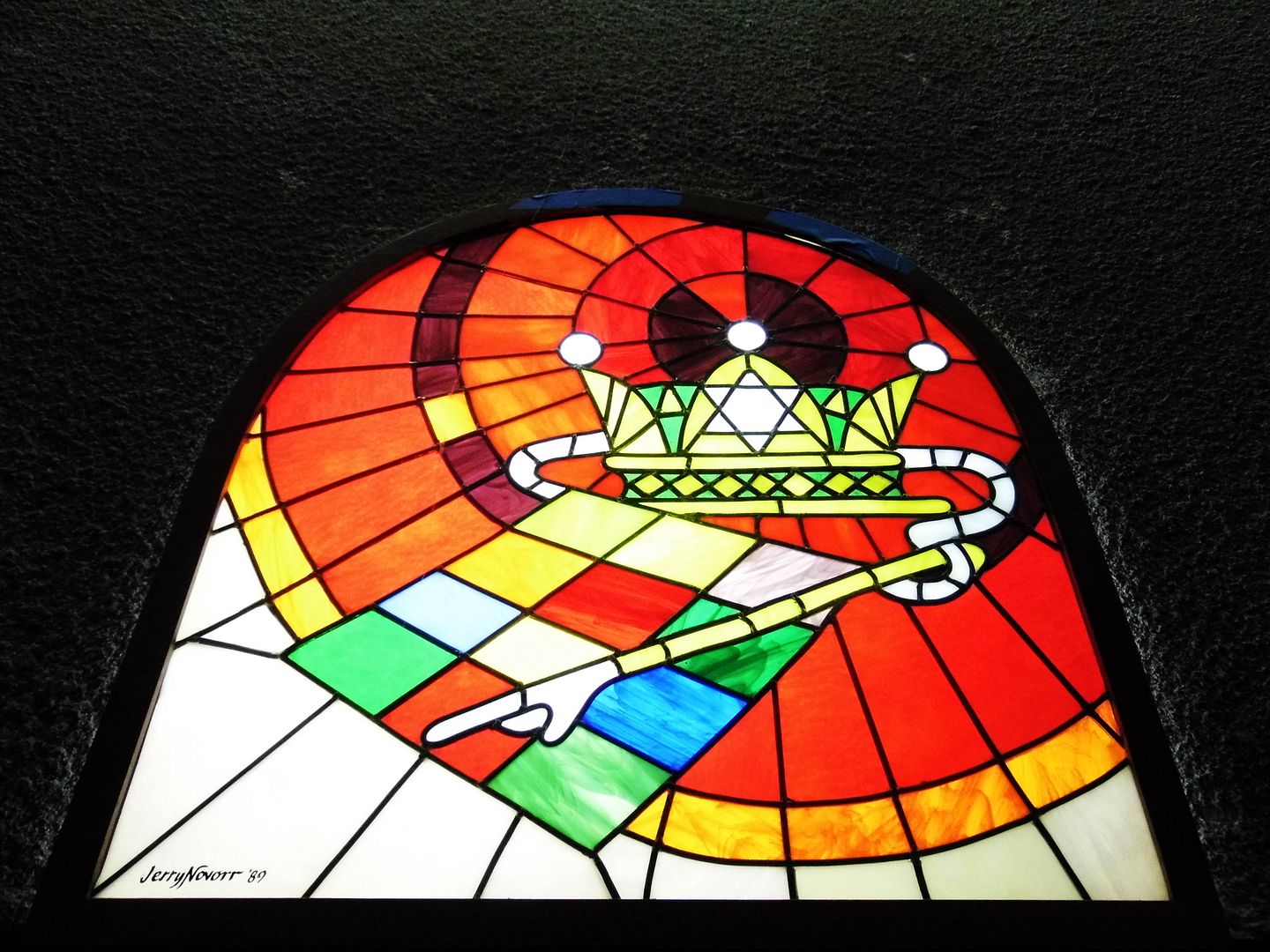 They were added much later and might not exactly have been part of Eisenshtat's original vision, either.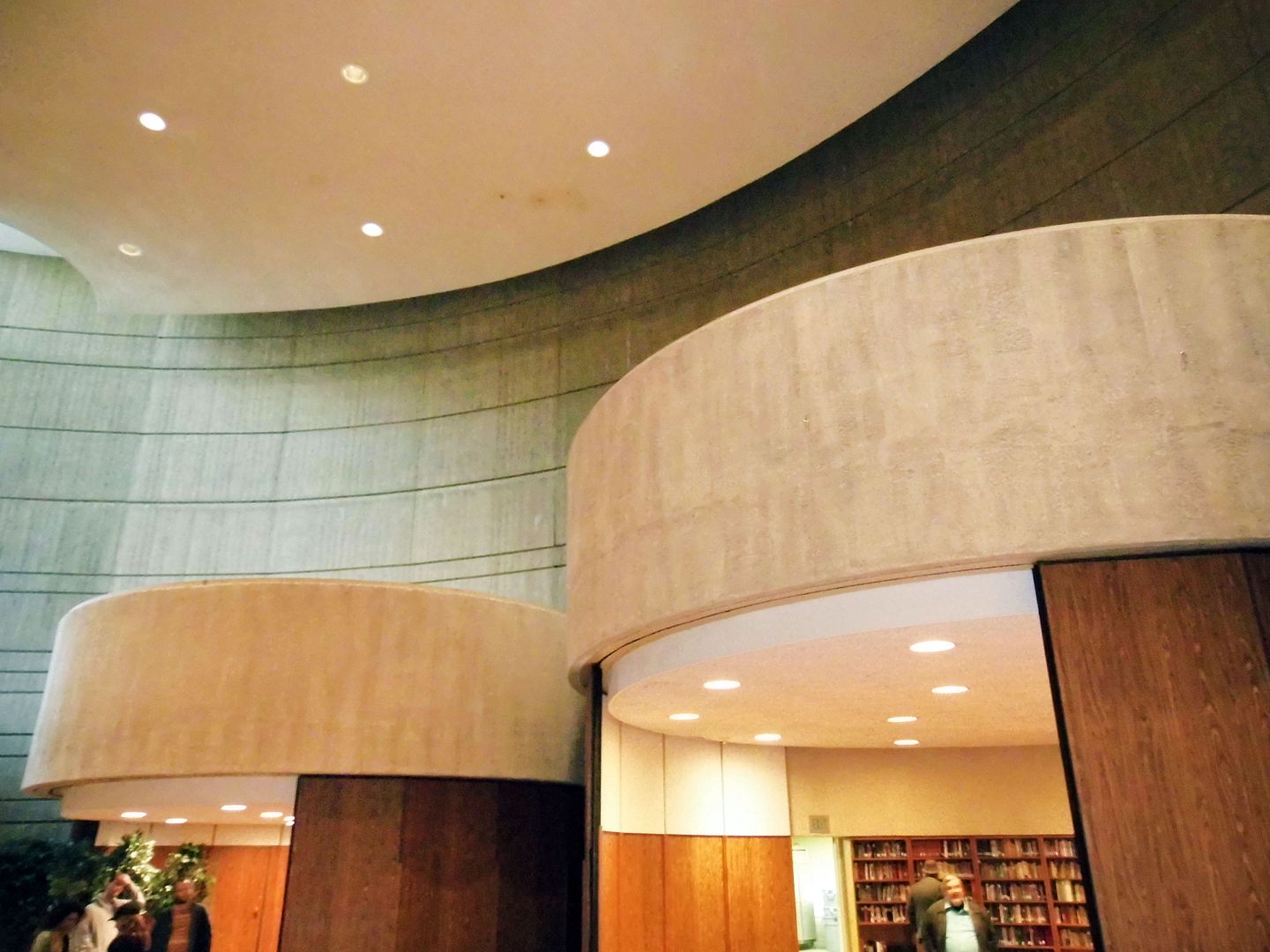 Inside the circular main performance space (a.k.a. "
beit knesset
," or "synagogue," in Hebrew), the sound bounces off the semi-circular study spaces (or "
beit midrash
") and into your core. After all, weren't all temples built to be
sung in
?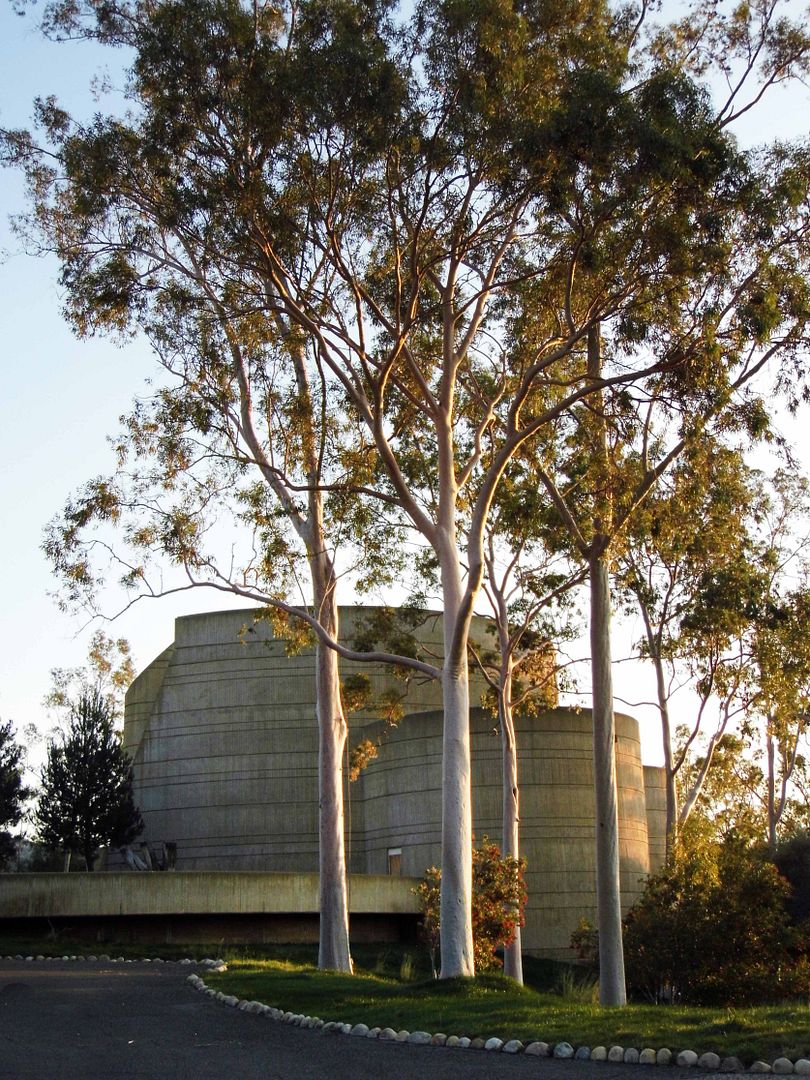 According to an early floor plan, the original architectural design team also included associates Maxwell Rex Raymer (Eisenshtat's long-time lead designer), Harry H. Taketa, and Richard Y. Tochihara. Over time, the latter two seem to have faded into obscurity.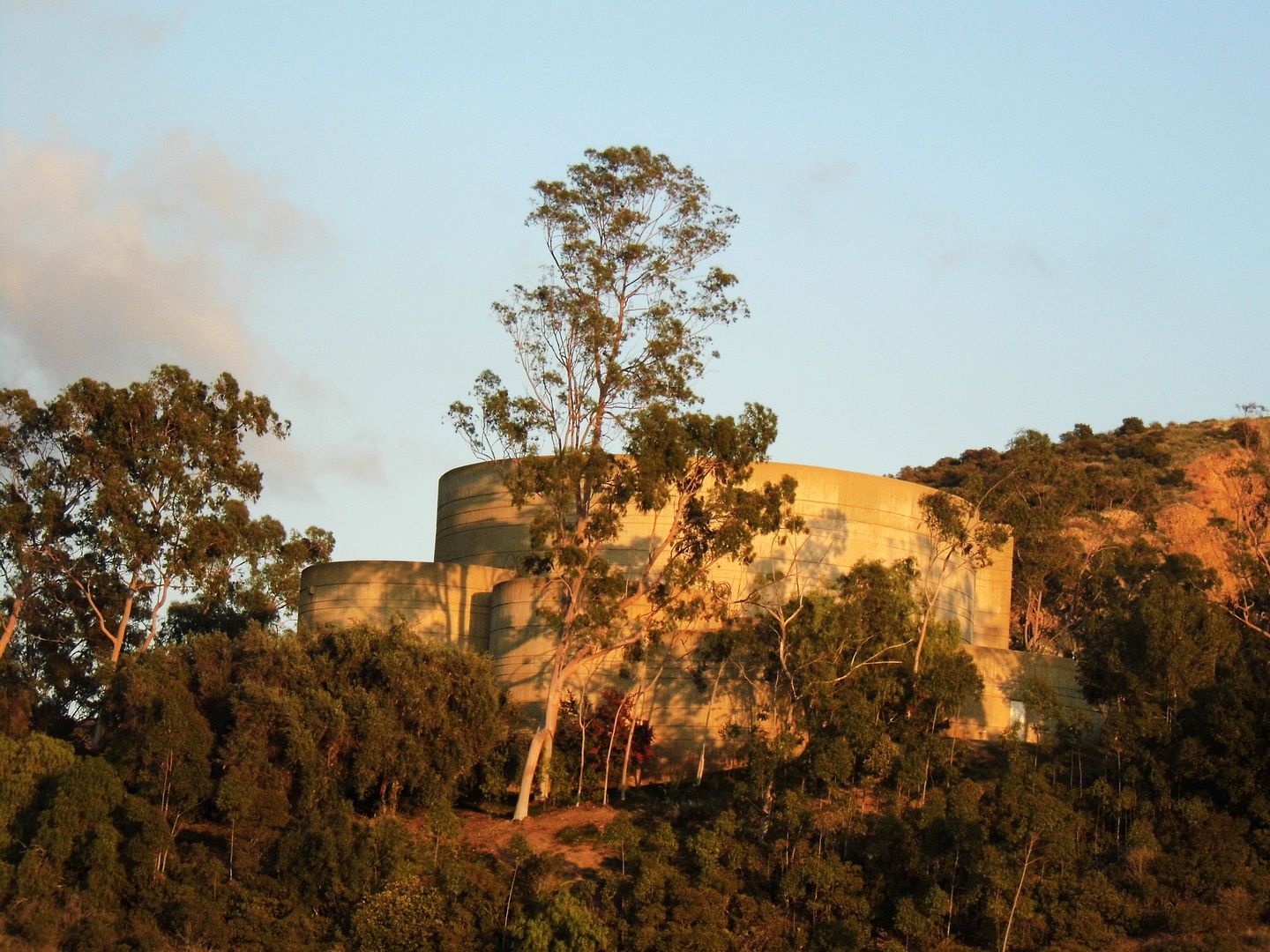 General contractors Willard Chotiner and his childhood friend James Gumbiner built the behemoth—but their building business went out of business long ago.
A bit of a local Jewish celebrity in his own right, Chotiner had been active with Brandeis-Bardin since the early 1950s, having served as a past president and chaired its board in 1976. He also served on The Jewish Federation of Greater Los Angeles's board and helped found
The Jewish Journal of Greater Los Angeles
.
But in retrospect, Eisenshtat tends to get all the credit for the House of the Book—maybe because he was a beloved
USC
alum, or because he studied under
Frank Lloyd Wright
, whose influence on some of his work is evident.
Or maybe it's because he became known for his innovative synagogue architecture—or that he was so devoted to Judaism that he refused payments for his synagogue projects.
Or maybe I'm giving too much credit to the public acknowledgement of Eisenshtat's architectural legacy there in Simi Valley. The reality is that most of the information available online refers to the House of the Book's appearances in cult classics on both small and big screens.
In contrast, primary sources with key architectural tidbits lie stashed away in boxes, undigitized, accessible by special request only.
In fact, the best online resource I could find to provide context to the structure and its place on the campus was published last year by
Los Angeles Review of Books.
You can read it
here
.
Related Posts:
Photo Essay: Hollywood's First Jewish Temple, Restored