[Last updated 3/20/21 9:59 PM PT—new photos added]
I was
all alone on my birthday
, with no plan, but with the overwhelming sense that I should be doing something special. Then again, all I really wanted, for once, was not to be alone.
With all of Southern California's offerings to choose from—save for a lot of those cultural institutions and historical attractions which are actually closed on Mondays—I ended up settling on a touristy treat that likely evokes as much eye-rolling as those double decker bus tours: a Hollywood studio tour.
When people say "Hollywood," they don't necessarily mean Hollywood Boulevard or even old
Hollywoodland
. They mean the movie-making communities of Silverlake (Edendale) and Culver City and now, Burbank.
I'd already visited
Warner Brothers Studio
with Michelle (an out-of-town movie aficionado) on New Year's Eve, and it was awesome. But this time, with
no birthday visitors in tow
, I decided to visit the lot of the former Metro Goldwyn Mayer studios, which once sprawled across hundreds of acres of Culver City, now home to Sony Pictures Studios and Columbia Pictures.
The MGM lot changed hands several times before being taken over by Sony, and much of that history is gone.
At least for their tour, Sony likes to focus on their current projects, and their future.
The security guard at Columbia Pictures enjoyed telling us about the celebrities he'd recently seen, including a bedraggled Lady Gaga whose hair was so dirty it looked like an oil slick.
Our tour guide kept telling us about the film projects he'd worked on, and the celebrities he'd spotted on the lot, advising us to keep our eyes open. (We didn't see anyone we recognized.)
Like the Warner lot, you can walk through a variety of fake town streets with their small town facades...
...and the occasional fake door, that opens up to a concrete wall behind it.
Unlike Warner, at Sony, the film production and corporate offices are right there amongst the fantasy. Executives intermingle with celebrities and extras. The only thing that distinguishes those of us on the tour from anyone else on those cobblestone streets is the lanyards slung around our necks.
Architecturally, the lot is fascinating with many of its original buildings, constructed in the 1930s, many with Art Deco elements.
Unfortunately, unlike Warner, Sony has a strict photo policy, allowing photos to be taken only in the public areas...
...and nowhere near its hulking soundstages (#15 being one of the biggest in the world).
An episode of
Jeopardy
was being shot during our visit, and we got to see a dark
Wheel of Fortune
soundstage, and a Toyota commercial shoot in progress.
We spotted Adam Sandler's pimped-out golf cart outside of his Happy Madison production offices...
...as we wandered under the watchful eye of the giant water tank that rises above the lot, always reminding you of where you are.
circa 2021


But there are few other reminders. This is where Wizard of Oz was shot, but there is one lone yellow brick in the sidewalk, and a trap door in the soundstage where Margaret Hamilton met her watery demise when she melted into the floor as the Wicked Witch of the West.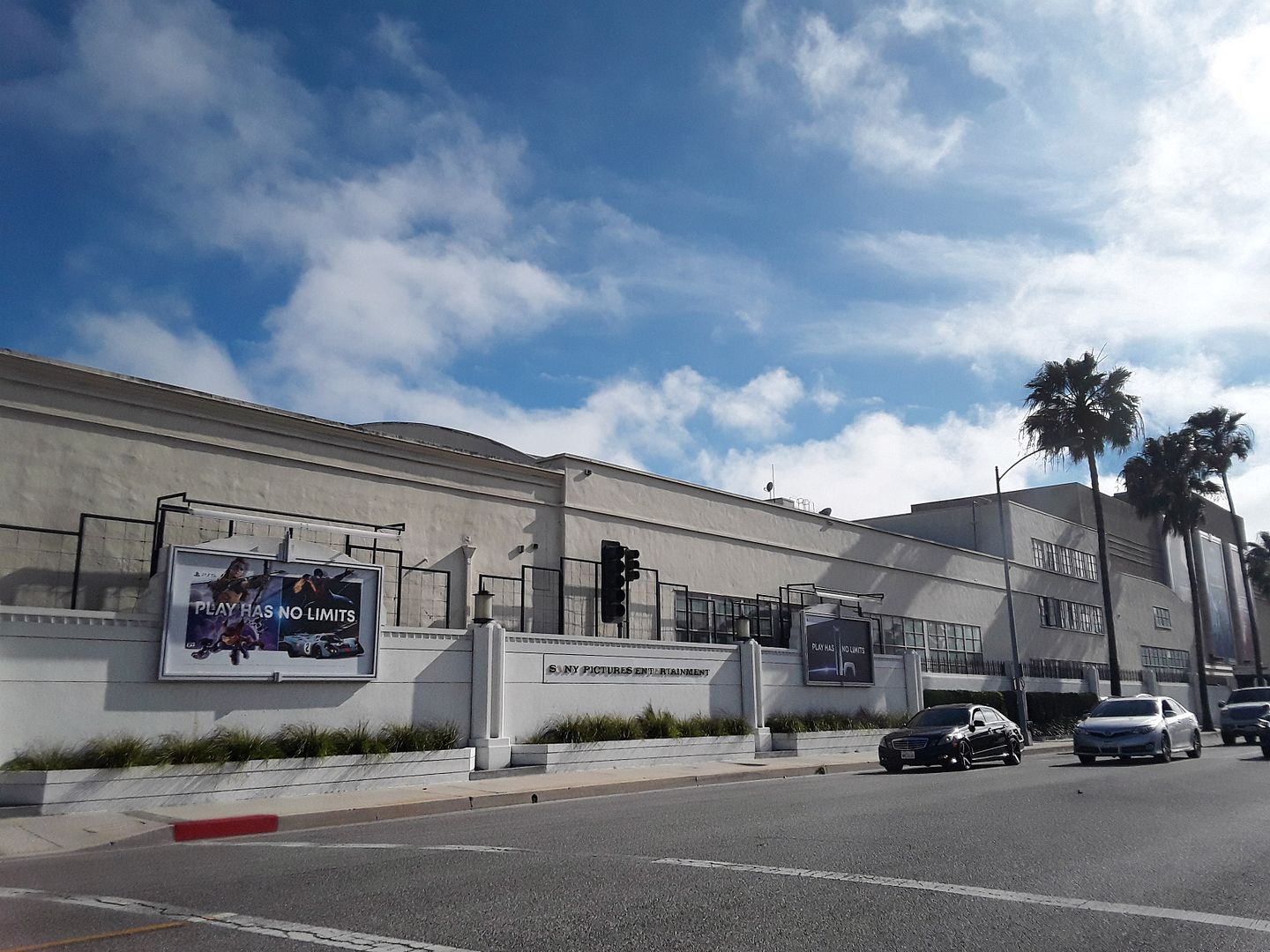 Esther Williams, the Million Dollar Mermaid, filmed her famous water ballet MGM musicals here, in giant tanks that still exist, but you can't see them. They're still being used for scenes that take place on some body of water or another.
I think most aspiring actors such as myself (as unsuccessful as I've been thus far) would be reticent to join tourists on a visit to a famous Hollywood studio, but if I'm
not working
, how else am I going to see it? If you're an actor, hopefully you
love movies
, and if you love movies, you want to get closer to their magic.
When else will I get to visit the foley room, where they use balled-up magnetic tape to mimic the sound of walking through fallen leaves? I may have to wait a long time to record any ADR for myself (that's where you dub your own lines, either to clean up bad language or to rerecord dialogue whose original sound quality isn't good enough), but now I've been in the room.
So, for me, visiting Sony Pictures Studios wasn't so much about celebrating the past. On my birthday, the start of a new year, it was about trying to embrace and prepare for the future.
Related Post:
Photo Essay: The Ghosts of Film and TV Past
My First Birthday Alone in LA
To the Rescue