[Last updated 6/18/23 1:59 PM PT—Photos of the Nike Missile #55 silo added at bottom of post]
I don't think I was actually trespassing. Even though all of the signs warned me that it was U.S. Property.
Considering that now the Nike Missile Site LA-55 has been redeveloped into Point Vicente Park in Rancho Palos Verdes, I wasn't apprehensive.
Those signs are probably just another relic of the military history that surrounds Los Angeles' southernmost points, along the shores of the Pacific Ocean, very close to what is now the Port of Los Angeles—then known as the Los Angeles Defense Area.
Los Angeles was once defended by a ring of 16 Nike sites ("The Ring of Supersonic Steel"), part of the government's air defense system which was ready to launch anti-aircraft missiles (largely as part of the Cold War) primarily in the 1950s-1970s. By 1974, when all of the Nike missile sites across the United States were decommissioned, some had been completely obliterated, the land converted into commercial and/or residential use. Some sites still stand abandoned. Others remain part of air force bases or other governmental and/or military property.
Many that have been supposedly "obliterated" have been turned into parks, and still house some hidden treasures of their military past - like Nike Missile Site LA-55 in Point Vicente Park in Rancho Palos Verdes.
It's hard to imagine that RPV—an affluent Los Angeles suburb replete with golf courses, nature reserves,
modernist architecture
, and winetasting - would also house this United States Engineering Department battery
[Ed 6/14/23: Battery Barnes, a.k.a. Battery 240.]
Built into a hillside, with stunning ocean views that the local affluents surely enjoy...
...there are several impenetrable entrances to the battery, on each side of the hill.
Its strong metal doors are now rusting, but still locked, steadfast.
Around it, there are various other industrial archaeological relics, like pipes...
...cables...
...and some kind of vent (?) that seems to exhibit some marine growth.
There are also poles. Everywhere poles.
Some poles are protected by barbed wire, and protected by a covering that seems to have suffered under exposure to the sunny seaside elements.
There are a few other warnings...
...though no real perils as far as I could tell.
Most of the relics you have to really look for - sometimes under trees.
Some bits and pieces do lie out in the open, not yet consumed by the encroaching earth...
...though the sidewalks appear to be disappearing...
...into oblivion.
And more poles.
As are many of them, this former Nike missile site is perched high above sea level...
...overlooking the Point Vicente lighthouse, one of the several lighthouses along California's coastline (including the Point Fermin lighthouse in neighboring San Pedro, right next to
Sunken City
).
San Pedro, of course, was also home to Fort MacArthur (now in Angels Gate Park) and Nike Missile Site LA-43 (now in White Point State Park) - both of which require some future exploration.
I think people - not only residents and tourists, but those who formulate opinions without ever having visited - forget that Los Angeles is very much a port city, and with its sprawling shoreline, has always been vulnerable to attack (particularly during and after World War II). And because of this, LA has always had somewhat of a mixed blessing relationship with the ocean: it hasn't always been
Gidget
and
Baywatch
.
Fortunately, at least for the timebeing, we have the luxury of enjoying a military site like this one, whose main purpose is now recreation.
Update 6/18/23: As part of the Doors Open Peninsula program celebrating the 100th anniversary of the Palos Verdes Peninsula, the silo at this Nike missile site was opened to the public. Here are my photos, with text provided by Palos Verdes Library District in italics:
The Point Vicente Military Reservation, now the City Hall site for RPV...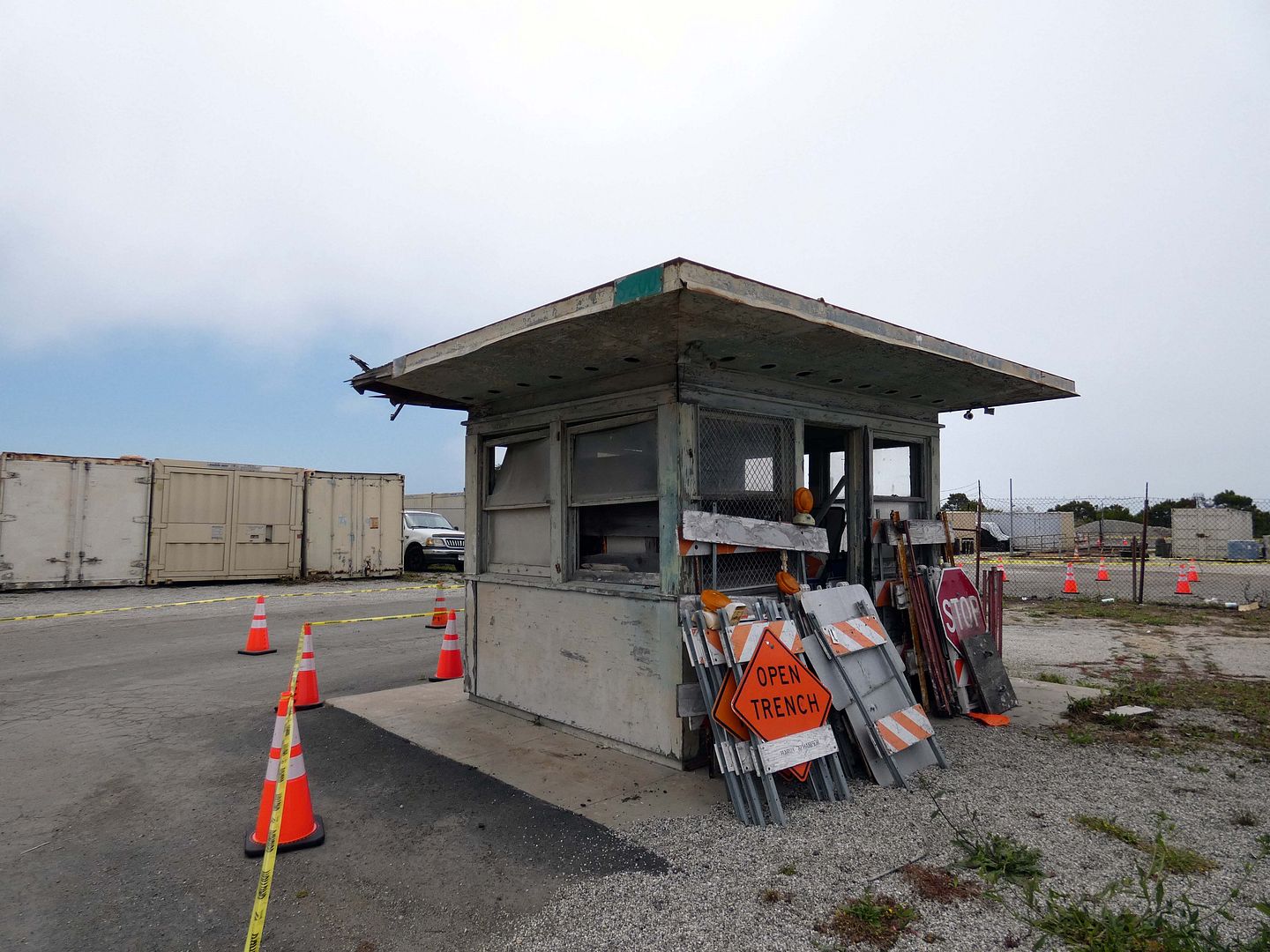 ...was formerly the administration and launch facilities for the Nike Ajax and Nike Hercules anti-aircraft missiles in the 1950s and 1960s.
The facility was one of 16 placed around Southern California to defend Los Angeles from a military attack during the Cold War.
At Point Vicente, there were actually two silos...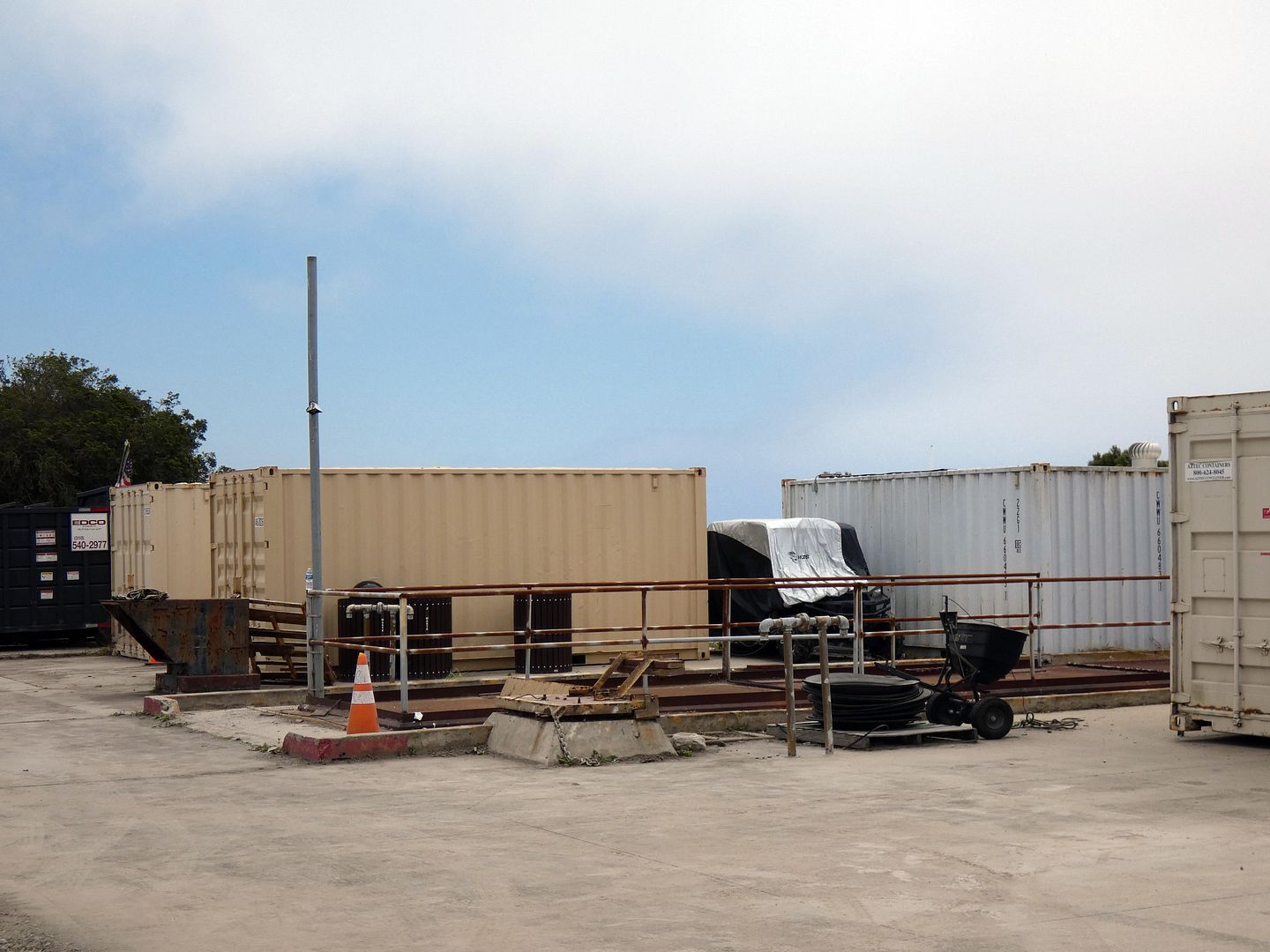 ...decommissioned in 1974 along with the entire site.
Although the word "silo" may evoke the image of something above-ground, like a grain silo...
...the Nike missile silos were underground.
This one reportedly has remained relatively unchanged over the last 50 years...
...probably because visitors are not normally allowed (and there's pretty tight security in the area).
The Ajax and Hercules missiles were stored in a central trough, which actually functions as an elevator to bring them up to ground level (where they would be launched from a different area, making this more of a "magazine" than a "silo").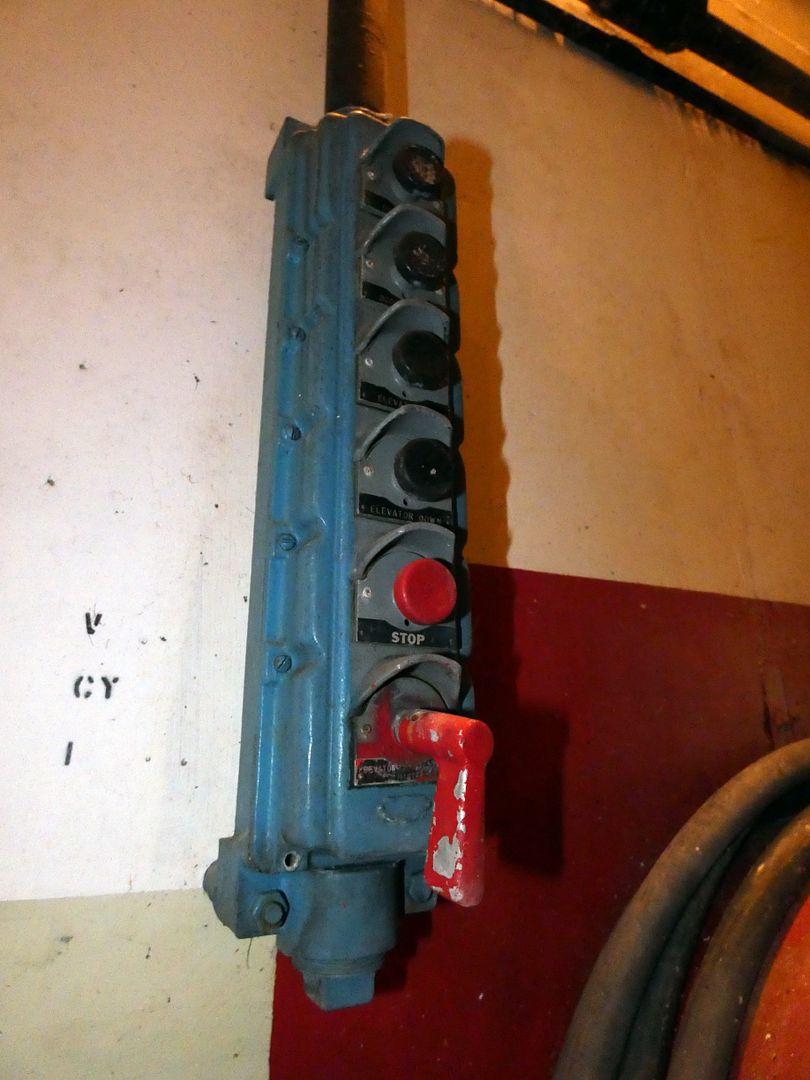 The elevator controls are still there, though we didn't see whether it can actually still move or not!