[Ed: New photos added 11/17/15]
In 1999, the Los Angeles cardinal of the Catholic Church wanted to build a new, large-capacity cathedral unlike the cathedrals of the old world. He wanted it to be
Californian
.
The resulting massive cathedral rises 11 stories high, looming above the Hollywood Freeway, which the architect conceived as a kind of modern-day, urban river (perhaps forgetting that LA, too, has
an actual river
).
Spanish architect Jose Rafael Moneo's design is of a modern,
adobe
-colored, poured concrete structure with Westminster-chiming
mission
bells...
...and the stars and planets etched into the plaza floor.
There are no right angles visible from the exterior or the interior.
Worshippers, tourists, and looky-loos like myself enter through enormous bronze doors, cast by sculptor Robert Graham...
...depicting our city's namesake, Our Lady of the Angels (AKA Mary)...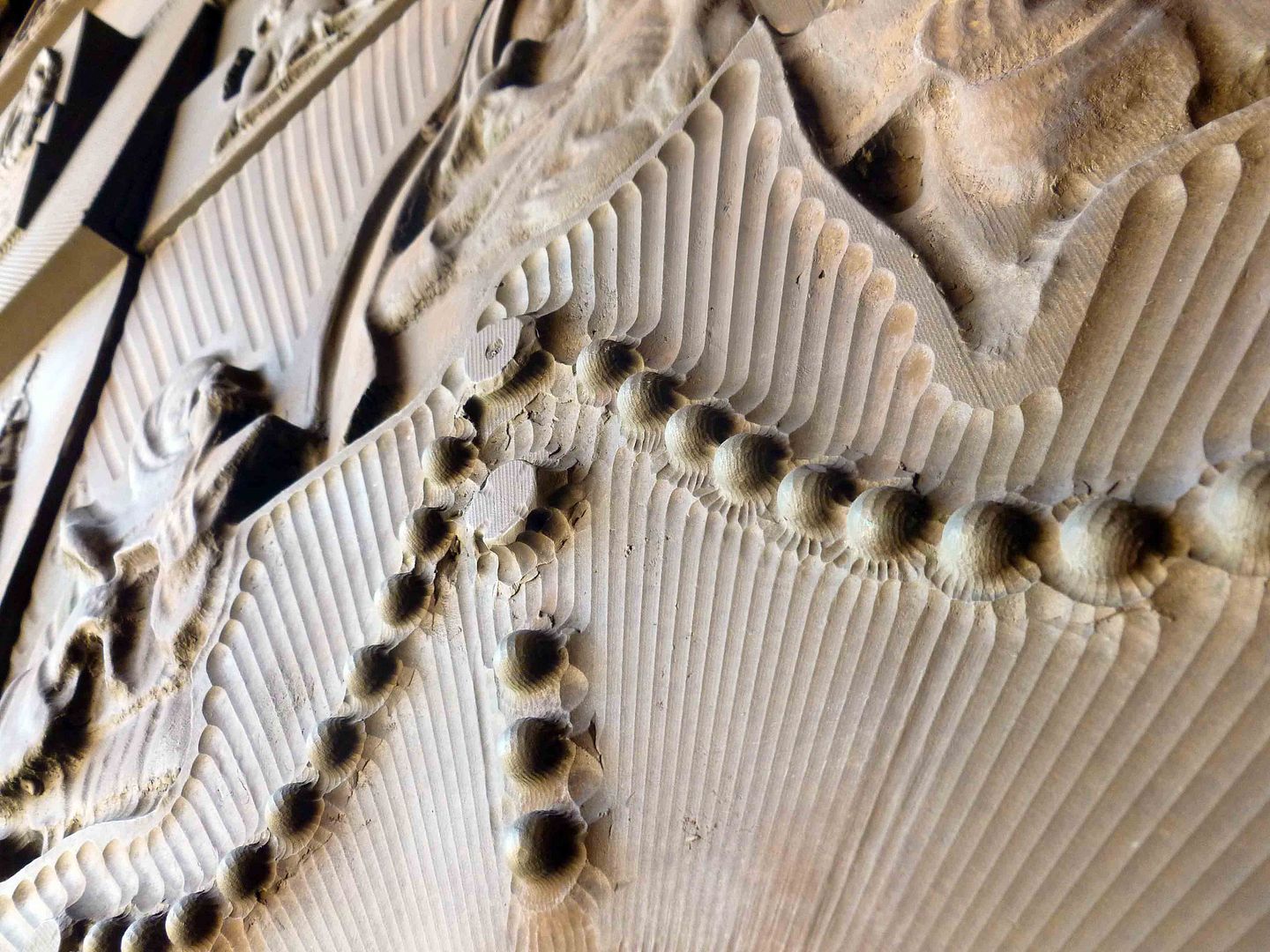 ...including some actual rosary beads cast in bronze.
The limestone floored Ambulatory provides a curved path into the cathedral...
...past various dedicated chapels, some still vacant...
...and others filled with statuary...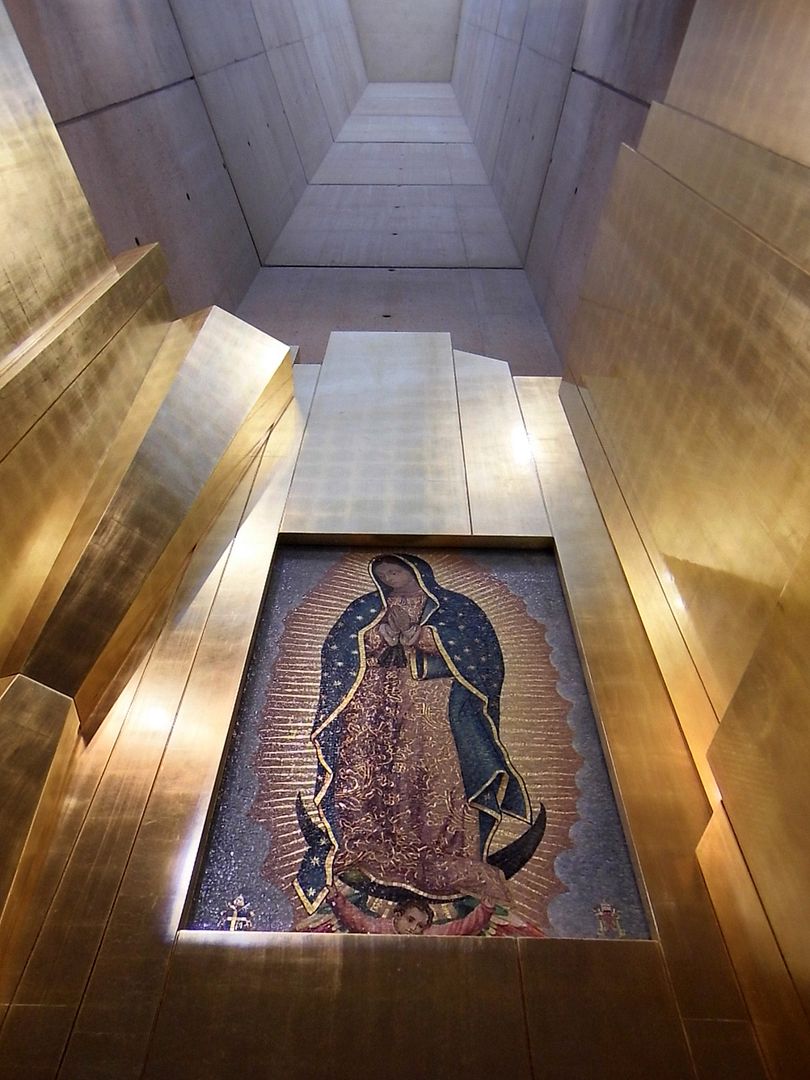 ...and mosaic tile.
From here, you get a sliver of a glimpse into the nave.
Flanking the altar in the nave are the pipes of a 85 foot cherry wood organ...
...and a huge architectural cross, whose thinly-sliced alabaster windows allow a glow of natural light into the cathedral. At night, the glass-protected alabaster is lit from the inside, creating a cruciform lantern that can be seen from far away.
Inside, there is no shortage of angels or other traditional adornments...
...like a giant, six-ton slab of red Turkish marble serving as the altar.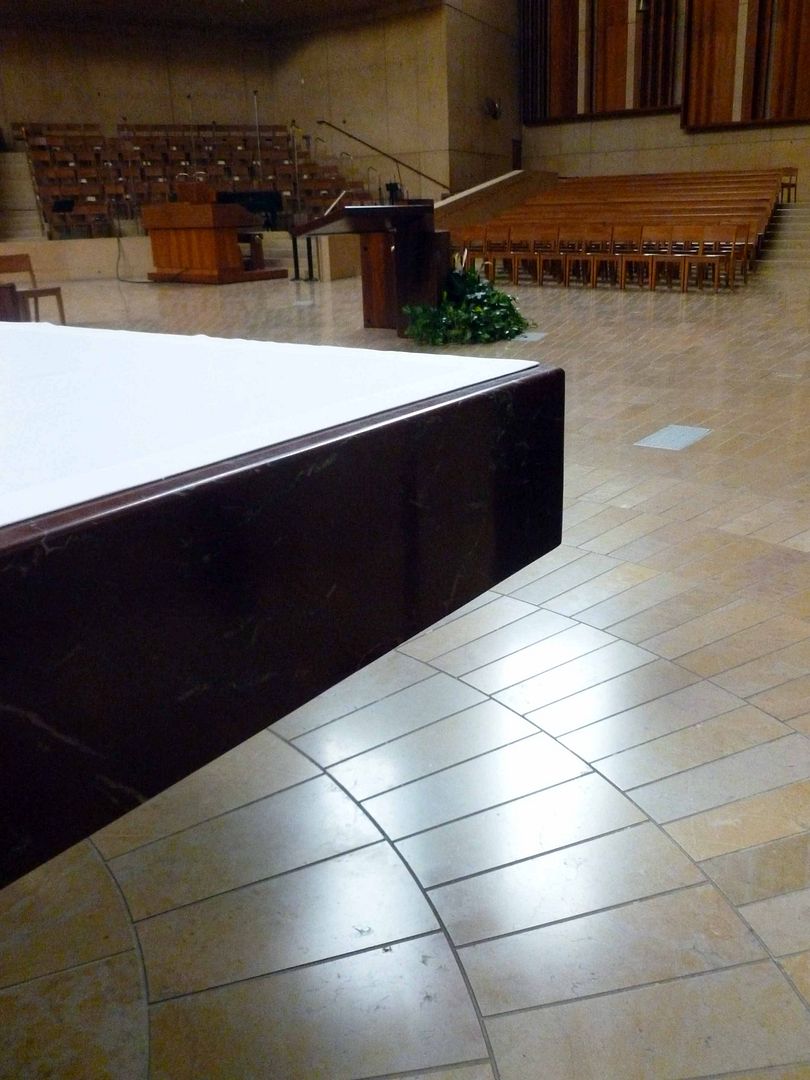 But what really keeps the eyes cast high and heavenward are the alabaster windows...
...whose transparent stone changes color throughout the day...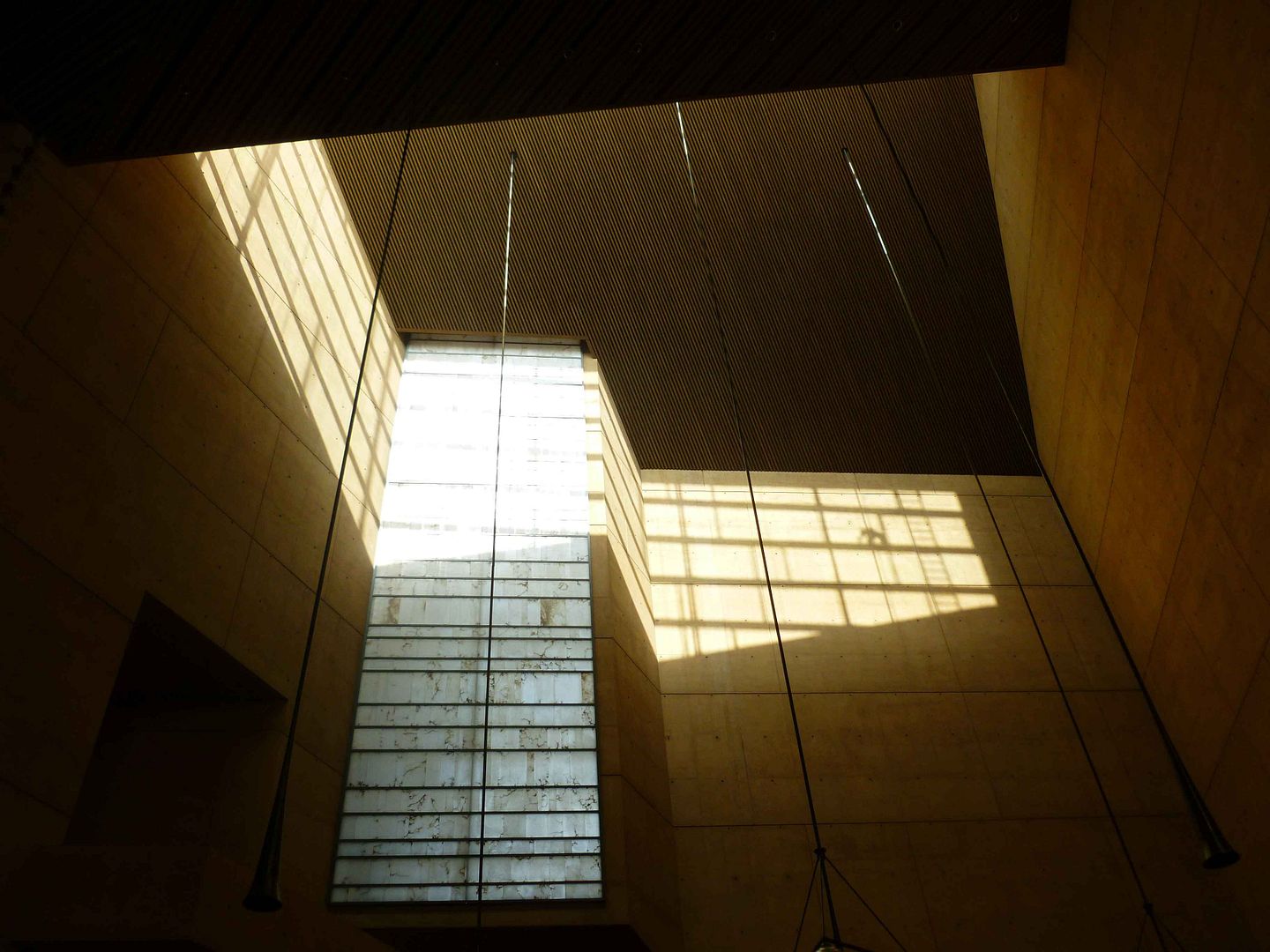 ...and changes the lighting inside the cathedral depending on the angle of the sun.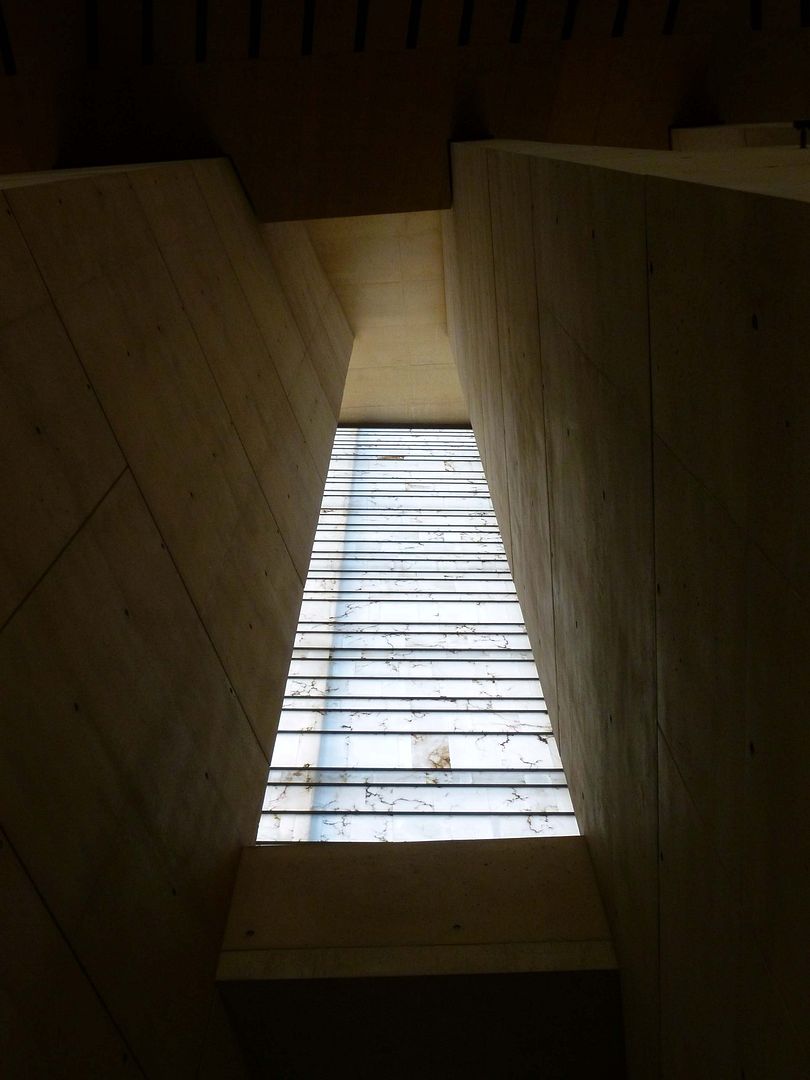 If you dare venture downstairs...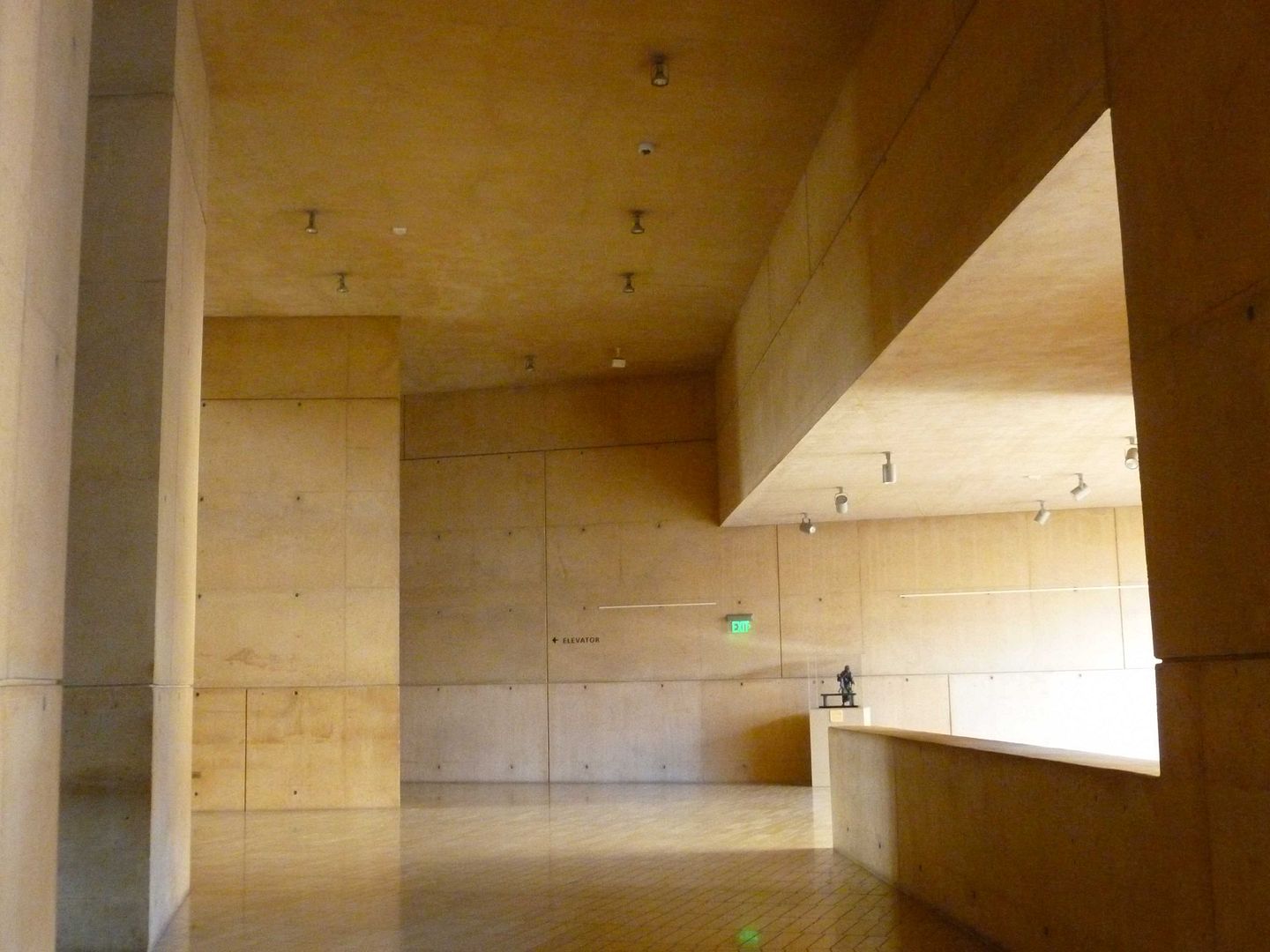 ...you will happen upon a mausoleum...
...featuring artificially-lit stained glass (rescued from the old Cathedral of Saint Vibiana, and restored by
Judson Studios
)...
...the relics of Saint Vibiana herself...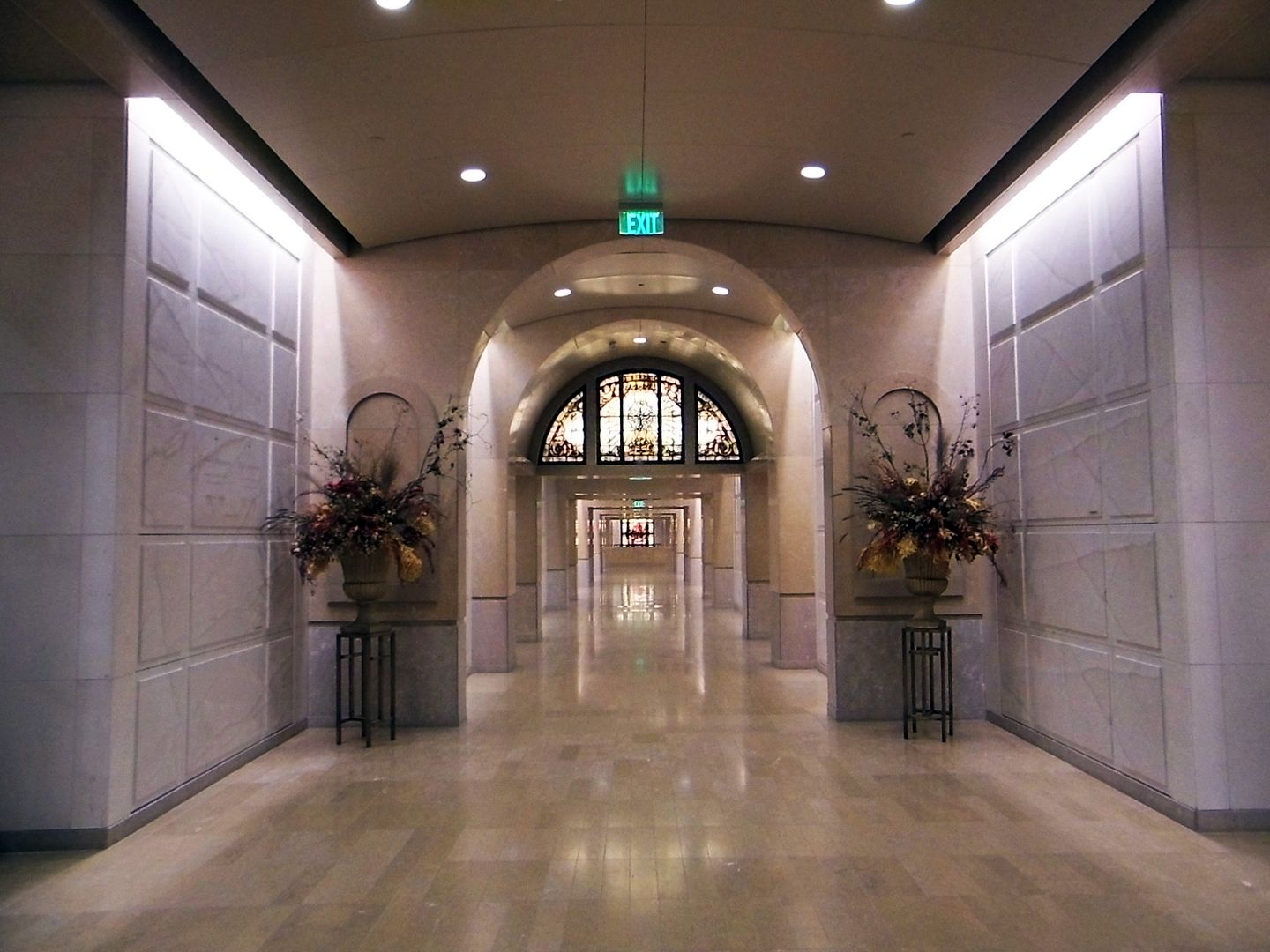 ...and the final resting place for various bishops and other local Catholic Church illuminati, as well as respected Hollywood actor Gregory Peck.
Mind the crypt flies. Even expensive death is not airtight.
Art is everywhere at the cathedral, which is still evolving. Mosaic tile is being laid into a mural on one of the exterior walls...
...making the plaza just as peaceful and meditative as the alcoves and nave inside.
Our Lady of the Angels is more like an abstract, geometric mission than a traditional cathedral, and that seems to suit the "new" Downtown, with its flattened Bunker Hill and new-fangled modernist architecture. It's kind of a cathedral-as-skyscraper, and it's become an essential part of our LA skyline.
Stay tuned for detailed photos of the stained glass from the cathedral's crypt.
Related Posts:
Photo Essay: On a Mission in the Santa Ynez Valley
Photo Essay: Past the Mission
Photo Essay: San Diego's Modern Science
Photo Essay: Unwanted Christ in a Desert Park
Photo Essay: Judson's Historic Glass Studio
To Like Avoiding Regret on Facebook, click here.