[Last updated 12/21/20 9:10 PM PT]
When it was first installed in a parking lot at Vermont and Santa Monica in 1993, the "
Vermonica
" streetlight installation—featuring 25 antique street lamps from the LA Bureau of Street Lighting—was only supposed to last a year.
Designed in response to the LA Riots, the public art display remained longer than anyone ever expected—until being unceremoniously dismantled and removed in November 2017, just after the 25th anniversary of the riots.
At first, the fate of the streetlights was a mystery to all—even to the artist who created it, Sheila Klein. But then they turned up in the most obvious place: back at the Bureau of Street Lighting, three blocks and 0.3 mile east on Santa Monica Boulevard.
It's nice that the public can still see them...
...and that they seem somewhat artfully arranged...
...but the
art
has been drained out of the aesthetics of the display.
The lights don't mean anything more, even if they're nice to look at.
Of course, since no one told Sheila Klein that her "
Vermonica
" was being dismantled, no one consulted her on the relocation or reinstallation of the streetlights, either.
At least this array of streetlights is less crowded than
the one in front of LACMA
.
And as it faces the street and is easily visible from the sidewalk, it's a lot more convenient to view than
the Streetlight Museum at the Downtown LA bureau
.
Now, it serves as a kind of composite for the wide variety of streetlights that you'll find
in situ
throughout LA.
I'm always looking up at them, wherever I go. But I suspect most people don't notice them.
Update: In 2020, Sheila Klein returned to LA to oversee yet another relocation of the street lamps of Vermonica, now just west of the Bureau of Street Lighting and a bit closer to its namesake intersection of Vermont and Santa Monica.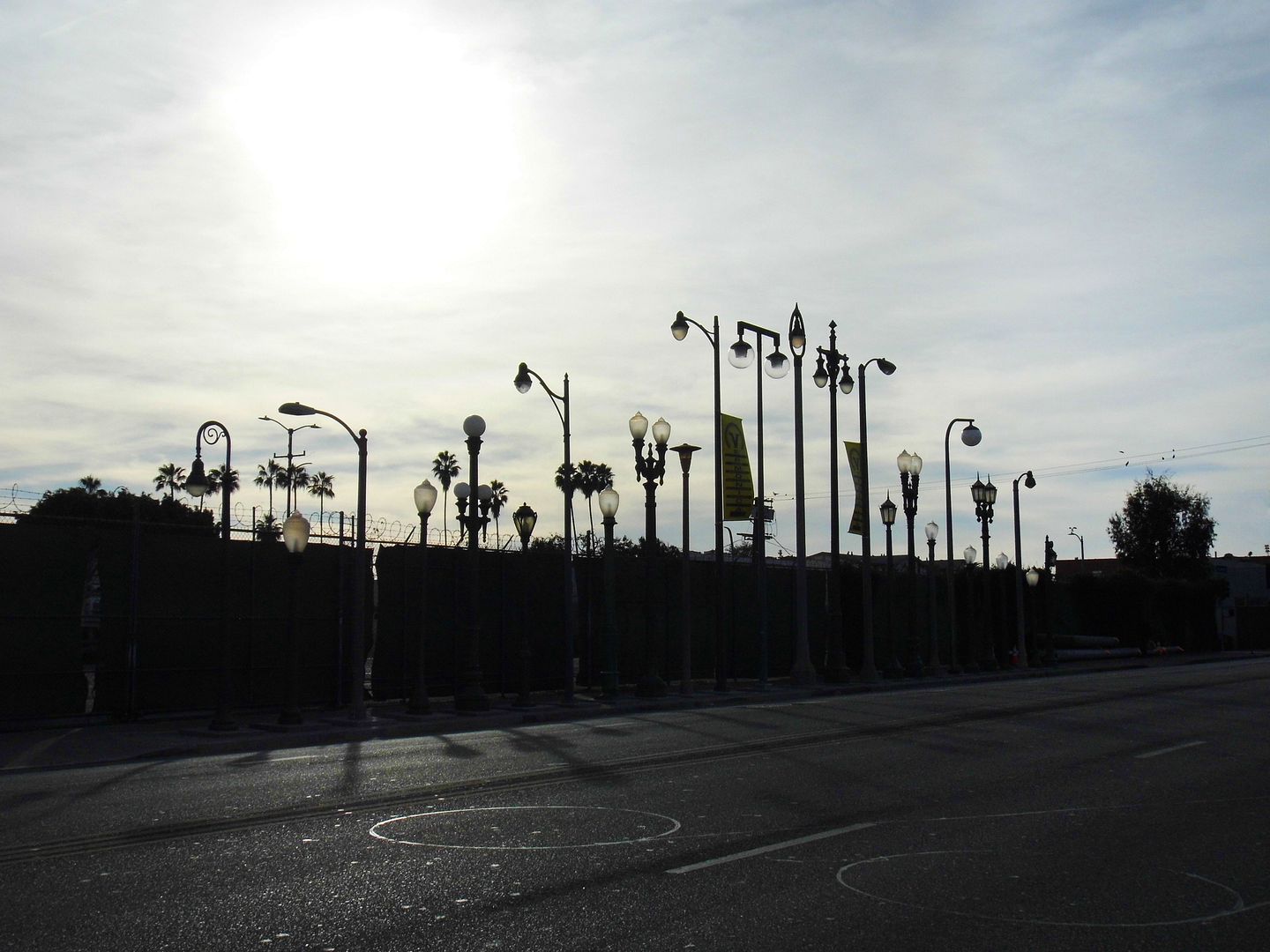 circa 2020
And now that the City has formally acquired it, this "
Urban Candelabra
" is finally a permanent fixture of the LA streetscape.
You can find it on Santa Monica Boulevard at Lyman Place, across from the Cahuenga Branch Library.