[Last updated 3/26/23 9:18 PM PT—New photos added at bottom of post]
It seems like nearly everyone in the town of Mojave, CA has been trying to get out, from when it was first used as part of the construction of the Southern Pacific Railroad to the subsequent transport of
borax
and the construction of the
LA Aqueduct
.
These days, maybe they're just passing through on their way across Highway 58 to
Bakersfield
, or up Highway 14 to the Eastern Sierras and
Death Valley
.
Maybe they're
testing experimental aircraft
to be flown to far-off lands. (A couple of pilots did successfully circumnavigate the globe in the Voyager aircraft—taking off from and landing at nearby Edwards Air Force Base, without stopping to refuel—in 1986.)
Or, most recently, they could be trying to use Mojave as a launching pad into space. The Mojave Airport was, after all, renamed the "Air and Space Port" in honor of Space Ship One and Virgin Galactic.
In any case, Mojave always seems to have been a means to an end. But to me, Mojave was a destination.
Google Satellite View
Mojave is the site of an airplane "graveyard" (or "
boneyard
")...
...which includes a number of airplane shells that are waiting to be refurbished...
...or are destined for the scrapyard.
Some of those planes have been there a while...
...and aren't going anywhere, anytime soon.
A lot of them couldn't fly anyway, since their engines have been removed.
The area has been famously off-limits to civilians, reportedly since 9/11-related security concerns...
...but that was way before I'd even heard of the place.
I didn't make it there until 2010, when I thought I'd seen everything I would be allowed to see.
But I was wrong—something I discovered when I returned to Mojave and stopped at the Air and Space Port for lunch and some planespotting.
We were excited enough just to dine with the tarmac in view; but then, our server said, "You can go out there, if you want."
And lo, there in the distance were the retired commercial jets—some from airlines I'd never even heard of—all lined up in their death march formation.
No fence separated us from them, nor any locked gate—just a vast expanse of runway and painted red lines that read "DO NOT CROSS."
And we obeyed, despite our curiosity and excitement.
For that day, it was going to have to be enough to get a clear, straight-on view of the bones in the yard.
Of course, in the foreground, we found distraction in the planes that most likely
can
and
do
fly...
...with no barriers between us and them...
...and only
theoretical
flight patterns in the empty sky above us.
But in the time it took to poach my egg and toast Erin's sandwich, a couple of other flight enthusiasts joined us on the airfield...
...though
they
also happened to be pilots.
We gleefully watched them take off for a trip to nowhere—most likely just to return to Mojave, to that place everyone else is trying to get out of.
And after we'd finished our lunches, it was time for us to leave Mojave, too—just as the
gold and silver miners
of the 1930s did (who the airport originally served when it opened in 1935), and just as the Marines did after the end of WWII (and again in 1961).
But the difference is: I'll probably be back.
Update 3/26/23: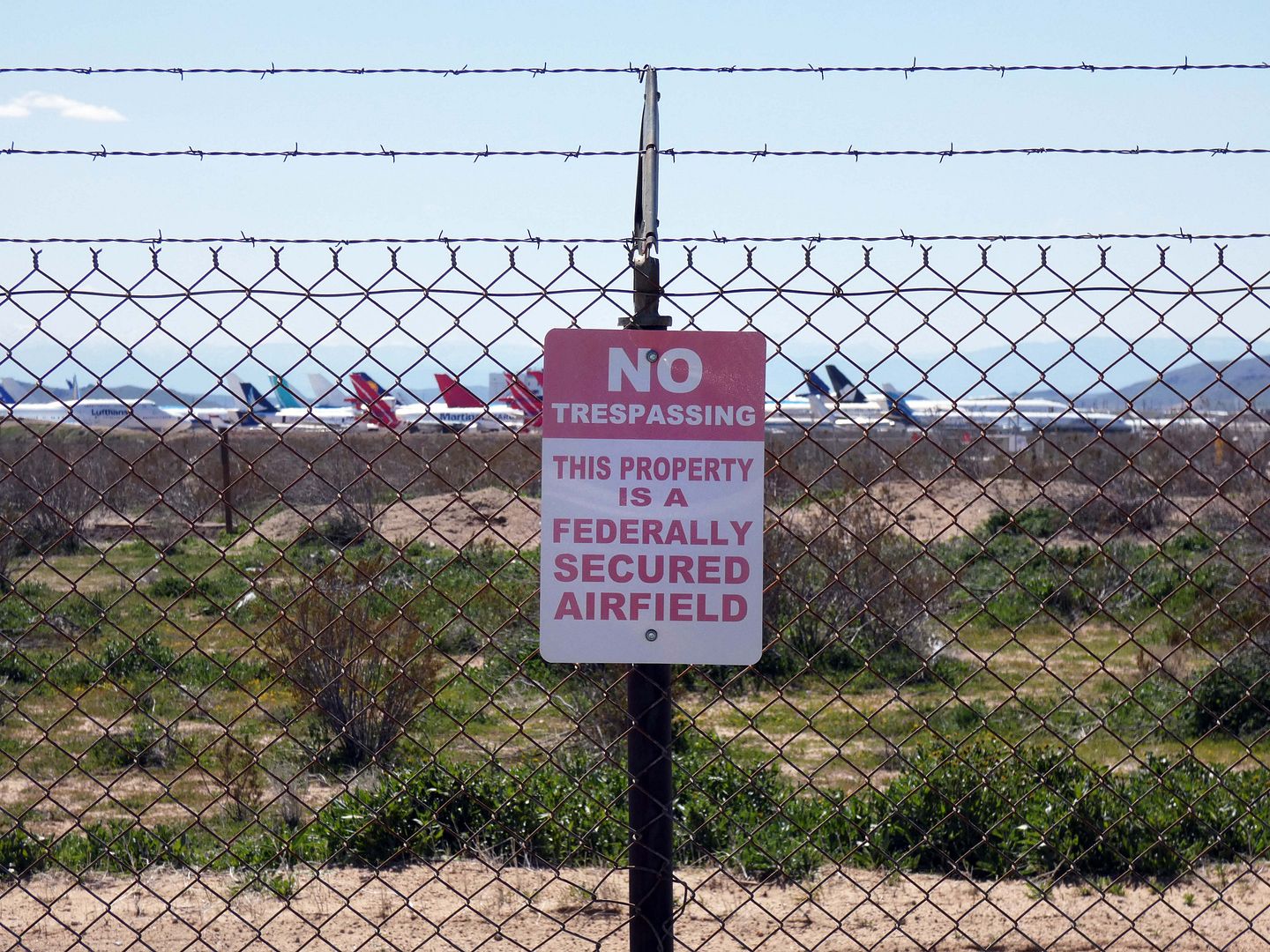 I saw on Google Maps that someone had saved a placemark for an airplane graveyard viewing point at the northern boundary of the Mojave Airport...
...so while I was passing through town this past weekend, I decided to have a look-see.
Trespassing is strictly forbidden in this area, so I was sure to stay on this side of the fence.
But I had driven real (dirt) roads to get there, so it seemed like it was OK to stop, get out of my car, and snap a few photos.
The graveyard looked a bit different than during my last visit—but then again, I'm under the impression that the "bodies" are constantly changing there, depending on fluctuations in the aviation industry's needs.