[Last updated 1/31/23 10:11 AM PT—Corrected opening date and included info about centennial]
In my
explorations of West Adams
, I would always drive past a building whose signs indicate it is an American Automobile Association office, but this is unlike any AAA office storefront I'd ever seen.
Photo: Los Angeles Public Library
Sure, it isn't as palatial as the
St. Vincent de Paul church across the street
...
...but this Spanish Revival on the corner of South Figueroa Street and West Adams Boulevard is definitely a landmark. I decided to scout it out.
Construction began in 1921, decades before "car culture" really took over California in the mid-20th century.
The Auto Club of Southern California was actually founded 20 years before that with only ten members...
...and started posting directional signs on highways, publishing maps, and even helping recover stolen vehicles.
By 1923, this location opened as the Automobile Club headquarters
[Ed: Officially celebrating its centennial January 27, 2023]
...
...and ten years later, expanded with two rear wings that created a closed courtyard in the back.
Now that courtyard acts as a kind of museum for AAA artifacts, like the directional signs erected along the National Old Trails Road (Old Sante Fe Trail)...
...and the Lincoln Highway between Omaha and Salt Lake City.
There's even a cross-section of a gigantic Sequoia tree that fell in Sequoia National Park in 1933 at the ripe old age of 1450 years.
A ring count estimates that this particular tree was born in 483 A.D...
...surviving a forest fire in 1813 that left a burn scar, which would have eventually healed and grown over, if the tree had continued to live.
As gorgeous and historic as the building's exterior is, I was excited to go inside...
...and see the tiled fountain...
...under the dazzling rotunda (which no photographs do justice).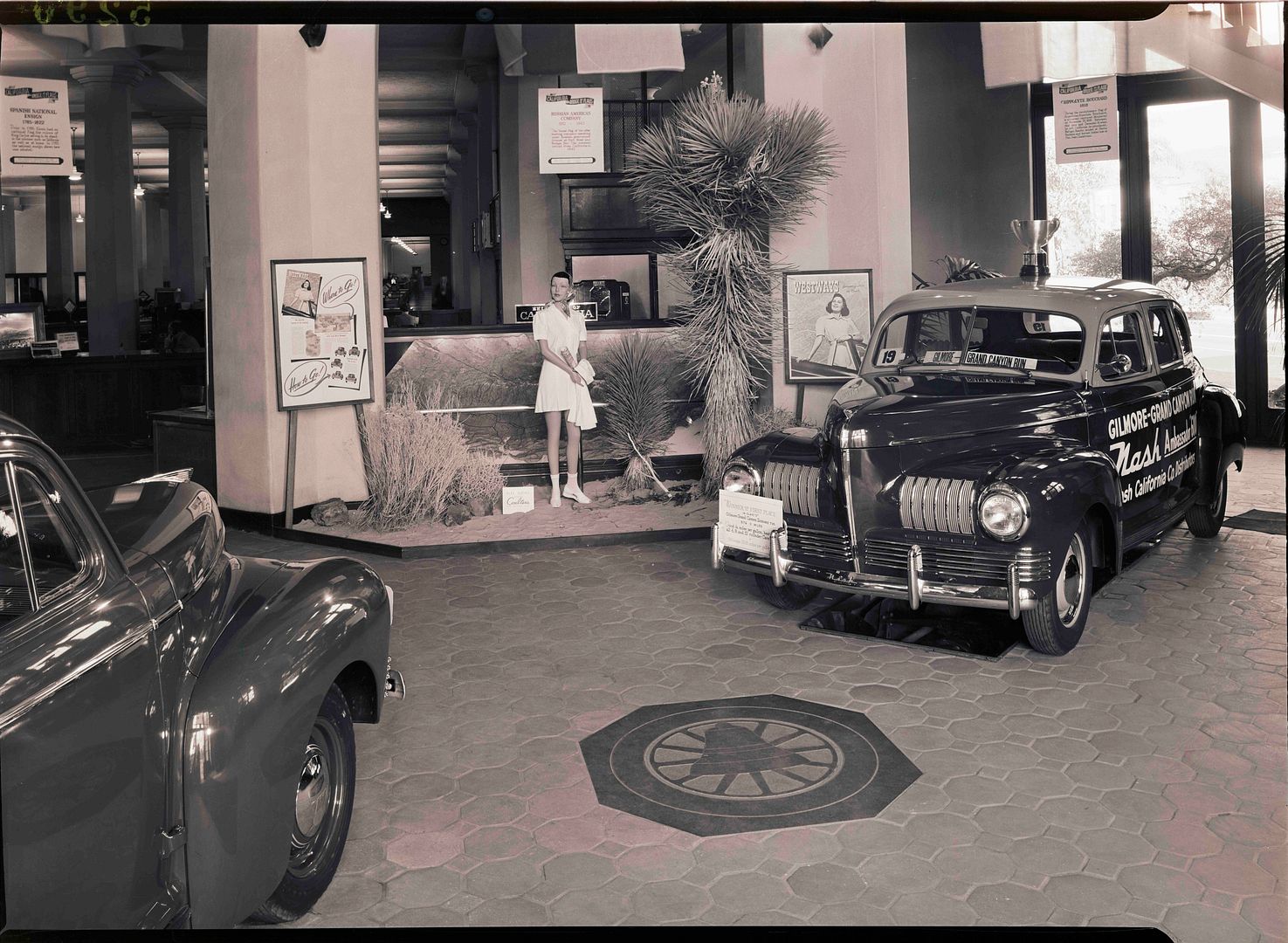 Photo: Automobile Club of Southern California
Unfortunately, the rest of the ground floor
does
look like any other AAA office, with dropped ceilings and modern cubicles and plaster walls. It was such a shame to see, I refused to photograph it, not wanting documentation of the very utilitarian interior of a club which is no longer very exclusive, as motorists are no longer an elite class. It's a club anyone can join, and a headquarters anyone can visit.
I should be thankful for that. And even though anyone who can pay the membership dues can join, I'm proud to be a member of that club, which has rescued me from
a dead battery in Compton
, a couple of flat tires, a lost car key, and
being stuck in a rut in Big Bear
.
I'm proud to be a motorist. I love driving. I'm so grateful for the freedom and access to new places it's given me.
Growing up
, I spent too long homebound, begging friends for rides, taking the bus or walking for miles. For years, I just wanted to be able to drive myself somewhere. And although I got my license when I was 17 years old, it took me nearly 20 years to actually get
a car of my own
.
And now I can't imagine
not
driving, at least some of the time. I am all for equal opportunity, and embrace all modes: I
walk
, I
bike
, I
hike
, I
swim
, and I
paddle
. I scamper and scurry, and I
zip
as often as possible. But when all else fails, when I have nowhere to be and nothing to do, when life
weighs down on me
too much, I can always come up with an excuse to just shut everything out and
drive
.
Related Posts:
Photo Essay: St. Vincent de Paul, West Adams
Carrying on a Legacy
Avoiding Worry