In
New York City
, looking up is discouraged. Casting your eyes upwards, chin to the sky, outs you as a tourist, or at the very least as a new arrival.
Don't ever look up at the buildings, or down at a map. Just stare straight ahead with blinders on. Don't make eye contact with anyone. Try not to trip.
On the other hand, out in LA, we're usually inside our cars, and unless we're lucky enough to drive a convertible, we can't really look up at anything.
Behind the wheel
- whether commuting or
stock car racing
- it's best to keep your eyes as far ahead as possible, so you can see where you're going, and anticipate every curve.
There's no time to examine your surroundings.
But once, when Downtown was its true city center, LA was explored on foot, or by elevated
streetcar
, both which allowed you to view the heights of the buildings that surrounded you: the theater marquees, the second floor cornices, the colored terracotta, the stone gargoyles, the marble relief sculptures.
Many of the beautiful architectural details of those old theaters, department stores and arcades still exist in Downtown LA, but pedestrians have become distracted by the ground floor swap meets, produce stands, electronics shops, and jewelry centers (not to mention the peddlers, derelicts, and other colorful characters they encounter). Public transportation passengers have either moved underground, or become drivers, never stopping to admire the LA that once was, in the first half of the 20th century.
But sometimes, you have to look up to know where you are.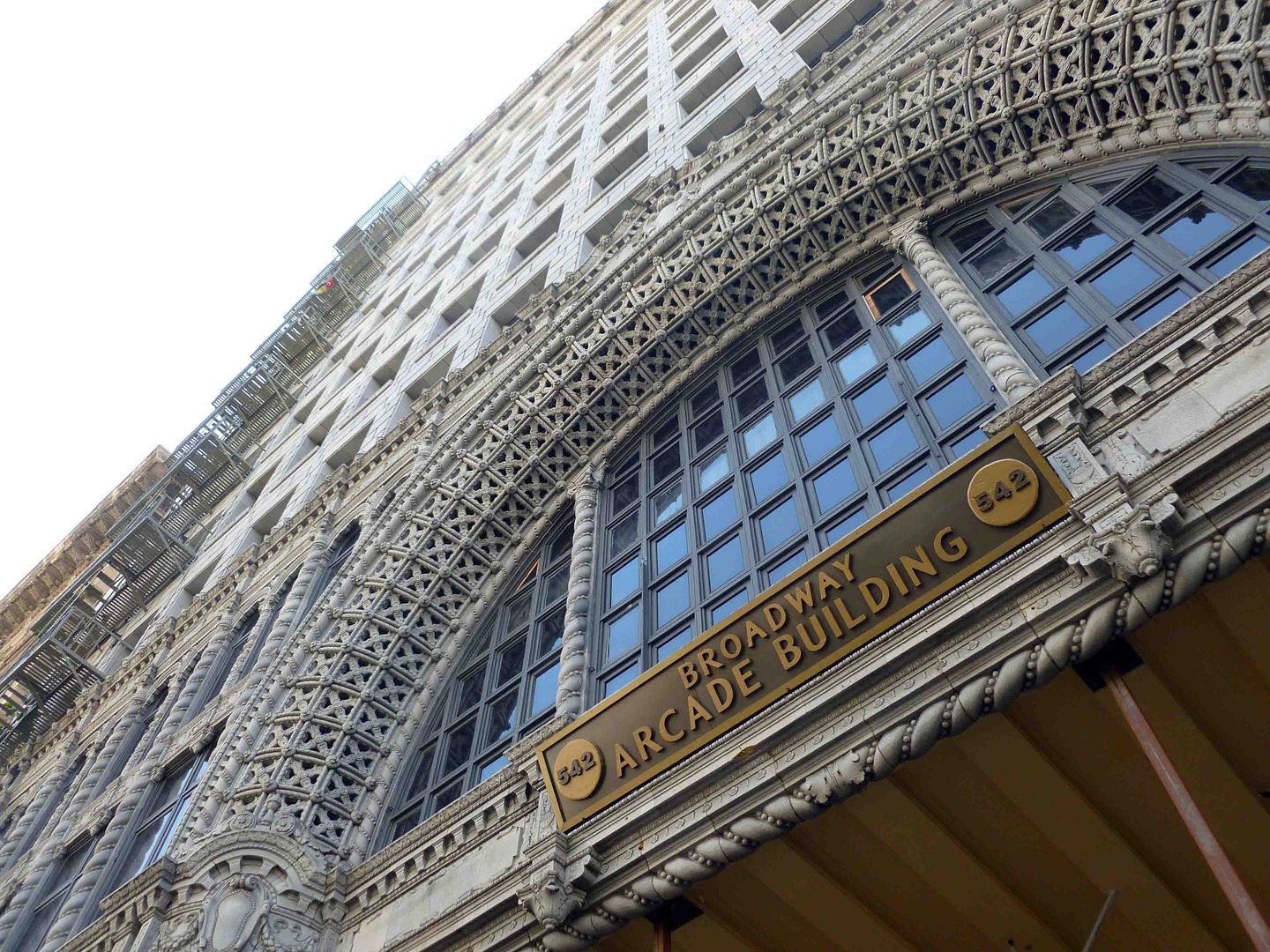 Broadway Arcade Building (1924)
Eastern Columbia Building (1930)
Broadway Department Store (1912)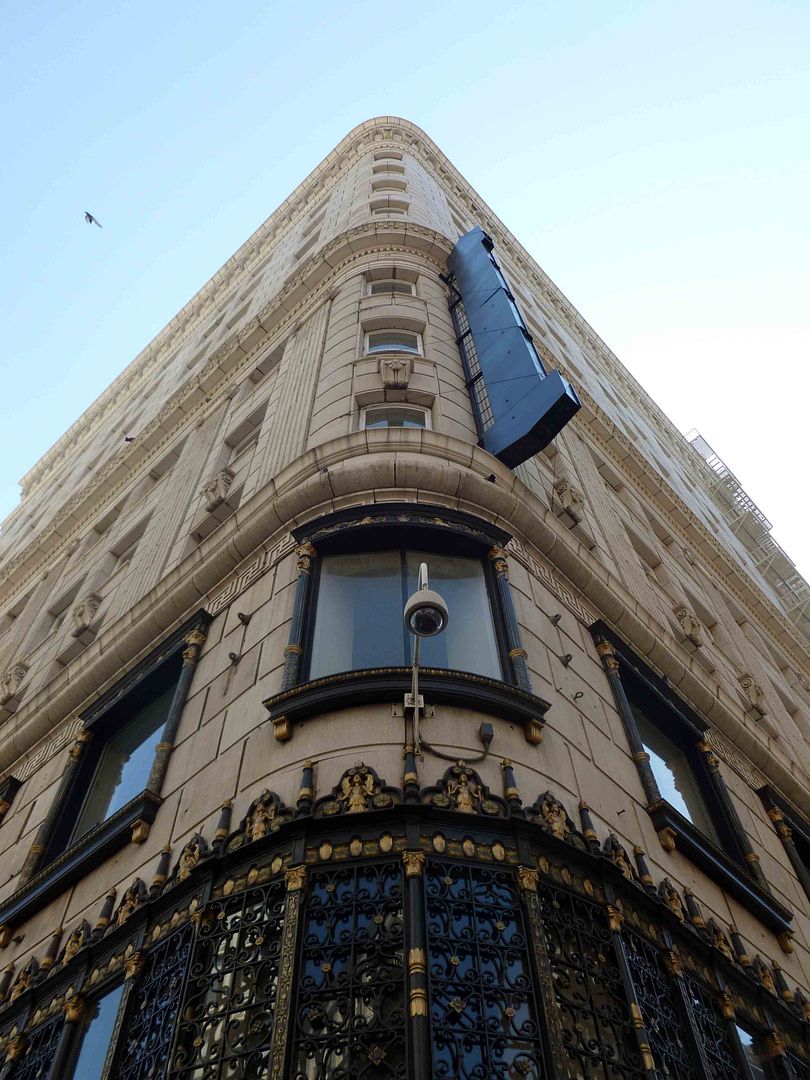 The Chester Williams Building (1926) - the site of the former American Theater (demolished)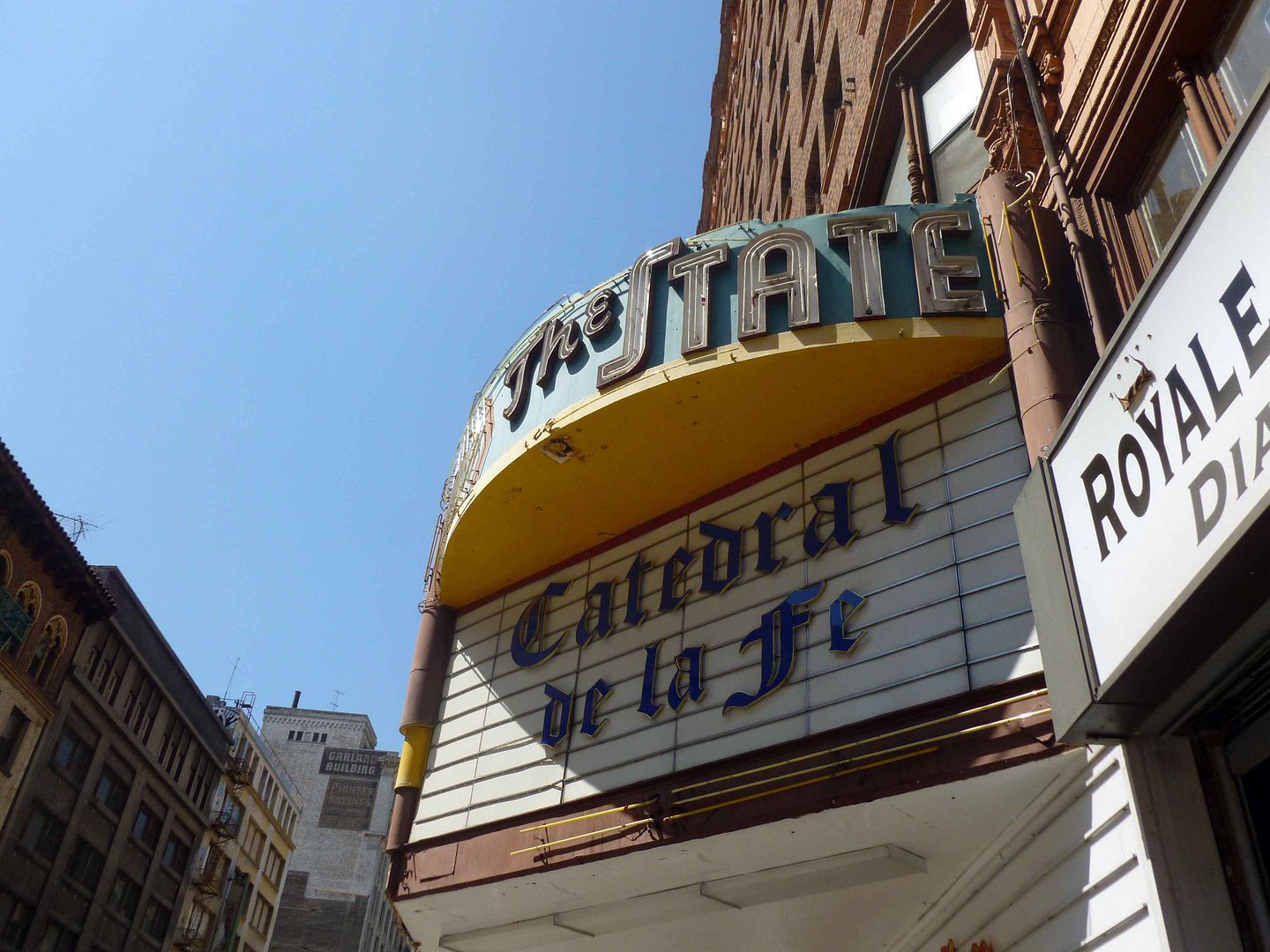 The State Theatre (formerly Loew's State Theatre) (1921), currently home to Catedral de la Fe
(no photos allowed inside)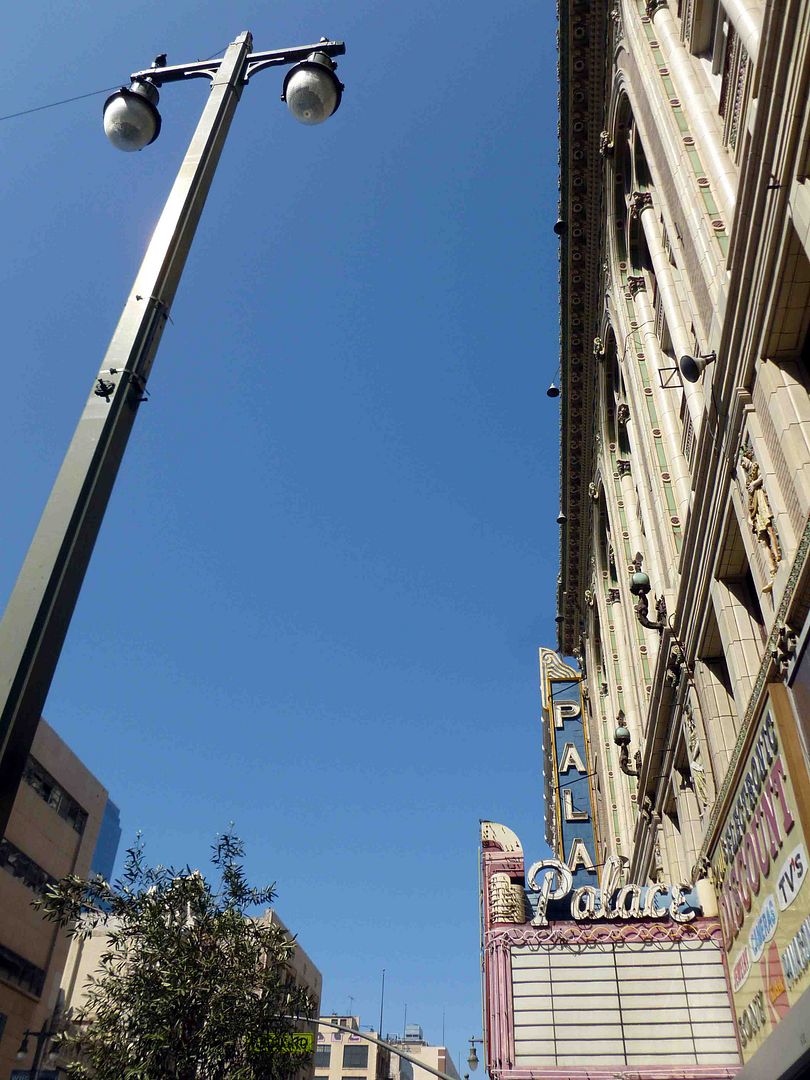 Palace Theatre (formerly Orpheum Theatre) (1911)
Cameo Theatre (formerly Clune's Broadway) (Exterior) (1910), currently home to La Super Star, Inc.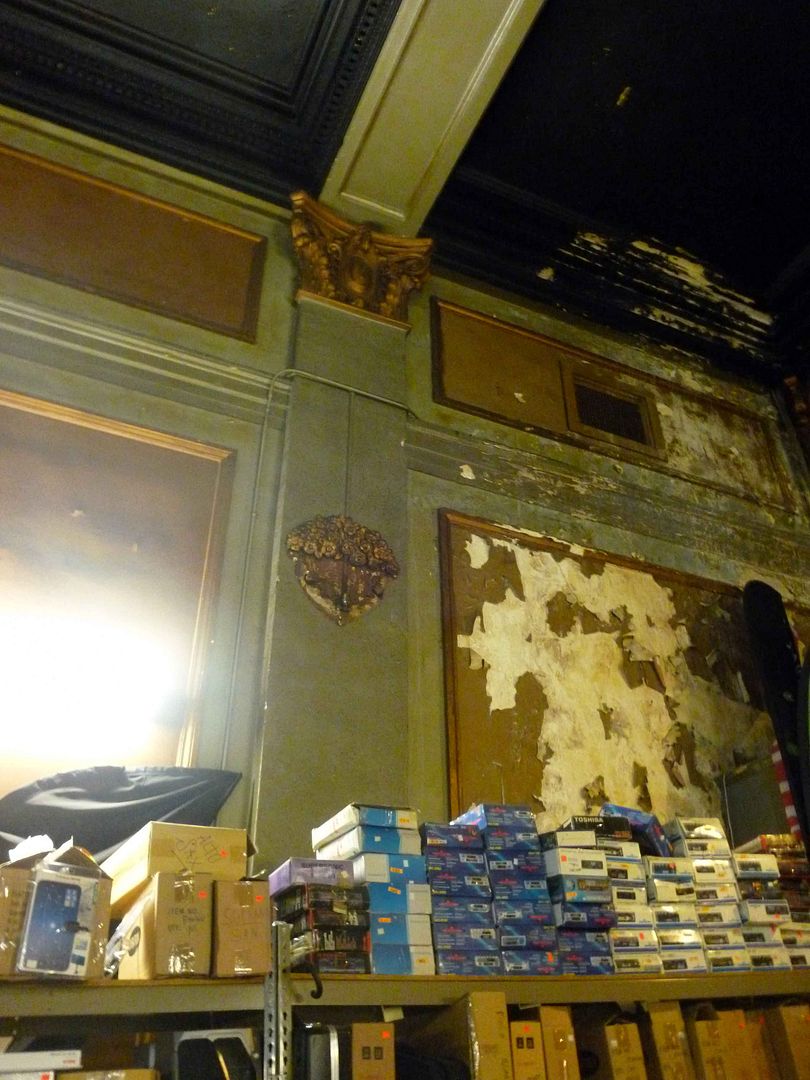 Cameo Theatre (Interior - La Super Star's stock room)
The former Pantages Downtown Theatre (later the Warner Brothers Theatre or simply, Warners) has been converted into a mega jewelry center which is worth a peek inside and a look upwards, where you can see a dusty red curtain still hanging from the stage, and lots of preserved ornamentation up above. Unfortunately, as with the State Theater, no photography was allowed inside.
Fortunately, the historic Bradbury Building - which, built in 1893, is one of the oldest commercial buildings still standing in center city Los Angeles - is in great shape, is still being used for offices, and is fully accessible to tourists and photographers - as long as you stay in the lobby.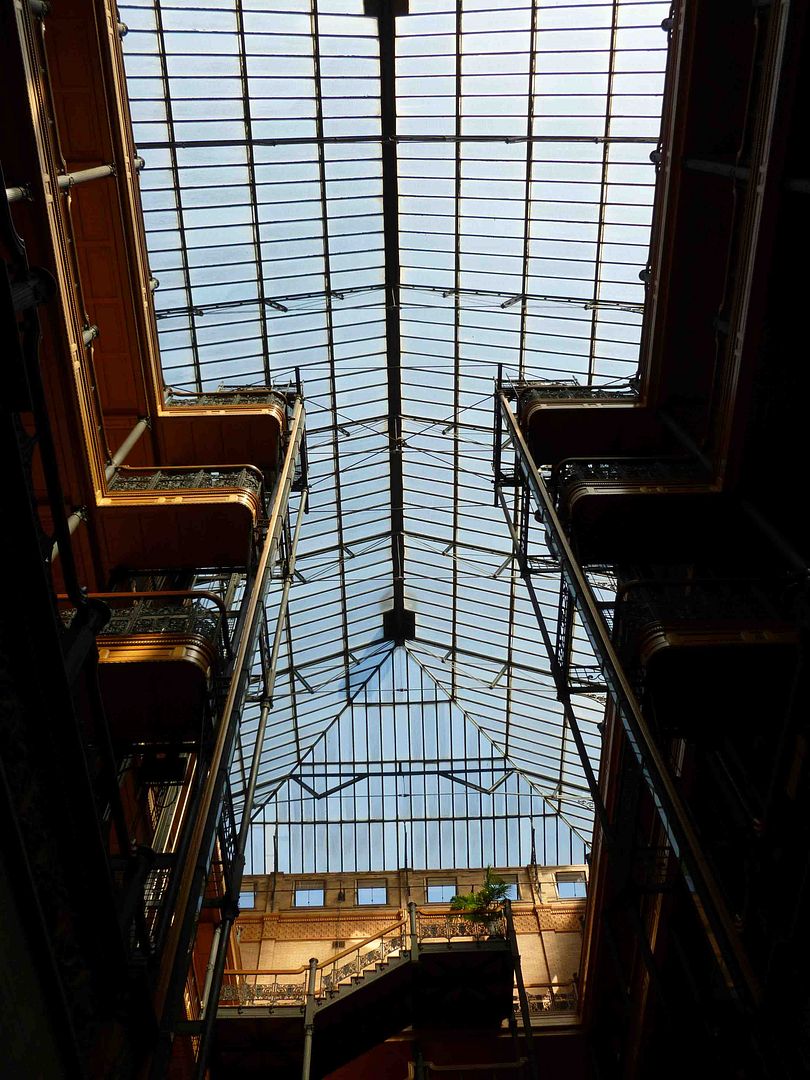 Just be sure to look up the elevator shaft and the old mail chute (unfortunately no longer functional in the wake of post-9/11 anthrax scares).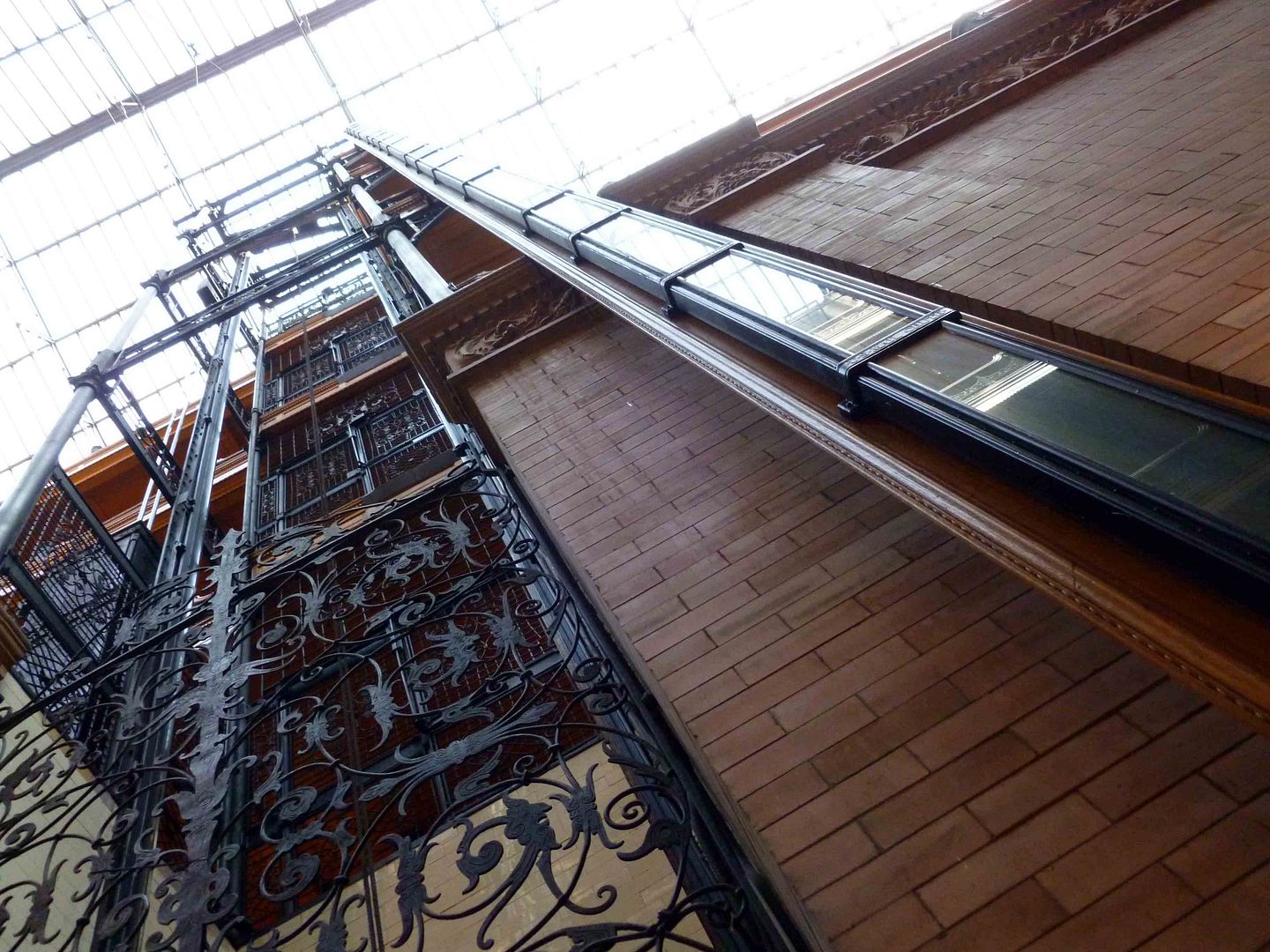 Bradbury Building (1893)
And then, occasionally, it pays to look down. You just might find some gorgeous terrazzo designs under your feet, like the one outside Clifton's Cafeteria (much of which is covered up by construction plywood now as they renovate the interior).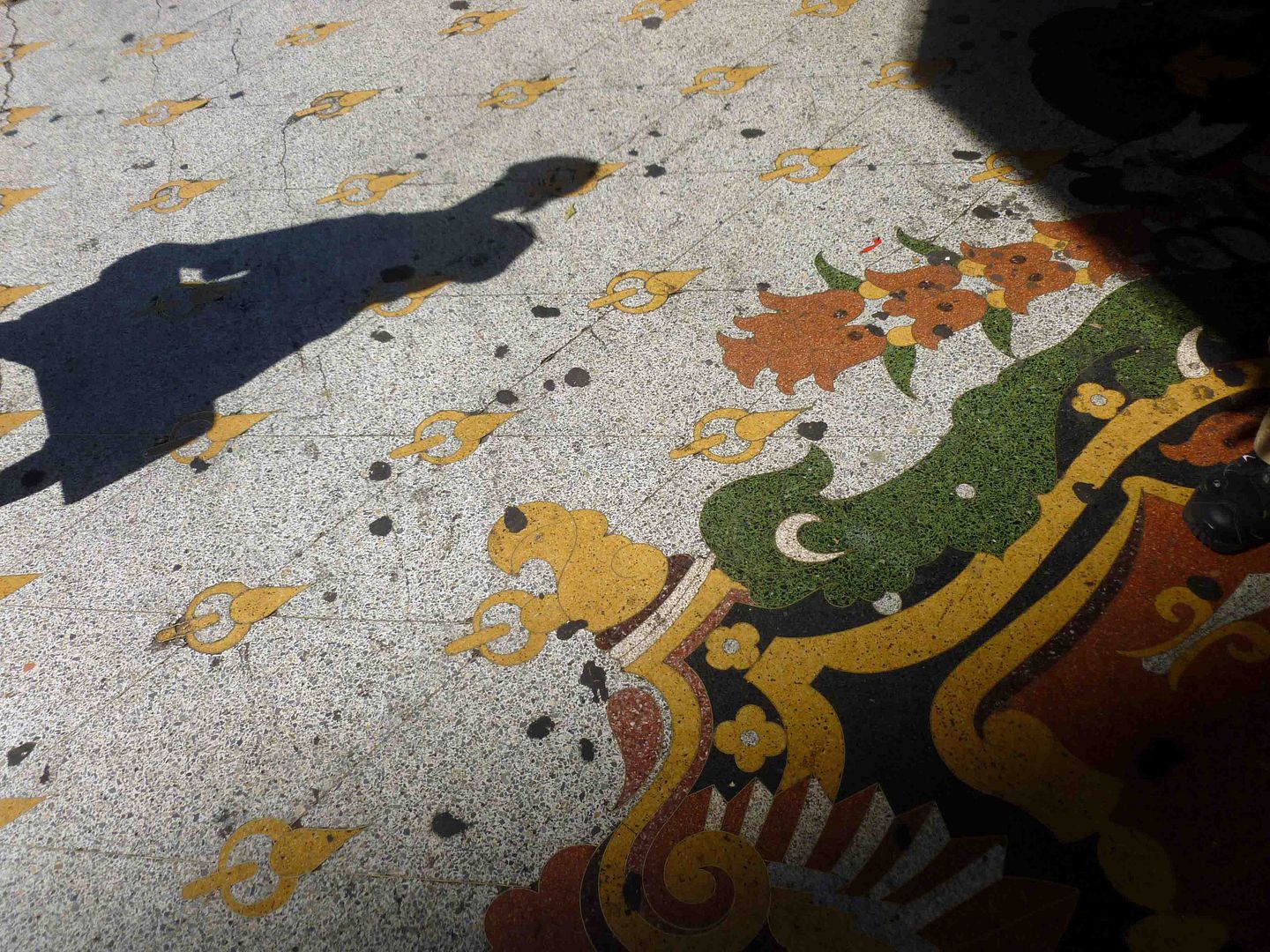 Clifton's Cafeteria (1935)
Not all of the historic locations on and around Broadway in Downtown Los Angeles are always accessible to looky-loos such as myself, but Los Angeles Conservancy (of which I'm a proud member) does its best to grant access on Saturday mornings. Since all of these buildings are still privately owned, they rely on good relationships and favors, with the exception of their "Last Remaining Seats" program which exhibits old movies in the still-functional classic theaters such as the Los Angeles Theater and the Million Dollar Theater (whose ownership just recently changed hands). Los Angeles Historic Theatre Foundation (of which I'm a proud member) also arranges special tours of certain theaters, such as the
Palace
and the off-Broadway
Grauman's Chinese
.
The Ace Hotel group recently purchased the United Artists Theater and has supposedly promised to restore and retain much of the original design elements. In this case of adaptive reuse - as with the jewelry center - at least we'll get more public access to a historic theater, and will get to see it for ourselves, in person.
But when we get there, we may just have to look up to discover where we really are.
To become a fan on Facebook, click here.