In the summer of 2009, I took a mini excursion from
Joshua Tree
- where I called home for a month - out up past the
Amboy Crater
, into the
Mojave National Preserve
, up and across the 15 freeway through
Zzyzyx
,
Newberry Springs
,
Yermo
,
Barstow
,
Victorville
, and back down to Joshua Tree. In part, I was following the path of
Route 66
, trying to see too much of the Mojave, barely stopping to eat a Holland Burger at Emma Jean's.
There was a lot I missed.
I had stopped to gawk at Elmer's famed bottle trees, but the gate was closed and, at the time, I was too shy to barge in or even knock or find a bell to ring. (I've since gotten accustomed to storming the castle, for fear the castle will be torn down at any given time.)
Now that I've become a bit better-versed in folk art (having visited
Bottle Village in Simi Valley
, two
tile houses
and
a beer bottle chapel
), those bottle cacti were calling out to me, neglected, overlooked, a missed opportunity.
On my way back to
Vegas
today, I made a detour along the National Trails Highway to go see them.
And once I did, I couldn't believe it had taken me so long.
The property is now officially known as the Bottle Tree Ranch - replete with signage! - and it appears as though the collection has expanded and updated a bit in the last four years since my limited roadside view of it.
It's nearly impossible to describe this place, to properly convey this grove of stalks and spokes and colored glass, appearing something like a decorated Christmas tree lot...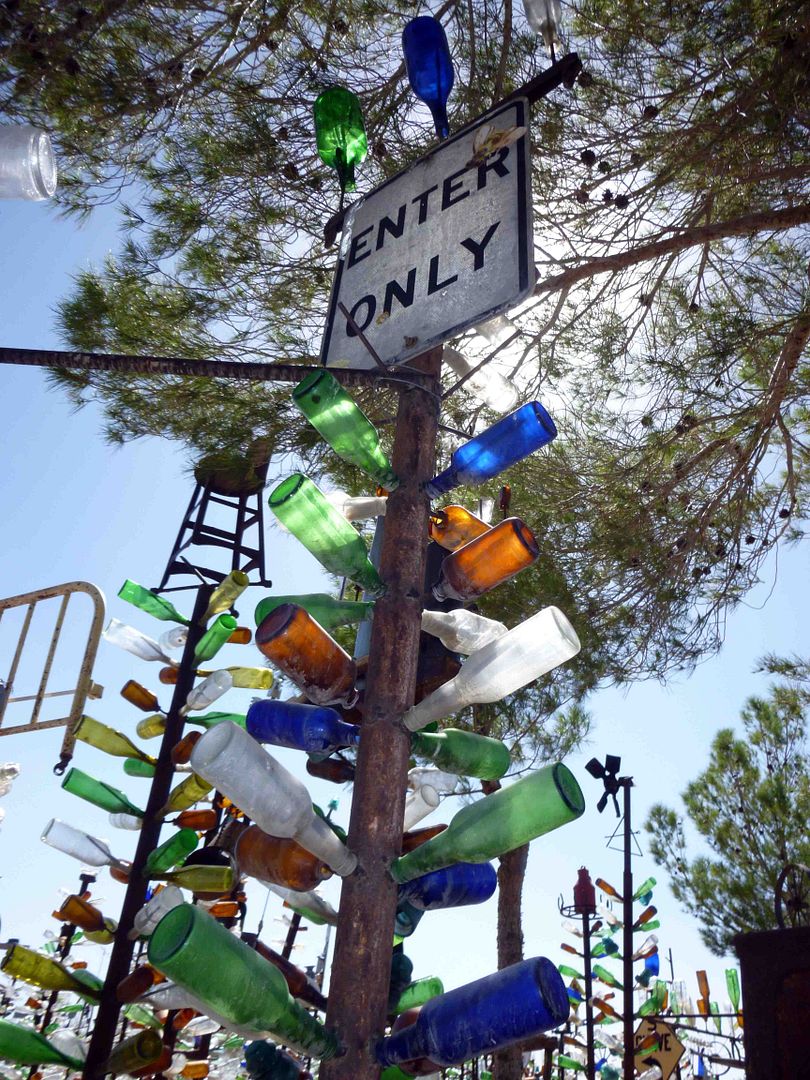 ...but with the most peaceful clinking of bottles together, along with an occasional windchime and cowbell.
On a windy day like today, the bottles spin in place, glass rattling against metal...
...gently, rhythmically...
...like the
lapping of waves
.
And when you look closer, you discover that the bottles are atop not only trunks and branches...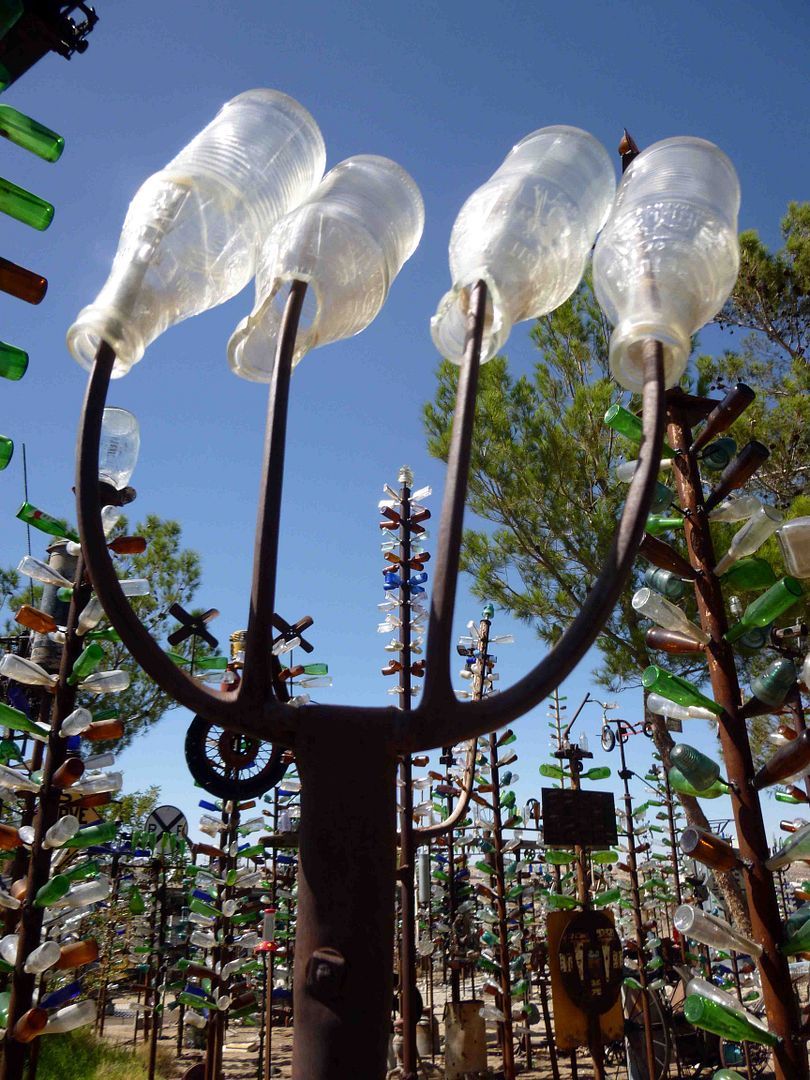 ...and are found in a variety of configurations that challenge the logic of nature.
The light shines on each one differently.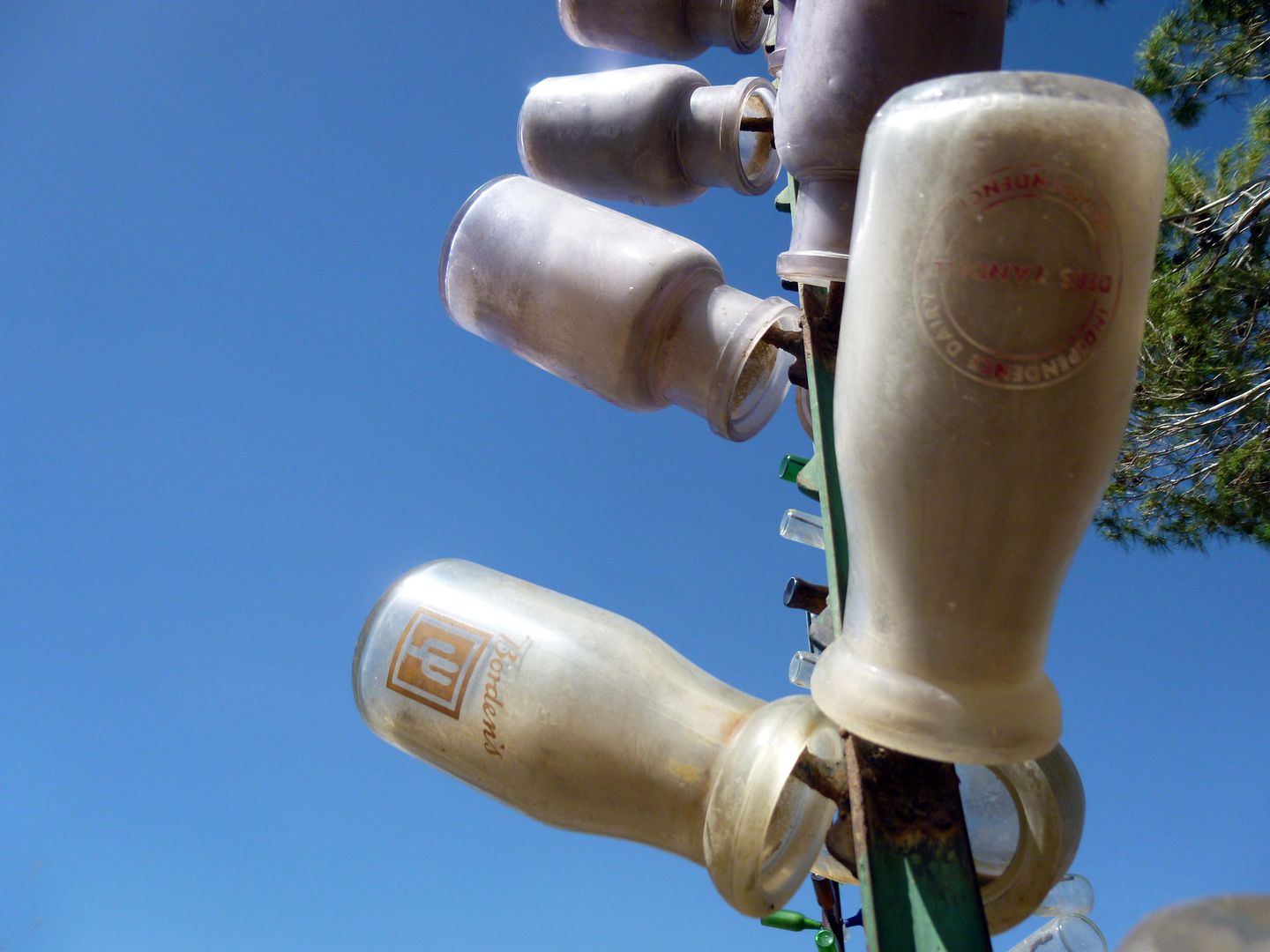 The intrigue is in the details.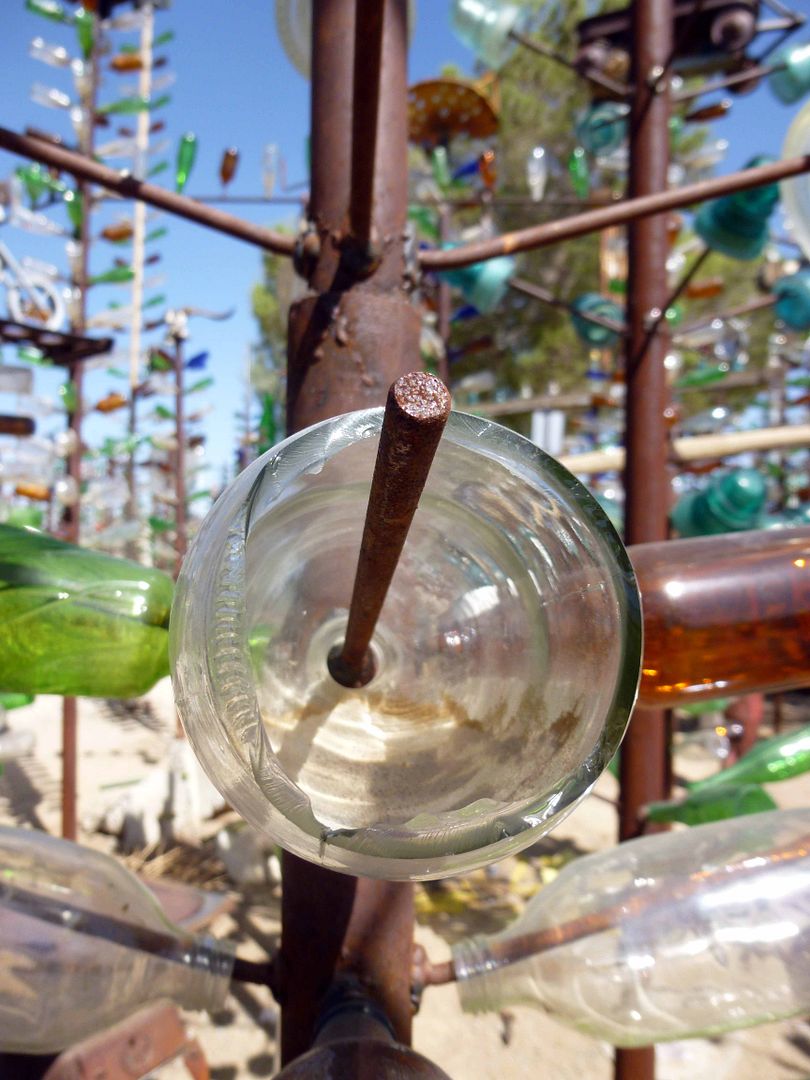 The Bottle Tree Ranch has all the appeal of junkyard art...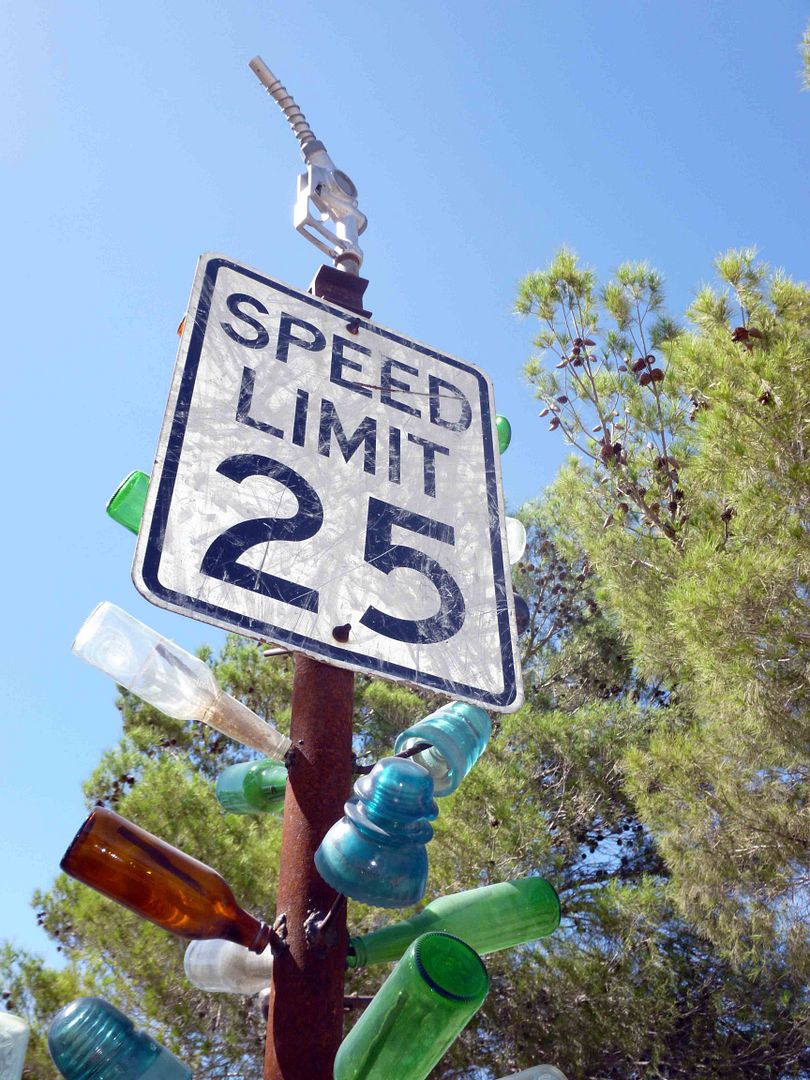 ...but its organized chaos allows you to focus.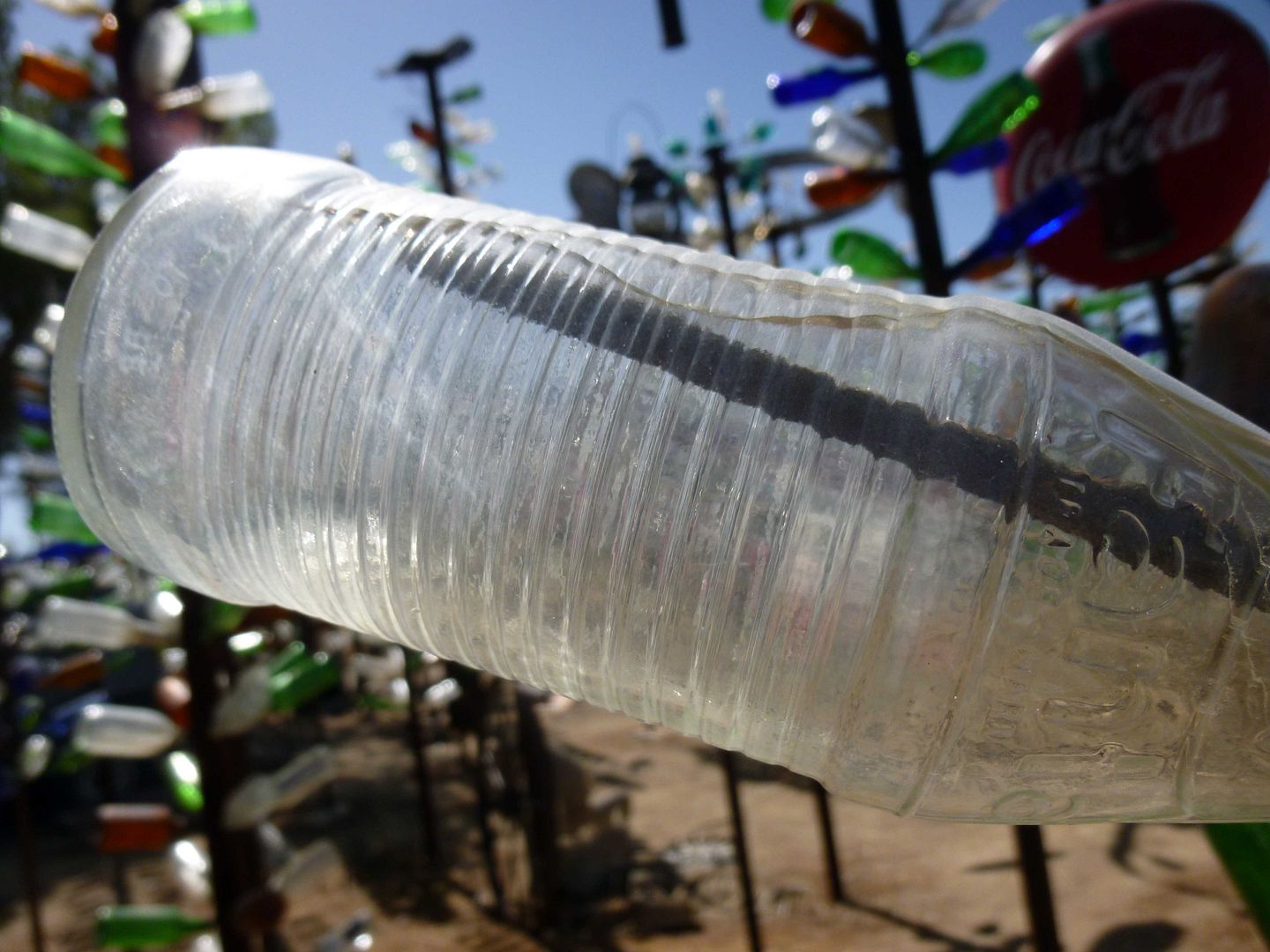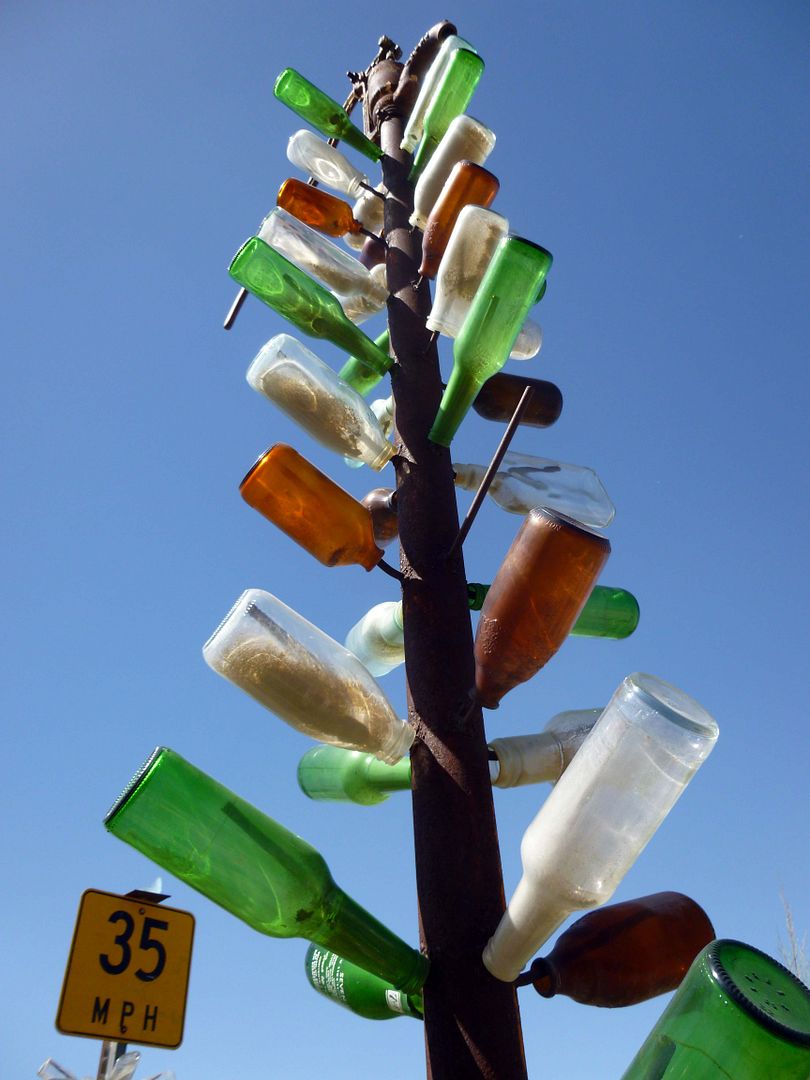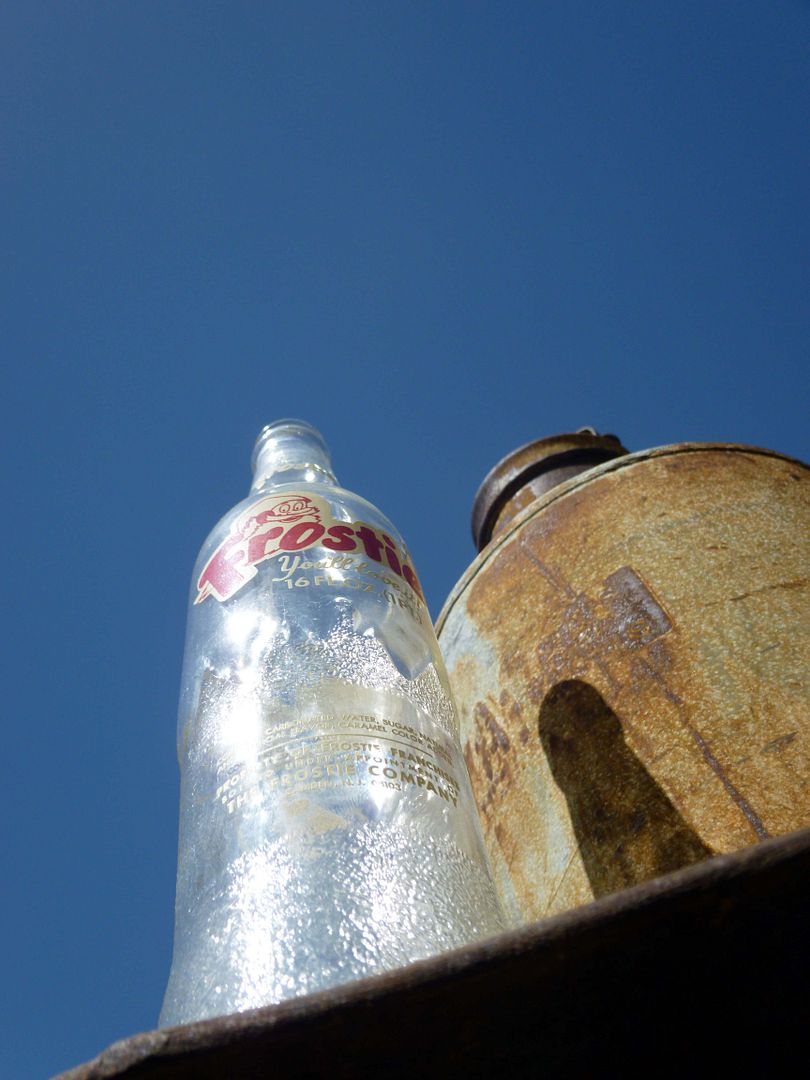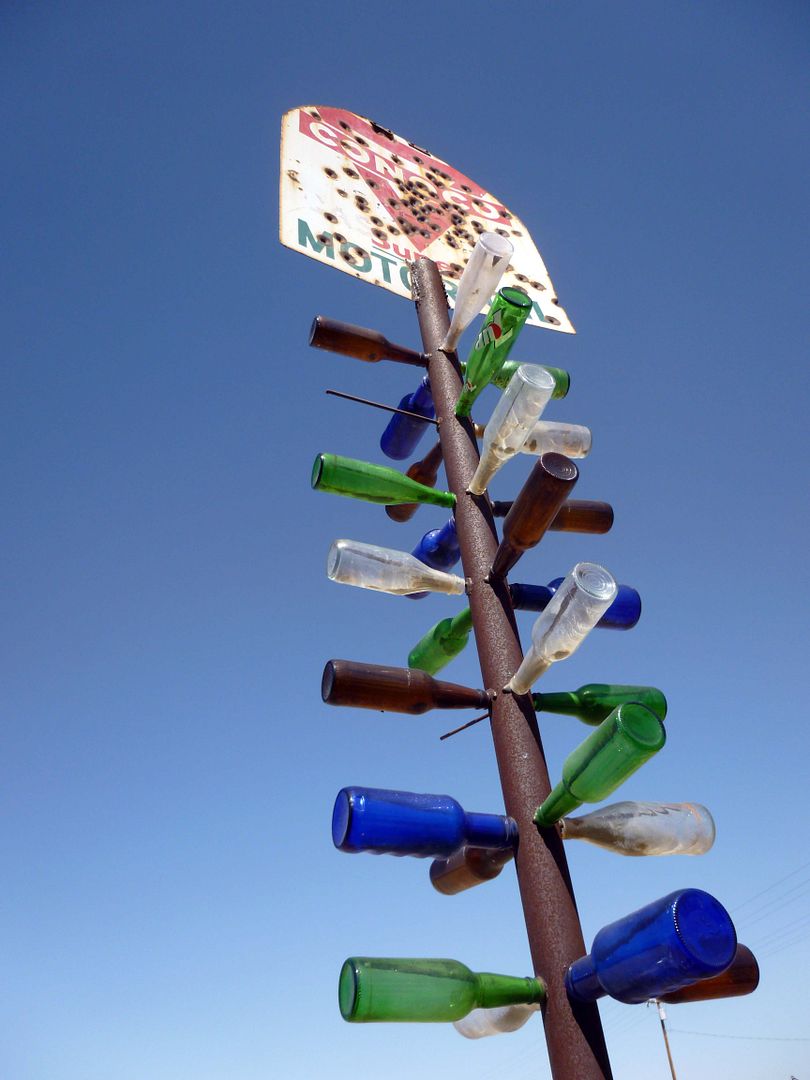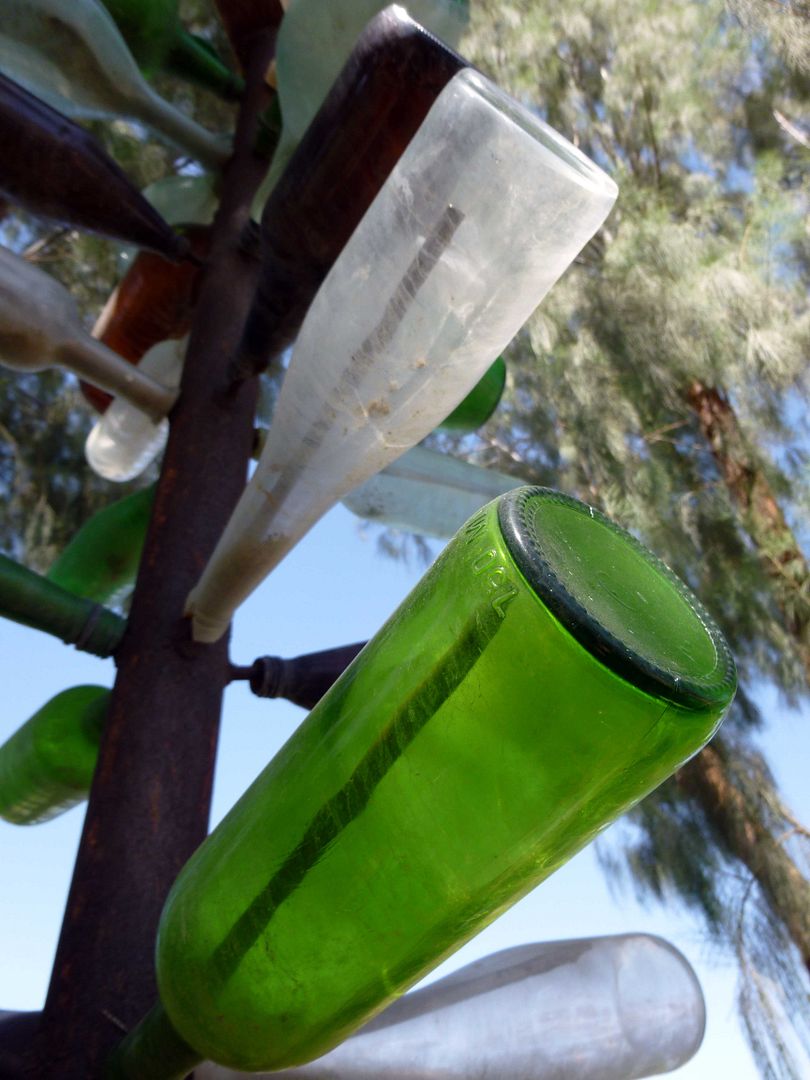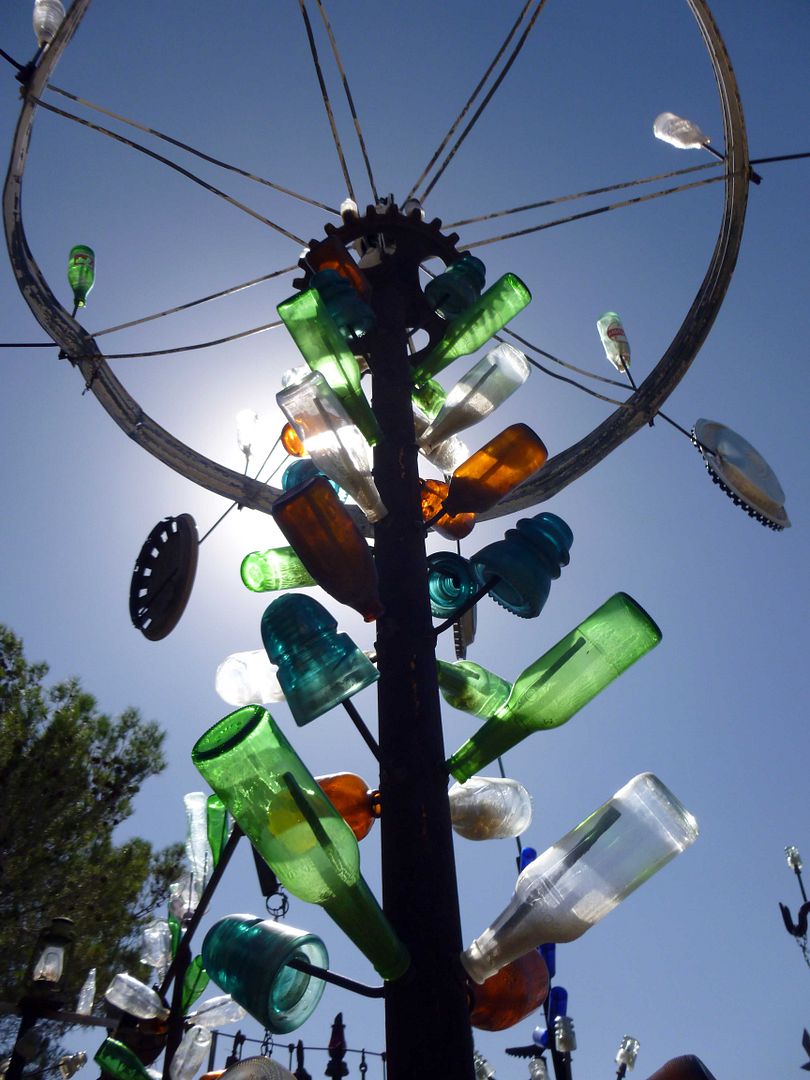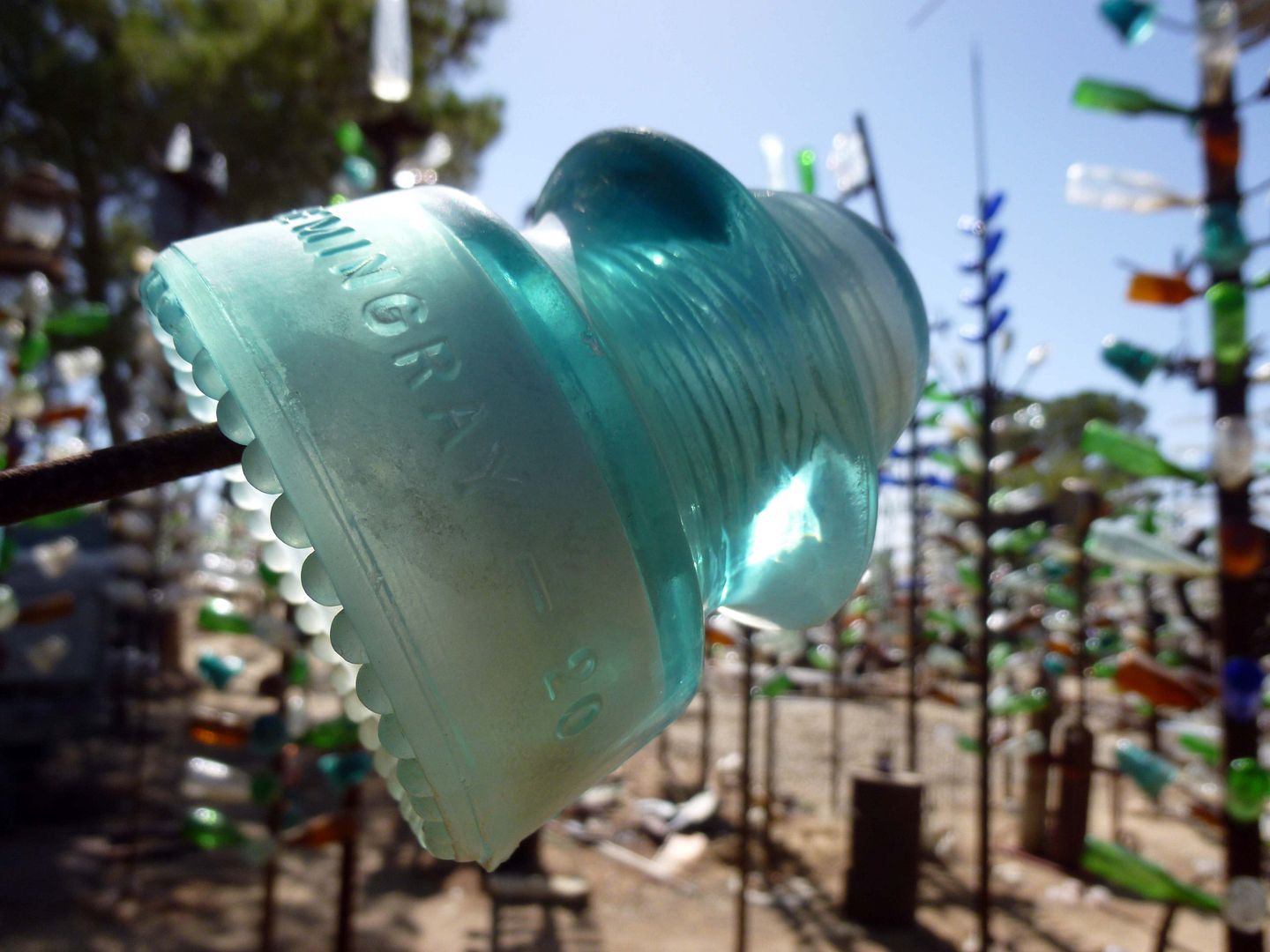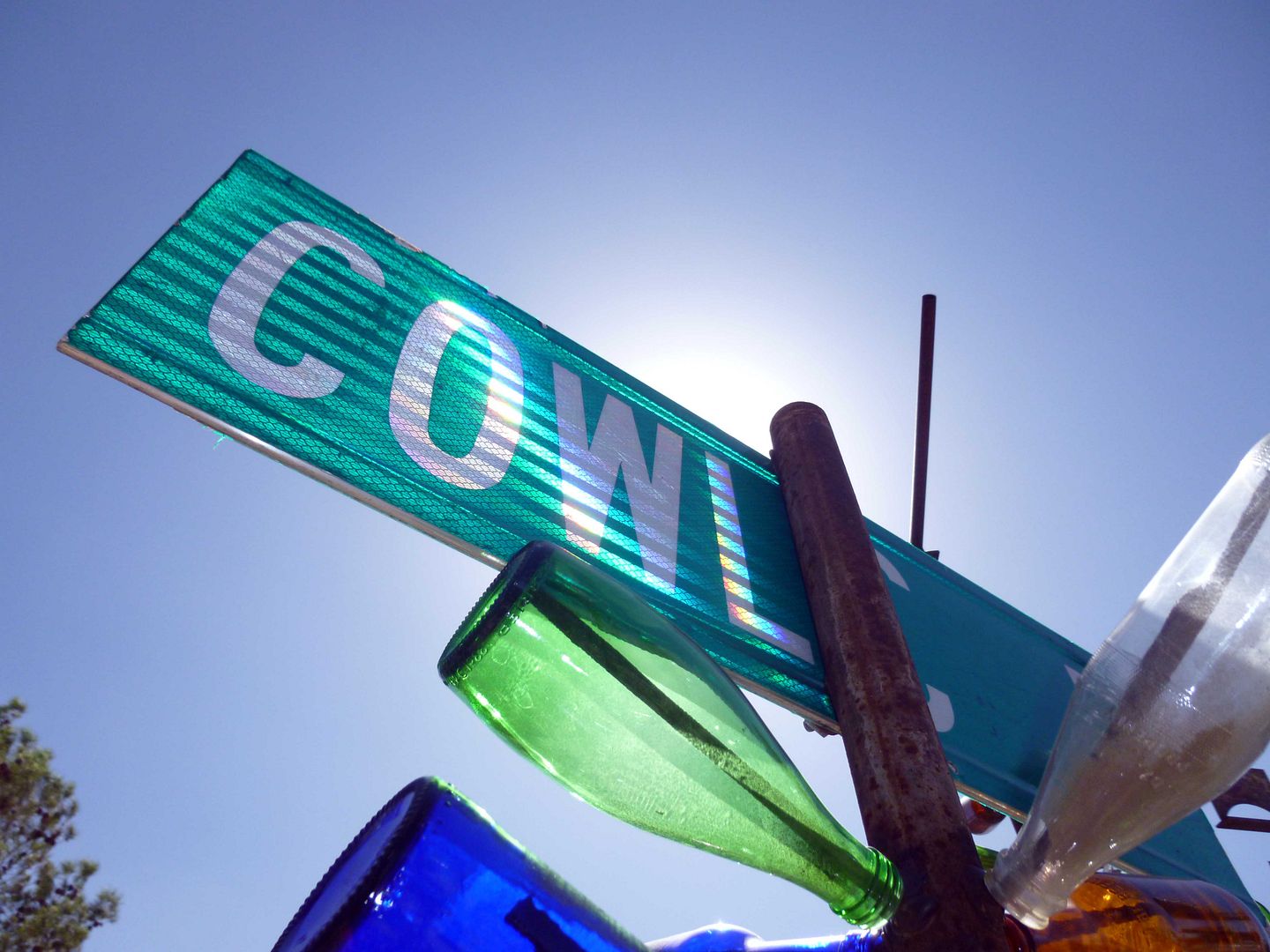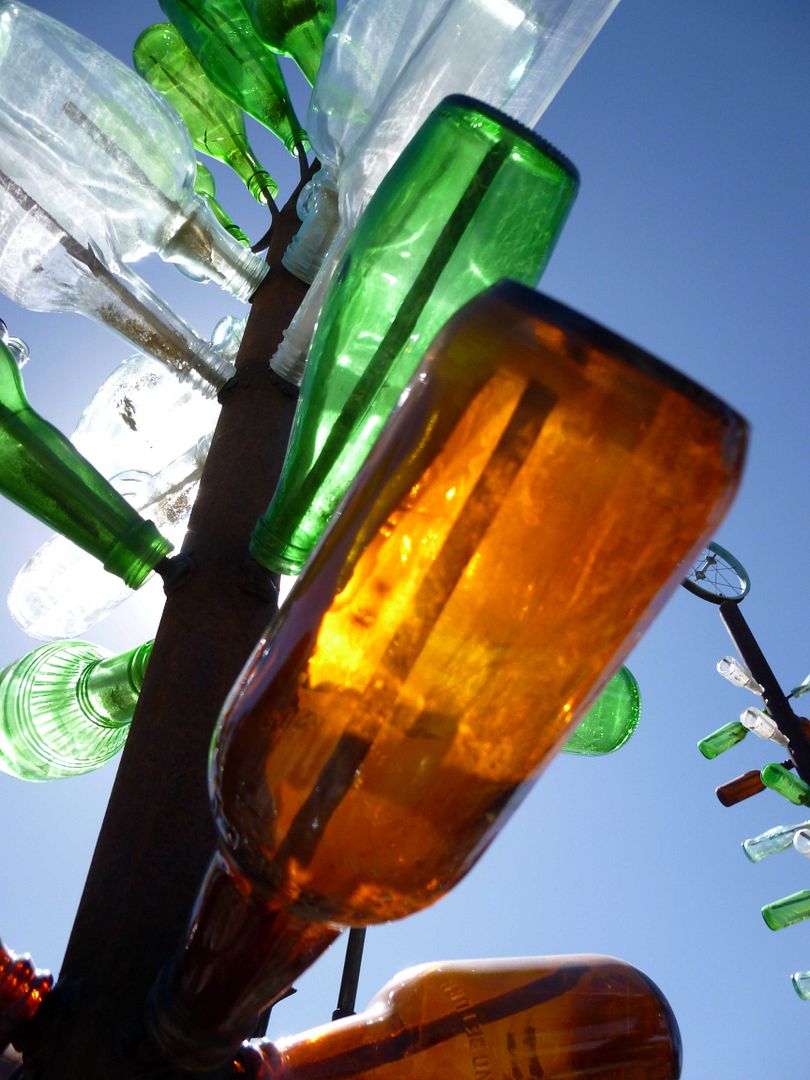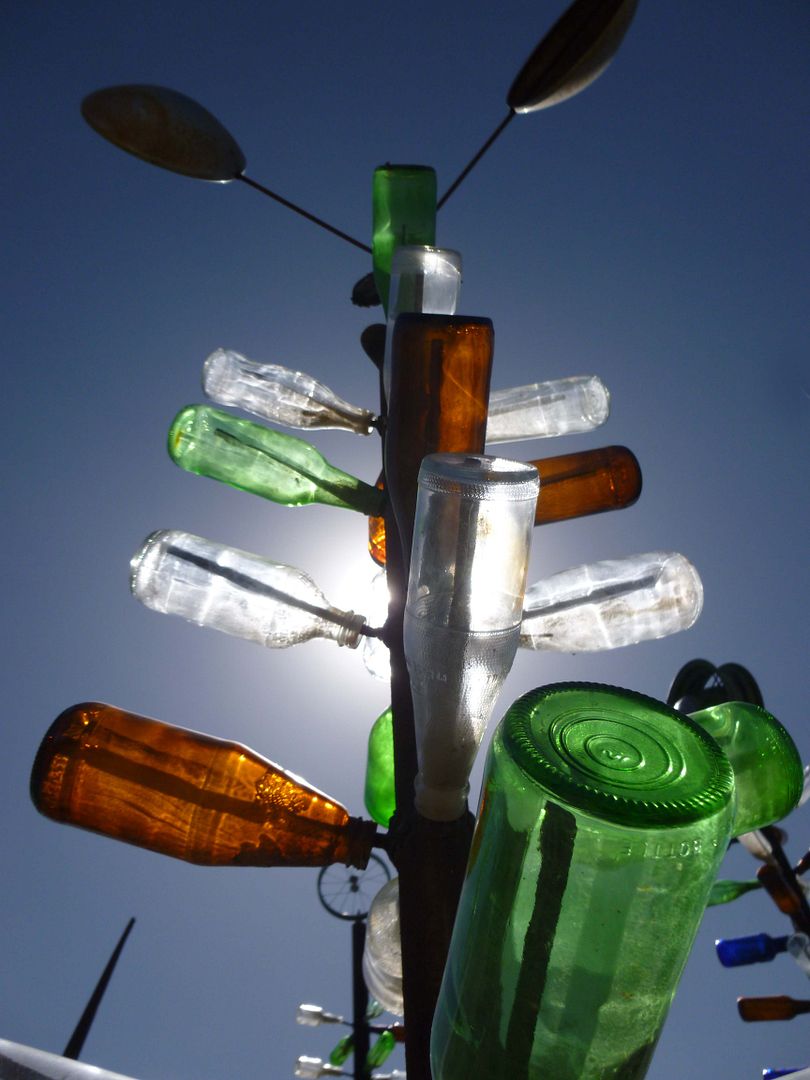 Close your eyes to feel the hot wind on your face, and listen to the trains go by.
Foreign visitors chat away as metal spins and creaks...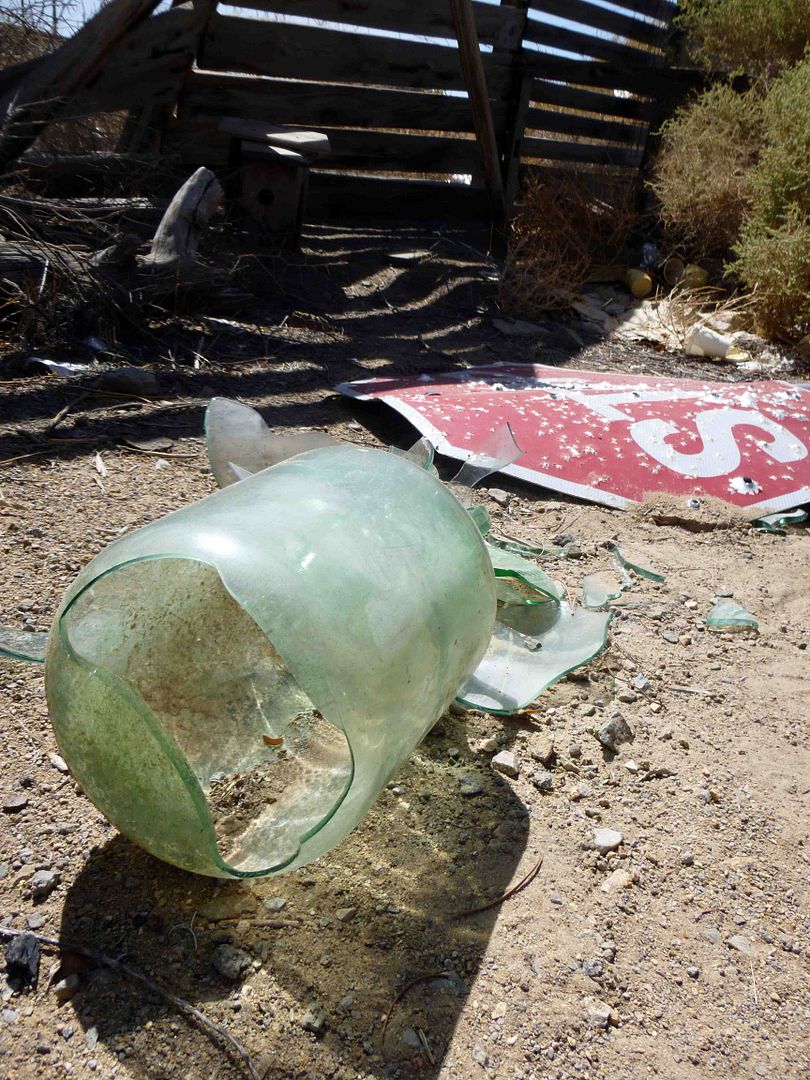 ...and broken glass crunches under flip flopped feet.
There is no clatter in this forest. Only color and peace.
Related Posts:
Photo Essay: Bottle Village
Photo Essay: Sanchez's Beer Bottle Chapel & Other Delights at Tio's Tacos, Riverside