[Ed Note 4/10/15: Unfortunately the Drone Dudes were called out on a shoot, and this event has been cancelled]
I almost quit my job as
a field agent for Atlas Obscura
last fall. I'd run out of ideas. I'd hosted two events that (I thought) didn't go so well, and I didn't think it was going to get any better.
But I'd been
having a hard time in life
, so instead of resigning, I went on hiatus. I didn't think I was in any condition to make any big decisions. So I decided not to decide. For a couple of months.
I got back into the swing of things in January (with
an easy field trip to Judson Studios
), and since then, my brain has been
flooded
with ideas. I contact the craziest places on a lark. Sometimes I don't hear back.
And sometimes I do.
Case in point: I always really enjoy
the drone videos you see posted on Facebook
, so I Googled "drone Los Angeles." And I found the Drone Dudes. And the dudes said we could come for a visit.
It's an adventure in aerial cinematography and motion picture robotics!
Here's the
official event announcement
: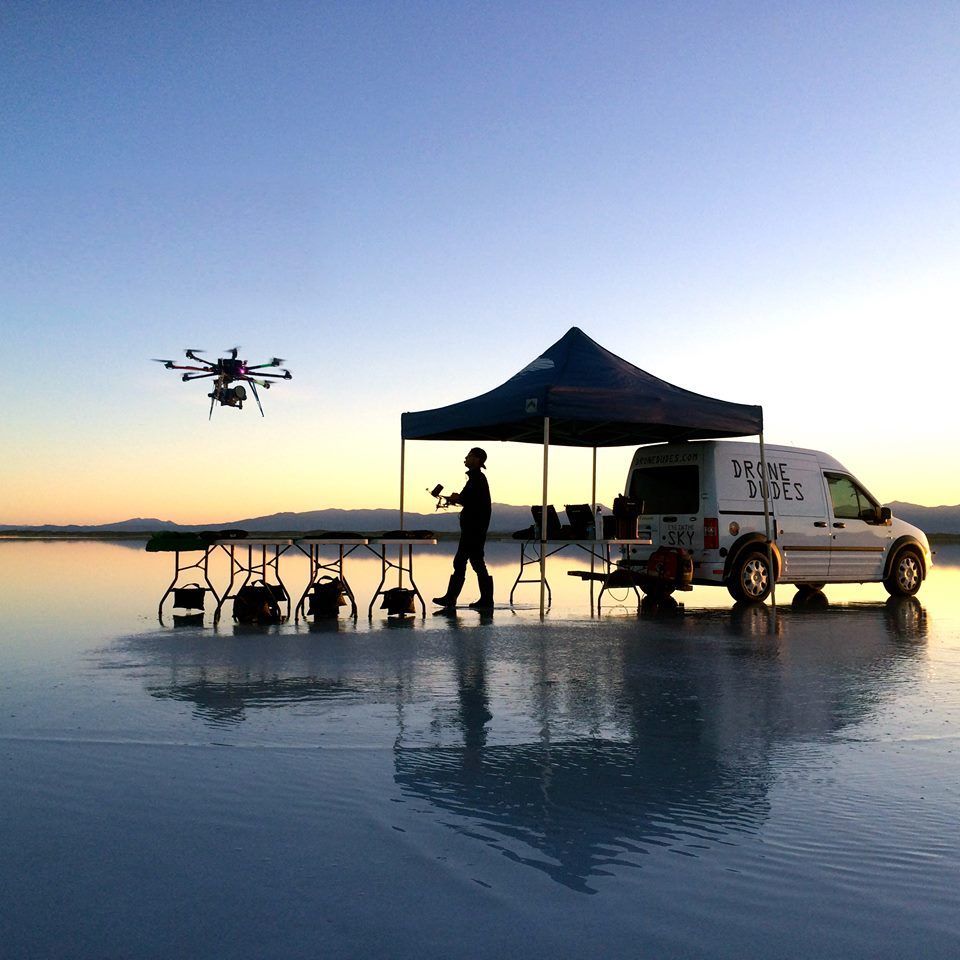 Robots haven't taken over the world yet, but they're getting closer every day.




The unmanned aerial vehicles once used only for military combat and space exploration have now emerged at the forefront of cutting-edge cinema. Perhaps you've seen some of the eye-popping drone videos that have gone viral on the internet, but have you ever actually seen a drone in action?




Join Field Agent Sandi Hemmerlein [that's me!] as we visit the studio of Drone Dudes, LA's production collective of filmmakers, creatives, tech-heads, music-lovers, and flying robots. This passionate group of creatives includes the most highly regarded pilots in the industry, who use high-end machines to produce amazing visuals for high profile clients like Hyundai, Converse, Nike, and BMW.




We will observe a demonstration of their close-proximity filming techniques at their facility in Downtown LA's Arts District, where they also create custom fabrications like the Novocopter and Cinestar8, tricking out standard cameras with revolutionary stabilization systems and other modifications for flight. In this intimate setting – during an event arranged exclusively for the Los Angeles Obscura Society – we'll have plenty of opportunity to learn about Drone Dudes' techniques and technology from the "dudes" themselves, who have more than a decade of experience in this groundbreaking field.



For a taste of who we'll meet and what we'll see, check out this cool video of a couple of the dudes out on location:
I love that this job allows me to do things I've never done before, and gain access to places I might not otherwise be able to get into. It's like having keys to the City of Los Angeles (and beyond). Come join me, won't you?
Related Post:
These Secrets for a Puppet-Lover to Keep